Twin Terrors: Nth Moto Part 3
4 years ago Owners + Clubs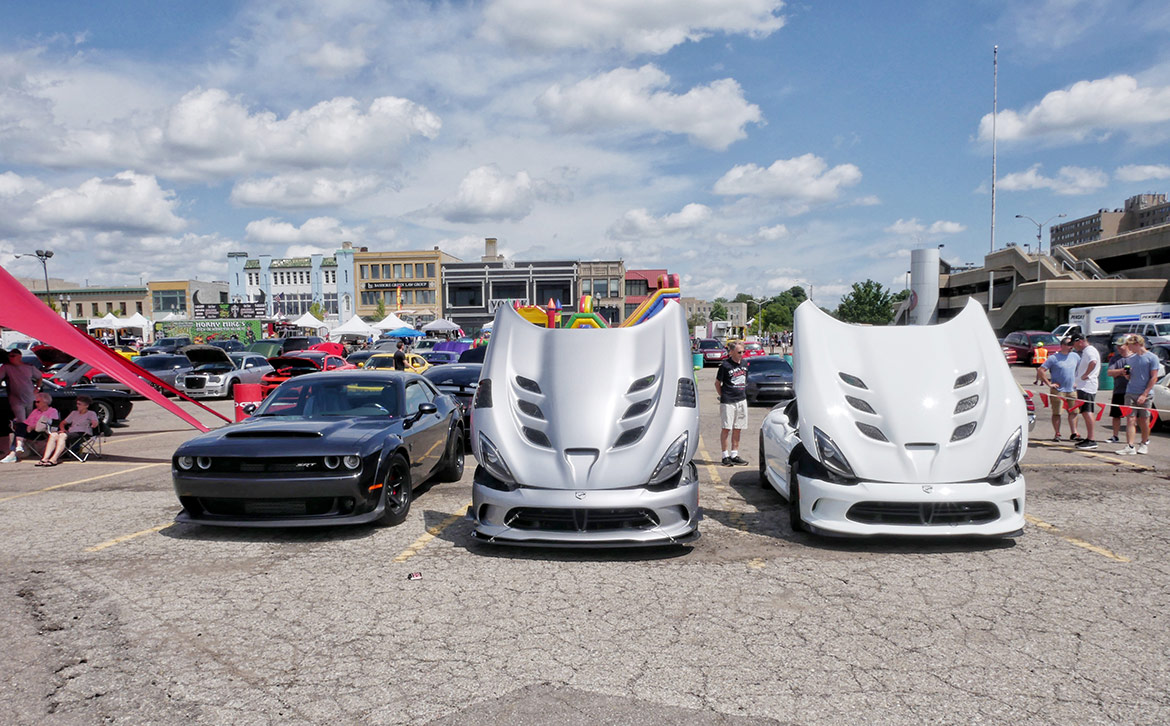 On the day of the Woodward Dream Cruise, I caught up with the road-tripping pair of Vipers in the HEMI'nsanity lot in Pontiac, Michigan. The first thing that stands out about the cars is that … nothing stands out. Aaron Miller tells me that their goal is "seamless integration, both in appearance and function." Unless you've got a sharp eye, chances are you'd walk by them both thinking they're your typical Vipers. Once the engine fires up, not so much. Especially the TA, with its lumpy cam and lack of mufflers, which sounds like the mating call of a big block chainsaw when idling and at wide open throttle brings to mind a screeching cheetah wearing exploding dynamite shoes while tap dancing on the grave of what we thought was possible. It certainly doesn't sound like any car I've heard before.
Aaron went a little more in-depth on the builds:
"Both cars have Nth Moto machined billet aluminum intake manifolds, which have varied internal runner designs to compliment each cars' respective camshaft profile, which coincides with its turbo system design and main purpose. Both have the ability for clutchless, wide open throttle shifting, even with the 6-speed H-pattern layout, and both feature our quad plate full carbon/carbon friction material clutch for easy driving but huge torque capacity. Both have closed loop cooling systems for their liquid-to-air intercooler system, which features CNC-machined one-piece billet aluminum end tanks for optimized core use and flow path. This proprietary system also allows us to avoid blocking frontal airflow to the A/C condenser and radiator systems, as well as retaining the brake cooling ducts (massively important on the ACR carbon ceramics as to not destroy them from overheating), as well as keeping plumbing short routed for improved transient response over traditional front mount air-to-air intercooler systems. All while allowing the use of full 4″ cool air inlets with filters for each turbocharger – a pretty tough achievement in a Viper chassis.
"Building a car that has next to zero compromises, but is crazy powerful AND actually quick (more than just a dyno number!), and still capable of driving/using like a normal car is where the magic really shines."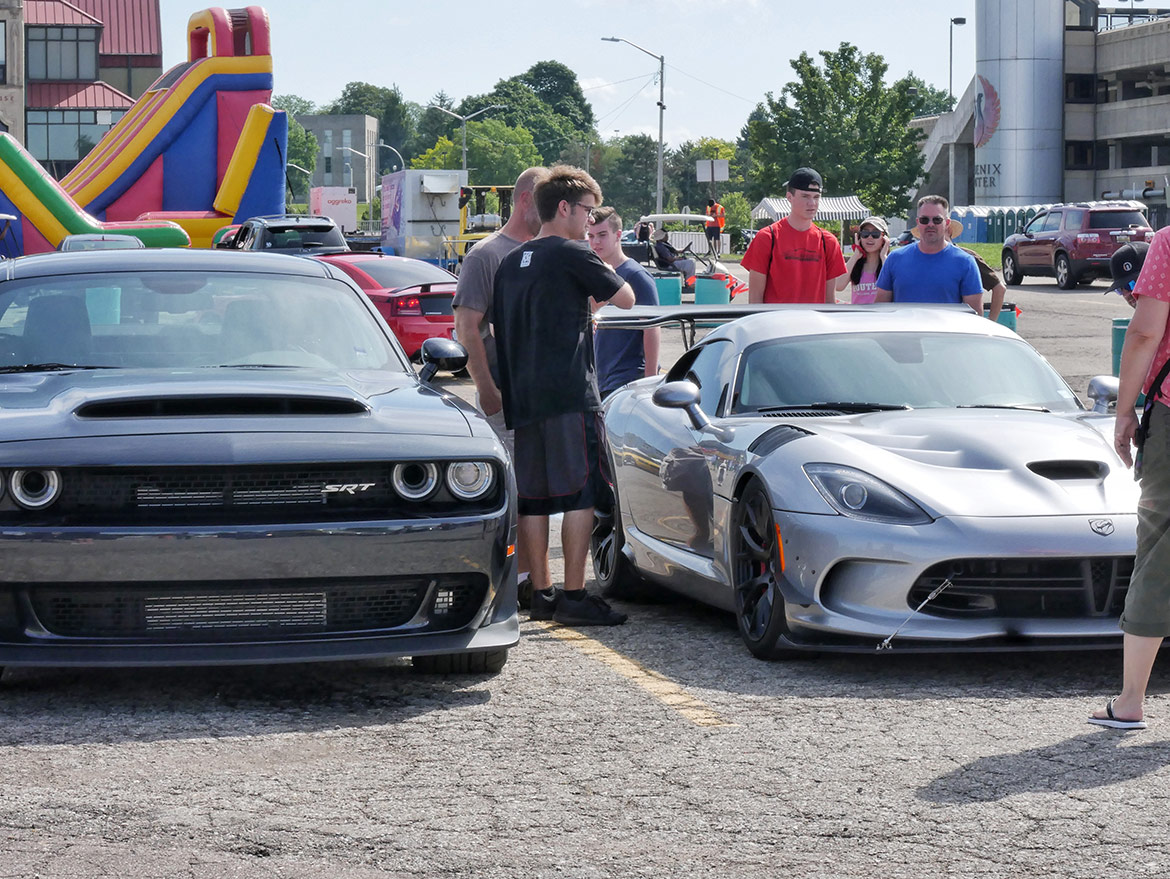 As their name indicates, they go to the nth degree on everything.
The guys were stoked to show off their cars to Dodge and SRT®'s Head of Design Mark Trostle and Chief Designer Jeff Gale. It's a pretty cool thing to engineer and build something so wild, yet retains the appearance of the original car – in this case, the gorgeous 5th gen Dodge Viper. I talked to Mark, who rode shotgun in the Viper ACR, later on:
"That's the fastest car I've ever been in; I imagine that's what riding in a jet fighter would feel like. I don't know if I should be happy about how amazing that ride was, or mad that now I know that I need it in my life!"
Jeff said, "Two words: Goals reset."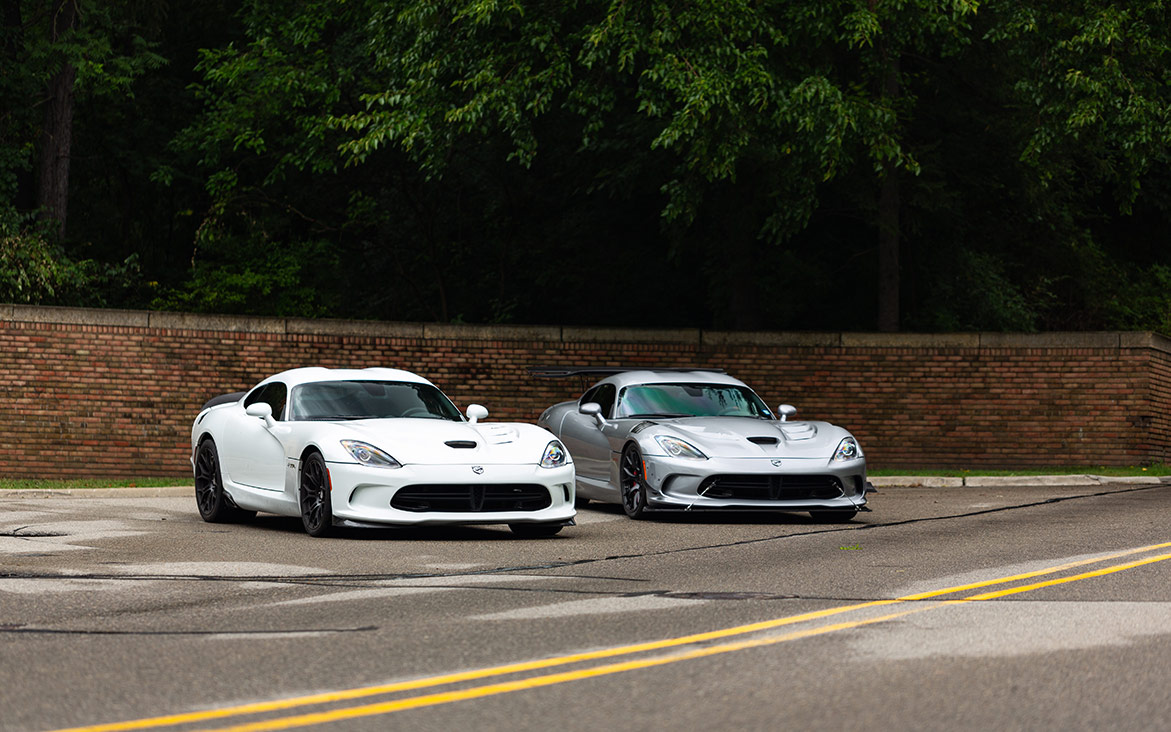 I feel like we need a new word to describe the Nth Moto Viper Experience. "Impressed" just doesn't seem adequate.
Saturday evening rain put a bit of a damper on the day's festivities, so I met up with Aaron and Philip King, Jr. Sunday morning. Will Dugas had to fly home, but Aaron had the Viper ACR. A storm was brewing and I needed to get photographs; we hopped onto Woodward to get some rolling shots, with the talented Andy Perry leaning out my Dodge Challenger SRT Demon to capture the Vipers cruising the iconic avenue.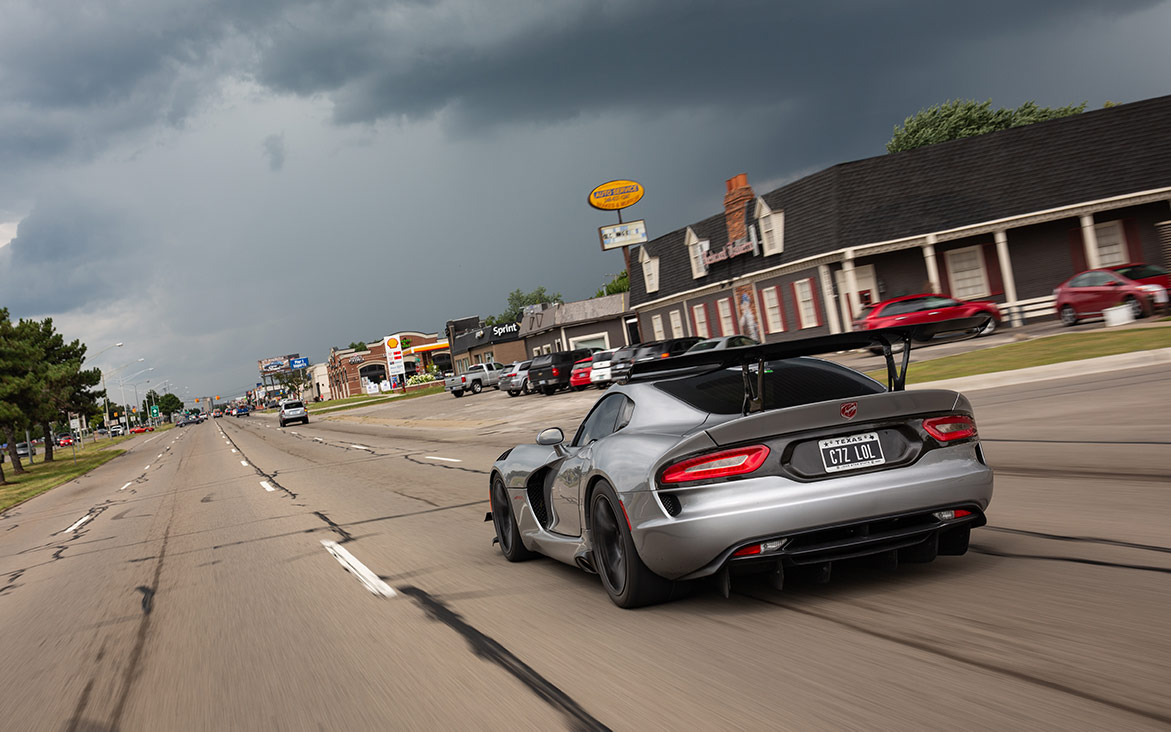 I didn't even notice it at first, but the Viper ACR has a dent in the door. On the trip out, a deer with a giant rack glanced off the side of it! Personally, I've killed an 8 point with a 94 Z28, and while the accident didn't quite total my Camaro, it sure as hell jacked it up. Miraculously, those few dents were pretty much all of the damage to the Viper. And to top it off, it got a rad new nickname: The Buck Hunter.
I'm still kicking myself for not getting in one of the cars, but with on and off precipitation and wet roads, it just wasn't going to be the same. Our paths will cross again, though, when the sun and the guns are out.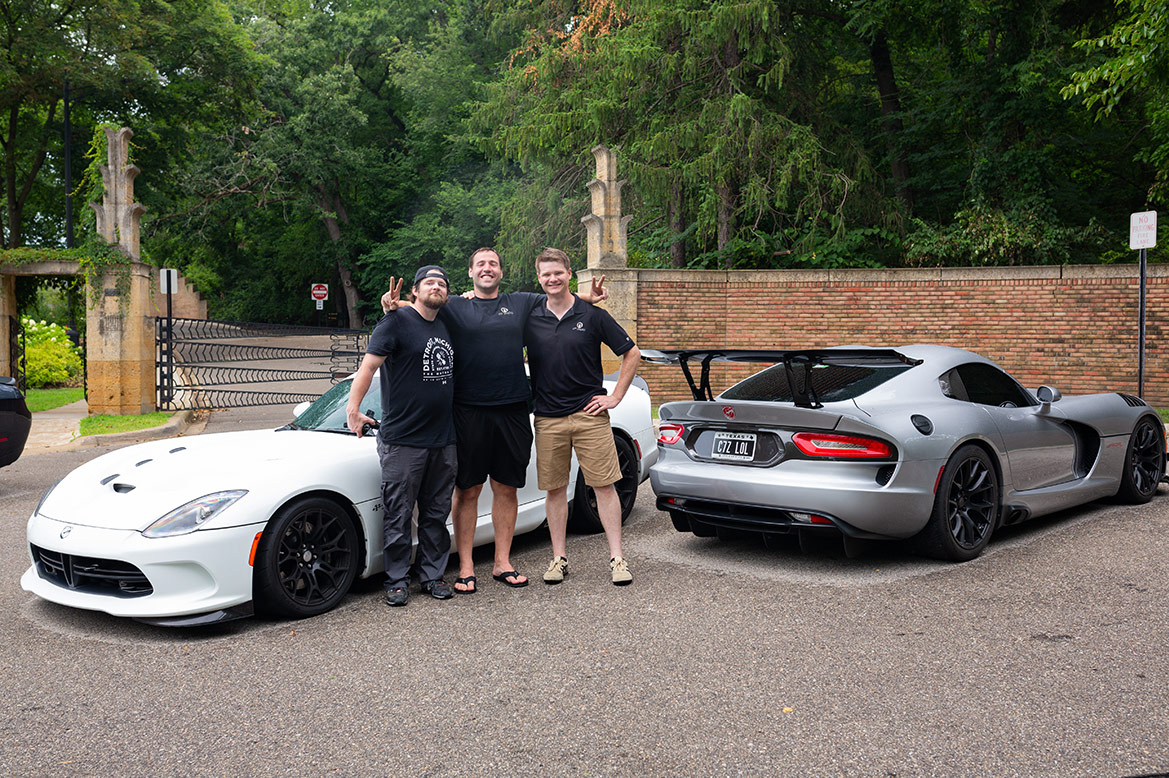 I've driven a Viper ACR-e across the country and back and didn't come close to wringing out what it's capable of in stock form. Then, Justin Bell took me for a hot lap in one that pegged the g-force meter in every direction. On both ends of the scale, the car is already scary good. Now you're putting Toyo 888rs on it and giving it 4x the power? Will said he has the meter pegged in every direction … on the street. When the car reads higher G-forces than it can measure, the code is "Implausible G Reading"
"I'll get that when I'm really into the boost," said Justin.
His Nth Moto ACR-e is the fastest Viper ACR in the world, going 223 in the half-mile. I asked Will how fast he's gotten it up to.
"233 mph," Will replied. "And I still haven't used 6th gear."
"The only way to deal with an unfree world is to become so absolutely free that your very existence is an act of rebellion."

-Albert Camus
Comments
Comments