Fast Finn
3 years ago Owners + Clubs
Passionate Dodge Challenger owners come in all different ages, genders and walks of life from around the world. The love of pure American horsepower and the rumble of a HEMI® V8 engine crosses all borders and speaks the same language among gearheads. So when we ran into Katarina DiRosa, who's originally from Finland, at the Carlisle Chrysler Nationals show last summer, we had to find out more. She was hanging out next to her stunning Plum Crazy 2010 SMS 570 Challenger R/T. Now, Finland is known for its great views of the Northern Lights, the Midnight Sun, and its vast wilderness, national parks and ski resorts. Parts of Finland are also located in the Arctic circle, making it a very unique place to live. This Nordic country is also very harsh on folks with a lead foot, as speeding fines in Finland get calculated based on the violator's total income. So, if you're a millionaire and get popped for going way above the speed limit, you'll feel it in your next bank statement.
Maybe that's why there's more saunas than cars in Finland.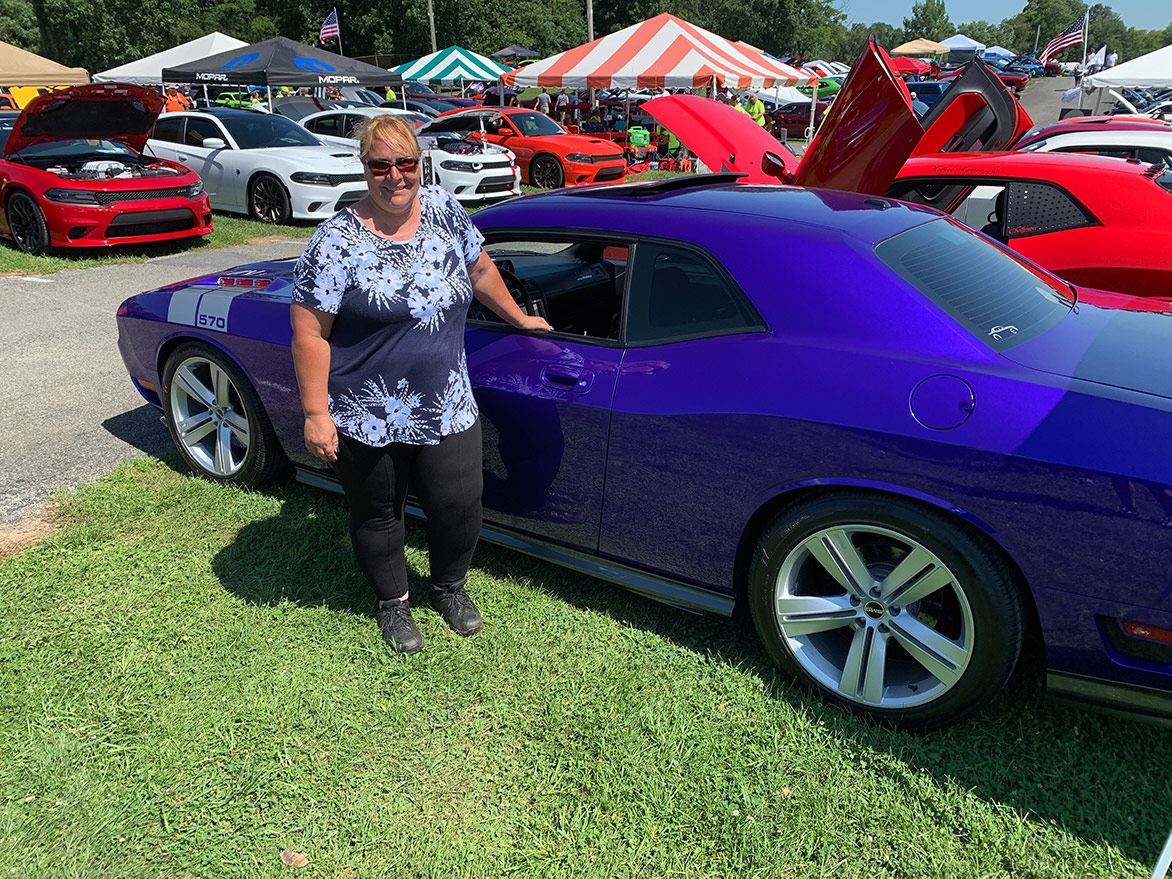 Luckily for Katarina, who likes to drive fast, she made Newburgh, New York, her new home in 2002 with her American husband, Lou, who happened to be a gearhead but was more into motorcycles. Katarina's profession of being a trademark paralegal wasn't very exciting; maybe that's why she liked fast cars. It also helped that Katarina's father also liked cool cars and contributed to her passion. That's probably why she always wanted a muscle car but her other half tried to discourage her. Lou knew his wife had a need for speed and would probably rack up a pile of speeding tickets. To compromise, Katarina and her husband bought a pair of Harley-Davidsons and often rode together. Unfortunately, Lou passed away rather suddenly in 2011 and it left a void in Katarina's heart. She ended up selling both motorcycles for a down payment on a house as she moved on with her life.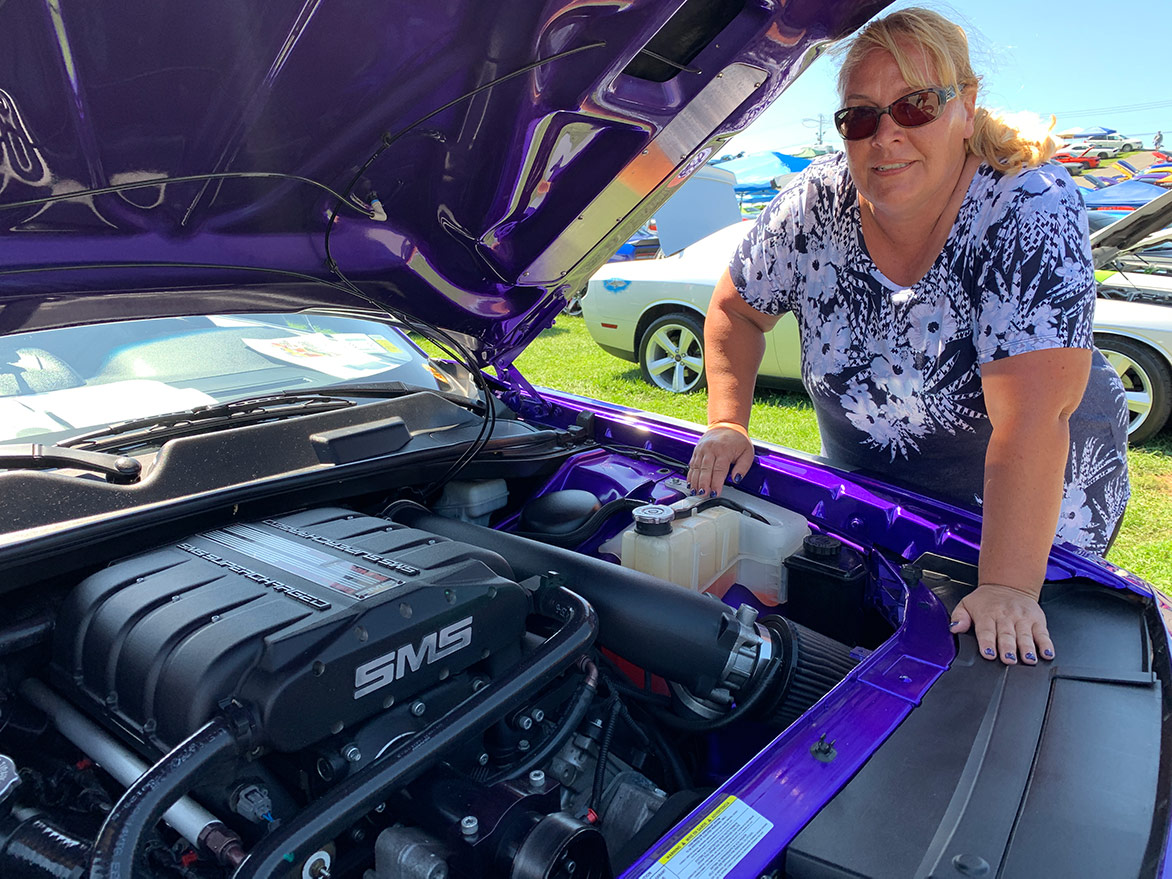 Recovering from the loss of a loved one, Katarina went for a drive and passed her local Dodge dealer, Croton Auto Park in Croton-On-Hudson in upstate New York. The Plum Crazy 2010 SMS 570 Challenger R/T she and Lou had spotted sitting in the showroom three years earlier was still there. She always wanted that car, but her late husband talked her out of it fearing Katarina would get in trouble with such a high-horsepower machine. Especially since the SMS 570 Challenger R/T had certain modifications that included a modified 5.7-liter HEMI® V8 engine with a Lysholm Twin-Screw Supercharger, SMS Six-Pack Intercooler System, cold-air intake and a free-flowing SMS exhaust. These mods had the Challenger putting out 500 horsepower at 5,700 rpm and 500 lb.-ft. of torque at 3,800 with a mere 4.5 psi of boost. To make it even more fun to drive, it had a six-speed manual transmission so aggressive that first-gear launches would just blaze the tires. For Katarina, it made the car even more desirable to own.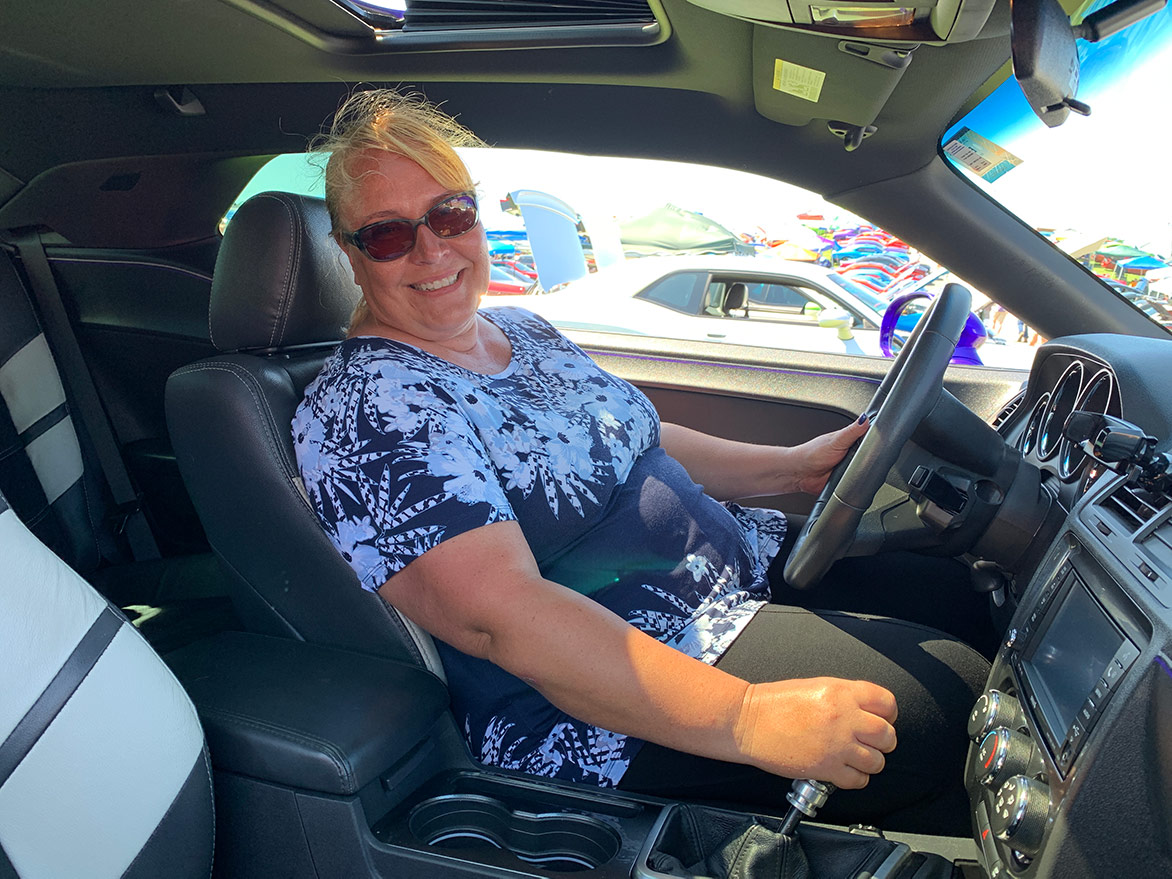 Katarina decided to give the Challenger another look since the price had been marked down dramatically. The supercharged purple machine had sat on the dealer's inventory for over 36 months and they were willing to sell it at any cost. Katarina struck a deal with the salesman and drove the Challenger R/T SMS home. She knew if Lou was still with her, he would want her to be happy regardless of what his misgivings may have been back then. Driving the Challenger and going through the gears was pure therapy for Katarina and put a huge smile on her face.
Deep down, she knew her late husband would approve.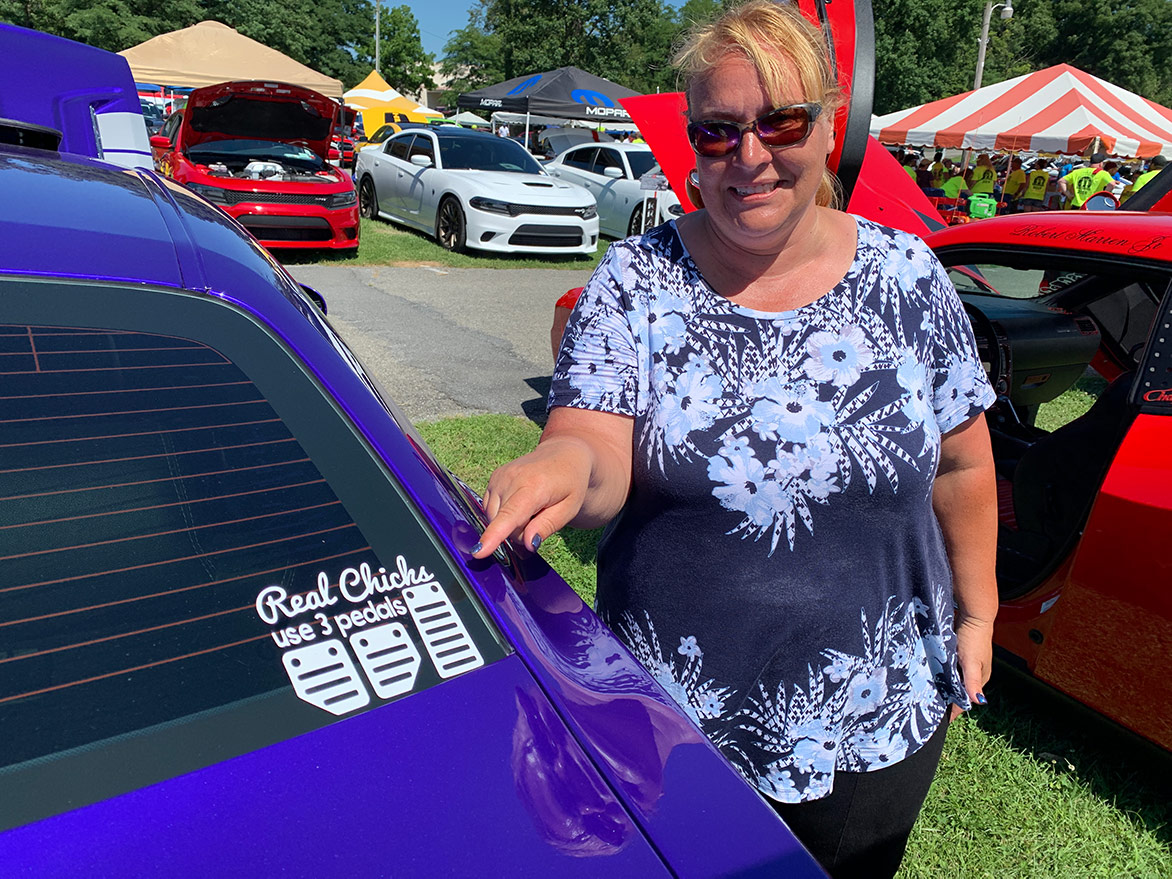 Now, Katarina owns not just one, but three Challengers in various colors and options. "They are my babies and they have boy names," smiled Katarina. "I sometimes call the SMS 570 Challenger 'Purple Boy', 'Purple Beast', or sometimes I call him 'Pretty Boy'," she laughed. "My other Challengers include a black 2012 Challenger R/T Classic with red stripes that I call 'Lou' in honor of my late husband, and I have a blue 2015 Challenger SRT® Hellcat I call 'Thor', he's the fastest."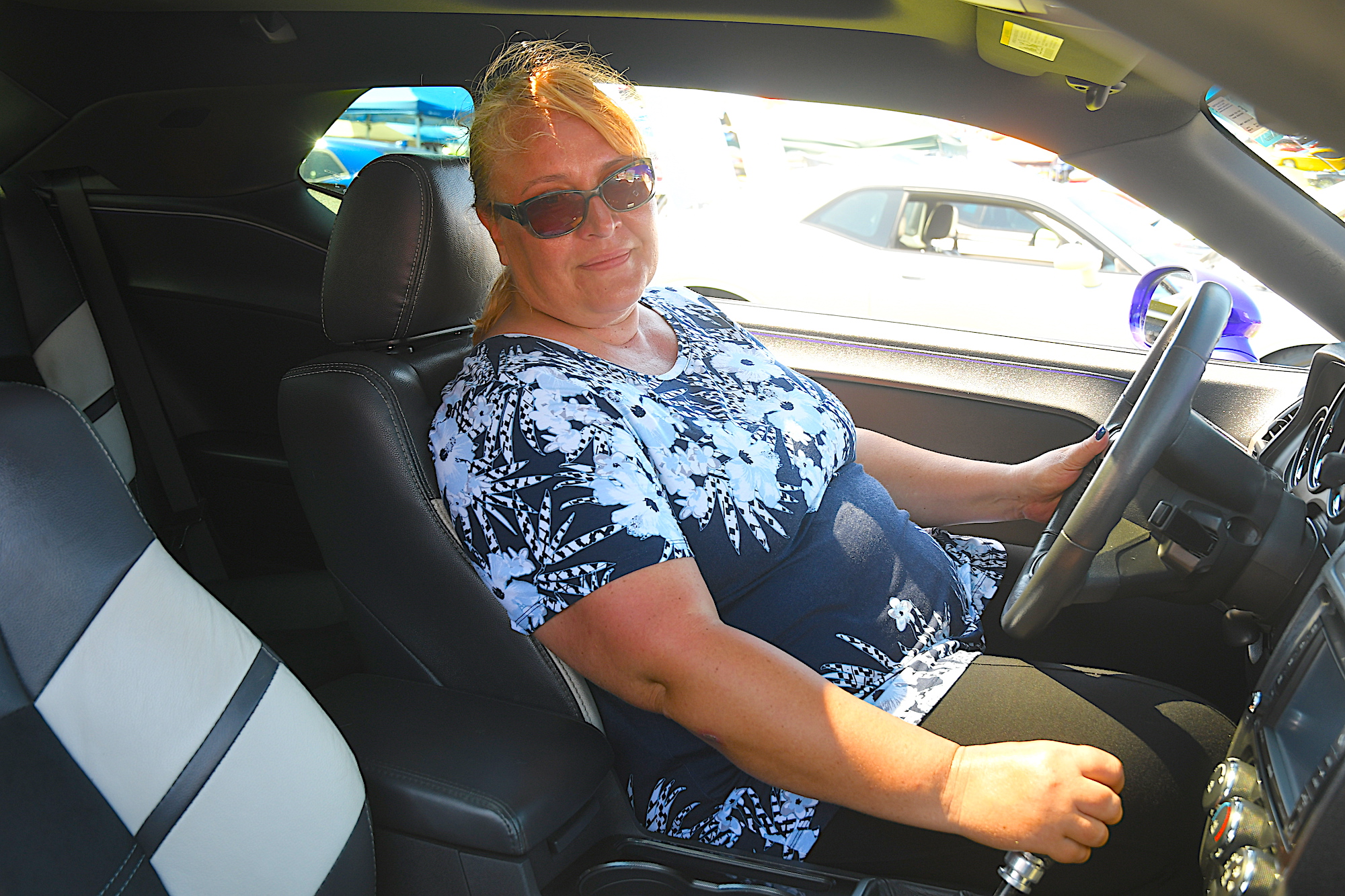 Katarina also resides in good company as she's an active member of a car club, Hudson Valley #845 MOPARS. These guys and gals organize community fundraisers, car shows and cruises with their late-model Challengers, Chargers and other Mopar® machines. Between Katarina's three awesome Challengers, there's over 1,500 horsepower sitting in her garage. We're sure Lou's smiling right now looking down on Katarina and shaking his head.
Comments
Comments