Reunited And It Feels So Good
4 years ago Owners + Clubs
There is something special and irreplaceable about your very first car. It's kinda like your first kiss. You spend most of your time fumbling around in uncertainty, not totally confident about what you are doing, but ultimately you learn from the experience. Your first car teaches you, it taunts you, it breaks you; and at the end of the day it brings you life lessons and lasting memories. Unfortunately for most, their first car isn't exactly their dream car. Maybe it isn't flashy enough or fast enough, often it's just the best they could get at the time and quickly traded off for the first upgrade that comes along. Despite being overlooked in an impulsive youth, most first cars are usually regrettably underappreciated and terribly missed. Many of us gear-heads wish we could go back in time and hold onto that very first car, give it the love and dedication we didn't realize they deserved and bask in their youthful nostalgia.
It's a phenomenon, but on rare occasions fate will bring that old car right back to the previous owner who misses it so dearly; fortunately for this 1967 Dodge Coronet it did return, and with impeccable timing. Dalton Vandenbogaerde was your typical 13 year old junior high student daydreaming of what life in high school would be like. He thought about what sports he would play, which girls he would date, how much homework he would have to do; but most of all he thought about what he would be driving. It had to be something badass, and I mean truly badass. Dalton wasn't about to settle for some brodozer Silverado or a V6 Mustang, he needed a real muscle car. Naturally, if you're going for the true badass muscle car vibe you limit your selection to looking for a Mopar. Now, this 1967 Dodge Coronet may not be an R/T Charger or a HEMI 'Cuda, but these early B-bodies are one of the few respectable muscle cars that can still be attained by some punk 13 year old kid with a little help from mom and dad. When Dalton first brought his new hot-rod home it had been crudely painted primer gray with patches of B5 blue bleeding through, the motor was missing, and the interior was tattered; but it was the perfect project car to teach him the basics of automotive restoration. Dalton was dedicated to getting his Coronet roadworthy in time for highschool and worked at it with every spare minute he had. Under the guidance of his dad and with the assistance of his buddies, Dalton straightened the Coronet's body, he sanded down its primer paint, and eventually had it shot in his favorite color: V2 HEMI Orange. Such a bold color choice exudes attitude so he would need an equally aggressive drivetrain to match. He spent his summers mowing lawns and working landscaping gigs to save up enough dough to put together a wicked 400 big block engine. The car was painted, the motor was in and Dalton was on track to having the hottest car in the high school parking lot. Unfortunately, it was at this point that Dalton learned the devil is in the details. Wiring, brake lines, fuel lines, linkages and trim; all the small intricate stuff was adding up fast and the days till his 16th birthday were beginning to dwindle.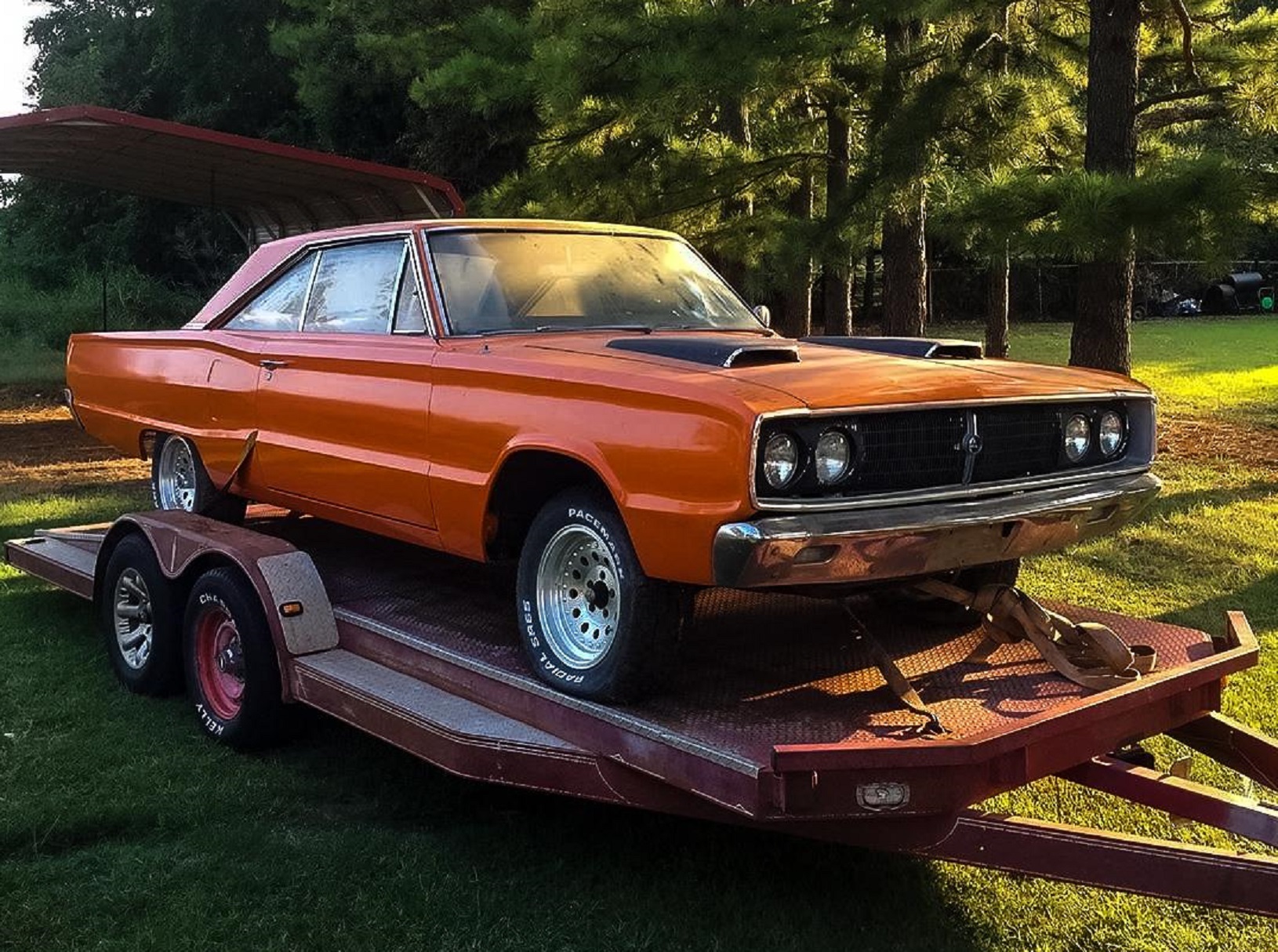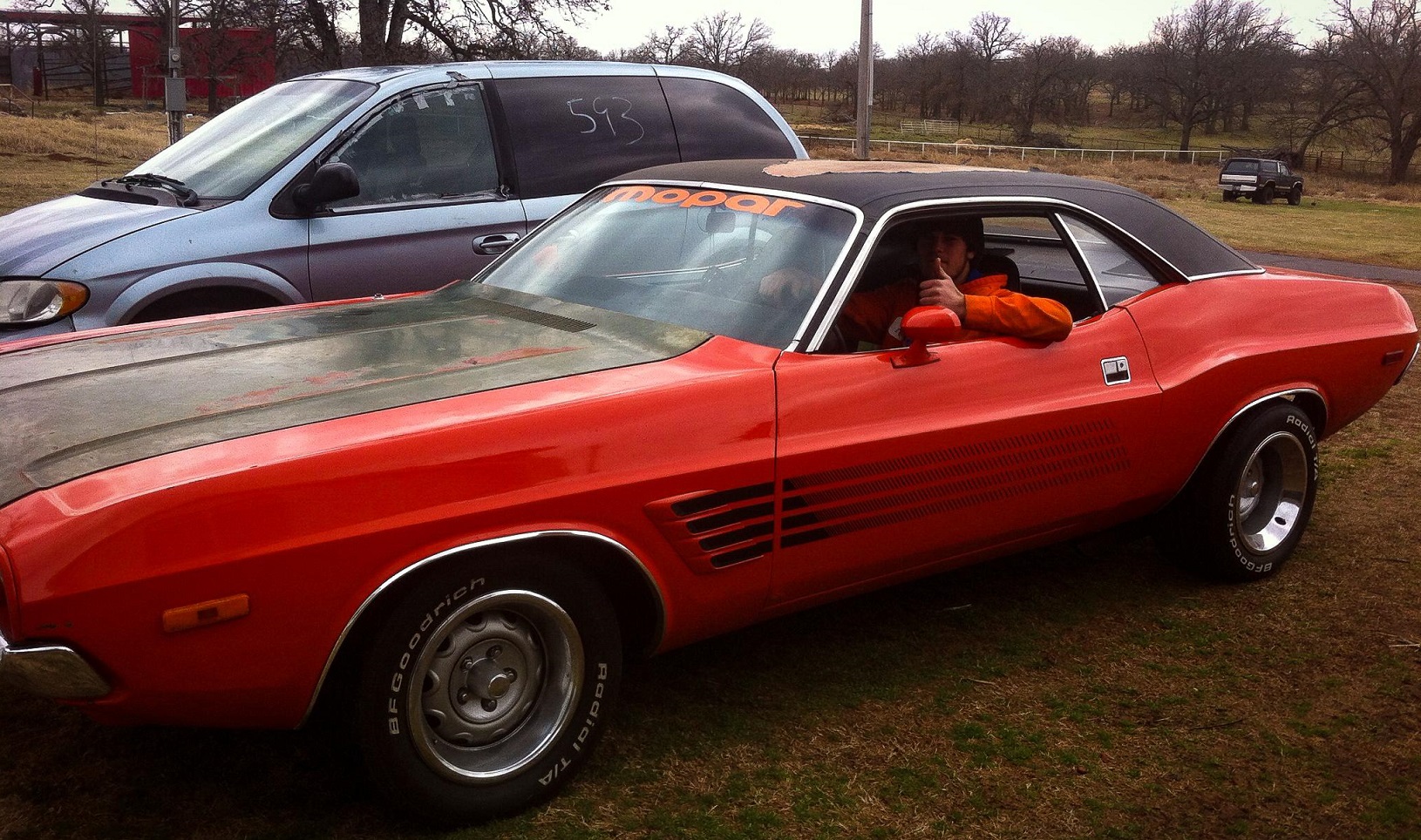 It was then that another Mopar muscle car caught Dalton's eye, this 1972 Dodge Challenger Rallye, and at an unbelievable price! Equipped with a 340 engine, slapstick shifter, "arrest me red" paint, and just a dash of that ratty muscle car vibe: it would make for the perfect high-performance high school beater! Distracted by the desirable Dodge Challenger, Dalton's impulses took over and the Coronet was put on the backburner. Trouble is, funding an E-body project isn't exactly cheap, so in order to keep the Challenger going the Coronet had to be sold.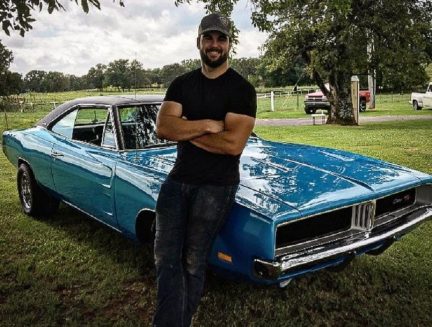 Since regrettably parting ways, the 1967 Coronet had hopped from owner to owner, from state to state; yet somehow appears untouched after almost a decade of trading hands. Unlike the car's unaltered appearance, Dalton had grown since his boyhood dreams of cruising around town in a big block Coronet. With a plethora of Mopar restorations under his belt (including this killer 1969 Dodge Charger and breathtaking 1971 HEMI 'Cuda tribute), Dalton's knowledge and skills have evolved just as much as his fleet of badass Mopar muscle cars! It seems no coincidence to me that after Dalton had broke his teeth in on a few other cars, this long lost 1967 Coronet would fall back into his life.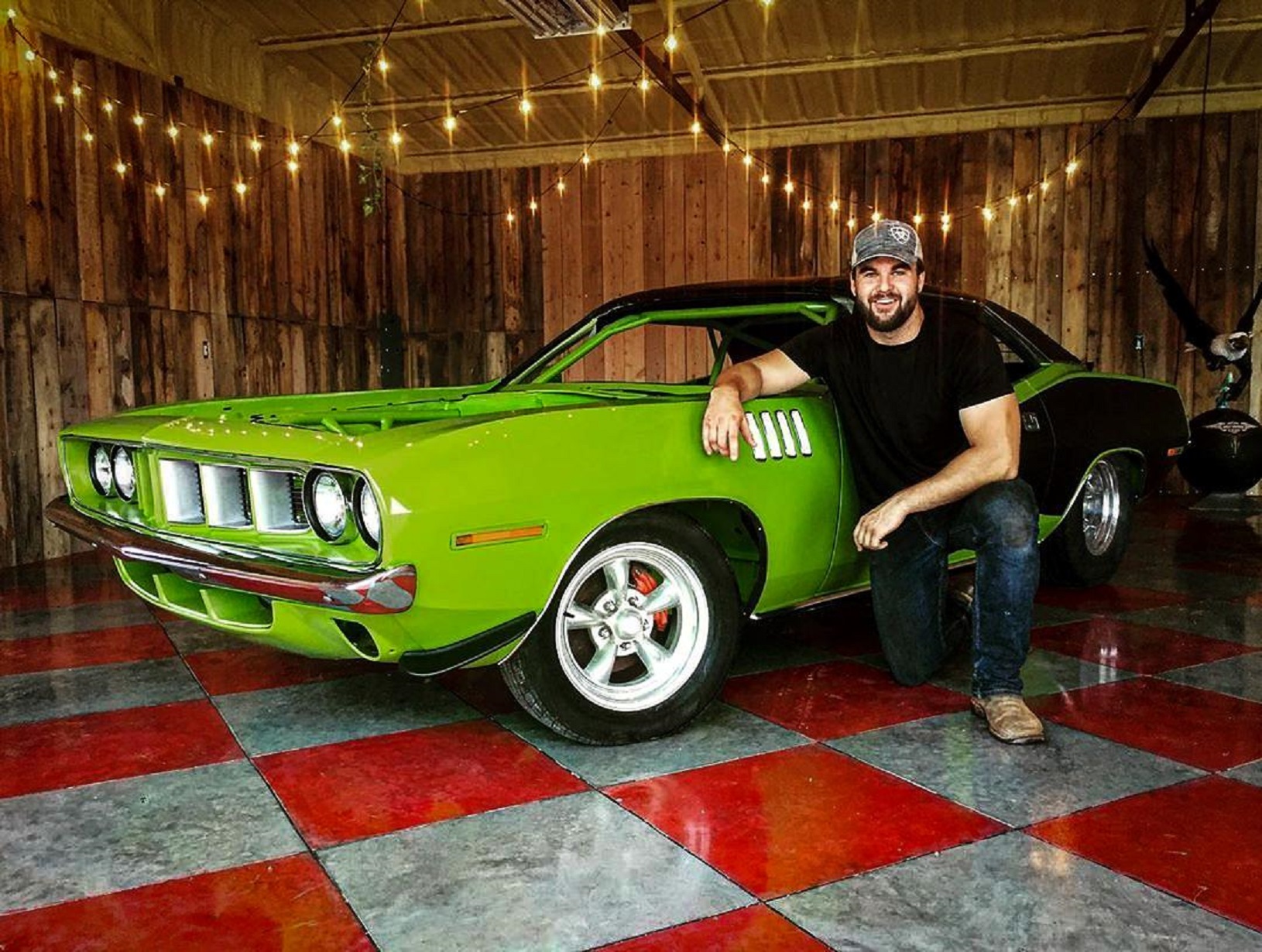 It was a random twist of fate when Dalton's good friend Larry was out doing errands and ran into his old buddy John, another local gear-head. Shootin' the breeze in the middle of the grocery store, John mentioned that he just acquired a 1967 Coronet, however wanted to sell the car to fund fixing up some of his farm equipment. Knowing of Dalton's love for Mopars, his friend Larry went to scope out the car and immediately called Dalton to see if he wanted first dibs on this mystery B-body. At this point in time, Dalton has already become a dedicated Mopar hoarder (even worse than me), so he was immediately interested in buying the Coronet. How cool would it be to build another '67 to look just like his first car? Of course what he didn't realize right away is that the Coronet already looked just like his first car. Over the phone, Dalton and his buddy discussed the car's condition, and the more he heard the more he wondered: could it really be his old car? As Larry described unique details like the car's bright orange paint, funky patterned headliner, and B5 blue trunk pan, Dalton knew right then and there that his baby was back! Naturally Dalton rushed over to John's place to see the car for himself and much like a mother can recognize the cry of their child, Dalton immediately knew this was his car. With no hesitation he bought her back right then and there and after a handshake he took ownership of the title just to find after all these years the car was still in his name. Maybe this is the result of several other owners title skipping, but I like to think of it as some kind of supernatural message from the car itself (the likes of Christine). One thing for sure is Dalton must have been pleased to avoid an extra trip to the DMV.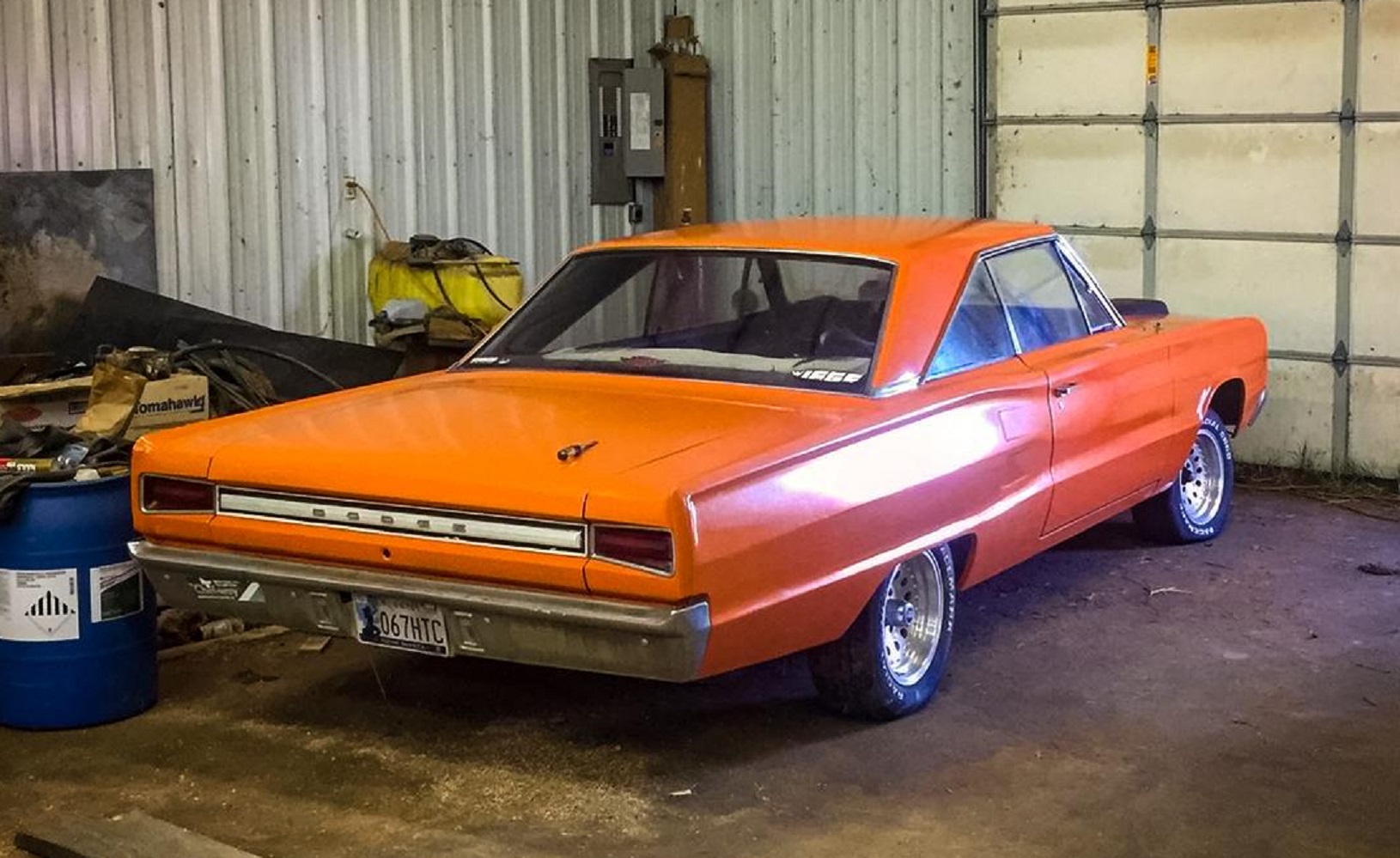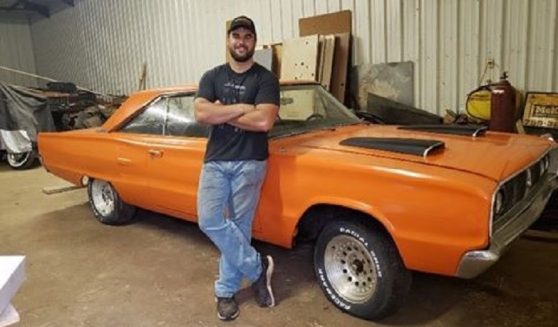 Picking up where he left off over a decade ago, Dalton will leave the car just as she is, HEMI Orange paint, funky headliner and all. One thing that will change is the wicked 383 big block Chrysler engine he has to replace the missing 400. This winter, the fresh motor will go in, and after cultivating his mechanical skills all those little details like wiring and plumbing will certainly be a breeze. By this spring, the '67 Coronet will make its debut as the daily driver Dalton had always dreamt of, better late than never if you ask me. Dalton is over-the-moon about his discovery and grateful for the reunion. He vows to never let this one go again, that is until his own son turns 16 and is ready for his own first badass muscle car!
Dalton and his Coronet make a great pair, but we all have that one that got away. What long lost Mopar from your past would you like to reunite with?
Comments
Comments