U.K. SRT Demon
3 years ago Owners + Clubs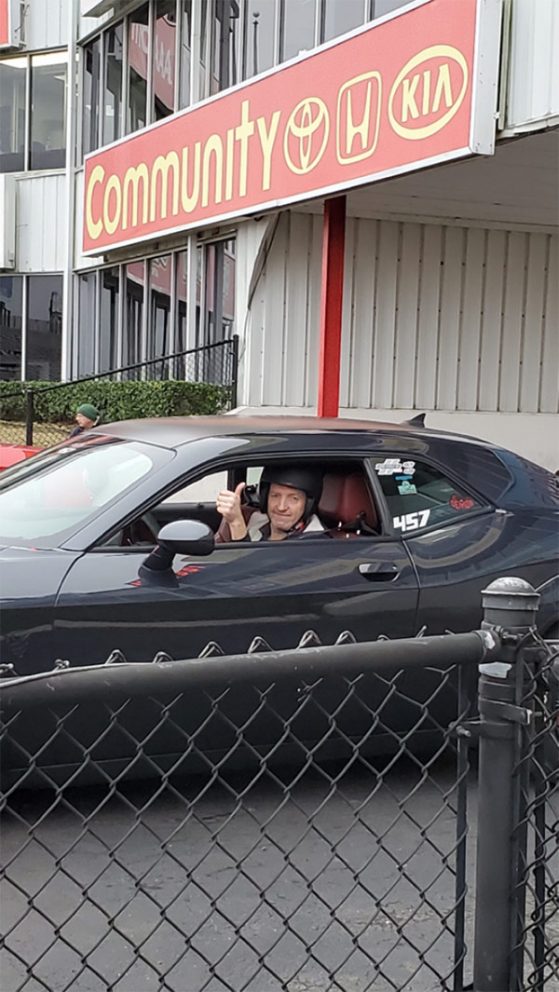 The 2018 Dodge Challenger SRT® Demon was made for just a single year, with only 3,000 produced for the U.S. and 300 made for Canada. Who else besides silly Americans would want something as absurd as a Dodge SRT Demon? Certainly not some proper Englishman from the U.K.! It turns out, no, at least not all of them! The SRT Demon seems to have a wider appeal than to just us here in the states. I guess the need for a fire-breathing, loud and obnoxious HEMI® engine is something people crave all around the world.
I recently found out about a fella named Michael Barnes. While I'm sure there are other cases of Dodge SRT Demons making their way outside the U.S. and Canada, this was the first one I found out about personally and had had the opportunity to discover more about the "U.K. Demon".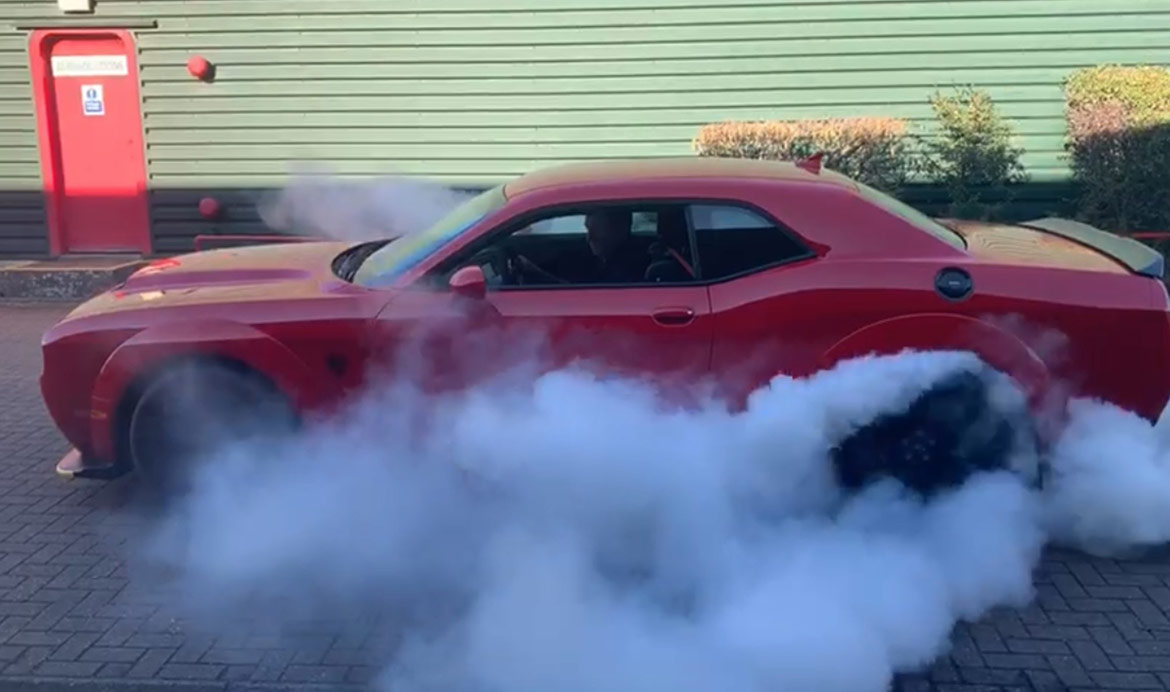 DodgeGarage: So, where exactly do you live over there across the Big Pond?
Michael Barnes: I live in the Shires, Berkshire to be precise. It is within a short walk of the old USAF base called Greenham Common where cruise missiles were deployed in the '80s.
DG: What lead you to purchase a Dodge SRT Demon? Is this your first modern Mopar® vehicle?

MB: I first became a Mopar fan when I read an article in Custom Car magazine in the mid-'70s on the Superbird. WOW! My first purchase in 2005 was a Ram SRT10, which I've supercharged and done other mods in search of speed. I still have the vehicle.
When FCA launched the Demon I knew I had to have one. After all, a purpose-built drag racing car would fulfill my dream. It has everything a grassroots racer could wish for!
DG:
How hard was it to get an SRT Demon to the U.K.; what was the process like?
MB: When I decided to bite the bullet, it was relatively painless. I looked online and contacted dozens of dealers in the States trying to purchase direct. Legit dealers weren't interested in working with me and I heard over and over, "We can't sell outside USA." My only option was to buy online from a seller with next to no feedback or a backyard "Bob Automobile Sales," I didn't fancy sending £100k-plus to someone I couldn't verify for something I couldn't touch. So I went to a vehicle importer in London named Clive Sutton. They already had one in stock that unfortunately was already sold, but they let me sit in it while it was on display at a show.
By this time, I was truly hooked. They sourced me the vehicle I wanted. It was TorRed, fully loaded with a crate to follow. I paid my deposit in April, I think, and drove the car home mid-October 2018. HOLY WOW!! Money very well spent.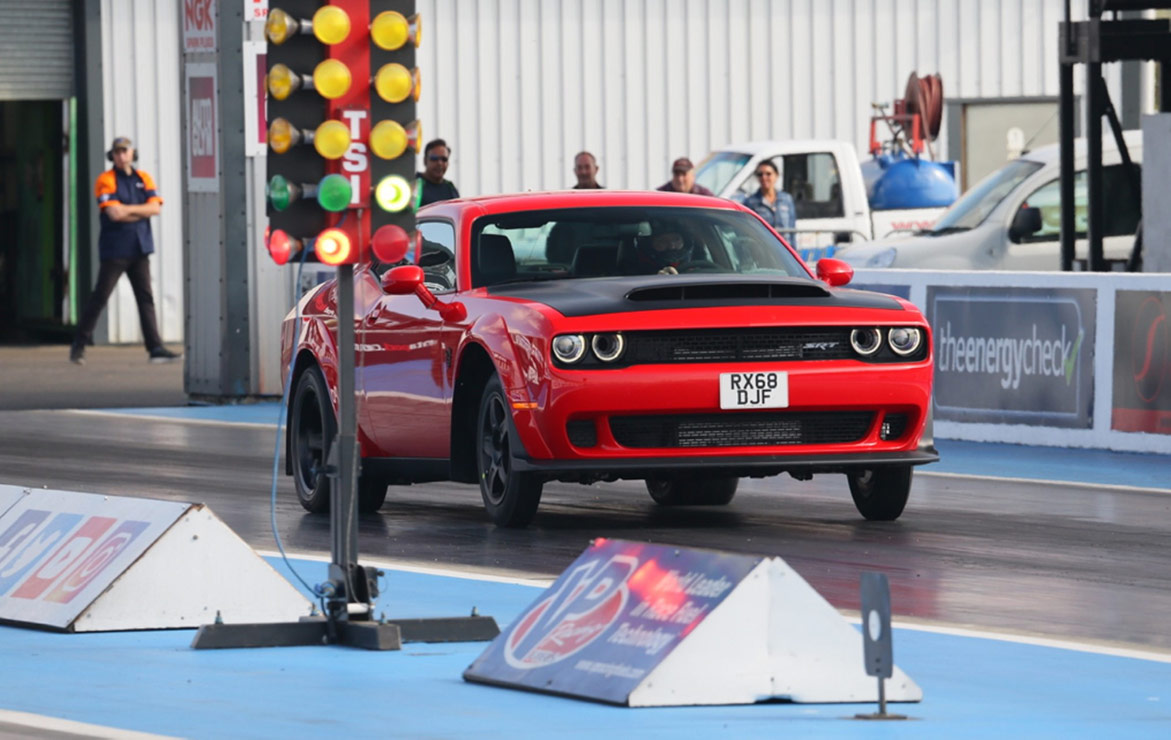 DG: I imagine that there aren't many over there; have you seen any or know of any others? Do you drive it on the streets much?
MB: I have never seen another one on the road. I did see one at the London motor show, but I'm guessing there may be a dozen in the country. I've done a couple of thousand road miles in a year, which is a lot for me in one of my fun cars. I could easily drive it every day.
DG: What are people's reactions to the SRT Demon when you take it out?
MB: A lot of grins, photos, thumbs up and the usual questions, "How many miles to the gallon?" or "How fast is it?" or "How do you park it?"
DG: What is the drag racing scene like in the U.K.?
MB: Unfortunately, there is only one raceway in the U.K. It's called Santa Pod near Wellingborough. I will put it this way, when I tell people I'm going drag racing they think I'm a RuPaul fan.

DG: Are there any downfalls to owning an SRT Demon over there?
MB: The Demon is a tad wider than most of our cars along with the steering wheel being on the wrong side! I try to keep to the "A Roads". Our top octane gasoline is 99 RON, so I've been using octane booster to get to 100 MON. For the coming race season, I will be using VP Race Fuels, which is available over here.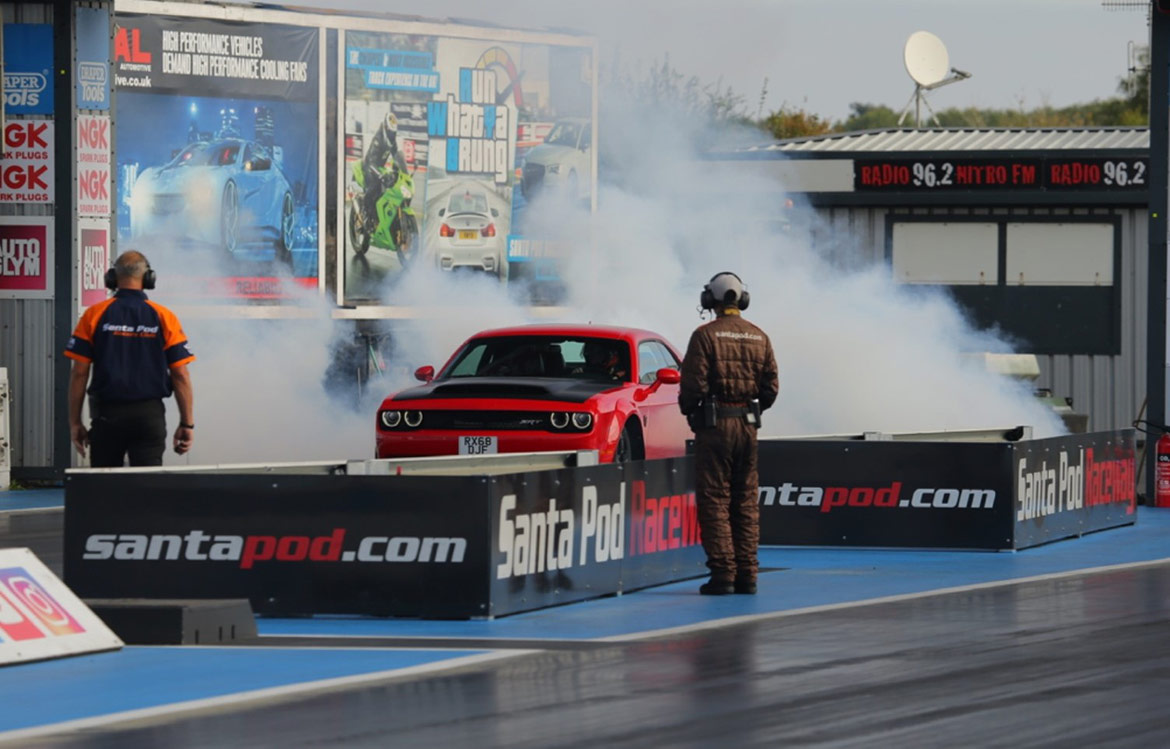 DG: Tell me about your trip to the U.S. to go to the Legion of Demon event. And do you plan to attend more?
MB: I joined LOD last year just to be part of the scene. Crazy, I know, as it's a racing club, so I'm never going to take my car to a meet, right? Byron (Legion of Demons organizer) posted the 2020 LOD track rental in Houston on a forum I follow. I remember another member posting, "I wish I had a Demon." So I followed up with "I wish I lived in the States." The next post was by Byron, something like, "You're a member. Pay your signing on fee and drive one of my cars, no excuses". I thought, is this guy kidding? My heart beating a little faster, I logged off not knowing what to say. A day or so later, he contacted me via What'sApp saying, "what do you think of my offer?"
Anyway, a couple of months later, with new passports, I'm in a tin can at 40,000 feet over the pond with my wife, Claire. It was a bit surreal, really. We were early birds at the track, I remember thinking, "I wonder which one is Byron?" So, with trepidation, I phoned him as he walked into the clubhouse. What a great guy. He let me have multiple passes in Demon #457 over the three days. Most passes resulted in the 9's. Everyone there was friendly! "Are you the guy from England?" Lovely people! We met a few forum friends and made some new ones. I was worried Claire would be left out but there were other wives supporting and sharing their partners' dreams. Byron's racing team looked after us like family and we are forever in their debt. If you own a Demon, sign up and enjoy it. There was every type of Demon owner there from track pros to first-timers. No elitism. I was the only Englishman, though.
Anyway, we were going through immigration at George Bush Airport and I was feeling pretty pleased with myself. Nineteen years old again. The young customs officer handed me back my parcel saying, "Here ya go, pops." That made me laugh. Would I go again? Hell yeah, in a heartbeat.
DG: What are your plans with your car?
MB: Race it as much as I can, drive it as much as the weather permits and enjoy owning it. Can it be purchased from me? Hell no.
DG: Do you get to take it to the track often over there? How far is that from your house?
MB: 180-mile round trip. I only went once last year as it took ten months to get my crate. I intend going several times this year. Most of the events are aimed at Euro and Asian import cars.
DG: Are there a lot of U.S. vehicles over there brought over by enthusiasts? Be it Mopar, Chevy, Ford?
MB: You only really see American cars out for a Sunday morning drive or at car shows. Occasionally, you see Dodge or Ford work trucks.
DG: Is there a classic muscle car scene in the U.K.? The muscle car thing always strikes me as such an American thing that no other countries would have much interest in outside of the few and far between enthusiasts like you.
MB: I think that's true. I should have been American! There may be a small scene in and around London.
DG: Is there a vehicle you wish Dodge would make, or make again?
MB: The only other car that would get me salivating would be a Superbird! Nose cone, wing and all. I'd want, no, NEED one of those! It would look sweet stabled next to the Demon!
Comments
Comments