Father and His Children Bond Over Their Love of Mopar® Muscle Cars
1 year ago Owners + Clubs
David Radcliffe knows a thing or two about Mopar® vehicles. This 51-year-old has been working at Golling Chrysler Dodge Jeep® Ram of Roseville for over 35 years, 20 of those as the Parts Manager. He can spout off numbers and vehicle applications at will. Need to know what it takes to install a new Mopar Hellcrate engine into a 1970 Challenger? No problem, Dave has it all figured out. Doing a restoration on a 1969 HEMI® Charger R/T and need the correct part numbers for the upper and lower radiator hoses? No worries, Dave is your hook-up. From vintage to modern high-performance machines, Dave has made Mopar muscle cars his passion, while helping others in the hobby through the dealership's Roseville Moparts website. This father of four got introduced to the Mopar hobby at an early age by his dad and grandfather. In the 1960s, they both worked at Chrysler's Jefferson Assembly plant as line managers and foremen. His father had a 1964 Sport Fury, while his grandfather owned a 1965 Sport Fury. Both were powered by 383-cubic-inch V8 engines, and both were raced on a regular basis at the old Detroit Dragway.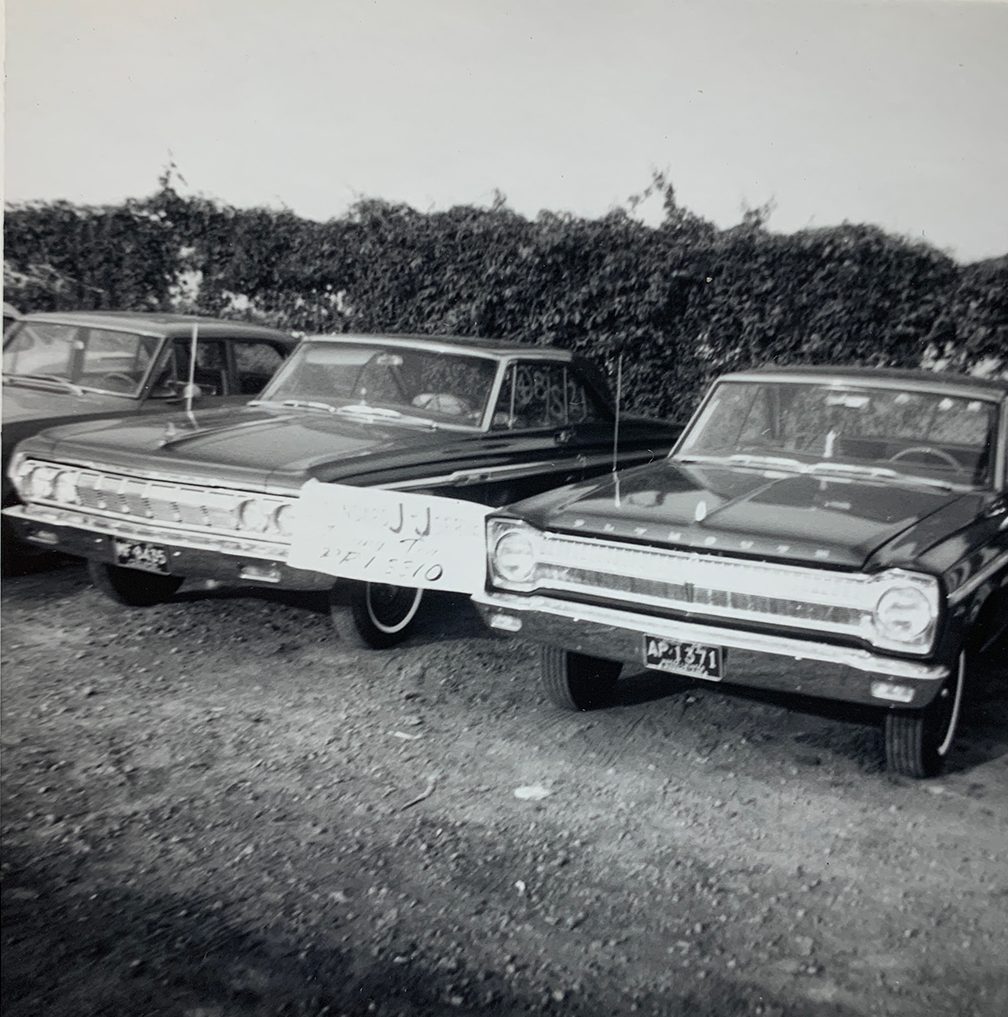 "I remember the drag racing stories my dad and grandpa told me when I was a kid," said Dave. "The one that really stands out was when my dad was racing at Milan Dragway back in 1968. He was running in his 440 Magnum-powered Coronet R/T. When he looked over in the next lane to see who he was lined up next to, it was Ronnie Sox driving his 1968 Super Stock HEMI Barracuda. When my dad told me that, I was just blown away. Even though it was just a time trial, I told all my friends that my dad raced the famous Sox and Martin team!"

Now you can see how Dave's passion for Mopar became instilled in him at such a young age. It's something he's carried throughout his life and has passed down to his kids. While most people leave their nine-to-five job behind them when they go home, Dave was in the garage late into the evening working on his personal vintage Mopar vehicles while his kids watched. Eventually, Dave handed them tools and taught them the inner workings of cars and the special nuances of older Mopar vehicles. It was here that Dave began passing down his knowledge to his children who would grow up sharing their dad's love of Mopar vehicles. His sons Joey and Ryan are twins, born just three minutes apart, Joey was the first on a holeshot and is technically older than Ryan. Both boys, now 23, share their father's love for muscle cars and carry on the family tradition along with their siblings Lindsey and Alexa.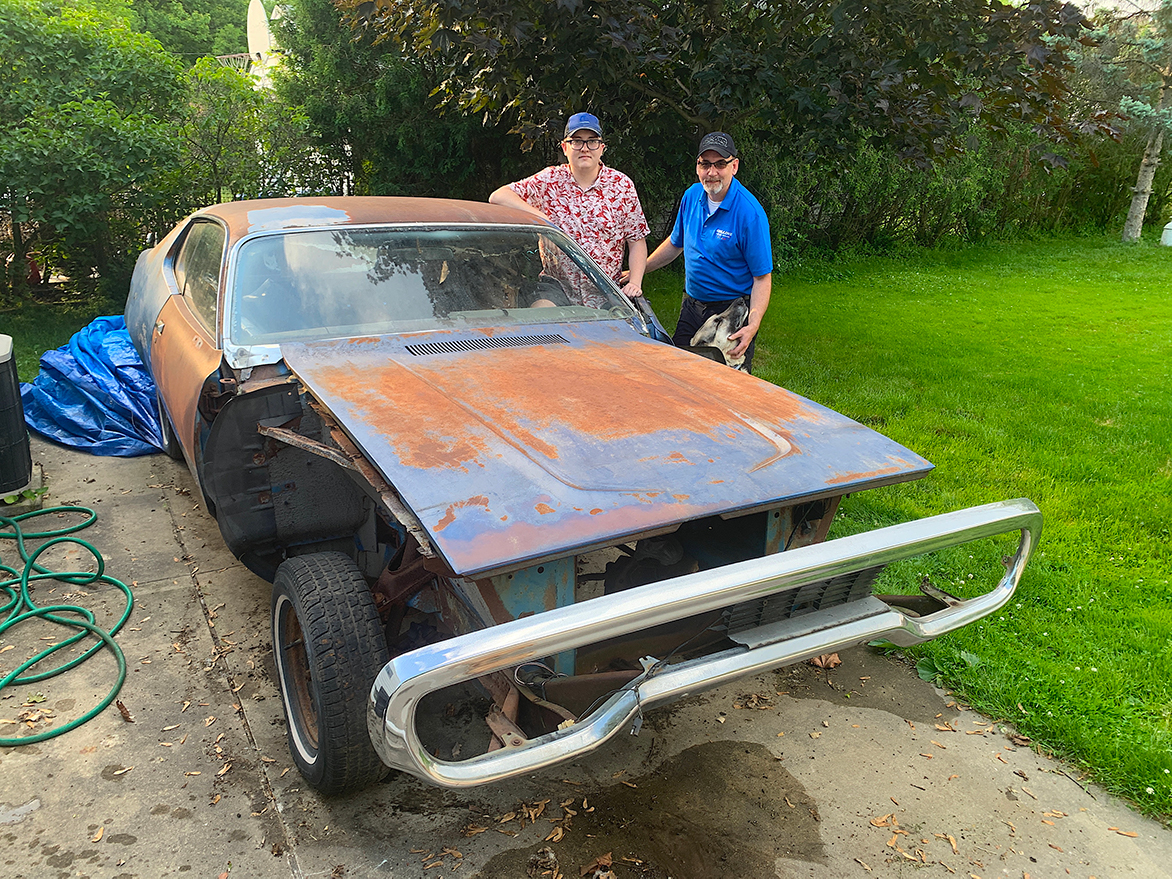 "My earliest memory I have of my dad and his love of Mopars is when I was really young, and he'd drag us out to the numerous car shows in the Detroit area. My siblings and I would go up to all the Mopars in the show field and drop flyers on the front seats to promote the dealership's all-Mopar car show and swap meet that my father organized," said Joey. "As we went around to the cars, my dad quizzed us on what year, make and model they were. He taught us how to ID the various models by noticing things like the front grille, tail lights, side maker lights and other unique features." Joey soon developed his own interest in Mopar muscle cars around the time he was old enough to sit in the front seat of his dad's 1973 F8 Green Challenger, a car Dave has had since high school. "I have memories of my dad doing burnouts in the driveway of our house and I thought that was so cool."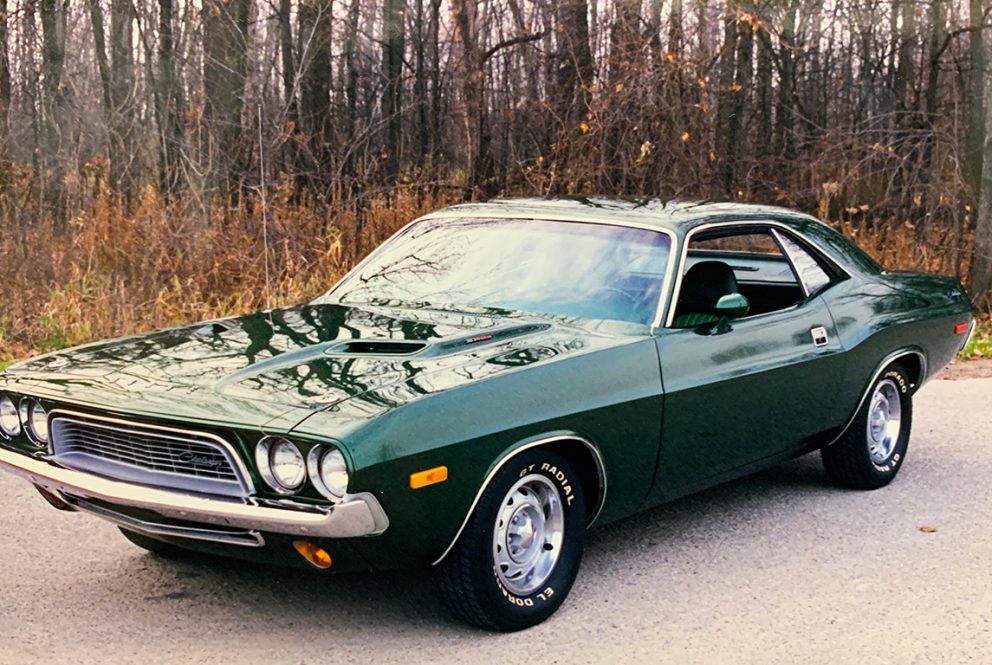 When Joey became a teenager, he spent time working with his father at the dealership. He started out at the ground level sweeping the floors, taking out the trash and putting away parts. "When I was going through college as a CAD Software Engineering student, I went back to the dealership working part-time during the summers. I finished school and landed a job at an aerospace firm and began looking for my own Mopar muscle car to purchase and work on with my dad," commented Joey.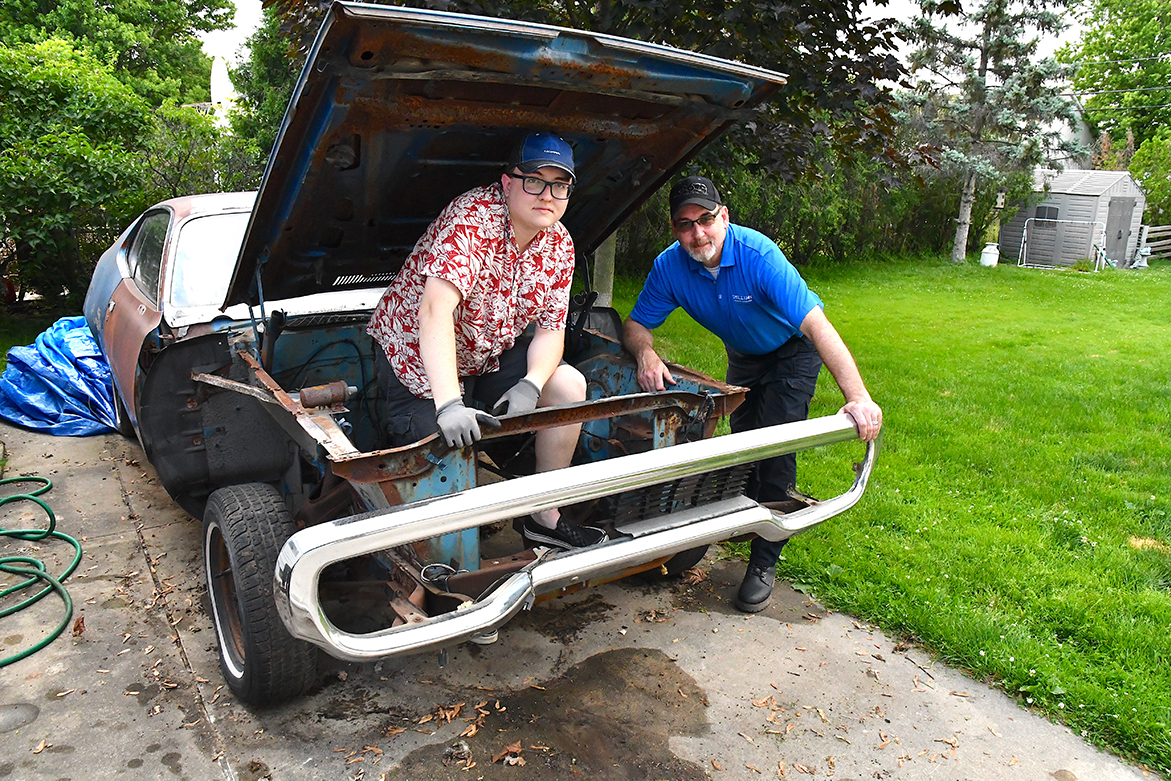 Dave began looking for some cool project cars to work on with his kids, so he contacted his good friend Larry Pontnack and headed west to Illinois to check out Mo-Par City. The vast yard at Mo-Par City was dotted with the skeletal remains of Dodge and Plymouth muscle cars that had seen better days. Many of these vintage muscle cars were picked over, like an animal carcass laying along a country road while buzzards flew overhead. Dave spotted a faded B5 Blue 1971 383 Road Runner nestled in the tall grass that had been given up for dead and abandoned since 1988, but it still had potential to be a great restoration candidate with his son Joey, and a deal was struck between Larry and Dave.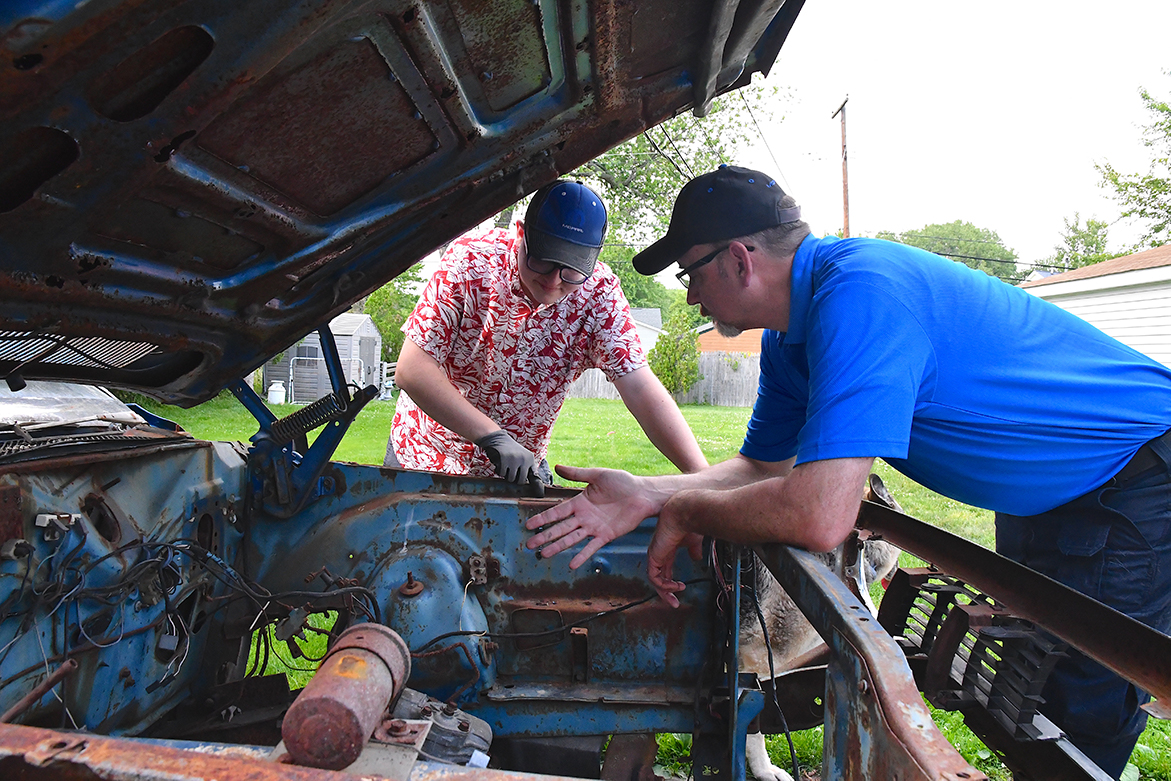 "I plan on either doing a stock restoration or a restomod project to install a Mopar 392 HEMI Crate Engine in the Road Runner," said Joey. "Regardless of which direction I go with the car, these machines need to be saved. It's always amazing to see a car come out of the junk yard and have a new life. I don't believe any car should be crushed and sent to its death, never to be enjoyed again."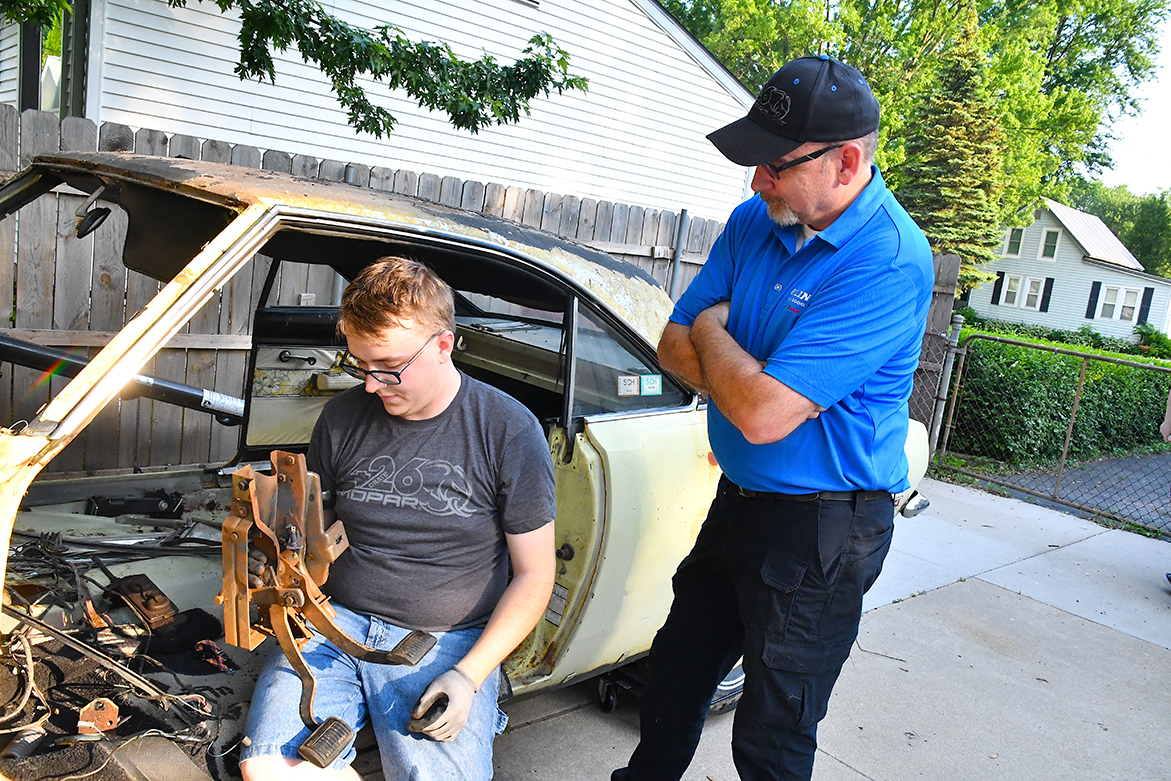 While at Mo-Par City, Dave spotted another rare and unique car for his other son Ryan. Like his twin sibling, Ryan's passion for Mopar vehicles began at an early age. "I remember my dad always working on his Challenger and Road Runner in our garage when I was a kid. He also worked on his friend's muscle cars as he was the go-to guy in our neighborhood if you had questions about your car," said Ryan. "My dad's everything in my life and his influence had a major impact on me growing up. When I graduated from high school, I began working full-time at the dealership selling Mopar restoration parts. He's taught me so much from the technical side to the cool historical aspects these cars have on the Mopar community. Thanks to him, I'm where I'm at today."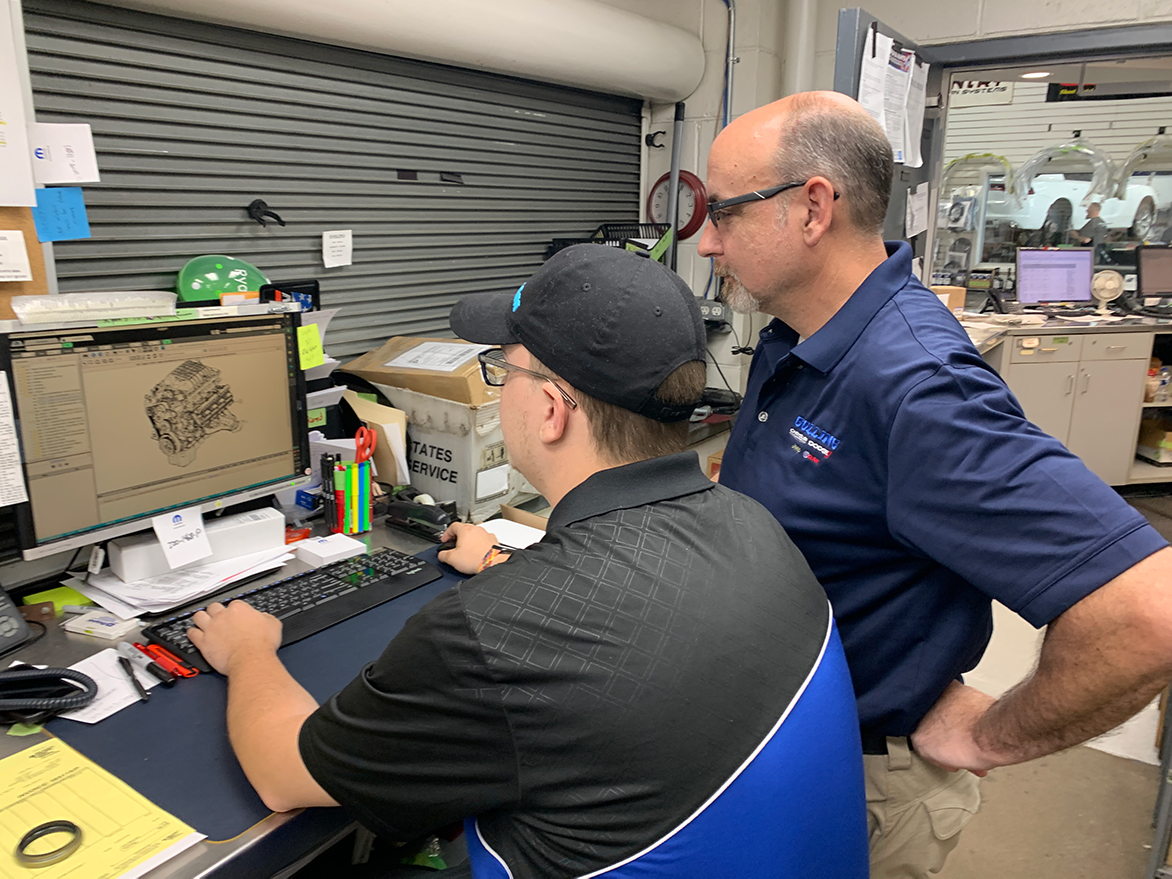 When they found a rare 1969 Barracuda 340 Notchback with a floral Mod Top and interior needing some TLC sitting at Mo-Par City, Dave and his son Ryan jumped on the opportunity and hauled that soon-to-be-extinct fish out of the muscle car dead sea. They left a trail of rust as they trailered the tarnished Barracuda back to the Motor City for a father-and-son Mopar restoration project. "This Barracuda is ridiculously rare, and I've always loved the body style. I remember going out to the Woodward Dream Cruise years ago and seeing a Barracuda Notchback and falling in love with the unique body style that most diehard Mopar fans dislike. And since I've been looking for something to tinker around with, and the fact my dad has his own Mopar muscle cars, I wanted something of my own to work on, so the Barracuda was the perfect car for me to purchase." Like Ryan's 1969 340 Barracuda, his comments are also rare for those of a 23-year-old whose peers are more engrossed in video games than turning a wrench or rebuilding a carburetor.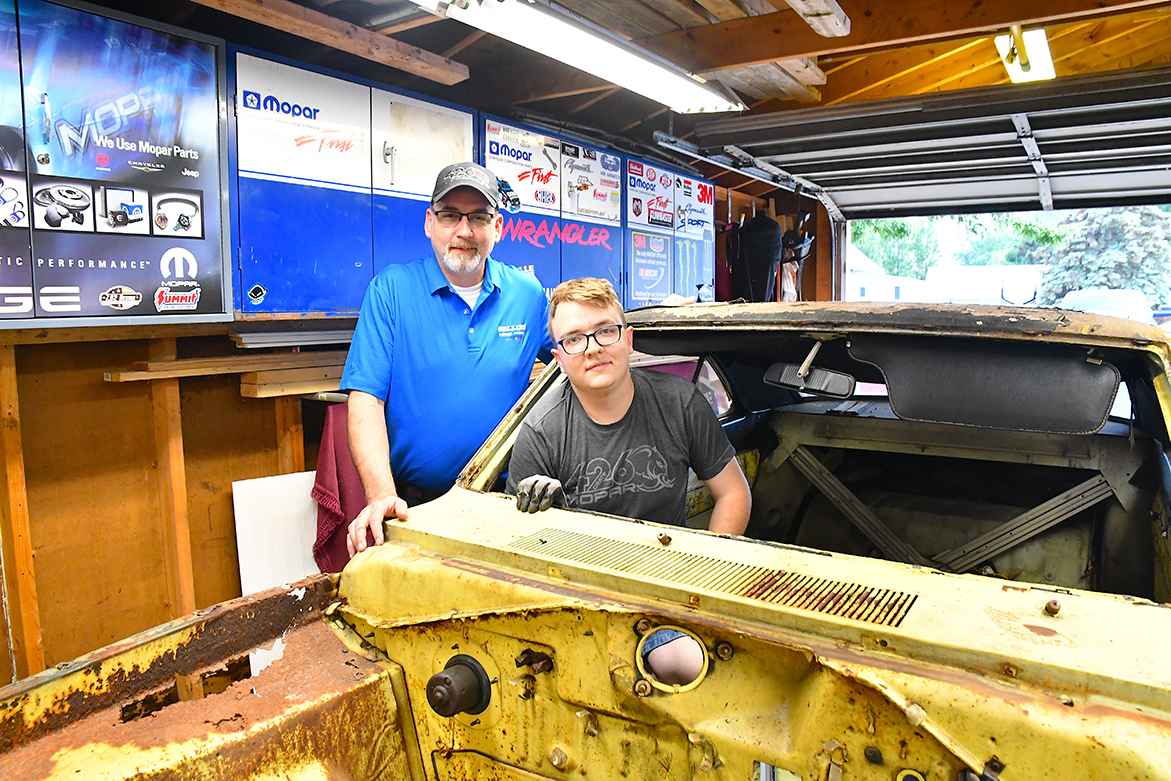 The Mopar muscle car passion has also been passed on to Dave's daughters, Lindsey and Alexa. Cool cars are not just for the boys in the Radcliffe household and the girls have some fond memories. "Most nights, dad would be in the garage working on the cars and I would just sit on the step and watch. Sometimes, we talked as he worked; sometimes, I'd help grab tools because he'd be wedged somewhere; other times, I'd help with little things with the bodywork like holding this or that to give him the extra hand. Dad knows every old muscle car so going to car shows in the summer is a huge childhood memory to relive. There's nothing like the smell of old car parts, garage welding and that good old car exhaust smell," said Lindsey, who's now 26 years old and is a Quality Technician for a prototype plastic injection company. "My dad has influenced me in so many ways growing up. From listening to every story a 'car show guy' wants to tell you, from learning how to make the best boxed mac 'n cheese, to love and cherish family and pets. My favorite Mopar is my 'Papas Pink Car,' his 1971 Challenger RT. I still want to purchase a 2021 Challenger Scat Pack Widebody someday, but that will have to wait as my husband and I are expecting our first child this winter." The Panther Pink Challenger R/T also holds a special place within the Radcliffe family as Dave built it specifically for his mother but unfortunately, she never got to drive the big block E-body as she lost her battle with cancer before the car was finished.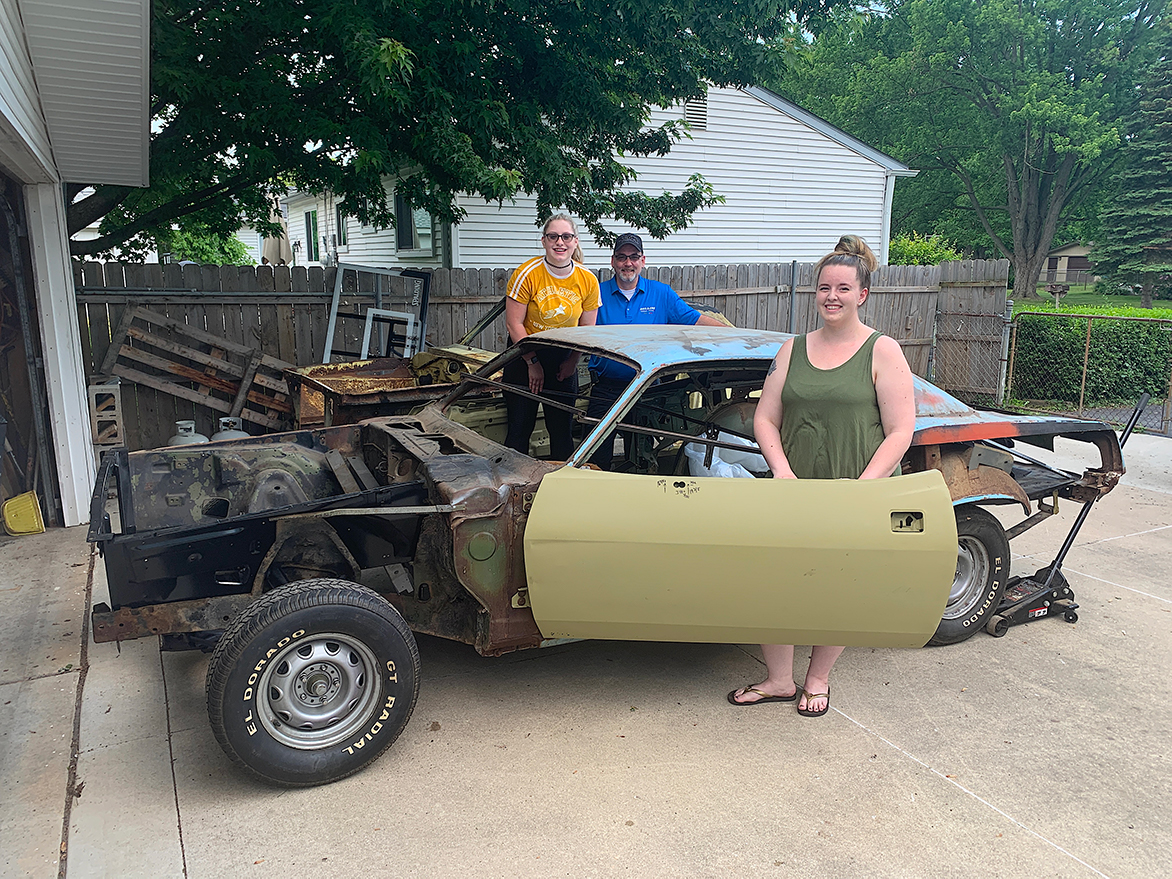 In life, families sometimes become blended, and such is the case with the Radcliffe family. Dave's youngest daughter Alexa is from his second marriage, but she's been influenced by her older siblings and loves the car hobby. When you're growing up in a house that's occupied by Mopar gearheads, that passion and knowledge seeps into the fiber of your brain cells. Even though she's just 14, Alexa can hold her own among the boys when it comes to Mopar vehicles. "It's awesome being in a house with Mopar fanatics. I get to learn new things all the time and I'm really enjoying seeing the cars at all different stages from junk to being restored. I'm excited I get to watch them come to life," commented Alexa. "When I get my driver's license, I would like to own a vintage Mopar. The 1973 F8 Green Challenger Dave has is my favorite. But it goes beyond the cars. He's influenced me in many ways over the years, but the most impactful is how he's shown me the right way to treat people and how to be treated. He is very patient with me when he's teaching me things and is a huge reason behind my new interest in vintage cars. He's such an incredible man!"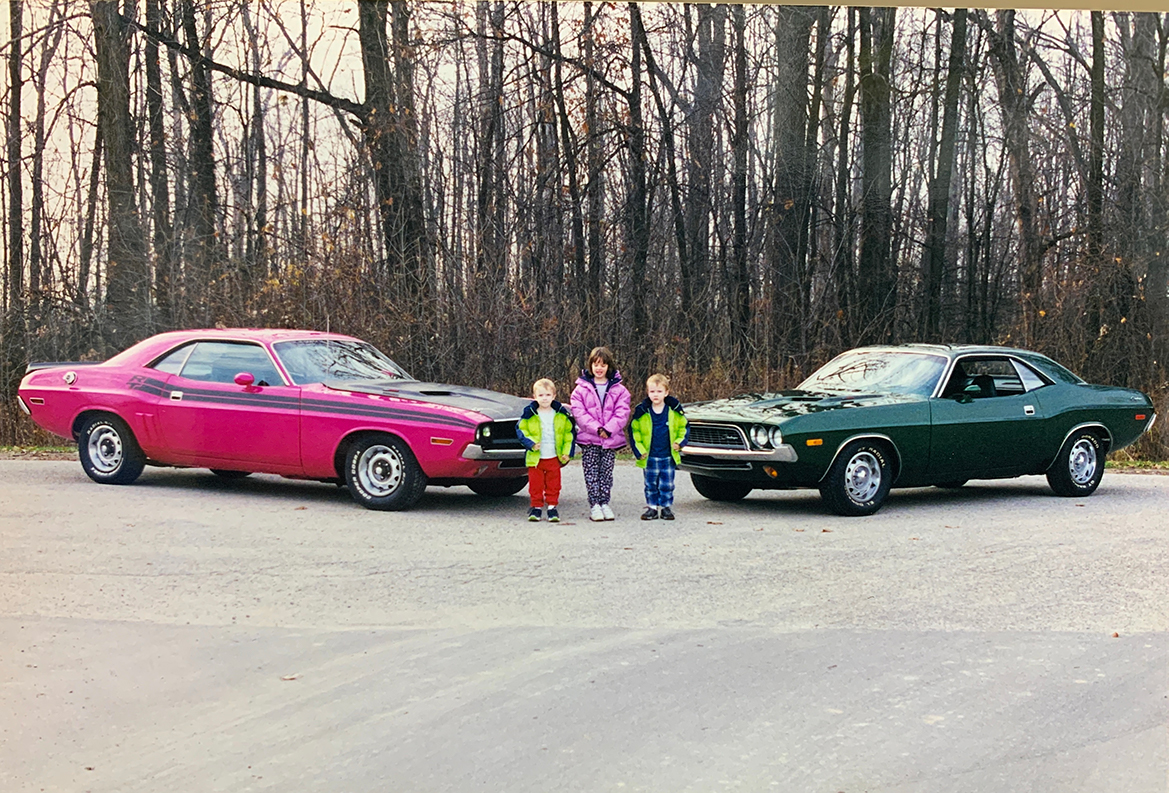 Dave knows he a very fortunate man. To have a family that not only embraces his profession and passions, but also shares his interest while taking an active role and working together on their cool muscle cars; "It's great to know I have awesome kids that enjoy the hobby and will take care of the cars we've shared over the years that will one day be passed down to their kids," smiled Dave Radcliffe. "The Mopar car hobby brought us all to a common ground and we've became a closer family unit because of it."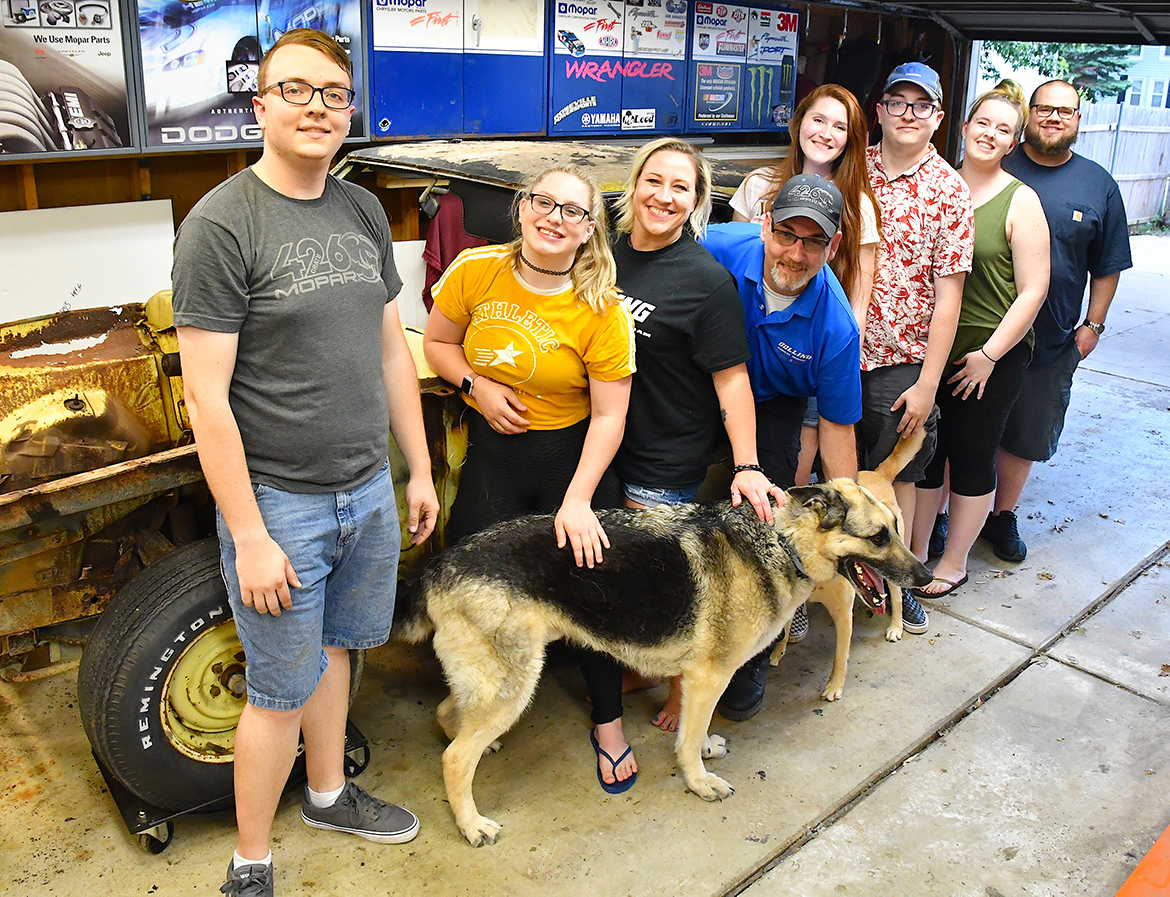 Happy Father's Day from DodgeGarage!
Comments
Comments