Blackbird 2.0 Ready to Hit the Afterburners
1 year ago Owners + Clubs
In the highly competitive world of the NHRA Factory Stock Showdown and the NMCA Factory Supercars class, you better come to the line ready to do battle. There are some tough customers in very fast machines that can lay waste to the next lane. It's where Dodge Challenger Mopar® Drag Paks, Mustang Cobra Jets and COPO Camaros come to duke it out in heads-up, winner-take-all-style eliminations. As the saying goes, "if you ain't first, you're last." And in drag racing, when two competitors travel 1,320 feet in less than eight seconds in supercharged, production-based cars, it's more of a duel between two gunfighters. Someone's going down, and the victor is advancing to the next round of eliminations. There can be only one winner in a drag race, and there are no podium finishes like in other forms of motorsport. No one remembers the runner-up of a drag race, so yes, if you ain't first, you're last. For Geoff Turk, his name will forever be etched in the history books. Back in 2018, he had the honor of piloting the first factory-built package car to break into the seven-second zone with his 2015 Challenger Drag Pak aptly named "Blackbird." He would also be the NMCA Factory Supercars World Champion that year.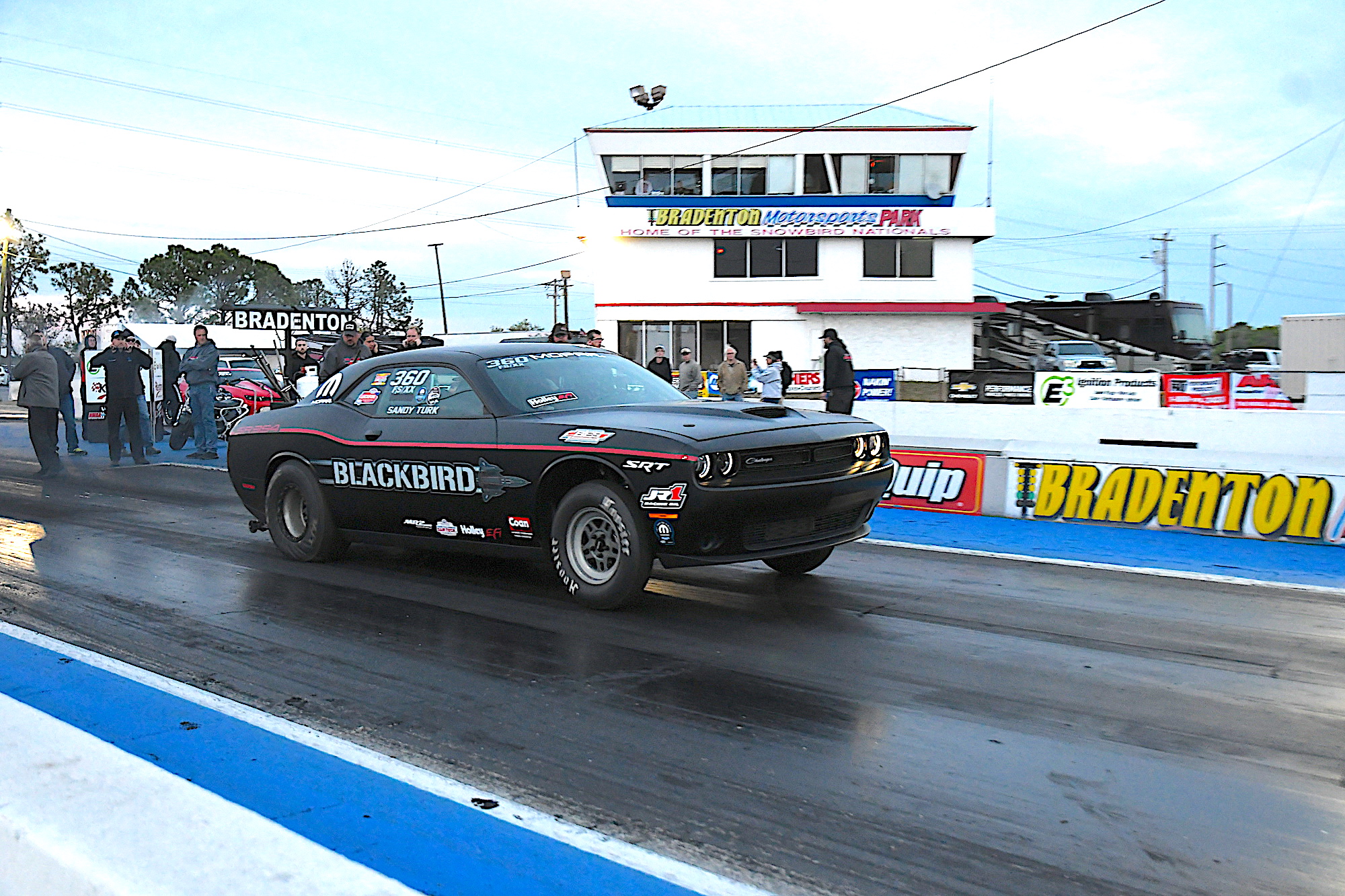 Now he's ready to break more records and rewrite drag racing history with his brand-new 2021 Drag Pak that will be known as "Blackbird 2.0." Geoff recently picked up his factory-fresh ride at Watson Racing and before the new car smell has a chance to evaporate, Geoff will be attacking the drag strip to gather run data on what the new Drag Pak and its supercharged 354-cubic-inch HEMI® engine likes. "In terms of factory-built drag cars, the 2021 Challenger Drag Pak is a fantastic piece. There has never been a racecar built by any other OEM that can match the 2021 Drag Pak's performance levels. When I saw fellow Drag Pak owner Dennis Chaisson run 8.08 seconds right out the box with his new car, that immediately convinced me even more that I needed a 2021 Drag Pak," said Geoff. He recalled years of flogging his 2015 Drag Pak to get to runs in the 8.0s before eventually dipping into the seven-second ET threshold three years ago. With the NHRA and NMCA approval of the 2021 Drag Pak and its HEMI engine that has a massive 3.0-liter Whipple supercharger bolted on top, this combination can now be retro-fitted into the older Drag Paks, and that's what Geoff has been running all season in his original Blackbird. Now that he's taken delivery of the 2021 Drag Pak, he's ready to take the performance to the next level and apply the valuable data he's gathered these last few months from the old car and apply it to his new ride.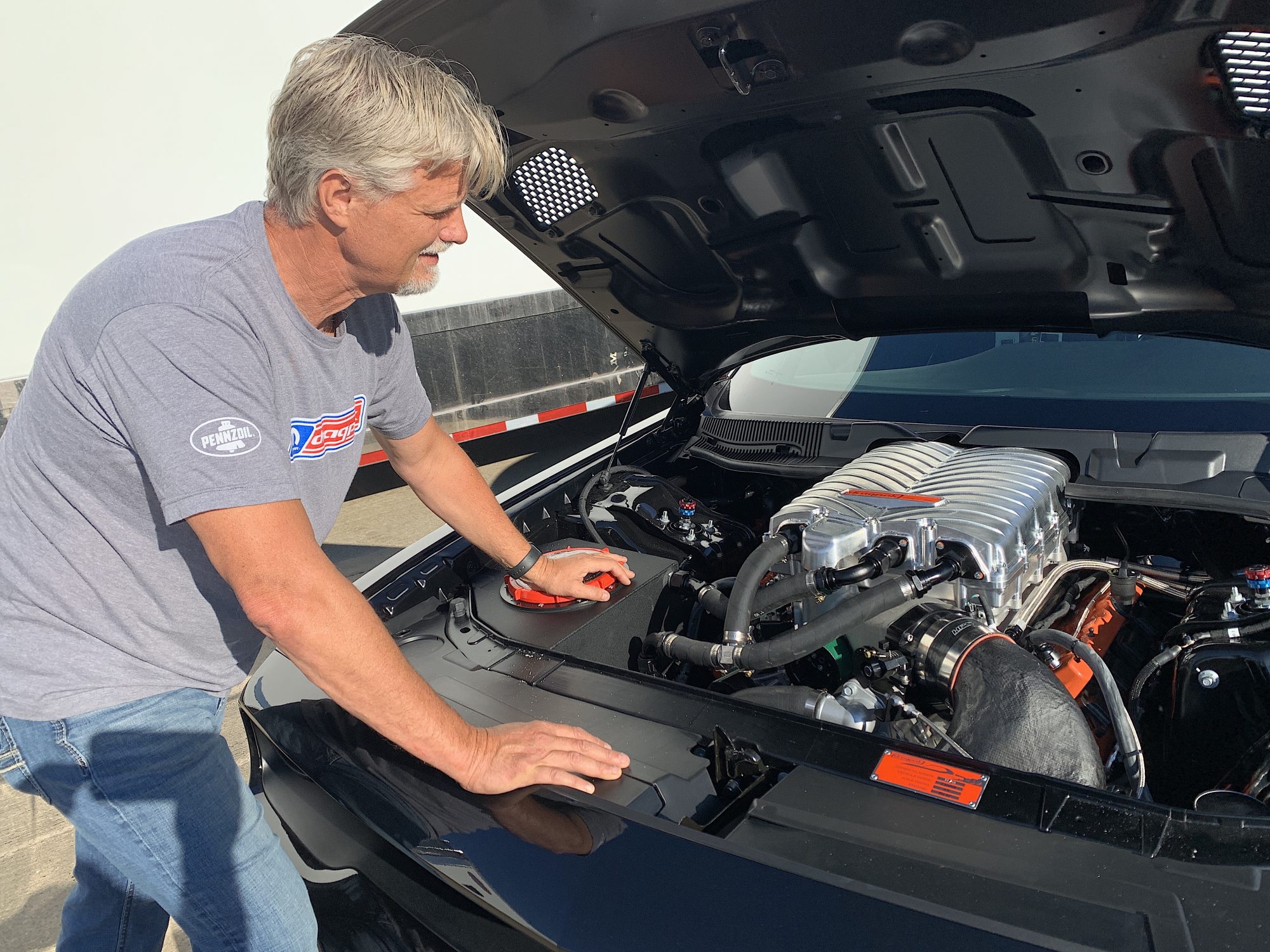 With Geoff's experience as the former COO of Holley and the pilot of Blackbird, he and his crew have provided valuable data and input for the SRT® and Mopar engineers to consider during development and building of the 2021 Drag Pak. With many Holley products in the car, including their Digital Dash, Dominator EFI ECU and RacePak SmartWire Switch Panel, Geoff definitely has the advantage of already having an intimate relationship with the new Drag Pak. "The car came out better than I ever imagined it would. It has so many great features like the 7.50 cage, interior layout including the gauge, switch and shifter placement, seating and details like that. The biggest one is the overall build quality that the SRT and Mopar engineers, along with the folks at Watson Racing put into this car," noted Geoff.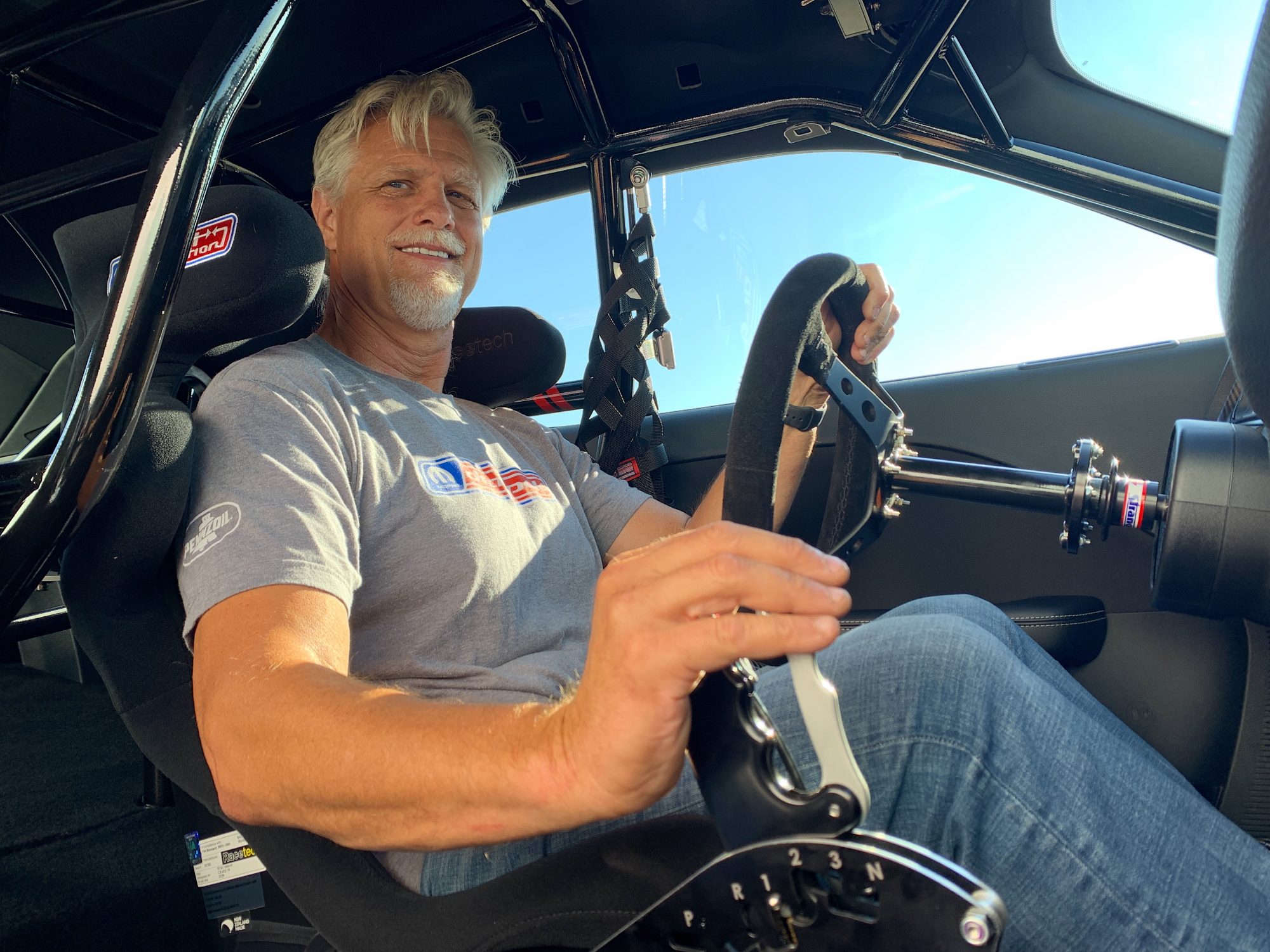 "The new Drag Pak has so much more potential because you're starting off with a better car. And since I've put some 250 passes on the 2015 Blackbird Challenger Drag Pak, it's been scienced out. Most of what we learned will be transferred to the new Drag Pak as figuring out this class (Factory Stock Showdown) can be difficult at times, but the new car will give us an advantage over the older car. You can take the new Drag Pak right from the factory and click off low eights or even a high seven-second ETs without barely touching the car, that's amazing!"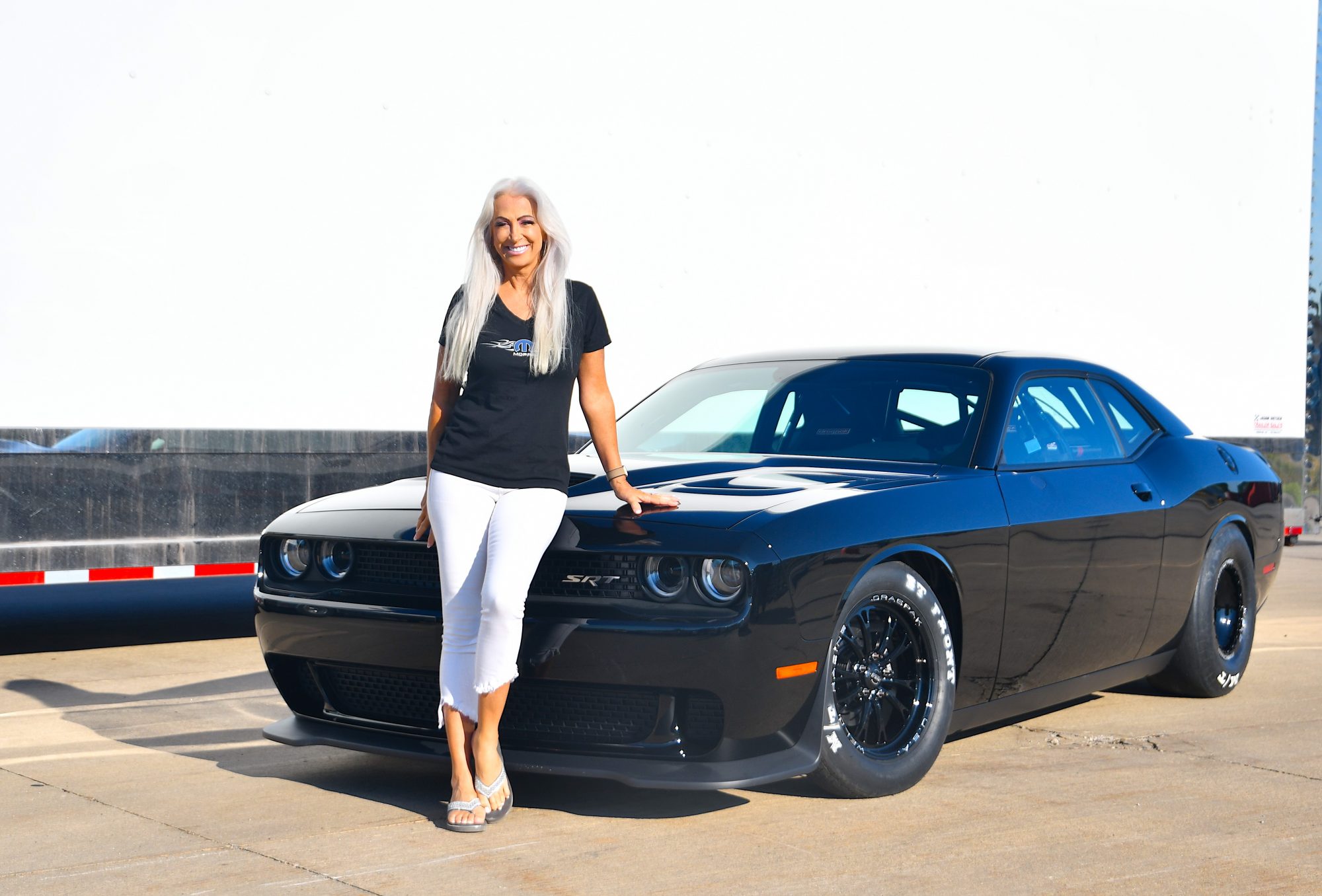 Geoff's partner through all this is his wife, Jena. A racer herself, she plays around with a modified 2019 Challenger R/T. She and Geoff met at Holley, and Jena loves fast cars and going to the drag strip. "I was always a Mopar person. My brother had a 1971 Charger when he was 16 and I thought it was such a cool car," said Jena. She also used her art skills to construct a new air inlet for the supercharger when Geoff installed a new engine combination in the 2015 Blackbird earlier this season. The air intake on the new Whipple 3.0-liter supercharger is on a 45-degree angle, while the old-style inlet was straight. Since there were no parts to completely retrofit the new HEMI engine package into the older Drag Pak, Jena made a mold out of foam, got some glue, resin and fiberglass, and made the new air inlet intake. When asked how she likes the new Drag Pak as she and Geoff loaded it up for its journey back to Bowling Green, Kentucky, Jena had this to say: "I think the new Drag Pak is awesome, it looks sinister painted black, and the new front fascia gives it a more aggressive appearance over the older car!"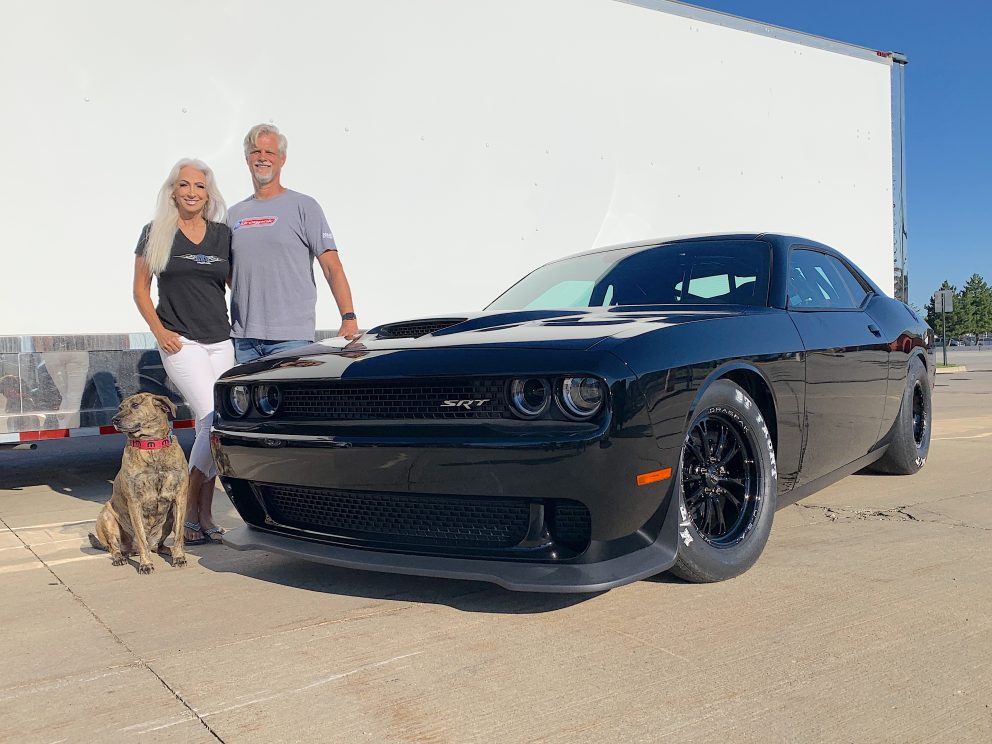 Geoff, Jena and their rescue hound, Mia, will be travelling to many NHRA and NMCA events this season with "Blackbird 2.0" ready to set new records and win races. There will also be a little bit of the heart and soul from the original Blackbird infused in the new car, but when Geoff lights the afterburners on his 2021 Drag Pak, Blackbird 2.0 will soar to new heights!
Comments
Comments