Meet Mr. Max Wedge!
1 year ago Owners + Clubs
If you're a racer who's refined a particular engine combination for many years, you get a certain level of respect in the pits. You become an authority and fellow competitors take notice of your racing accomplishments and treat you differently. That's what Mopar® Sportsman racer Steve Wann feels when he rolls into the racetrack and unloads a pair of his mighty and potent Max Wedge-powered machines. This Northern California native has been racing fast Mopar vehicles for decades and has been pushing the envelope on making "antique" automobiles do things they were never built or engineered for. "I got into drag racing through my father. He ran 1964 and 1965 HEMI Super Stockers for Rettig Brothers Racing throughout the '70s. It's been a Mopar lifestyle for the family," said Wann. "My dad taught me so many different things when working on racecars but being patient was the biggest and most important. My first racecar was a C-Stock Automatic 1969 Plymouth Road Runner with a 440 Six Barrel, and I learned very quickly what my dad was talking about. I was too young back then and made a lot of changes that made the car inconsistent and not run that well in competition. By 1990, I had purchased a 1970 Plymouth GTX, also powered by 440, tuned it and won my first NHRA Divisional race." Even though Wann's father passed some years ago, he keeps a photo of his father on the dash of his racecars.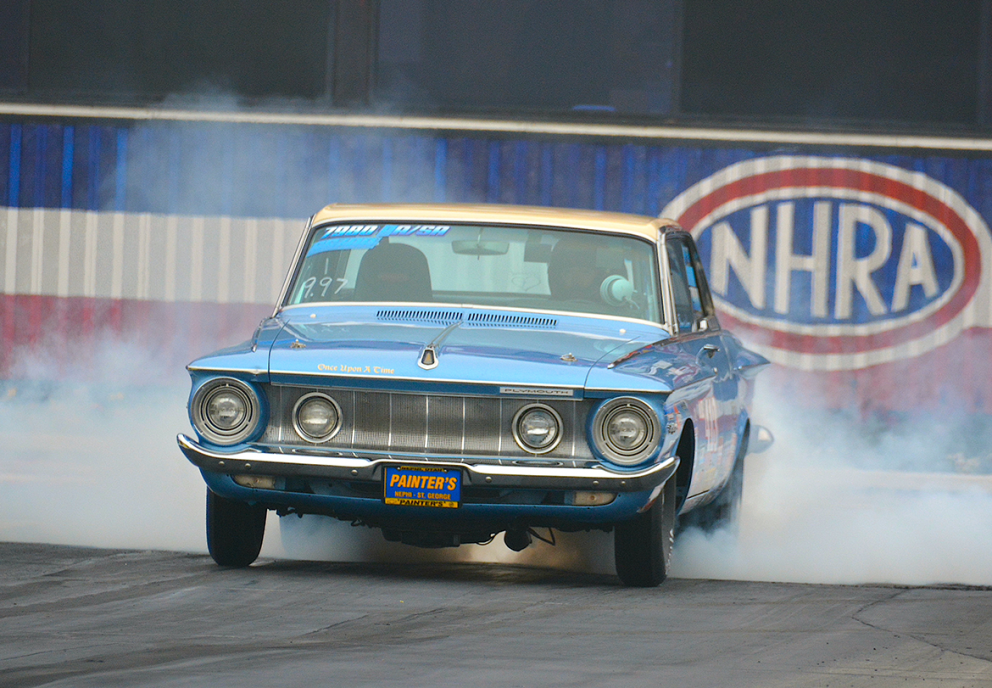 That would change Wann's racing career forever as he competed in the extremely tough NHRA Stock Eliminator and Super Stock classes. After building and racing numerous Mopar vehicles for the last three decades, one of Wann's current racecars has gained a ton of notoriety for its shape and stellar performance. His 1962 Plymouth Sport Fury, aptly named "Mr. 413", has shattered records and won races throughout the country, quite a feat considering Steve's venerable Plymouth is almost 60 years old. While the styling may scream "Jet Age", the 1962 Plymouth and Dodge intermediates signaled the end of Chrysler's "Forward Look" design. It was a movement that ran from the late 1950s to the early 1960s. While many enthusiasts have a "love it or hate it" view on the odd styling of the 1962 Plymouth, the one thing they all agree on is what resides under the Sport Fury's hood. That dual quad, crossram, high-compression 413-cubic-inch Max Wedge engine that sounds angry and upset when idling in the pits under 3,000 rpm but screams going through the traps at 7,200 rpm.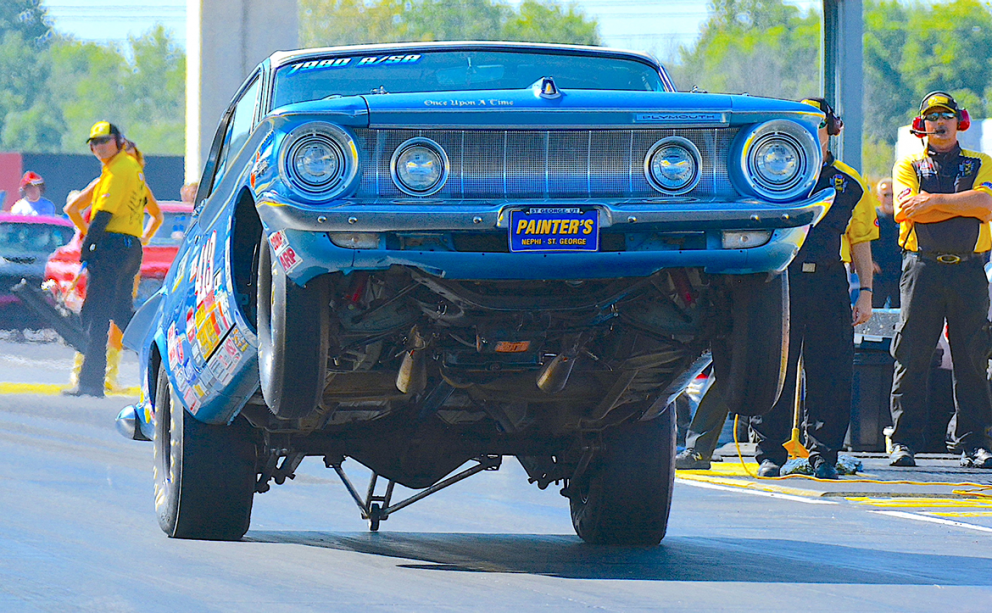 At the hit of the throttle, the Plymouth Sports Fury points its nose straight up toward the heavens, like a Mercury Redstone rocket blasting off from Cape Canaveral. But unlike Alan Shepard, who rode the Redstone rocket to become the first American in space, Wann's racecar is planted firmly on the earth's surface as the car's nine-inch-wide slicks do their best to grip the starting line. How Wann came to be the caregiver of this unique Plymouth is very interesting. "I was going to retire from racing due to health issues, but fellow Mopar racer John Shaul didn't want me to quit, so he gave me the Sport Fury to race," commented Wann. "I took what I learned throughout my years of racing Stock and Super Stock and combined that with John's knowledge, and we ended up making the car faster each season." Wann has also made building fast motors and cars his career path. By day, he works for the legendary West Coast engine shop Bob Panella Racing; and at night, he's back in his garage building engines for not only his own car, but street enthusiasts and fellow racers.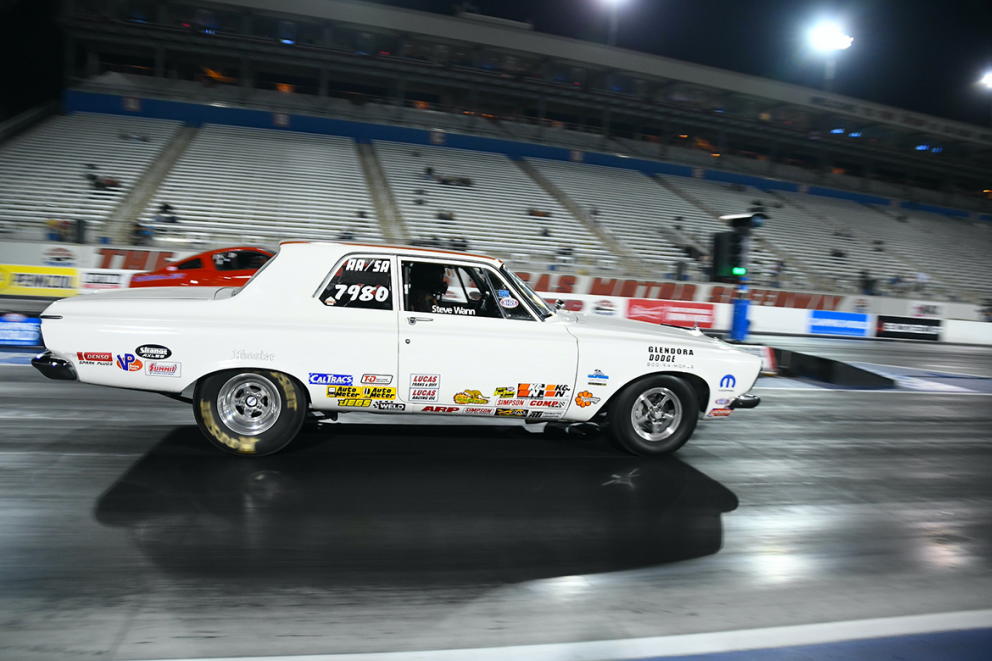 The other racecar in Wann's stable is a 1963 Plymouth Savoy that is also powered by the mighty Max Wedge engine. Since the competition was upping their game during the horsepower wars of the early 1960s, Chrysler engineers – led by Tom Hoover and his merry band of Ramchargers – decided to increase the Max Wedge's engine displacement from 413 to 426 cubic inches in 1963. They also made other improvements to the already mighty Max Wedge to meet the Ford, Chevy and Pontiac teams head on and in Hoover's words, "Crush them like Ants!" The Mopar vehicles did many victory laps around their competition in the 1960s and that spirit lives on today in Wann's 426 Max Wedge engine. It's a trick piece that's totally scienced out and would make the Original Ramchargers proud. Wann also knows that his innovations on pushing the boundaries of this 58-year-old engine are limited since he must adhere to the strict NHRA rules that govern the Stock Eliminator class. This means production intake, carbs, cylinders heads and block. When it comes to the camshaft, the lift needs to be what NHRA has on their blueprint sheets. So, where does Wann focus his attention when building a Max Wedge monster for his '62 or '63 Plymouth racecars?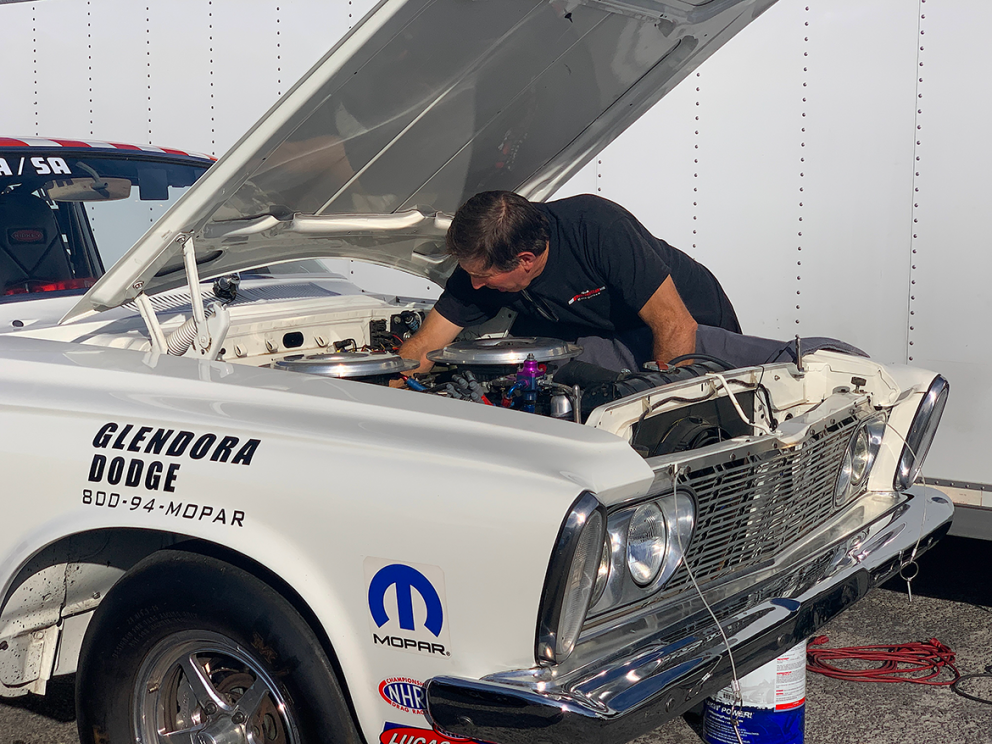 "We spend time on the whole package in making the car run faster. This includes the engine, trans, converter and other areas of the car," noted Wann. "We also spend endless hours testing and making over a thousand pulls on the dyno to find out what works versus what doesn't work on these engines. For example, we've tested over 15 camshafts for both our 413 and 426 Max Wedge engine combinations. Between the 15 cams we tried, ten of them made less power than what we were already running. Over 80 percent of what we try on the dyno will not work or make any improvements, but when you find that one percent that did show gains, it was worth it. You need an open mind when trying new parts to stay ahead of the competition." And staying ahead of the competition is what Wann does best, and his racing wins reflect that. He's won numerus NHRA Divisional Championships in Stock and Super Stock while lowering the ET and MPH records in numerous classes. "I owe a lot of my racing success to John Shaul, Don Little, numerous friends along the way, and Glendora Dodge for all their support," reflected Wann.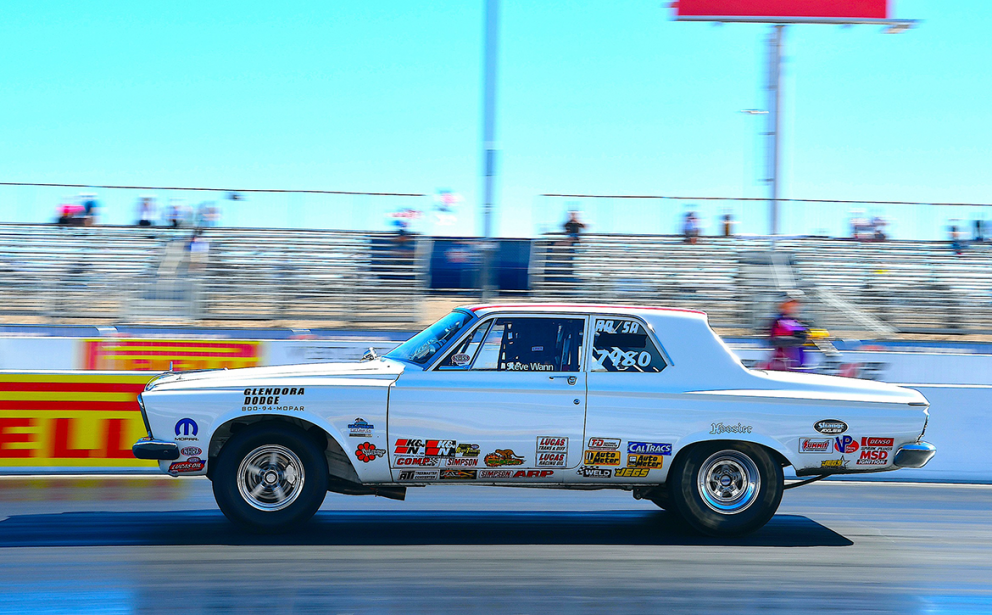 To say Wann has achieved notoriety among fellow Mopar racers and competitors alike would be an understatement. The Chevy racers that run the 1969 427 Camaro combo in the same Stock Eliminator class as Wann's Plymouths always complain about his Max Wedge-powered machines. It's a friendly rivalry that's been going on for decades and can trace its roots back to when the Original Ramchargers laid waste to their competition in the early 1960s. Today, opposing racers protest and lobby NHRA to act against Wann's Mopar vehicles by adding more weight to his car in hopes of slowing it down. Wann doesn't care, he'll just shrug it off, head back to the dyno, try out some new parts and combinations, and just make more power. Wann's been down the road before and while he's 59 years old, don't look for him to hang his helmet up anytime soon.
After all, he's Mr. Max Wedge!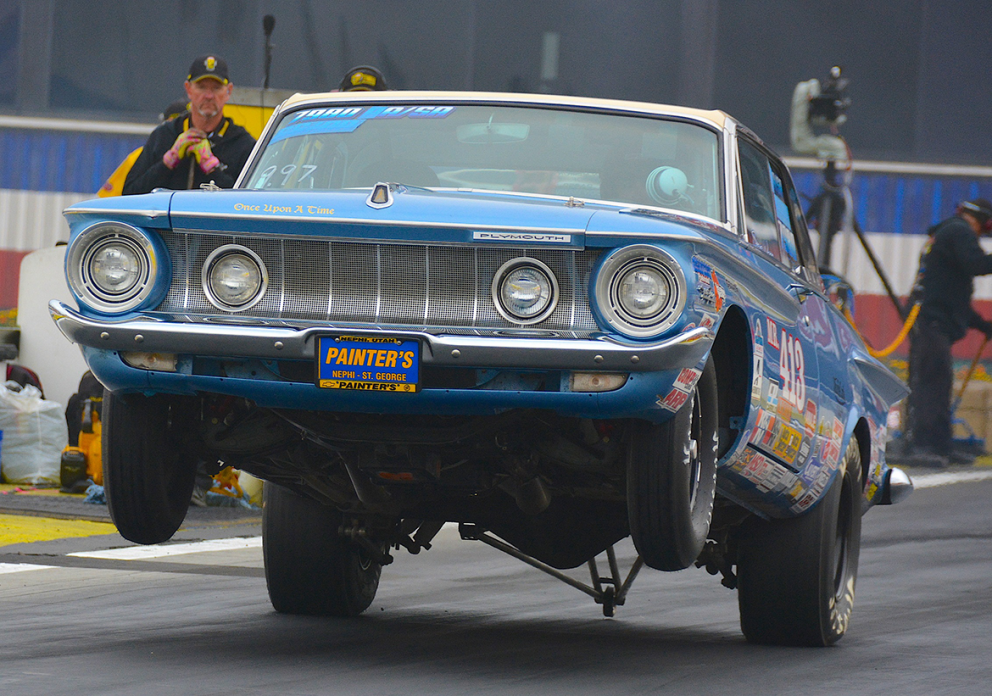 Comments
Comments
Previous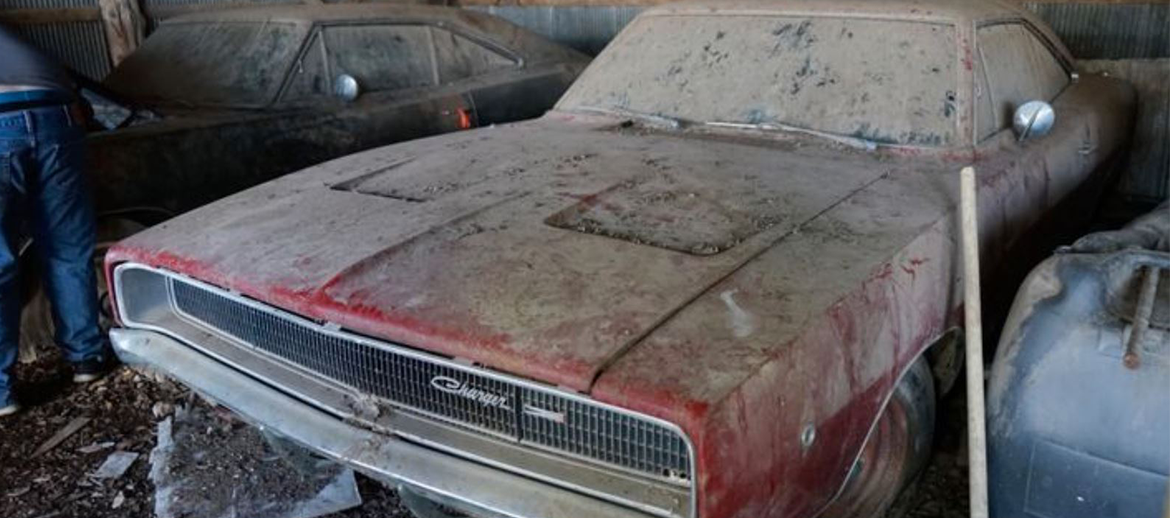 Next