Brothers Bond Over Drag Racing
2 years ago Owners + Clubs
Drag racing brothers Darin and Sante Grossi developed a passion for drag racing early in their lives, and like most siblings, they are super competitive. These two compile their win-loss records against the competitors they've raced and compare the results with each other for bragging rights. They'll also place a $1.00 wager on who'll cut the better reaction time during qualifying and eliminations. They both have a competitive streak in them, but as they get older, they realize it's drag racing that bonds them and their families together. To understand how these two and their oldest sibling, Jim, got into fast cars, we have to look back to the late 1970s and early 1980s when street racing in the San Fernando Valley just west of Los Angeles was rampant. The Grossi kids were part of the scene, and it didn't take too long for their father (an ex-drag racer himself) to reel his sons in and explain the dangers of street racing. With a talking to from their dad, the Grossi boys walked away from their street shenanigans and got serious, building a 1967 396 Camaro, and went NHRA Stock Eliminator racing. Instantly, the boys got hooked and Darin, the middle son, developed a knack of cutting great lights and dialing in the racecar. But his two brothers weren't slouches either when it came to getting a fast car down the 1320. In Darin's case, he became a hired gun driving other people's rides, including a paid-for trip out east to compete in the Federal-Mogul Allstars where the best of the best come together to battle it out.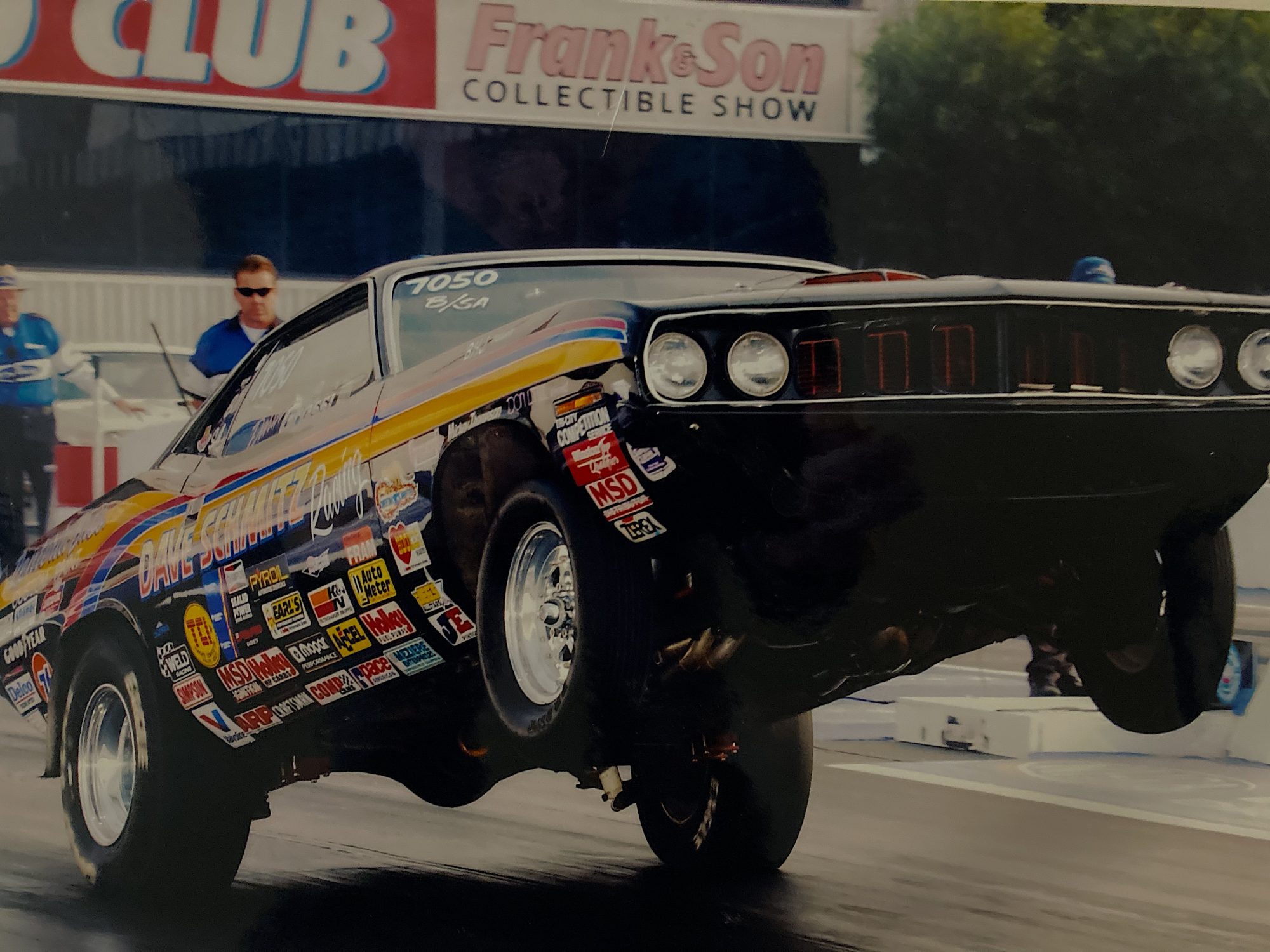 Darin was on a roll and spent some time wheeling Dave Schmitz's 440 Six Barrel 'Cuda back in the late 1990s, but like most of us, family, kids and career came first, so he walked away from drag racing for over 14 years. Then, something happened; his younger brother, Sante, purchased a 1971 Challenger R/T Stocker a while back and was having fun. He could tell Darin really missed owning his own racecar, so in 2017, Sante finally convinced his brother that he needed to make a pass in his Challenger. "Just driving it around the pits and down the return road and listening to the exhaust sound of that Mopar® 340 small block cackling through open headers got me excited to get back into racing again and buy another car," smiled Darin.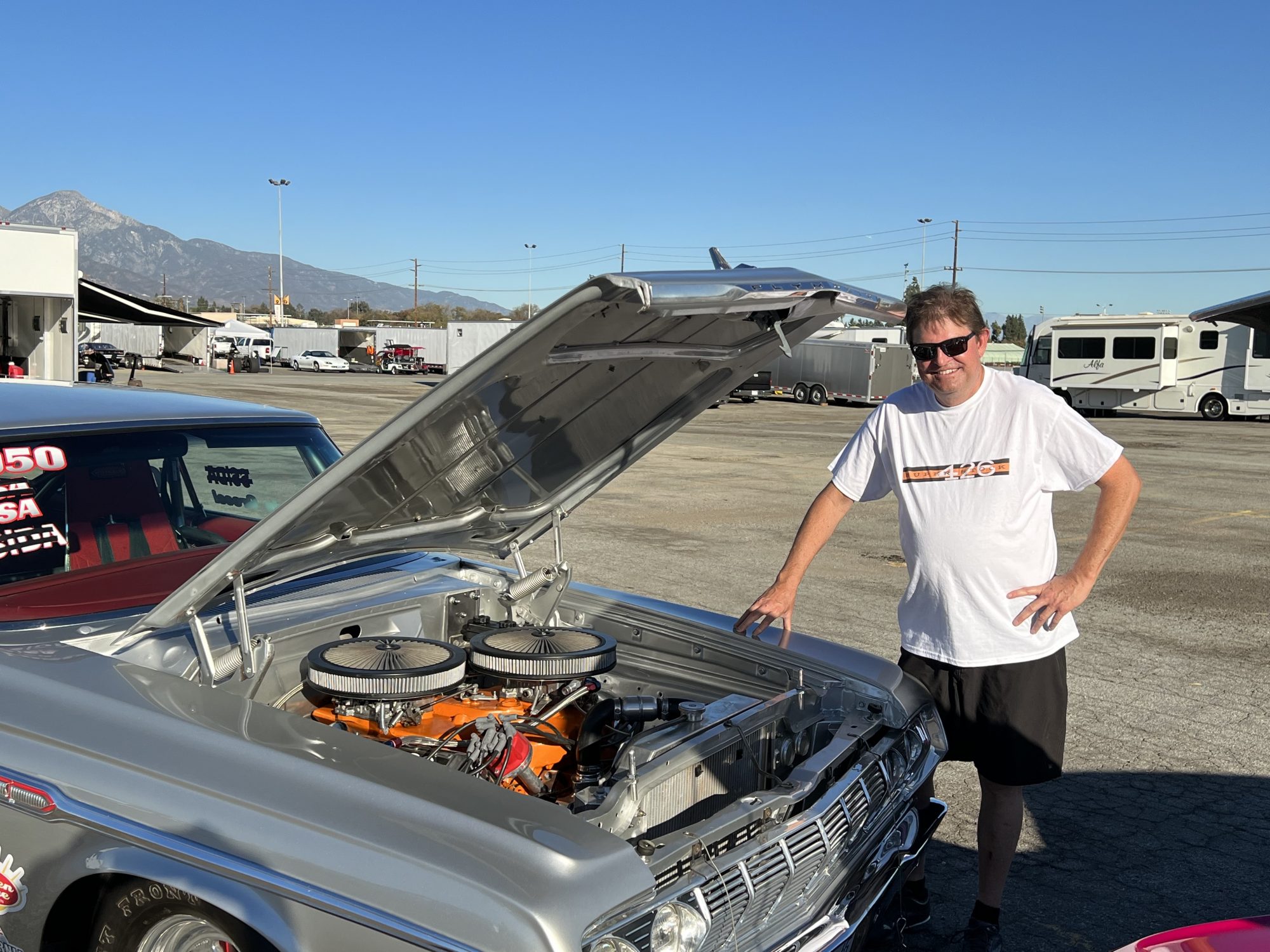 That gentle nudge from Sante is all it took for Darin to jump back in with both feet, and in 2018, he bought a 1964 Plymouth Sport Fury from longtime friend and fellow Mopar racer Steve Wann. The Sport Fury was basically turn-key when Darin bought it and with a high-compression 426 cubic-inch Max Wedge under the hood, it's one fast piece. The powerful Plymouth runs consistent low 10 to high 9 second ETs at its legal weight and is the perfect escape mechanism from Darin's daily corporate grind of being a transportation/logistics exec. "I never realized how much I missed racing until I got behind the wheel of my Sport Fury," said Darin. "Driving this thing is a blast, the torque from the Max Wedge is just amazing as it yanks the front wheels off the line and the engine powers all the way up to 7,000 rpm, then the car just marches down the track!" Despite being away from competitive drag racing for over a decade, Darin quickly got back to his winning ways. This past summer, he was victorious in the tough Stock Eliminator class at the NHRA Division Six event at Woodburn Dragstrip in Oregon and won the B/SA class at Firebird Raceway in Boise, Idaho.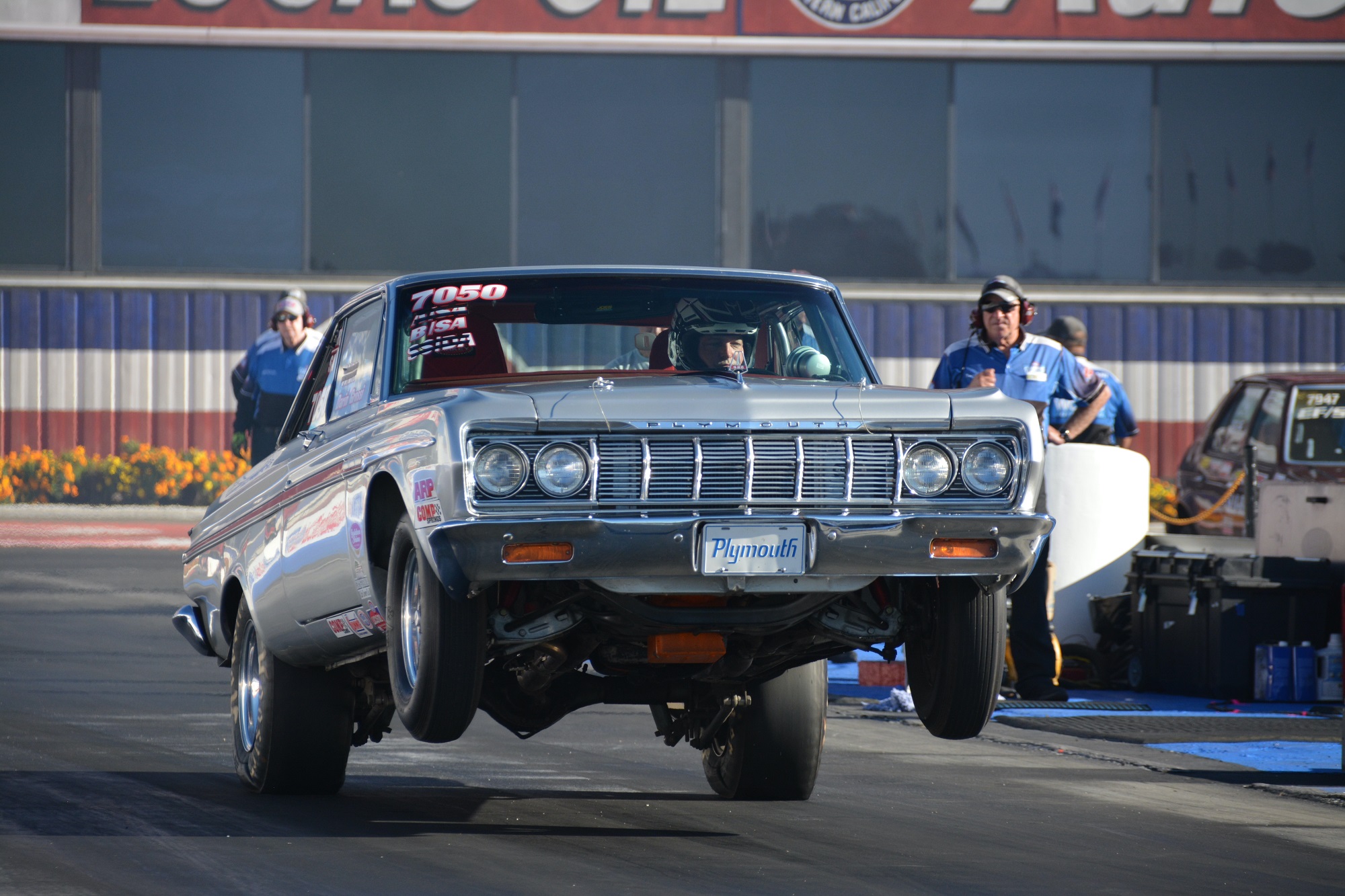 Younger brother Sante admits he wasn't always a "Mopar Guy", but gravitated toward the brand before his brothers. "When I was in high school, I had a 1969 Camaro with a 327 small block, and it was my daily driver. When I graduated from high school, it turned into a Stock Eliminator car with a 396 big block. I raced the Camaro for about four years, then I blew up the engine," noted Sante. "It was a major disaster and was going to take a lot of money to fix the Camaro. So, back in 1998, I was putting some money together to build a new motor and then I found out fellow racers Steve and Linda Meyer were selling their very fast '71 Challenger Stocker. It was a good car with a great chassis and was super consistent. Since Steve and Linda were retiring from their careers, they wanted to get out of racing. I knew them really well and they sold me the Challenger for a great price, almost the same amount I would need to get my Camaro going again. With Darin running the 'Cuda for Schmitz, we instantly turned into Mopar racers overnight!"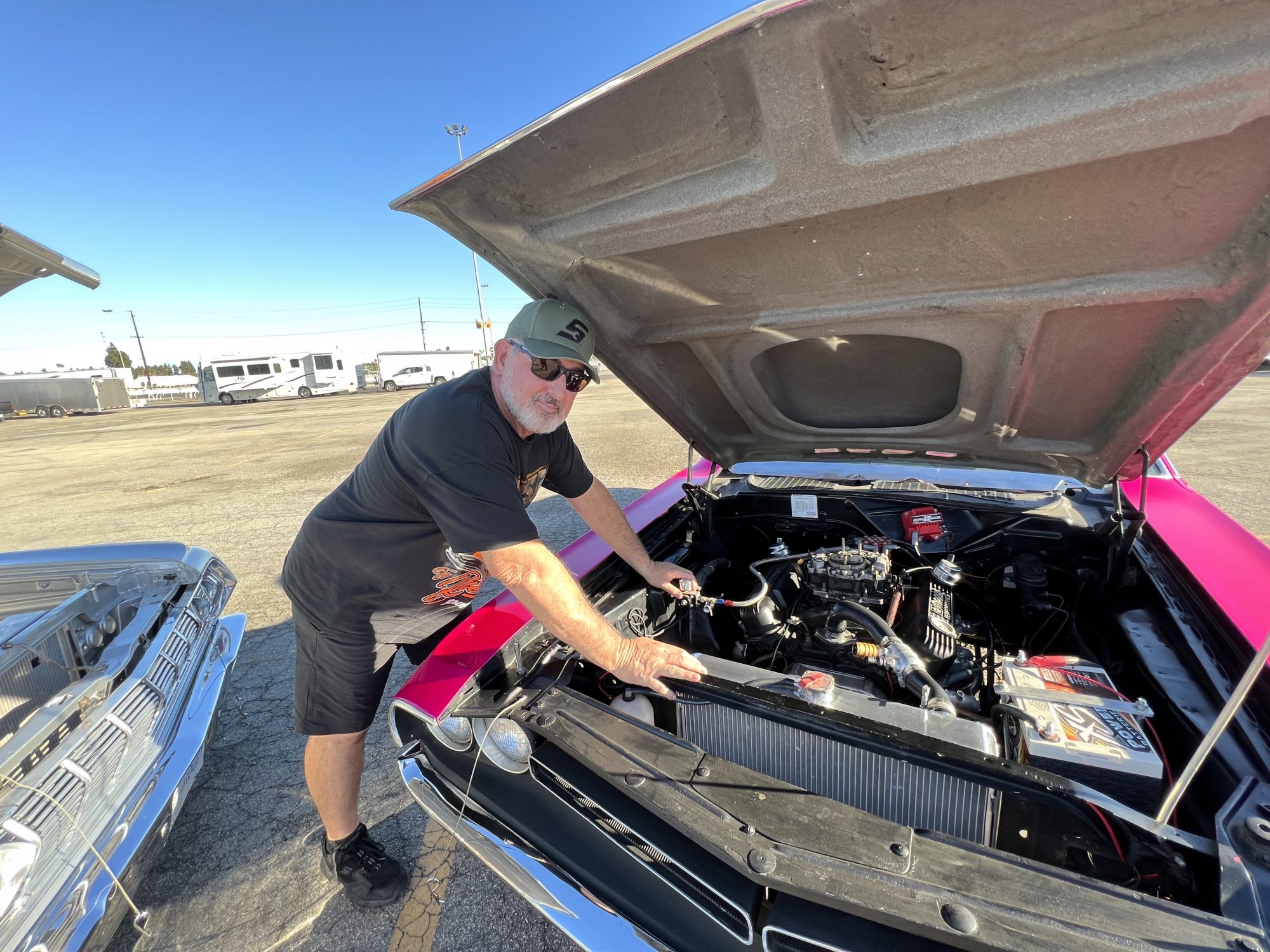 Powering Sante's Challenger is a 340 four-barrel that's hooked to a TorqueFlite® automatic transmission. The car clicks off constant high 10-second times and is always a blast to drive. "My late father was a huge fan of my brothers and I and would always come to the track and watch us race. We feel that racing keeps us close despite the fact me and my brothers now live hundreds of miles away from other," smiled Sante. His long-term goal with his Panther Pink Challenger is to turn it back into a 1970 T/A and run the Six Pack induction setup. He's also contemplating yanking out the automatic and putting a four-speed in for more excitement.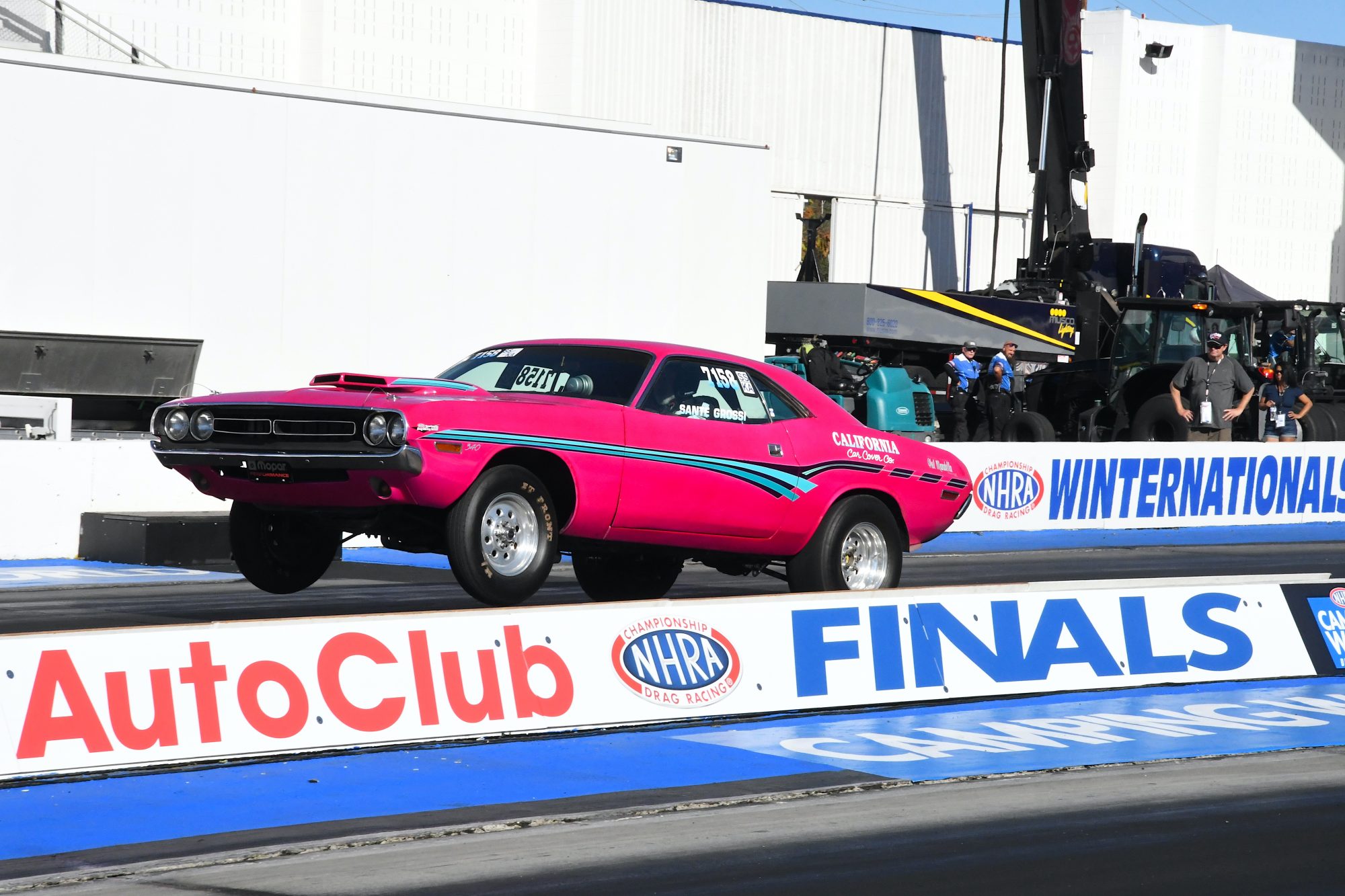 Sante, who's only 50 and a Parole Officer for the State of California, will soon be retiring from his interesting profession of kicking down doors and pursuing the bad guys. Both he and Darin, along with their older brother who races an Oldsmobile Super Stocker, plan to attend as many NHRA National and Divisional Events as they can with their families. They all know racing does bring them together and between the shared interests and passion for drag racing the brothers share, it's a bond that can't be broken!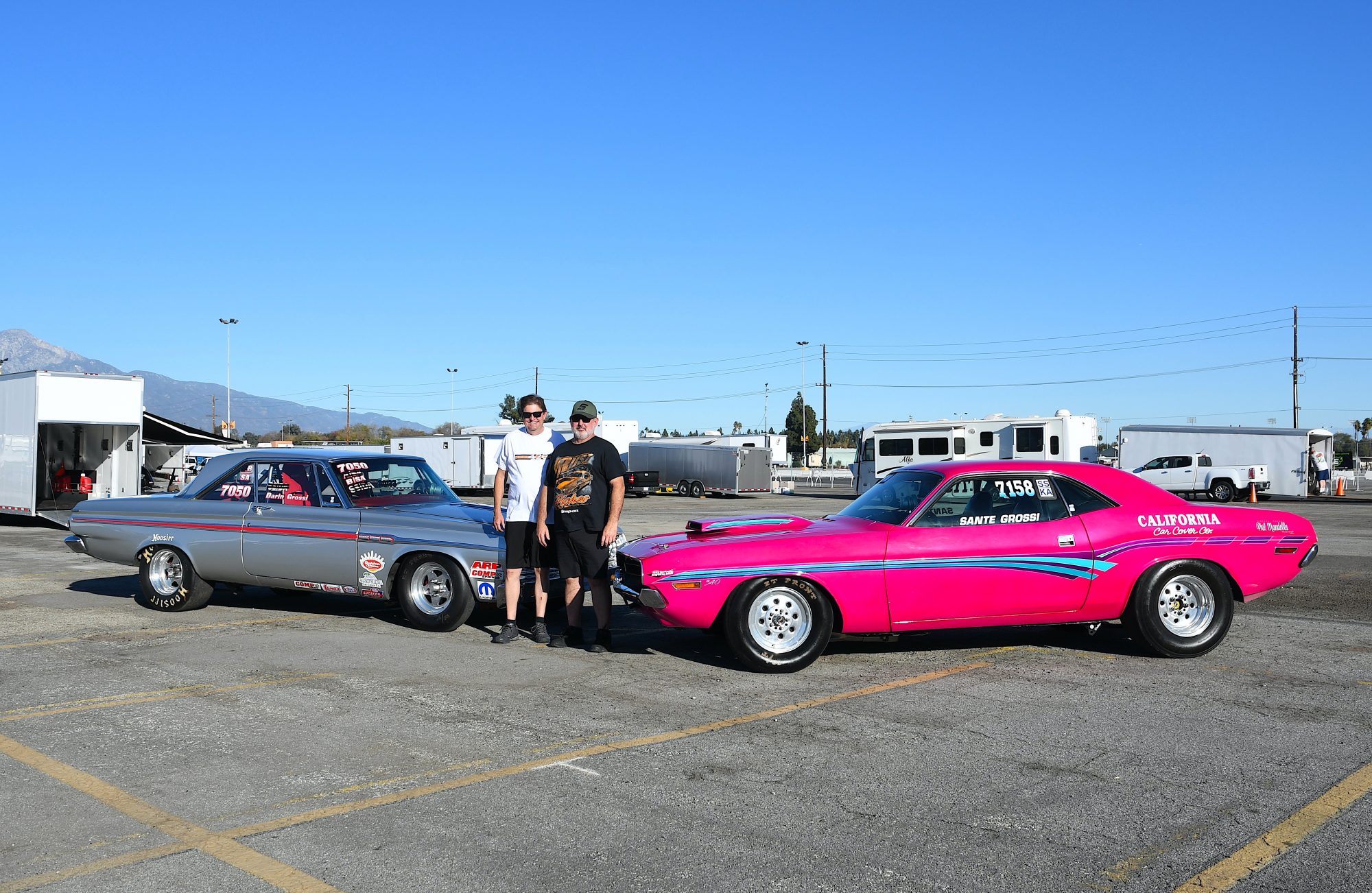 Comments
Comments