Dodge Pairs Perfectly with Napa Valley Views
2 months ago Owners + Clubs
When you hear Napa Valley, Sonoma or Marin, what comes to mind? Cabernet Sauvignon, Chardonnay, Merlot, Pinot Noir and Sauvignon Blanc most likely. The region is world famous for the best American wines, along with their sommeliers who can recommend the perfect wine pairing for any food. But what pairs perfectly with Highway 101 or a winding wine country road? Chargers, Challengers, Magnums and 'Cudas, of course!
In the early 1990s, right as the region was becoming known for their wines, local Mopar® enthusiasts realized there wasn't a Mopar-only car club in the area. Thus Wine Country Mopar was founded. While they focused on classics at the beginning, modern Mopar vehicles began to be integrated in the early 2000s as they were released. Today, the 150-member club is composed of about 2/3 classics and 1/3 modern vehicles. But the club is open to anyone who loves Mopar vehicles, whether they own one or not.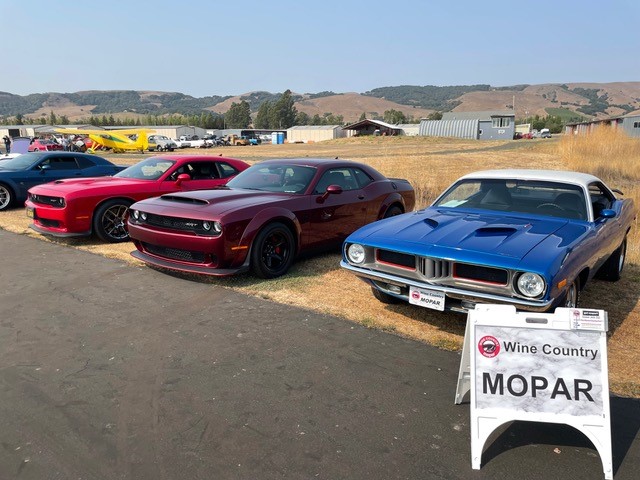 Member Bob Harder chatted with the DodgeGarage team to fill us in on Wine Country Mopar. Bob has been a member since 2000. He has been a Mopar guy for 30 years and has owned more than a dozen vehicles over the years, including six Mopar convertibles … the perfect cars for sunny "Wine Country" cruising. His current rides include his "hardware store run" Dodge Magnum, but he also has a variety of other Mopar vehicles, including a custom modern Dodge Challenger "Mr. Norm's 50th Anniversary" convertible. While Bob doesn't hold an elected office in the club, he does manage their communications and Facebook page.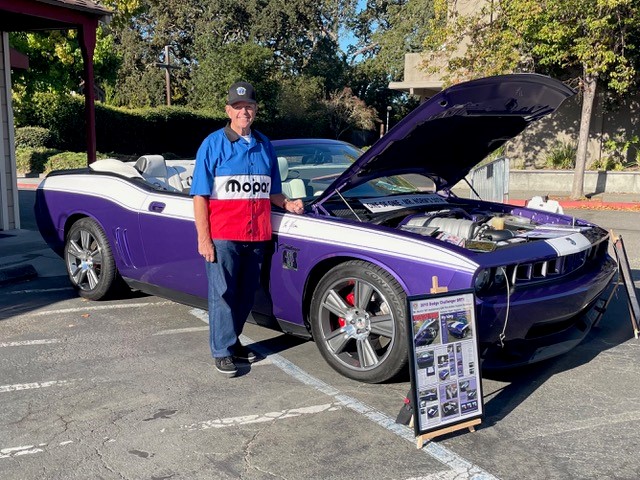 "We try to use a variety of communications to keep members of all ages informed of what is going on," Bob explained. "Our two main methods are our e-mail newsletter and Facebook page. And maybe the occasional fax … just kidding! We share everything from upcoming events and cruises to recent member acquisitions or parts people are looking for."
Bob makes regular Facebook posts about Mopar history, iconic engines and famous designers/racers/dealerships. He finds them online from various sources, which are cited. The posts have drawn a lot of interest from members and non-members alike. "I do what I can to keep Mopar top of mind for people," Bob explained.
Wine Country Mopar is a very active club with a lot of different activities to participate in from car cruises and dinner meet-ups, to Mopar shows.
Cars & Coffee events are popular throughout the country, but Wine Country Mopar has its own twist on a short two-hour car get-together – Cars & Coffee & Cruise. Starting at various cities along the San Francisco North Bay Highway 101 corridor, WCM members and their families meet up at 9 a.m. on designated Saturdays for a one-hour meet-and-greet with some coffee. At 10 a.m., the members jump into their cars, a mix of classic and modern Mopar vehicles, and take off for a leisurely one-hour cruise through the vineyards and rolling hills. A recent cruise wrapped up at a local Dodge dealership where all the club members and their families were hosted to a fabulous barbeque with all the fixings. What a great way to spend a Saturday morning with our local "Mopar Family"!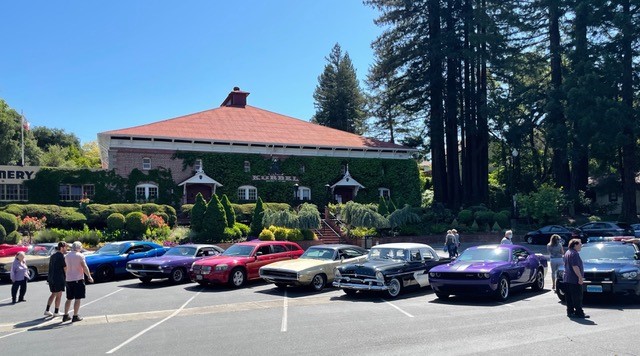 Shortly after the club was founded, they began to organize and host an annual Mopar-only car show, drawing in a few hundred cars from the region. A unique feature of these shows was their partnership with the Sonoma Raceway, a local track where show participants were able to drag race each other. "More recently as a few other local clubs (Capital City Mopars and Mopar Alley) started hosting large shows a few hours from us, we decided to end our club's annual show in order to promote and participate in these regional shows," Bob explained. "It is a great community, but of course, we are always extra proud when one of our vehicles wins at their show."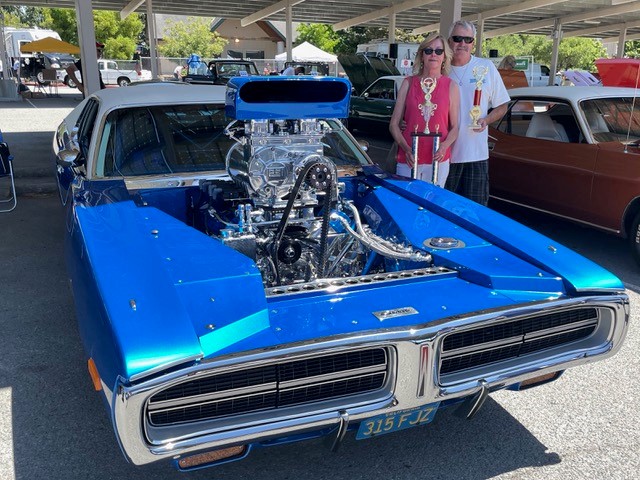 WCM still hosts a casual members-only show with a couple of food vendors in a local parking lot with a small selection of trophies awarded to participants. "The first year we did this, we hoped to have 30 or 40 members participate, but we had 100! A lot of them brought out some classics we had never seen them bringing out before like a Superbird or Daytona wing car. They don't bother taking them to regular car shows as Mopars don't necessarily get the respect they deserve at an everything show."
Members also coordinate visits to other shows in the region. The Wings and Wheels show at the Pacific Coast Air Museum affords participants the opportunity to park their vehicles under the wings of retired fighter jets and planes, including the historic F-16 that was the first in the air after the events of September 11th. The Vintage Sports Car Association of America holds special events regional Mopar clubs participate in. In 2021, they hosted a special event to race pre-World War I vehicles against each other, as well as modern racers. It was an invite-only event that 200 cars participated in, including those of Wine Country Mopar, NorCal Challengers and South Bay Challengers. The best part of the show is when all of the cars get to jump up on the track for two loops around the twisting and hilly road-race-track, one of very few on the NASCAR circuit.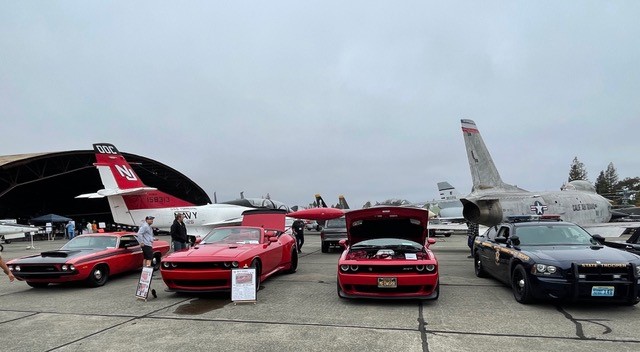 Another club favorite is their participation in the Santa Rosa "Luther Burbank" Rose Parade. Because of their active involvement in local communities, WCM was invited to be the only car club allowed to participate. Large parades like this tend not to allow car clubs to participate since long strings of multiple car groups can extend the parade out for several blocks and increase the running time. In addition to being in the parade, the club also gets to have their own mini car show during the celebration at Santa Rosa's historic Courthouse Square.

If you ever visit the region, Bob recommends cruising down the Pacific coast, a treat in itself, even without a planned destination. Of course, there are wineries in the region where the drivers can enjoy the views and passengers can enjoy tasting the fruits of the region, including Castello di Amorosa (Castle of Love), which is architecturally faithful to the 12th century, complete with moat, drawbridge, defense towers and a torture chamber! A variety of military ports with large ships along the coast also make for a memorable afternoon.
Comments
Comments
Previous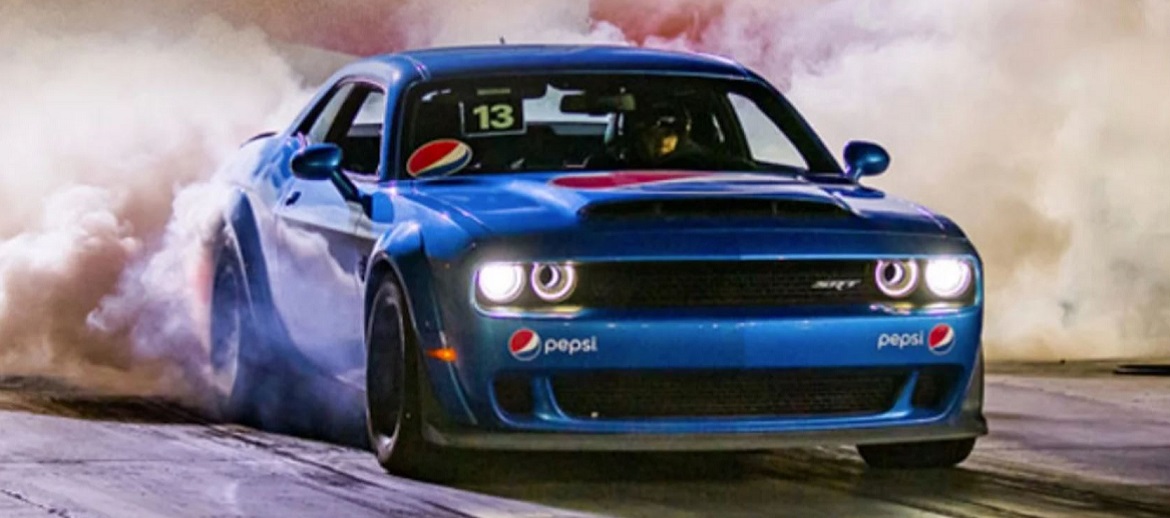 Next