Racing an 8-Second SRT® Demon is a Family Affair at Holmberg Motorsports
1 year ago Owners + Clubs
There are only so many 2018 Dodge Challenger SRT® Demons running 8s in the quarter-mile, but two of them are campaigned by the father-daughter team from Holmberg Motorsports. Tim Holmberg pilots 2018 SRT Demon #1882 in F8 Green, while his daughter Kenzie Peterson runs SRT Demon #478 in TorRed. Both cars were acquired in stock form and modified into the beasts that they are today – but Tim points out that all of the factory components have been carefully removed and stored so that these SRT Demons could be returned to fully stock form.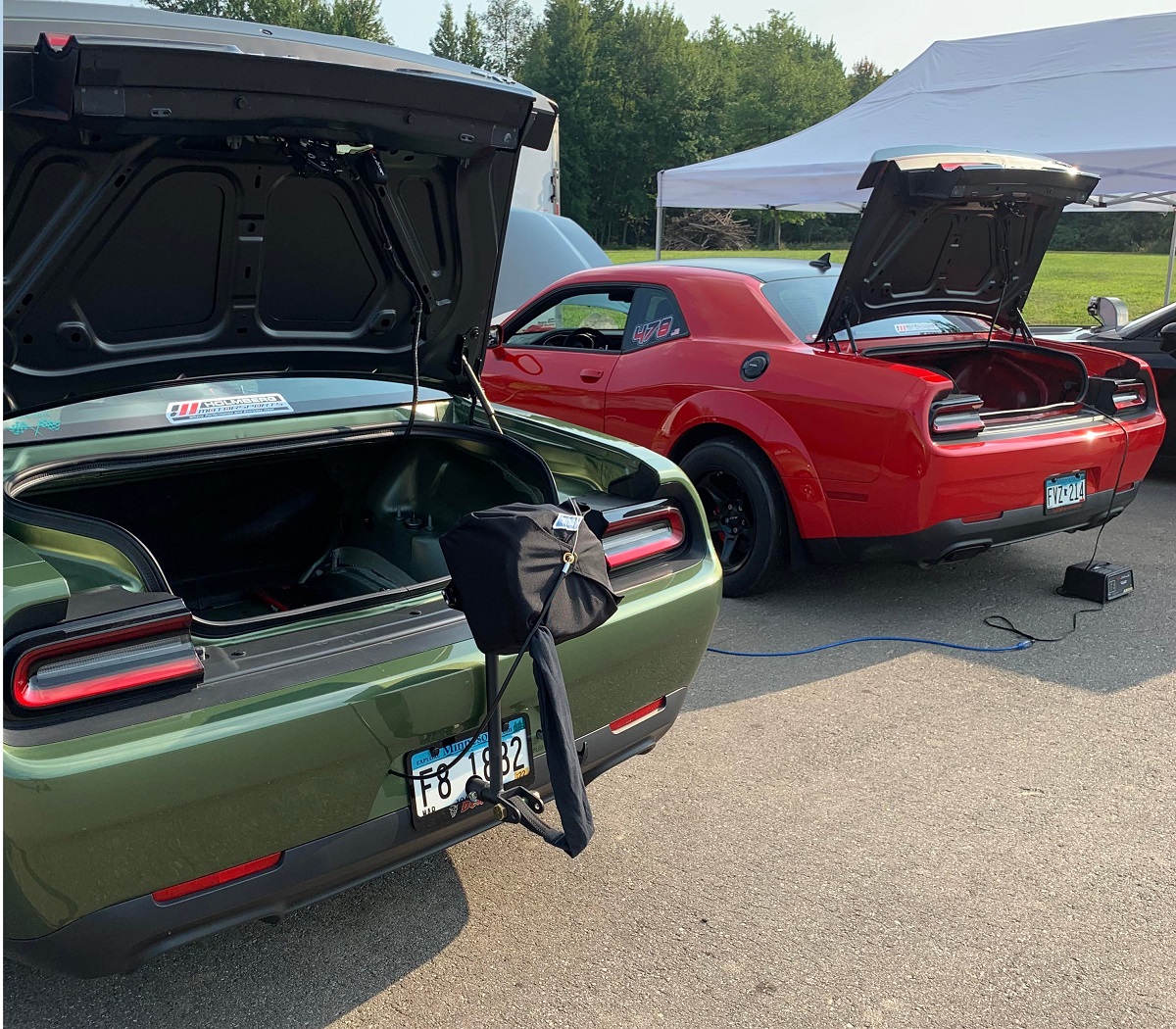 In short, Tim Holmberg has built these two 2018 Dodge Challenger SRT Demons into a pair of true track monsters, but they have done so in a way that preserves the collectible value. While their key concern right now is going fast and having fun at the track, they understand the collectible significance of these cars and they have modified them in a way that should preserve the future value. That could make these cars easier to sell some day, but right now, the goal is going faster – something which they have been routinely achieving over the past year.
Before the SRT Demons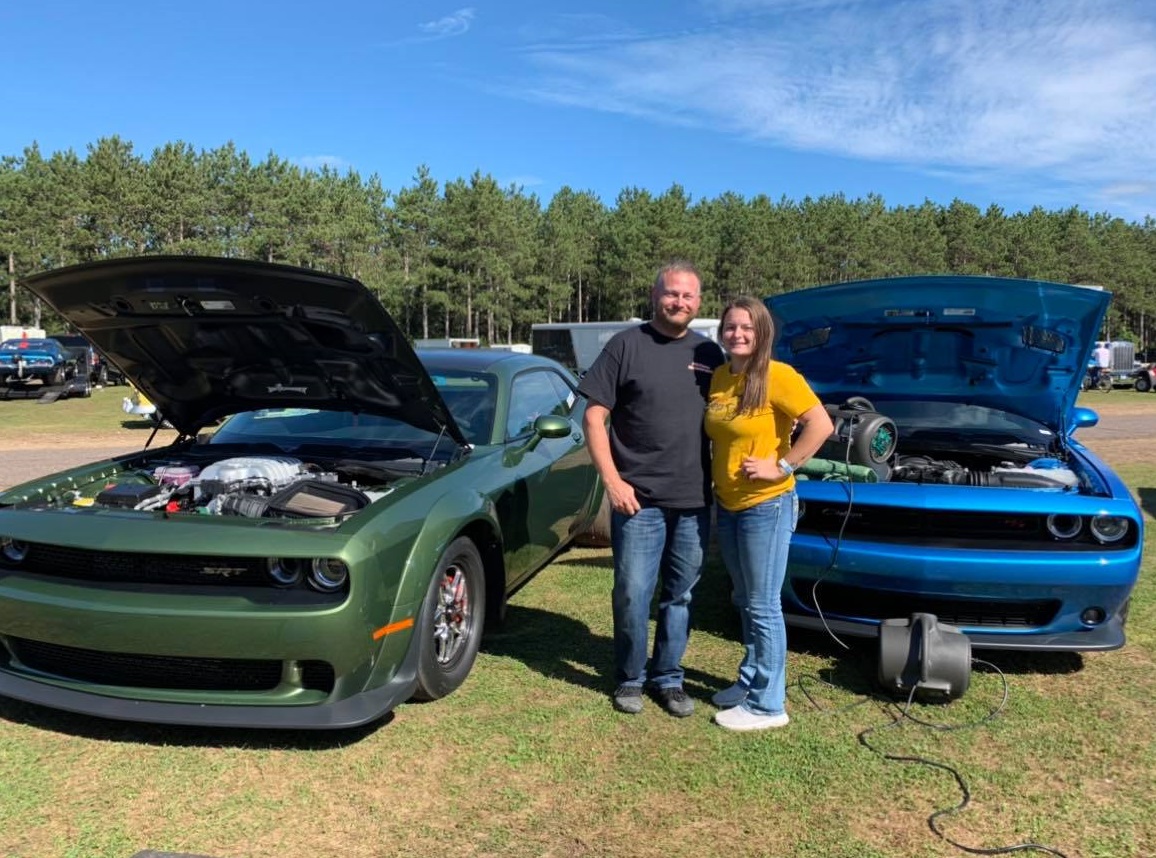 Years ago, Tim had a Plymouth 'Cuda that ran in the 11s, but he had been away from racing for a while when the SRT Hellcat cars were introduced for 2015. When the SRT Hellcat Challengers first hit the market, Tim bought a 2015 Jazz Blue 6-speed car. He modified that car a bit but never got it to the track before he sold it, at which point he bought a 2016 Go Mango Challenger SRT Hellcat with the ZF 8-speed transmission. He began modifying that car, with the automatic being a better choice for drag strip action, but before he got that car to the track, the 2018 SRT Demon was introduced.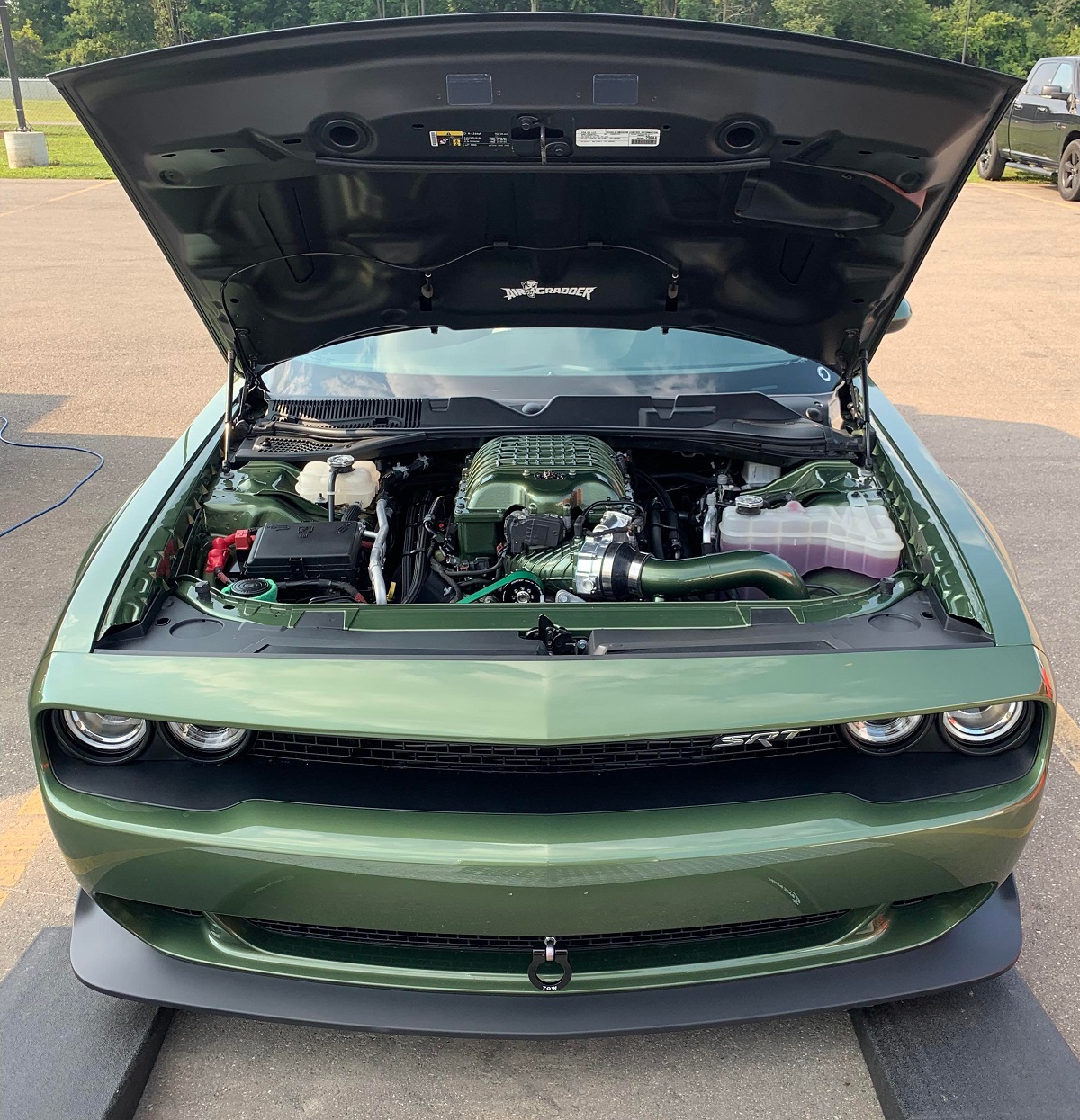 Tim sold the 2016 Go Mango SRT Hellcat and bought his 2018 F8 Green SRT Demon at the same time that he bought a Granite Crystal Jeep® Grand Cherokee Trackhawk for his wife/Kenzie's mom, Laura. When Tim started racing the SRT Demon, Kenzie came to the track and quickly became interested in drag racing. Seeing her interest, Tim and Laura ordered a Challenger 1320 for Kenzie and once that car arrived, she quickly took to the sport. Not only was she right at home in a drag car, but she was one of the quickest 1320 racers in the country, spending some time as the quickest stock 1320 Challenger in the world.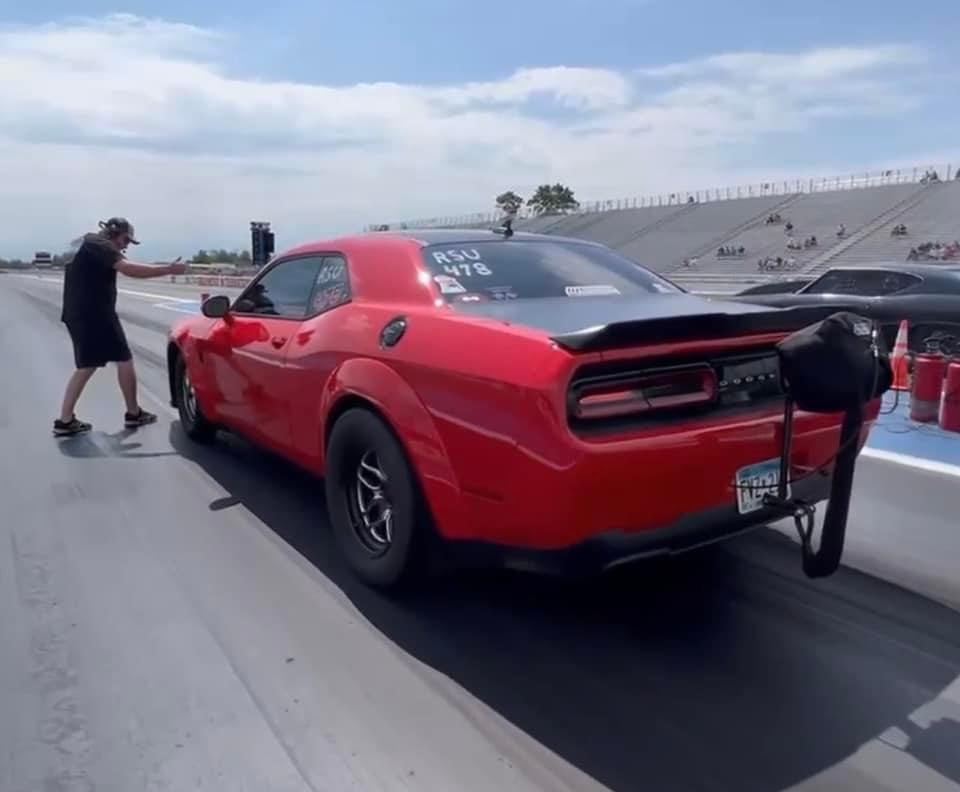 After seeing how well Kenzie was doing on the track, Tim decided to look for a second SRT Demon that she would drive. That was when he came across SRT Demon #478 in TorRed with just 400 miles on the odometer.
Dual SRT Demons at Holmberg Motorsports
The 1320 was sold and the second Demon was purchased, giving Kenzie a chance to begin learning her new 9-second car. She spent a season racing the car in stock form, running in the 9.60s on her best passes while competing in the 10.0 class of the Modern Street Hemi Shootout. During the 2021-2022 off-season, the factory engine was replaced with an engine that was properly built to handle the abuse of 8-second passes.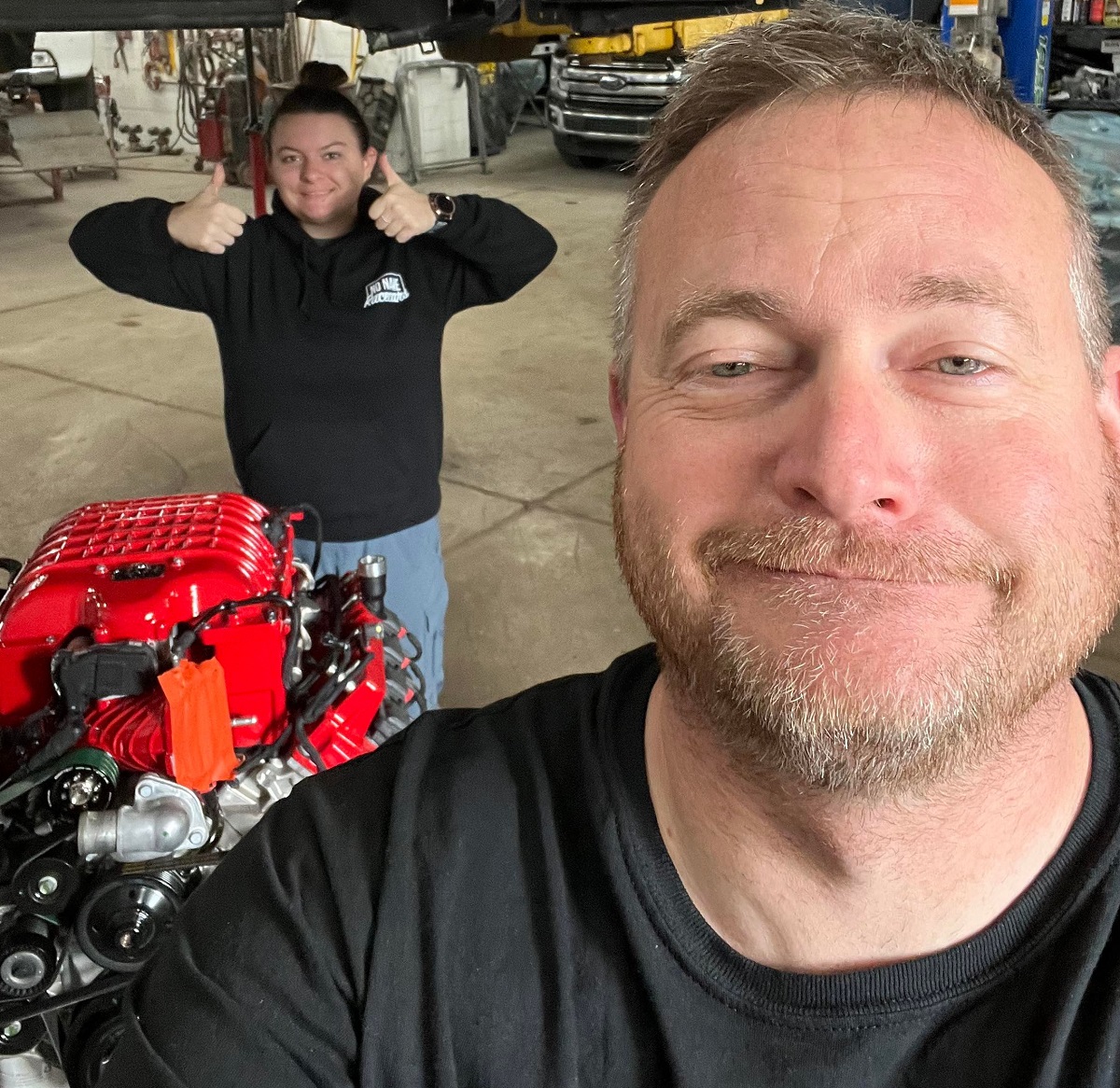 Today, 2018 Dodge Challenger SRT Demon #478 is powered by a 376-cubic inch Hemituner forged short block topped with KTRE-ported factory cylinder heads and a factory 2.7-liter supercharger that has been ported by Jokerz Performance and fitted with a 2.75-inch pulley. The engine is also equipped with a nitrous oxide system and it is all tuned on E90 by the modern HEMI® mastermind Tim Barth. The power from that boosted-and-bottled HEMI engine is sent through a built HP90 transmission from Sipple Speed and Performance – the top name in high-performance ZF transmissions – a Mark William two-piece driveshaft, a billet Hemituner differential and Driveshaft Shop axles.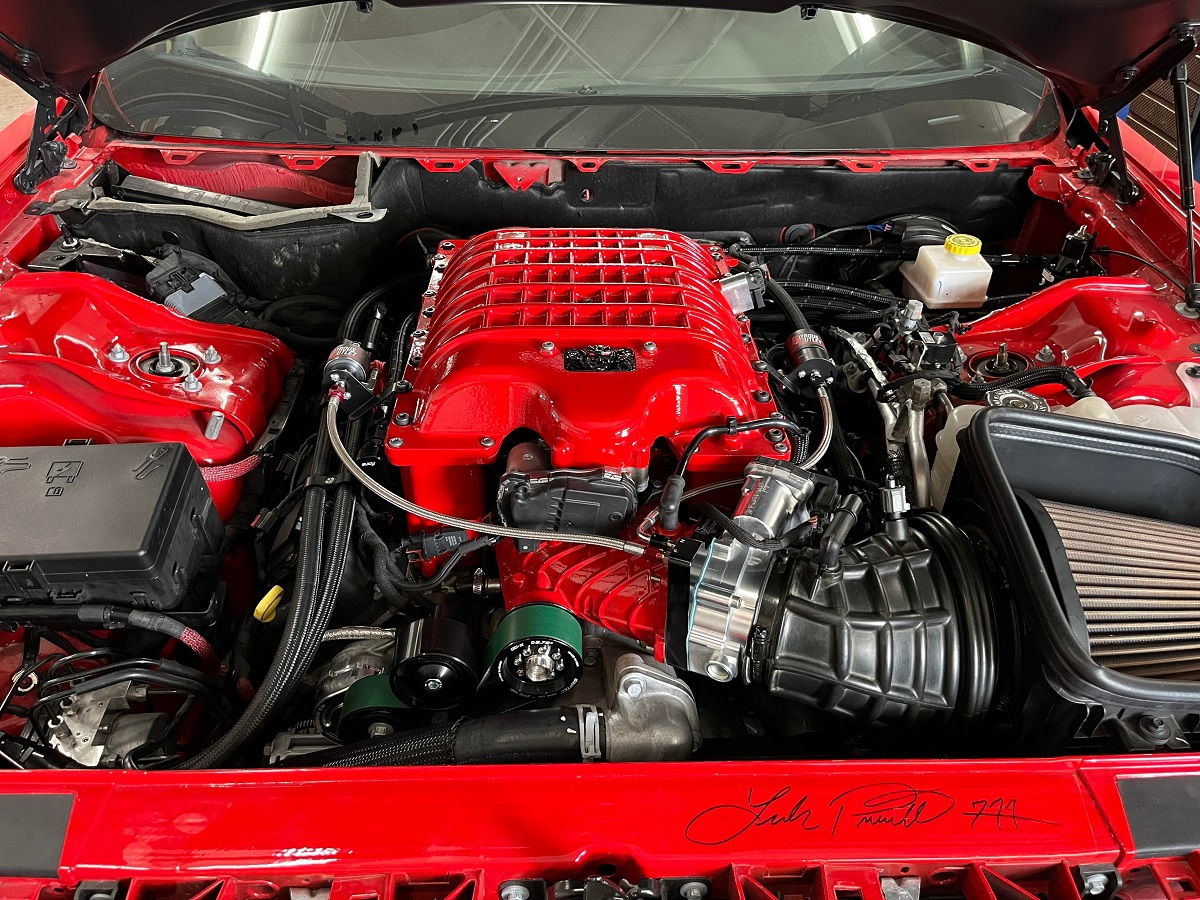 This setup has allowed Kenzie to run a best time of 8.96 at 151 miles per hour earlier this year, but the current goal is for her to get as close to the 8.50 cage certification as possible.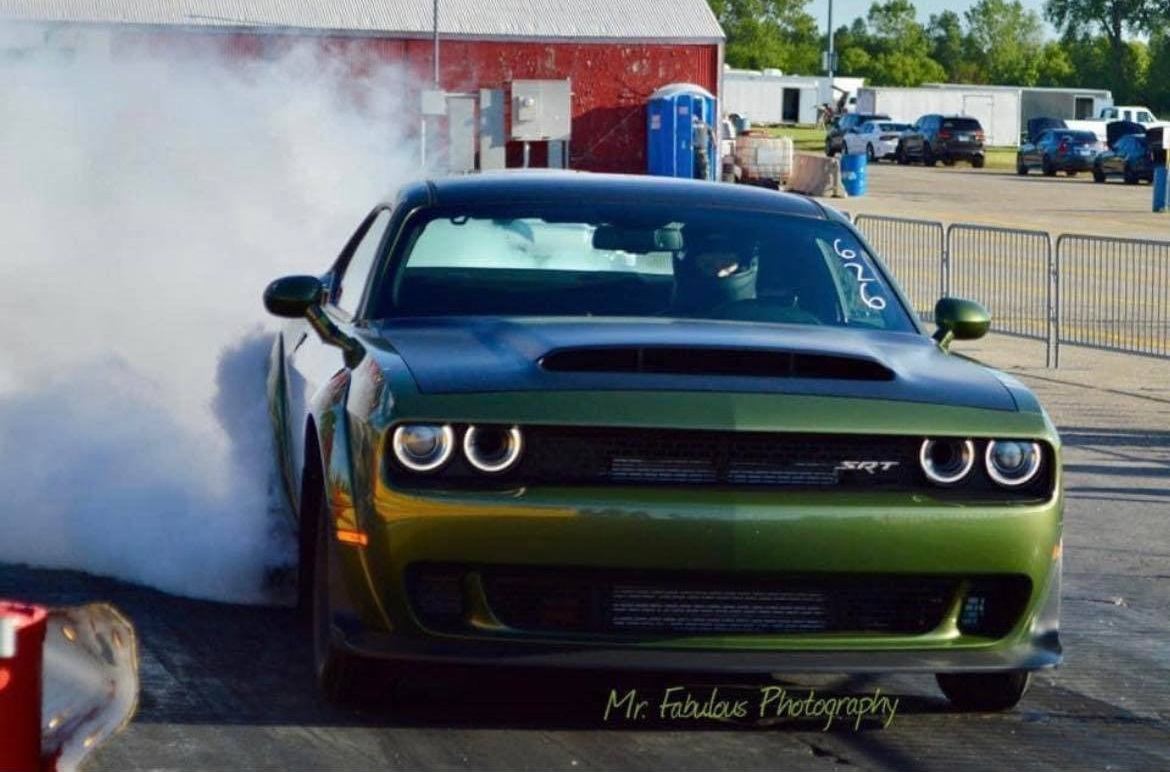 As for Tim's F8 Green SRT Demon #1882, he also started off racing it in stock form, running a best time of 9.87 in Houston at a Legion of Demons event. Next, he added a smaller blower pulley, injectors and a custom tune, allowing him to get down to 9.15 at 149. After that, he added a twin turbocharger setup in addition to the factory supercharger, allowing his compound-boosted SRT Demon to run a best time of 8.79 at 158 miles per hour.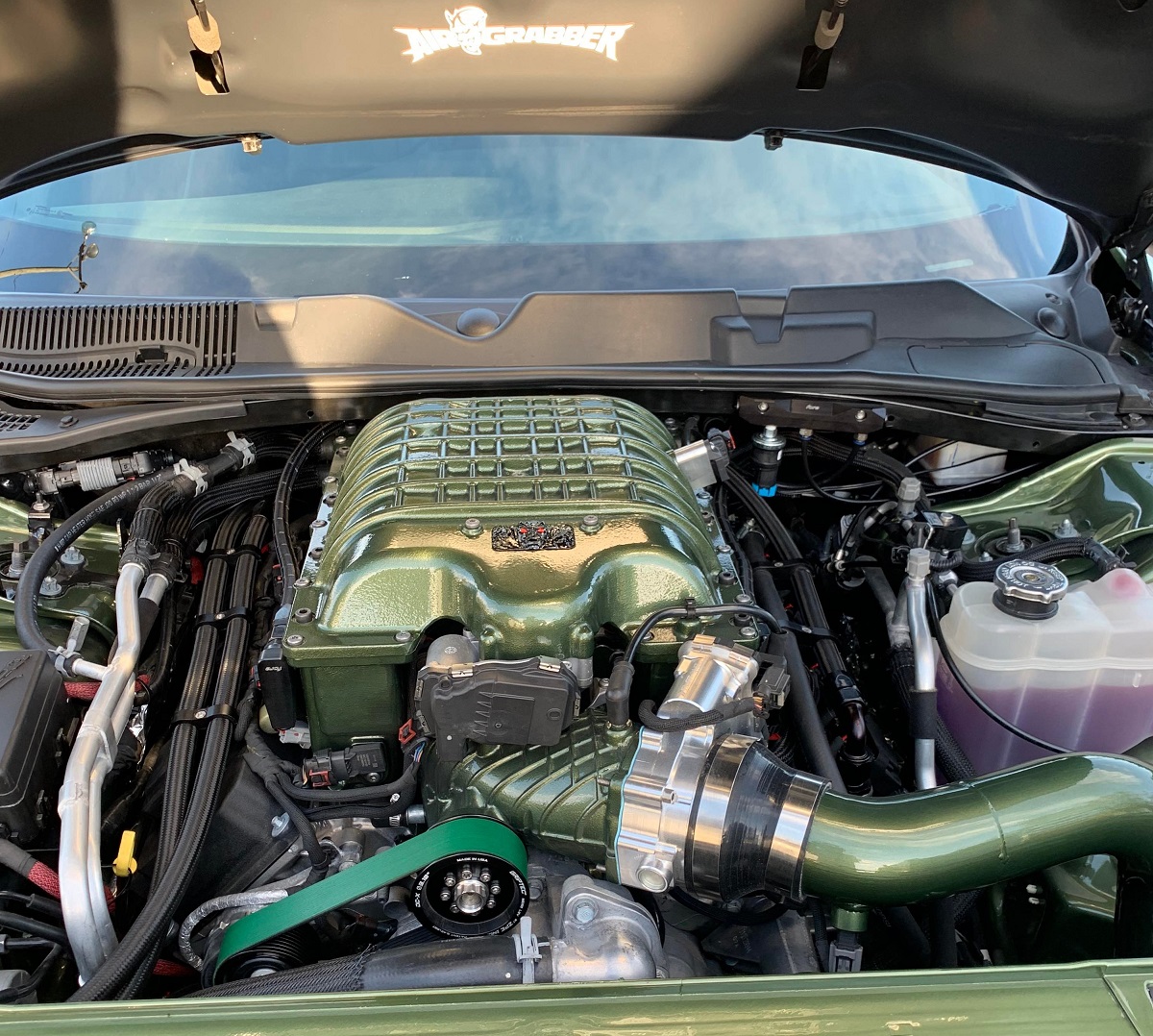 Tim's F8 Green SRT Demon is currently a work in progress as he waits for some of the components needed to finish the current build. The factory 376-inch engine has been replaced by a billet 420-cubic-inch billet KTRE-Holmberg engine with a custom intake manifold rather than the IHI supercharger. The latest iteration of SRT Demon #1882 will not be a compound setup, instead Tim is opting for a straight twin turbo induction system with twin 68-75 Precision turbochargers, but he already plans to go to 76mm turbos in the near future. The power from that twin turbocharger, 420-cubic-inch HEMI engine will be sent to the rear wheels by means of a Sipple Speed and Performance Max Effort HP90 transmission, a Hemituner billet differential, a Mark William two-piece driveshaft and Gforce Outlaw axles.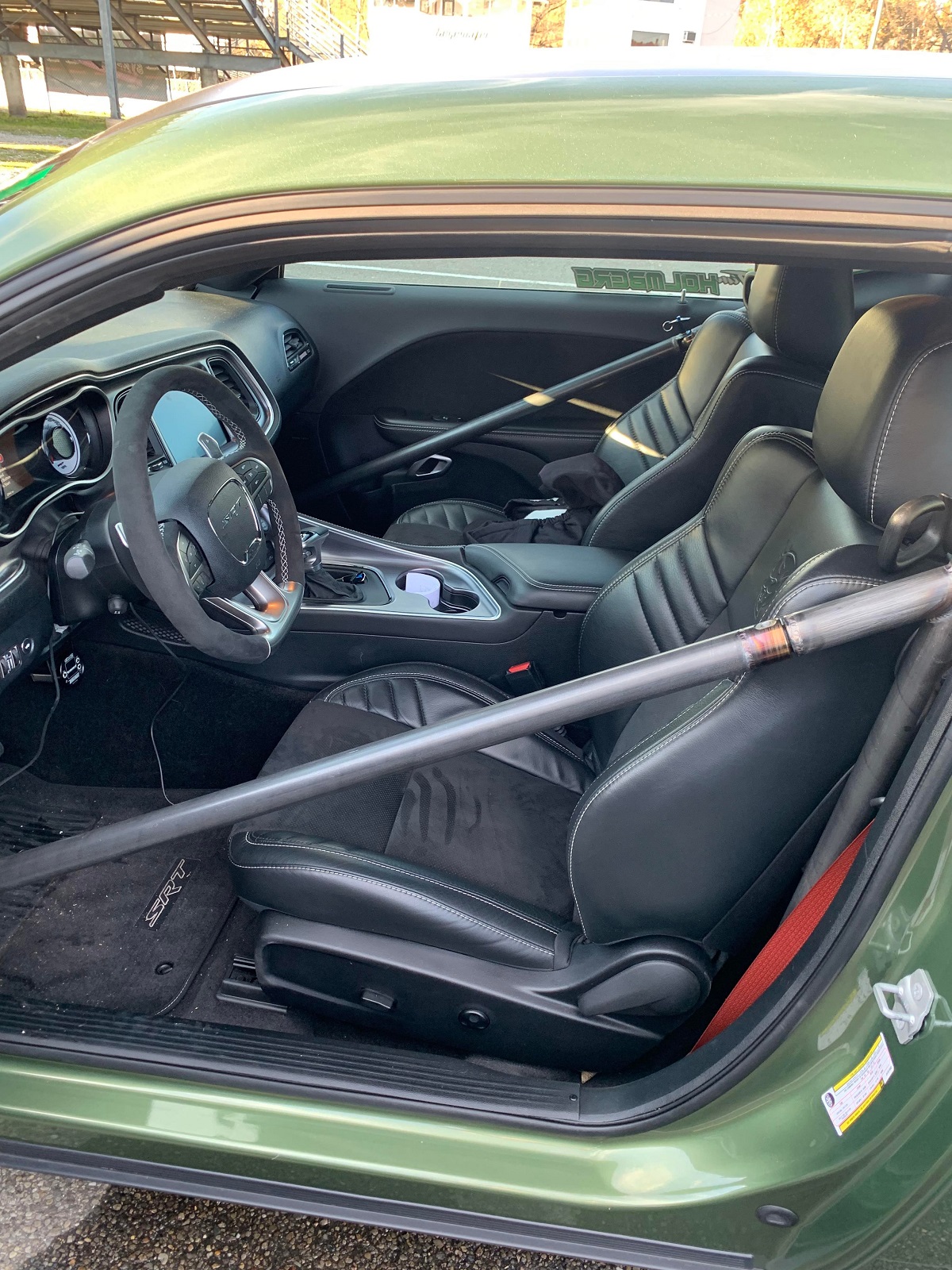 While Tim's obvious goal with SRT Demon #1882 is to run a quicker time than he did with the compound boost setup, he is hoping to get into the 7-second range with this upgraded drivetrain. While the engine, transmission and differential are all modified, they are all based on factory components – as opposed to the racers running a TH400 transmission and a Ford-style rear differential.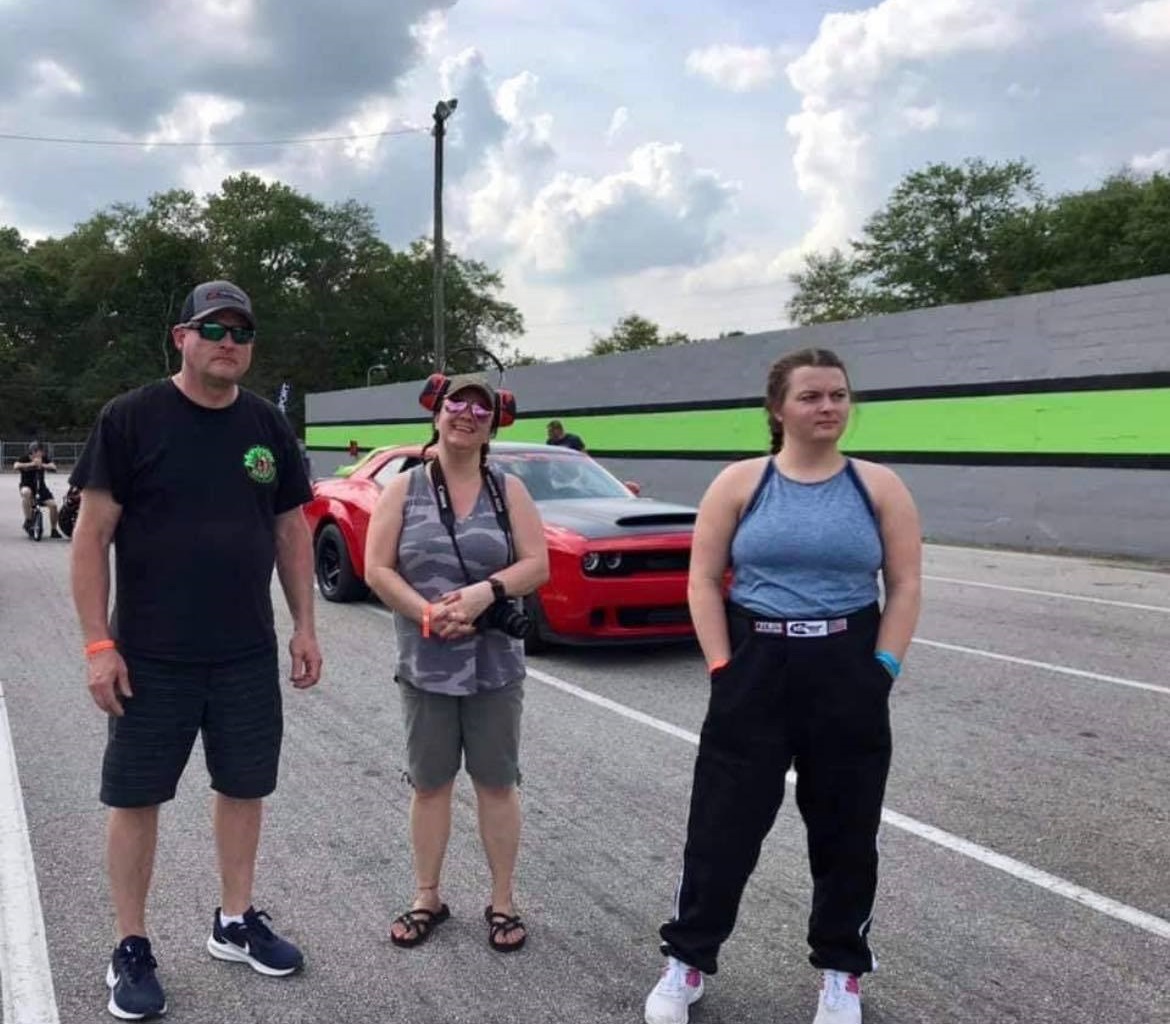 Both of these 2018 Dodge Challenger SRT Demons have Sinned Customs roll cages, helping to keep both drivers safe while also stiffening up the chassis a bit. Also, both Tim and Kenzie have their NHRA competition licenses, so they have both taken the steps to show that they know how to handle cars that get down the track in the 8s.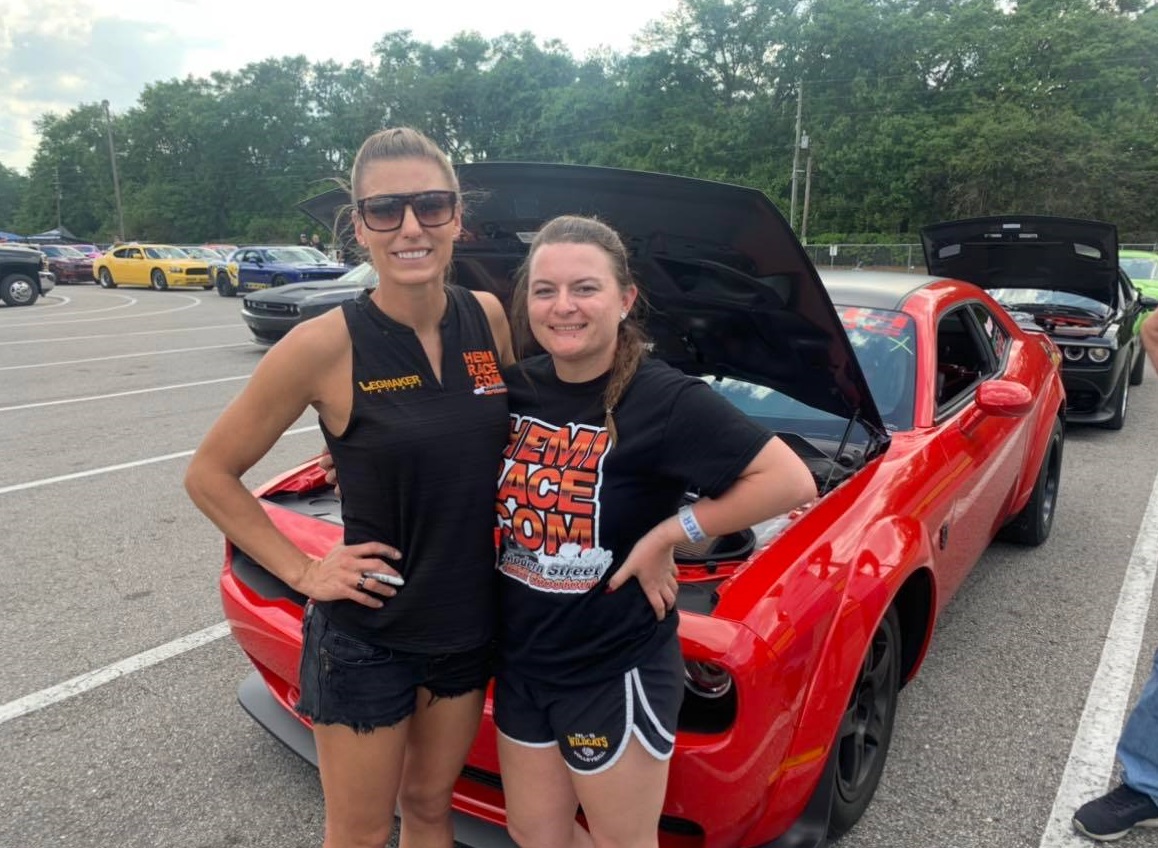 Quarter-mile times, records and event results aside, this pair of 2018 Dodge Challenger SRT Demons allows this family to spend loads of time together in the shop and at the track, and while Laura doesn't race as often as Tim and Kenzie, she has some 9-second experience of her own so for Holmberg Motorsports – drag racing is truly a family affair.
Comments
Comments