Will We Ever See the Original Black Ghost Again?
3 months ago Owners + Clubs
When it was announced that the 1970 Dodge Challenger R/T SE known as "The Black Ghost" would be sold at the 2023 Mecum Indianapolis Auction, many members of the Mopar® community wondered what would come of the legendary HEMI® engine-powered street racing machine. Some folks were concerned that it would be purchased by a private collector and disappear from the public eye, and immediately following the sale at auction, the lack of information on the buyer heightened these concerns. At first, no one knew who had purchased the original 1970 Black Ghost Dodge Challenger or where it ended up, but as luck would have it, I met the new owner in a Facebook owner's group for the 2023 Dodge Challenger Black Ghost Edition.
His name is Ryan Snyder and he joined the 2023 Dodge Challenger "Black Ghost" Owners Only group to share his freshly purchased 807-horsepower muscle car, but while doing so, he shared a picture of the other vehicles in his fleet (above). One of those vehicles, a black 1970 Dodge Challenger with the "gator skin" roof and an African flag on the fender. I quickly messaged him and asked if he was the owner of the original Black Ghost. He verified that he was in fact the man who purchased the 426 HEMI engine-powered 1970 Challenger from the Mecum auction earlier this year.
Best of all, Ryan Snyder was happy to share his story of how he came to purchase the historic 1970 Dodge Challenger and what he has in store for it going forward. He is the second person from the left in the picture, with his dad, Glen Schloneger, on the far left and two well-known Camaro restoration experts, Frank Arone and Matt Barczak, on the right side of the picture.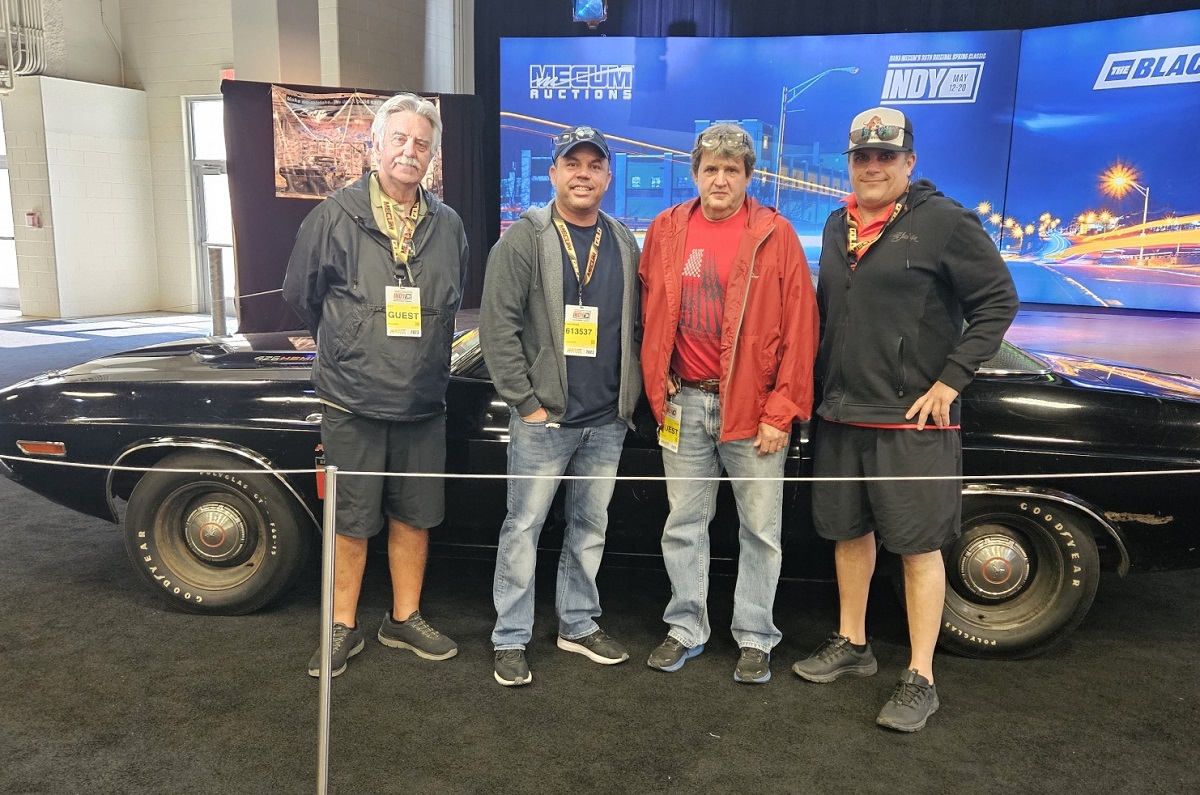 My first question to Ryan Snyder was whether or not he went to the Mecum Indy auction planning to buy The Black Ghost. As many readers may know, the car sold for just over a million dollars with auction fees, and it seemed unlikely that Snyder spent that kind of money on a whim. As it turns out, he didn't plan to buy the Challenger, although he was aware that it would be crossing the block while he was there.
"First and foremost, I never thought I would ever spend a million dollars on a classic car, let alone an unrestored '70 HEMI Challenger. I'm a diehard first-generation Camaro fan. However, I love all late '60s and early '70s muscle cars. I was familiar with The Black Ghost prior to the auction and thought it was a great car with a cool back story. Like everyone else, I assumed one of the large Mopar collectors would buy it and put it away in their collection. I honestly thought The Black Ghost would sell for around $2 million. I went to Mecum Indy with the intention of trying to buy my holy grail car, the 1969 ZL-1 Camaro. I did not think The Black Ghost would be within my reach," said Snyder.
"When the bidding started, I realized I had a shot at the car and did not hesitate. Among other things, (1) it is 1 of 32 automobiles currently recorded in the National Historic Vehicle Register at the Library of Congress; (2) it was the inspiration for Dodge's 'Last Call' special edition 2023 Challenger Black Ghost; and (3) it is arguably the most recognizable and talked about Mopar in the world. Love it or hate it, what car guy would not want to have The Black Ghost. Show me another American muscle car in a glass case displayed in the National Mall in Washington, D.C. It doesn't get any cooler than that!"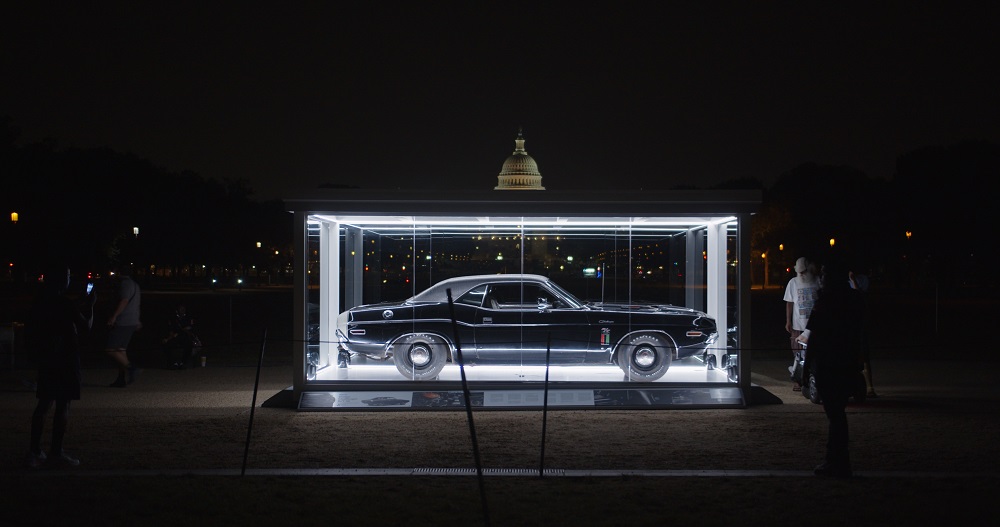 For those wondering, while Snyder is a Camaro fan, this 1970 Dodge Challenger is not the first Mopar in his collection. He also has a 1970 Plymouth HEMI 'Cuda, a 1969 Plymouth Roadrunner, a 1972
restomod 'Cuda and a 2023 Dodge Challenger Black Ghost Edition. He also pointed out that his wife had a Tesla Model S for a while and she was "miserable", so she got rid of that and now drives a Jeep® Wrangler Rubicon with the 392 HEMI engine – so there is quite a bit of new and old HEMI horsepower in Ryan Snyder's household.
Next, I asked Snyder what he planned to do with the 1970 Dodge Challenger in terms of repairs or restoration. For those of you who don't recall the full story, Godfrey Qualls – the original owner and the man behind the wheel of The Black Ghost story – had essentially kept the car tucked away in storage for a few decades before passing it down to his son. After spending a few years racing and driving the HEMI engine-powered muscle car, which included towing a motorcycle trailer, the car sat idle for decades. During that time, seals and hoses aged, so when Greg Qualls began driving and showing the car over the past few years, he had to perform normal maintenance.
However, anyone who saw the car while being displayed knows that it has quite a few dents and dings that it collected during years of storage. In short, the car needs some love, and when it was sold at auction, many Mopar fans wondered whether the buyer would perform a full restoration or just perform enough maintenance for it to keep up with show car duties. So far, it seems that the car will only undergo mechanical repairs to make sure that it keeps running for years to come, but there may be some minor aesthetic repairs as well.
"Right now, my goal is to keep the car as close to original as possible. The Black Ghost is currently at Frank Badalson's shop in Richmond, Virginia. If you are not familiar with Frank, he is widely considered to be one of the top Mopar experts/restorers in the world. Frank's specialty is survivors. Frank is a great guy and I consider him to be one of the best in the muscle car world. I sent the car to Frank and asked him to do whatever he deems necessary. I've never been a big survivor fan, but if there ever was a car that deserved to remain a survivor, it's The Black Ghost. I'm going to do everything I can to save and preserve the car. If this car can be saved and preserved in its current form, Frank Badalson is the guy that will make that happen.
"However, there will be a few noticeable changes/modifications. The trailer hitch is coming off. As much as I would love to leave it on the car for all of the online haters, it is being retired. The seat covers are also coming off. The passenger and rear seat are in mint condition because of those seat covers and it is time for them to get some fresh air after 50 years. Frank is going to work on getting some of the car's bumps and bruises fixed. Those bumps and bruises came about as a result of sitting in a garage for decades and were not present when Godfrey had this car on the street. The Africa stickers will remain on the car as long as I own it. Godfrey put those stickers on the car, they are part of the history of the car, and they will not be removed from the car."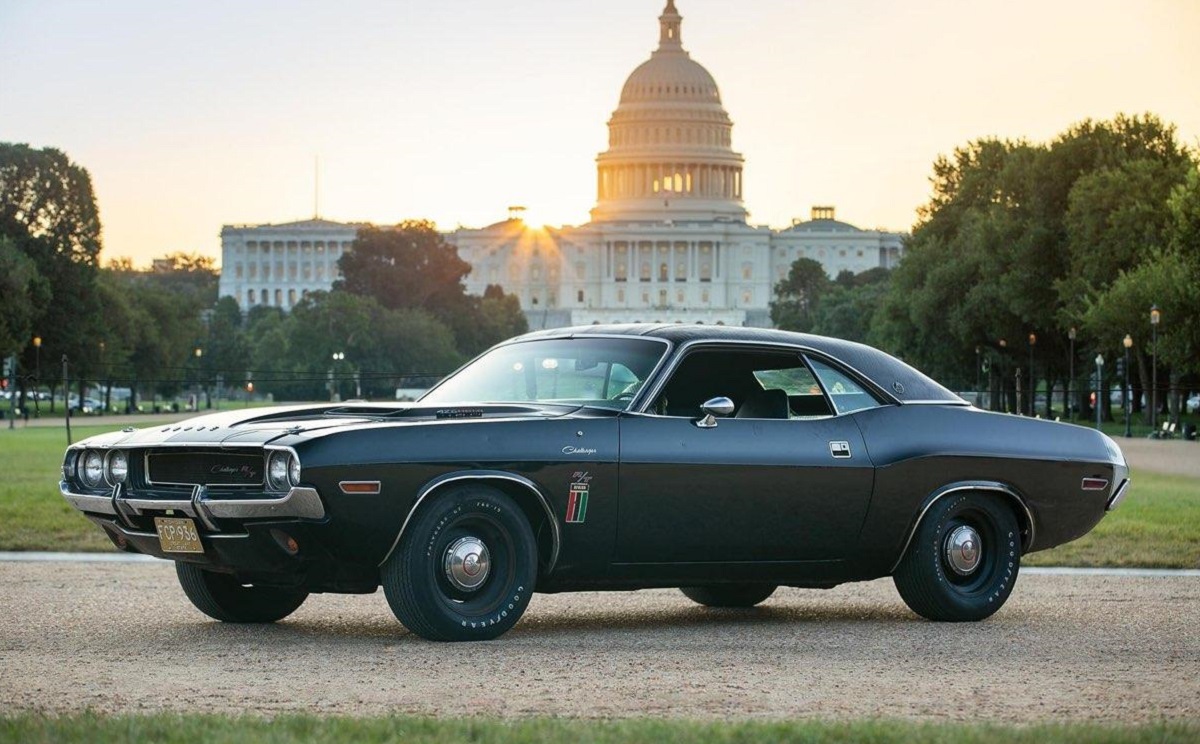 We reached out to Frank Badalson to ask him what repairs he plans to make with The Black Ghost and he provided some great details of a process that is still very much underway.
Badalson explained that on the outside of The Black Ghost Dodge Challenger, there were over a hundred dents and dings, multiple chrome trim pieces were crushed and there was some rust around the lower edges of the body. Since the plan is to restore this car to the form in which Godfrey Qualls raced this car 50 years ago, while maintaining as many original aspects as possible, they did not just strip the car down and perform a ground-up restoration. Instead, the clean-up process began with Alex Clevinger spending four days with the car, carefully removing the dents from the factory sheet metal with the help of his son, Aiden. Clevinger has more than 27 years of experience in the industry and Badalson referred to him as the best in the business. Even without any paint work, Badalson said that after Clevinger was finished, the body was as straight as an arrow. Badalson's team also took some measures to mitigate the rust around the lower body, preventing it from getting any worse and making it look as nice as possible without adding new metal or fresh paint.
As for the damaged trim pieces, Badalson explained that some of them are damaged too badly to be repaired, so they will be replaced with "survivor" components – not modern reproductions. However, the original pieces will be saved, as will every other piece of this Challenger which is replaced during the unique restoration process. Badalson said that overall, the body is in great shape and the only really bad rust is in the floorboards – not in the body.
The body of The Black Ghost Dodge Challenger is in good shape, but that is not the case for the 426-cubic-inch HEMI engine under the hood. Badalson began taking the engine apart to check the condition of the inner workings, and he found a few major problems. Three of the lobes were worn off of the camshaft, there is a great deal of play in the timing chain and there is a reasonable amount of coolant making its way into the #6 cylinder, indicating either a bad head gasket or damage to the cylinder head. Badalson believes that it is the gasket, but he will not know more until the engine is further disassembled. Also, there is rust and sludge through various parts of the engine due to sitting for decades, so Badalson decided that the best choice was to pull the engine out and do a full rebuild. He explained that he has rebuilt hundreds of 426 HEMI engines over the years, and this engine will get his standard factory-based rebuild, using the best survivor parts available.
In addition to sharing what he has done so far with this Dodge Challenger, and what he plans to do moving forward, Frank Badalson shared some interesting details of the engine based on his decades of experience working on 426 HEMI engines. There are signs that this Challenger had been quite a bit more modified at one point, including things like headers, fuel system upgrades, an aftermarket ignition system and, most importantly, an aftermarket camshaft. In fact, while he will not be sure of the specifications until the engine is apart, he believes that the camshaft in the engine right now is an aftermarket, high-performance unit, as it also has aftermarket valve springs and lifters.
That being said, the majority of the components are stock and Badalson confirmed that this is a numbers-matching vehicle and it is equipped with 4.10 gears. Once the engine rebuild is complete, it will be a factory-stock, strong-running HEMI that will look just like it did when Godfrey Qualls cruised the streets of Metro Detroit.
Next, we addressed the concerns about the car disappearing from the automotive landscape, but Snyder explained that won't happen either.
"I just plan on taking the car to as many shows as I can. A handful of national shows have reached out and I will be sending the car to those shows once Frank is done. I plan on taking it to my local car meets or any place else for that matter where the car is welcomed. I intend on sharing the car with as many people as I can … haters included. Schedule permitting, if anyone has a show and would like The Black Ghost to attend, all they have to do is reach out to me."
Finally, we asked Ryan Snyder if he plans to drive the 2023 Dodge Challenger Black Ghost or show it alongside the original.
"When space permits, I will absolutely take both cars as it is cool to see them together. I will probably do some driving in the 2023 Black Ghost. I love the old cars, but I will say Dodge knocked it out of the park with the 2023 Dodge Challenger Black Ghost. It is going to be hard to leave that one sitting in the garage. On a side note, Mecum Auctions spent a bunch of money on its displays for the promotion of The Black Ghost. Mecum graciously gave me those displays and I intend on using them. I'm in the process of building a new warehouse for my cars and The Black Ghost (original and new) will have their own area with backdrops that make them look like they are running down Woodward Avenue at night."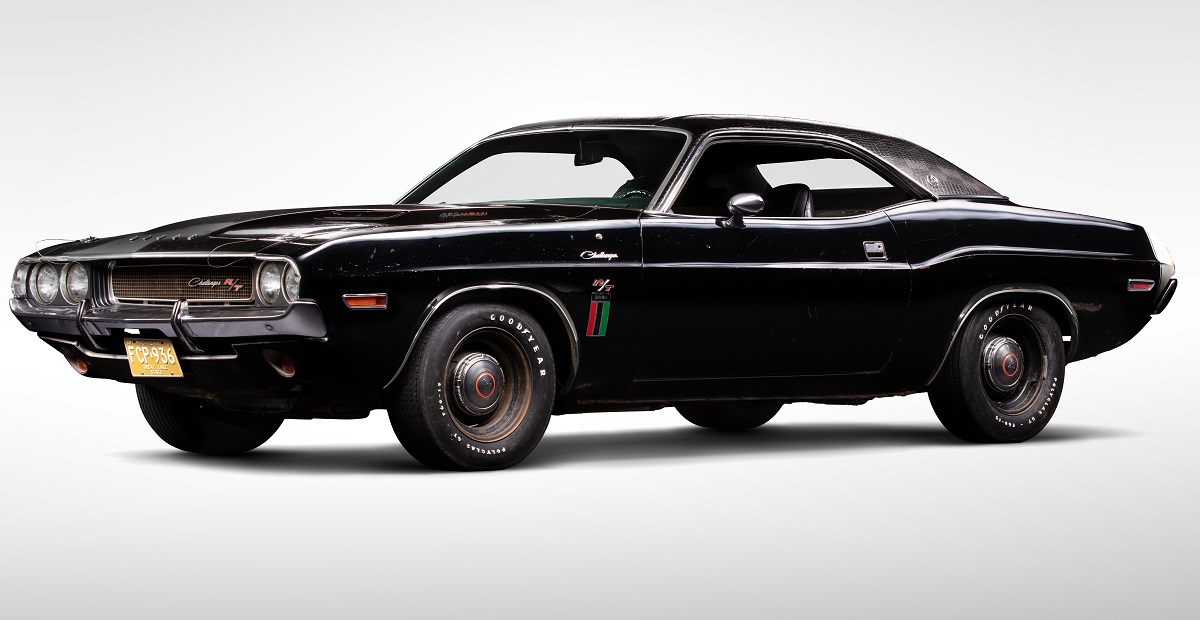 While the survivor-style restoration process will take some time, when Frank Badalson is done and Ryan Snyder has the 1970 Dodge Challenger R/T SE known as "The Black Ghost" back in his possession, it will look and run better than it has since the mid-1970s – which will likely make it a popular attraction at any car show.
Comments
Comments
Previous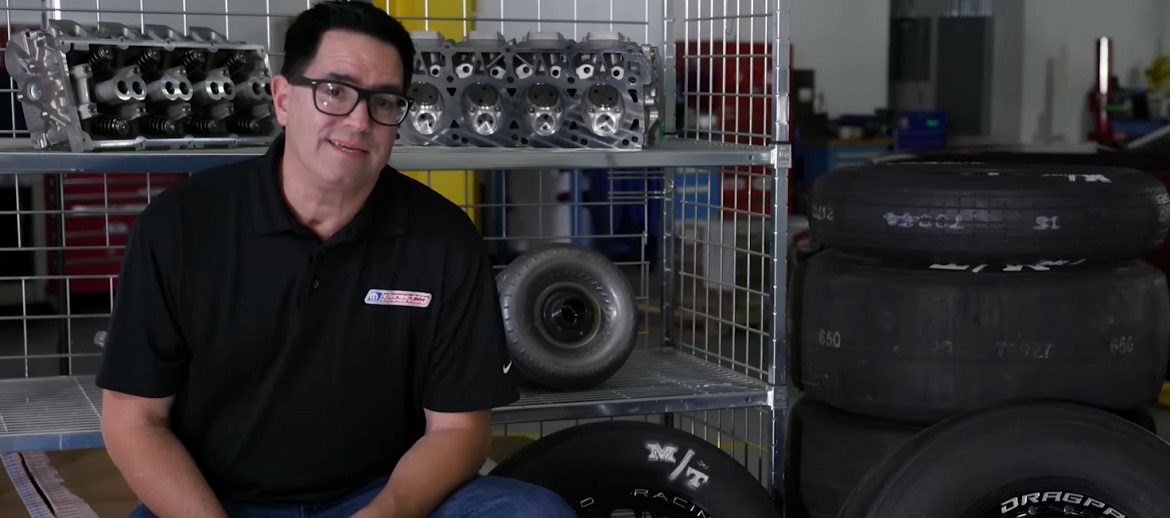 Next