Let's Get Ready to Rumble NHRA Style
5 years ago Racing
2018 Dodge/Mopar® NHRA Season Preview
It's hard to believe, but the 2018 NHRA drag racing season is about to hit the ignition switch, roll through the burnout box and light up the slicks in mountainous plumes of smoke while shaking the earth off its axis. The "off-season" for the drivers and crews of our Dodge and Mopar® Top Fuel and Funny Car teams was barely long enough for them to open Christmas gifts and sing "Auld Lang Syne." The tree and decorations were still up in the shop when they reassembled and went back to work servicing and fine-tuning the 11,000-horsepower supercharged HEMI® machines that propel drivers Leah Pritchett, Matt Hagan, Ron Capps, Jack Beckman, Tommy Johnson Jr. and Tony Schumacher down the drag strip in 3.65 seconds at 329 mph.
Between the pre-season photo sessions and testing, we had a chance to catch up with the drivers from Don Schumacher Racing to get their take on how they did during last year's grueling NHRA season that saw a constant reshuffling and fighting for the points lead. We also wanted them to share their thoughts as we head into the 2018 drag season. Last year, it was a battle for drag strip supremacy and our teams will be taking it up a notch to claim the NHRA Top Fuel and Funny Car World Championship titles.
So, here's some "insider" info from our Dodge/Mopar nitro drivers that will be blasting down the strip in less than a week.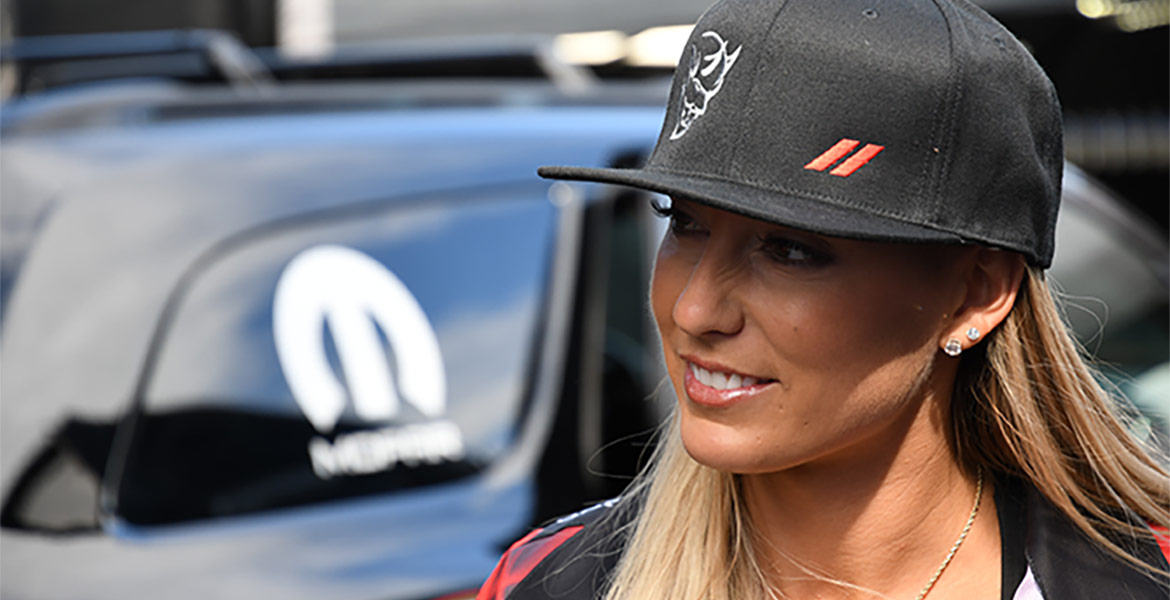 Leah Pritchett – Driver of the Papa John's Dodge/Mopar Top Fuel Dragster
"We had a spectacular 2017, especially given the fact that it was our first full season. Our performance showed that we have full championship capabilities. Having success last year completely primed us, mentally and physically, to be confident at the highest level. We had a steeper learning curve than most of our competition considering we had a new group of people; and for me as a driver, it was my first experience of what it's like to run a full season. Now we've been to the show, we've seen it and we're ready to show out in 2018 the way we did at the beginning of 2017, but all season long. Being able to race the Dodge Challenger SRT® Demon on a regular basis has kept me at the top of my game during the off-season. Putting my Demon on the strip keeps me in the competition mindset."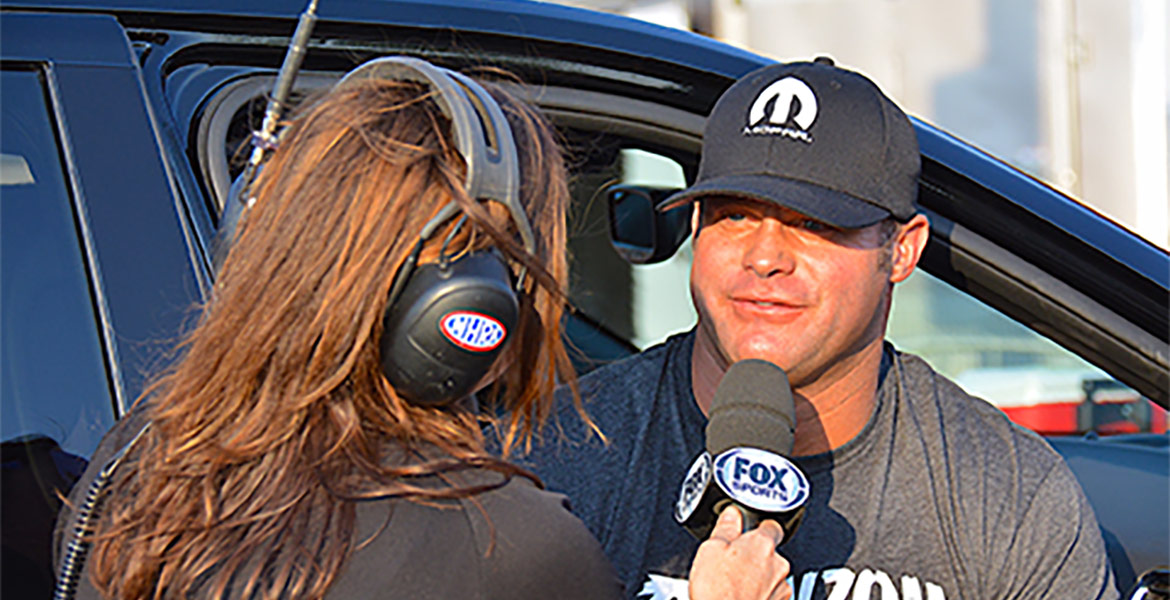 Matt Hagan – Driver of the Mopar Express Lane Dodge Charger R/T Funny Car
"Started the 2017 season like gangbusters. Right off the bat, we won the first two races. We had some crew changes and some role changes during the off-season, so going into testing, we were a little unsure, but once we logged those first two wins, we felt like 'okay, we've got this.' Then of course, you get in the thick of the season, and at that point, everyone has gotten dialed in and the racing is so competitive. We ended up finishing the year with four wins, which normally you'd count as a great season, but watching Capps win eight, it tells us we've got to step up our game. The competition is growing and getting stronger every year. The chance to be in the championship hunt is pretty amazing. I've been lucky enough to win a few championships and runner-up a few times. Sometimes, just winning a race is tough, and now it looks like now you've got to win three or four Countdown races to be the champ."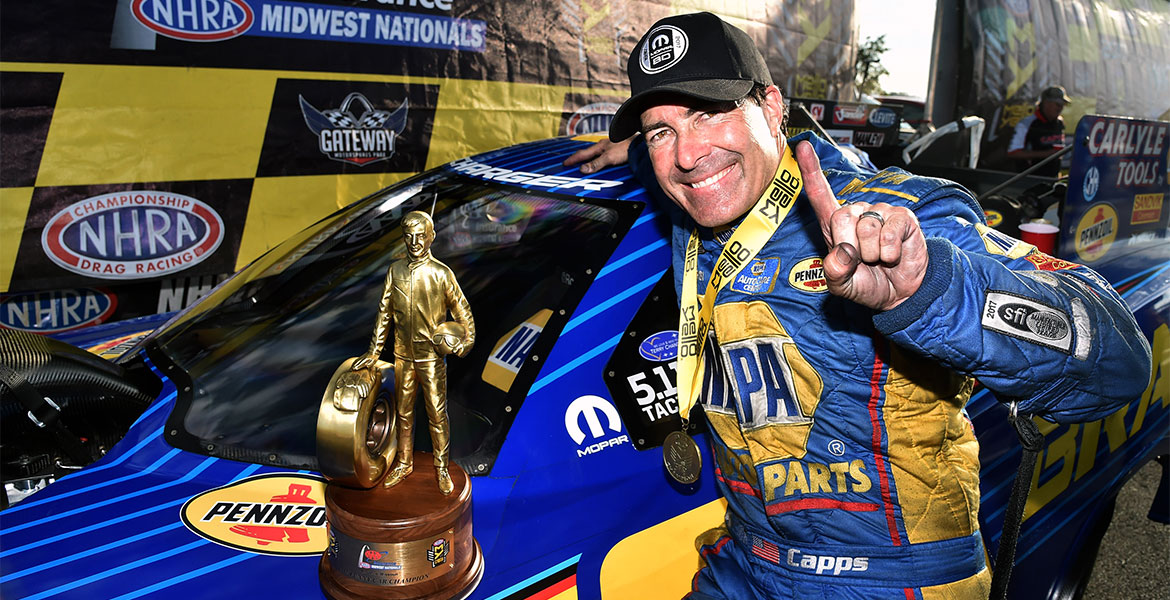 Ron Capps – Driver of the NAPA Auto Parts Dodge Charger R/T Funny Car
"Last year was another great year. Anytime you can battle for a championship is exciting. Taking it to the last day at the last race of the season, and being one of two cars that had a chance, that's a lot of fun. To win the championship the year before and come up just short at the last race of the season shows not only the consistency we have, but also how well we've adapted to the new Dodge Charger R/T body that we've been running for the past few years. To see my teammates and me at the top of the pack in E.T. and mph, just shows how good our cars really are. In 2018, we're going to hit the ground running. As far as our NAPA team, we're going to start running the six-disc clutch this year as most of our teammates have been running with success. We feel so proud to represent all those Dodge and Mopar fans. It's big for us to put our car in the winner's circle because it shows that we know how to beat those other manufacturers. I was like that as a kid, wanting to see a HEMI in the winner's circle. So, to do it eight times last year for all of the Dodge and Mopar fans was just incredible and a lot of fun."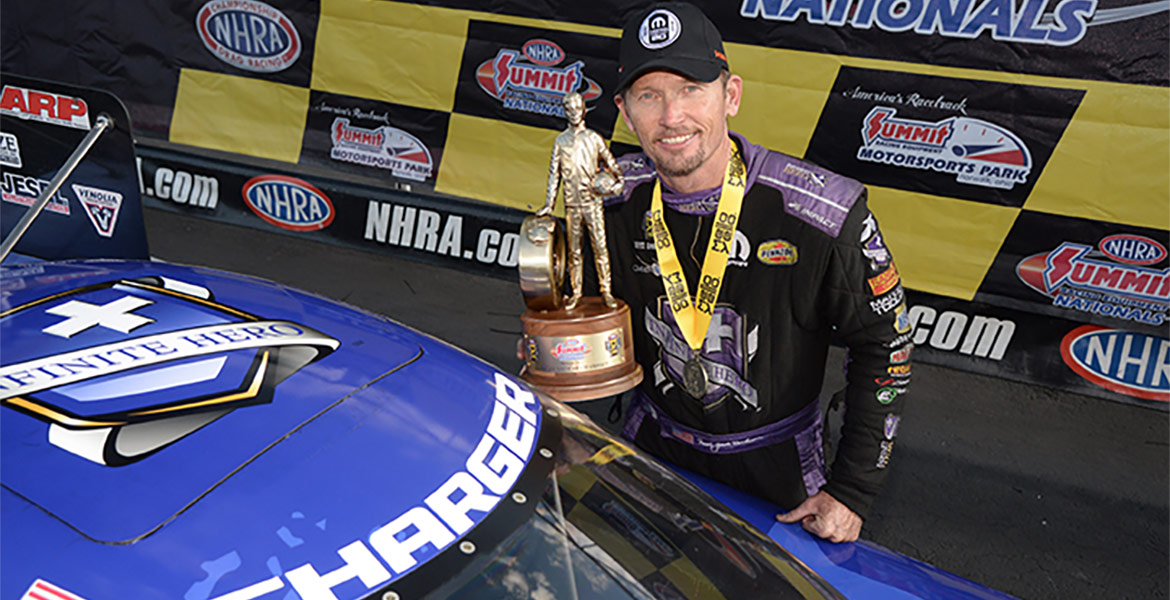 Jack Beckman – Driver of the Terry Chandler's Infinite Hero Foundation Dodge Charger R/T Funny Car
"For a team that until late January wasn't even completely assembled and made a huge bell housing change – switching from a five- to six-disc clutch, with no prior notes because we had two new crew chiefs – for us to finish ranked in the top five, win the Traxxas Nitro Shootout, win two big races and make it to several finals, you'd have to give the Infinite Hero group an A+. It's always challenging to meld new people or new technology, and we had to do both in the same year. It took us until about early June to get fully caught up, but from that point on, we were one of the best Funny Cars out there.
What's really cool about going into 2018 is we have all of the same people, and essentially the same tune-up that we'll keep picking away at. Everyone is feeling very confident because we have continuity not just with the tune-up, but also with the tuners and the mechanics."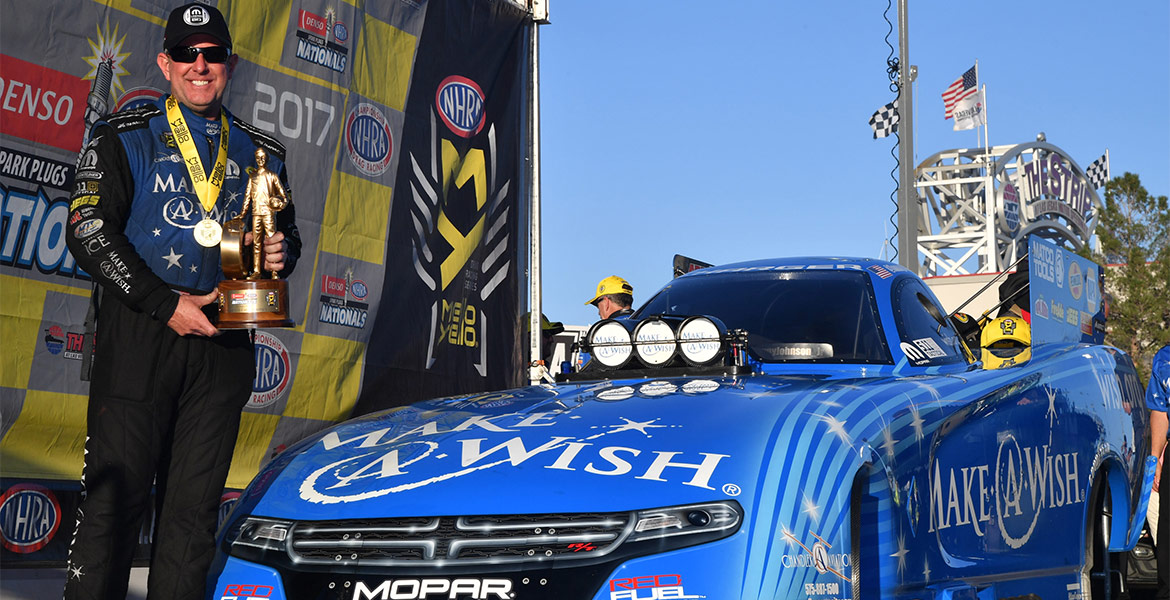 Tommy Johnson Jr. – Driver of the Terry Chandler's Make-A-Wish Dodge Charger R/T Funny Car
"We had a decent season in 2017, but it wasn't the year we were looking for, obviously. Where we finished in points at the end of the year is not an accurate reflection on our season as a whole. We started the Countdown with the five-disc clutch and that held us back. That was apparent when we switched to the six-disc clutch at the final race of the season and won the event. We wanted to get a head start on 2018 and if that's any sign, things are looking pretty good since we will be starting 2018 running the six-disc clutch.
Mopar has done a really good job of getting behind our program. It's great to have their factory effort; it pays off in dividends."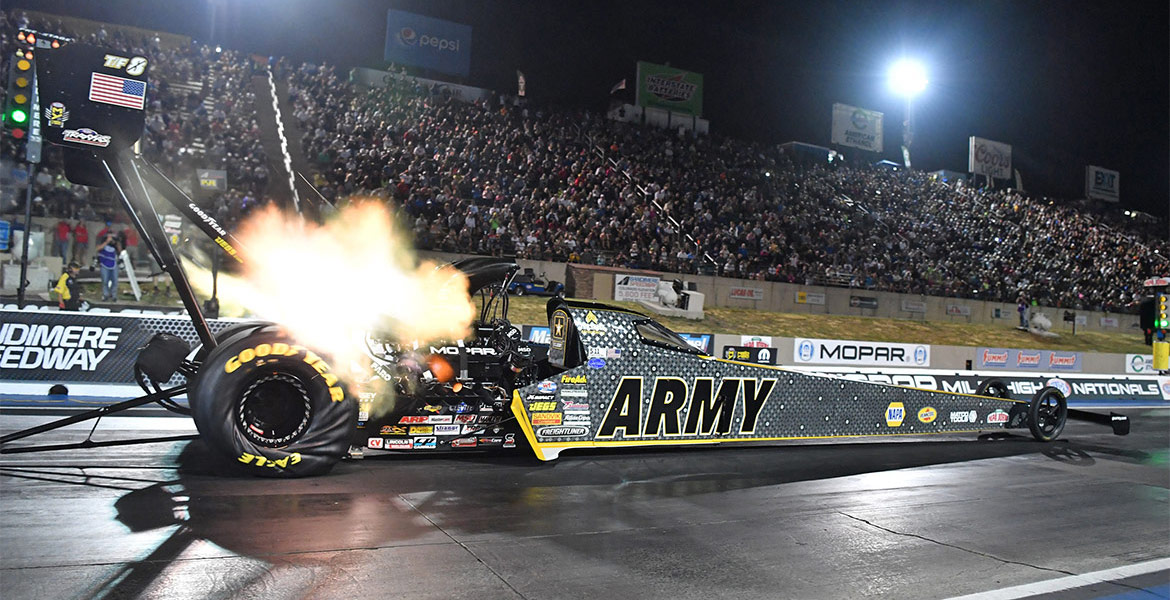 Tony Schumacher – Driver of the U.S. Army Top Fuel Dragster
"Last year was one of those seasons where you can look back on so many things that you could've done differently and could've ended up winning a bunch of races. It's all about timing. We had so many instances on Sundays when we would've won against all of the other drivers in a particular round, except the one we were facing. With the start of the 2018 NHRA season, we feel energized with the chance at a new beginning when we head to Phoenix for the test and then kick off race season at Pomona. And this year, in particular, is especially fresh for everyone involved with the U.S. Army team. We have a new set of eyes and ears with a new crew chief, Mike Neff. Mike has a proven track record of winning and I'm looking forward to coming back stronger and faster in 2018 than ever before.
Comments
Comments