Dodge//SRT® NHRA Mello Yello Drag Racing Series: Notes & Quotes 2018 Arizona Nationals, Chandler, Arizona
4 years ago Racing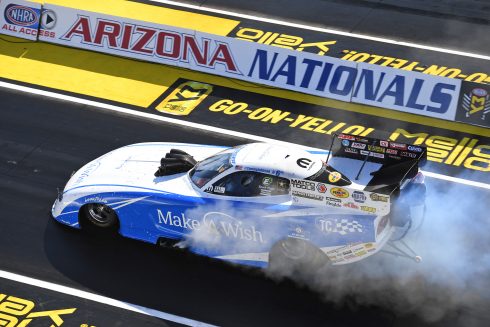 Tommy Johnson Jr., Make-A-Wish Dodge Charger R/T Funny Car: No. 6 Qualifier – 3.879 ET
"The car out of the box was good, then we had the problems on Saturday. We had maybe a little luck the first two rounds, but everyone was smoking the tires. We kept working hard and got those round wins and laid down a nice solid run in the semis, so I was confident going into the finals. I thought we had something for Courtney. But I'm just happy the performance of the car is kind of coming back to us. We're still new to the six-disc (clutch) and learning it. I think the guys made big strides this weekend."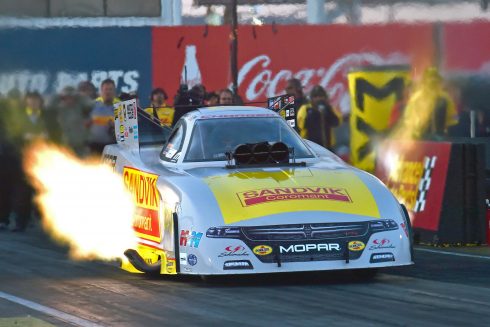 Matt Hagan, Mopar® Express Lane Dodge Charger R/T Funny Car: No. 9 Qualifier – 3.926 ET
"We came in and tested in Phoenix and had a really nice session. We got here, and the weather changed, and we changed up some blower combos and some things like that, kind of making some more horsepower than we expected. We started trying to pull some of that back and then, obviously, when you start doing that, it affects everything. You change one thing and it changes 10.
"All-in-all, we went through first round and I was really impressed with (crew chief) Dickie Venables. In the first round, there were guys smoking the tires and rattling up the tree and just couldn't get down the track. He made some really big wholesale changes to get us where we went 91 (3.91 seconds) and ended up having lane choice out there for second round, but with the delays we already had our tune-up set and conditions changed. There just wasn't a lot we could do. We're going to roll to Gainesville next and do our thing."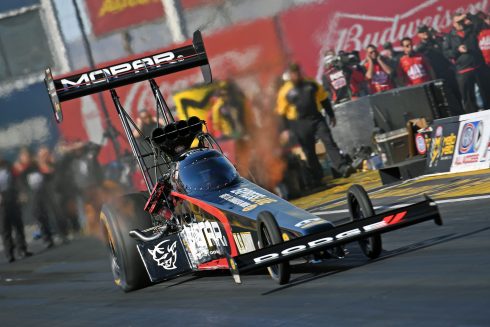 Leah Pritchett, Mopar Dodge Top Fuel Dragster: No. 4 Qualifier – 3.679 ET
"It wasn't the weekend we were looking for, but there were some positives. The feeling of a round win was much needed. It's been a while and that's what all the work is for, those small moments that we get to enjoy going rounds. The roller coaster saga continues. When we were in the lanes for E2 for quite some time, the conditions changed more than what we were expecting, and we adjusted for it, trying to be as versatile as possible, but we were a little too much out of our spectrum.
"Coming out of Phoenix, having the know-how that we still do know how to get down the racetrack on race days and be the quickest and the fastest is what's going to propel us to Gainesville."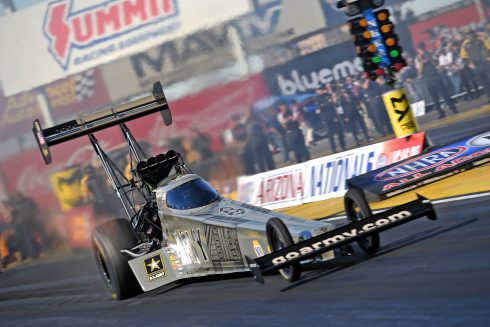 Tony Schumacher, U.S. Army Top Fuel Dragster: No. 1 Qualifier – 3.649 ET and 336.57 MPH *both records
"We've got a great team and went fast. We got a great racecar, great team, we're getting along excellent. It's just one of those things that's going to happen randomly throughout the season. You've got to look at the luck that goes on. At the end of the day, this is not an easy thing to go out and do. We've got a great team. We keep our chins up. We're happy with all the guys, they're doing a great job. The car is performing as well as anything we've seen in a long time. It's good to be here."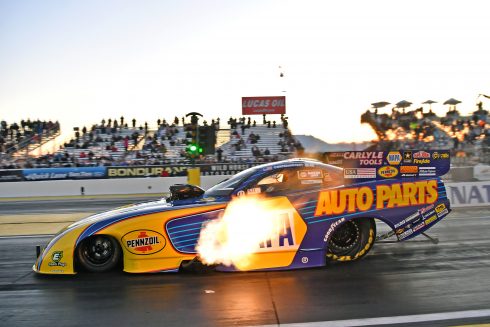 Ron Capps, NAPA Dodge Charger R/T Funny Car: No. 2 Qualifier – 3.844 ET
"It takes a little while for it to sink in because we really felt like we had a car that was capable of taking the win today. We're disappointed. It's part of the growing pains, but we had such a great racecar, and to have a chance of winning like we did, and have lane choice going back into round two, it's been a very interesting weekend. We didn't hurt any parts. The car is in one piece and we're looking forward to Gainesville."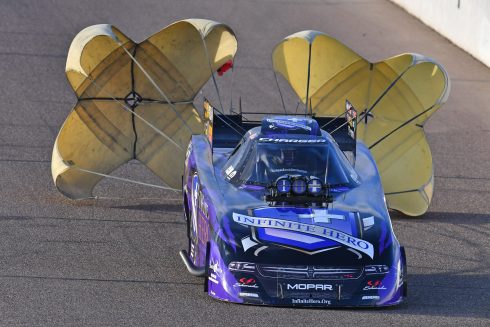 Jack Beckman, Infinite Hero Dodge Charger R/T Funny Car: No. 3 Qualifier – 3.845 ET
"The Infinite Hero team is going to stay and test tomorrow. We're testing because, even though I think we have a phenomenal and versatile car, good in all conditions right now, we've still got some different parts and pieces, and some of our spare parts that we need to cycle through to make sure that we're good to go for the hard push in the summer months. So, we will cross two more things off our list before we leave here tomorrow afternoon. We will eliminate the cause of our first-round explosion and we will test enough things that we'll roll into Gainesville with even more confidence."
Comments
Comments