Pritchett Adds Full Stock Showdown Schedule, Fans Add the Car Graphics
5 years ago Racing
When Pritchett raced two Factory Stock Showdown events in 2017, it sparked the flame to take on more. And so, starting at the NHRA Gatornationals March 15-18 in Gainesville, Florida, Pritchett will steer a 354-cubic-inch HEMI® engine-powered supercharged Mopar® Dodge Challenger Drag Pak for all seven 2018 SAM Tech NHRA Factory Stock Showdown events.
This series is, of course, in addition to her responsibilities behind the wheel of her Mopar Dodge/SRT® NHRA Top Fuel dragster.
"You should see the smile on my face, whether I'm talking about it or my team is talking about it," said Pritchett. "It's a dream come true. The double-duty aspect, I had a taste of it last year and, honestly, I think it makes me a better racer overall. When we roll out in 2018, the Mopar Dodge Challenger Drag Pak will be put on the track by Don Schumacher Racing, which makes me feel fulfilled in every way. We have proven to have a very competitive racecar, and the goal is to be the quickest and fastest in both silos (Factory Stock and Top Fuel)."
The Factory Stock Showdown Mopar Dodge Challenger Drag Pak crew will be led by crew chief Kevin Helms, who brings with him a 2015 NHRA Stock Eliminator World Championship and 2017 NHRA Stock and Super Stock runner-up finishes.
Speaking of finishes, the fans are responsible for choosing the look of Pritchett's NHRA Factory Stock Showdown Mopar Dodge Challenger Drag Pak. A pair of Mopar and Dodge//SRT-themed livery concepts, designed by motorsports lifestyle brand Hoonigan, will be featured on Hoonigan's website for fans to vote from. Hurry, fan voting ends at 11:59 pm. ET on February 8. Which do you prefer?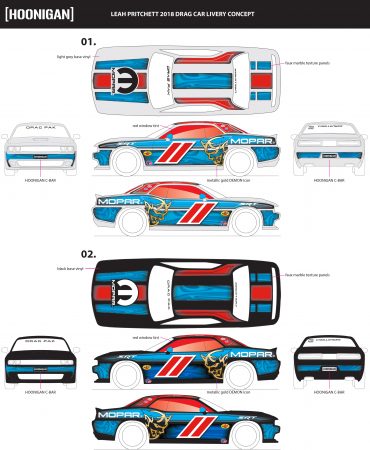 Comments
Comments