Dodge Makes History at NMCA Season Opener
5 years ago Racing
This past weekend at the NMCA Muscle Car Mayhem race in Bradenton, Florida, over 50 Mopar® powered Dodge Challengers and Chargers descended on Bradenton Motorsports Park for the inaugural Dodge//Mopar HEMI® Shootout. Many drivers had fun putting their rides through their paces and running down the track. For our hardcore Dodge Challenger Mopar Drag Pak competitors, they made history by setting new records at the event.
With many first-timers and season competitors, the NMCA Muscle Car Mayhem was a fun event for many reasons. It was coming together of the Dodge and Mopar community of passionate owners with a thirst of going fast with friends and meeting new ones. During the weekend, they swapped stories, shared driving and tuning tips, and lined up for some good old bench racing.
Speaking of racing, it was hot as the southern Florida sun with many competitors attacking the drag strip in search of seeing how fast they could hustle their Demons, Hellcats, Scat Packs, and R/T machines down the quarter-mile.
By all indications, the inaugural NMCA Dodge//Mopar HEMI Shootout was a huge success for both competitors and fans alike. The spectators also dug the racing action as this year's event set a new attendance record for an NMCA season opener. So before the tire smoke clears, here are some of the highlights from this year's event.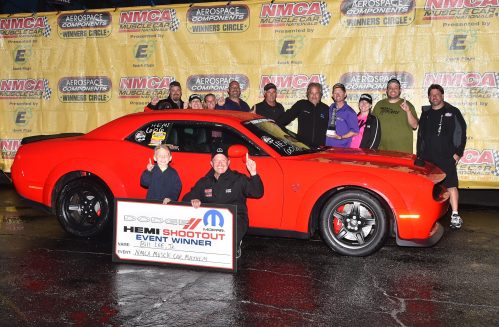 On Saturday, fans got to see the highly anticipated Dodge Challenger SRT Demon score its first national event victory during the NMCA Dodge//Mopar HEMI Shootout. Bill Lee Jr. was the overall winner with a 10.32 average. However, on Friday with cooler temps, Lee's Demon was coming close to bumping into the nine-second zone.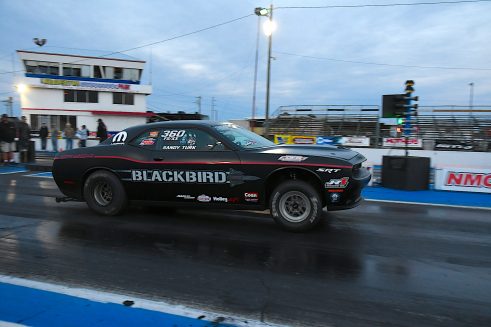 On Friday, in the Holley EFI Factory Super Cars, Geoff Turk became the first driver to break the 7-second barrier in the class with his Dodge Challenger Mopar Drag Pak. He earned $10,000 for his hard work and grabbed a prestigious spot in the Holley EFI 7-Second Club.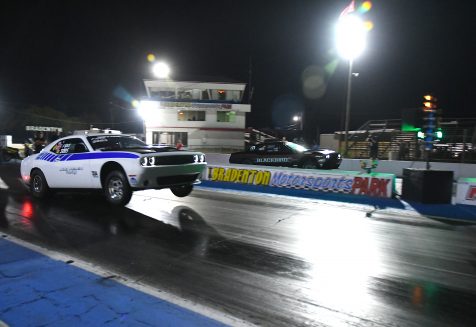 Turk also made it to the final round of eliminations of the Holley EFI Factory Super Car class. With 22 entries that included COPO Camaros and Cobra Jet Mustangs, it was a pair of Dodge Challenger Mopar Drag Paks coming to the line. As the Christmas tree when green, both HEMI powered machines leapt off the line and blasted down the track but Turk got slightly out of the groove and lost traction and ran an 8.13 to the other Drag Pak's 8.02 ET.
Catch all the action at the next event in Georgia where NMRA/NMCA All-Star Nationals will take place April 5-8 at Atlanta Dragway.
Comments
Comments