Dodge Rolls the Dice in Vegas During NHRA Four-Wide Nationals
5 years ago Racing
The inaugural DENSO Spark Plugs Four-Wide Nationals was a huge success as the exciting finals were viewed by a packed house at The Strip at Las Vegas Motor Speedway. The crowd was there to witness the NHRA Mello Yello Drag Racing Series' first event west of the Mississippi River, featuring four lanes of action simultaneously instead of two lanes.
The Four-Wide Nationals only requires three rounds to crown a winner, with two drivers advancing from each quadrant of four until an event champion emerges in the final round. The fans turned out in droves to see it, as NHRA and the drag strip's officials announced two sellout crowds on Saturday and Sunday, a first for the facility's spring race.
The Top Fuel and Funny crew chiefs all had to roll the dice and gamble on setting up the car's clutch systems on the fresh racing surface. When the smoke cleared on Sunday afternoon, Dodge//SRT® Mopar® drivers Jack Beckman (Funny Car) and Tony Schumacher (Top Fuel) posted runner-up finishes.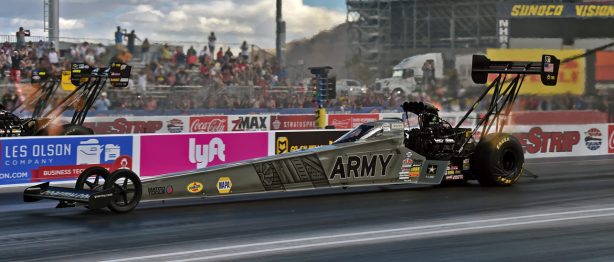 Schumacher was only about 4 feet shy of a Wally after the finals in Top Fuel, and Beckman was only about 9 feet short at the end of the Funny Car competition. The latter saw Don Schumacher Racing (DSR)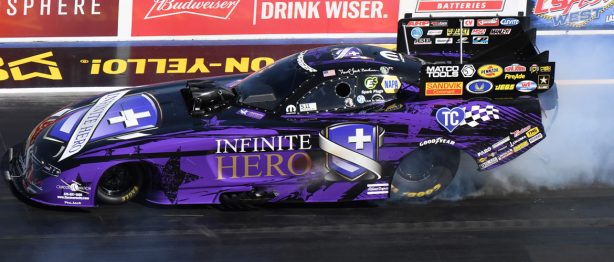 Dodge//SRT Mopar teammates Jack Beckman and Tommy Johnson each head into battle in the quad, but Johnson fouled out on a red light after leaving the starting line too early. Beckman was second out of the gate and held on for the runner-up position.
Papa John's Pizza Dodge//SRT Mopar Top Fuel Dragster driver Leah Pritchett had the quickest pass of her quad with a 3.793 E.T. while finishing second in round one of eliminations to No. 2 qualifier Antron Brown. Her runner-up spot earned her lane choice for round two and a big dose of confidence, but she just missed the finals when her 11,000-horsepower machine lost traction.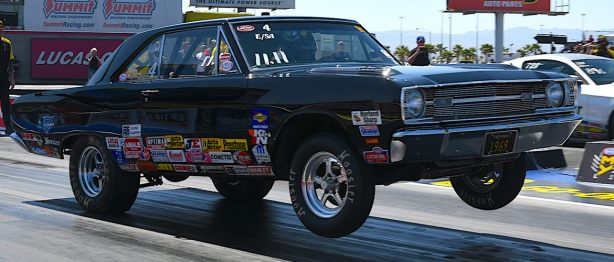 Former Dodge Top Finisher winner and 2018 NHRA Winternationals champ Larry Gilley drove his 1969 Dodge Dart GTS to the final round of Stock Eliminator. Powered by a Mopar 340 cubic-inch small block, Gilley's Dart GTS was dialed-in all weekend as he raced through six rounds of heated competition only to lose by 0.0035 seconds (approximately 7 inches) in the finals. For advancing the furthest in Stock Eliminator, Larry Gilley received the Dodge Top Finisher award that includes $500.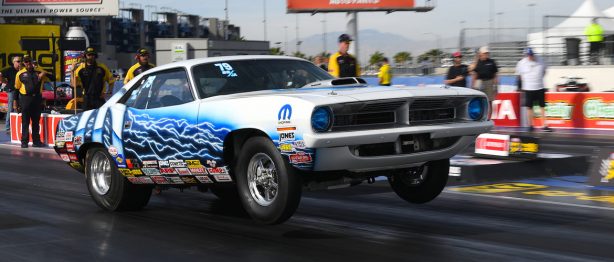 Like Larry Gilley, Mike Cotten is also a former NHRA National Event winner and recipient of the Dodge Top Finisher award. During last weekend's DENSO Spark Plugs Four-Wide Nationals, he piloted his 1970 big-block Mopar-powered Plymouth 'Cuda to four rounds of intense eliminations. Cotten's 'Cuda was consistent on race day but came up just a little short and lost by 0.018 seconds. The $500 for being the Dodge Top Finisher should make the ride home from Vegas a little better.
Comments
Comments