HEMI® Power to Pound the Pavement at Charlotte NHRA Four-Wide
5 years ago Racing
Our nitro-burning HEMI® engine-powered Top Fuel Dragsters and Charger R/T Funny Cars from Don Schumacher Racing will once again do battle. This weekend's NHRA Four-Wide Nationals at the massive zMAX Dragway, located outside Charlotte in Concord, North Carolina, will have enough horsepower on the starting line to rotate the earth and move the track into another time zone.
Just a few weeks earlier, our drivers were dragging four-wide at The Strip at Las Vegas Motor Speedway. With over 40,000 horsepower blasting down the track at once, the fans loved the sensory overload but the drivers had to quickly adapt their staging routines and reaction times to compensate for the two additional cars paired up on the same run.
"The NHRA is the epitome of the most powerful cars in the world," said Leah Pritchett, driver of the Dodge//SRT® Mopar® Top Fuel Dragster and semifinalist at last year's event. "22,000 horsepower side-by-side at a normal race, but this weekend in Charlotte, we double that and go four-wide, pushing that number to 44,000 horsepower on the track at the same time. It is so intense,"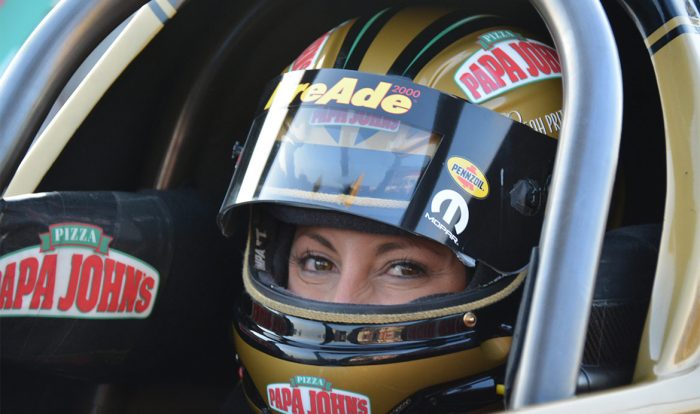 Currently ranked sixth in points, this weekend is also Pritchett's 100th event that she's competed in as a professional driver, but it never gets old. "Your senses are totally engaged from the smell of the nitro, the burn in your eyes from the fumes, the rumble of the launch shaking the ground and the sound of pure horsepower. Seeing that amount of power push through these engines that is transferred through these cars with massive Goodyear slicks to go from zero to 335 mph in just over three-and-a-half seconds. It's quite a scene and something everyone should experience," exclaimed Pritchett.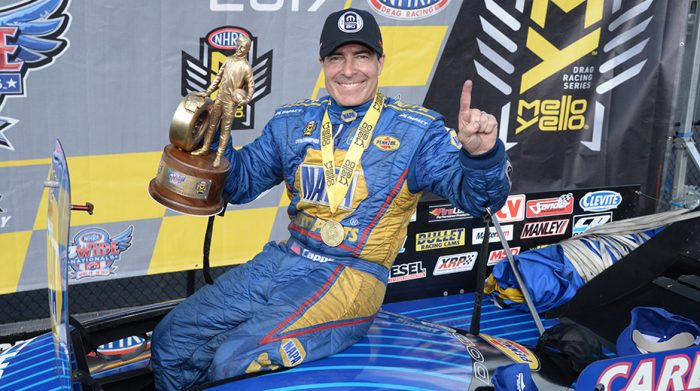 In the Funny Car classes, racing four-wide is just as intense. In 2017, Ron Capps piloted his NAPA-sponsored Dodge Charger R/T Funny Car to a hard-fought victory at zMAX Dragway. With 58 wins already under his belt, it doesn't make it easier to line up next to one Funny Car, let alone three during the four-wide races. The returning defending champion knows he'll have his work cut out for him during qualifying and eliminations, and he begins his mental preparation early while also reflecting on last season.
"Well, you can always tell its race week leading up to a zMAX Dragway race; and, boy, are my NAPA Brakes team and I looking forward to getting to the Four-Wide this weekend. This was a fun part of the season last year. We went on a four-race win streak, including the race here and vaulted ourselves right up to first place," said Capps.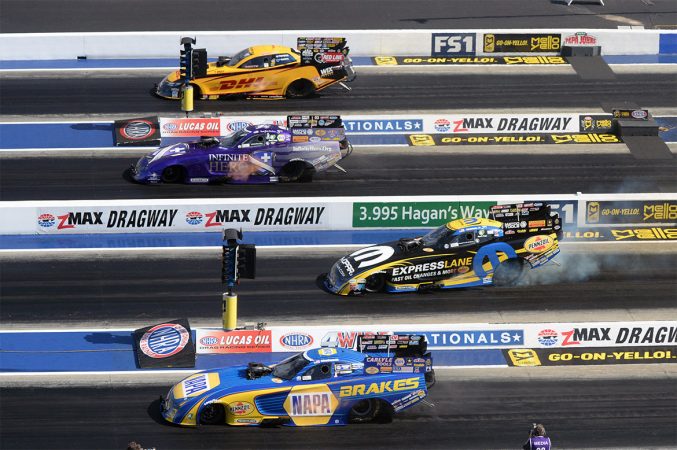 Capps also knows this season has been tough, but that doesn't stop the former NHRA world champ from keeping a positive attitude. "While the beginning of the season hasn't gone exactly the way we wanted it to, and like I told the media last weekend in Houston, our NAPA team is not ever going to give up. It's going to be a fun challenge to battle our way back into the Winner's Circle and I can't think of a better time to do that than the Charlotte Four-Wide this weekend."
And while Capps savors last year's win, the opponent he took out in the final round will also be looking for payback, even if it's his own teammate – Jack Beckman. For Beckman, or as he's known among the fans, "Fast Jack", he has driven his Infinite Hero-backed Charger R/T Funny Car to the winner's circle twice at the Charlotte NHRA Four-Wide Nationals. He comes into this event currently number-one in points and wants to put more distance between himself and the rest of the field. "Not only is our Infinite Hero team leading the (Funny Car) points standings, but we're looking for some four-wide redemption after coming oh-so-close in Vegas," said Beckman.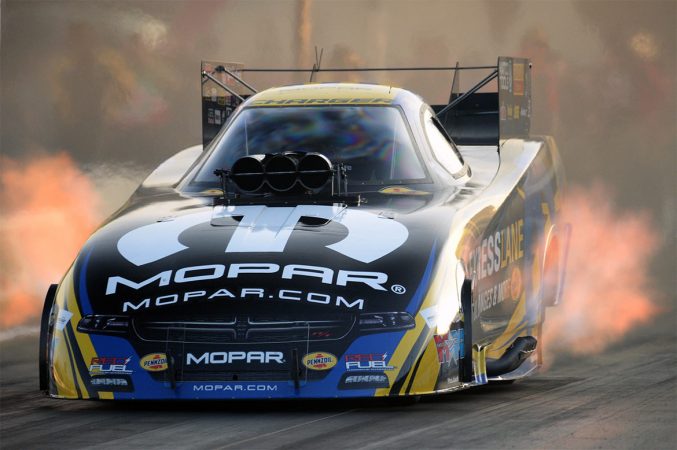 The other Charger R/T Funny Cars from the DSR stable are also just as focused on winning this weekend and won't hold anything back. "Vegas (Four-Wide) didn't go so well, so we're hoping Charlotte goes a little better. Just got to put that behind you, do your thing, go up there and treat it like another race," said Matt Hagan, driver of the Dodge//SRT Mopar Charger R/T Funny Car. "During qualifying, it's just one round in each lane, so that sets everybody back a little bit since you don't know what lane you're going to get on Sunday, and only having one shot at it. It would be nice to go down every lap and see if we can get some data out of all four lanes. Overall, I think our car has been running pretty good. Hopefully, we run fast, do big things and turn on three win lights on Sunday," stressed Hagan.
For Tommy Johnson Jr., driver of the Make-A-Wish Foundation Dodge Charger R/T Funny Car, he's very optimistic and used the previous four-wide race to gain valuable knowledge.
"I'm looking forward to Charlotte, the second four-wide of the year. We've had a little practice at the Vegas Four-Wide, so going into this one, it should be even smoother. We performed extremely well in Las Vegas and felt like we should've won that race. Looking forward to trying to get the four-wide win in Charlotte, based on how well we did at the first one this season," said Johnson.
If you want watch this mind-numbing experience of nitro dragsters and funny cars from the safe distant of your living room, final eliminations from the Charlotte NHRA Four-Wide will be broadcast on FS1 starting Sunday, April 29, at 6:00 PM ET.
Comments
Comments