Turk's Challenger Drag Pak Scorches Atlanta
5 years ago Racing
The NMRA/NMCA All-Star Nationals just wrapped at Atlanta Dragway, but the quarter-mile strip is still scorched by our 1,000-plus-horsepower Dodge Challenger Mopar® Drag Paks. While our street enthusiasts had their fun on Saturday competing in the Dodge/Mopar HEMI® Shootout, the big guns came out on Sunday for NMCA Holley EFI Factory Super Cars class. That's where our Drag Paks got to do some roughhousing with the Cobra Jet Mustangs and COPO Camaros in a heads-up, first man to the finish line battle that requires plenty of driving skills and horsepower under the hood.
Longtime Mopar racer Geoff Turk and his "Blackbird" Challenger Drag Pak showed up at Atlanta Dragway looking to even the score. Last month at the NMCA season opener in Bradenton, Florida, Turk had to settle for a runner-up finish despite being the first Stock Eliminator racecar to break into the seven-second zone. In the final round, Turk's machine spun the tires just enough to lose traction and lost by a nose behind his competitor. But that's racing, and Turk quickly put it behind him and prepared for the NMRA/NMCA All-Star Nationals race.
"After Bradenton, we rebuilt the engine and made other refinements and changes to the Drag Pak," said Turk. "I was optimistic we could further improve our performance and build on our NMCA points total and go for the championship."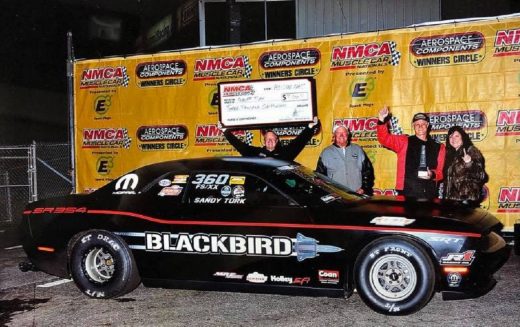 Turk had once again worked his way to the final round and this time came up victorious. He had to take out some heavy-hitters in the class, but Turk's 7.99-second pass edged out Chuck Watson and his Cobra Jet Mustang's 8.04 run. The E.T. is impressive and so are the speeds considering the 3,550-lb. Challenger Drag Pak runs over 170 mph at the end of the quarter-mile and that's pure horsepower at work.
"In round two, I had to face the 2017 NMCA Factory Super Car World Champion and he's a tough competitor. I knew he'd step it up, so I improved my reaction time and ran an aggressive tune up. In round three, I was paired up with the number-one qualifier. I left the starting line and didn't see him next to me. In the finals, the track had gotten cold, so I was concerned about spinning. When the tree went green, the car left the line and started to skate halfway down. The Mustang was next to me all the way down the track. When I saw the win light come on in my lane, I knew I had won," exclaimed Turk still savoring his hard-fought victory.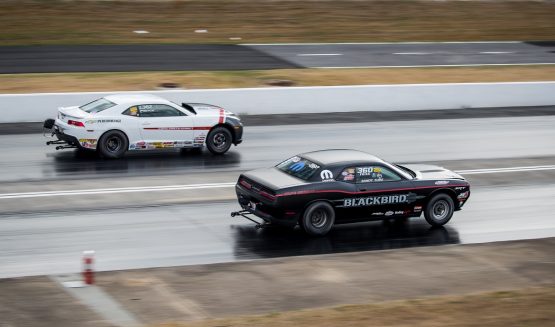 How much horsepower does Turk's Drag Pak make, you ask? Try north of a 1,000 out of a supercharged 354 cubic-inch GEN III HEMI that shares much of its engine architecture from the production 6.4L and 6.2L motors found in the Scat Pack and Dodge Challenger SRT® Hellcat and Charger SRT Hellcat.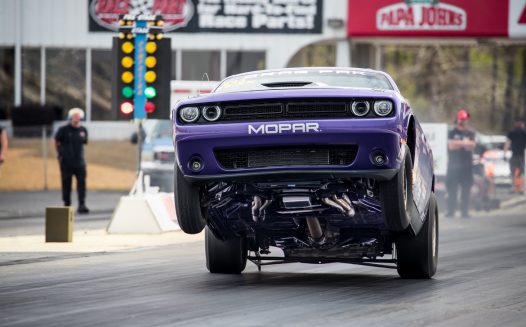 Another Mopar racer competing at the NMRA/NMCA All-Star Nationals in the Factory Super Car class was retired and former NHRA Pro Stock World Champion Allen Johnson. Piloting Jeff Teuton's Plum Crazy 2015 Dodge Challenger Drag Pak, Johnson was a fan favorite and he had a blast yanking the front wheels.
By David Hakim
Comments
Comments