Dodge//SRT® and Mopar® Double Down at NHRA Thunder Valley Nationals
5 years ago Racing
Historic Bristol Dragway once again roared to the deafening sounds of supercharged HEMI®-powered Top Fuel Dragsters and Funny Cars doing battle on this drag strip. Nestled among the green, majestic hills of Tennessee, our Dodge/Mopar® DSR drivers doubled-down to claim hard-fought wins in Top Fuel and Funny Car at the legendary NHRA Thunder Valley Nationals.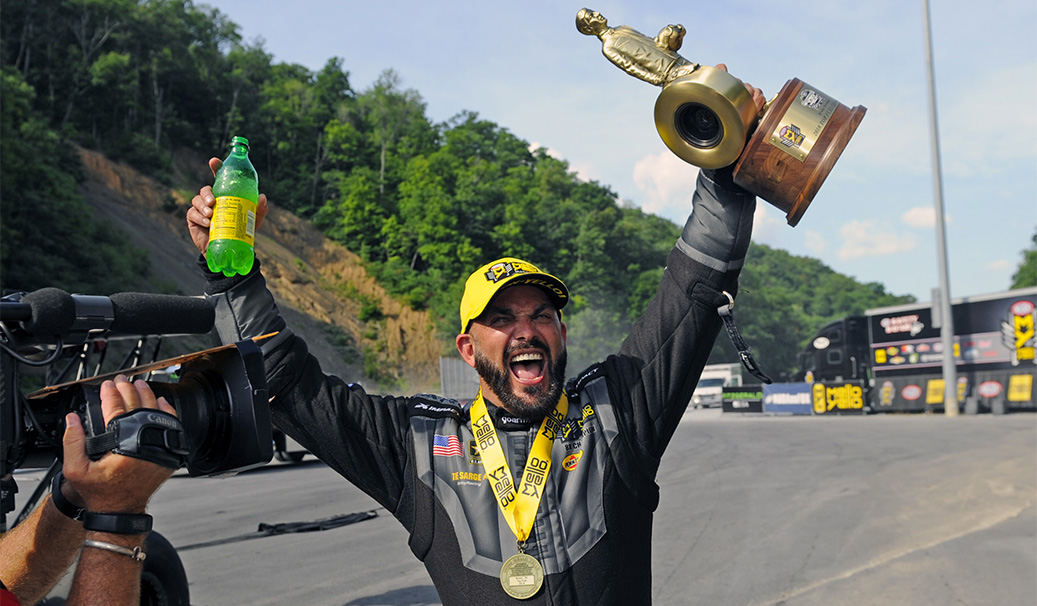 Tony Schumacher, in driving his HEMI-powered U.S. Army Top Fuel Dragster, and Ron Capps, in piloting the NAPA Auto Parts Dodge Charger R/T Funny Car, both put their competition on the trailer.
For Schumacher, it was his first victory of the season but his 84th career win. In the final round, Schumacher had lane choice over his opponent Mike Salinas. As the "Christmas Tree" flashed green, Schumacher left the starting line first and never trailed. He wrapped up his Father's Day with a sub-four second, 3.946-second at 313.58-mph run to seize the first win of the season for the U.S. Army team.
"We've been in 150 final rounds, and people are going to win some of those against us," said Schumacher. "When you race in the final round, you have to be calm, relaxed, do your job and get that win. At the end of the day, what you don't want to do is say you could've had more wins, but you've left something on the table. We've had times when we've lost on a holeshot, times we've done different things and got outrun – there's always going to be a reason why you didn't win, but you've got to minimize that. We try to be the best we can, try to be a machine and just replicate what we do best. I was definitely prepared to do my best on that last run today because he had run very, very close to us. I didn't expect it to be an easy round by any means. So, great job for the Army team. It was Father's Day, which makes it a big moment day and those are the kinds we've been the best at over the years."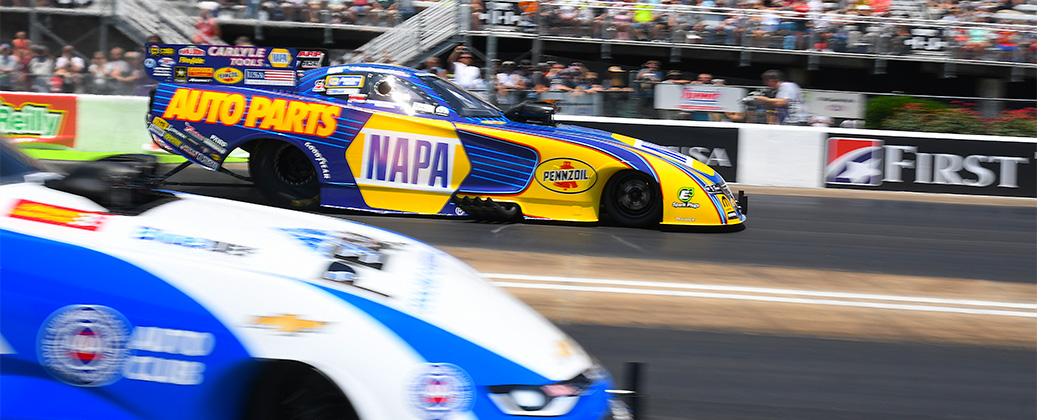 For Capps in Funny Car, it was also a hard-fought battle; and with near 100-degree temps in Thunder Valley, it added more strain among the teams and drivers. But for Ron Capps and the NAPA AUTO PARTS/Pennzoil Dodge Charger R/T, they were like a well-oiled machine on race day. Capps picked up his second consecutive NHRA Thunder Valley Nationals Funny Car win and his first trophy of the 2018 season. The 2016 NHRA Funny Car world champion defeated John Force, reigning champ Robert Hight, J.R. Todd and Bob Tasca III on his way to becoming the most decorated Funny Car driver in Bristol Dragway history.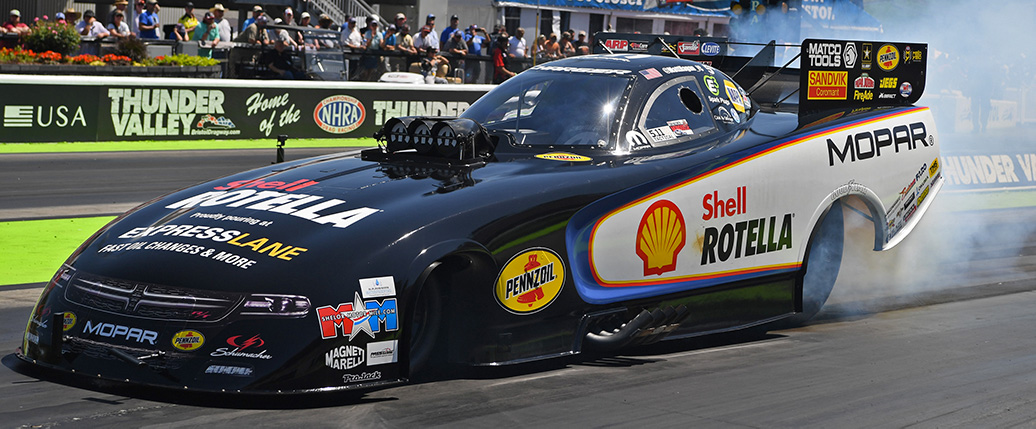 "Tobler (crew chief) looked so down on himself (on Saturday morning). We didn't run well the night before, and he just had that look," said Capps. "Those are the times you have to play cheerleader, and that's what I think my job is. I said 'Tobler, you're going to find it today. Today is going to be like tomorrow (Sunday). You were the bar for the last three years. You were the one who went out and made other crew chiefs want to retire in these hot conditions,' and he did. He found that clutch disc problem and away we went. That's a final round matchup, it's a matchup for a championship, and it always is. We didn't have lane choice, we're running John Force, and someone had just spilled oil in that lane, but typical (crew chief) Rahn Tobler, he put it right down the track, over the bump and it was just on a great run and set the tone for the rest of the day."
For the other Pennzoil/DSR drivers, they also struggled with Bristol Dragway's hot, greasy track surface that had the crew chiefs trying to figure out the best clutch set-up to get their 11,000-horsepower machines from annihilating the massive Goodyear slicks at the hit of the throttle. To say it was a challenge would be an understatement, as the teams hadn't seen conditions like this all season.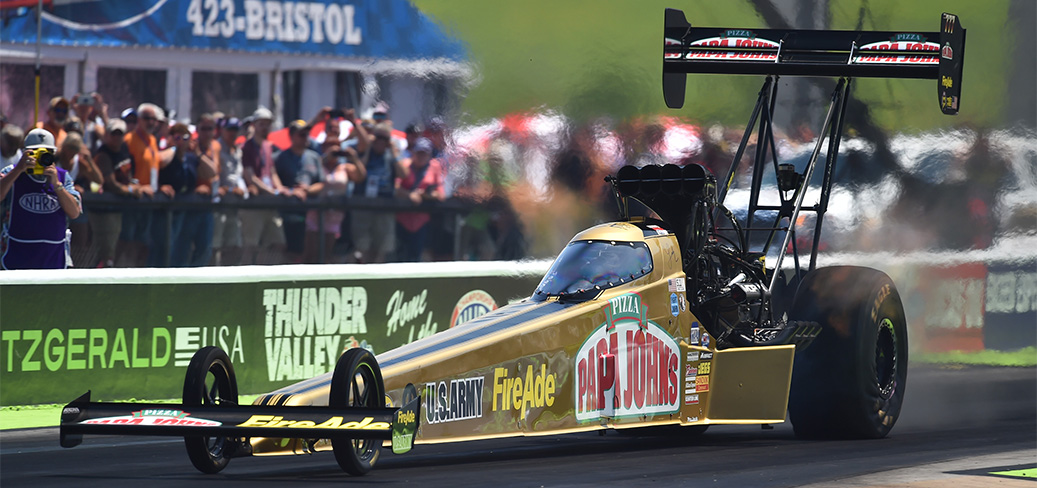 Our DSR Top Fuel and Funny Car teams, along with the legions of Dodge/Mopar Sportsman racers, will head to Norwalk, Ohio, this weekend to once again attack the strip at the Summit Racing Equipment NHRA Nationals.
Comments
Comments