Banging Gears – NHRA Nationals at Brainerd Preview
5 years ago Racing
The 2018 NHRA season is in high-gear and hitting on all eight as our Don Schumacher Racing (DSR) Dodge/Mopar® Top Fuel and Funny Car teams head up to Minnesota and roll into Brainerd International Raceway for the NHRA Nationals at Brainerd. For DSR Dodge/Mopar Top Fuel Dragster driver Leah Pritchett, she's looking to defend her 2017 championship title as not only did she qualify number one and set a new Brainerd International track record of 3.640 seconds, but she also drove her 11,000-horsepower supercharged HEMI® fueler to victory over fellow DSR teammate Antron Brown.
"Last year was a perfect scenario of conditions, of rising to the occasion on every level from the tuners to the crew, to making sure everything was perfect," said defending Top Fuel champ Pritchett. "We were able to make that all come together and execute it. That's what is so exciting. It was a sense of satisfaction, gratitude and justification when everything came together. We know what that feels like. We know what it takes to do that. You practice that every single race, trying to have that perfect execution, and we were able to do that. That feeling, and momentum are still with us and I feel it will be with us when we go into Brainerd because it will be those conditions you look forward to. Our focus is moving up in the points. On one hand, it's extremely key to get momentum coming out of Brainerd, but then, on the other hand, you look at it as just another race. I'd like to think of this race as a practice crunch-time for, hopefully, what will be at the end of the season. The importance is there."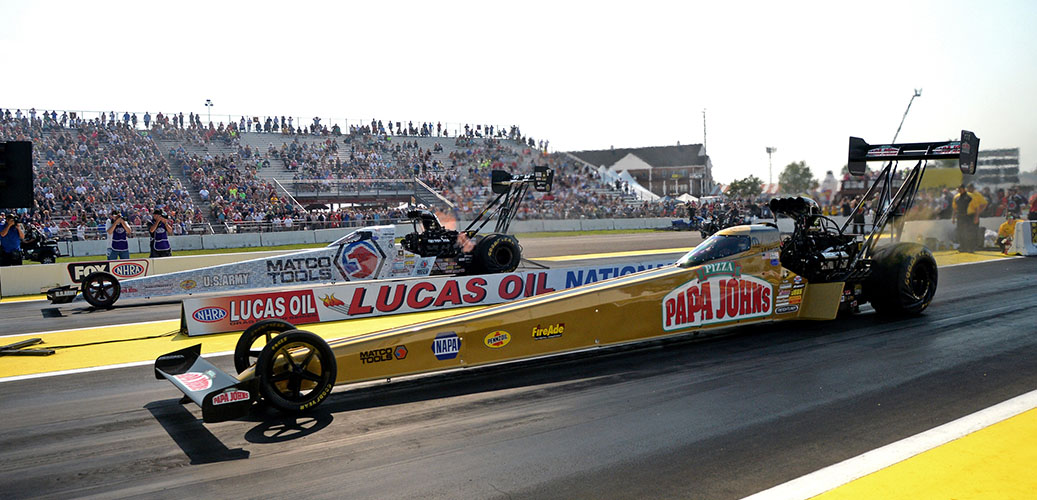 So far this season, Pritchett has 25 round wins and is currently ranked fourth in points. She's also becoming a seasoned veteran, with 110 races under her belt that include seven wins and ten No. 1 qualifiers.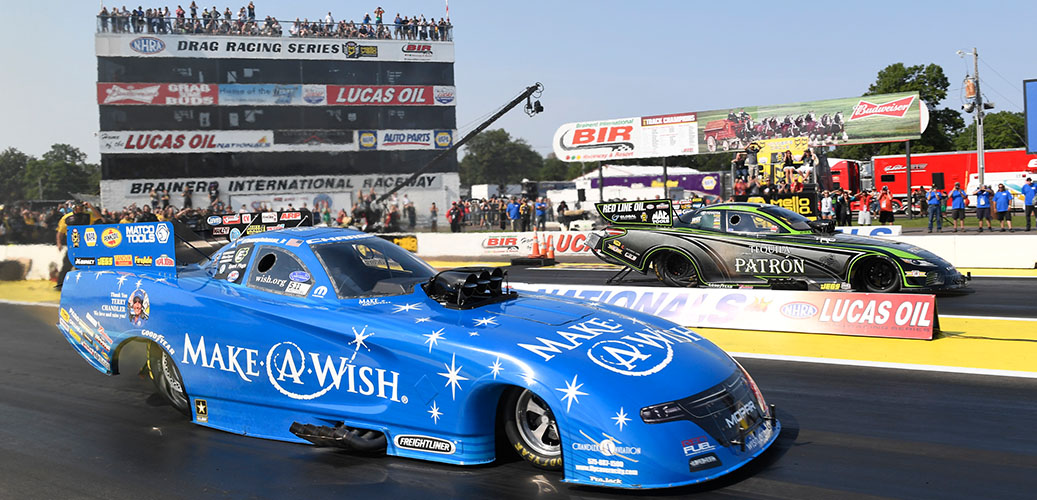 In Funny Car, Tommy Johnson Jr., driver of the Make-A-Wish Dodge Charger R/T, went to the finals last year in Brainerd to claim a hard-fought runner-up spot. He's also very familiar with the track as he was runner-up in 2015. During his time as a Top Fuel driver, Johnson made it to the finals in Brainerd in 1993 and 1995.
"Looking forward to Brainerd, especially with the way our car has been running lately, with two semifinals over the last few races and being runner-up at Brainerd last season," said Johnson. "I think we're at a time right now where our Make-A-Wish Dodge has really turned the corner. We're due for a win and we'd love nothing more than to build some momentum right before Indy."
His other Charger Funny Car colleagues are also looking forward to this weekend as Ron Capps, driver of the NAPA AUTO PARTS Charger R/T, is coming off a win from two weeks ago during the NHRA Northwest Nationals. Capps is looking to maintain his final round streak that started last month at the Dodge Mile-High NHRA Nationals in Denver and has continued through Sonoma and Seattle.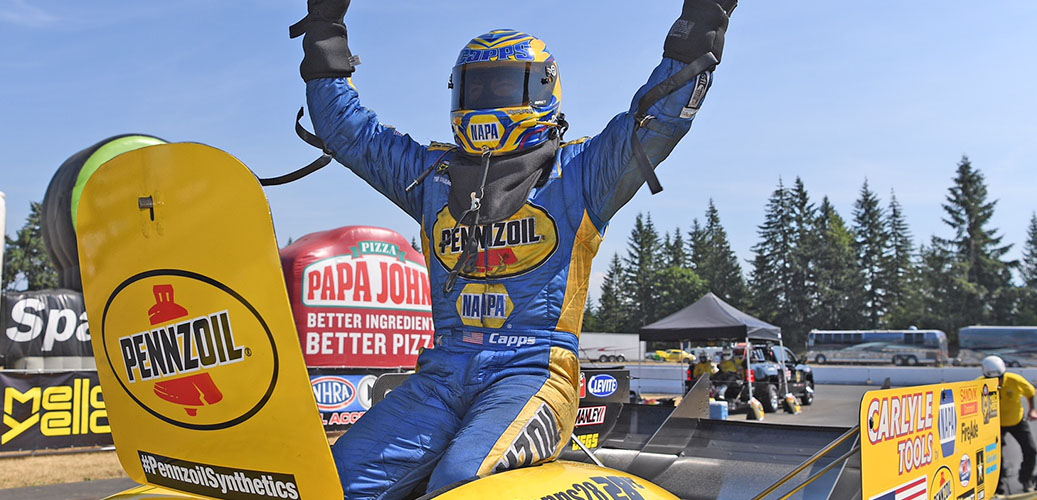 "We talk every year about the Brainerd race being that point in the season when the teams get what we call 'Countdown-ready'," said Capps. "That can mean a lot of different things for different teams, but for our NAPA team, it's always meant that we want to make sure that we have our team, our tune-up and everything lined up for us to be able to start the Countdown and run for the NHRA Mello Yello Championship once again. Brainerd always plays a crucial part of the Countdown, whether you're fighting to stay in the top 10 or, like us, fighting to gain the number one spot going into it. Rahn Tobler (crew chief) and our NAPA team work really hard away from the track to make sure that we are ready for these next two races to end the regular season on a high note. But I have to say, Brainerd really brings a smile to my face because of not only the success that we've had in the past there with all of the wins and final rounds, but the fact that I'm able to make sure that our guys have a great time while we're in town. Our NAPA group from that area has always taken our team out for a fishing expedition on Thursday prior to the race, as well as a great big dinner at the Power Lodge across the street from the track on Friday night. On top of that, my wife's family is from that area, so every year, it's like a family reunion, and there's nothing better than having family by your side when you can get in the winner's circle. But the biggest thing about the Brainerd race is, of course, 'the Zoo,' and the fans that created 'Capps' Corner.' I'm not sure I've had a better compliment than having something named after me in the legendary Brainerd Zoo."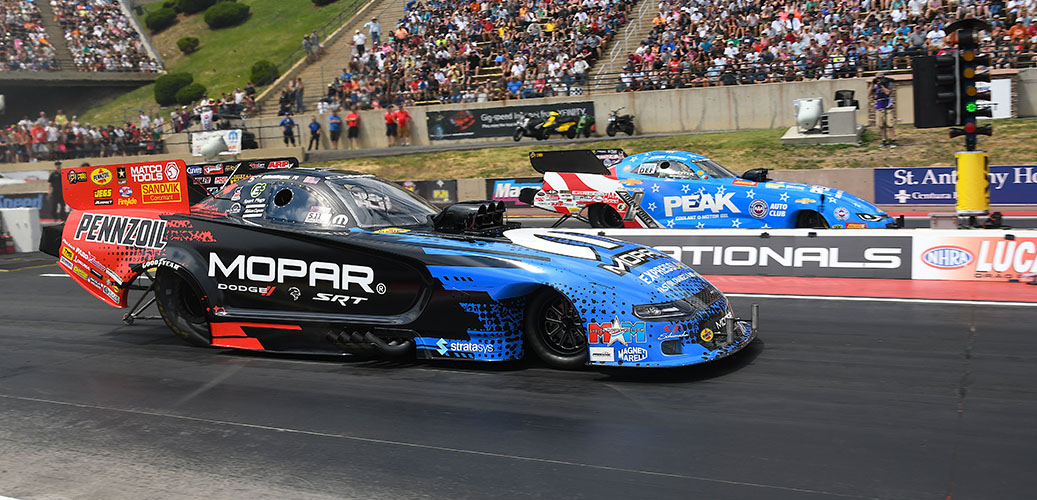 For Matt Hagan, driver of the Mopar Express Lane Dodge Charger SRT® Hellcat, he's ready to climb in the cockpit and get back to the track. Like most drivers, he does enjoy the occasional weekend at home with family, but his office is sitting in front of an 11,000-horsepower HEMI engine rocketing down the drag strip.
"Looking forward to Brainerd," said Hagan. "We've kind of struggled the last couple of races while on the Western Swing, so now that's behind us and I feel a little bit better about things. Brainerd has been a fast track in the past. We've been able to lay down some good numbers there. I don't think we'll see any records this year, but you never know. We're going to try and get this new Hellcat body in the winner's circle for the first time, and I think, based off of what we've learned the past few races with clutch wear and wearing the primary, I think we can do well this weekend. We're ready to race, we're focused; let all of the crazy people be crazy in 'the Zoo' and, hopefully, we can turn on four win lights on Sunday."
For race fans attending the NHRA Nationals in Brainerd, they'll be treated to the high-octane hijinks of Motor Trend's hit series "Roadkill", as they'll be at the drag strip to film an upcoming episode featuring on-track exhibition races with NHRA drag racers Matt Hagan and Leah Pritchett. Also, several of the cars featured in previous episodes of the popular show will be on display for fans to see up close and personal.
On Saturday, "Roadkill" hosts David Freiburger and Mike Finnegan will sign autographs for fans at the Mello Yello display before hitting the track to face off against Hagan and Pritchett. The famed "Draguar" may make a special appearance as well.
You can catch Sunday's live eliminations from the NHRA Nationals at Brainerd this Sunday, August 19, starting at 2:00 pm ET on FS1.
Comments
Comments