Dodge Drag Paks Dominate at the NHRA "Big Go"
5 years ago Racing
Dodge Drag Pak drivers Leah Pritchett and Mark Pawuk squared off against each other in the final round of the Factory Stock Showdown at the 64th running of the iconic NHRA U.S. Nationals. Dubbed the "Super Bowl" of drag racing, the NHRA U.S. Nationals is more affectionately known as the "Big Go" among racers and fans.
During qualifying, Pritchett's 354-cubic-inch supercharged HEMI® machine led the field of 16 cars that also included fellow Mopar® Dodge Challenger Drag Pak drivers Mark Pawuk, Geoff Turk and Allen Johnson. Mopar Dodge Challenger Drag Pak drivers took three of the top four spots at Indy. In addition to Pritchett, her DSR teammate Mark Pawuk qualified No. 2 for the second straight event, and 2012 Pro Stock champion Allen Johnson captured the No. 4 starting position.
During eliminations, Pritchett's Drag Pak was fast and consistent by running the quickest passes of all competitors in each of the first three rounds. In the all-Mopar Dodge Challenger Drag Pak final, Pritchett powered past Pawuk on an 8.108/170.26 pass to claim her first Factory Stock win in her first final-round appearance in the class.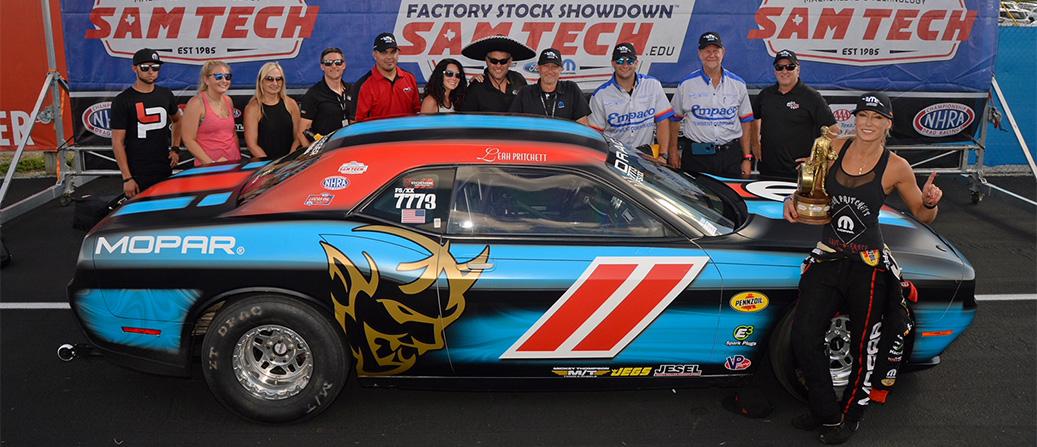 "That's what we call a picture-perfect weekend over here on the left side of the racetrack. Absolutely overwhelmed and impressed. The developmental work by Mopar and Dodge to not only be fast, but to make more power than anybody else, to stick it to the ground and do it time and time again, reliably, is so impressive. For one, I love having fun when I race, and this is the epitome of having fun and racing. Tuning to the track and always working on being faster, and to be low of every single session of the U.S. Nationals, that's eight rounds. When I say that, I mean legally and officially, not to be contested. It is a testament to this team – Kevin Helms, Terry Snyder and all of DSR and the people back in Detroit. The expectations are high. Don Schumacher wants us to be No. 1 qualifier, low of every round and win the race and there's no better time to do that than the U.S. Nationals. We know how to do it now, we're not going to let that get too far ahead of us. The season is coming to a close and we are going to make a run at this as hard and fast as possible, just like these Drag Paks do," said Pritchett.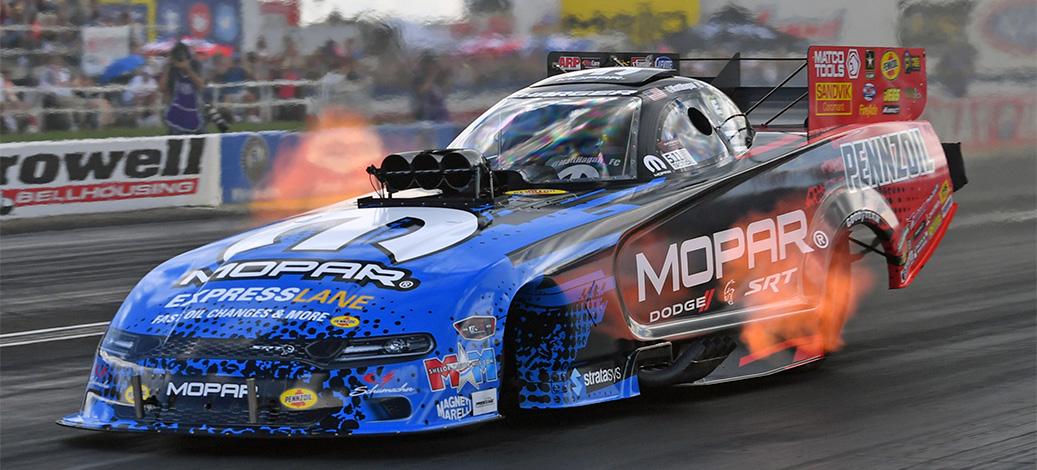 In Funny Car, Matt Hagan drove his new Mopar Express Lane Dodge Charger SRT® Hellcat to its first-ever final-round appearance. Hagan earned the No. 3 starting spot and the 2016 event winner at Indy began race day by defeating his first-round opponent in a battle that saw Hagan working the throttle to keep the 11,000-horsepower machine in the groove and going down the strip. He faced the current Funny Car points leader in the quarterfinals, and again, Hagan hazed the massive Goodyear slicks near halftrack. The former NHRA World Champ once again used his driving skills to pedal his car to the finish line for his 330th round win.
In the semifinals, three-time 2018 race winner Hagan recorded his best run of race day, a 4.129-second elapsed time at 298.60 mph, to knock off Shawn Langdon and advance to his sixth final round of the year and 53rd of his career. Lacking lane choice in the final against J.R. Todd, Hagan was first off the starting line but Todd soon pulled ahead, and Hagan's solid 4.141/300.60 run wasn't enough to close the gap.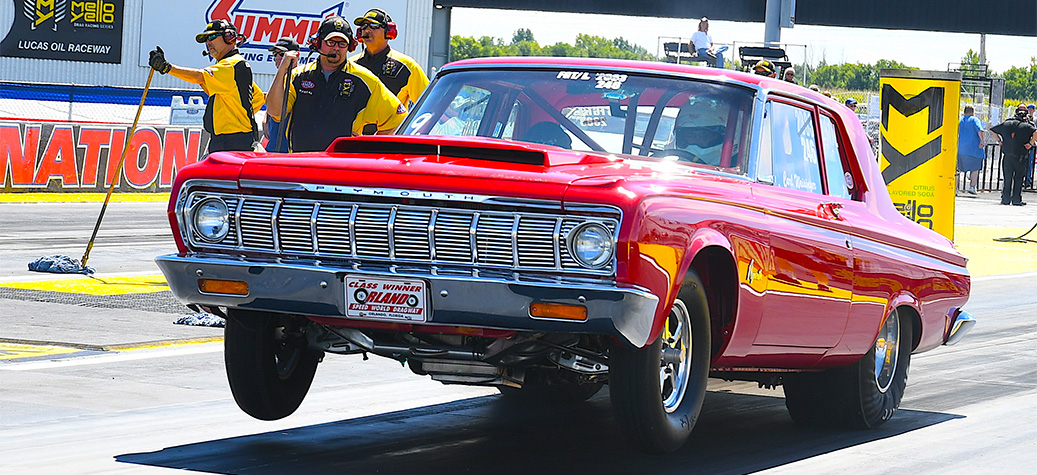 In the Stock and Super Stock Sportsman classes, Dennis Steward of Port Orange, Florida, raced his 1964 FGT/L Plymouth Savoy to his first NHRA U.S. Nationals victory in the Super Stock class. Steward drove through seven rounds of intense competition in his Plymouth that had a Mopar 360 Drag Pak engine combination under the hood. For his awesome win at the NHRA U.S. Nationals, Steward will claim $500 for grabbing the Dodge Top Finisher award in Super Stock.

In Stock Eliminator, Larry Hill of Hickory, Kentucky, drove his 1970 B/SA Plymouth 'Cuda to the semi-finals at the NHRA U.S. Nationals. Powered by a Mopar 440 Six Pack, Hill had a heads-up race during round six (semi-finals) that he narrowly loss by a mere 0.0162 seconds (approximately 3 feet) to his opponent. Hill's efforts will be rewarded for being the Dodge Top Finisher winner in Stock Eliminator and will also receive a cash bonus.
Our drivers and teams will get next weekend off before heading to the lush, green, rolling pastures and meadows around Maple Grove Raceway in Reading, Pennsylvania, for the Dodge NHRA Nationals.
Comments
Comments
Next