Schumacher Drives To Second Place Finish At Dodge NHRA Nationals
4 years ago Racing
Tony Schumacher drove his HEMI® powered U.S. Army Mopar® Top Fuel Dragster to a runner-up finish during this past weekend's Dodge NHRA Nationals at Maple Grove Raceway in Reading, Pennsylvania. This would be Schumacher's eighth trip to the finals at this iconic dragstrip that's nestled among the lush green rolling hills and pastures of central Pennsylvania. Schumacher, the eight-time NHRA Top Fuel world champ, is looking to add another world title to his already impressive resume. With his runner-up finish at the Dodge NHRA Nationals, Schumacher is now currently tied in second place for the NHRA Countdown to the Championship playoffs.
"We got a lot better here this weekend and I'm happy about that. We've got a really good U.S. Army car right now. We still have some changes to make, but we are close. We were absolutely terrible in Indy. To come here and qualify number two and then make good runs down the track all weekend is exactly what had to happen. In the final against Torrence, we were very aggressive in our approach. There's a bump out there that goes across the track. We struggle with that one area, but a lot of cars did. We won some rounds today and leave here tied for second in the points. It's time for a battle. We have five races to go. Those will all be monster battles coming up with extremely good cars. It's time for the fans to show up. The drivers to show up. The teams to show up and the game to be played. I love it.," said Schumacher.

Leah Pritchett was also looking for win in her Dodge//Mopar® "Angry Bee" 1320 HEMI Top Fuel Dragster. She had qualified third with a 3.758-second run and looked as if she was ready for another win. Unfortunately she hazed the tires during the second round of eliminations and then had mechanical issues as her opponent, Antron Brown, pulled away for the win. Pritchett ended the day fourth in points standings.
"There's definitely more positives than negatives, and all of that shows in our data. We're going to have more momentum heading into St. Louis than we did coming here. That creates a lot of confidence for us. A mechanical gremlin caused us to smoke the tires (in round two), and on race day, you pedal and leg it out and try and make it to the finish line first and that didn't happen second round. But, I'm feeling better as a driver. This team is jelling better and harder than they've been in a long time. We're just five days away from doing it all over again. Some drivers don't like swings, I personally love them. Right back into it is exactly where I want to be. This is my third Countdown opportunity and it takes every single thing out of you, to do what we do at this professional level. We've been preparing for this all year long and it's time to see who can stand out during this last sprint of the marathon," commented Pritchett.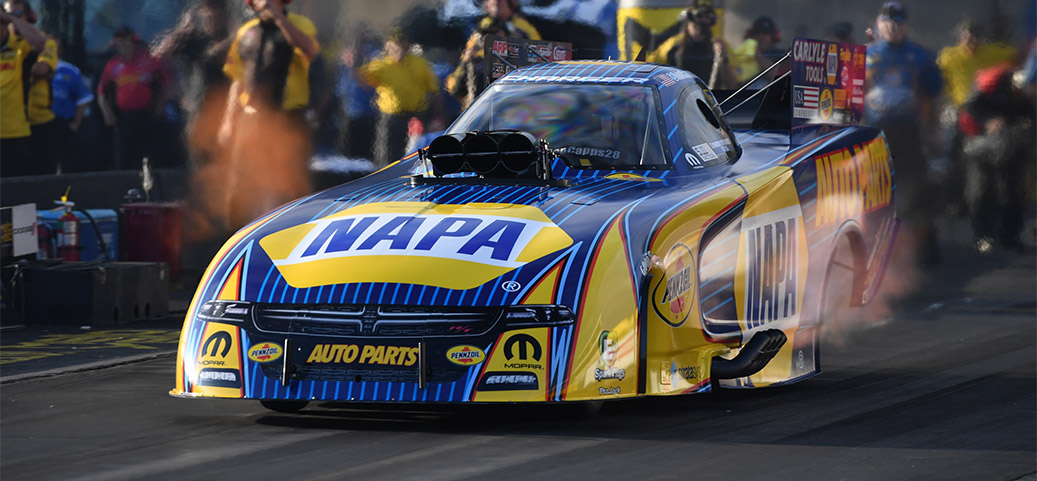 In Funny Car, the defending Dodge NHRA Nationals event winner, Ron Capps, put up string of three-second runs that came to an end in the semi-final as 4.014 ET fell short to his opponents 3.975 ET. Capps stayed fourth in the NHRA Countdown to the Championship playoffs with his semifinals showing, less than 30 points out of first as he pursues his second career Funny Car championship crown.
"We came into Reading as the only car to make three-second passes all throughout qualifying. I shut off a little early in the semifinals when J.R. Todd crossed the finish line and it went 4.01; we may have run another three (second run). But the point is, that's seven more runs under power without tire smoke or tire shake. That's the consistency that we like to keep up, and that's the pressure we like to put on our opponents. Things are clicking well for our team. It's unfortunate we lost that close race today, but points are pretty bunched up. We said coming into the Dodge Nationals, you can't win the Countdown this weekend, but you can certainly lose it, and we had a great start. We'll take this, build on it and head to St. Louis," said Capps.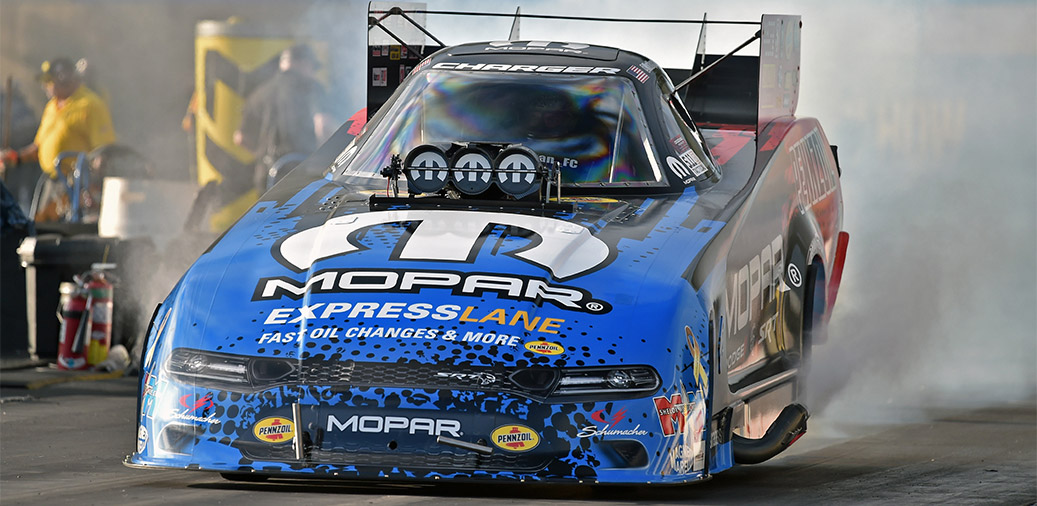 For Matt Hagan and his Mopar Express Lane Dodge Charger SRT® Hellcat Funny Car, he was hoping for a better weekend. Hagan had struggled during qualifying with a run of 3.960-seconds and ended up tenth. Losing lane choice, he faced the 16-time world champ, John Force, and in round one lost with a 4.164 ET to Force's 4.007 ET.
"Life is full of bounce-back situations. You have to be down in order to be up sometimes. Obviously, going out first round like that is not how we wanted to start this race. At the end of the day, it comes down to digging deep and working hard and figuring out what the issues are and racing our car the way we know how. I came in this morning thinking that we really had the car to beat John (Force). He's a good racer and I have a lot of respect for him, but at the end of the day, I feel like I have the best crew chief out there, and I think that'll show at the end of the season. We've got another race coming up really quick; we don't have to worry about sitting on this loss for a whole weekend. Thank you so much to Mopar and Dodge and what they put into this deal," said Hagan.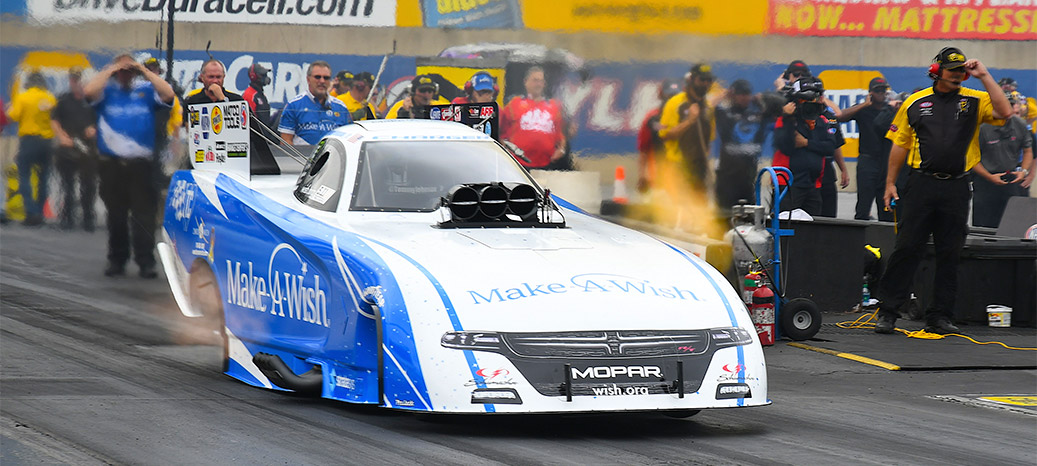 Tommy Johnson Jr. kicked off eliminations from the No. 3 spot after blasting to the quickest run of the final qualifying session. Behind the wheel of his John Collins-led Make-A-Wish Foundation Dodge, Johnson claimed victory over first-round opponent and fellow Mopar Dodge driver Jim Campbell. Round two found the two-time Reading champion matched up against reigning world champion Robert Hight. The two drivers were nearly even until just past the 330-ft cone, when Hight pulled ahead for the round win. Johnson leaves Maple Grove Raceway sitting in the seventh spot in the NHRA Countdown rankings.

Infinite Hero Dodge Charger SRT Hellcat Funny Car driver Jack Beckman started race day in the No. 4 spot with the goal of adding to his two career wins at Maple Grove Raceway. Beckman had the edge off the starting line against his competitor in round one but smoked the tires near the 330-ft. mark and slowed to a losing 5.135/152.07 effort. "Fast" Jack, the 2012 NHRA Funny Car World Champion, leaves Reading in the eighth position in the NHRA Countdown to the Championship playoffs.
Our Dodge/Mopar DSR Top Fuel and Funny Car teams are heading west and will roll into Gateway Motorsports Park in Madison, Illinois, this Thursday for the NHRA AAA Insurance, set for September 21-23. This is the second race of the six-event NHRA Countdown to the Championship playoffs. Ron Capps drove his Mopar-powered Dodge Charger R/T to the Funny Car event win last year at this track. Leah Pritchett will also pull double duty, driving both the Mopar Dodge Top Fuel dragster as well as her Mopar Dodge Challenger Drag Pak, which she steered to a win in the NHRA Factory Stock Showdown class at the NHRA U.S. Nationals in early September.
Comments
Comments