The Countdown Has Begun
4 years ago Racing
The 2018 NHRA Mello Yello Drag Racing Series is running in high-gear as the Countdown to the Championship begins this weekend at the Dodge NHRA Nationals held at the beautiful Maple Grove Raceway, located in the lush green rolling hills near Reading, Pennsylvania.
For Leah Pritchett, driver of the Dodge//SRT® and Mopar® Papa John's Top Fuel Dragster, she's ready for the Countdown to begin. After a successful NHRA U.S. Nationals win in the Factory Stock Showdown class driving her Mopar Dodge Challenger Drag Pak, Pritchett is ready to get strapped back in her 11,000-horsepower supercharged HEMI® dragster and avenge her first-round loss in Top Fuel at Indy. This time, the "Angry Bee" graphics are back on Pritchett's dragster and she's hoping it'll bring her luck like it did earlier this season when she won the Dodge Mile-High NHRA Nationals in Denver.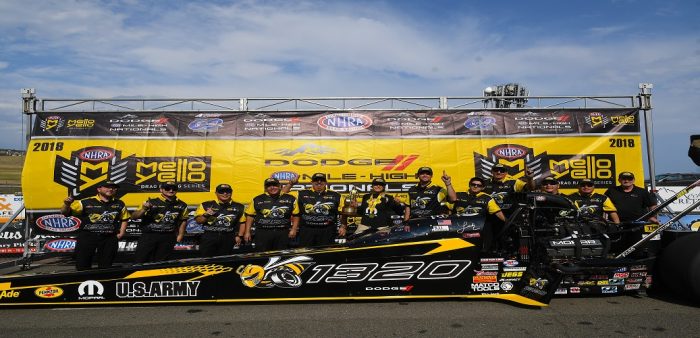 "I'm glad to be back in the 'Bee.' We received a ton of positive feedback when we carried those graphics in Denver," said Pritchett, a two-time winner in Top Fuel this year, in addition to her recent Factory Stock Showdown victory at the NHRA U.S. Nationals. "It's a really cool look, and hopefully we can end our weekend at the Dodge NHRA Nationals in winner's circle and give Dodge two wins in the two NHRA National events that the brand sponsors," said Pritchett.
She is also focused on the Countdown and possibly winning her first-ever NHRA Top Fuel World Championship.
"Never a dull moment or a slow roll for this team, that's for sure. All we can work towards is a Denver 2.0. Those are lofty goals, but that is what it's going to take to excel in this Countdown. Picking up qualifying points, and more than just round wins, we need race wins to advance. Some call it pressure to win at a sponsor's race; we call it euphoric opportunity. There is no extra pressure, because we honestly can't do or try any better than we already would, especially as a Countdown-opening race," said Pritchett.
Currently ranked 4th in points, Pritchett is looking to make a big leap at the Dodge NHRA Nationals and get the Countdown off on the right foot.
"I feel more prepared than ever before because of the performance diversity this racecar and team have shown. What have I learned from the other two Countdowns? That you can age monthly and daily if you let it. I've also learned that operating out of fear of losing something is not as advantageous as operating out of passion for what could be," commented Pritchett.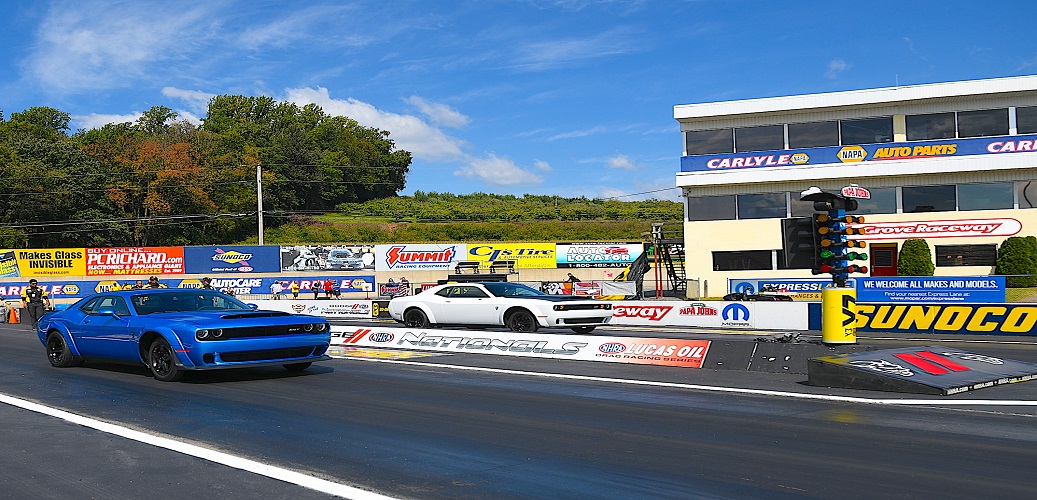 Once again, she will line up next to fellow DSR driver Matt Hagan for another grudge race in a pair of Dodge Challenger SRT Demons. The DSR duo dueled at Bandimere Speedway during the Dodge Mile-High NHRA Nationals in July, ending in a 1-1 tie. Pritchett owns a 4-2 advantage over Hagan in the "grudge match" series, which began in 2017 at Denver and Reading.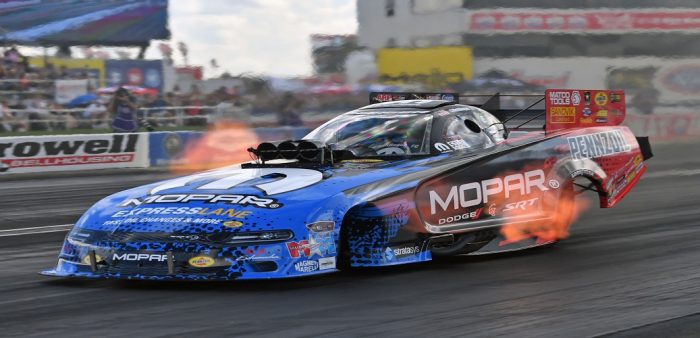 Speaking of Matt Hagan, he's beginning to pick up steam in his new Charger SRT Hellcat Funny Car. With his recent runner-up finish at the NHRA U.S. Nationals, Hagan's team, led by crew chief Dickie Venables, has their mojo working and is ready to get the SRT Hellcat into the winner's circle at the Dodge NHRA Nationals.
"Reading is a huge race. I'm going in early to do a school visit. I'll get to talk to some folks about Mopar, staying in school and committing to graduate, which is pretty cool. It's always great to see young faces; people that are driven, want to learn and are eager to work in our industry. After that, I'll have the pleasure of having dinner with John Fox of Mopar. Then, Thursday, we kick things off with the Mopar Block Party. It's such a big thing, they'll have simulators, a midway, bands, homerun derby, just cool activations all the way around. Hopefully, the weather holds out, but that's Maple Grove, it's typically rainy, cloudy, but it's always fast. I've won the Grove before and want to win the Grove again," said Hagan, the 2014 event winner.

"Heading into the Countdown, we have six races to win the championship. Coming off of a runner-up finish at Indy and we're second in points, so it's almost like a clean slate to get this thing rolling. Very eager, very hungry, very driven to win my third championship. We have a team that can do it. We've been consistent all year long. We just want to be positive and have fun in this Countdown. For me, it's all about making sure my team is upbeat; surrounded by positive vibes. We're working hard every day to make sure we accomplish our goals," commented Hagan.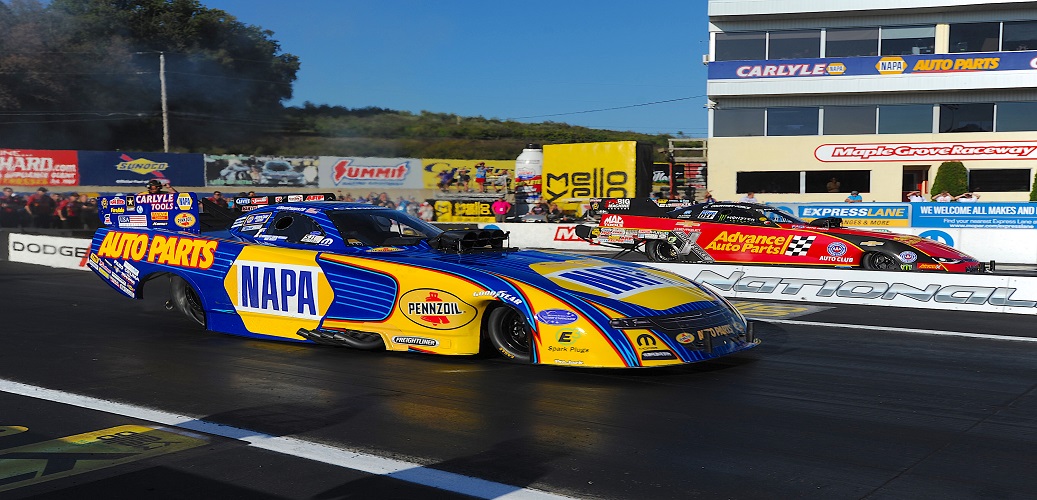 Ron Capps, driver of the NAPA AUTO PARTS Dodge Charger R/T, will be looking to repeat his victory at the Dodge NHRA Nationals. Capps has been to the final round at Reading the past two years, winning in 2017 and finishing as the runner-up in 2016.
"We won the Maple Grove race last year. We had such a great season, eight wins and all of those final rounds, and almost winning the championship. To go back to Maple Grove as the first race of the Countdown is something new for all of these teams in the NHRA. It's going to be a different approach; the weather will be different. It's one of the greatest race tracks we go to on the circuit. It's run by a great group of people, and with Bill Bader on-board, the track now is fantastic; we've seen what he does with Norwalk," stated Capps.

"With Dodge as a major sponsor and all of the fun stuff we do with the Mopar Block Party on Thursday night, that adds to it. I've driven a Dodge longer than anybody out here and it's a feather in my cap to know that I represent Dodge and HEMI, so I'm excited about everything going on at Maple Grove. But, it's going to go by fast. These six races for a championship happen so fast, that's why I'm so happy to have (crew chief) Rahn Tobler and the NAPA AutoCare team with me as we approach the Countdown," exclaimed Capps.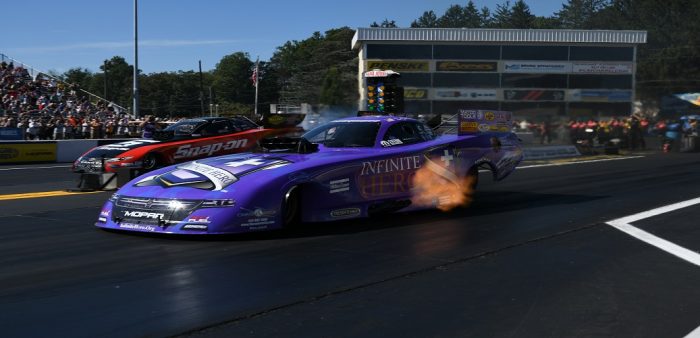 Jack Beckman is another DSR Dodge/Mopar Funny Car driver is who is running the new Charger SRT Hellcat body. This former NHRA World Champ started strong earlier in the season but has struggle to get a handle on the car's set up. Even with the struggles, he and his team remain very optimistic.
"As we have now moved into the Countdown, we're coming off of a race at Indianapolis where we stumbled and actually dropped two positions in the standings; however, the silver lining for the Infinite Hero team is that we moved closer to first place with the points reset. Now it's going to be about optimizing every single run. It's not just about winning the race, it's about winning rounds and it's about gathering up as many of those qualifying bonus points as possible. It's not something that's out of our reach; it's not something we don't try and do every single race, but it's going to be mandatory if you want to have that big 'No. 1' on the side of your car at the end of the year," said Beckman, who won this race in 2008 and 2015.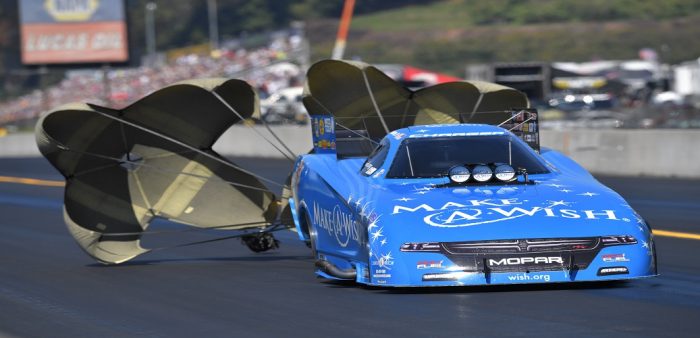 For Tommy Johnson Jr., he's also ready for the NHRA Countdown to the Championship to begin. The driver of the Make-A-Wish Foundation Dodge Charger R/T won this event in 2016, but that was two years ago; he's ready to go some rounds on race day and make it to the finals.
"I'm excited to get to Reading and start the Countdown. It's a track where I've done well these past few years, not so much last year, but I won it the year before and was runner-up in 2014. So, I'm looking forward to getting back there. To have Dodge sponsor the race, and the Mopar Block Party beforehand, it's turned into one of the premiere events. Looking to start the Countdown off on the right foot and, hopefully, we can continue the momentum we've had lately and move ourselves up quickly in the points and be a real contender for the championship," said Johnson.
You can catch all the Nitro excitement and drama from Maple Grove Raceway this weekend by watching the Dodge NHRA Nationals on FS1 on Sunday, September 16, starting at 1:00 pm ET.
Comments
Comments