Capps Conquers Charlotte
5 years ago Racing
Ron Capps drove his NAPA NIGHTVISION Lamps Dodge Charger R/T to his 60th Funny Car victory this past weekend at the NHRA Carolina Nationals. With this recent win, Capps earned 121 points during the race and lept up three spots to grab the third place in the NHRA Countdown to the Championship playoff standings. This triumph was just what the NAPA/Pennzoil team needed to jump start Capps' bid for a second career NHRA Funny Car world championship.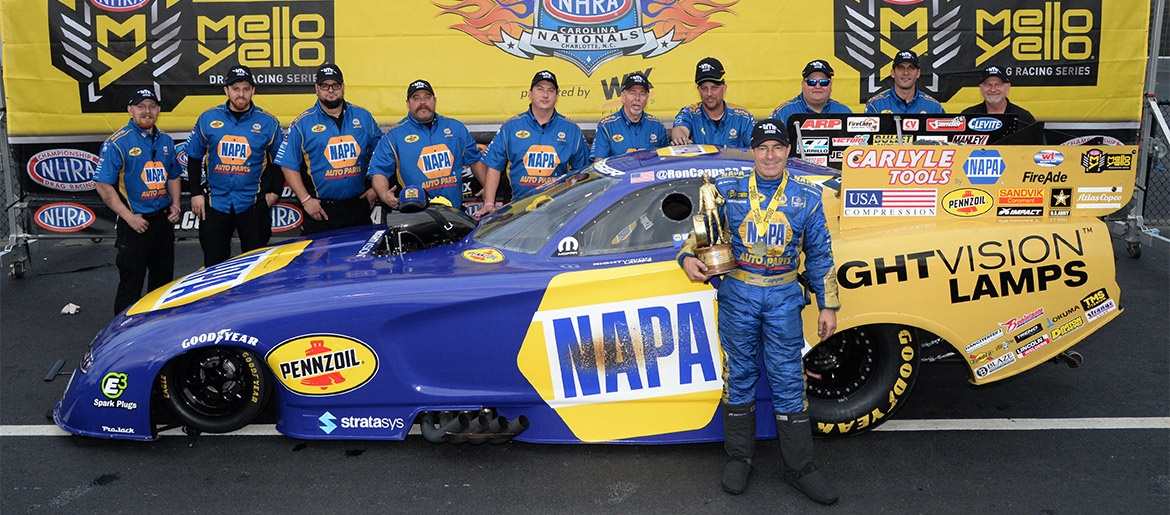 The trip to the zMAX Dragway winner's circle was a dogfight as Capps defeated Dale Creasy along with three of the top-ranked 2018 Funny Car championship contenders – Robert Hight, Tim Wilkerson and J.R. Todd, all tough customers and major match-ups during the Countdown points chase. Capps and his awesome crew chief, Rahn Tobler, were super-focused and are in the hunt for the 2018 title.
"In St. Louis, we lost on a holeshot first round and I'm sick to my stomach when that happens," said Capps. "I go home, I don't sleep, I'm up in the middle of the night, watching frame-by-frame of when my blades open compared to the person I lost to on a holeshot and it's not fun. I live it, I breathe it. I just could not wait to get to the next race after St. Louis. We really had a great car there and we really had the opportunity to make a lot of points up and we didn't, and I wore that. I probably aged a year in that week. Then we got to Dallas, had a great car, and just got outran by John Force first round."
"Tobler and I left Dallas, shook hands, gave each other a little hug like we always do when we leave the track and he said, 'Let's just go win the last three. If we win, they can't; and I'm just so glad we came here and did what we talked about doing," commented Capps.

There are 321 points still up for grabs and with two races remaining, Capps' NAPA Auto Parts Charger R/T Funny Car will roll into the next stop on the NHRA tour just 109 points out of first. With Vegas and Pomona left on the schedule, the weather conditions will be cooler and for Capps, he'll be more confident than ever in Tobler's fall weather tuning capabilities.
Capps knows he has one fast hot rod under his right foot and plans to take full advantage of it.
"To make over 330-mph runs two times in the middle of the day today is big for Rahn Tobler," said Capps. "We always talk about race day and hot, adverse conditions, and that's where he shines; but to throw down those speeds and E.T.s in the cooler weather today when we needed it was huge. We have a lot of business left to do. It's not over. Points-and-a-half in Pomona. Anything can happen and we're going to go down fighting. I can't wait to celebrate with my race team, get to the next race and finish the year strong."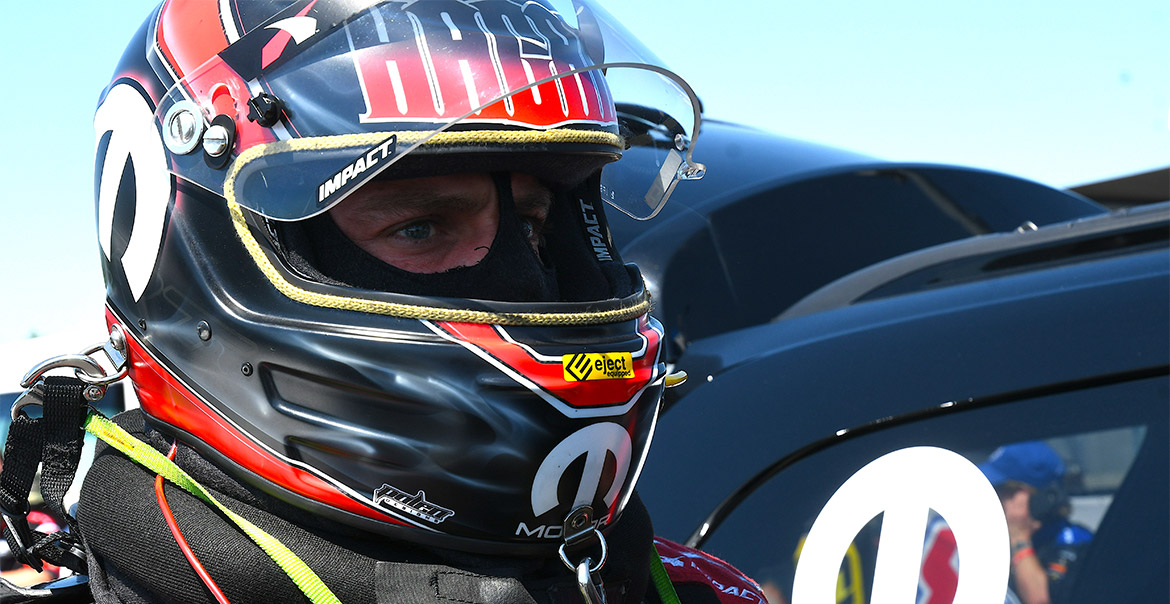 Capps' Dodge/DSR Funny Car stablemates also fought to earn some round wins and points in the highly competitive Countdown chase. For Matt Hagan, driver of the Mopar® Express Lane Pennzoil Dodge Charger SRT® Hellcat, the former world champ lost on an uncharacteristic holeshot in the quarterfinals to his opponent, Tim Wilkerson. The remaining Pennzoil/DSR Charger drivers, Jack Beckman and Tommy Johnson Jr., both suffered first round losses during the NHRA Carolina Nationals.
In Top Fuel, Tony Schumacher drove his U.S. Army/Pennzoil Top Fuel Dragster to the semifinals for the third time in the first four Countdown events. Two-time NHRA Carolina Nationals Top Fuel champion qualified No. 6 and faced Pennzoil/DSR teammate Antron Brown for the 70th time in the first round. "The Sarge" recorded the low E.T. of the event with a scorching 3.699-second at 329.91-mph pass to take out Brown. In the second round, Schumacher knocked out Clay Millican with a stout 3.712-second at 330.55-mph effort.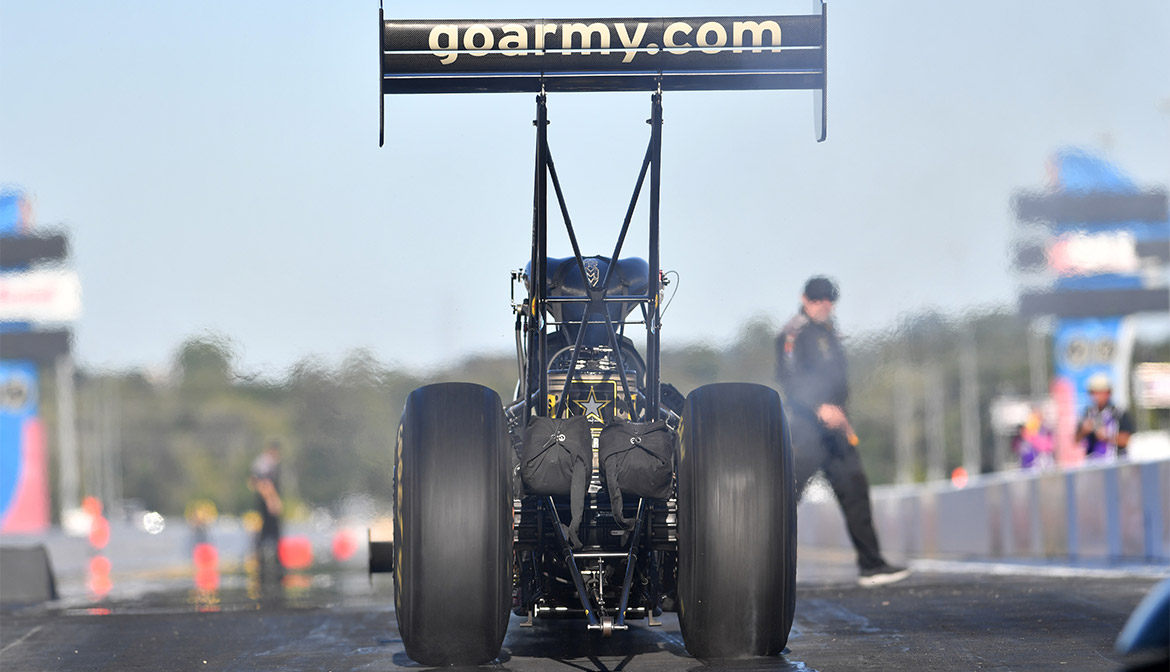 That victory set up a run against current Top Fuel points leader and No. 2 qualifier Steve Torrence in the semifinals. Schumacher's 3.718 at 329.42-mph pass was quicker and faster than Torrence's 3.728 at 328.38-mph run, but Torrence left the starting line first and was able to ride that advantage to a close holeshot win by approximately four feet.
"That was a rough one, man," said Schumacher. "We had a better package than Steve (Torrence) did, but 0.049-second lights are hard to come by. I don't know. Ouch. The worst run we made all weekend was a 3.74. I can tell you this is a great team. It was really impressive what these U.S. Army Racing guys did here in Charlotte. I give a lot of credit to (crew chief) Mike Neff and (assistant crew chief) Phil (Shuler). They came in here with a package and just made it better all weekend. We talked about it being a bracket car in qualifying and then we came out in first round and put up the fastest pass of the weekend. They were on their game and I know I was too. I'm just still wondering how those 0.040-lights keep happening against me. We need to beat Steve to have a legitimate chance in the championship, but that didn't happen today. We've got two great tracks for us left and all we can do is go out with a bang carrying the U.S. Army colors."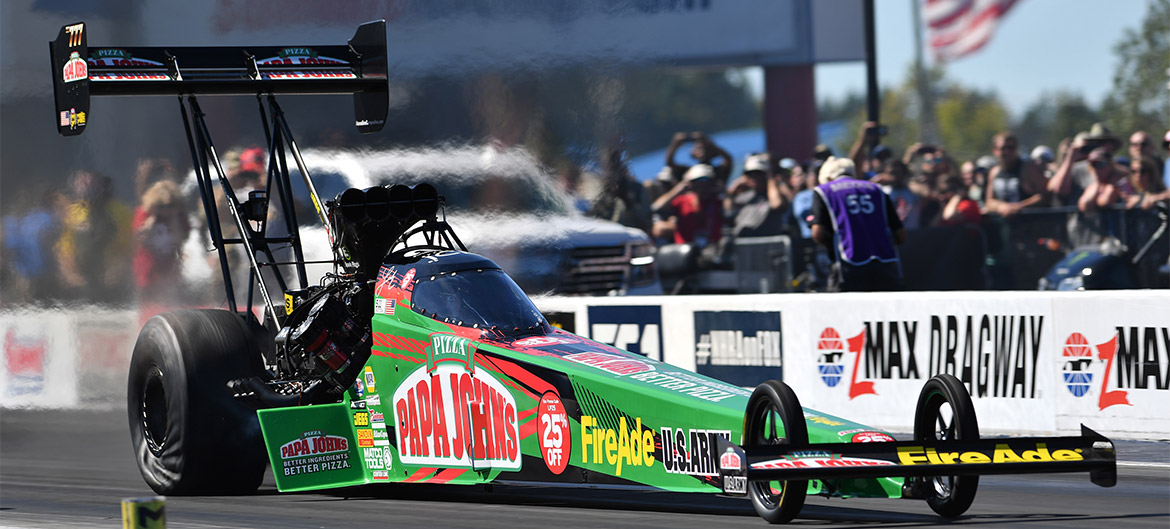 Schumacher's fellow DSR Top Fuel driver, Leah Pritchett, struggled on race day during the NHRA Carolina Nationals. Despite qualifying in the top half of the field in her Papa John's Mopar/Dodge Dragster and defeating Richie Crampton in the opening round, Pritchett lost to points-leader Steve Torrence in round two. For Pritchett, she encountered all kinds of trouble, hazing the massive Goodyear slicks and dropping cylinders in her 11,000-horsepower HEMI®-powered machine. Pritchett watched Torrence drive away for the win and a golden opportunity to improve her Top Fuel title hopes slip away.
Our Dodge/Mopar DSR Top Fuel and Funny Car teams will get next weekend off before heading west for the NHRA Nationals at The Strip at Las Vegas Motor Speedway, October 25-28. This is the fifth race of the six-event NHRA Countdown to the Championship playoffs and our HEMI-powered drivers will be going all out to secure a 2018 NHRA Mello Yello World Championship.
Comments
Comments