Dodge/Mopar® Drivers Tony Schumacher and Tommy Johnson Jr. Runner-Up at Season Finale NHRA World Finals
4 years ago Racing
It's hard to believe but the 2018 NHRA Mello Yello Drag Racing season is in the record books. Along the way, our Dodge/Mopar® DSR drivers witnessed the thrill of victory and the agony of defeat. For our supercharged HEMI® pilots, Tony Schumacher and Tommy Johnson Jr., they raced their heart outs and came up just shy of claiming victory in Top Fuel and Funny Car at the 54th NHRA World Finals at Auto Club Dragway at Pomona, California. It was a dog fight all year, but the DSR drivers finished the 2018 season with 11 total wins in the NHRA Nitro classes – eight in Funny Car and three in Top Fuel.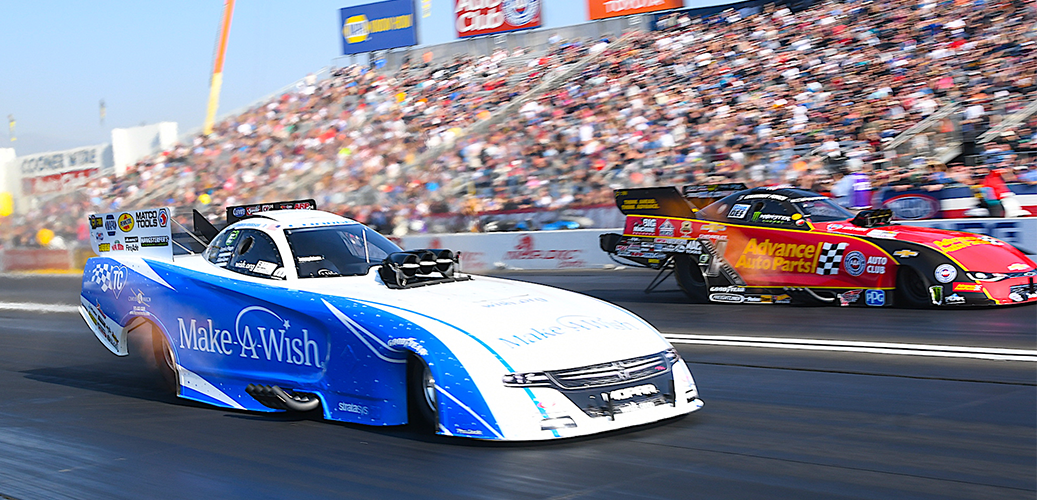 After coming off three consecutive No. 1 spots, Tommy Johnson Jr. started third after holding the provisional pole and earning 14 bonus points during qualifying. At the season-ending Pomona race, the two-time defending event champion posted a 3.905-second elapsed time (ET) at 327.59 mph in his Make-A-Wish Dodge Charger R/T Funny Car, second quickest of the first round, to beat Cruz Pedregon. Johnson survived a scare in the second round against Courtney Force when his engine initially would not fire up, but once his Pennzoil-protected Mopar HEMI engine turned over, it lit up the board with a winning 3.913-second ET that was quickest of the round.
Next was an all-DSR Mopar Dodge Charger semifinals battle with Jack Beckman. Johnson matched his quarterfinals ET of 3.913, paired with a speed of 325.06 mph, to outrun his teammate and advance to his fourth straight final round at the NHRA Finals, third of the year and 48th of his career. Johnson left nothing on the table against newly crowned Funny Car champion J.R. Todd, posting his quickest run of race day with a 3.889 ET at 327.51 mph, but it was no match for Todd's winning 3.872/329.10 pass. With his runner-up finish, Johnson moved to third in the final standings to lead all Mopar Dodge//SRT® Funny Car drivers.
Tony Schumacher made the most of his final race in the iconic U.S. Army livery, marching all the way to the final round. "The Sarge" surged to a red-hot start in his Mopar-powered Top Fuel machine, clocking a 3.694 ET that was quickest of the first round to defeat Scott Palmer and earn a spot in round three when his quarterfinal opponent Bill Litton had mechanical issues on the starting line.
In the semifinals, Schumacher raced the higher-qualified Blake Alexander. At the flash green on the Christmas Tree, Schumacher leapt out off the line and never looked back. This would set up an epic final-round battle against 2018 Top Fuel champion Steve Torrence. Schumacher came so close to stopping Torrence's sweep of all six Countdown races. Schumacher's 3.700/331.61 run was quicker and faster than his opponent's numbers, but Torrence scored the holeshot win thanks to a .029 reaction time. Schumacher finished up the NHRA season with one win in six final-round appearances and took second place in the Top Fuel final points.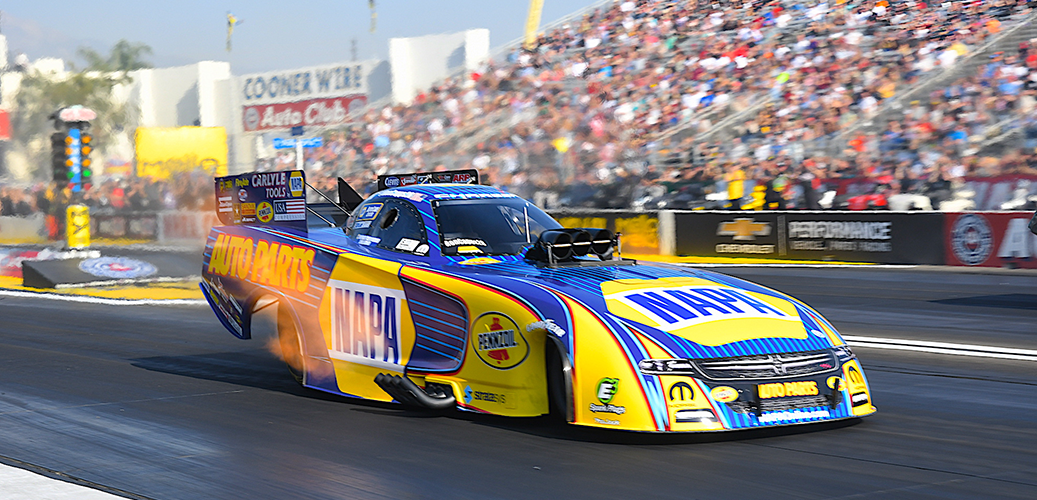 Mopar-powered NAPA Dodge Charger R/T Funny Car driver Ron Capps earned the NHRA Finals pole and had the advantage of a bye when No. 16 qualifier Ray Martin encountered mechanical issues and was unable to make the run. In the quarterfinals, Capps powered his Dodge down the track in 3.921 seconds to take the win against Shawn Langdon's 3.967 E.T.
The 2016 Funny Car world champion faced Todd in the semifinals. Capps gave it a strong effort, maneuvering his 11,000-horsepower HEMI machine down the Pomona track in under four seconds for the sixth consecutive time, but was unable to defeat Todd's 3.889-second run. Capps closed out the 2018 season ranked fourth in the Funny Car standings, having collected three Wally trophies.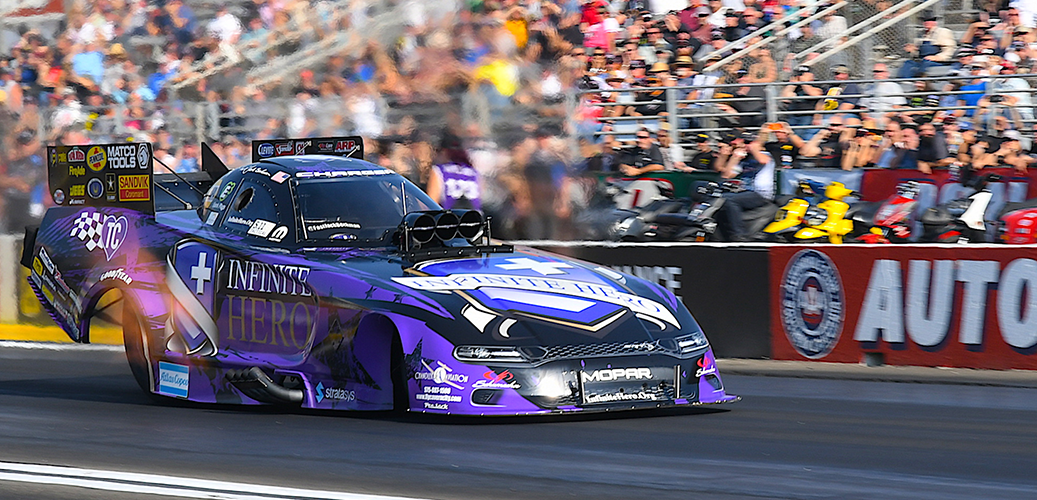 In his 300th professional race, Infinite Hero Dodge Charger SRT Hellcat Funny Car driver Jack Beckman advanced to the semifinals. Beckman dodged a bullet in the first round, reeling in his car after it veered toward the center line shortly after launch and then eased it down the strip to defeat Jeff Arend, who also encountered on-track issues. Beckman entered the quarterfinals 30-15 in career match-ups against opponent John Force, and added another mark in the win column against the 16-time champ. Force deep-staged for a sizable lead off the start, but Beckman caught up quickly and pulled away for the round win with a 3.936/318.99 run.
Beckman squared off with DSR teammate Johnson in a match-up of the "giving" cars sponsored by the late Terry Chandler, but fell short in a tight race. The 2012 Funny Car champion racked up two event victories in 2018, good for seventh in the final Funny Car standings.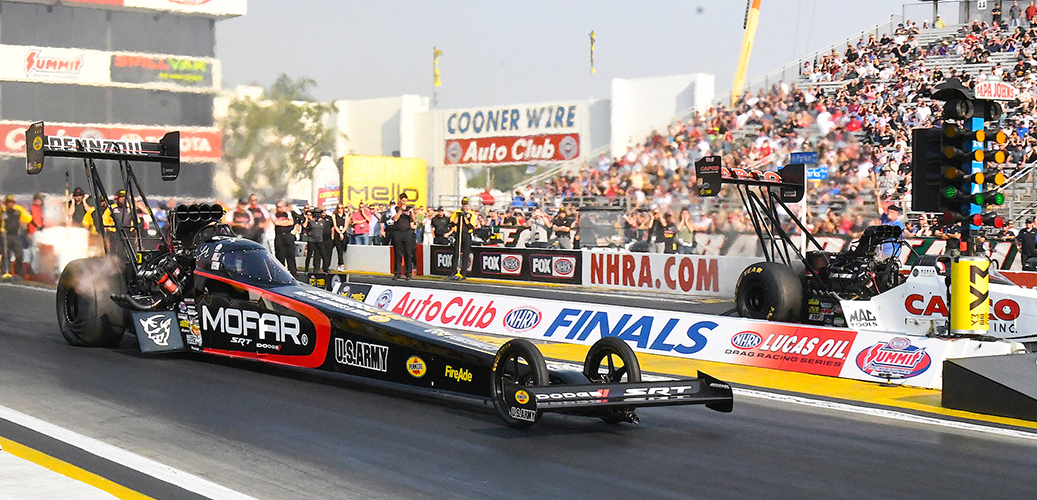 No. 1 qualifier and Pennzoil Mopar Dodge Top Fuel driver Leah Pritchett seemed primed for a deep run on Sunday after clocking the second-quickest pass in Top Fuel history en route to capturing her fourth pole of the season, but, unfortunately, the DSR racer's day ended much sooner than desired.
Pritchett left the starting line first against first-round opponent Bill Litton, but she smoked the tires near the 330-foot mark and then pedaled her dragster several times in a fierce fight to right her Mopar Dodge and get it pointed down the track. Pritchett shut it down after crossing the center line, ending her day. She wrapped up the 2018 season with two event wins and the fourth spot in the Top Fuel standings, to go along with her three event Wally trophies and overall championship in the NHRA Factory Stock Showdown class.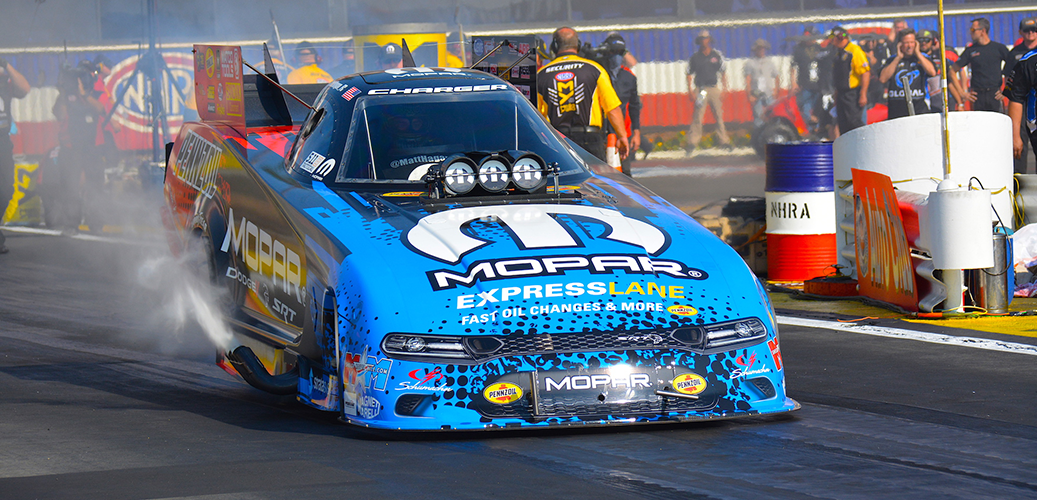 Even though he claimed victory at the 2018 NHRA season-opener, Matt Hagan was looking to bookend his season with another Auto Club Raceway at Pomona Wally trophy. Hagan launched his Mopar Express Lane Dodge Charger SRT Hellcat off the starting line ahead of his first-round opponent and held onto the lead until the 330-foot mark, but began to slow near half-track on watched his competitor claim the round win. Hagan finished his 2018 campaign with three event wins, earning the two-time NHRA Funny Car champ an eighth-place finish in the points.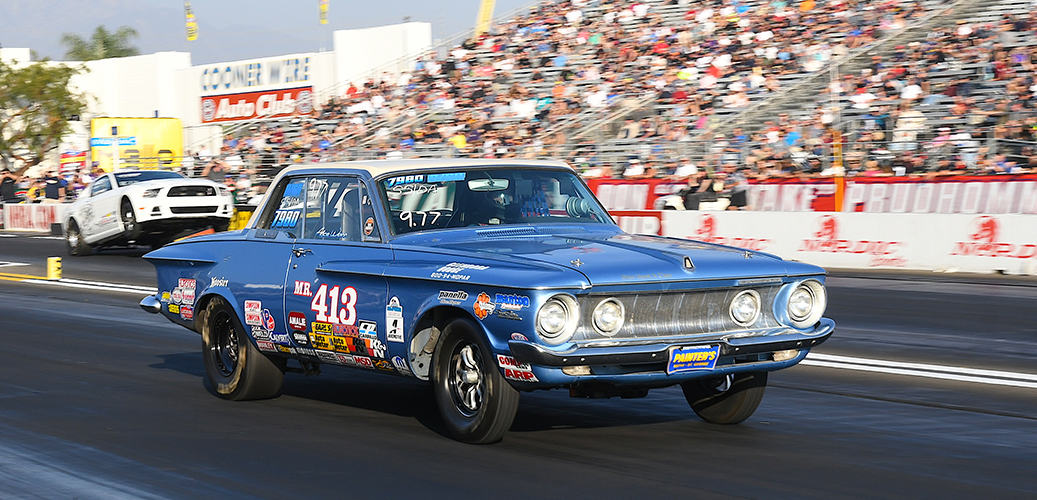 In the Sportsman classes, Steve Wann from Modesto, California, claimed victory in Super Stock with his 413 Max Wedge-powered SS/DA Plymouth Sport Fury. This was Wann's sixth victory in a racing career spanning almost 25 years of campaigning exclusively Mopar vehicles in Stock Eliminator and Super Stock. In the final, Wann had a killer .002 reaction time over his opponent and took the win with a 9.78 ET at 131 mph. Over in Stock Eliminator, Jon Irving from Boulder City, Nevada, drove his 1971 D/SA Dodge Demon 340 to a semifinal finish. Both drivers will receive a $500 bonus for being the Dodge Top Finisher in their respective classes.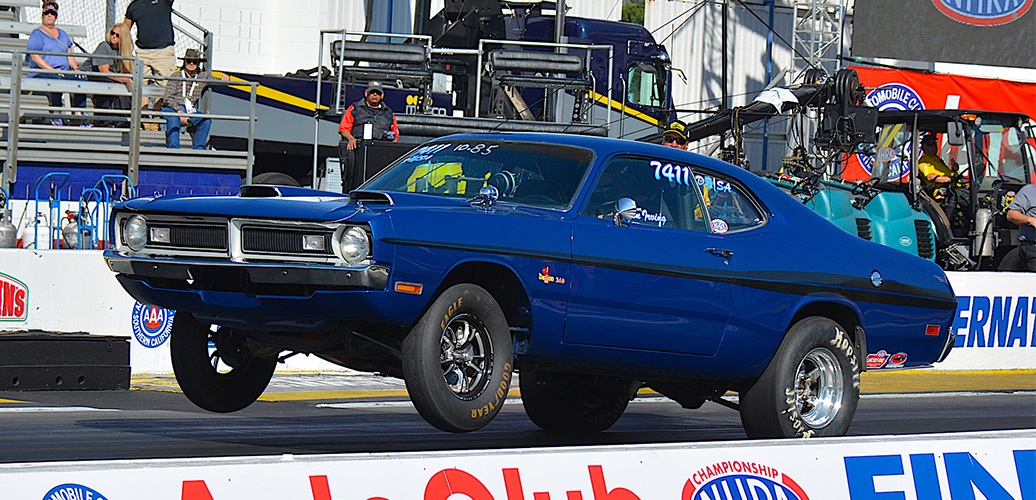 The smoke and clutch dust has cleared out and the stands are now empty. There is now silence at the legendary drag strip at Auto Club Raceway, but don't worry, the countdown has already begun. The NHRA Winternationals will kick off the 2019 drag racing season right back here at the famous track. The call to fire up the Dragsters, Funny Cars, Stockers and Super Stockers will once again echo through the surrounding neighborhoods around Pomona. Mark your calendars to get your fix of nitro – the 2019 NHRA Winternationals will be February 7-10.
Comments
Comments