Dodge Challenger SRT® Demons Invade Texas
4 years ago Racing
We all remember the day Dodge revealed the Challenger SRT® Demon. I happened to be in New York for the official reveal party and I still remember the goosebumps as that beautiful red machine drove across the stage. With music blaring and the crowd cheering, we all watched in amazement as the SRT Demon filled the air with tire smoke and launched down the makeshift indoor drag strip for an awesome display of power and technology. Moments later, the world was finally given the details of the record-breaking quarter-mile accomplishments that Dodge had alluded to for so long in their clever string of video teasers.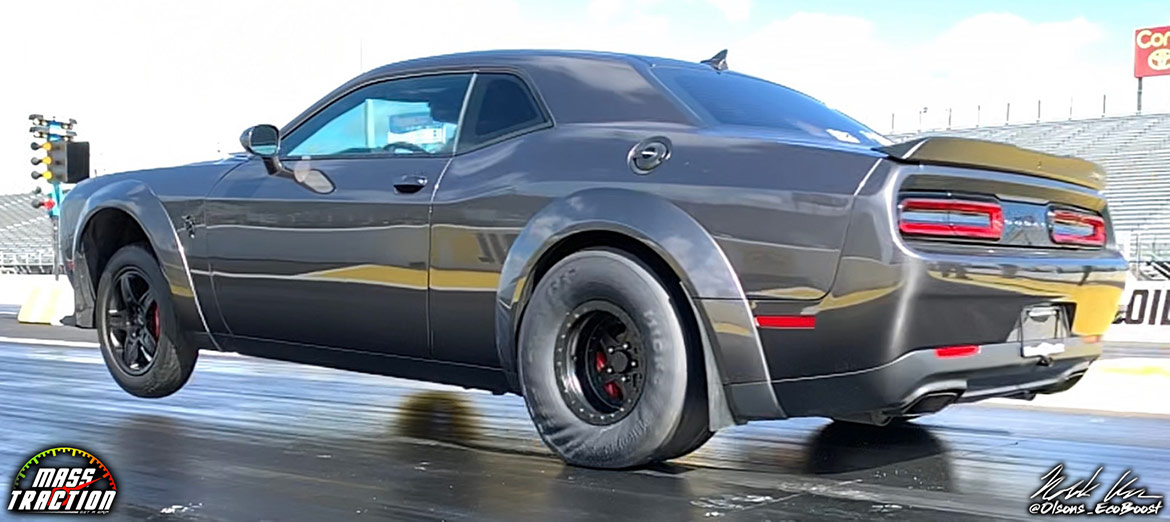 In their extensive pre-release testing, Dodge managed to propel their test car down the track at a groundbreaking time of 9.65 seconds at 140.09 miles per hour. From the beginning, voices at Dodge had stated that their record run was a result of multiple attempts, at various tracks and in optimal weather conditions. Even when the weather cooperated and the stars seemed to align, expert track preparation was still needed in order to launch the car to these record times. That's where Brandon and Sunny from Mass Traction worked their magic to make sure the surface was as sticky as possible. The rest is history.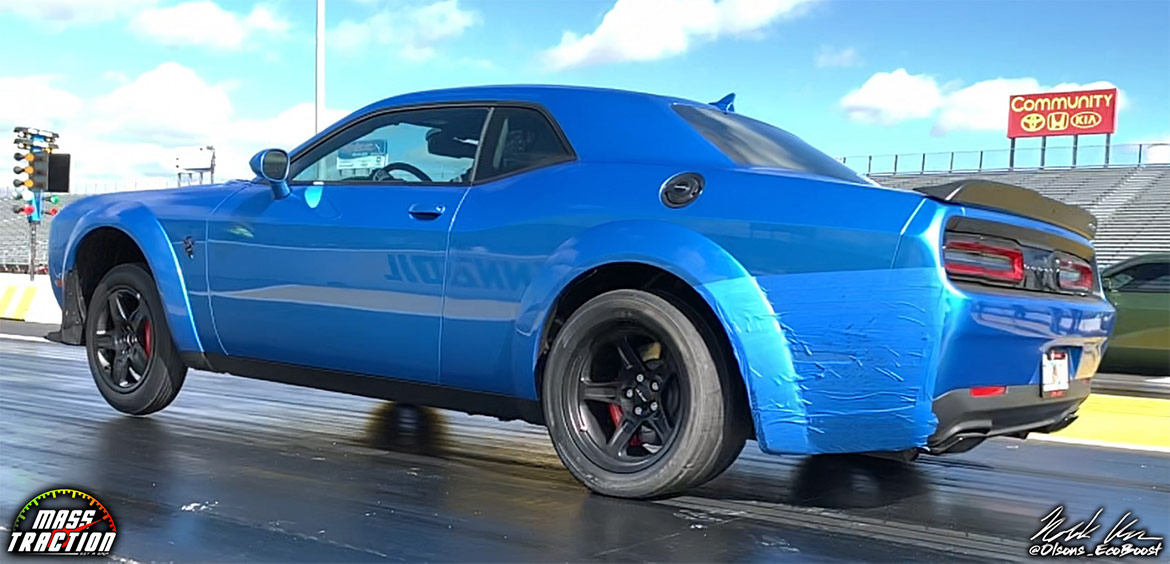 Now that the SRT Demons have been released into the wild, we have seen several new owners attempt to match or beat Dodge's official time of 9.65 with Leah Pritchett behind the wheel. While some of the inexperienced onlookers may snicker and say the car will never produce the same results, the folks at Mass Traction have been gearing up to prove them all wrong.
For those of you who may not know, Mass Traction is the company that secretly worked with Dodge for over a year, traveling across the country to different drag strips and chasing perfect air conditions to get the best possible times for the SRT Demon before the car was even announced to the public. Since then, Mass Traction has been on a mission to provide new SRT Demon owners with time slips that are worthy of being framed as personal trophies. In their most recent effort to help SRT Demon owners obtain their personal bests, Mass Traction teamed up with Tim Godbee to create an event called The First Gathering of The Legion of Demons. This private event was held at Houston Raceway Park on January 18th through the 20th. On this weekend, 48 SRT Demons invaded Houston with hopes of lifting their front tires and running their best time ever, and they were not disappointed. On the final day of the event, 37 unmodified SRT Demons lined up with the goal of all running 9-second passes. In no time, every one of those cars lifted the wheels and ran in the 9-second range. Seven of these cars ran as quick as 9.7, so get ready, Leah; they're coming for your record and moving fast! These stock-powered cars were fighting a headwind and still didn't have the favorable weather conditions that were present when Dodge made their record run.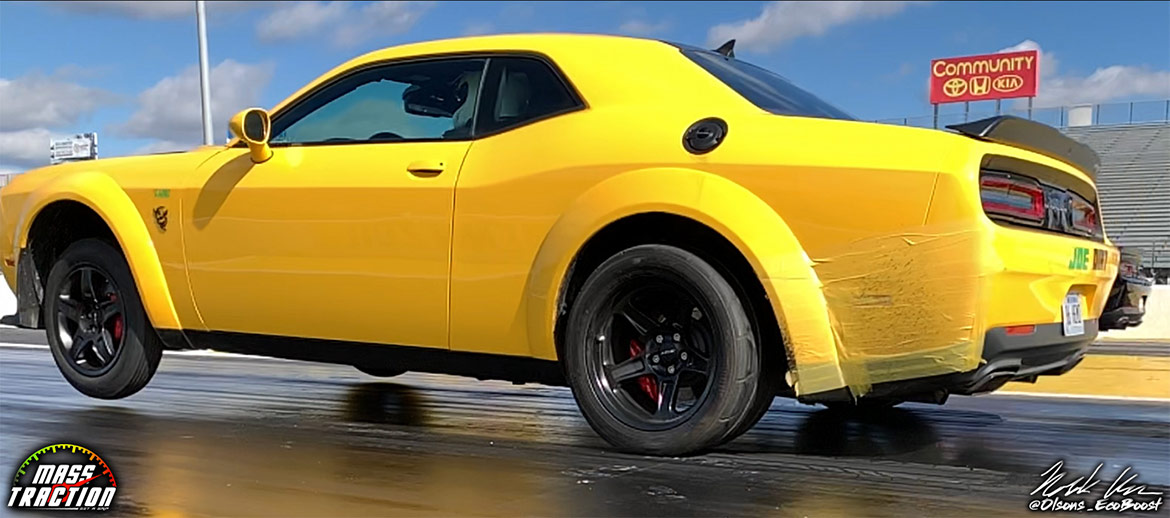 The quickest time of the event was an impressive 9.146 @ 144 mph. This car is owned by Marc Heidings and he has over 700 quarter-mile runs under his belt in this car. That's not a typo! Marc says he takes his SRT Demon to the track at least twice a week and gets around 30 runs. Although not completely stock, this beautiful white SRT Demon has modest mods and definitely performs. He has a custom tune, larger injectors and a smaller pulley that makes about 22 lbs. of boost. To handle the monster wheel-stands, Marc went to the Driveshaft Shop for one of their stout 9-inch rear ends coupled with a carbon fiber driveshaft.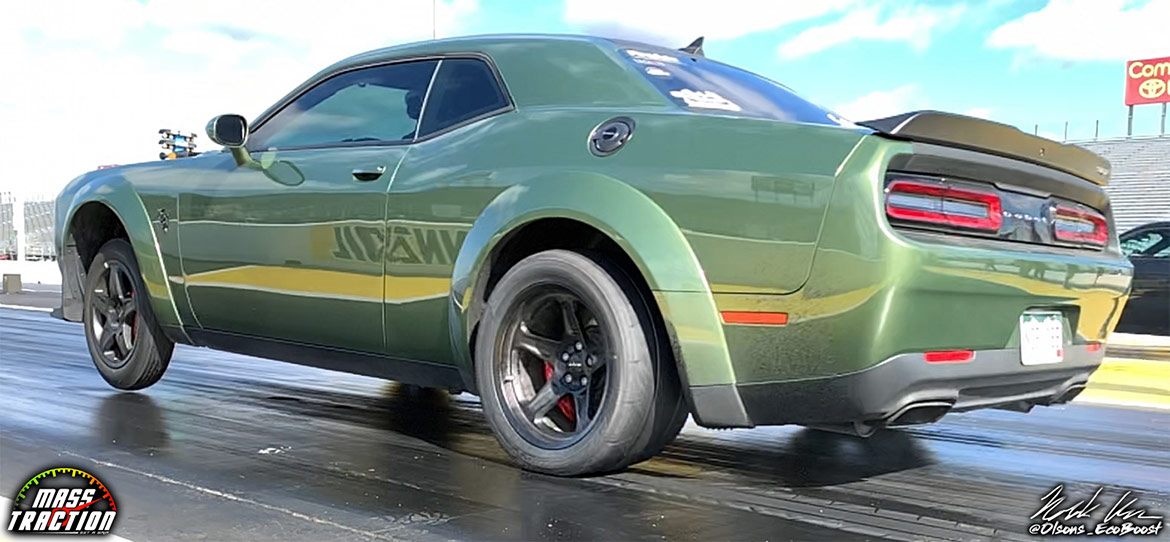 Speaking of rear ends, Doug Redd came down from Canada with his modified machine and happened to hurt his differential after a few runs. I spoke to Doug while he was at the track and was happy to hear he had already located a replacement and was ready to hit the track again the next day! He says that changing the differential in a parking lot wasn't very fun at the time, but a good memory in hindsight. Doug's best time ever was recorded over the weekend and was an impressive 9.29 @ 147.5 mph. I noticed a similarity between Doug's and Marc's cars. Both of them are knocking on the door of an 8-second run, and Curt at Injected Engineering tuned both cars. He obviously has the SRT Demon formula figured out. For Doug's 5,097-mile trip through two countries and seven US states, he was awarded a cash prize for having traveled more than any other attendee. As with so many others I spoke to about the event, the camaraderie among SRT Demon owners was brought up multiple times in conversation, and it truly seems that these cars have been the link that has created new friendships across the globe.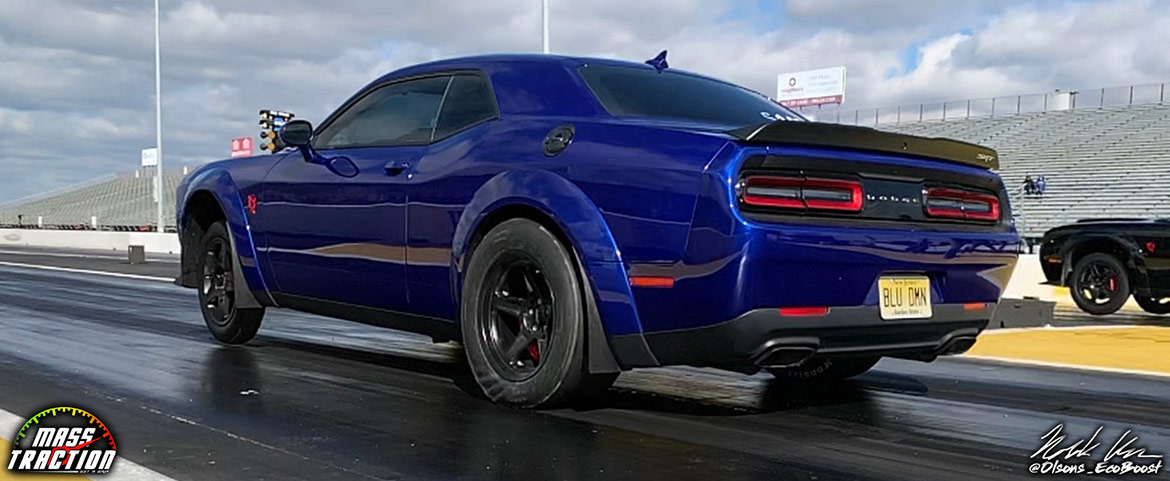 Now let's get back to setting records. I can already hear the naysayers snickering about the official Dodge record being unbeatable. I used to hear, "Nobody will run 9's." But on this weekend, all cars present proved otherwise. Plus, we saw all 14 factory stock tire cars in the 9's as well. Even full interior sunroof cars were running the number! Now I'm hearing that same crowd complain about aftermarket tires and weight reduction. But rest assured, the record will be beat and it will be done with the stock Nitto tires.
So what is the quickest purely stock SRT Demon time so far? 9.786 @ 137.08 mph to be exact. And it just so happens that Ray Zografos achieved this time while at this event. His car is bone stock all the way down to the factory-supplied tires. Ray has ran the car down the track just 24 times, so needless to say, a little bit of seat time might just get him that extra tenth he needs. Now, if we're getting picky, we could mention his 210-pound frame and bring up the headwind again, but I'll sit quietly and wait for the record-breaking run before I say, "Told ya so!"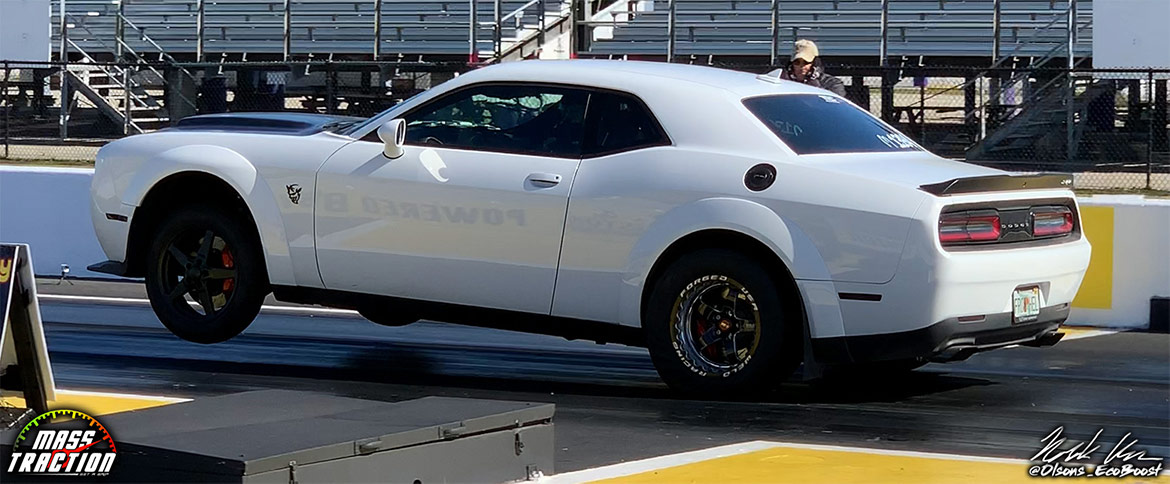 While Leah's ET hasn't been beaten yet, someone did manage to exceed her top mile per hour of 140.09. I spoke with Randi Foraker from St. Louis who managed to run 140.12 miles per hour in her SRT Demon over the weekend. With only 20 runs total since she has owned it, her best time of the weekend was 9.79 seconds. When asked her secret, she credited her times to Mass Traction's expert prep and fellow SRT Demon owners at the event who taught her how to perfect the launch control in the parking lot. Everyone I spoke with had mentioned the tips and tricks being shared among the attendees. They clearly weren't racing against each other; they were racing with each other. Everyone wanted to see their new friends achieve personal bests and they all worked together to make that happen. Randi is also the only person who drove two different SRT Demons to their very first 9-second passes. Charles Jordan has a heavier, full interior car and was able to run a 10.008 but the 9-second time remained elusive throughout the weekend. That's when he approached Randi and handed her his red key and asked if she could get the job done. With rattled nerves, she buckled into another person's pride and joy and gave it a go. She ran the car back to back and achieved three consecutive runs, all in the 9's, with the best being 9.91. So there you go, Charles, you officially have a 9-second car!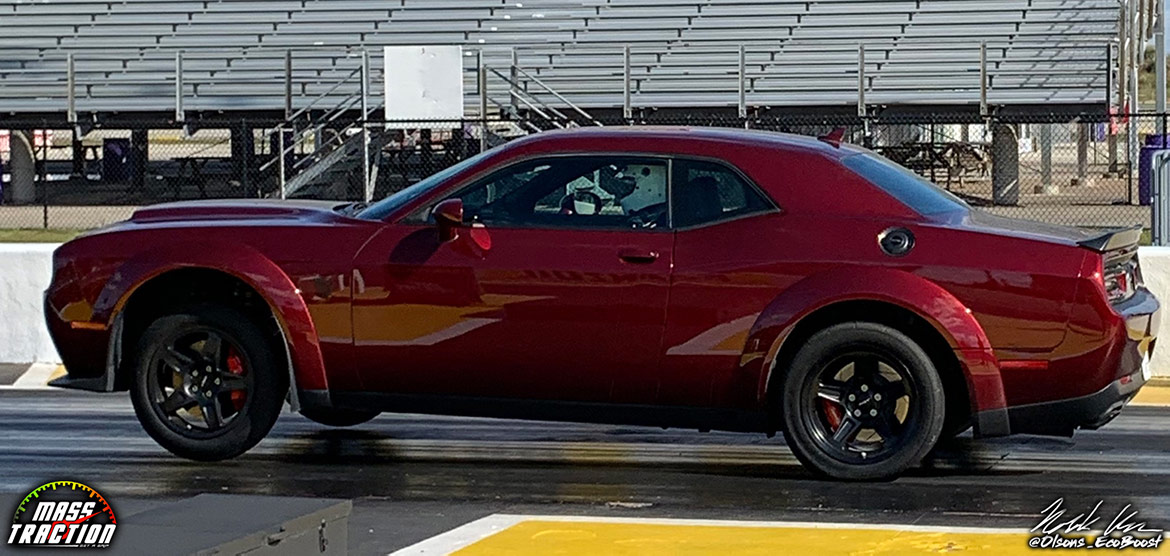 Several other honorable mentions include Catherine Kosiba, who ran a 9.80 on her stock Nitto tires. She then switched to a set of Mickey Thompson drag radials and went 9.76. This is her first year drag racing and she was able to get the fastest time of the event by an SRT Demon with just a tire change. Ronald Silva is that guy who seems to live at the drag strip and posts his drag racing videos regularly. He made the trip to Texas and ran a 9.71 @ 136 mph claiming the fastest time from a stock SRT Demon with aftermarket wheels.
After speaking with Brandon and his wife Sunny, it was evident that great pride goes into their work, which has now become a full-time job. Their passion for these cars is clearly evident and the mission to get SRT Demon owners the numbers they desire is obviously a driving force. With that being said, we're all looking forward to the 1320 Club Leaderboard showing a new world record soon.
Thanks goes out to Tim Godbee and Mass Traction for putting this event together. And also to Nick Olson for the photos.
By Jesse Rose @BoostedScatPack
Comments
Comments