Beckman Blasts to the Finals at Winternats
4 years ago Racing
Don Schumacher Racing (DSR) driver Jack Beckman was hoping to break his Pomona Raceway jinx, but the veteran Funny Car racer with 400 round wins and a world championship under his belt came up short during the rain-delayed season-opening NHRA Winternationals. The California native was hoping for a victory at his home track, especially with a stout qualifying run in his Infinite Hero Foundation Dodge Charger SRT® Hellcat. His crew, led by Dean Antonelli and John Medlen, had the car dialed-in for the changing track and weather conditions they faced on race day.

With Sunday's racing activities cancelled due to persistent rain showers, the teams headed back to Pomona Raceway on Monday to take care of some unfinished business. At the hit of the throttle, Beckman marched through the competition during eliminations, even taking out fellow teammate Tommy Johnson Jr. in the semifinals. This would be Beckman's 28th final round appearance and his opponent, former Funny Car world champ Robert Hight, was just as tough and determined to fight to the end. At the flicker of green on the Christmas tree, both machines thundered off the launch pad with a slight starting line advantage going to Hight. All the way down the historic Pomona Raceway, both Funny Cars were side-by-side with header flames shooting eight feet in the air. When the smoke and dust cleared, it was Hight just ahead of Beckman by a margin of 0.005 seconds, which is less than four feet. The numbers on the top-end scoreboards told the tale: Beckman had clicked off a 3.800-second run at 329.42 mph to Hight's 3.881-second and 329.75-mph pass. The small holeshot from Robert Hight was just enough to hold off Beckman's top-end charge.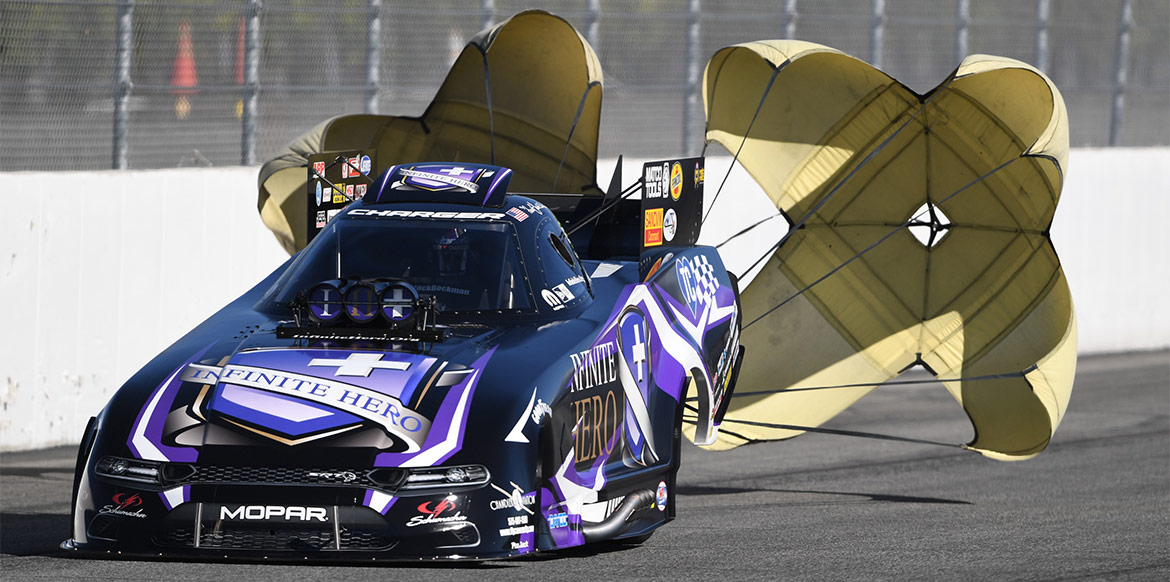 "As a driver, the last thing you want is to look at that time slip and see that you got beat on a holeshot. Final rounds are a little different because drivers will roll it in a little bit because we don't care about lane choice," said Beckman. "I am so proud of everybody here. We didn't test. We were struggling until the last qualifying run and then laid down a lap that put us second, but I don't think that painted the full picture. We had made wholesale changes – five out of our six clutch discs are different than when we left here in November, and for the guys to zero-in on it that quick without the benefit of pre-season testing and take this car to the final round and run it as quick as anybody right now, I can't wait for Phoenix."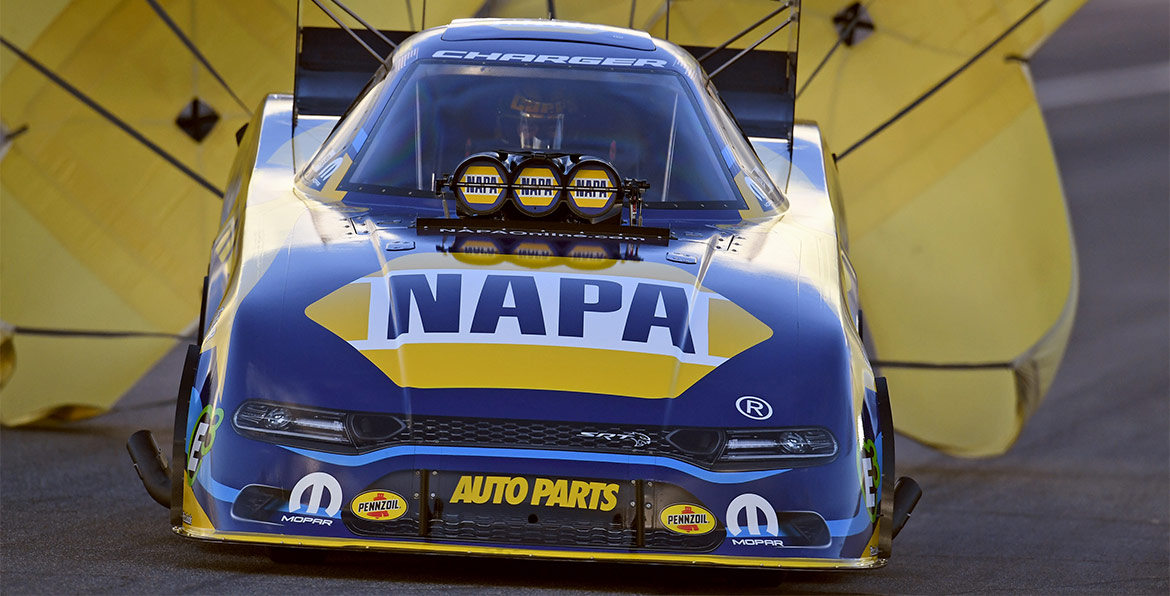 Beckman's other Charger SRT Hellcat Funny Car stablemates had their highs and lows at the NHRA Winternationals. Ron Capps, in the NAPA AUTO PARTS Dodge Charger SRT Hellcat, had qualified in the top half of the field, but in round two, was defeated by 16-time world champ John Force. Matt Hagan, in the Mopar® Express Lane Dodge Charger SRT Hellcat, was also eliminated by Force in the earlier opening round.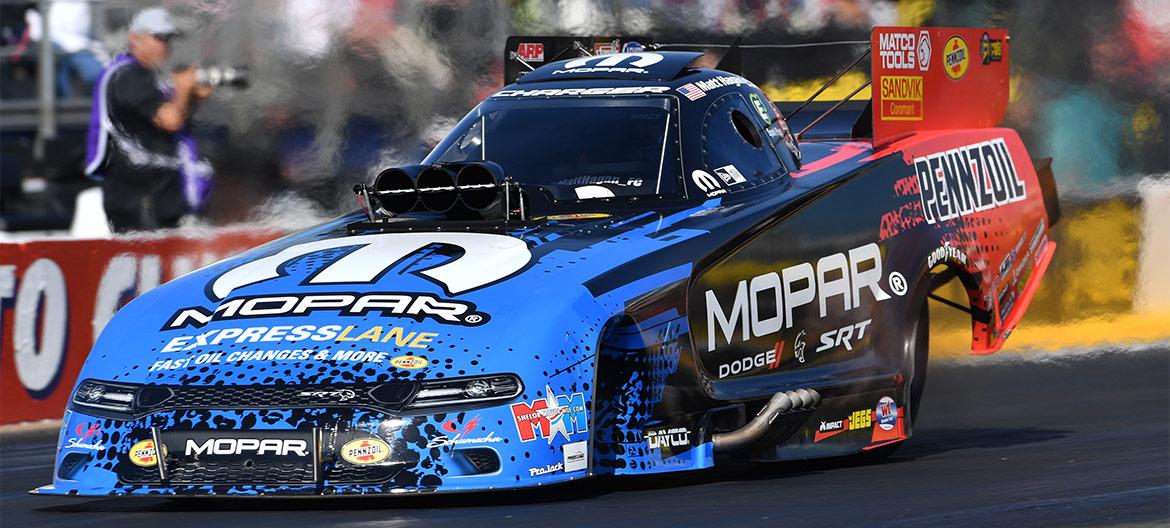 "Obviously not the Winternationals we were hoping for. We won this race the past two years in a row and were hoping to make it three," said Hagan. "I think if maybe we struggle at the beginning of the season, then we'll do well at the end because the last couple of years, we've done well at the beginning and then stumbled at the end. At least that's how I'm trying to look at it right now. Our Mopar Dodge Charger SRT Hellcat is going down the race track, but it was just one of those things. We hit the bump out there and the clutch came at it really hard and pulled the tires loose. No excuses, on to the next race, but I think with the way we qualified and the way the car has been running, I'm happy with it."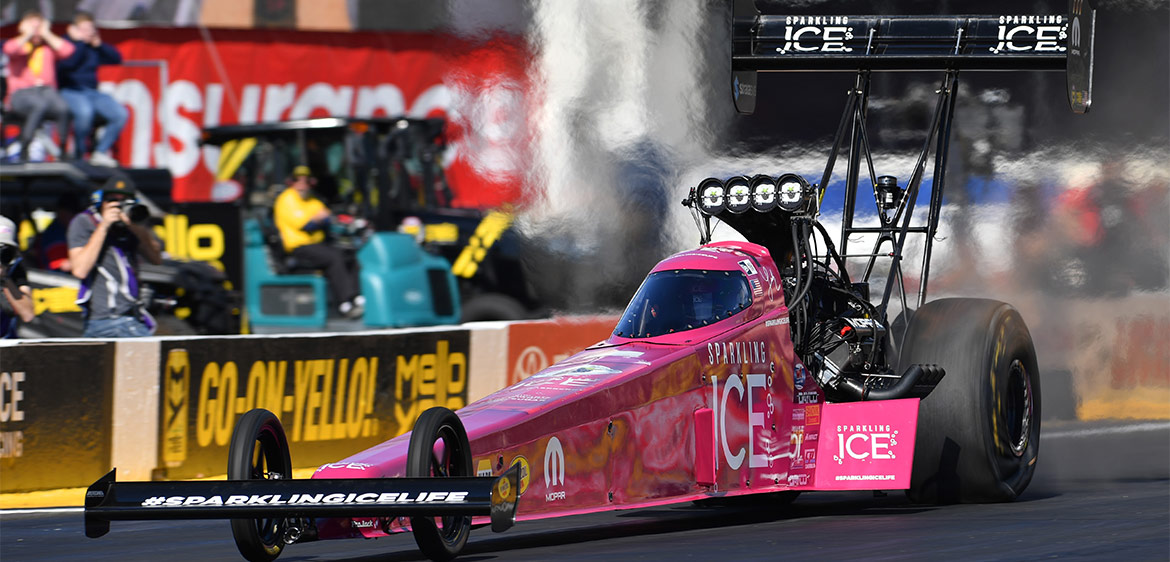 In Top Fuel, Leah Pritchett was rocking a new color scheme on her Mopar HEMI® engine-powered Sparkling ICE Dragster when it rolled into Pomona Raceway. After struggling during qualifying, she was able to put down a 3.963-second pass at 214.59 mph. Not the greatest by any means, but she was in the field and ready for eliminations. In round one, Pritchett took out fellow DSR dragster driver Antron Brown with a strong 3.707-second pass to Brown's slightly slower 3.733-second run. In the second round, Pritchett squared off against Terry McMillen and was looking to advance to the semifinals, but her 11,000-horsepower engine began to drop cylinders before erupting into a fireball at halftrack. The 2017 Winternationals Top Fuel champion was hoping for another win at her hometown track, but it just wasn't Pritchett's weekend.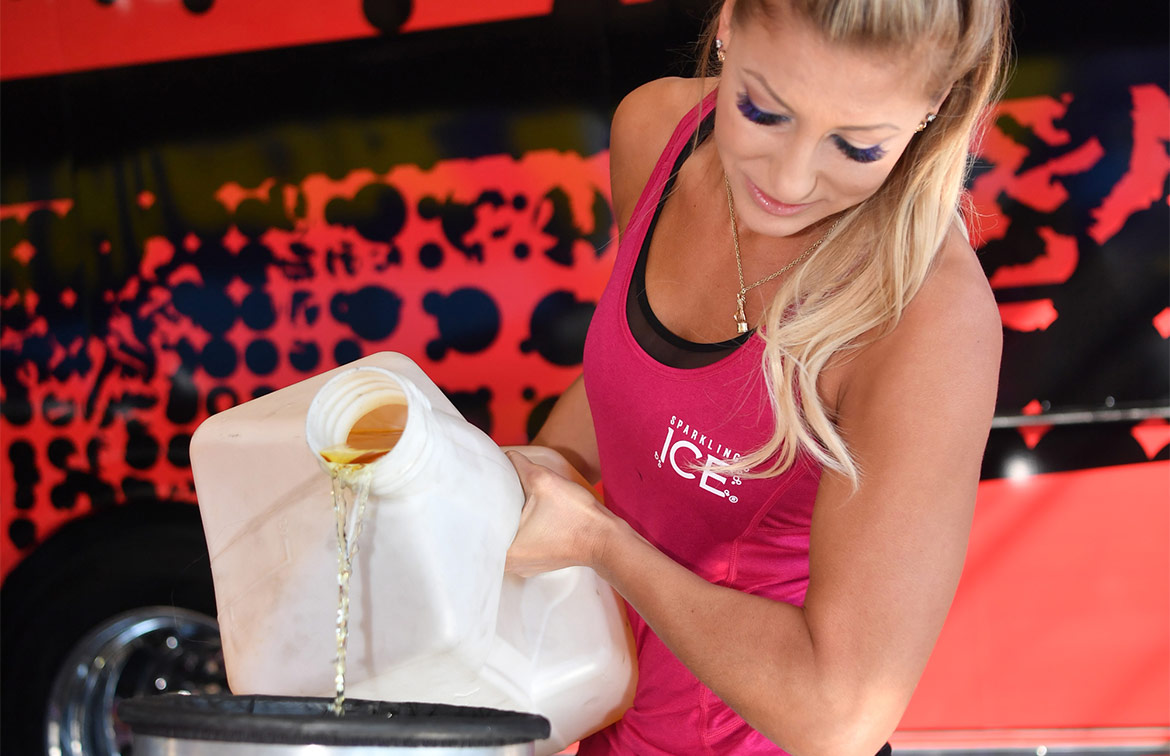 "Awe man, what a turn of events here on Monday. The guys did a great job making the car faster, leaner and meaner. The competition is super stiff. Unfortunately, the challenges we faced during Saturday's qualifying sessions showed up again today," said Pritchett. "We had a small window to push really hard. We have some parts that aren't exactly agreeing with the way that we are running this car. We are continuing to learn. This was not the way we wanted to start the season, but it's good to be back out here. I think we put on a good show for the fans. I'm surrounded by great people here at Don Schumacher Racing and this Sparkling Ice/Mopar/Pennzoil team will be ready to fight in Phoenix with a little different strategy."
In the Sportsman classes, Jim Durham from Stonyford, California, drove his 1972 E/SA Plymouth Duster 340 to the Stock Eliminator quarterfinals. In a tight matchup, Durham lost by a mere 0.040 seconds to his opponent in round four. In Super Stock, Mike Cotten from Cave Creek, Arizona, drove his SS/IA 1970 Plymouth 'Cuda to a round three finish. Powered by a Mopar 383-cubic-inch big-block V8, Cotton had qualified number seven with a run of 9.77 seconds and was looking strong and consistent during eliminations until a redlight start ended his day. For advancing the furthest in competition in their respective classes, both drivers will receive $500 for being the Dodge Top Finishers at the NHRA Winternationals.
The next stop for our teams will be the NHRA Arizona Nationals at Wild Horse Pass Motorsports Park in Chandler, Arizona, February 22-24.
Comments
Comments