Drag Racing on Ice?
4 years ago Racing
Here in the frozen tundra of Minnesota and Wisconsin, it doesn't take long before you have to find something to do during the long winter months. Most will take up ice fishing, hunting, snowmobiling, skiing or snowboarding, but for the people of Merrill, Wisconsin, the answer is drag racing. For the last 54 years, they've been clearing the snow off of the Wisconsin River to make an 1/8-mile drag strip. Yes, a drag strip made up of more than 26 inches of solid ice. This was something I had to see for myself, so I made the three-hour drive into the heart of Wisconsin with a good friend who was just as curious as I was to see cars drag race in the middle of winter. Thankfully, on the day we chose to visit, Merrill Ice Drags was a toasty 25°, a full 60° warmer than the previous few days in the Upper Midwest. That Polar Vortex was no joke!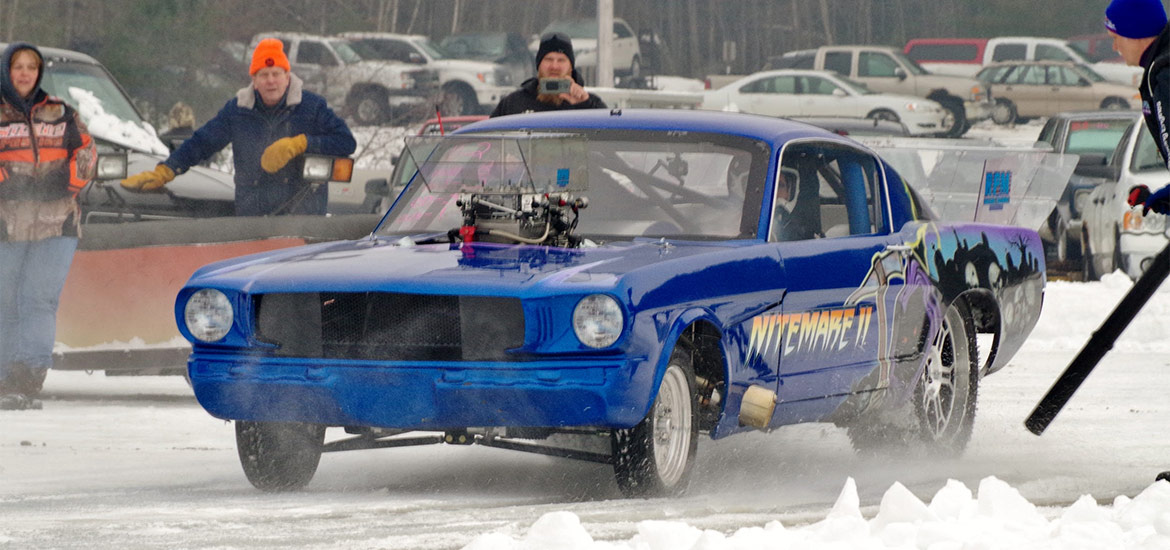 The folks of Merrill Ice Drags had transformed a patch of ice on the Wisconsin River into a proper racing facility with spectator parking, concessions, race pits and, of course, a heated two-story trailer as the race tower. In addition to all of that, they had created four lanes of 1/8-mile track. Why four lanes, you ask? They rotate the lanes from week to week as racing action chews up the ice, so the starting box needs to be flooded and frozen again. Trust me, with over 50 years of experience racing on ice, they've got it down to a science.
Anyone who's ever driven on an ice-covered road knows how difficult it is to start and go. It's no different here. The E/T track record for a 2WD vehicle on a rubber tire is 13.836 E/T and trap speed is 59.82 mph, in the 1/8-mile! Just think about that the next time you're trying to keep your car straight leaving a stop light on an ice-covered road. Yes, in normal racing, that would be slow, but on ice, it's remarkable.

Next up was the Nailie Class. The Nailie Class means you can run a traction-adder to your car; a tire with thousands of screws in each tire! I can't even imagine how long it would take to run 2,000 to 4,000 screws in a single tire, but they do it. Once they've gone through the painstaking task of spiking their tires, they run either a rubber tape or duct tape to cover the screw heads. Finally, you add a tire tube, as there's no way to maintain air pressure with that many holes through the tires. Once you've done this, you're now in possession of an Ice Drag Radial. Watching the first few cars launch was amazing. These cars still need throttle control because without it, they will just dig a rut. Even though they're racing on ice and have thousands of screws, you still need finesse and that only comes with practice and experience.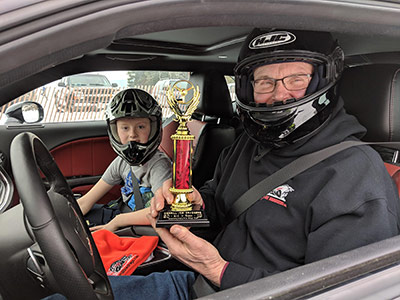 I am drawn to Dodge vehicles like a moth to a flame and this time, I hit the jackpot! I met a fine gentleman who had just purchased a Scat Pack and dubbed it the "660 Edition", the half-sibling to the "1320 Edition". This particular car was purchased with the intent of running the Merrill Ice Drags 1/8-mile track setup. Yes, he'll drive it in the summer, but when racing season starts in Merrill, you'll find him in the staging lanes with the heated seats and heated wheel on high. In the final race of the 8.5 Second Bracket Class, the Scat Pack did battle with a retired Dodge Charger police cruiser that was being bottle fed a healthy shot of nitrous oxide. It was an exciting race to watch and was super close, but the Charger took the win. Was Scat 660 disappointed in the 2nd place finish? Nope! All smiles from him and his grandson, who came along for the run!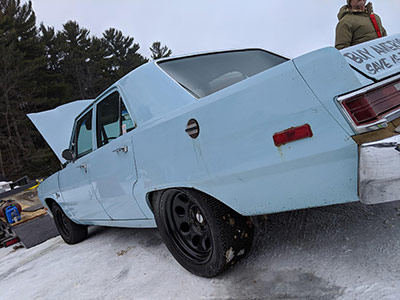 Another Mopar® vehicle I was really hoping to watch make a few passes was a Plymouth Valiant. This car has been racing the Merrill Ice Drags for more than 20 years. Racing in frigid temps can stress a car to its breaking point; it's just the cost of racing at such an event. This poor Valiant popped its radiator coming off a borrowed trailer. He missed a day of racing, but he'll be back!
At the end of the day, the track had taken some serious abuse. After hundreds of launches, deep 6-inch ruts began to form. Like traditional racing – where someone lines you up to make sure you're in the groove or to spray some traction compound – team spotters help make sure you've got good ice to launch from. Even on ice, track prep comes into play. Brooms, shovels and leaf blowers are all used in the search of traction!
Finally, it was time for the fastest class: Outlaw! No shortage of power there! Two heavyweights ripping down the solid ice is something I will never forget. Can't say I've ever stood in the middle of two drag racers running full throttle all while taking pictures and videos.
After racing concluded for the day, we hopped back in my Charger for the three-hour commute back home. Weather had turned ugly, and that easy three-hour drive turned into a more-than-four-hour drive with cars in the ditch all over the place. The irony wasn't lost on me; I had been watching people race on ice all day, with zero incidents, and here I was traveling on I-94 wishing I had a set of Nailies on.

The season wraps up this Saturday (2/23), so if you're looking for something to do, check it out! Otherwise, plan on seeing this one next year; you've got plenty of time to get your Ice Drag Radials ready!
Send us a line about other crazy events out there and we will cover them on Dodge Garage.
Comments
Comments
Next