Hagan Wins NHRA Arizona Nationals in New Dodge Charger SRT® Hellcat Body
4 years ago Racing
Matt Hagan raced to victory in his Mopar®-powered Dodge Charger SRT® Hellcat at the 35th NHRA Arizona Nationals, capturing the milestone first win for the SRT Hellcat body and his third victory at Wild Horse Motorsports Pass in the last five years.
Hagan and his crew were on a mission to earn a victory in the new Funny Car body they first debuted last season. The team earned the pole Friday when conditions were extremely difficult, but they continued getting stronger with every run over the course of the weekend and, ultimately, defeated reigning NHRA champion J.R. Todd.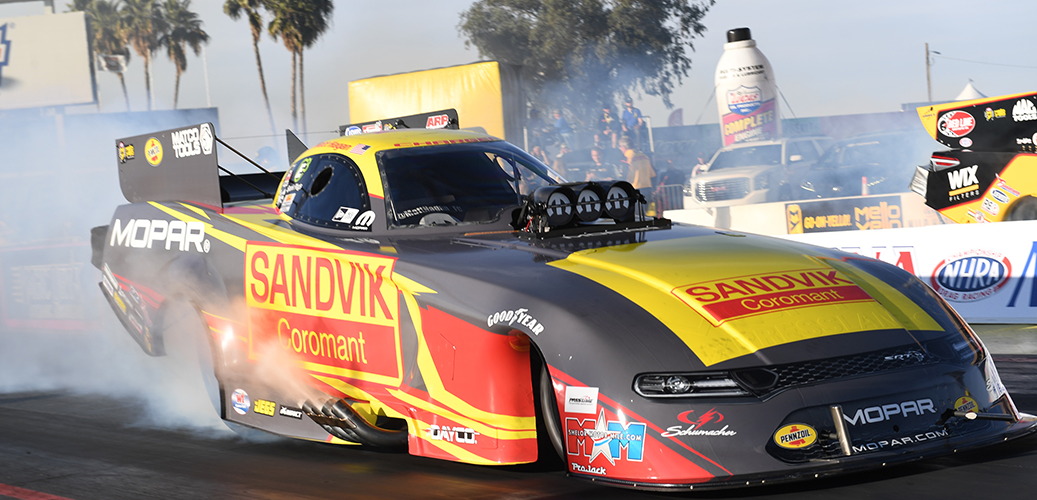 Steve Beahm, head of Passenger Cars & Mopar Parts & Service FCA North America, couldn't be more thrilled with Hagan's win. "Congratulations to Matt Hagan and his entire team on making history today by claiming the first victory in our Mopar-powered Dodge Charger SRT Hellcat Funny Car body. This is a great early-season win for Dodge//SRT and Mopar, and we hope it's the first of many this year for our brands and for Don Schumacher Racing."
According to Hagan, "This is huge because it's the first win with the new [SRT] Hellcat body. Mopar put so much into designing this new body, and it's great to be able to put it in the winner's circle for them. Hats off to Dickie Venables. The guy won the race, that's for sure. He had a race car underneath me that was going down the race track every lap. That gave me a lot of confidence. He gave me the car to win; this Wally goes to him for sure, as well as my entire team. To be able to drive for Don (Schumacher) for 10 years and be able to win 30 races is awesome. It's pretty cool, out of DSR's 150 Funny Car wins, I have 30 of them. It just goes to show you I've been put around really good people, and talented crew chiefs that work hard. Dickie is one of the best out here and I'm really glad to have him in our corner."
Congratulations, Matt & Don Schumacher Racing!
It was one hell of a win!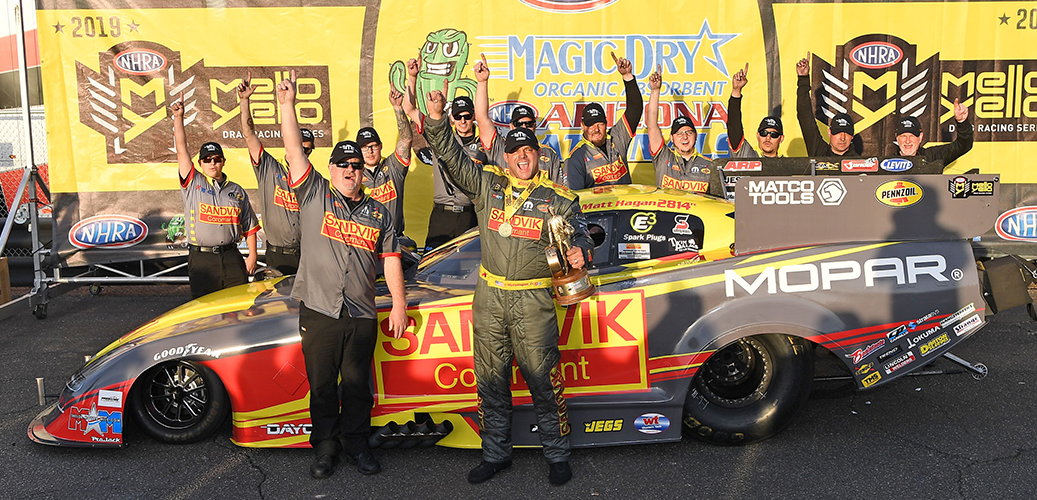 Comments
Comments