Hagan Runner-Up at NHRA SpringNats
4 years ago Racing
They say coming in second is like being the first place loser, no one really remembers and to the victor go the spoils. But for Matt Hagan, driver of the Pennzoil Mopar®-powered Dodge Charger SRT® Hellcat Funny Car, his runner-up finish at last weekend's Mopar Express Lane NHRA SpringNationals shows where the team is heading. After a less-than-spectacular 2018 season, Hagan has rallied the troops, and with crew chief Dickie Venables tuning up the 11,000-horsepower HEMI® engine-powered beast, the competition has been put on notice. This Charger SRT Hellcat Funny Car is on the prowl and hunting its prey.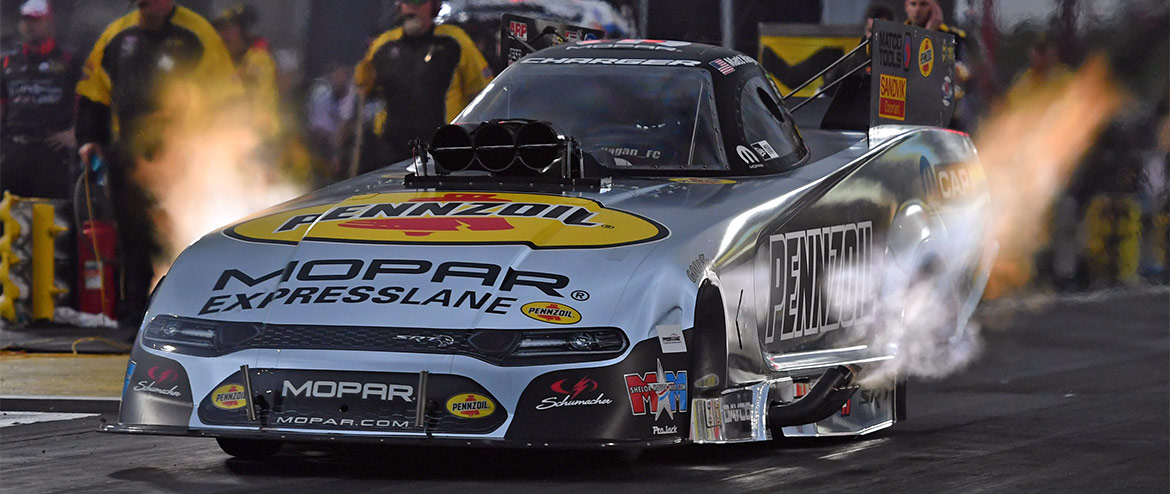 "I had a great weekend here in Houston. I've got a great racecar," said Hagan. "Dickie Venables is doing an amazing job with this car. The result today falls on me. I was putting down some numbers that were unacceptable and I didn't leave the way I needed to. We ran just as good as they did, maybe a little better. I put that weight on me. I should have been better (on the starting line). I should have been in the 40s (reaction time) and we would have won this race today. Sometimes, you need things like this to make you dig deeper. I felt really good about my lights all weekend. In qualifying, I was where I needed to be, and today, the first three rounds, I was there. In the final, I had a really long tree. I went inside my head and almost double-stepped the car, but I pulled it back. As soon as I'm pulling back, the light is dropping. You just know to yourself that you are dead late. I would have loved to have won it for Pennzoil this weekend. Driving the chrome Pennzoil car right here in Houston with so many Pennzoil and Mopar people out here to root us on was amazing. I couldn't be happier with the car and team I have surrounding me. We're ready to keep things going in Charlotte."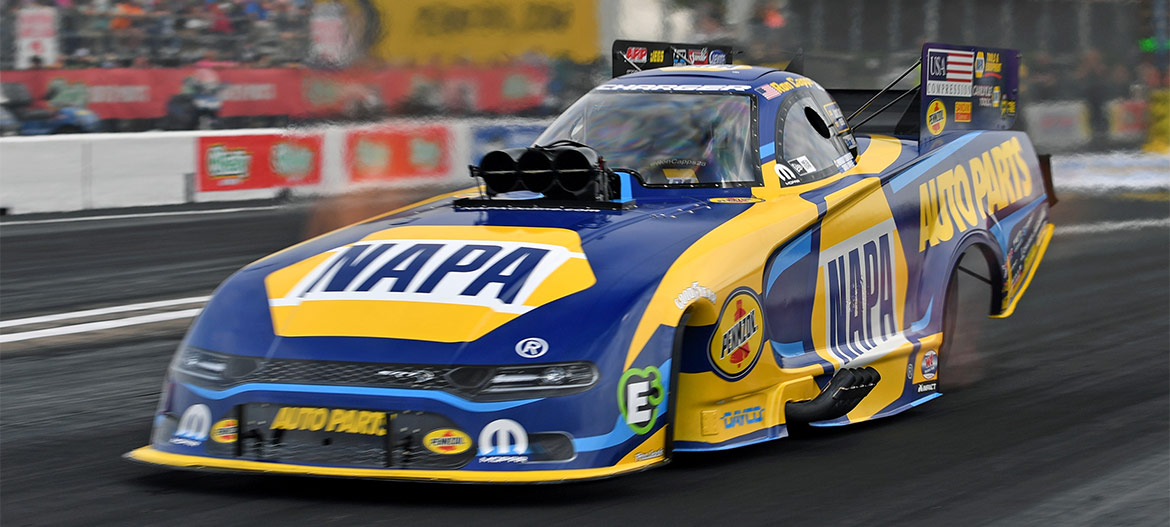 Whether you lose in round one or in the finals, it's never easy and drivers tend to beat themselves up if the results aren't what they want. For Hagan, he was the highest finisher among the six supercharged Mopar-powered Charger SRT Hellcat Funny Cars during Sunday's eliminations. His fellow DSR teammate, Ron Capps, reached the semifinal, while Jack Beckman, Tommy Johnson, Jr., Cruz Pedregon and Jim Campbell were unable to advance past round one. We know it's little consolation when world championships can be determined by how many rounds a team advances during the season, but there's more races up ahead for Hagan, who's a former NHRA world champ himself. For drivers who live life travelling 1,000 feet down a drag strip in under four seconds and well over 300 mph, things can happen very quickly.

Over in Top Fuel, Leah Pritchett was looking tough all weekend in her HEMI engine-powered Pennzoil/Mopar Dodge Dragster. After some strong and solid qualifying runs that landed her in third position, Pritchett was looking to add another notch in her win column as this track has been very good in the past to this Top Fuel star. In the opening round, her HEMI engine-powered machine marched right down the track like a guided missile, taking out her opponent in the next lane. When it came time for round two, Pritchett lined up next to fellow DSR teammate and three-time Top Fuel world champion Antron Brown. Unfortunately, Pritchett stomped the gas pedal a little too soon and handed the win to Brown.
"We came in with a stout hot rod. Got that first-round win and matched up with our teammate Antron Brown. I consider him to be one of the best leavers in the industry and I got a little bit too 'up' apparently," commented Pritchett. "I take 100-percent credit for the lack of being able to put a win light on in the second round. I wanted it really bad. This was a super important race to all of us and I just can't thank Pennzoil and Mopar enough for backing us. When the failure falls solely on you, you have two ways to handle it – one is to let it eat at you or the other is to know where and how to improve and just think positively about the next one. We have a second go-round in the Pennzoil chrome car coming up at our next race in Charlotte and I can't wait for that to be my redemption."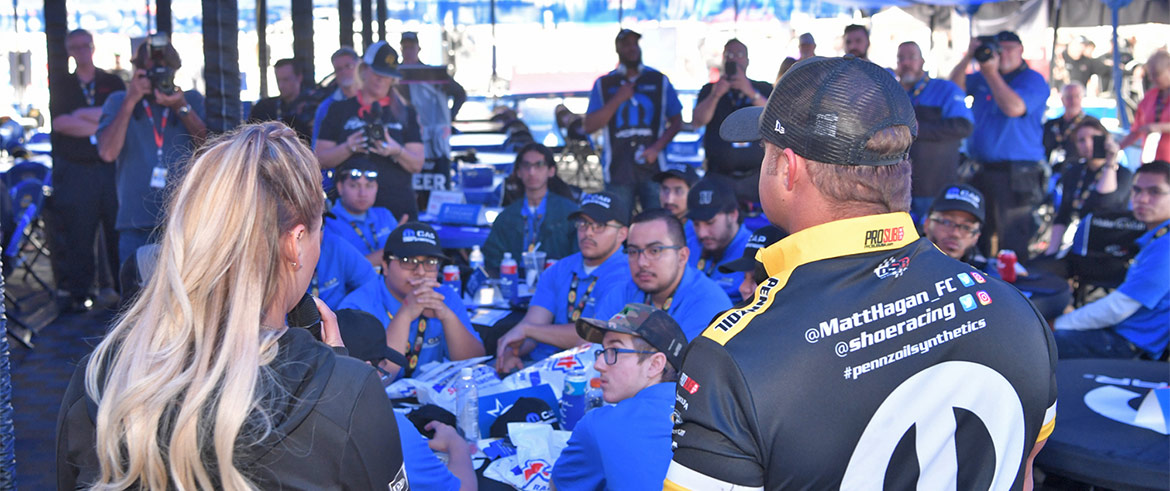 When Pritchett and Hagan weren't blasting down Houston Raceway Park, they had a chance to speak to 27 enrolled students in the Mopar CAP program from Lone Star College and San Jacinto College who are being introduced to the world of the NHRA and connecting with representatives from 13 local automobile dealers. The "Assemble Your Future" initiative was launched last Friday at Houston Raceway Park and the students heard from Hagan, Pritchett and Pritchett's crew chief, Neal Strausbaugh, before touring the Don Schumacher Racing pit areas and interacting with the Houston-area dealers.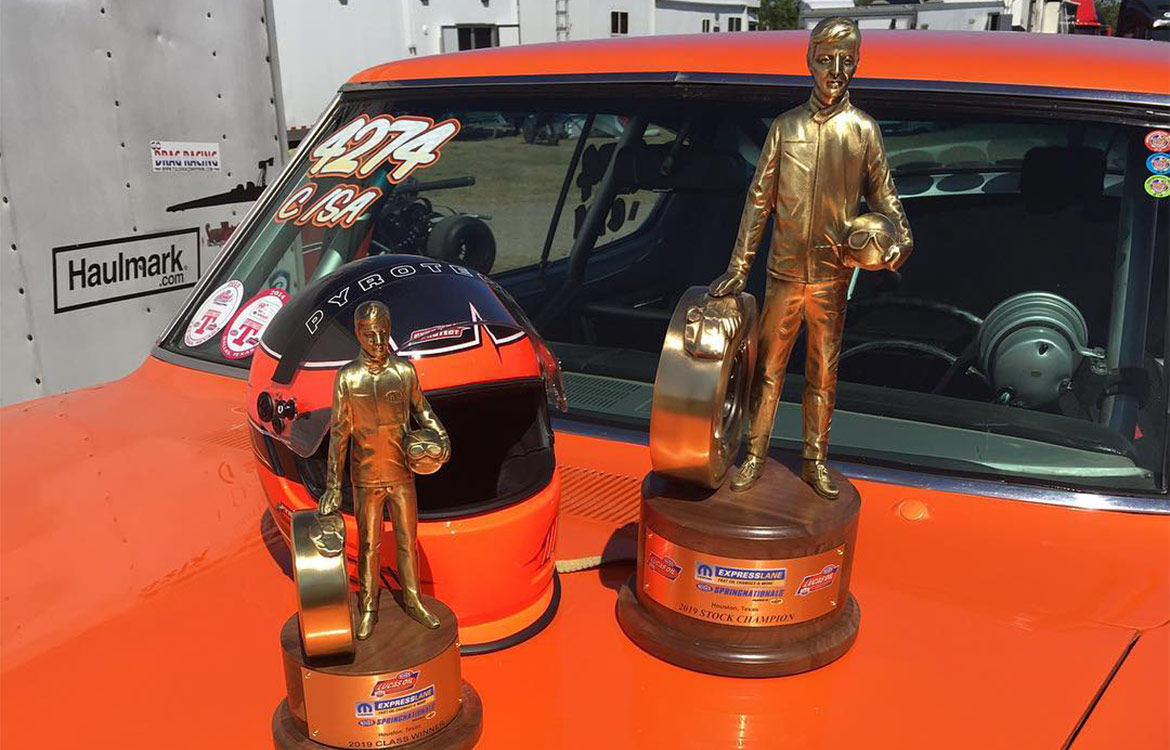 In the Sportsman classes, Jacob Pitt from Fort Worth, Texas drove his stunning 1969 Plymouth 'Cuda 440 to victory in Stock Eliminator. Pitt was also competing in Super Stock with 360 powered 2003 Dodge Stratus in Super Stock where he made it to round three before losing a close race. For his hard work and going the furthest in both classes, Pitt swept the Dodge Top Finisher honors for the second consecutive year.

The next stop for our Dodge // Mopar drivers will be the NGK Spark Plugs NHRA Four-Wide Nationals at ZMax Dragway in Charlotte on April 26-28. This is also the second race for the NHRA Factory Stock Showdown class and Leah Pritchett will be doing double duty not only driving her Top Fuel Dragster, but also defending her 2018 FSS championship title behind the wheel of her Mopar Dodge Challenger Drag Pak. Catch all the action on Sunday, April 28, on FS1 beginning at 6:00 pm ET.
Comments
Comments
Previous