Pritchett Prepares For the Next FSS Battle
4 years ago Racing
The smoke has cleared and the dust has settled from their last encounter. The racers competing in the NHRA SAM Tech NHRA Factory Stock Showdown (FSS) class are marching toward the tiny hamlet of Concord, North Carolina. It's their next engagement in this epic battle for drag-strip supremacy being waged at race tracks across the nation. The last meeting of the FSS rivals took place at the NHRA Gatornationals in March, but there's another fight just beyond the horizon that pits our HEMI® engine-powered Mopar® Dodge Challenger Drag Paks against the angry hordes of Cobra Jet Mustangs and COPO Camaros. The heads-up, dog-eat-dog nature of the FSS class has the fans showing their brand allegiance on social media while the drivers and crews look to extract the last ounce of horsepower from their engine combination. For Dodge/Mopar driver and 2018 FSS world champ Leah Pritchett, she's been sharpening her weapon. It just happens to be a supercharged, 1,300-horsepower, 354 cubic-inch HEMI engine-powered Challenger Drag Pak blazoned in its "Angry Bee" livery and nicknamed "El Bandito." Trust us, the "Angry Bee" will swarm down and attack whoever lines up next to it.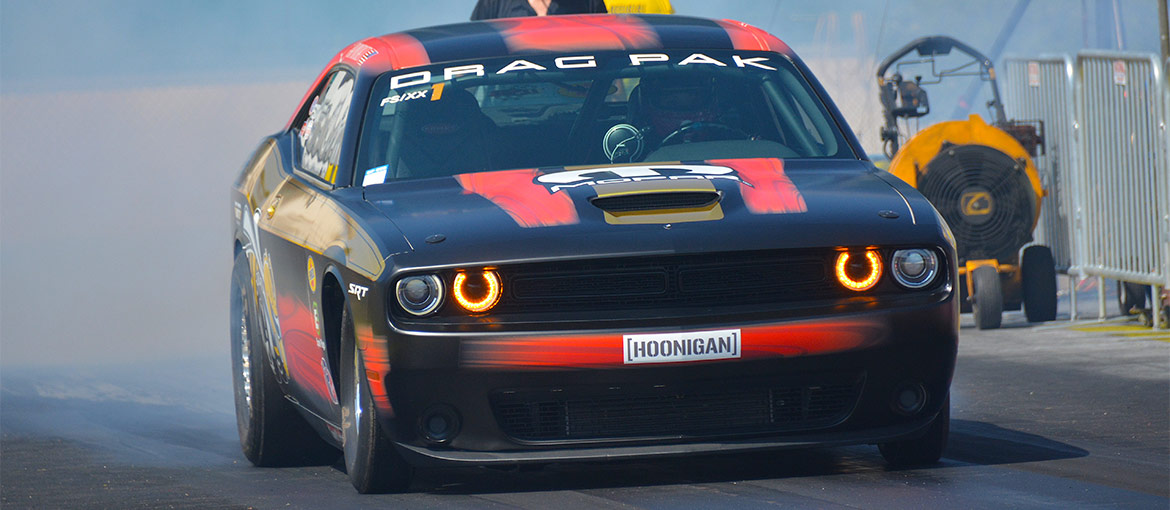 Last month, Pritchett qualified her Drag Pak in the top half of the FSS field with a great effort of 7.852 @ 173.87. This put Pritchett in the sixth spot out of 16 qualified entries all looking to win the whole shooting match. But it was during round one of eliminations that Pritchett faced off against Kevin Skinner in his Cobra Jet Mustang. Pritchett put a holeshot on the Ford with a great .024 reaction time and ran a 7.891 @ 172.59, but it wasn't enough to hold off Skinner, who ran a 7.799 @ 172.59.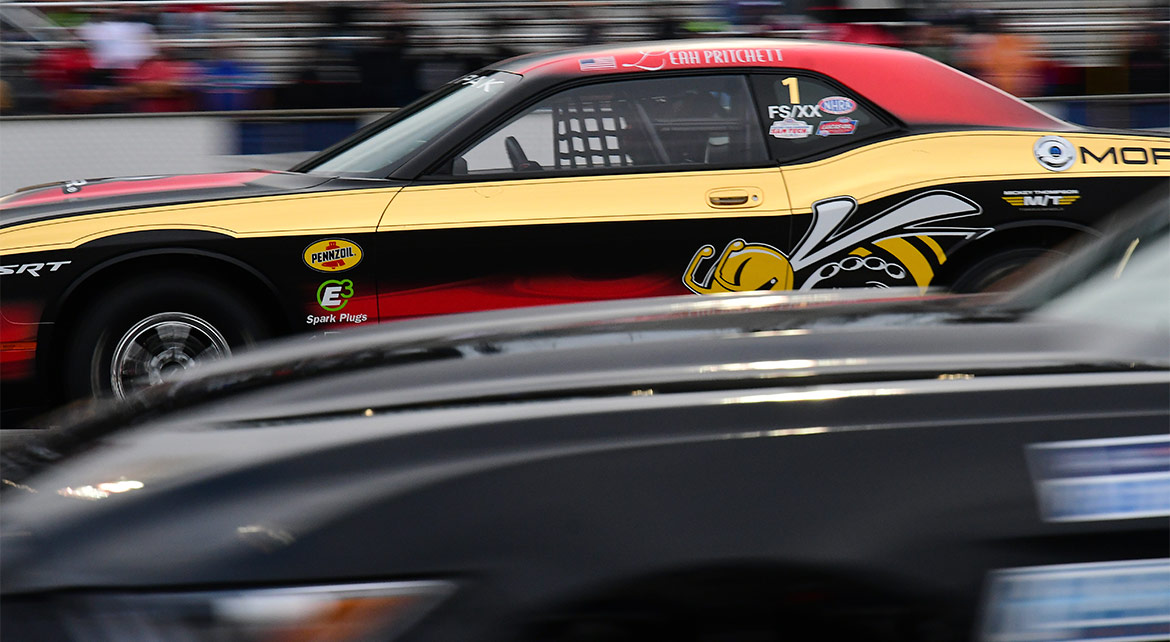 NHRA took notice and realized that now another manufacturer had a major performance advantage in the FSS field. After the Gatornationals, their Technical Department looked over all the run data from the Drag Paks, Cobra Jets and COPOs and implemented some changes. The "Brand X" teams probably weren't happy with these new changes and to that we say, "Welcome to our world." It was last year when the Drag Paks got hit with a 50-pound weight penalty for going too fast. Oh well, you know what they say about karma. What NHRA is doing to the competition is known as a balance of power (BOP) and this weekend's race in Charlotte will tell the tale on whether the NHRA has indeed "leveled the playing field." How this is done is quite simple, by changing the pulley diameter on the supercharger with a NHRA-mandated unit, it will affect boost, which, in turn, impacts how much horsepower the engine can make.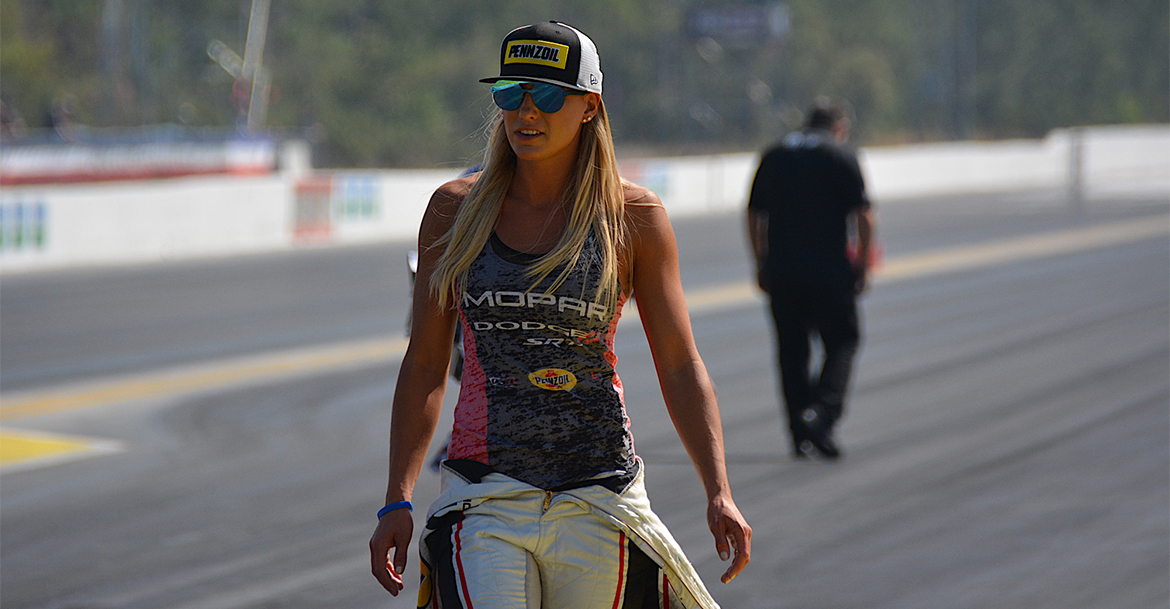 "This is a huge race for the class as a whole. I applaud NHRA for recognizing the huge strides our competitors were able to make given their additional power over the off-season," said Pritchett. "I do feel the pulley changes will bring more parity to the class, but we can't say if it will be enough until that first qualifying session on Friday. I can say that we'll be getting the maximum amount of speed and ET out of our 'El Bandito' Mopar Drag Pak. I know some people thought we were sandbagging at the end of 2018, and we did have good qualifying for results at last month's Gatornationals. But I believe that was very situational of prime weather conditions on Saturday morning in which many of our competition was not able to make it down the track by either spinning the tires or yanking the front wheels up too high. At the end of the day, this class continues to grow and be a fan favorite."
The 2018 NHRA FSS World Champ is so ready to get on her Drag Pak and hit the drag strip once again, she's ready to do a burnout, heat up the slicks and stab the throttle.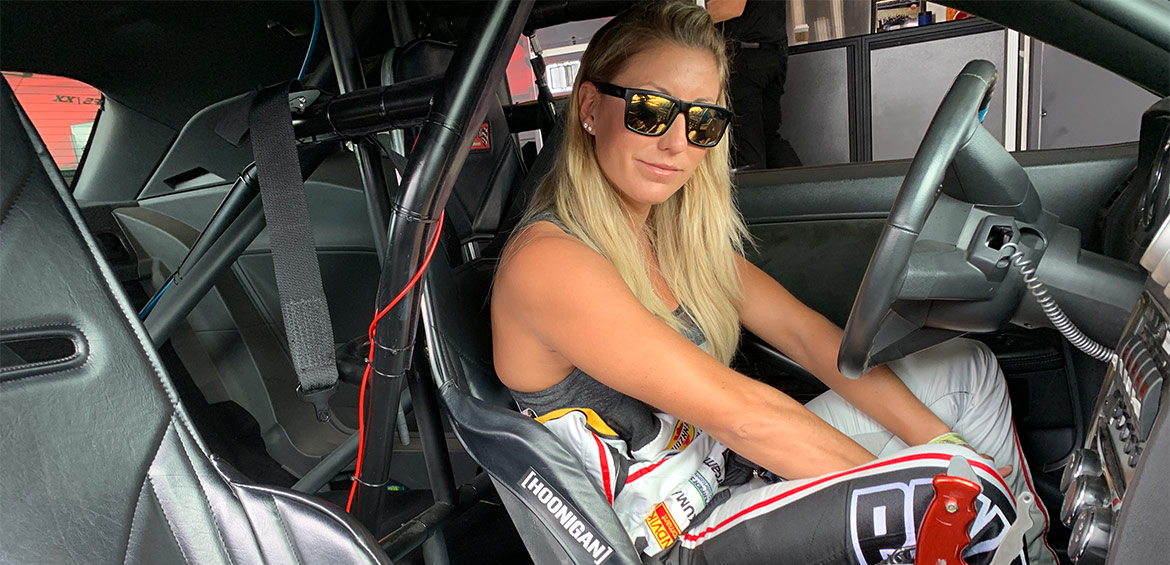 "We are coming into Charlotte, the second NHRA Factory Stock Showdown race, with a very similar combination than we entered the season with. We are squeezing as much horsepower as we can within the parameters we have to work with and doing some fine tune adjustments we think will work," said Pritchett. "We have not tested since Gainesville, but I can say that our teammate Mark Pawuk, 'The Cowboy', did test throughout this time, more specifically it was suspension based," exclaimed Pritchett.
Pritchett's Drag Pak crew chief, Kevin Helms – a former multi-time NHRA Stock Eliminator champ – knows the game all too well. Helms put both his driving and tuning experience to good use and it was these skills that helped Pritchett achieve her 2018 NHRA FSS World Championship. Helms is also wary about the new rules NHRA has imposed on the Cobra Jet Mustangs and COPO Camaros.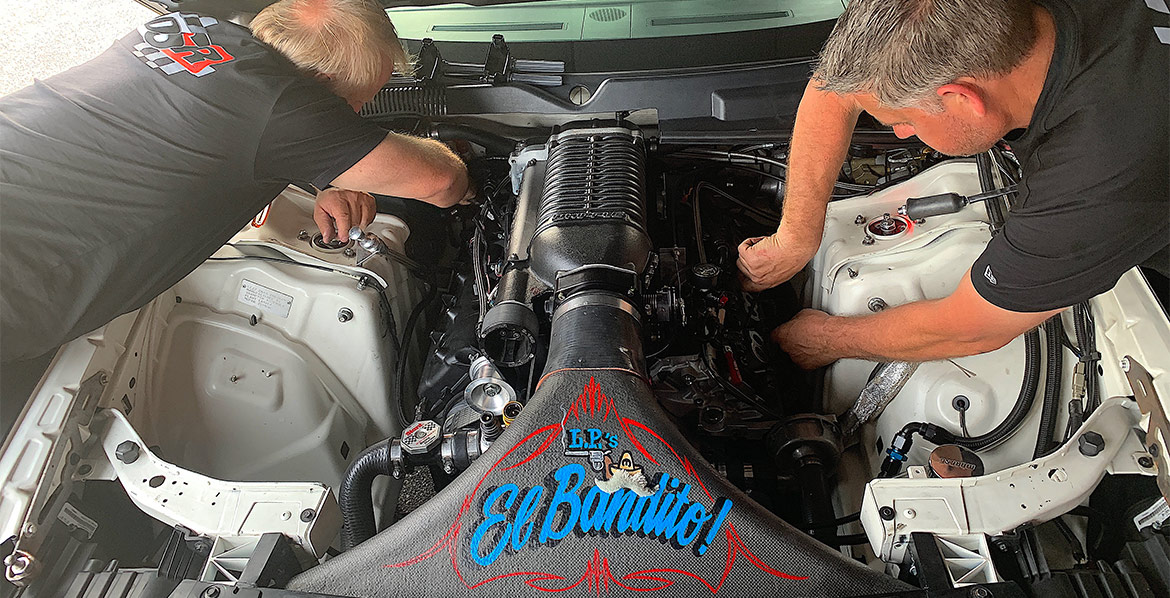 "My best guess is the Fords will slow about .08 to .10 of a second with the pulley change, but they have plenty of room to pick some of that back up down low. The Chevys, probably .04 or 05. of a second," said Helms. "We have four top-shelf engines that all make really good horsepower and for what they are, they're all within five horsepower of each other. As racers, you never quit looking for more, and they are never perfect…ever. The big hits are gone and it will be the expensive 1 to 3 horsepower gains until we get a new blower or Drag Pak approved."
Heading into Charlotte, there are 30 FSS entries for a 16-car qualified field, so almost half the racers may not even make it to the big dance for first round eliminations. Kevin Helms knows this and will be very methodical in his tune-up for both Leah Pritchett and Mark Pawuk.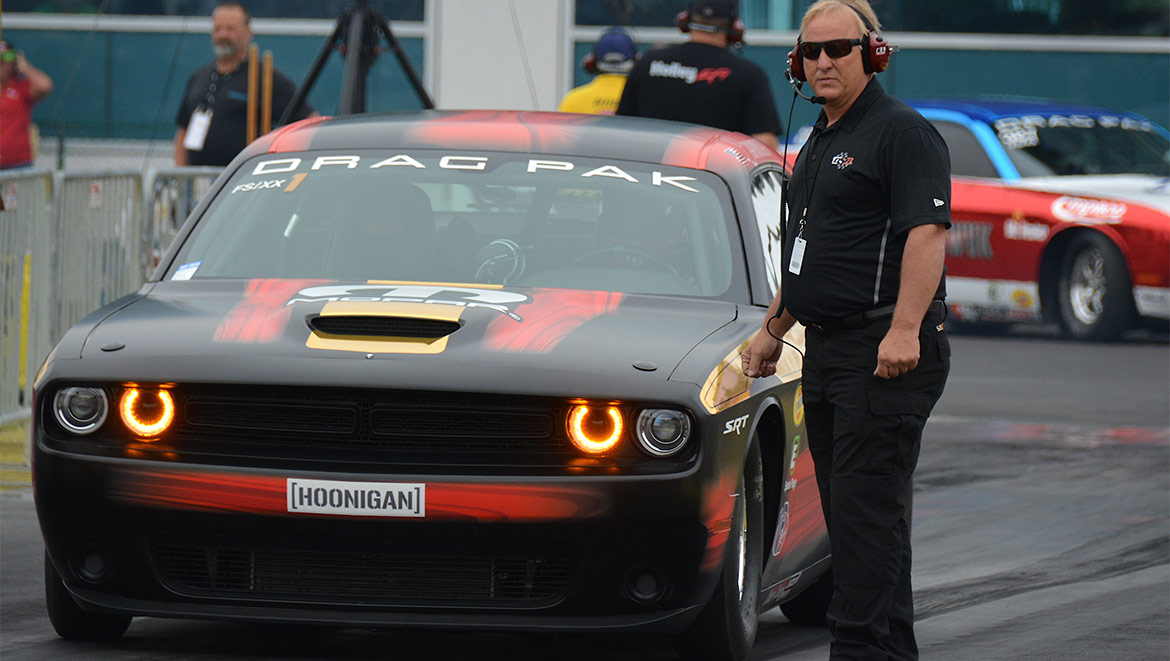 "My plan is to make good, fast runs from A to B and hope my drivers can get some on the tree. We are still a good ways behind in horsepower after the gifts Fords and Chevys got in January. If you look at Leah's 7.85 run at Gainesville, I just got a little lucky that hers stuck with a 1.15-second 60-foot time that was number one for the entire season so far. We will always go down swinging, and do the best we can with what we have," commented a very determined Helms.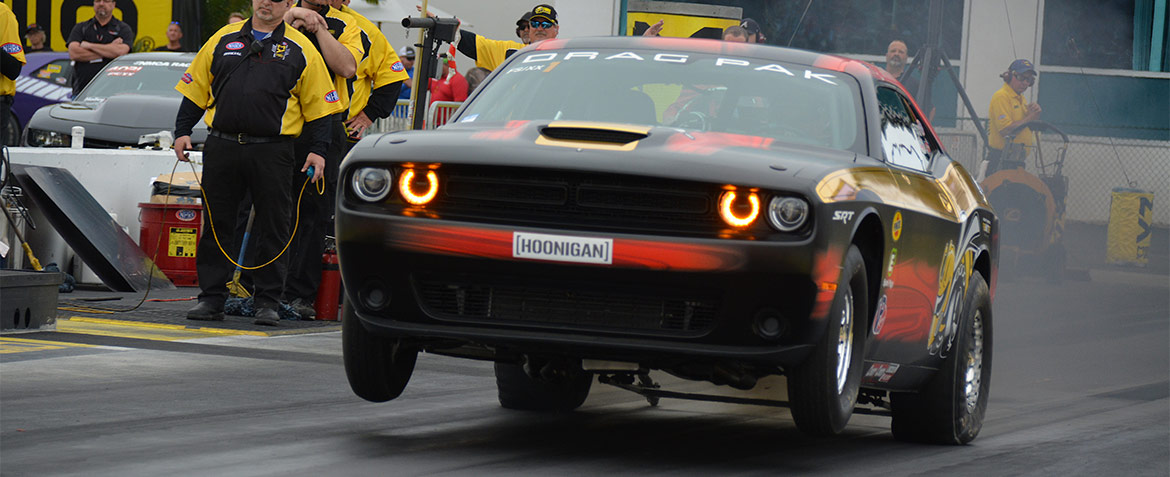 Qualifying for the Factory Stock Showdown class at the NHRA Four-Wide Nationals will begin this Friday, April 26, at 3:30 pm with the first round of eliminations on Saturday, April 27, at 3:45 pm. Pritchett knows it'll be tough this weekend but she's a hardcore competitor with a fast machine tuned by the best in the business. She's no stranger to winning in this class and when the odds are stacked against her, look out – she and "El Bandito" will come out fighting.
Comments
Comments