Ron Capps Back-to-Back
5 years ago Racing
Ron Capps became the first 2019 repeat winner in NHRA Mello Yello Drag Racing Series Funny Car competition Sunday in the second annual Virginia NHRA Nationals, making this his third victory this season. This win follows up Capps' Atlanta triumph two weeks ago, where he scored his 63rd career victory and his 30th win with crew chief Rahn Tobler and his first Wally at Virginia Motorsports Park.
The march to victory for Capps in his NAPA Dodge Funny Car began with a stout run in the opening round of 3.997 seconds at 313.58 mph to dispatch Jim Campbell, who smoked the tires approximately 300 feet into his run. Up next for Capps was a battle with current point leader Robert Hight in round two. This one was all about reaching the finish line first and the former champions staged a classic pedalfest with both cars losing traction multiple times, but it was Capps who was able to reach 1,000 feet first. His lap of 6.173 was enough to advance for another semifinal matchup with Tommy Johnson, Jr., where Capps took the starting line advantage and pulled away for the victory despite losing a cylinder as Johnson went up in smoke just after the hit and never recovered.
In his 121st career final, Capps was not to be denied as he left first on reigning Funny Car champion J.R. Todd and posted his second-best run of the day at 4.097 to capture the win. The victory moves Capps up to eighth all-time in wins with 63 and allowed him to jump from seventh to third in the championship standings.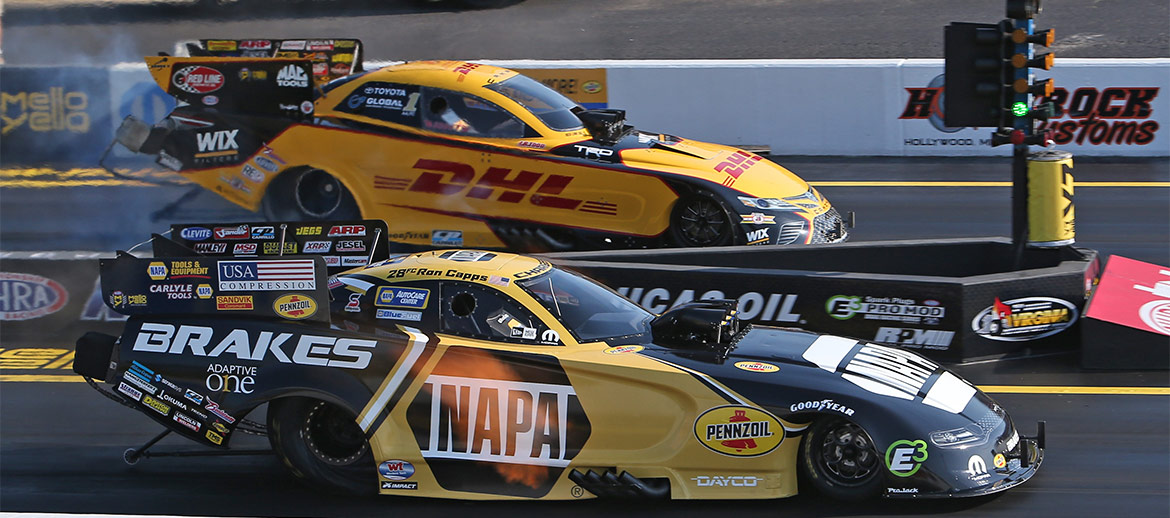 Tommy Johnson, Jr. continued his success in a hot climate this weekend aboard the Make-A-Wish Dodge Charger SRT® Hellcat. After a runner-up finish earlier this season in Las Vegas and a semifinal appearance two weeks ago in Atlanta, Johnson and the Make-A-Wish team have proven their Dodge Charger SRT Hellcat Funny Car can handle the heat. He qualified second with his second run on Friday and took care of business seamlessly in his opening round matchup against Terry Haddock with his pass of 4.027 seconds at 316.52 mph. With track temperatures reaching over 140 degrees, Johnson and fellow Charger SRT Hellcat Funny Car racer Jack Beckman were on the spot right away in round two when their machines quickly lost traction. Johnson was able to recover almost immediately and cruised to a victory over Beckman with his pass of 5.356. The victory set up a second consecutive semifinal matchup with Capps. Johnson lost traction early again, but this time, he wasn't able to recover and Capps knocked him out for the second consecutive event.
Beckman's bid for a second Virginia NHRA Nationals triumph was a bumpy one as his Infinite Hero squad was faced with the hottest conditions of the season. They struggled to get their footing during qualifying, eventually settling in the No. 10 starting position to secure a first-round draw with teammate Matt Hagan where both cars lost traction early and the two world champions were quick to get back on the throttle. Beckman was able to rein in his SRT Hellcat first and take the win. Beckman's luck ran out when he lost traction again during his second round race with Johnson and couldn't get his machine to recover in time to advance.
Two-time NHRA Funny Car world champion Hagan was looking for his second triumph of the 2019 season this weekend in his home state of Virginia. After qualifying the DSR Shelor Motor Mile Mopar® Dodge Charger SRT Hellcat seventh in the field, he matched up with teammate Jack Beckman and took the starting line advantage, but lost traction in a big way near the 800-foot mark. Beckman lost traction in his run as well, but Hagan wasn't able to gather his machine back in time to capture the win. The two are now tied with 22 victories versus one another in their 44 career races.
In Top Fuel, Leah Pritchett and her Mopar Dodge team led by Neil Strausbaugh and Todd Okuhara ventured to Virginia with high hopes. After losing in the second round two weeks prior in Atlanta, Pritchett was looking to utilize some valuable high heat data to make a deep run Sunday. She qualified sixth and that put her opposite of her DSR teammate Antron Brown to start the day. Unfortunately for Pritchett, her day was over almost as soon as it started. The tandem were the first pair to make a pass Sunday and Pritchett's machine lost traction almost immediately after her launch. Brown drove away with the victory, posting a lap of 3.872 seconds at 312.42 mph compared to Pritchett's run of 5.388 seconds at 139.06 mph.
The DSR team heads to Illinois for the Route 66 Nationals May 30th-June 2nd. Will Capps be able to secure a "three-peat"? Stay tuned to DodgeGarage to find out!
Comments
Comments
Next