Johnson's Win Makes 3 for Dodge Charger SRT® Hellcat Funny Car
4 years ago Racing
Tommy Johnson Jr. raced to his first win of the season at the 22nd Annual Route 66 NHRA Nationals near Chicago on Sunday, June 2. This win moves him up to second place in the Funny Car point standings. The win was the 18th of Johnson's career in his 50th overall final and the second of this season. It marked his first victory since the NHRA Finals in November 2017, ending a 32-race drought. The triumph was also the second for the Make-A-Wish Dodge Charger SRT® Hellcat driver in five career final-round appearances at Route 66 Raceway.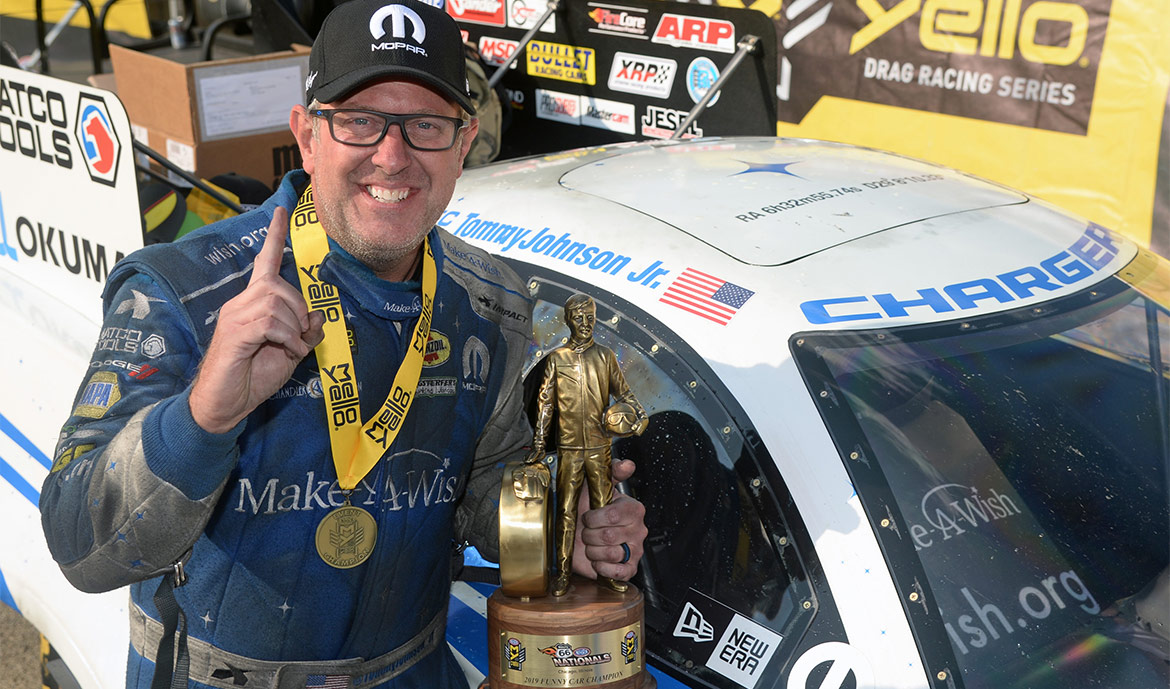 The Don Schumacher Racing (DSR) pilot led a field of seven Dodge//SRT Mopar® Funny Car drivers into eliminations, with five advancing out of the opening round and two into the semifinals. Johnson's Chicago win marks the third in a row for Dodge//SRT Mopar following victories at Atlanta and Richmond by DSR teammate Ron Capps, and is the fourth in nine races this year for the Charger SRT Hellcat.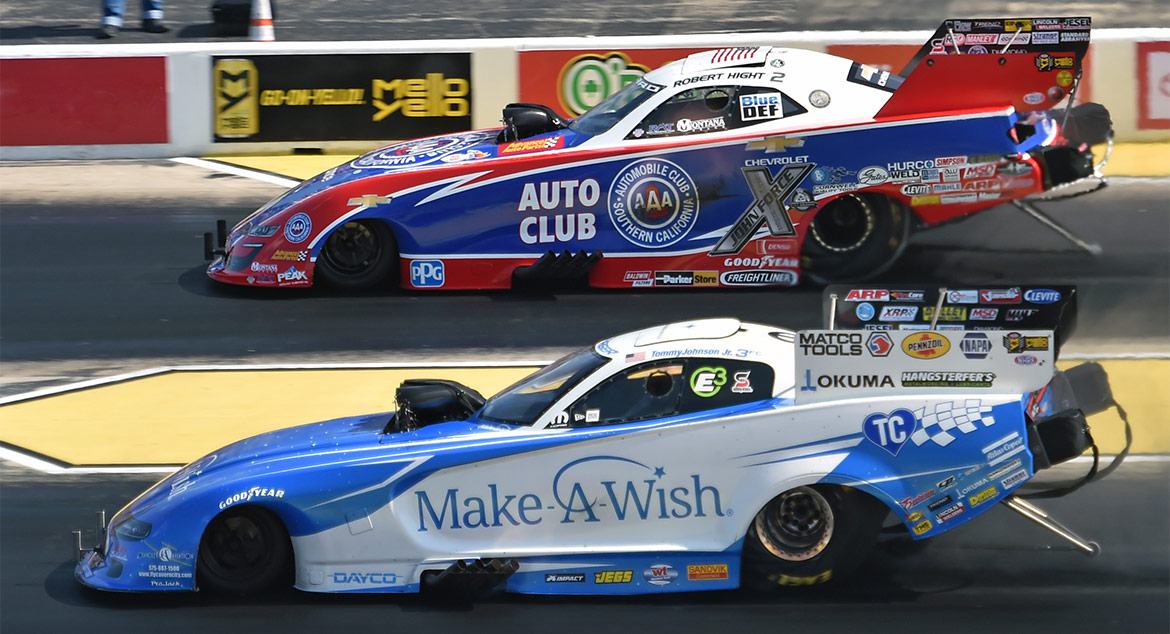 Johnson kicked off race day from the No. 2 spot after a strong qualifying effort that saw the 2015 Chicago event winner collect six bonus points. He posted a steady 3.946-second elapsed time (ET) in round one to defeat fellow Dodge Charger driver Paul Lee, and was even better in the quarterfinals with the quickest pass of the round at 3.941 seconds to outrun DSR Mopar Dodge teammate Matt Hagan.
Johnson left first in the semifinals against John Force with a quicker .081-second reaction time to Force's slower .137 mark, earning him the holeshot win on a 3.972/321.81 run and a spot against No. 1 qualifier Robert Hight in the final round. Hight knocked out three Dodge machines on his path to the final but Johnson ended that trend in dramatic fashion, overcoming a "boom and bang" under the hood to hold off Hight, who smoked the tires early, at the stripe.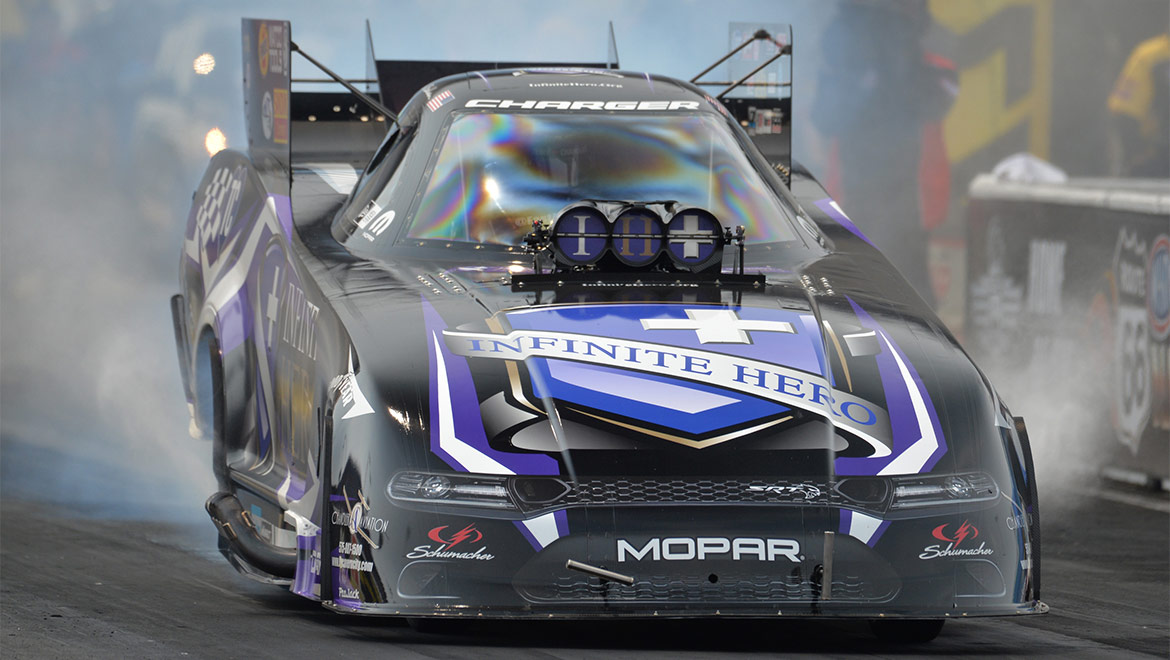 The 2012 Funny Car world champion and Infinite Hero Foundation Dodge Charger SRT Hellcat Funny Car driver "Fast" Jack Beckman lived up to his nickname when he unloaded with a 3.930 ET at 329.18 mph against Blake Alexander in round one, which held up to be the quickest and fastest of race day.
In round two, Beckman ripped off another impressive run, a winning 3.962 ET over Jeff Arend. The semifinal round pitted Beckman against current point standings leader Hight. Beckman suffered an uncharacteristic miscue when he stood on the throttle early and activated the red light, handing the round win to his opponent.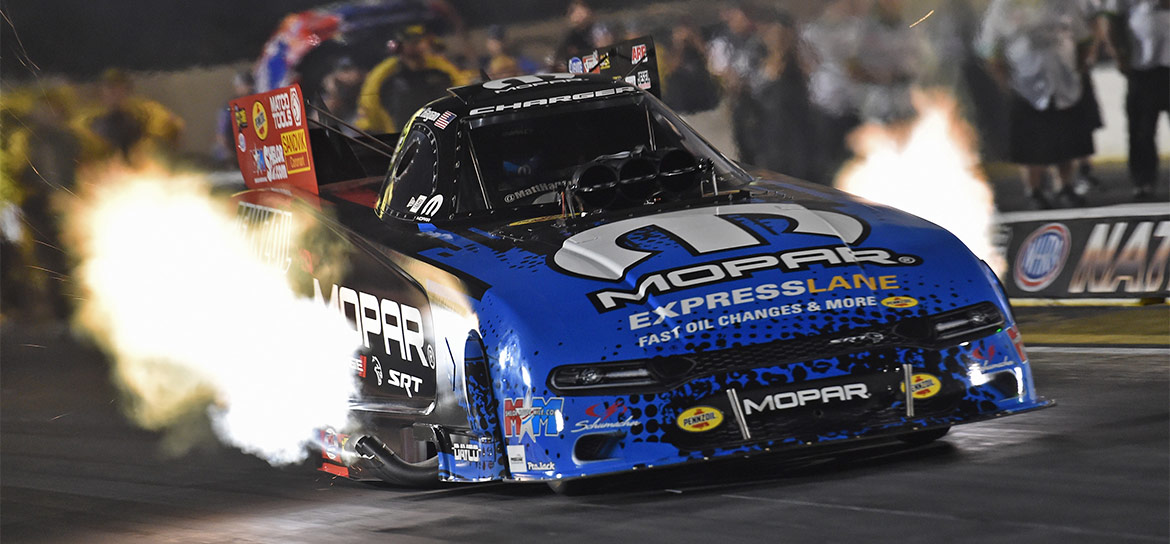 Hagan used the final qualifying session on Saturday to jump his Mopar Express Lane Dodge Charger SRT Hellcat Funny Car into the top half of the field at No. 7, and he carried that momentum into Sunday with a winning 3.954/328.46 first-round pass against Bob Tasca III. The three-time Chicago event winner was trailing in a close battle with DSR teammate Johnson in the quarterfinals when a dropped cylinder down track ended any hopes of yet another Route 66 Raceway victory by Hagan.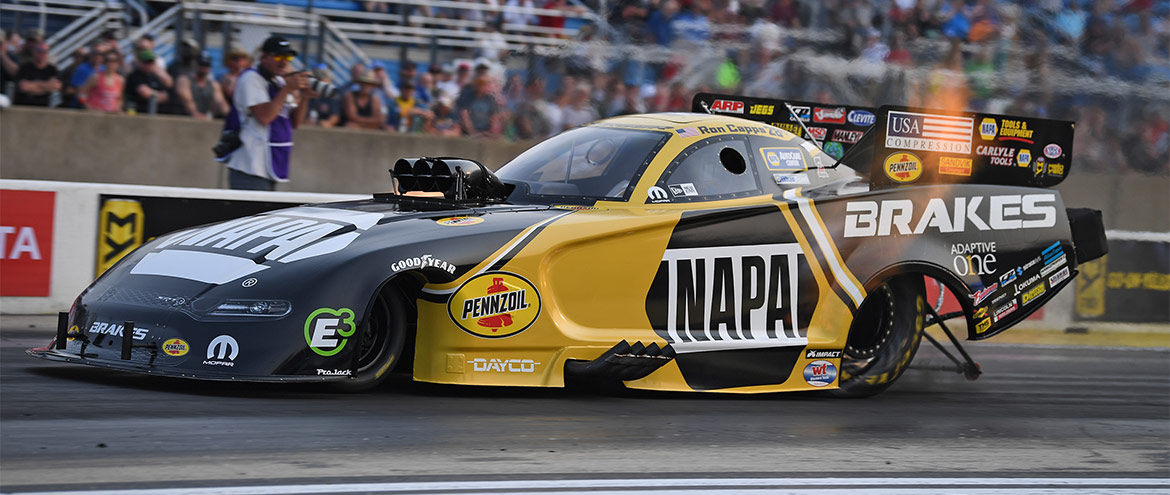 Back-to-back NHRA event winner Ron Capps, runner-up last year at Chicago, entered race weekend seeking his third consecutive victory. The Mopar-powered NAPA Dodge Charger SRT Hellcat driver collected six bonus points in qualifying to begin race day from the No. 3 seed. Capps defeated Bob Bode in round one but the DSR driver's streak of nine consecutive round wins would come to an end in the Joliet quarterfinals when he was defeated by Force during the 102nd head-to-head race day matchup between the two stars.
Cruz Pedregon, one of five Mopar Dodge Charger SRT Hellcat Funny Car drivers to qualify in the top half of the field, was also one of five SRT Hellcat pilots to advance to the second round at Chicago. Pedregon took out Tim Wilkerson, but bowed out against Hight in the quarterfinals. Dodge driver Jim Campbell also lost to Hight in round one.
In Top Fuel, Leah Pritchett, runner-up last year at Route 66 Raceway, qualified eighth in her Okuma Mopar Dodge Top Fuel dragster. She faced off with T.J. Zizzo in round one and was first to leave the starting line, but as Pritchett neared halftrack, mechanical issues resulted in a fiery engine "boom" and caused a rear tire to blow. She skillfully avoided the wall and was able to guide her car safely to rest, but her competitor drove to the round win.
Comments
Comments