Dragging Down to Indy for the NHRA "Big Go" in the Challenger R/T Scat Pack 1320
4 years ago Racing
When you're driving to the oldest and most prestigious drag race on the planet, your mode of transportation should be in that same theme. That's why when it came time to head to Indy for the 65th annual NHRA U.S. Nationals, we grabbed an F8 Green Challenger R/T Scat Pack 1320 and pointed that sucker southwest out of Motor City and to the crossroads of America. With a 485-horsepower 392-cubic-inch HEMI® V8 engine under the hood that has no limit, I had to practice some restraint with my right foot. Those long straight stretches on Highway 69 between the Michigan state line and Indianapolis became a blur while the mile marker signs on the side of the road zoomed by with increasing frequency. Come on, man, step on it! We needed to get to the U.S. Nats, the "Big Go," the granddaddy of drag races. The one event any competitor would give up their firstborn to win. With Sportsman qualifying and eliminations beginning in the middle of the week and Pros running throughout the weekend, the U.S. Nats features a multitude of classes competing on the same track during the same event. Taking six days to complete all eliminations, the U.S. Nats is the longest race on NHRA's grueling 24-event schedule that crisscrosses the country like a power grid.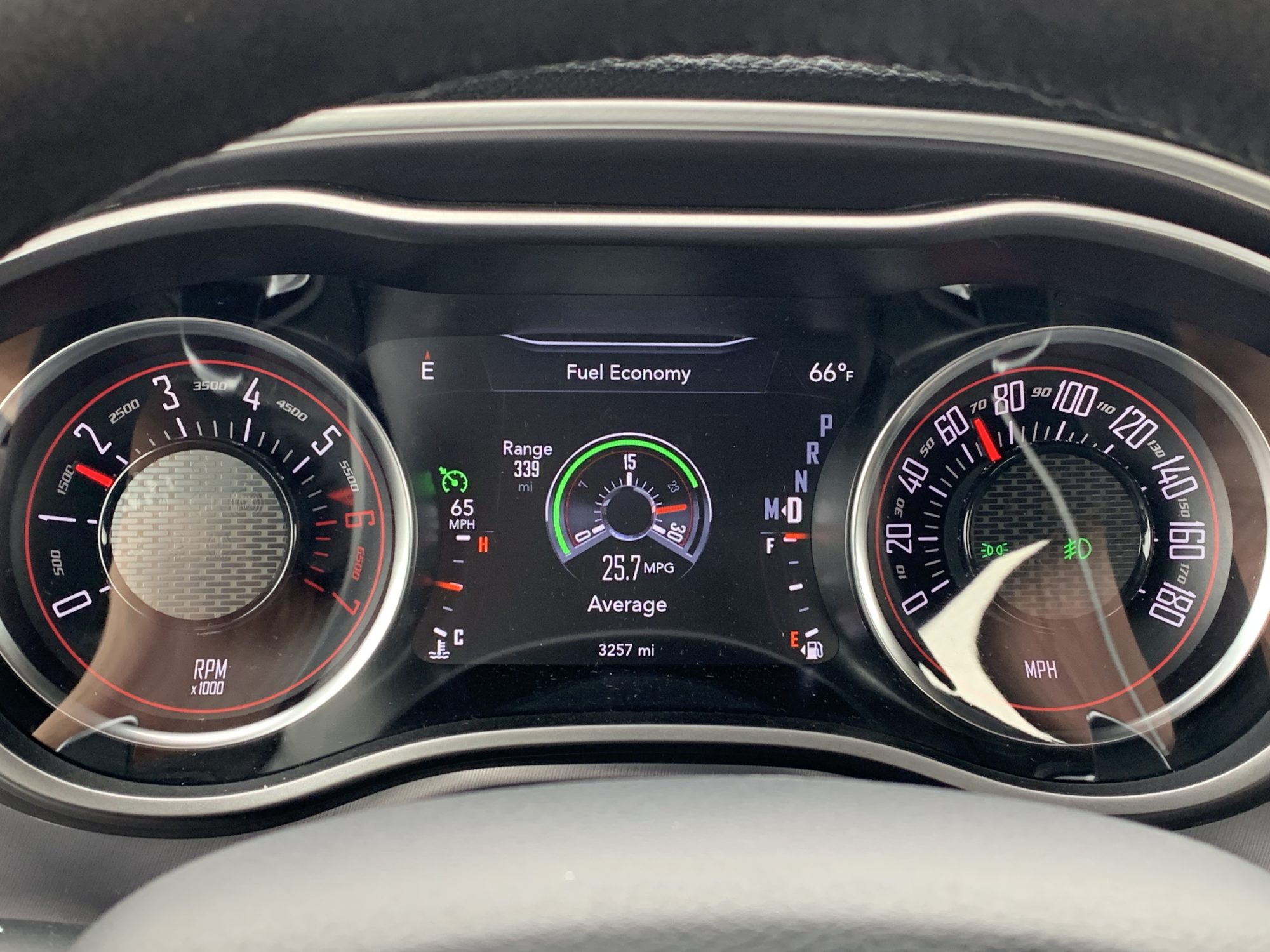 I have been attending the NHRA U.S. Nationals for over two decades – yeah, I know, I'm old in age but young in spirit. That's why I still get giddy and excited when I roll into Indianapolis Raceway Park, otherwise known as IRP among the racers who live life going as fast as they can in 1,320 feet (or 1,000 feet if you're a Top Fuel or Funny Car racer). I had raced here many years ago in the Stock Eliminator class behind the wheel of my 1972 Plymouth Road Runner. Now, the drive to the NHRA U.S. Nats in a stock Challenger Scat Pack 1320, with all the comforts of home, is faster than in my all-out, non-street-legal, Stocker racecar. Technology is a good thing and the fact the Challenger Scat Pack 1320 averaged over 23 mpg on the highway meant only one stop on the five-hour drive down from Detroit. I was able to get through the front gates and into the pits at IRP sooner than expected. Good thing, they had already called the Super Stockers into the staging lanes for their first qualifying session.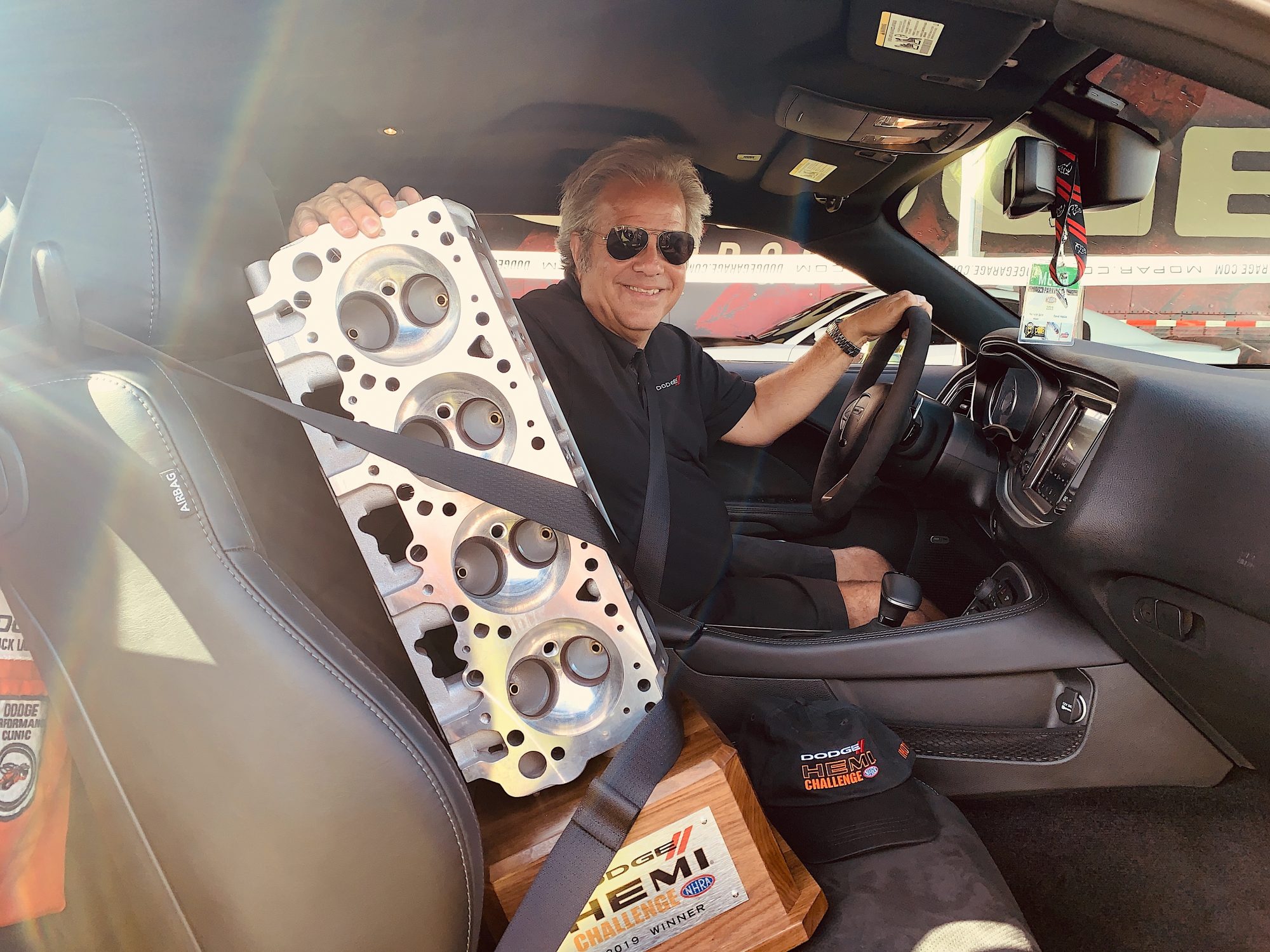 I was also carrying some precious cargo in the Challenger 1320's cabin. I was transporting the Dodge HEMI Challenge winner's trophy. Weighing in at over 42 pounds and with a height close to three feet tall, it's quite a sight to behold. The Dodge HEMI Challenge has been a U.S. Nats tradition since 2001 that celebrates the iconic 1968 Super Stock HEMI Dodge Dart and Plymouth Barracuda that have raced and won here for over 50 years. The lightweight, purpose-built, "package cars" epitomized Chrysler's efforts to dominate the Super Stock classes back in the late 1960s. Classified in various categories over the years, these HEMI engine-powered Darts and Barracudas race in SS/AH class and have been a fan favorite at the "Big Go" for decades. That's why I felt it was appropriate that we lead this pack of angry elephants up IRP's return road before the first round in Dodge's purpose-built Challenger 1320 drag machine that you can drive every day. Speaking of driving, I corralled former Chrysler factory racer Herb McCandless and put him behind the wheel of the 1320 for the parade lap. Herb was more than qualified for this task, he won here in 1970 driving the Sox & Martin HEMI engine-powered Plymouth Duster in Pro Stock. Herb also worked directly with the Chrysler Race Engineers in developing performance parts and was instrumental when Mopar®'s Direct Connection program was launch in 1974.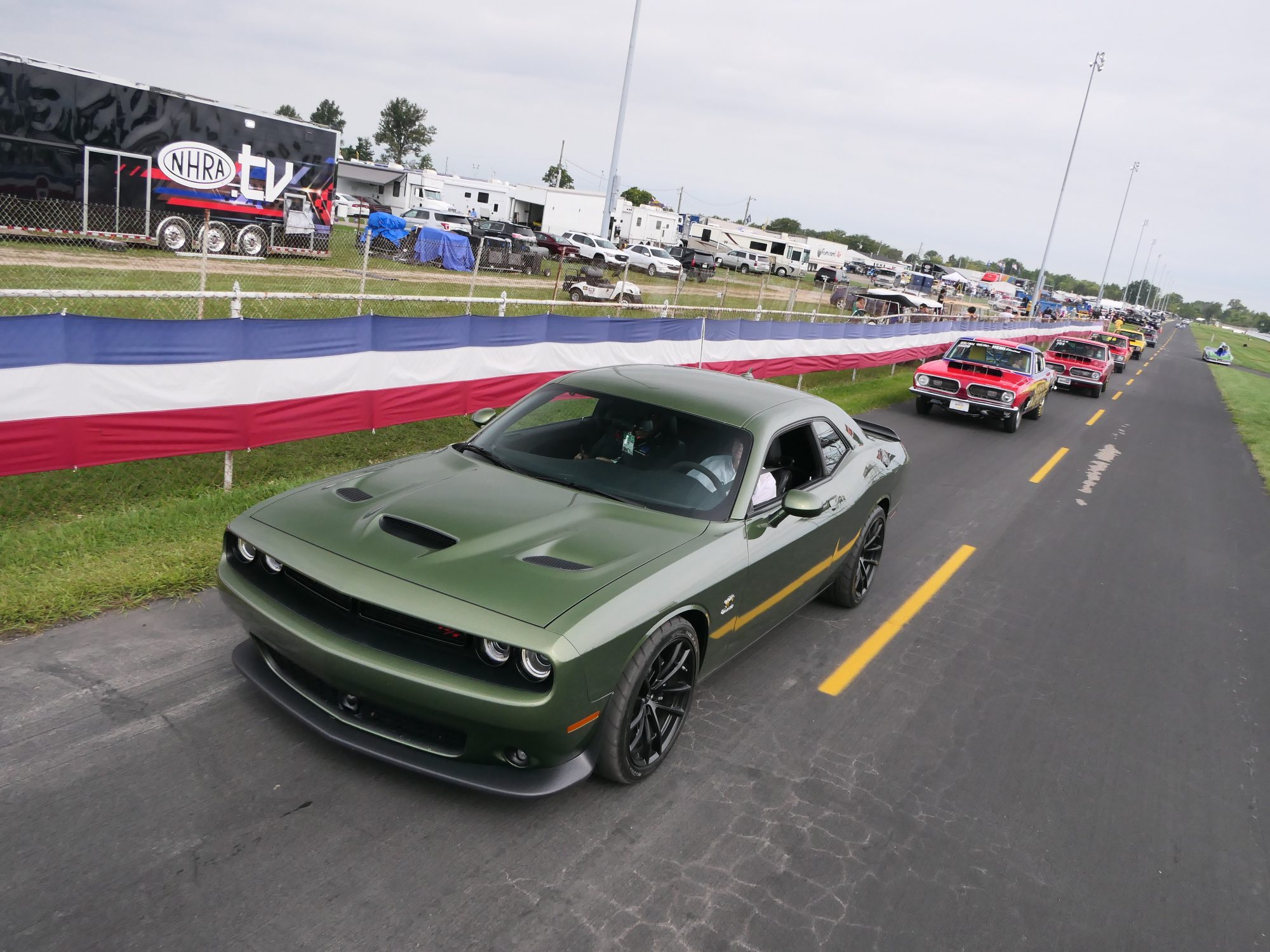 Another doorslammer class that was racing for all the glory at Indy was the Factory Stock Showdown. It's here that the supercharged HEMI Mopar Dodge Challenger Drag Paks battle with COPO Camaros and Cobra Jet Mustangs. I stopped by Leah Pritchett's trailer and checked in with Kevin Helms and Terry Snyder. These two crew members tune and prepped both Leah's and Mark Pawuk's 1,300-horsepower Challenger Drag Paks. Both Kevin and Terry work their butts off in making sure these seven-second machines are ready to race when they roll out of the trailer. That was evident as Mark Pawuk was the number-one qualifier out of the 29 Factory Stock Showdown entries. It's amazing how close the Challenger 1320 resembles its Drag Pak cousin and vise-versa. I could virtually unbolt anything off Leah's world championship Drag Pak and put it on the 1320, that's how close these two machines are related. While I was there, the NHRA Tech Department made an unannounced visit to check the 354-cubic-inch HEMI engine in the Drag Pak to make sure it was "legal" and built within the stringent rules for the class. After an hour of probing and checking, the Drag Pak passed with flying colors.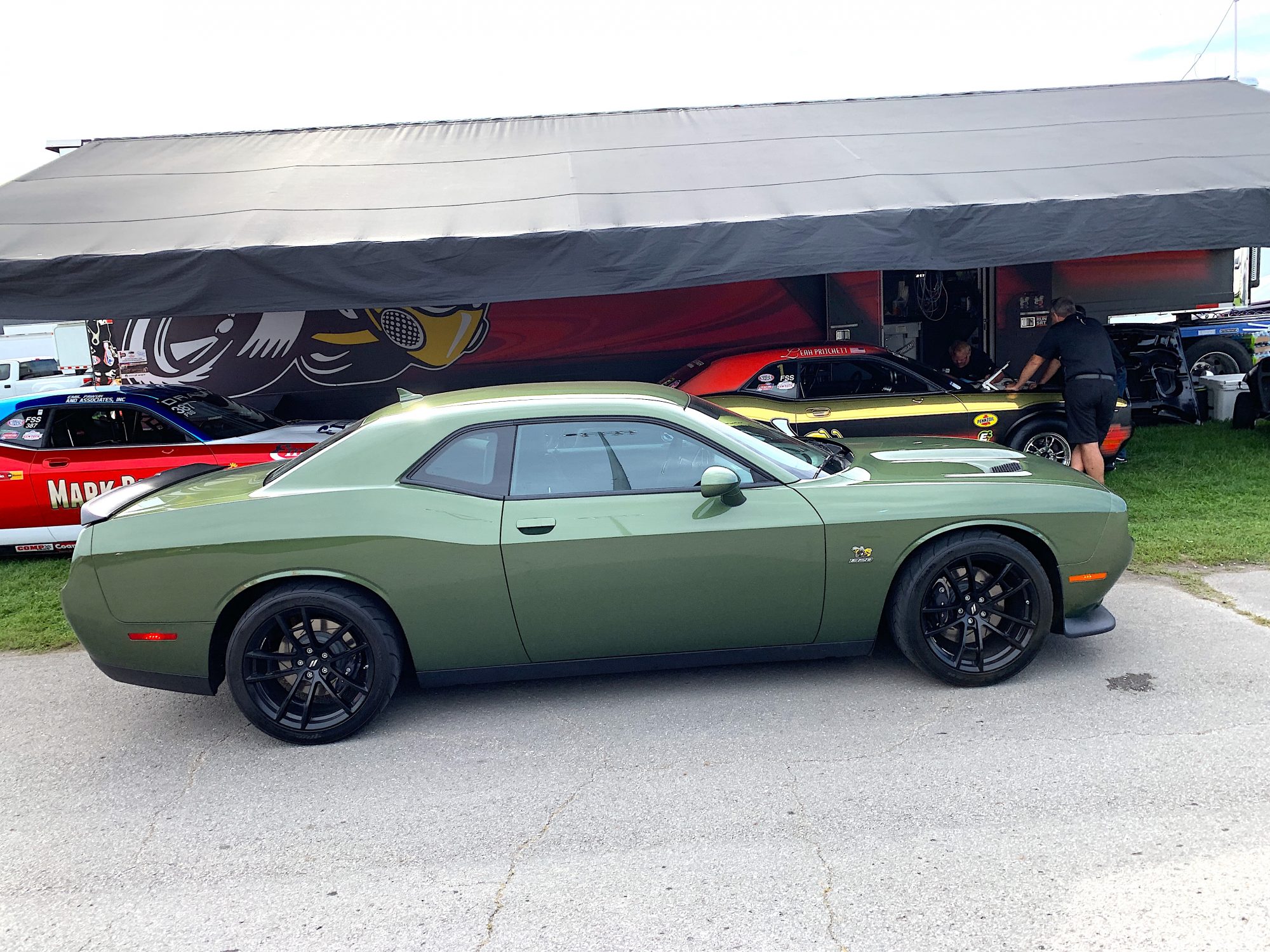 Having the Challenger 1320 at a drag strip but not able to make a pass was sheer torture for me, especially after racing the weekend before at the NMCA All-American Nationals in Norwalk, Ohio, in my 2015 Challenger Scat Pack Shaker. I wanted more but after all, I was at NHRA's biggest show, which included Top Fuel Dragsters, Funny Cars, Pro Stocks and numerous Sportsman classes. There were almost 1,000 racecars in the pits at IRP that had to get down the track, so I didn't want mess up the program. The Challenger 1320 did get a lot of attention at the NHRA U.S. Nationals. How cool was that, here's a production street car among all these million-dollar race machines and yet many fans still asked me what it runs in the quarter-mile, what engine is under the hood and how much it costs. Yep, the Challenger 1320 was among its people and in its natural environment. I'm hoping the 1320 and I will have another date soon so I can give its Nexen Drag Radials a workout while throwing it in Drag Mode, activating the Line Lock and Trans Brake. But until then, we will always share the memory of the 2019 NHRA U.S. Nationals and being a part of the "Big Go." But for those of you that didn't make it this year, check out the awesome photo gallery from this year's NHRA U.S. Nationals!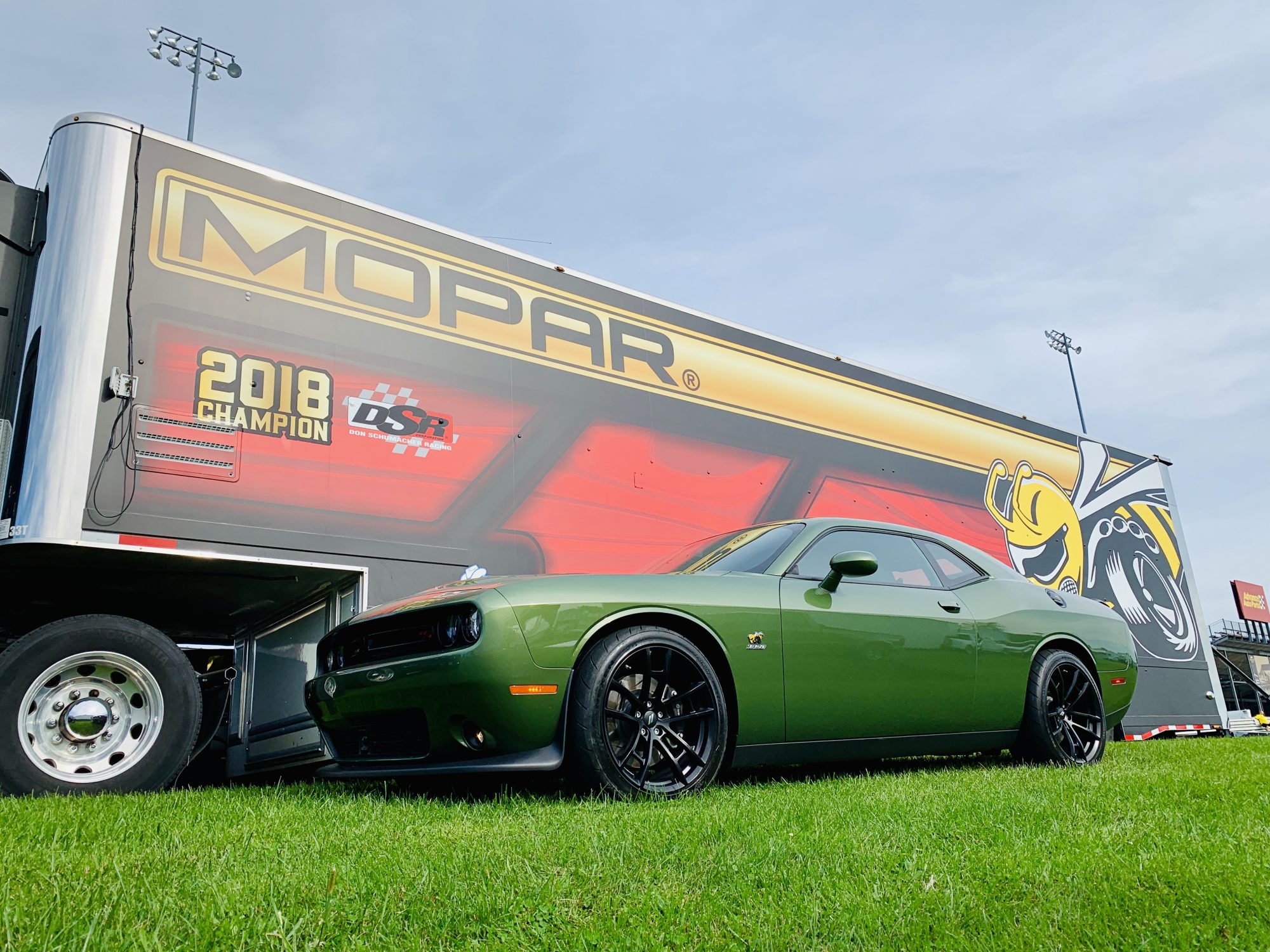 Comments
Comments
Previous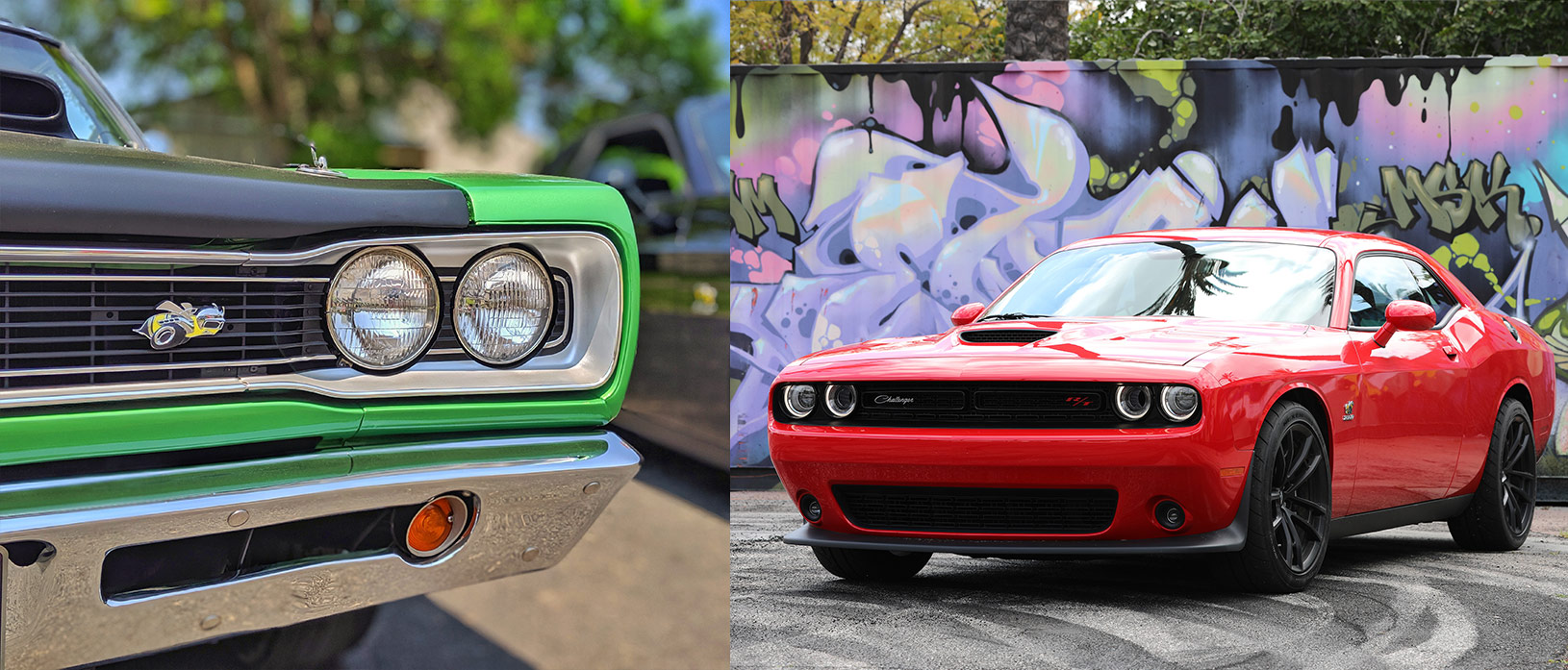 Next