Jack Beckman Continues NHRA Countdown Momentum
3 years ago Racing
Jack Beckman led the brigade of Dodge//SRT® Mopar® drivers into Monday's rain-delayed elimination rounds of the 13th annual NTK NHRA Carolina Nationals at zMAX Dragway near Charlotte. His weekend run moved Beckman up to second place in the point standings halfway through the six-race Countdown to the Championship playoffs.

Beckman opened the weekend earning his 26th career No. 1 qualifier and led five other HEMI®-powered Dodge//SRT Mopar drivers into the Funny Car field. He was joined in the semifinals Monday by fellow Don Schumacher Racing (DSR) teammates Matt Hagan and Ron Capps.

Sunday's rain delay didn't seem to faze Beckman, who was fast out of the gate Monday, putting up the best run in the class of the weekend, 3.864 seconds, in his opening-round victory over Dale Creasy. In the second round, he and DSR teammate Tommy Johnson, Jr. squared off. Beckman was smooth again, turning on the win light with a pass of 3.932 seconds at 323.27 mph over a tire-smoking Johnson. Beckman faced another Dodge//SRT and DSR teammate in the semifinals. This time it was Capps and Beckman was able to avenge an earlier loss to reach his sixth final of the season and second in three Countdown races.

Beckman had the opportunity he was hoping for, facing points leader Robert Hight in the final. Unfortunately, his chance at career win No. 30 turned up red when Beckman left the starting line 0.080 seconds early, giving Hight the win. It was Beckman's first red light in a final in more than a decade. He resumes his championship run Friday in Dallas trailing Hight by 44 points.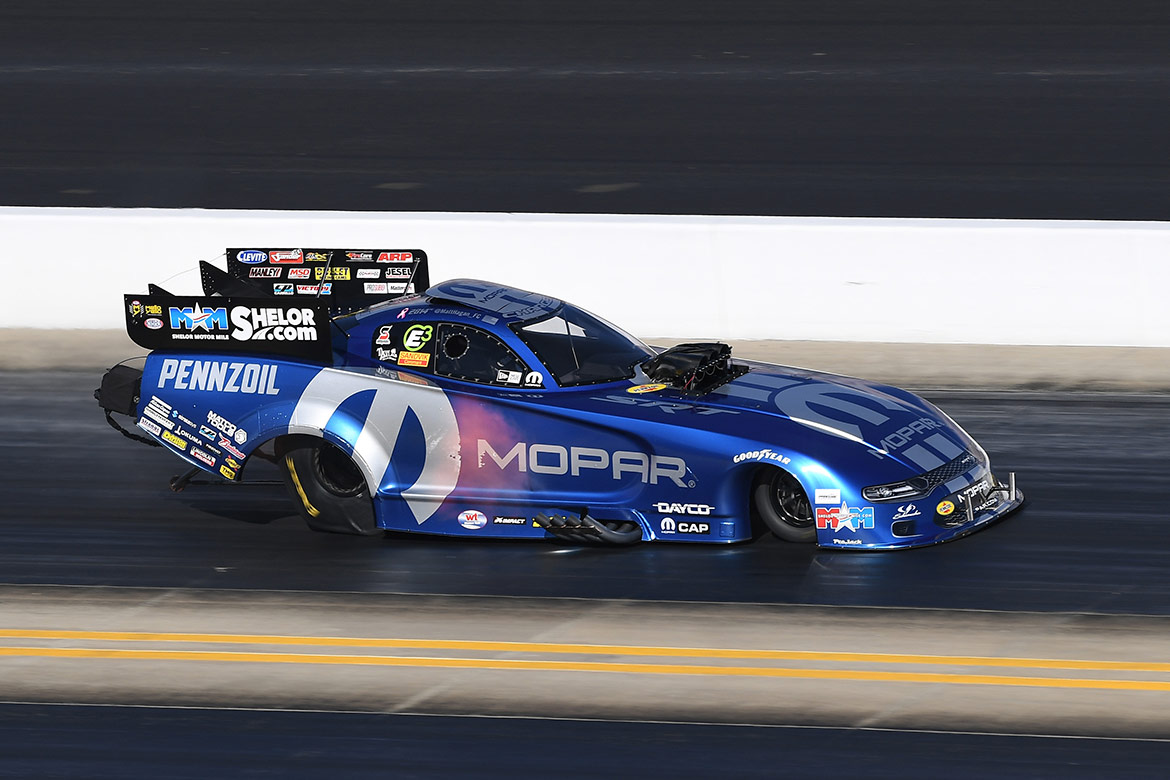 The goal for Hagan entering the weekend was to pick up a third Charlotte Countdown victory to supercharge his chances for a third Funny Car world championship. To accomplish that, Hagan and crew chief Dickie Venables knew consistency was going to be the key to their success.

Hagan and his Mopar Dodge Charger SRT Hellcat Widebody Funny Car continued getting better as the weekend went along. He qualified third with his final qualifying run of 3.880 seconds. Hagan defeated Dave Richards in Monday's opening round with a lap of 3.937 seconds. He made it three straight wins over Bob Tasca III in the second round with a holeshot victory to reach his seventh semifinal of 2019. Hagan had the opportunity to take out points leader Robert Hight and took the starting line advantage with a .066-second reaction time but couldn't hold Hight off for the win. Hagan heads to Dallas trailing Hight by 147 points.

Capps continued his qualifying prowess aboard his Dodge Charger SRT Hellcat Funny Car, earning the No. 4 position and landing in the top half of the field for the sixth consecutive race, setting up a first round matchup with fellow Dodge Charger SRT Hellcat driver Jim Campbell. Capps made it nine straight wins in nine races with a strong pass of 3.962 seconds. That set up a race between two of the winningest Funny Car drivers of all-time in Capps and John Force. In the duo's 105th career matchup, Capps came out on top with his 3.908-second ET versus Force's 3.912-second run. In his way for a second consecutive Charlotte Countdown Wally was Beckman, whom he had faced only once previous this season. In his second semifinal appearance during the first three Countdown events, Capps was not able to overcome his teammate. Capps leaves Charlotte fourth in the championship standings, 90 points behind Hight.
Tommy Johnson, Jr. made his best qualifying run during his final opportunity Saturday afternoon, clocking a pass of 3.950 seconds to qualify eighth and earn a top-half starting positing for 17th time this year. He faced fellow Dodge Charger SRT Hellcat driver Cruz Pedregon in the first round, where Johnson drove his Make-A-Wish Foundation Dodge Charger SRT Hellcat to his quickest pass of the weekend, 3.916 seconds at 322.04 mph, to earn the win over a tire-smoking Pedregon.
Johnson's win set up a seventh meeting this year against fellow DSR and Dodge//SRT runner Beckman. Johnson was first on the throttle but started to haze the tires early into the run. He pedaled it and was able to get his machine to recover but Beckman had already powered away en route to his fifth triumph of Johnson in 2019. Johnson still has a chance at the 2019 Funny Car crown but it will be an uphill climb from the eighth position with only three events left.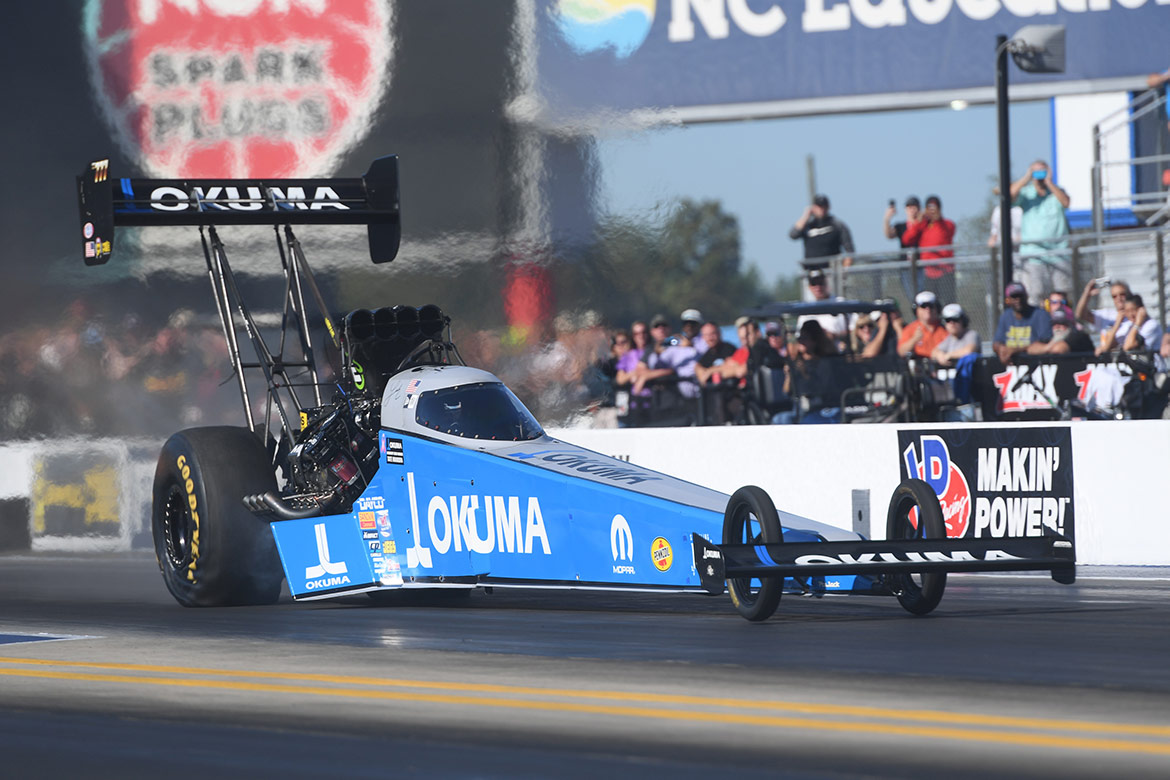 In Top Fuel, Leah Pritchett used a strong pass in Saturday's final qualifying session in her HEMI-powered Okuma Dodge//SRT Top Fuel Dragster for DSR to earn the No. 2 position in eliminations for the fifth time in 2019. Pritchett was scheduled to face No. 15 Chris Karamesines in the opening round but "The Greek" had a problem following the burnout and backed his machine off the starting line. In her solo run, Pritchett lost traction early and clicked off the run, coasting to 1,000 feet with a pass of 5.466 seconds at 123.42 mph. In round two Pritchett faced Doug Kalitta for the 21st time of her career, looking to gain ground in the Countdown standings by knocking out a fellow title contender. Unfortunately, her chances for victory vanished quickly again as smoked tires just past the 60-foot mark led to her demise. Despite the second-round defeat, Pritchett climbed to fourth in the championship standings.
Mopar Dodge//SRT NHRA Sportsman Spotlight
Steve Comella and Larry Hill were winners of the Dodge Top Finisher honors in Super Stock and Stock Eliminator, respectively.

Comella drove his 1968 HEMI Dodge Dart to a fourth-round finish in Super Stock. The Webster, New York, racer had dialed in a 8.65 ET but posted a pass of 8.647 and broke out of his bracket by 0.003 seconds.

Hill's A/SA 1970 Plymouth 'Cuda powered through the third round consistently running low 10-second times throughout the weekend. His run toward victory ended with a pass .080 seconds too fast and he was eliminated.

The Dodge Top Finisher award, now in its third year, awards $500 to Stock Eliminator and Super Stock drivers who advance the furthest behind the wheel of a Mopar-powered Dodge, Chrysler or Plymouth race car at all 24 NHRA national events.
The DSR team heads to Texas this weekend and they are looking to settle some scores. Tune into DodgeGarage for all the latest race coverage.
Comments
Comments