"Fast Jack" Beckman Wins NHRA Finals
3 years ago Racing
It was a season finale NHRA wanted – drama, intrigue, tension and heated exchanges between racers. Of course, packed grandstands during the annual NHRA Finals at Auto Club Raceway at Pomona, California, was the icing on the cake. At stake was the world championship being contested in Top Fuel, Funny Car and Pro Stock. With constant reshuffling of the points standings during the Countdown to the Championship – NHRA's playoffs – it would come down the last race of the year. The unpredictability of drag racing left the door open for some racers to move up in points while others saw their hopes of claiming a championship go up in blazing tire smoke. For two of our Dodge//Mopar® drivers, Matt Hagan and Jack Beckman, they rolled into Auto Club Raceway still in the hunt to claim a Funny Car world championship. There was only one problem, they'd have to get around Robert Hight's Camaro as he still had a solid points lead going into the NHRA Finals. Qualifying strategy would determine what side of the eliminations ladder the competitors would be on. There was a chance for Hagan or Beckman to be crowned world champ, but it was not to be. Hight got the massive NHRA trophy, but the Dodge Boys didn't leave Pomona empty-handed.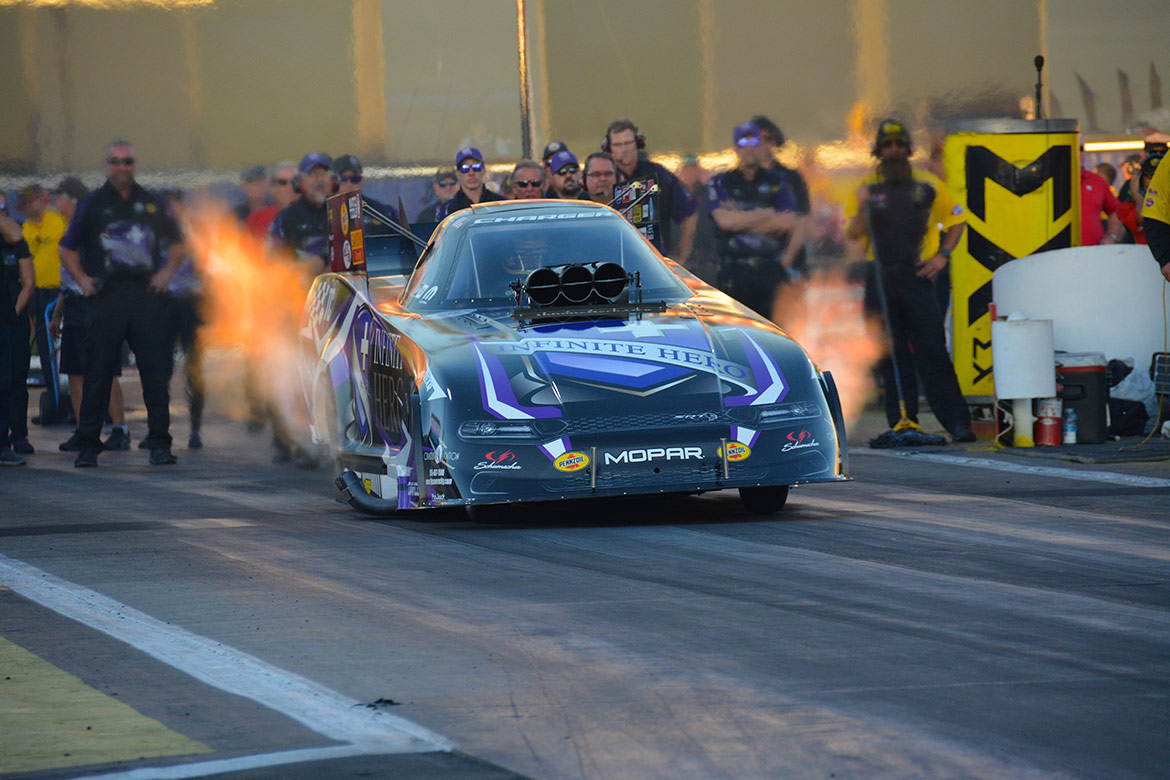 It was during the semi-finals that Hight had locked up the 2019 NHRA Funny Car World Championship based on the points needed to claim the title. But, there was still a race to finish. Ironically, Hight would square off in the final round against the guy who gave him one hell of a fight during the points chase, "Fast Jack" Beckman and his Dodge Charger SRT® Hellcat. Beckman's march to the finals was methodical as his team, led by co-crew chiefs Dean Antonelli and John Medlen, tuned his 11,000-horsepower HEMI® engine for consistency. In the final round against Hight, Beckman's Charger SRT Hellcat machine was hitting on all eight as he thundered to his 30th career Funny Car victory to defeat Hight.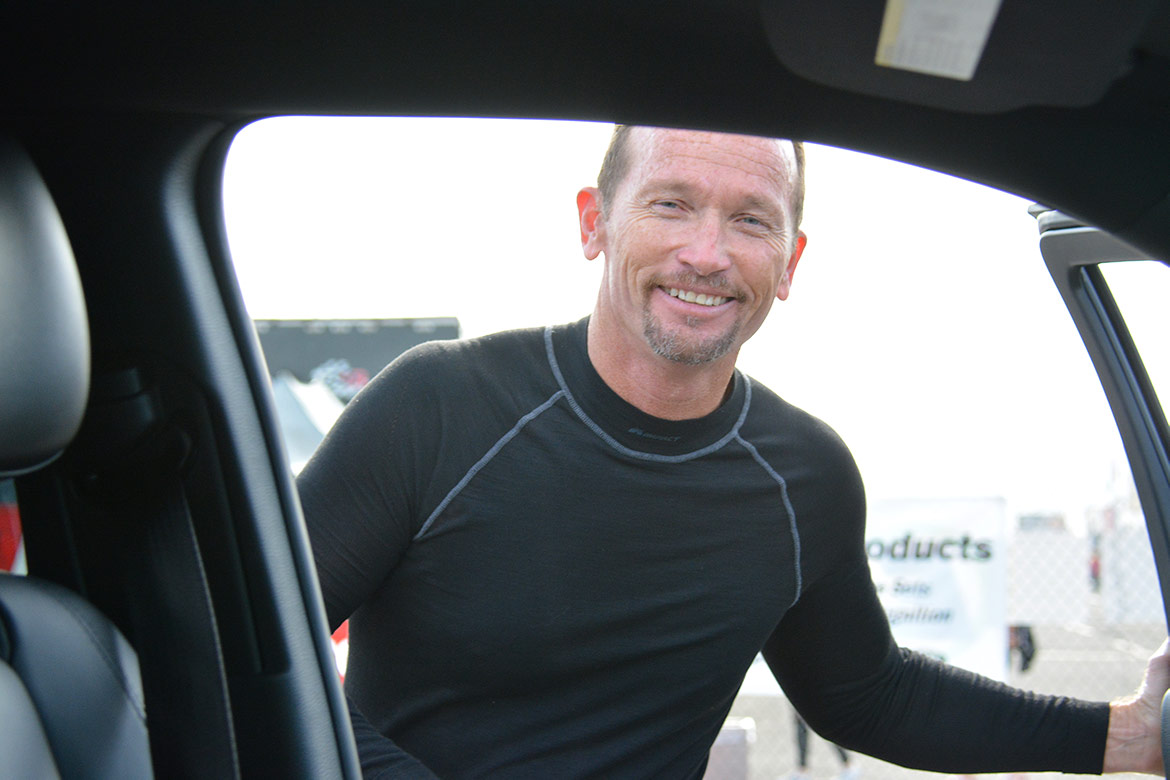 "I've never won in Funny Car at Pomona," said Beckman. "If you win at the Winternationals (in February), the rest of the year is going to be okay because you've already won something, but if you do it in the finals (at the end of the year), your off-season is fantastic. My Infinite Hero Foundation guys have given me such a great racecar lately. I stumbled a couple of times, and I don't want to 'woulda, coulda, shoulda' myself in the off-season. We finished solidly in second, capped off the year with a win. We have a phenomenal Dodge Charger SRT Hellcat, and things are awesome right now. I'm feeling on top of the world."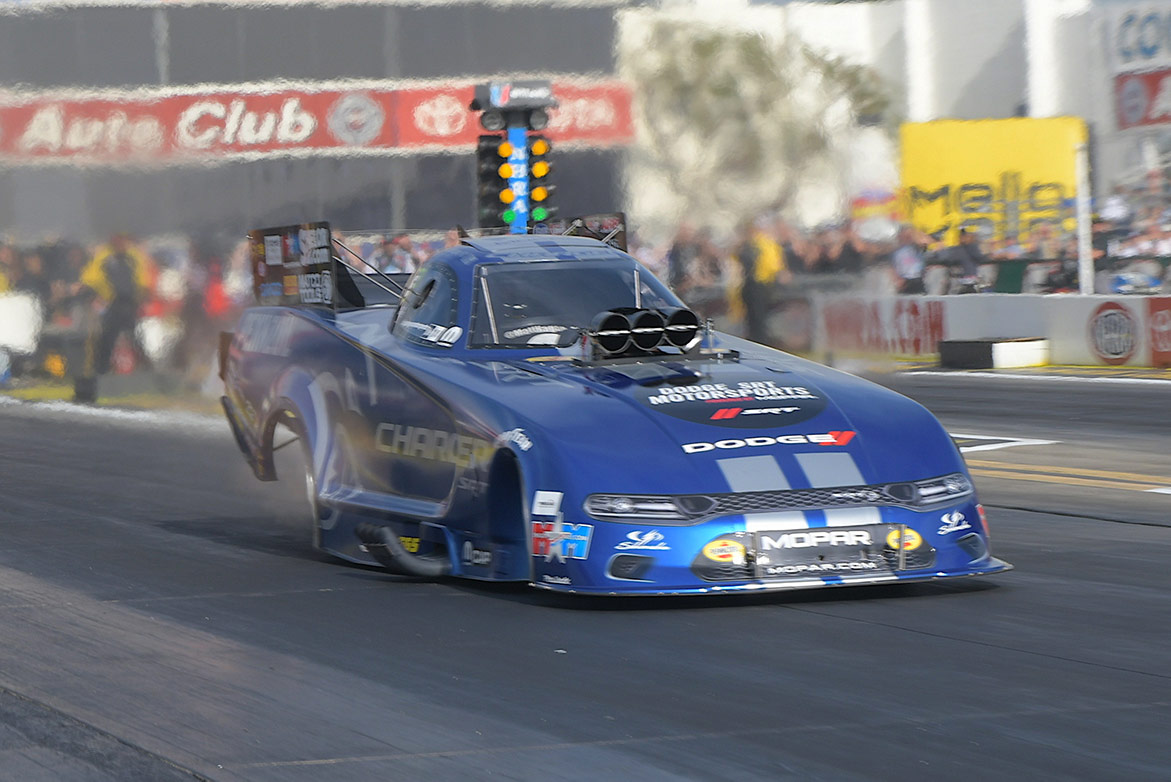 Beckman's teammate Matt Hagan also made a solid show for the Dodge//Mopar contingency with his Charger SRT Hellcat Widebody Funny Car. Unfortunately, he also came up short, but finished the season in third place just behind Beckman. Over in Top Fuel, Leah Pritchett started race day qualified second on the eliminations ladder in her HEMI engine-powered Mopar Dodge Top Fuel dragster. She was not in contention for the world championship, but it didn't stop her from defeating her first round opponent and advancing to the quarterfinals, where she had the quickest run of the round. Unfortunately, Pritchett's day ended in the semi-finals when she lost a cylinder against eventual event winner Doug Kalitta.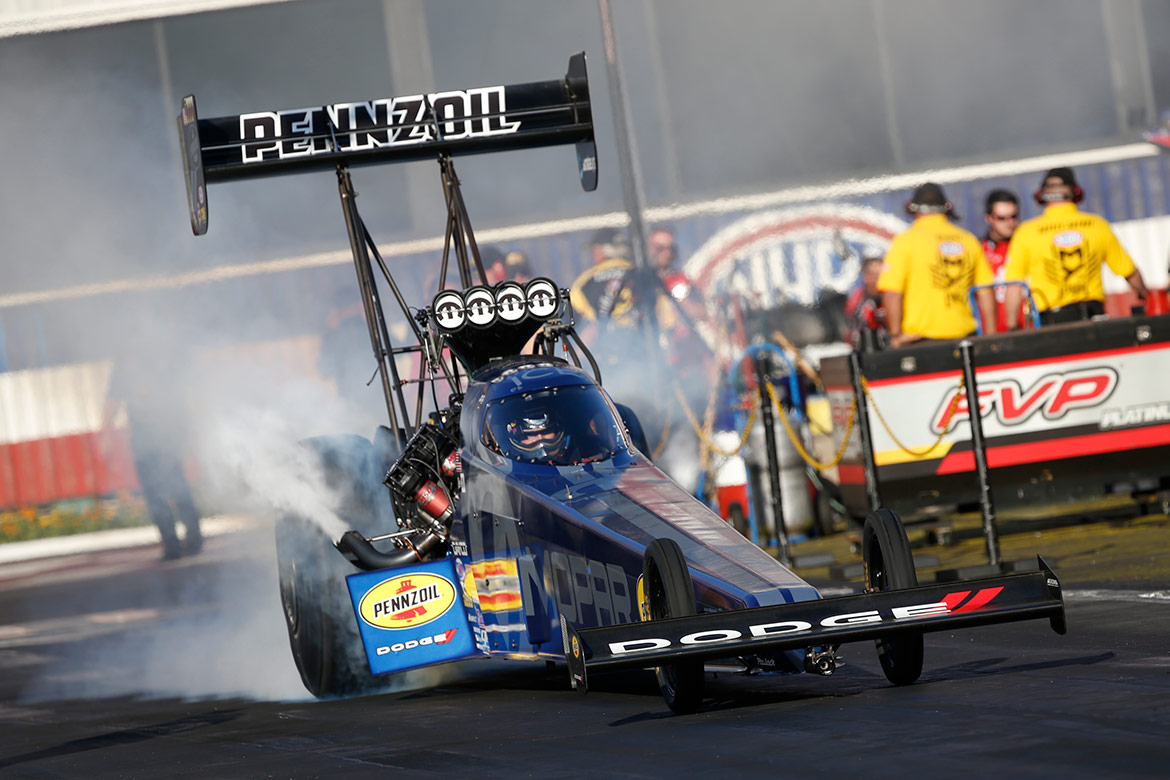 In the Sportsman Classes, Dodge//Mopar drivers were going rounds and advancing in the Stock and Super Stock classes. The starting line at Pomona had plenty of bite and the racers were going fast. Longtime Mopar competitor and New York resident John Shaul made the cross-country trek in his 426 Max Wedge-powered AA/SA 1964 Plymouth Sport Fury. After qualifying 12th among 60 competitors, Shaul was going through the Stock Eliminator field like a hot knife through butter until he broke out in the semi-final round.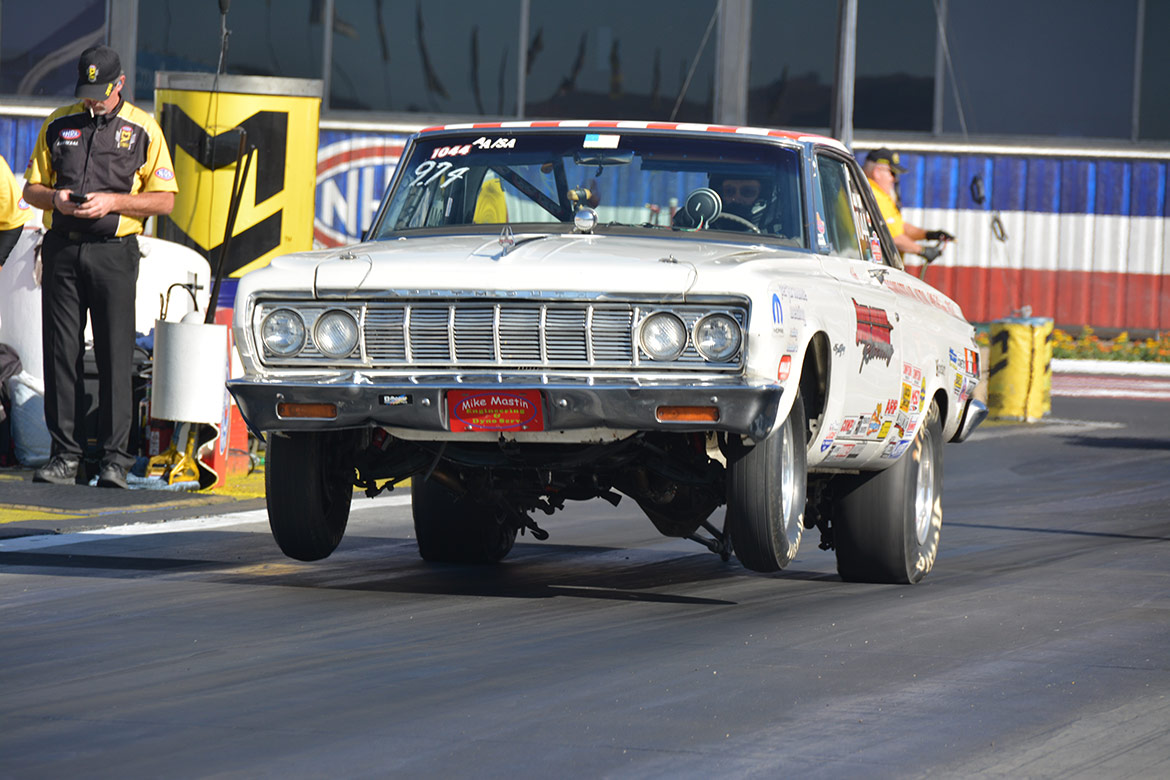 In Super Stock, Joe Faherty from Apple Valley, California, drove his SS/AS 1968 Dodge Dart to a semi-final finish at the NHRA Finals. Faherty raced his high-flying 383-cubic-inch Mopar-powered machine to low nine-second ETs, but he broke out in round five of eliminations by running a 9.38 ET on a 9.42 ET dial-in. Both Shaul and Faherty won't leave Pomona empty-handed as they both collect $500 for being the Dodge Top Finisher in Stock Eliminator and Super Stock at the NHRA Finals.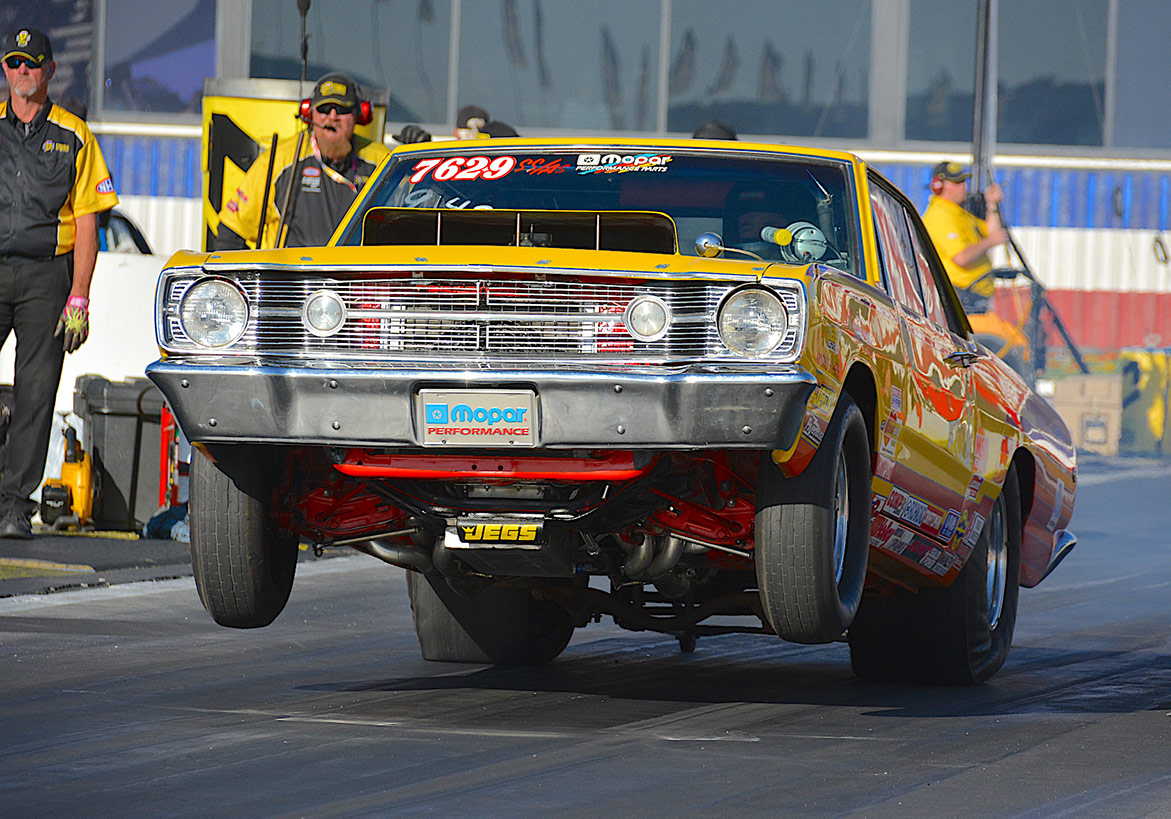 So, that's a wrap from the 2019 NHRA Finals where the thrill of victory and the agony of defeat come at over 300 mph, or just a flick of the Christmas tree. The off-season has now begun, but don't worry, our drivers and teams will unload their supercharged HEMI engine-powered Top Fuel Dragsters and Funny Cars in less than three months for the 2020 NHRA Winternationals right here in Pomona.
In the meantime, check out these cool images from the NHRA Finals!
Comments
Comments