A Place for the Evil Ones
4 years ago Racing
It is true, even the bad kids need a friend or a place to call home sometimes. Generally, a friend of the bad kid is more than likely, yes, another bad kid. They kind of stick together, don't they? Well, let me tell you a story of some outcasts that found strength in numbers.
Straight out of the New Testament, a group of demons is referred to as a legion, and thus, the Legion of Demons was born. I have mentioned a few times in the past that the 2018 Dodge Challenger SRT® Demon was born with a target on its back. Everyone wanted a piece of an SRT Demon: the naysayers wanted so badly for the SRT Demon to fail and keyboard warriors abroad sat biting their nails waiting for them to hit the tracks and not perform as promised. When the SRT Demon was announced, many of the higher-ups involved with the project flat out stated "The Demon CAN run a 9.65, but you probably aren't going to without a lot of practice." And they were right.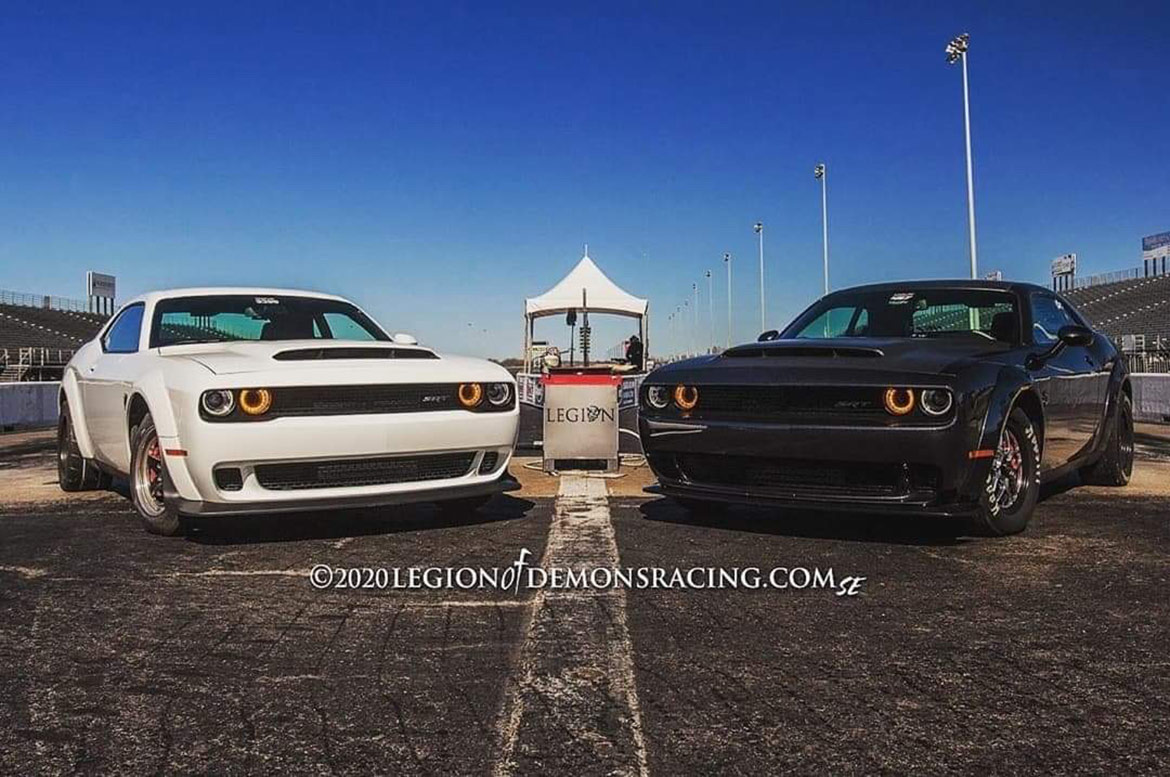 When all the SRT Demon owners started hitting the track for the first season, it was apparent that running a 9.65 was going to be no easy task. In fact, for a long time, there were only a few people to even break down the 10.0 wall. The Ford and Chevy fanboys were having a hay day. The SRT Demon wasn't as simple to make a perfect run in as everyone thought it would be. Many less-than-stellar attempts were made across the country every time an SRT Demon owner staged up to the tree. Of course, being such a limited production, seeing an SRT Demon at the track was, and still is somewhat of a rarity, so you better believe everyone with a camera or phone had it out to capture the pass.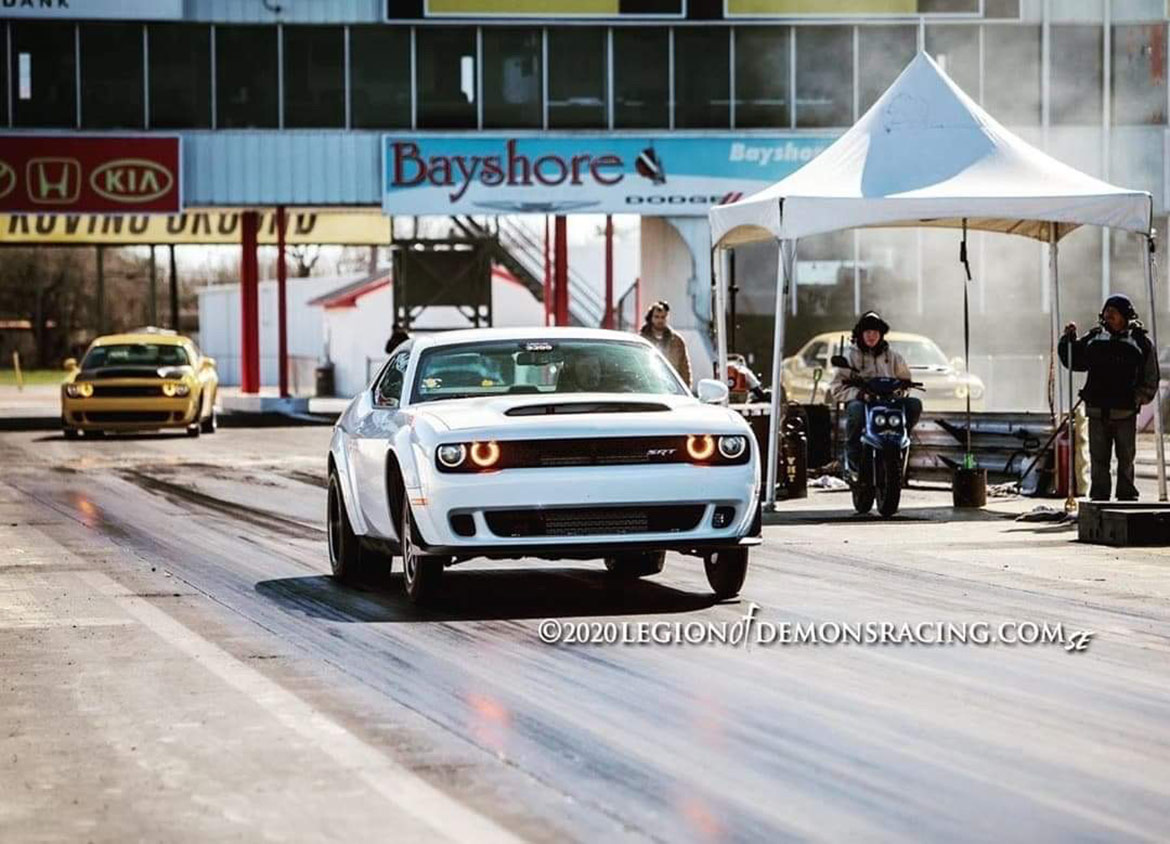 Anyone who owned an SRT Demon realized it was going to take some seat time to really get these cars dialed in, but there was one problem. We could not seem to escape the scrutiny and prying eyes of a digital world. We just didn't seem to fit in; we couldn't find any friends. Enter Byron Godbee, a man totally in love with everything the SRT Demon was and represented – so much so, he bought two of them! You see, he bought them to fulfill his desire to drag race and he wanted to race it as much as possible. That became a bit of a challenge pretty quickly as the SRT Demon got separated into its own class in most of the HEMI® racing events. Meaning, sit around and wait for the SRT Demon's turn to run. If you were lucky, you might get a few runs in. So there stood a handful of SRT Demon guys at every event, last in line to run, only getting two or three runs in, not running 9.65. And it wasn't because the car wasn't capable; it was because there just wasn't enough seat time. For several months, Godbee tossed the idea around and bounced some ideas back and forth with some other SRT Demon owners. He wanted to create an SRT Demon car club. SRT Demon owners are spread out thin across the country, so it had to be something extra special. Much like a fraternity that included SRT Demons only. Period. It had to be cool enough to draw SRT Demon owners to trek across the country to meet up. This had to be an exclusive club. "But what exactly will the club do?"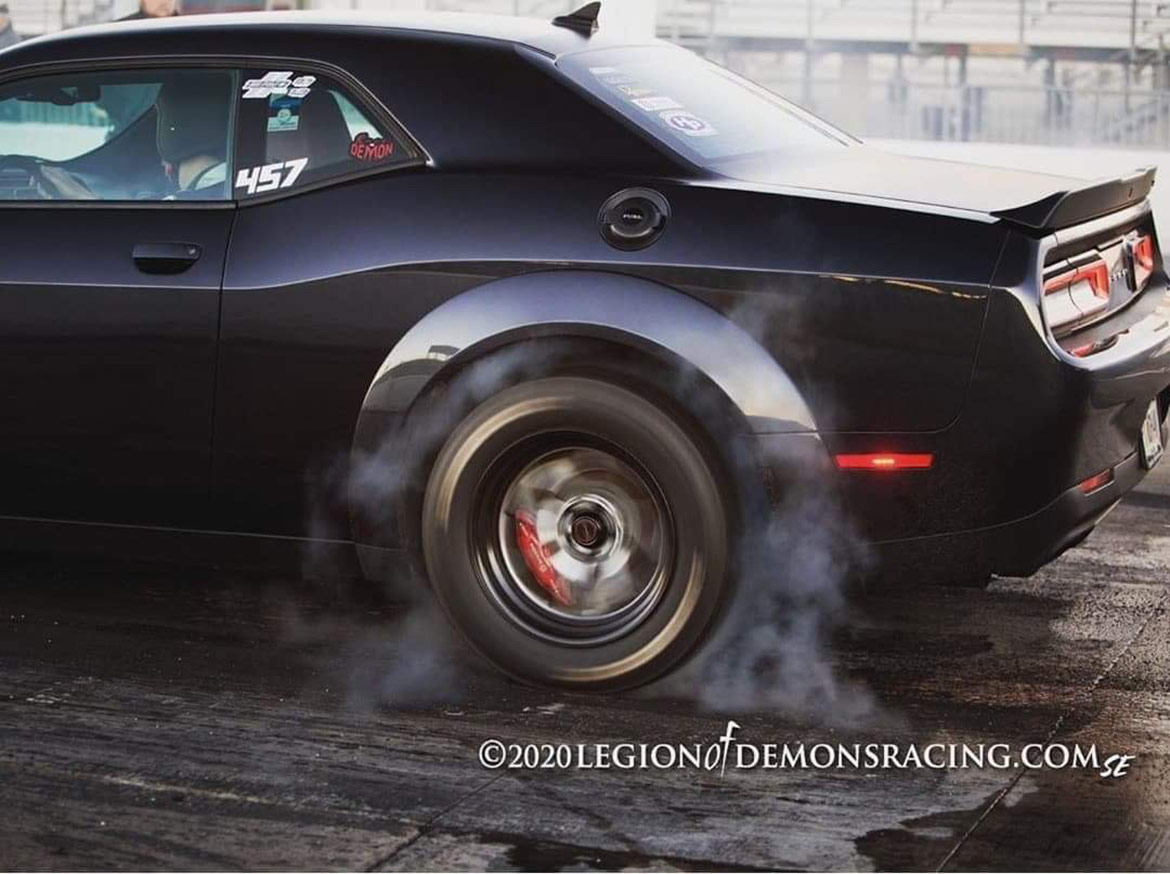 Well, for starters, create an SRT Demon-only event where the attendance is controlled and limited to only SRT Demons so they can learn the cars without the judgmental eyes of the world. Get nearly unlimited runs and seat time with the best track prep in the biz. That should get people interested, right? Yea, it did! A club was needed. Much like the Viper Club of America, a club for the outcasts that no one understood or wanted to associate with. Together, it could be a family with strength in numbers. The first and only SRT Demon-only club was created. Legion of Demons. A gathering of SRT Demons, a place to call home. Let's show the world, and the haters, what an SRT Demon can really do.
The first item on the agenda for this group of ruffians was to create a private event to allow SRT Demon owners to come and learn how to drive their car. No cameras, no judging, no competition and no excuses. The mission was to get as many cars as possible into the 9s and hopefully some close to Dodge's claimed 9.65.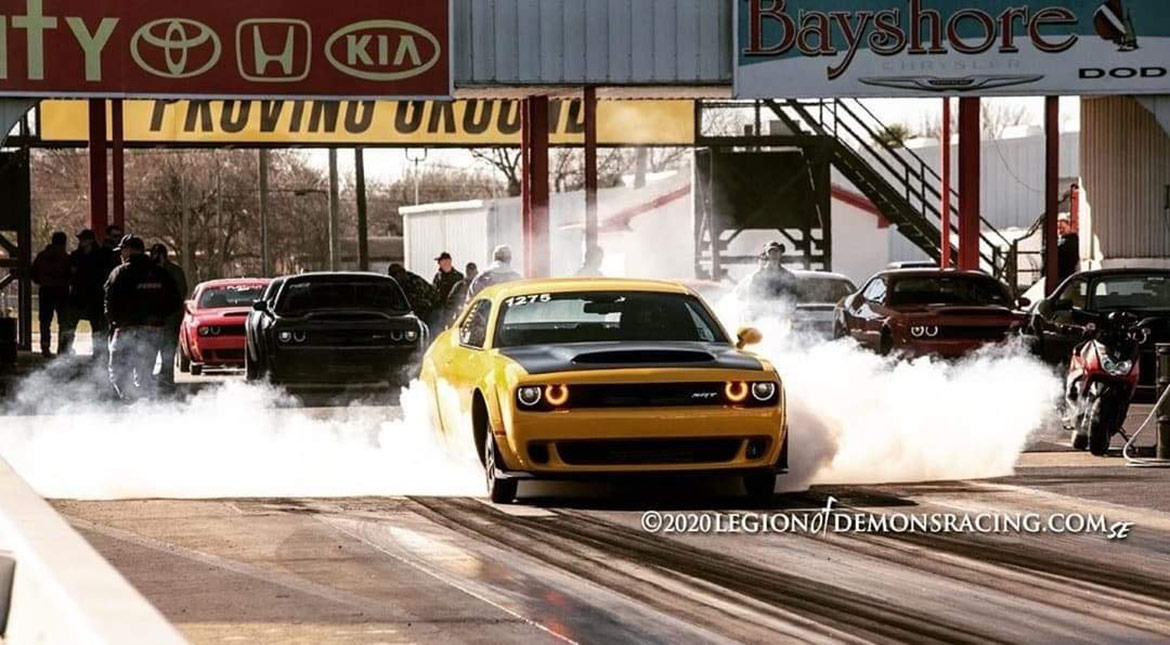 The First Gathering
At an unrelated track day in October 2018, in his quest to hit 9.65 totally stock, Godbee managed a 9.86. We are talking bone stock on the factory tires. This was the fastest anyone had raced a stock SRT Demon up to that date. Godbee knew that he was on the right path in getting the highly targeted 9.65 and that an SRT Demon-only private track event would be the perfect way to get closer to that goal. It wasn't just for him, it was for all the other people on the same quest. Godbee got organized with his thoughts and intentions and set up the first-ever SRT Demon event, Legion Of Demons – The First Gathering. It was on the books for just a few months out in January 2019.
Not only would it be a private track day free of criticism, but Godbee gathered several other 9.65 warriors to give some classes at the event to anyone with less experience in their SRT Demons. The First Gathering attracted 48 SRT Demon owners and cars to its first-ever event. The results? ALL 48 SRT Demons that attended the event ran faster than a 10.0. Pooling the knowledge and working together with a common goal, they were able to get nearly 40 SRT Demons into the 9s for the first time.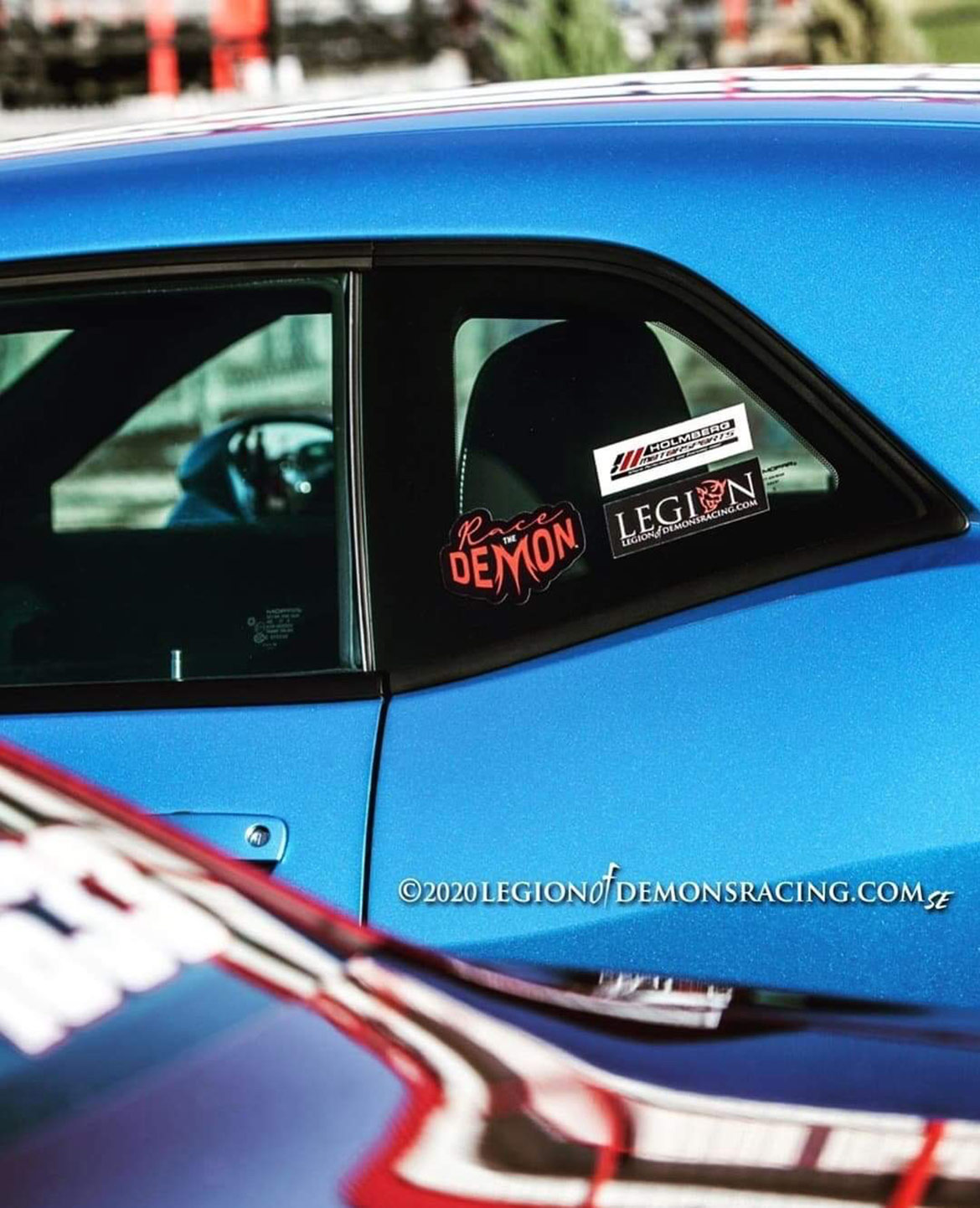 For Godbee, the results of The First Gathering were just additional bits of validation that the SRT Demon CAN do what Dodge claims, and that the Legion is just what they needed to get there. The logical next step was a follow-up race event to further push what they had just started. The event was held in July 2019 in Norwalk, Ohio. The third and final event for 2019 was in November in Clay City, Kentucky. This event allowed others with a Mopar®-powered rocket to come race, as well.
The first event for 2020 was held in January in the big state of Texas and it was a huge success. Each event building on the last, sharing knowledge, sharing tips, teaching and learning. Five stock SRT Demons pulled off 9.5X time slips. Prior to this, only two people in the world had even touched 9.5s in their stock SRT Demons. There, another six SRT Demons managed to pull off 9.6s – again, stock SRT Demons. With the weight verified after each run. A dozen cars running as fast or faster than what Dodge was able to do with a professional driver, unlimited testing funds. As fast or faster than the naysayers said they could run. There was even an owner from the UK who made the trek to the Texas event!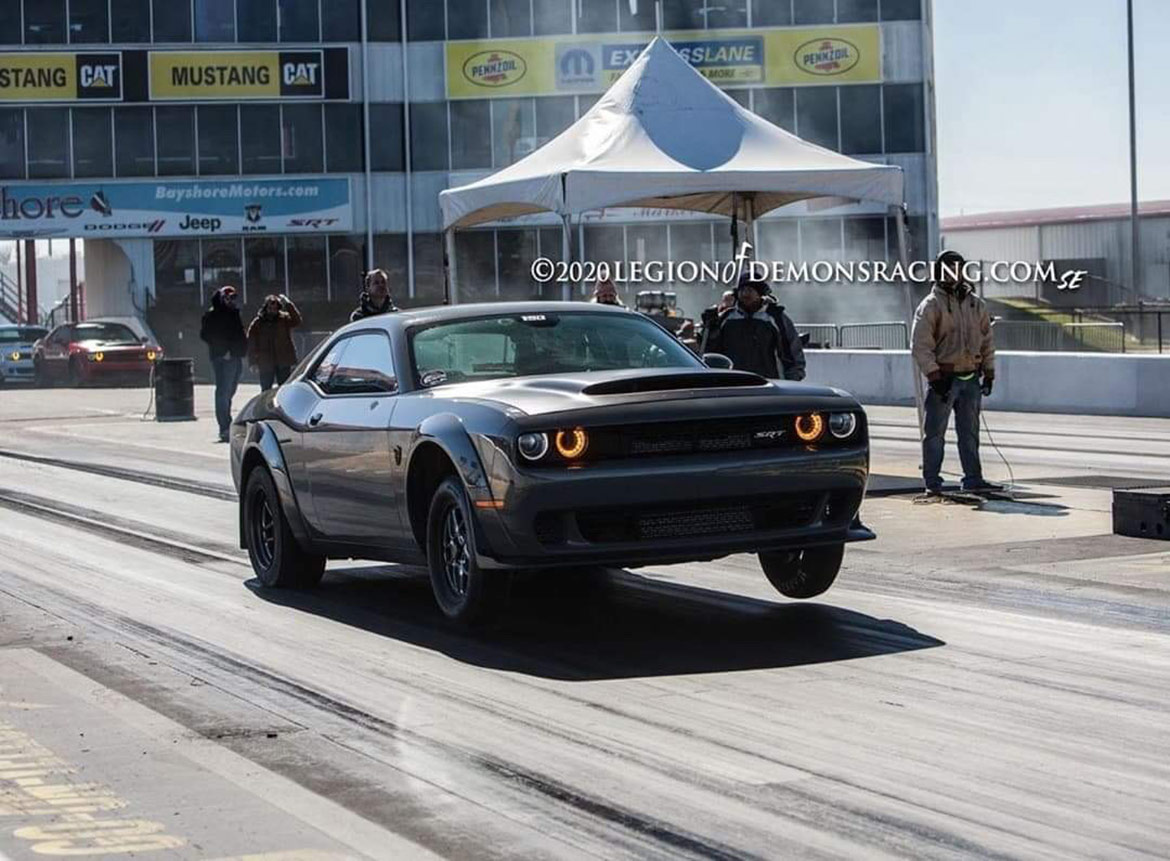 Based on what I've told you so far, the Legion of Demons club sounds like a drag racing series or a racing club. Godbee is very excited with the success of getting so many stock SRT Demons to run their cars as fast as Dodge. But he has many more plans for the club than just these race events. Plans are currently in the works for a lot more events with a lot more variety. Godbee is a big believer in the car, the platform and the owners, and he wants to see all shine as much as possible.
Right now, I don't think there are any SRT Demons running road course or autocross. Many people, including Godbee, believe with a little fine-tuning, the SRT Demon could be great at those types of performance, as well. So the Legion plans to have both autocross and road course events this year, as well. They are also planning on attending some car shows and cruises/rallies as a group. Showing up in hordes to take over! Of course, they still plan on keeping with the drag strip tradition to see just how far they can push these cars to show the world that they picked the wrong guy(s) to pick a fight with. The club started out strong with three events in the first year and a very successful first event for 2020. They also plan to keep pushing the "continued education" teaching, showing more and more people how to get the most out of their car, and hopefully continue to learn more and share more.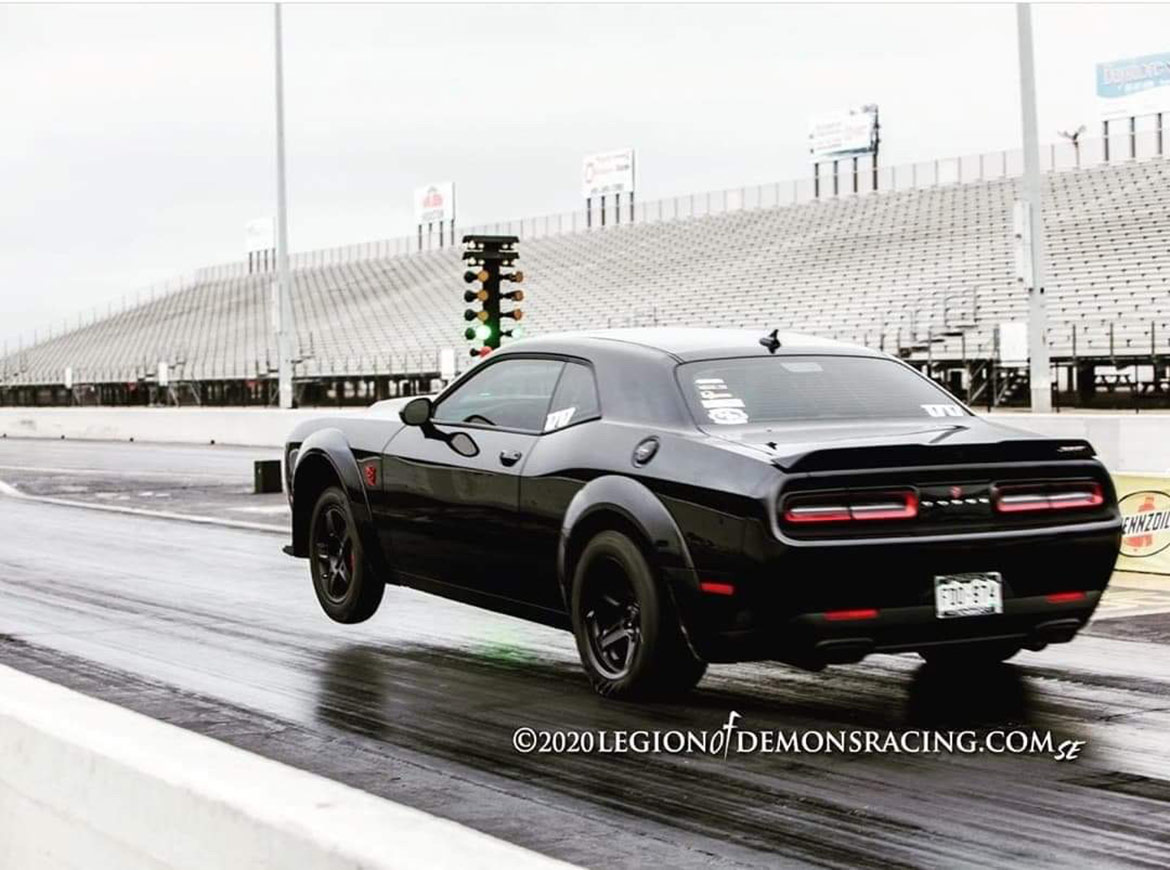 Like I said, strength in numbers! Godbee is confident they can get a stock SRT Demon to run a 9.4. To be honest, I think they will do it. Work has also started on getting some ½ mile and standing mile events as well for those that have interest in literally pushing their car to the edge of its performance limits. Godbee and team will continue to find ways to make the Legion of Demons something truly special, truly exclusive and truly one big family.
I have to applaud Byron and team for putting something so cool together, helping show the world that the SRT Demon is a force to be reckoned with. Look for lots of events coming in 2020 for SRT Demon owners, and even some for "Friends of Demons", aka, any Mopar hotrod. I personally can't wait to see where it continues to go and can't wait to get to one of the events with my SRT Demon.
For info, cruise over to www.legionofdemonsracing.com
Comments
Comments