Top Dog
4 years ago Racing Video
When you are the top dog, everyone wants to take you down. You walk around with a target on your back. Dodge Challenger SRT® Demon owners know this well. Touted as the quickest quarter-mile street-legal production car ever, everyone with an engine and a muffler (or no muffler) tries picking a fight. None is truer for the Lady of Demons, Leah Pruett. For those who aren't in the know, Leah was heavily involved in testing the SRT Demon during development alongside SRT wizard Jim Wilder. Leah had more passes in a Demon before it was even announced than most owners have two years later. Everyone wants to take down Leah, but for a good cause, of course.
You could say SRT Demon owners are an interesting and wound-up bunch. No judgment, I'm one of them. Dodge and SRT pitched to the world that the SRT Demon's official production quarter-mile time was a 9.65, which was verified by Guinness Book of World Records. Immediately, critics began slinging the poo, claiming no one will ever hit that number in real life. For some, all it took was one naysayer. "Challenge accepted!!!"
I guess there are three types of SRT Demon owners, those with mullets (wait…), those who have no common sense and mod the heck out of them (me), those who leave it completely stock and enjoy it as a car, and those who made it their sole purpose in life to prove the critics wrong and run a stock SRT Demon to 9.65. You wouldn't think there would be many in that last category, but there are. And they have gotten downright scientific with it.
As adults with brains, we all knew that it would take the perfect track day and the perfect run to get a 9.65 on a stock SRT Demon, but that it was totally doable, even if you weren't Leah Pruett or Jim Wilder. It was just a matter of finding the right track day and a few other factors. Enter Byron Godbee. This guy liked the idea of the SRT Demon so much, that he ordered two when Dodge opened up the order banks. Fast-forward a year, Godbee sold one of his SRT Demons to a good friend. Shortly after selling, he found #3299 for sale not terribly far from his home state of Georgia. It was one of a very few factory single seat optioned cars out in the world. You see, prior to picking up SRT Demon #3299, Godbee had spent the past two years putting over 900 passes on his original SRT Demon #457 with one goal in mind. Leave it stock, and beat Dodge's claimed time of 9.65 and show haters the long finger. After taking #3299 to the track a few times, Godbee noticed something about the car was different, it was significantly quicker than his #457 and he was able to get it into the 9.70s after just a few track days. So Godbee switched focus from #457 and made #3299 his new main squeeze.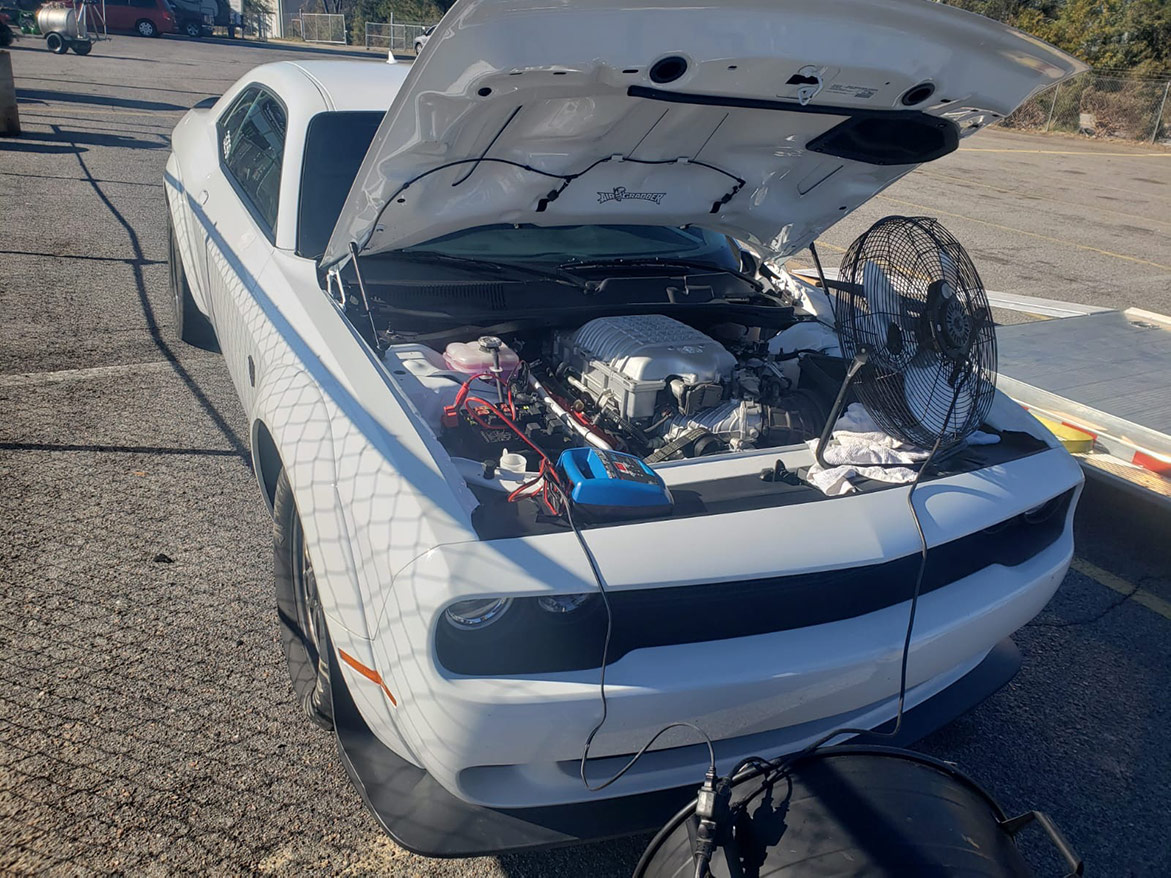 Let me paint the picture.
December 20, 2019, almost two years to the date of when the first production SRT Demons got delivered to their owners, Godbee sitting at work checking track and air conditions at tracks across the country, House of Hook just hours away from his house, nearly perfect air and weather conditions, private Test N Tune being held in just a few hours. Godbee does what ANY responsible drag racer would do, calls out of work and loads up the car as fast as he can and hits the road! Car #3299 the factory one-seater is completely stock with one exception. The car is fitted with some 17" rear wheels and Mickey Thompson tires in place of the factory 18" wheel and factory Nitto tire. The front has 18" aftermarket skinnies in place of the factory skinnies.
Godbee makes it to the track, off-loads the car and mixes up his fuel and heads to the lanes to make his first pass. He sets the launch control, eyes on the tree, throttle…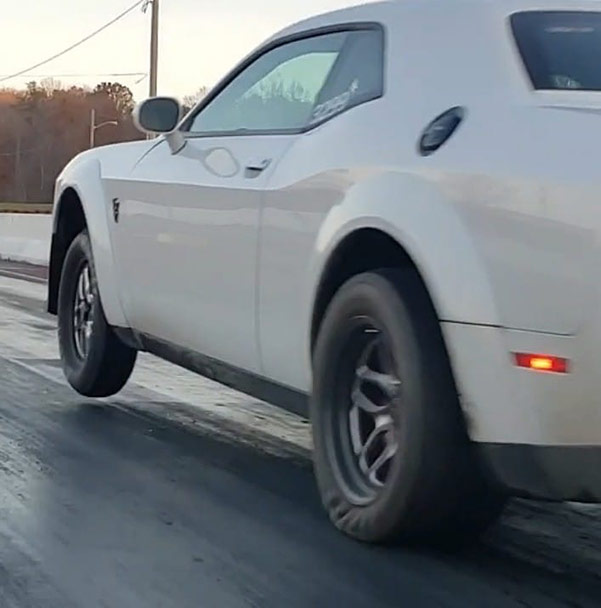 Tire spin and wheel hop. The perfect air, probably the best in two years, but the track prep just isn't there. It happens to everyone. The only option you have is to adjust your launch strategy, which is exactly what Godbee did. "Control Z, Edit Undo". Godbee backs up and re-stages. He figures he will just give it an easy launch and make a shakedown pass and just get the car up to temp. Re-staged, he watches the lights come down, foot on the brake, a measly 1,000 rpm loaded up, and off he goes. What was intended to be a shakedown pass became the world's fastest stock SRT Demon run, and by a long shot at that. 9.57 … NINE FIFTY-SEVEN. 9.57 @ 140.53. Two years in the making and Godbee accidentally blew past the world record. He pulled back around to the pits after his run to see his son jumping in excitement. No way, it must be a glitch, it must be a typo, it must be dyslexia. "It can't be a 9.57, it must be a 9.75." Nope! It was indeed a 9.57.
Unfortunately, the Internet doesn't let you get away with a single run like that. You have to back it up with a second pass that comes as close as possible to it to prove that it wasn't a fluke or error in the timing equipment. As Godbee got ready to make a second pass, bad luck struck. The car that ran right after him broke an oil pan and lubed the track with oil. Enter the waiting game. Next came two-and-a-half hours of nail biting, foot tapping and weather checking. Godbee was watching the perfect weather and air slowly started to slip away as the track officials carefully cleaned the track. After the excruciating wait, Godbee was finally able to line back up. The result? A 9.58 @ 139! Now no one could argue that the first run was a fluke. Well over 900 passes and dozens of tracks across the country, Byron had finally smashed the stock record.
"But it isn't stock, it has aftermarket tires on it, wah wah wah." Let me throw you some food for thought. Leah Pruett weighs probably 115 lbs, maybe. Byron comes in at 245 lbs. We could call the Mickey Thompsons the weight offset between Byron and Pruett. Well, even if that doesn't work for you, Godbee made another pass after the 9.58 run. This time on the stock wheels and stock Nitto Demon tires.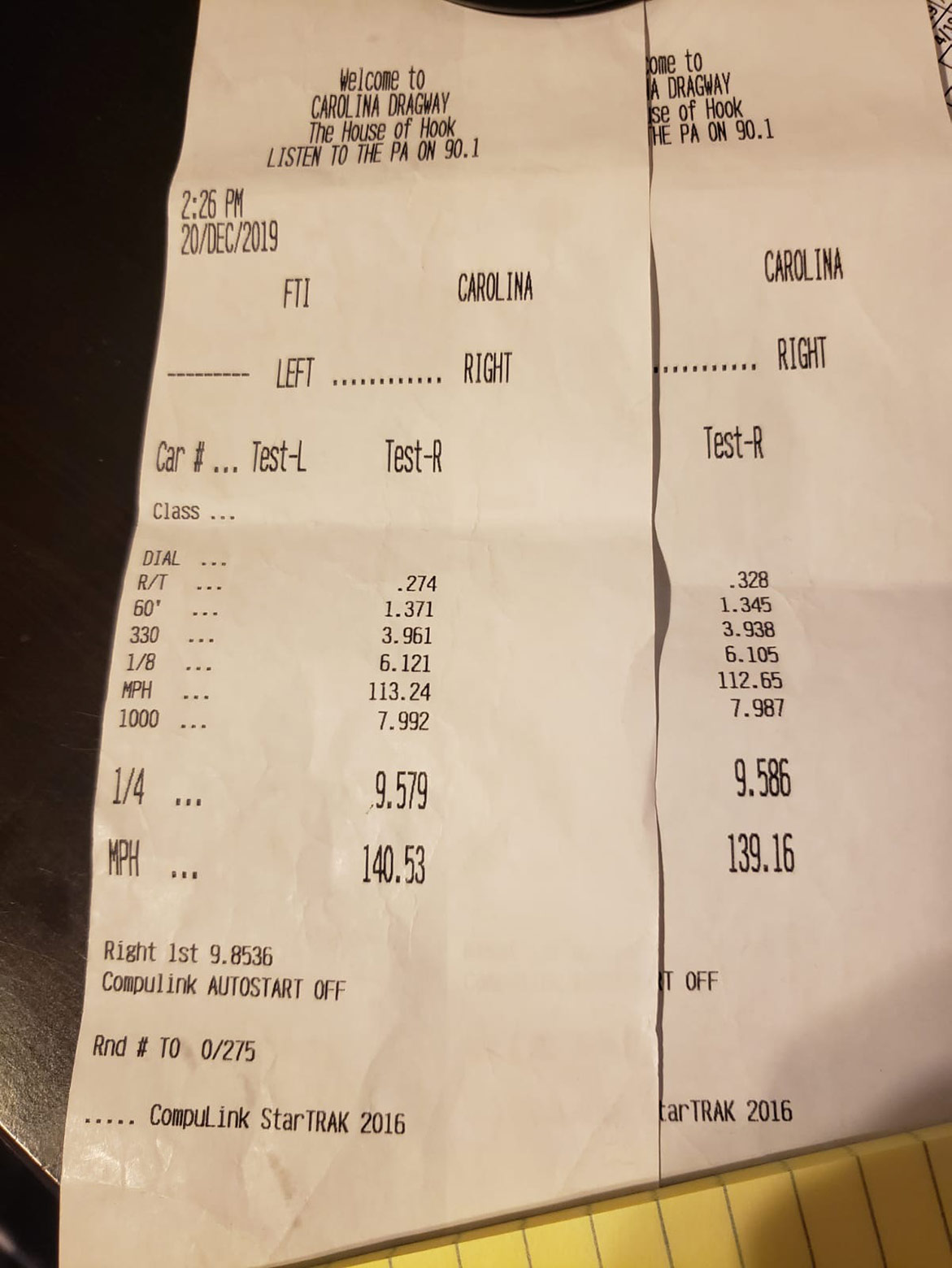 That run in 100% pure stock form, with a 245-lb driver, resulted in a 9.68 pass. It is hard to argue that what he has accomplished isn't legitimate. But we are talking about the Internet here, folks, where the earth is flat and you can become a rocket scientist after watching a few YouTube videos. Godbee has been hit left and right, as expected, from people who just can't handle the fact that a Challenger SRT Demon can actually run what Dodge stated it could run. Tim Kuniskis said up front on the day the SRT Demon was announced that it would take some seat time to get there, but the car has it in it. Kuniskis claimed it, Godbee proved it. There are also many others out there running their SRT Demon in stock form all trying to get that 9.65, and a handful of them are all VERY close. I do believe that before long, we will see several other cars matching Dodge's claimed (and now proven) time of 9.65. The SRT Demon has proven to be a real finicky ole gal. Luckily, Godbee and his cohorts have stuck with it and have shown the rest of the world that Dodge don't play. Neither does Godbee. Leah Pruett and Jim Wilder have been dethroned of owning the fastest stock SRT Demon slip. But you have to wonder, what WOULD have #3299 run that day with Leah driving?
Well done, y'all!
Comments
Comments
Previous