Challenger Drag Pak Whisperer
2 years ago Racing
Getting a racecar with over 1,300 horsepower on nine-inch wide slicks down the track can be very challenging, but Kevin Helms has it figured out. The 55-year-old Florida resident has a keen eye and sees where the groove is on the starting line. He knows that the key to success is much more than reading the track surface and comprehending how much power the pavement can handle. Kevin also knows the right amount of spark, fuel and timing to feed to the 354-cubic-inch supercharged HEMI® engine that powers the Dodge Challenger Mopar® Drag Paks driven by Leah Pruett and her teammate Mark Pawuk.
With a full schedule running the NHRA SAMTech.edu Factory Stock Showdown class and NMCA Holley EFI Factory Super Cars events, the Don Schumacher Racing (DSR) crew chief has a lot riding on his shoulders, and that's something that Kevin understands totally.
In 2018, Kevin's tuning skills got Leah Pruett, along with Dodge, Mopar and SRT®, their first-ever NHRA Factory Stock Showdown World Championship crown. Winning the title was quite a feat, considering what Kevin and the team had to go through with the ever-evolving supercharged GEN III HEMI engine combination. Kevin knew this when he signed up with Don Schumacher a few years ago to run the DSR Drag Pak program.
Kevin understands it's a fine line between laying down a good number on the scoreboard or possibly smoking the Micky Thompson slicks at the hit of the throttle. Being too aggressive on the tune-up can go one of two ways: it can make a crew chief a hero with high-fives on the starting line from his teammates when the win light comes on, or it can send him trotting back to the trailer in disgust, head hung low, as his driver loses because the car just didn't perform.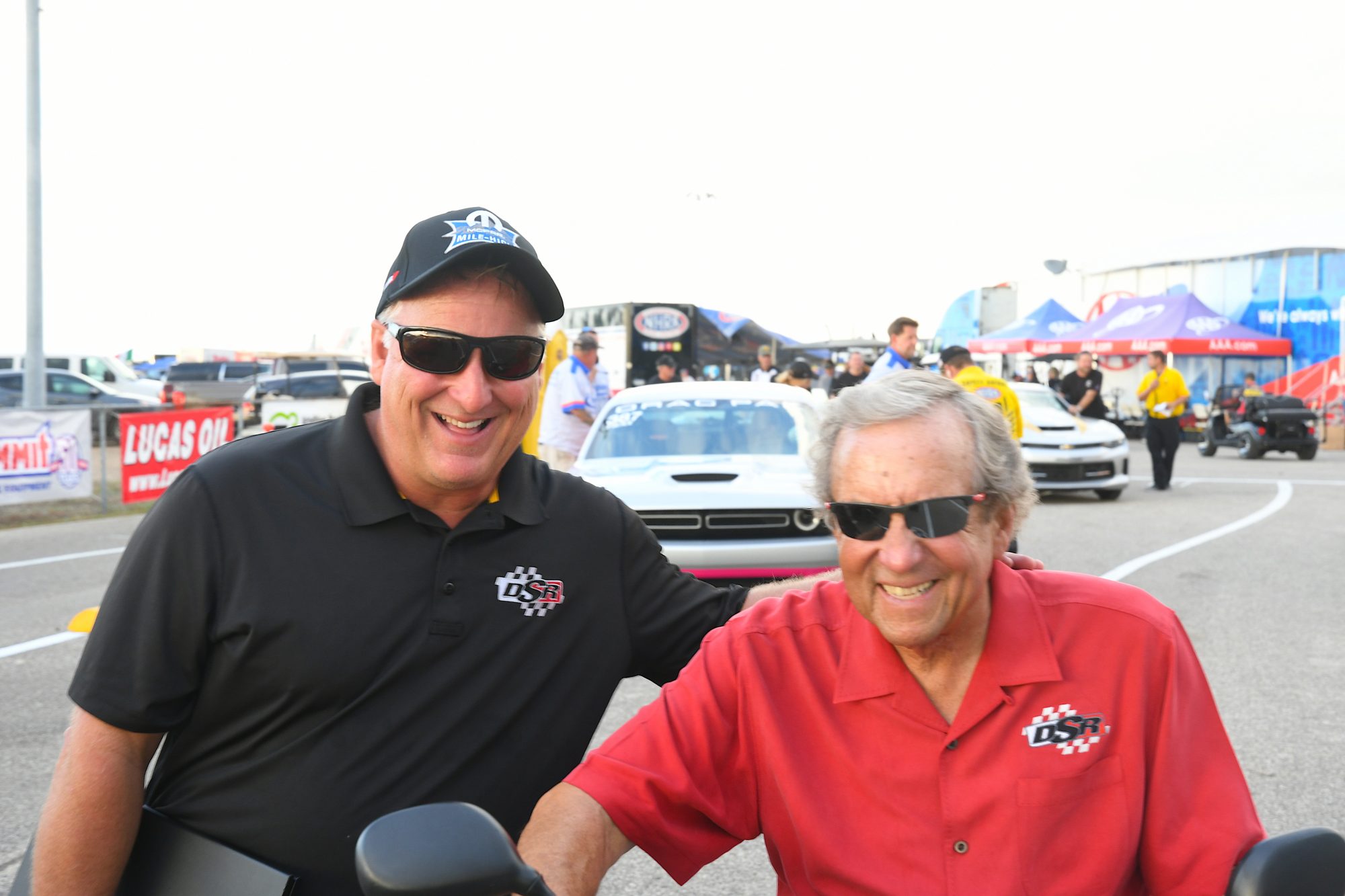 Kevin's had his share of both sides of the emotional rollercoaster in running the only two competitive Drag Paks in a class filled with Cobra Jet Mustangs and COPO Camaros. But like most drag racers, Kevin loves a challenge and doesn't give up easily. "In late 2017, I got a call from DSR asking if I would be interested in running their Factory team, I met with Don Schumacher and Will Truitt at the Vegas NHRA National event," he said.
"We seemed to be on the same page and agreed to terms. Basically, my job is to do everything that will make the cars faster and more competitive, that also means I make all the tuning calls. This includes the EFI tuning and mechanics of the engine, trans, and chassis," said Helms. "After conquering a steep learning curve early in 2018, I figured out to where we need to be."
"Even though Leah qualified on the pole at Charlotte," Helms continued, "we didn't have the consistent performance to go rounds during the eliminations. That all changed by the NHRA U.S. Nationals. Not only did we win Indy, we were victorious at St. Louis. By the time we rolled into Dallas for the final Factory Stock Showdown race of the season, we were well on our way to clenching the world championship, which we did by the semifinal round."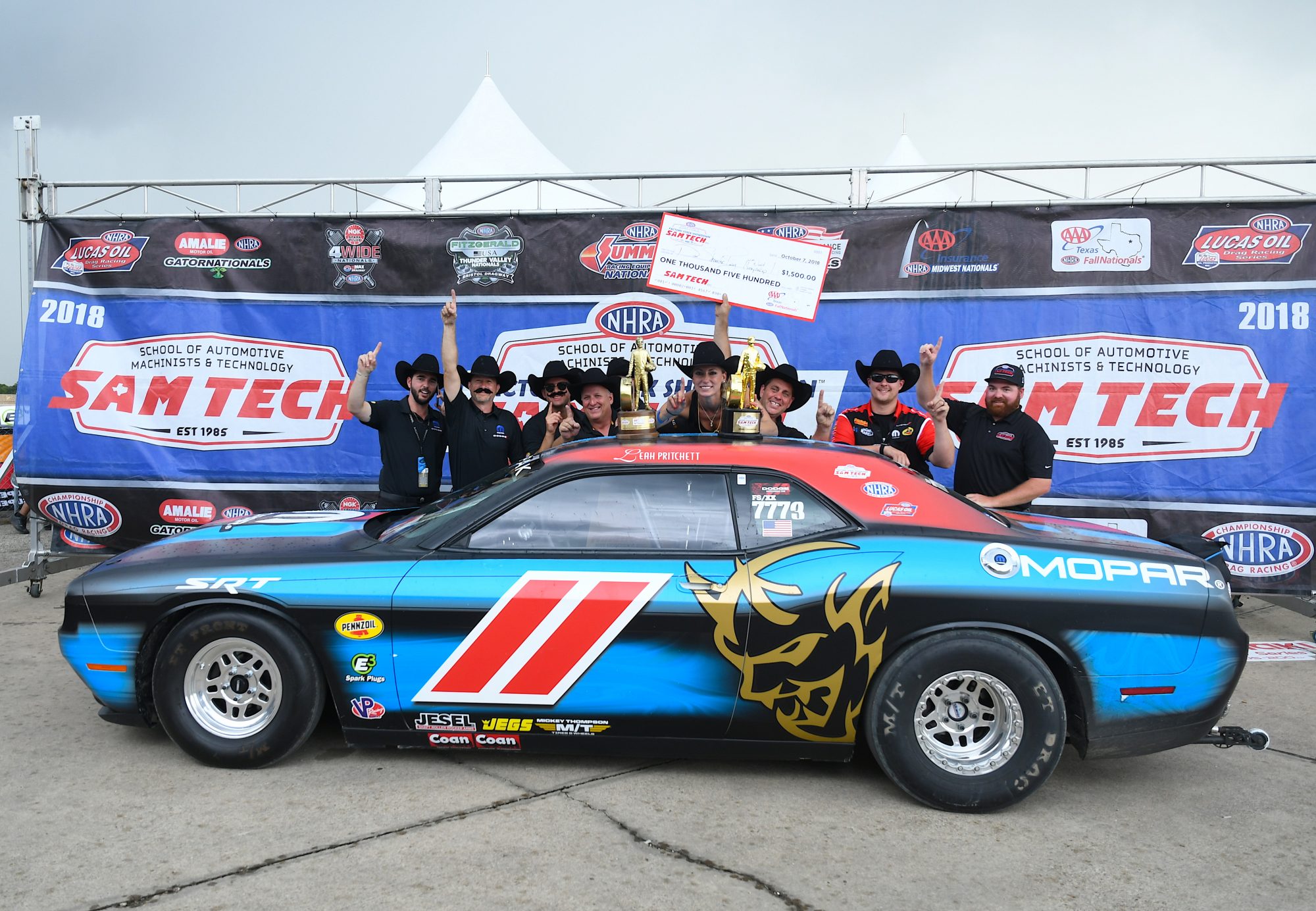 Winning a world championship during a crew chief's rookie season is quite an accomplishment. Tuning and wrenching on these high-powered, overly sensitive supercharged Challenger Mopar Drag Paks is a full-time job. These machines have a bipolar personality of their own at times that can send the best tuners chasing their tails for weeks. Luckily, Kevin didn't begin this adventure totally blind and used his past racing experience to the team's advantage, keeping these machines running at the top of their game.
With four NHRA Stock Eliminator World Championships under his belt (one in a Drag Pak), Kevin knows a thing or two about winning. Kevin may have grown up tuning a Holley 780 CFM Vacuum Secondary carburetor on his 1969 396-powered Camaro SS, but his fuel injection knowledge ramped up really quick on the Holley EFI system that's used on both of the DSR GEN III HEMI Drag Pak engines. "In 2011, Jeff Teuton and I made a deal to focus on the new cars. It was a steep learning curve, but with countless dyno pulls and the help of the late John Morris, we got it done. My prior racing and tuning also helped, as I drove and won races in various Drag Paks powered by both the GEN III HEMIs and V10 Viper motors," said Helms.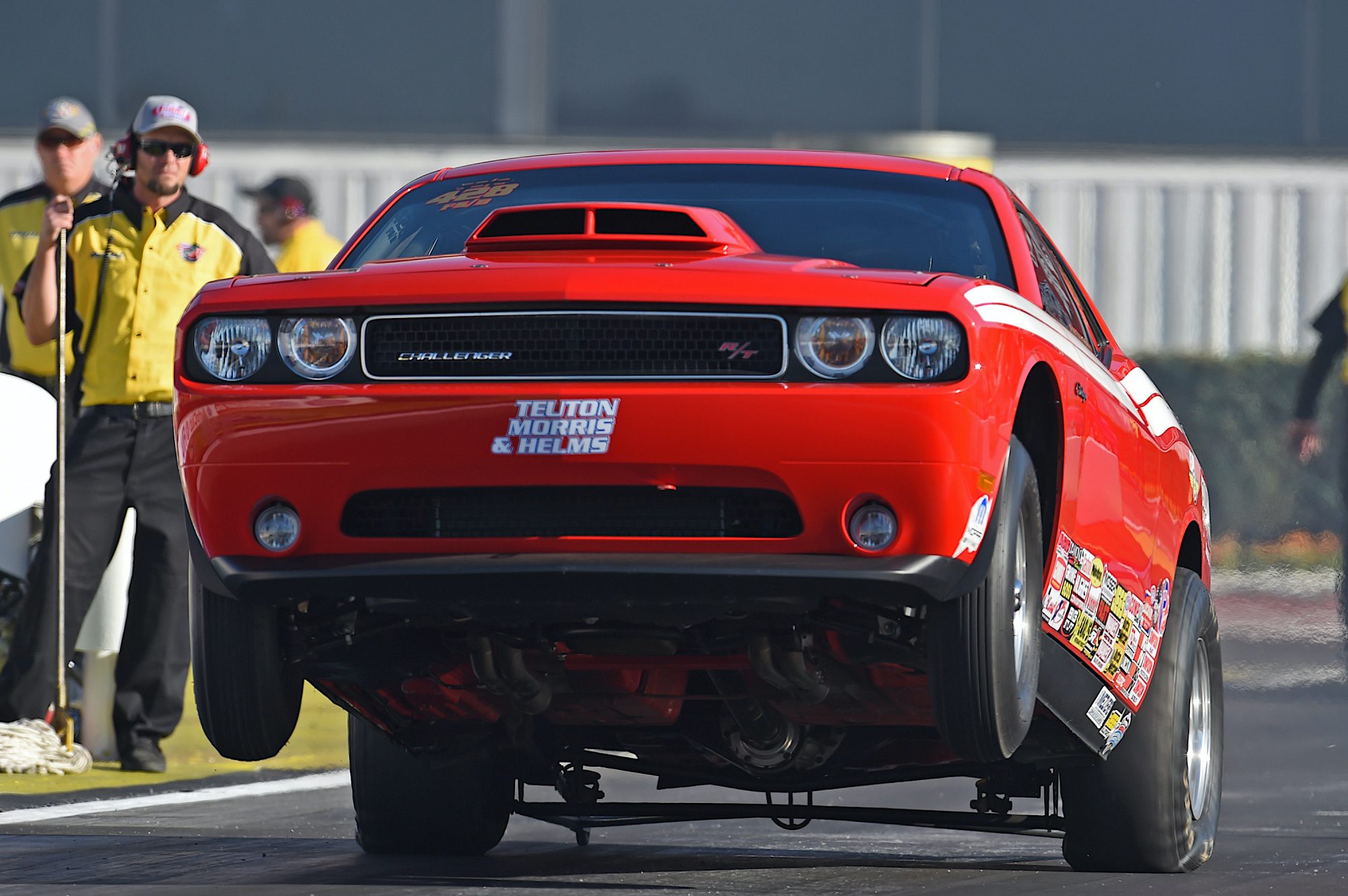 Even with these drag racing accolades, Kevin knows he's up against some of the most talented tuners and drivers in the class. That's why he relies on many tools in his war chest to keep the DSR Challenger Drag Paks ahead of the Chevy and Ford teams. "We're using the Racepack Data System for tuning individual cylinders and collecting driveshaft info while the Holley EFI system offers nearly infinite tuning abilities. The ability to retard the low gear timing helps a bunch," commented Helms.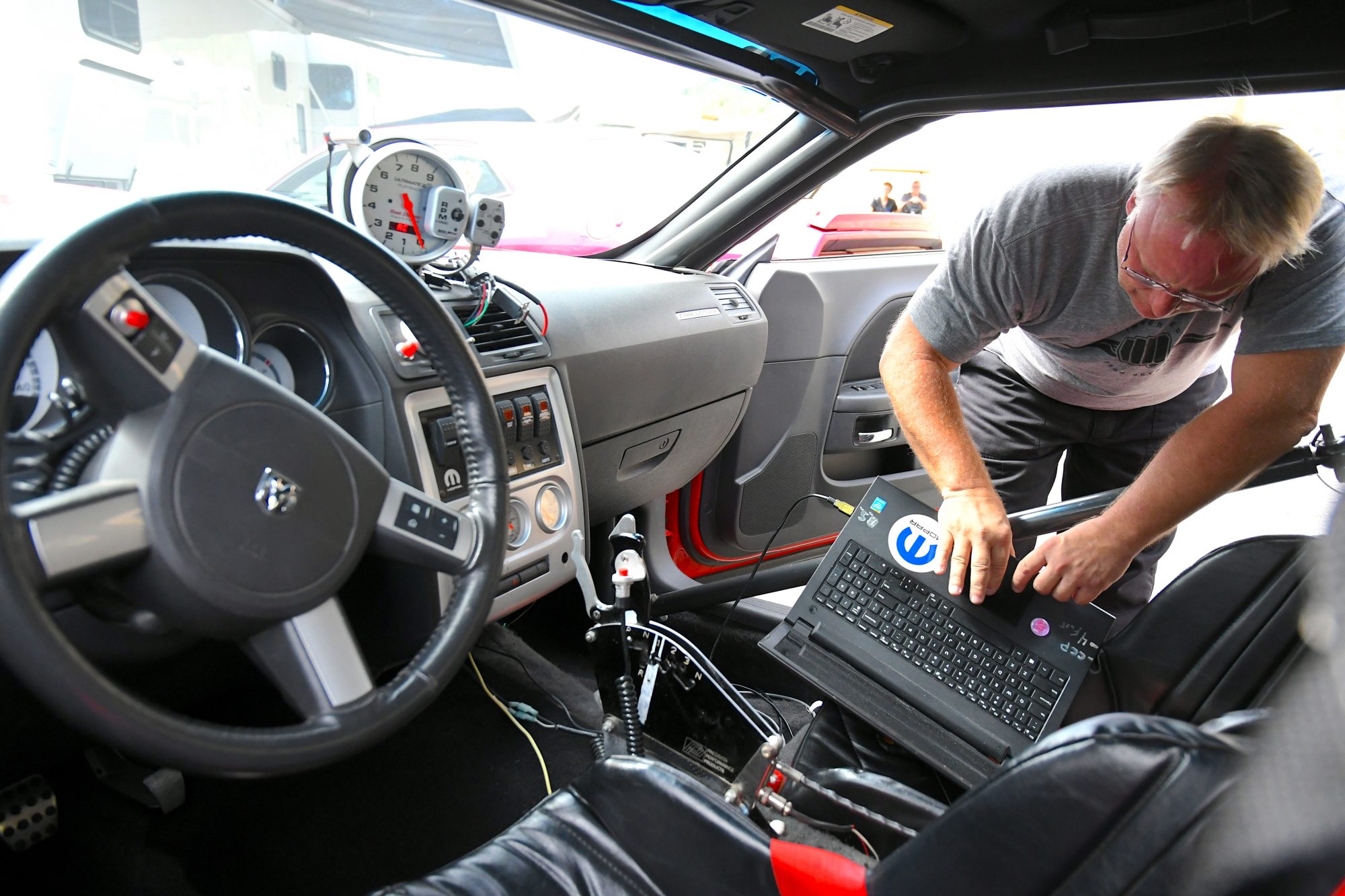 While the two DSR Challenger Drag Paks might be identical on paper, they each have their own unique personality. That's why it takes great feedback from the drivers who fearlessly fling these 170-mph, seven-second machines down the quarter-mile. "It's been a lot of fun working with Leah Pruett and Mark Pawuk," observed Helms. "They're both experienced racers with tons of seat time and that comes in handy in providing me valuable feedback when I'm setting up their cars during qualifying and eliminations."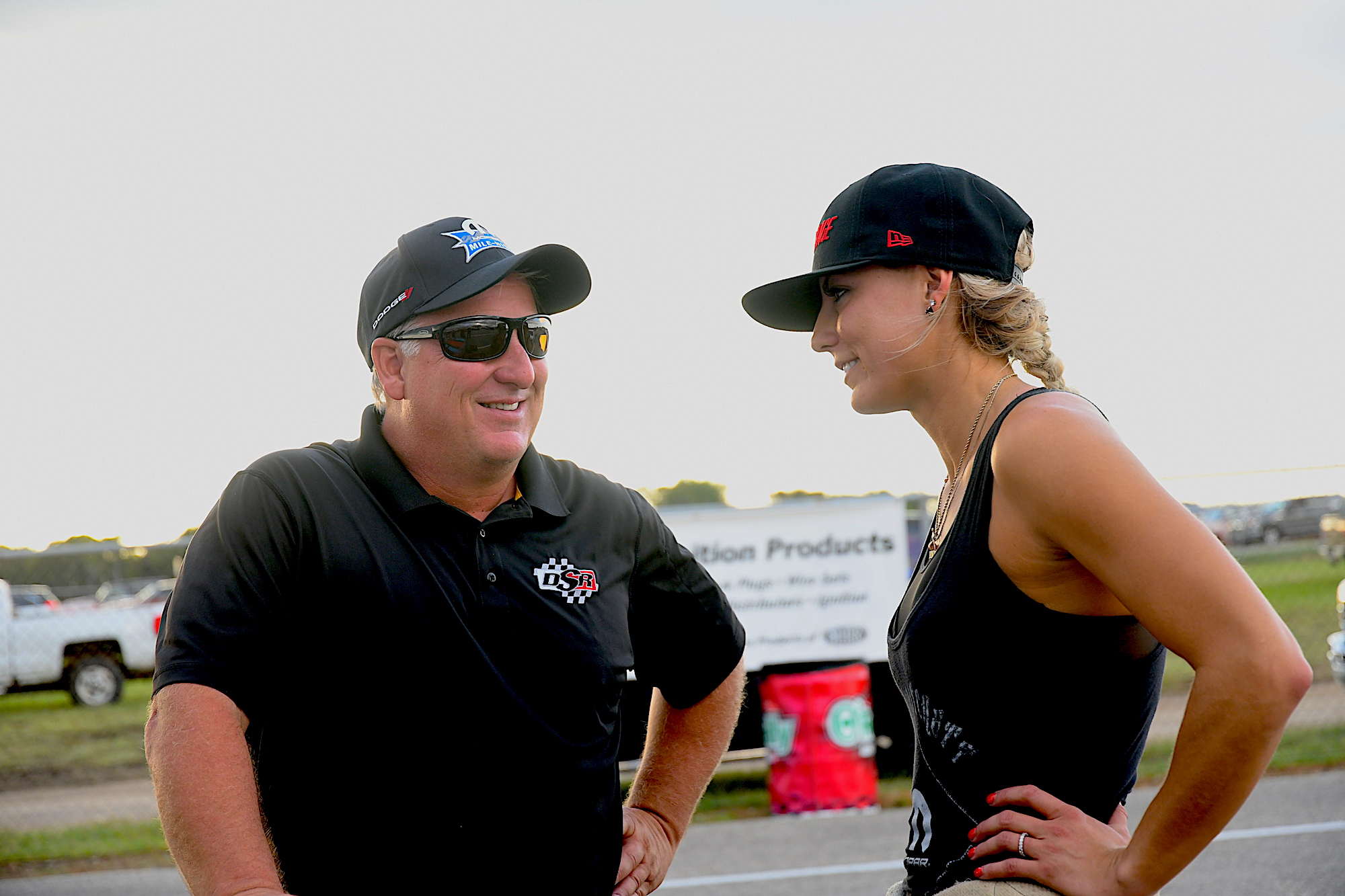 Kevin also works with Terry Snyder, whose long and tireless hours make sure the transporter gets to the races on time, and that the Drag Paks are prepped and ready to attack the strip when Leah and Mark arrive. "I meet Terry at the track, and we set up camp together. Even though I'm responsible for the tuning calls on both cars, Terry is the car chief and does most of the maintenance." When it's crunch time and DSR Drag Pak has to swap an engine at the track, it's all hands on deck. Both Leah and Mark, and even Mark's son Kyle, jump in and help out, especially on the pre-run chores on his dad's Drag Pak.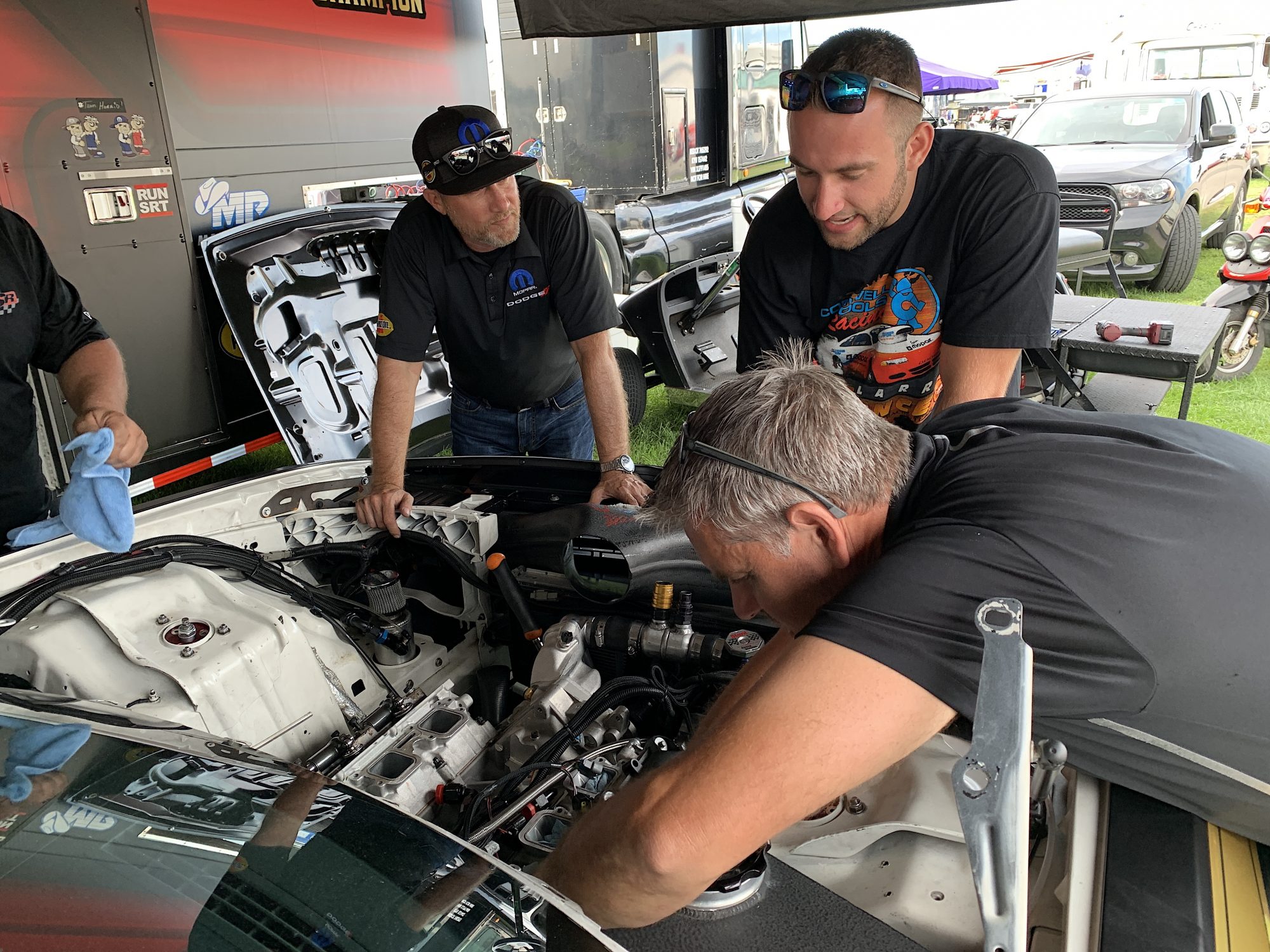 The 2020 NHRA season might be over, but rest assured Kevin and the DSR Drag Pak team are getting ready for 2021. There's a new Dodge Challenger Mopar Drag Pak heading down to DSR for Kevin and Terry to get their hands on and give their magic touch. The 2021 Drag Pak will have more power and technology, but it will still require Kevin's solid engine and chassis tuning skills to plant all that horsepower on the starting line while working with the mandated nine-inch rear slicks in the Factory Stock Showdown class. Kevin might take a week or two off and go fishing near his home in Florida during the off-season, but he'll be itching to get back to the drag strip, make some noise, and chase another world championship. He's the Drag Pak Whisperer after all.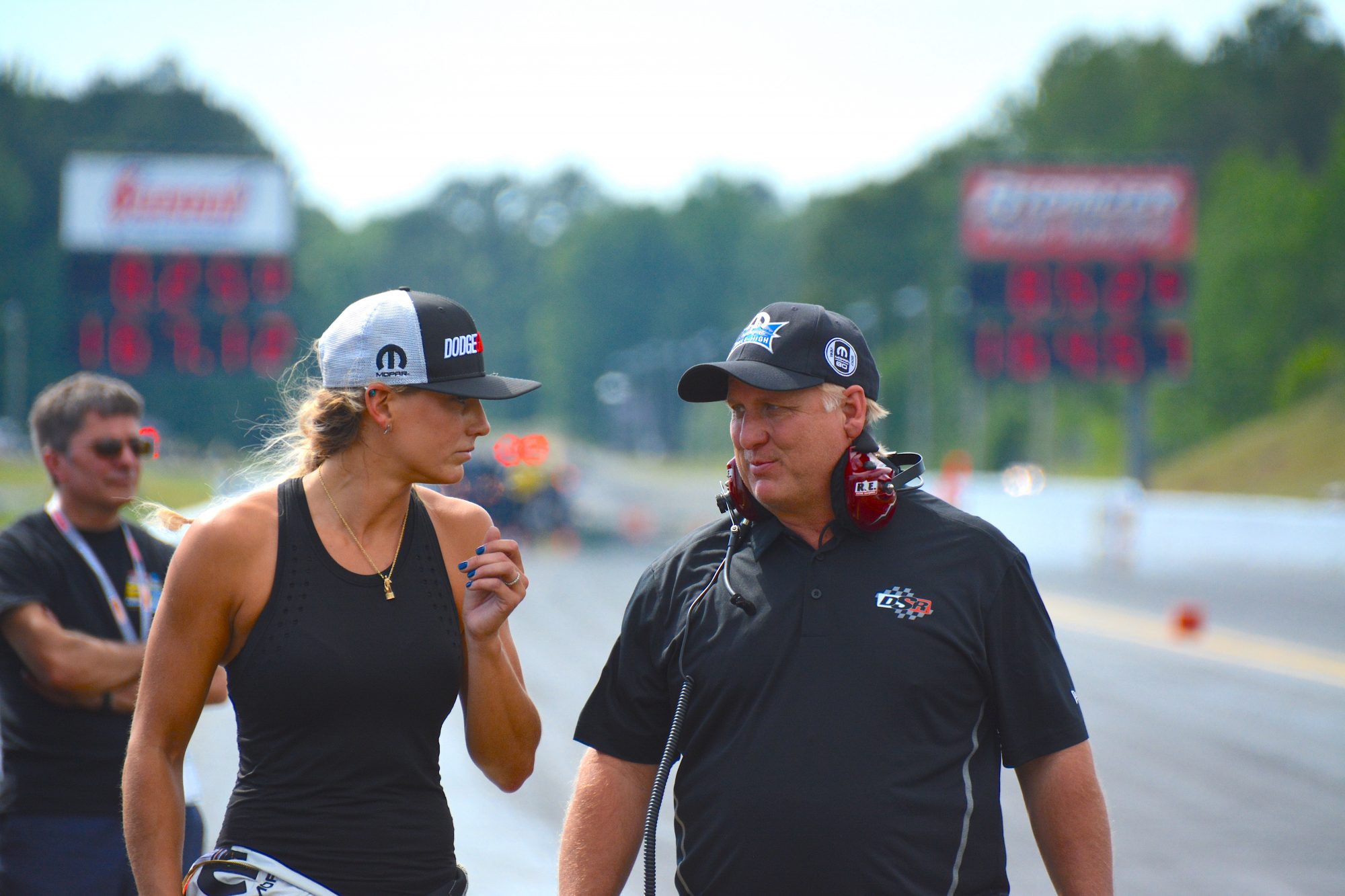 Check out these images of Kevin Helms as a championship Challenger Drag Pak racer and world-class crew chief for Leah Pruett and Mark Pawuk.
(009-022-images)
Comments
Comments