Final Qualifying of 2020 Season Capps off with Dodge Charger SRT® Hellcat in No.1 Spot at Dodge NHRA Finals in Las Vegas
3 years ago Racing
The final qualifying sessions of the 2020 National Hot Rod Association (NHRA) Drag Racing Series season have been completed at the Dodge Finals Presented by Pennzoil with Don Schumacher Racing (DSR) Funny Car pilot Ron Capps taking his Dodge Charger SRT® Hellcat to the No. 1 qualifier position. Capps and his DSR teammates, Matt Hagan, Tommy Johnson Jr. and Jack Beckman head into the final eliminations rounds of the season battling for the Funny Car world championship with a points-a-half format to determine the winner among them.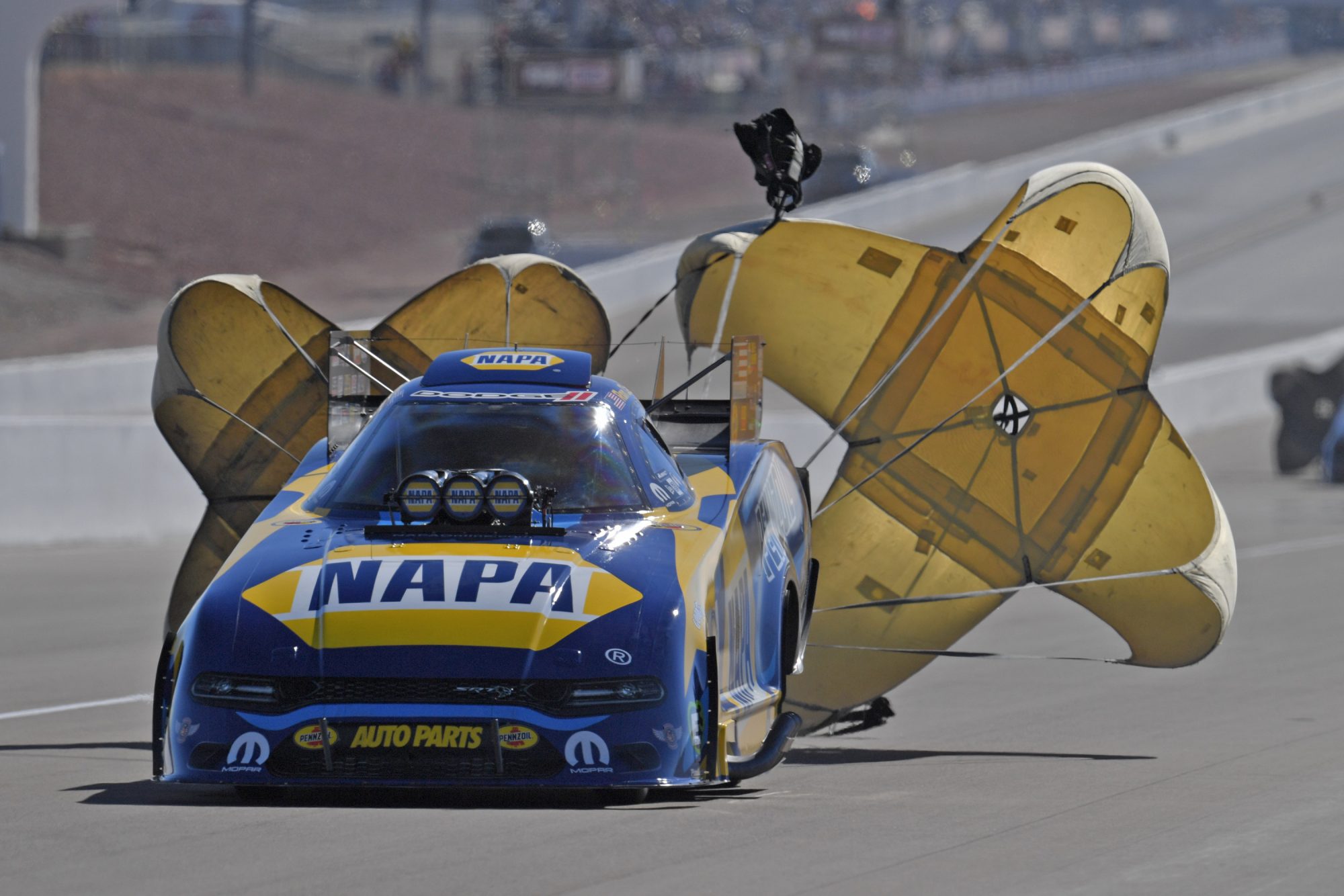 Capps earned his first No.1 qualifier honors of the season, the 25th of his career, in the final session with a 3.902-second elapsed time pass at 327.98 mph to dislodge the provisional pole sitter and the defending race winner Hagan. Capps has taken home five Wally trophies (2001, 2005, 2009, 2011 and 2012) from The Strip at Las Vegas Speedway and will start his quest for another against Chris Morel in the first round.
With the qualifying result Capps added four bonus points to his total which has him fourth in the standings that the four DSR Dodge Funny Car have dominated all season-long with an undefeated streak of 13 national event wins that stretches back to October 2019.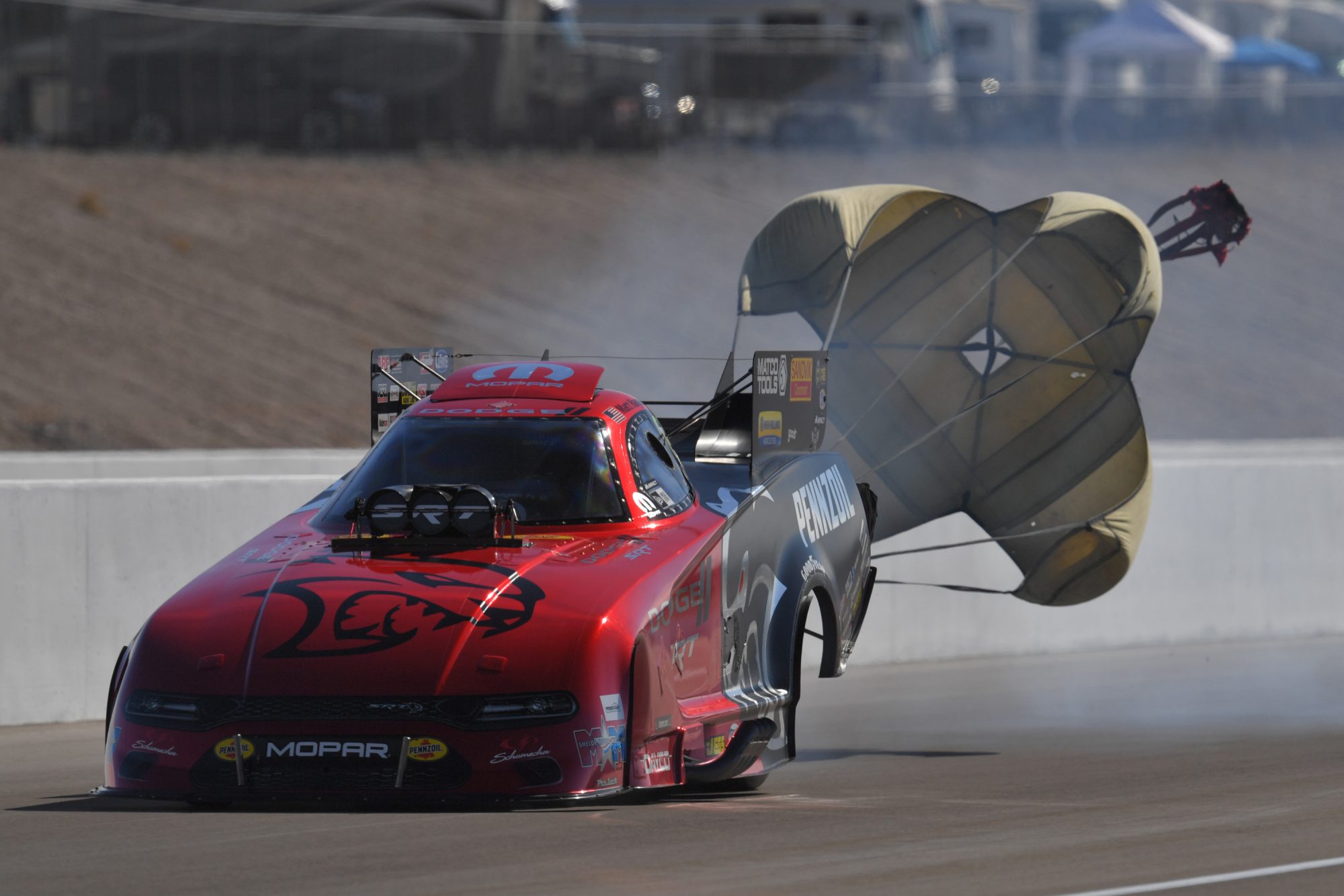 Hagan's 3.911-second pass at 327.82 mph was enough to keep his Dodge Charger SRT Hellcat Redeye No. 2 on the ladder. Looking to secure his third championship title, the Mopar® driver will begin his drive through eliminations with a first round match against Cruz Pedregon.
Should he be successful, the biggest challenge of the day could be a quarterfinal pairing with teammate and fellow championship contender Beckman who qualified tenth and would need to beat Hagan for his own chance to vie for the title.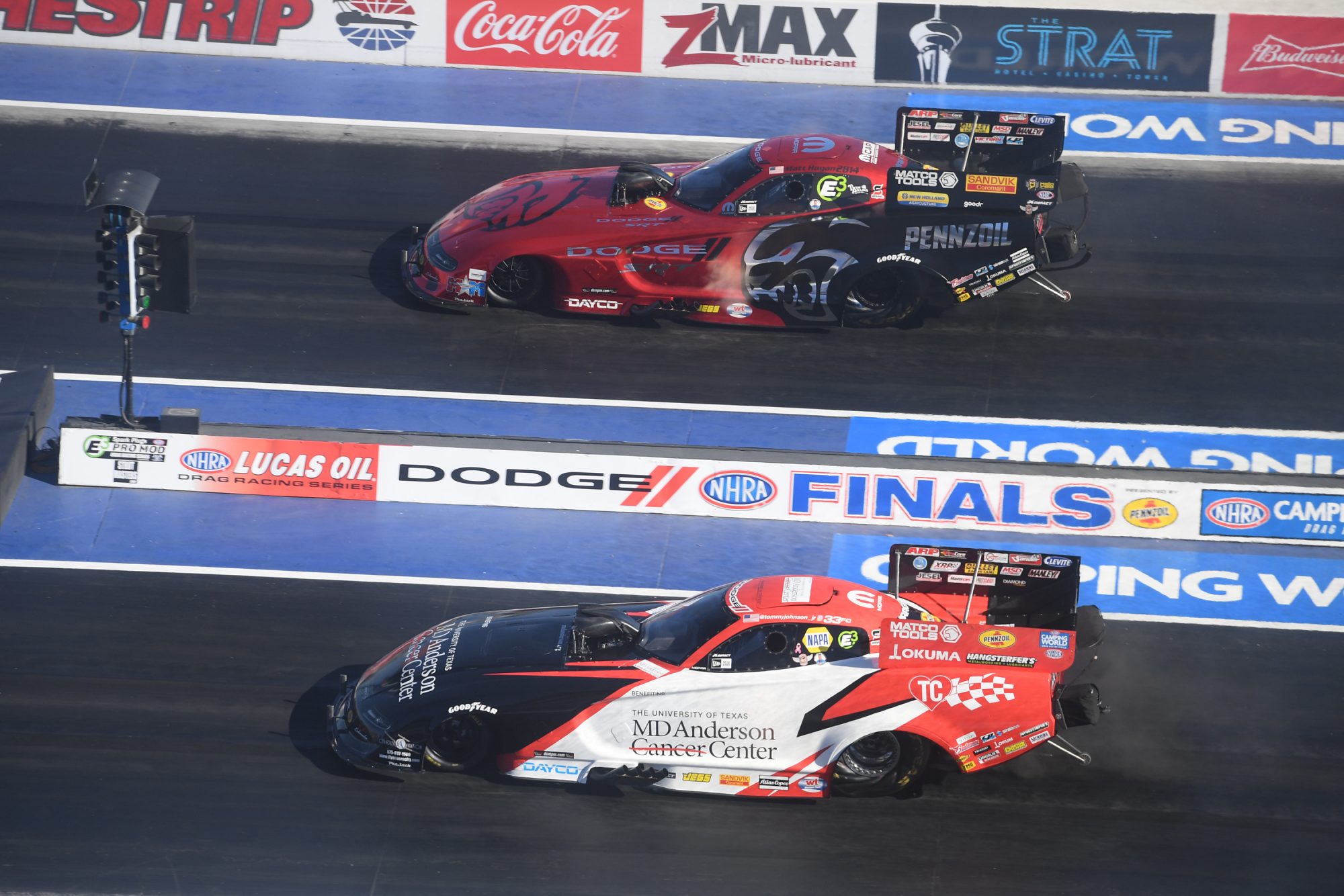 Johnson Jr qualified fourth with a solid 3.915-second pass at 319.14 mph aboard his MD Anderson Dodge Charger SRT Hellcat, earning bonus points in both sessions for posting the fourth and third quickest runs, respectively, and will look to turn on four win lights on Sunday to earn his first Funny Car championship title.
Trailing the points leader by 45 and 52 markers respectively, Johnson and Beckman would both have to finish two rounds ahead of Hagan for a chance to win the Funny Car crown. With both on opposite sides of the ladder, that could also set up an all-DSR Dodge final round showdown for both the national event win and the Funny Car world championship.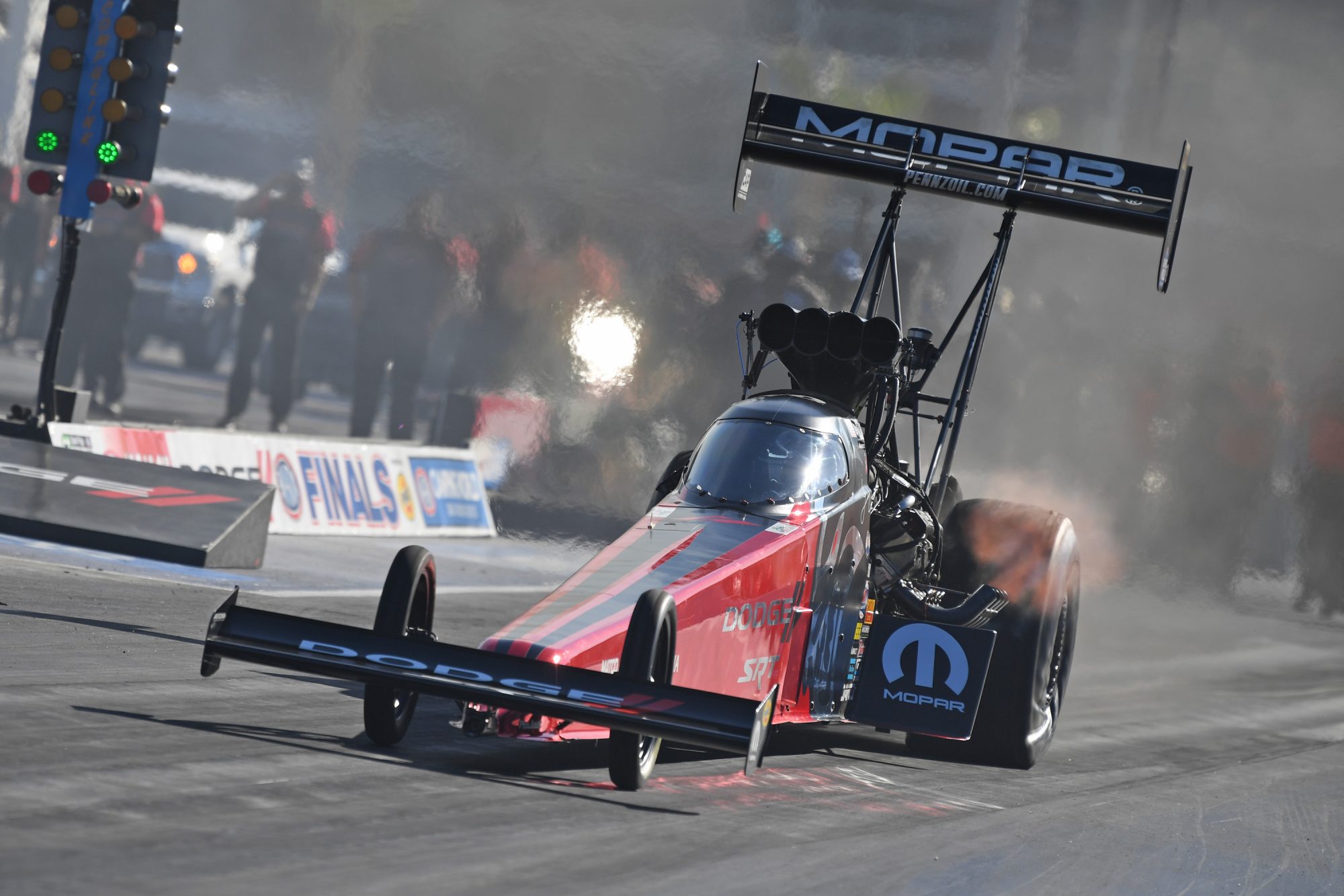 Last year's No. 1 Top Fuel qualifier at the Fall Vegas event, Leah Pruett set the second quickest run in the first session by driving her "Demon-possessed" Dodge Charger SRT Hellcat Redeye dragster to a 3.791 sec./ 322.04 mph run. That lap was good enough to keep her in the top half of the ladder when her second run didn't go as planned and will see her line up against Chris Karamesines in the opening round. From her No. 6 position, Leah hopes to make a run for her first event win of the season and boost her back into the top-three in the standings to finish the season in which she was part of the championship conversation until the very end.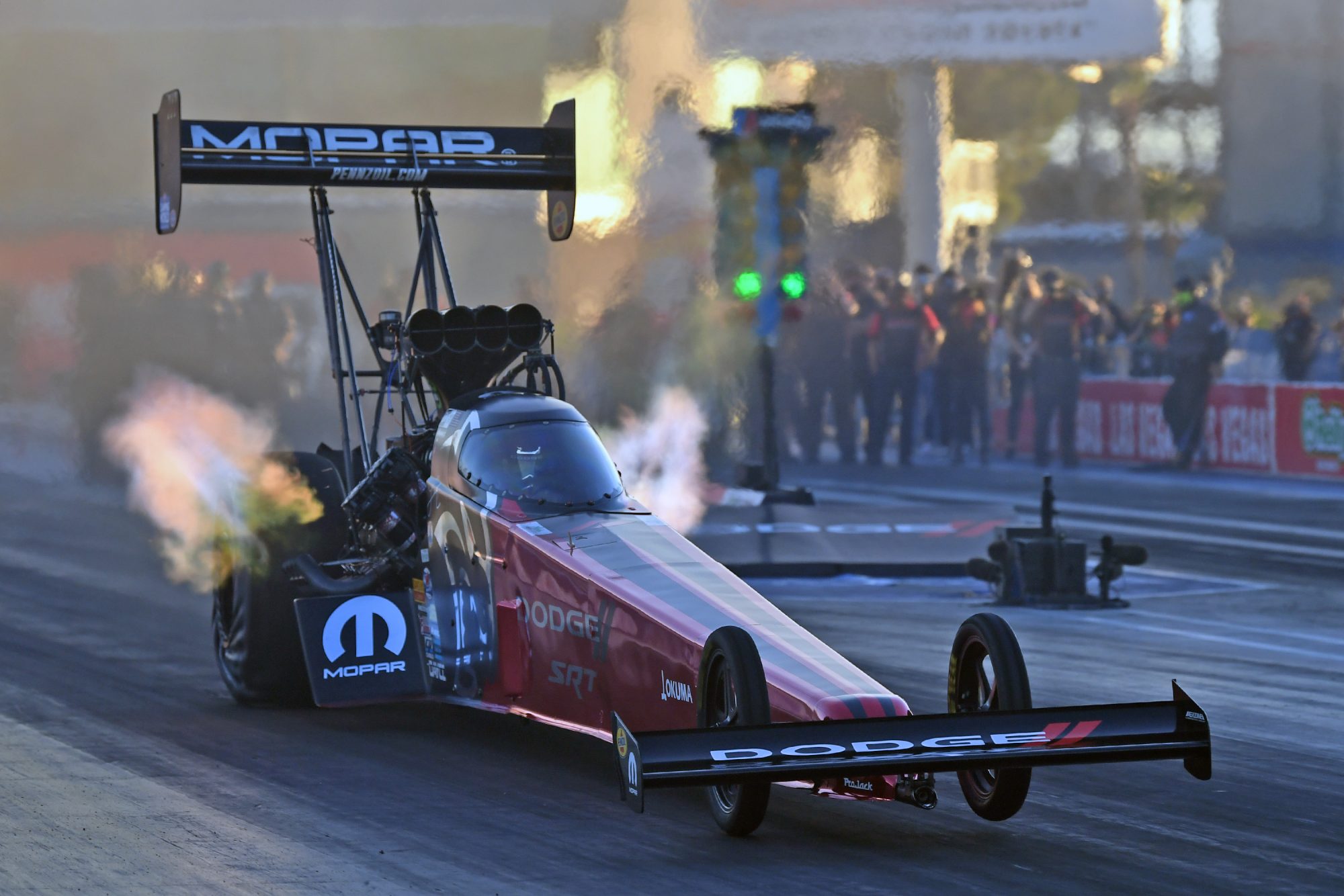 Pruett will also close out the season with a No. 3 Factory Stock Showdown starting position for her Dodge Challenger Mopar Drag Pak after setting the second quickest run in the first session and then improving on her second lap with a 7.976 sec./170.00 mph pass. She'll meet up with Kevin Skinner in the opposite lane for her first run on Sunday. Meanwhile, her Factory Stock Showdown DSR Dodge Challenger Mopar Drag Pak teammate Mark Pawuk, after two difficult qualifying sessions without a clean run, finds himself starting from 15th place on the ladder. He will line up his Empaco Equipment Drag Pak against No. 2 qualifier Aaron Stanfield who clinched the Factory Stock Showdown championship last weekend after their semi-final match-up at the Mopar Express Lane Spring Nationals. Pawuk will be looking to win that rematch to help him secure a runner-up finish in the Factory Stock Showdown championship.

The 2020 NHRA season concludes at the Dodge NHRA Finals in Las Vegas with FS1 broadcasting the action on Sunday, Nov. 1. Qualifying highlights will air from 2-4 p.m. ET and then eliminations from 4- 7 p.m. ET will feature live coverage of the final rounds.
Comments
Comments