Women Drag Racers in History: Adrianna Straub
3 years ago Gallery Racing
DART DEVOTION
All of us have family treasures and heirlooms that get locked away, forgotten or even sold off at a garage or estate sale. Adrianna Straub, of Pierson, Michigan, is taking an item that's been in her family for over 50 years and doing burnouts while hurling it down the quarter-mile. This 23-year-old lady is not your stereotypical drag racer, simply playing with vintage muscle cars. When it comes to her late grandfather's 1969 Dodge Dart GTS, Adrianna has no problem getting behind the wheel, fastening the seatbelts, putting on his old helmet and blasting down the strip, clicking off low 13-second ETs. While most owners of old-school muscle would be satisfied doing the car show thing, Adrianna likes to mix it up with the boys in the super-competitive FAST/Factory Stock races held at US 131 Motorsports Park, and the Pure Stock Drags contested at the Mid-Michigan Motorplex.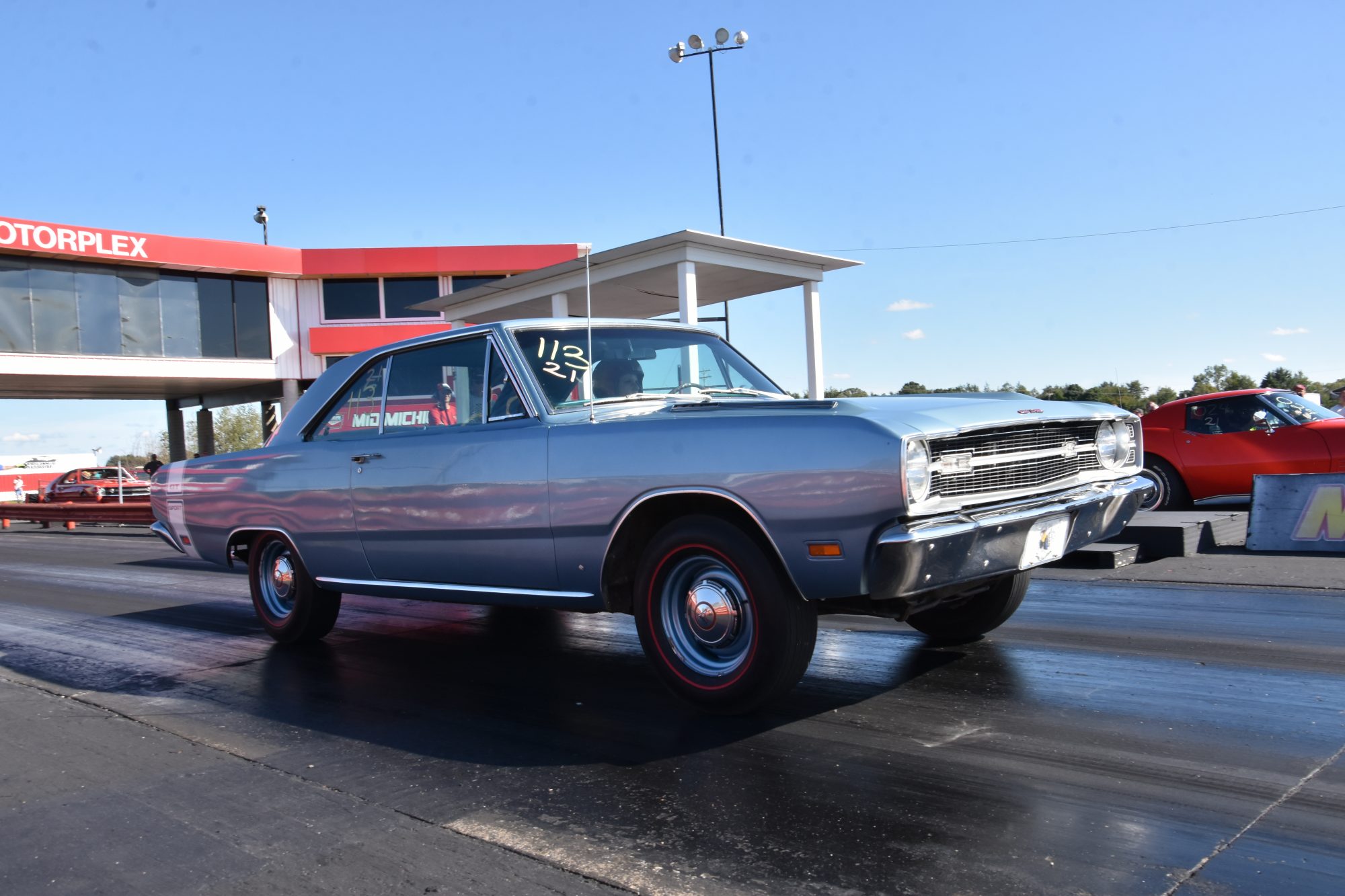 "The 1969 Dodge Dart GTS was originally my grandpa's car. He had bought the Dart GTS new and my father and uncle restored one for him in the early 1990s. He used to drag race the car back in the late '90s. There were days he would take me out for ride in the Dart to the local ice cream shop, I would be in my booster seat in the back, listening to grandpa's music choice which was classic rock," reminisced Adrianna. "But as time went on, my grandpa gave up his dreams and sold his Dart in 2001. My grandpa ended up passing away a couple days before my high school graduation in 2016, I did not get into drag racing until after my first year of college – that's when I started drag racing an Oldsmobile 442. In 2017, my father received a call from the family that bought the Dart from my grandpa. They said the family member who bought the Dart passed away. We worked out a deal and the Dart came back to us. My family and I had to make the sacrifice of selling my Oldsmobile to get my grandpa's car back. It was a tough transition switching cars and having to learn to deal with traction issues by racing on smaller tires."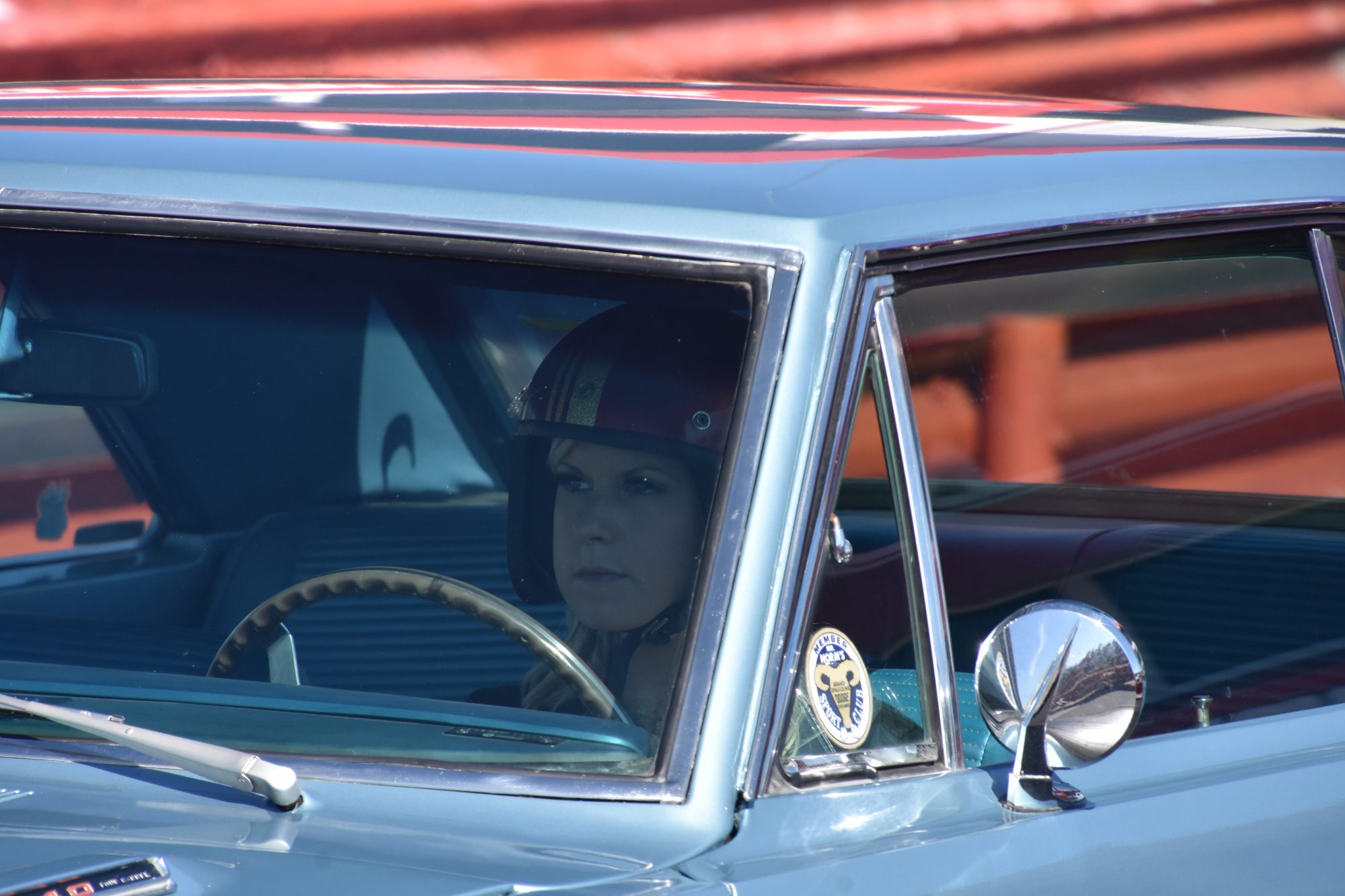 While we cherish the memories of loved ones in many different ways, Adrianna felt the best way to honor her late grandfather was to compete against other racers, just like he had done decades earlier. "Being able to drag race my grandpa's car again after 20 years is breathtaking. Especially after wearing his custom helmet he made and kept for himself. I have worn his helmet every race since I started racing and now that the helmet and car are back together, it feels complete and as if he was here racing with me," reflected Adrianna. Despite being in her early 20s and actively drag racing for only three years, Adrianna is not a newcomer to the car hobby. "I got into Mopar® car shows/drag racing because my grandfather was a Mopar fan; he bought several high-performance Chrysler products through his younger years, that carried on to my father and then on to me. I grew up going to swap meets and car shows as a type of family vacation. My parents were always big into classic cars," said Adrianna.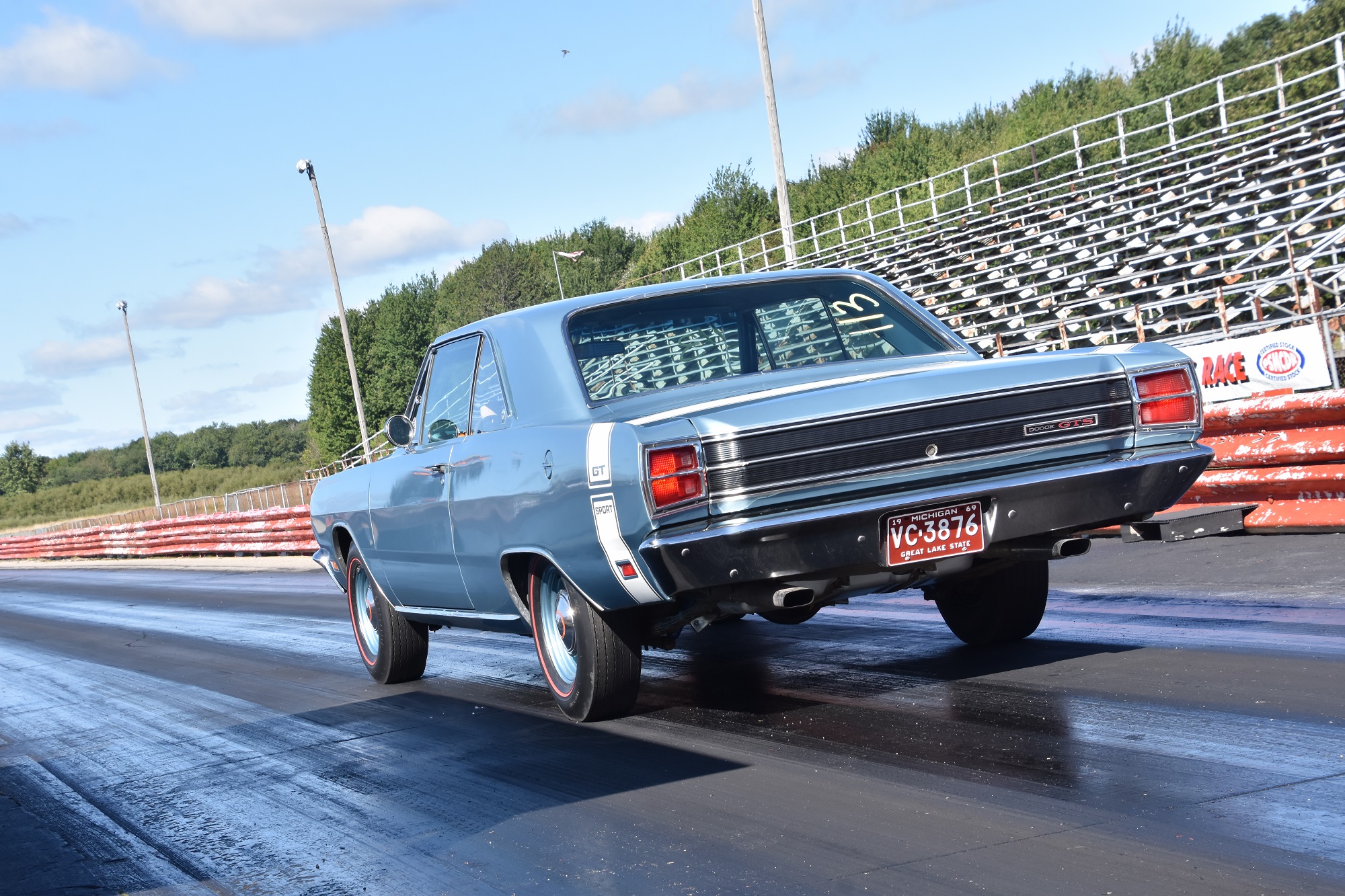 Although it looks rather sedate in subtle B3 Blue paint, white bumble bee stripe and dog dish hubcaps, Adrianna's Dart GTS can put down some rather impressive times from its little 340-cubic-inch small block Mopar V8 that's bolted to a 727 TorqueFlite® automatic transmission. With a 4.30 rear axle ratio, it can be a challenge for any driver to get the skinny E70x14 bias ply redline tires to hook, but Adrianna has mastered the art of the launch. She's turned in a best ET of 13.02 at 105 mph. Not too shabby considering Factory Stock/Pure Stock class rules are strict. They mandate the use of the production carburetor, intake manifold, exhaust manifolds and virtually all stock components. Even the interior and sheet metal must be stock, no aftermarket parts are allowed. The engine can be blueprinted to NHRA Stock Eliminator specs, but other than that, these cars look, feel and smell like an original muscle car that should be on display at a show, not getting flogged mercilessly down a drag strip.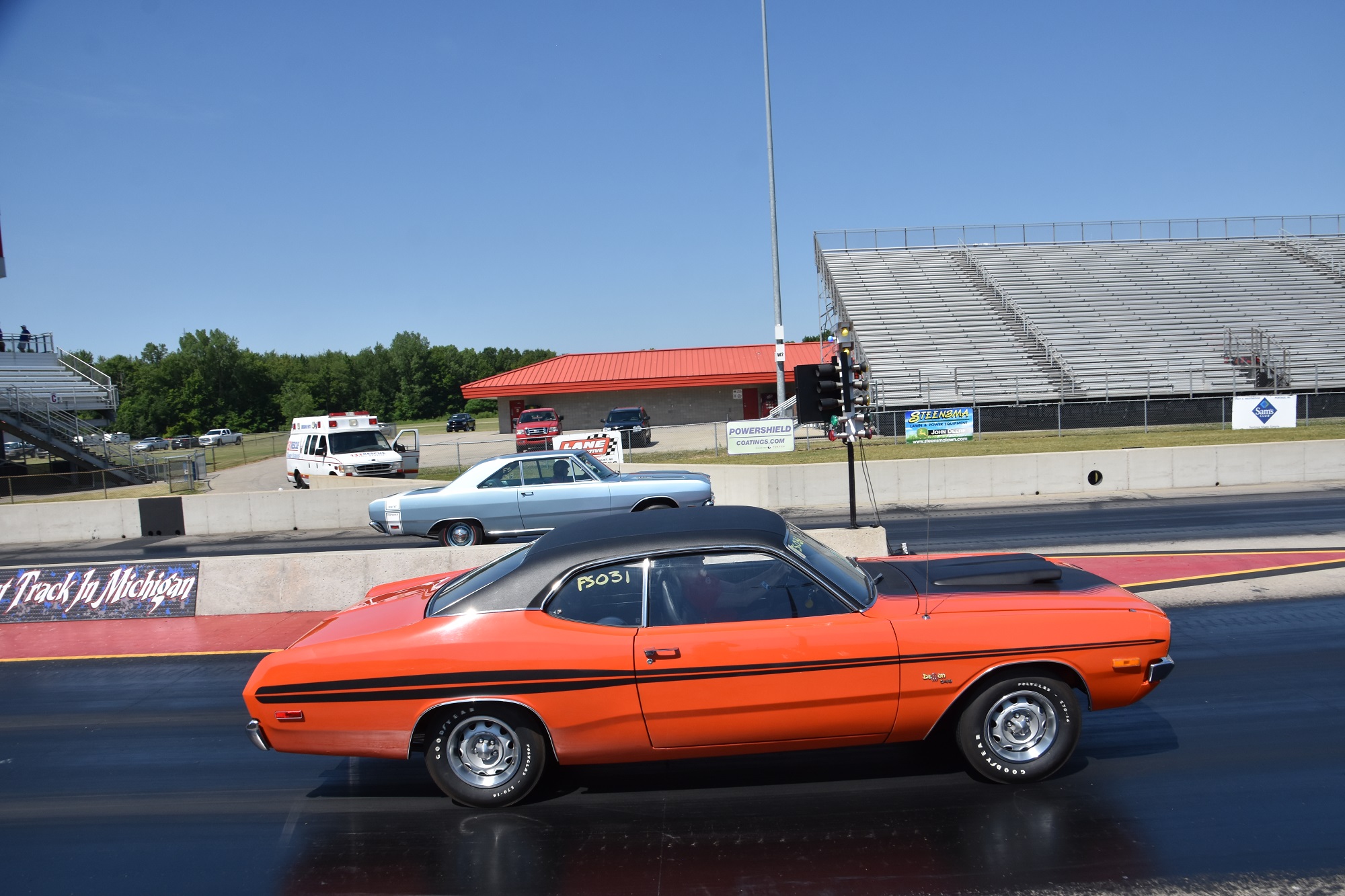 It's also a family affair for Adrianna. Her mother Carolyn also competes in the Pure Stock and Factory Stock Drags in a EV2 Orange 1972 Dodge Demon 340 that has marched down the quarter-mile in 13.89 seconds at 99 mph. "I had watched my husband race in these classes since 1997. For years, I brought the kids and attended to everyone's needs, now that the kids are older, I have the time to get more involved," said Carolyn. Both Carolyn and her daughter Adrianna are regulars at the FAST/Factory Stock races at 131 Motorsports Park and the Pure Stock Drags at the Mid-Michigan Motorplex. There have been times when both Carolyn and Adrianna have squared off against each other down the drag strip, but Carolyn loves racing all competitors. "It's a lot of fun competing against a largely male field of competitors, they realize quite quickly that I have been around these cars for a long time. My husband Rich and I would hang out together and spend time together fixing up and restoring classic cars. Our first ride together was in his 1970 340 'Cuda," smiled Carolyn.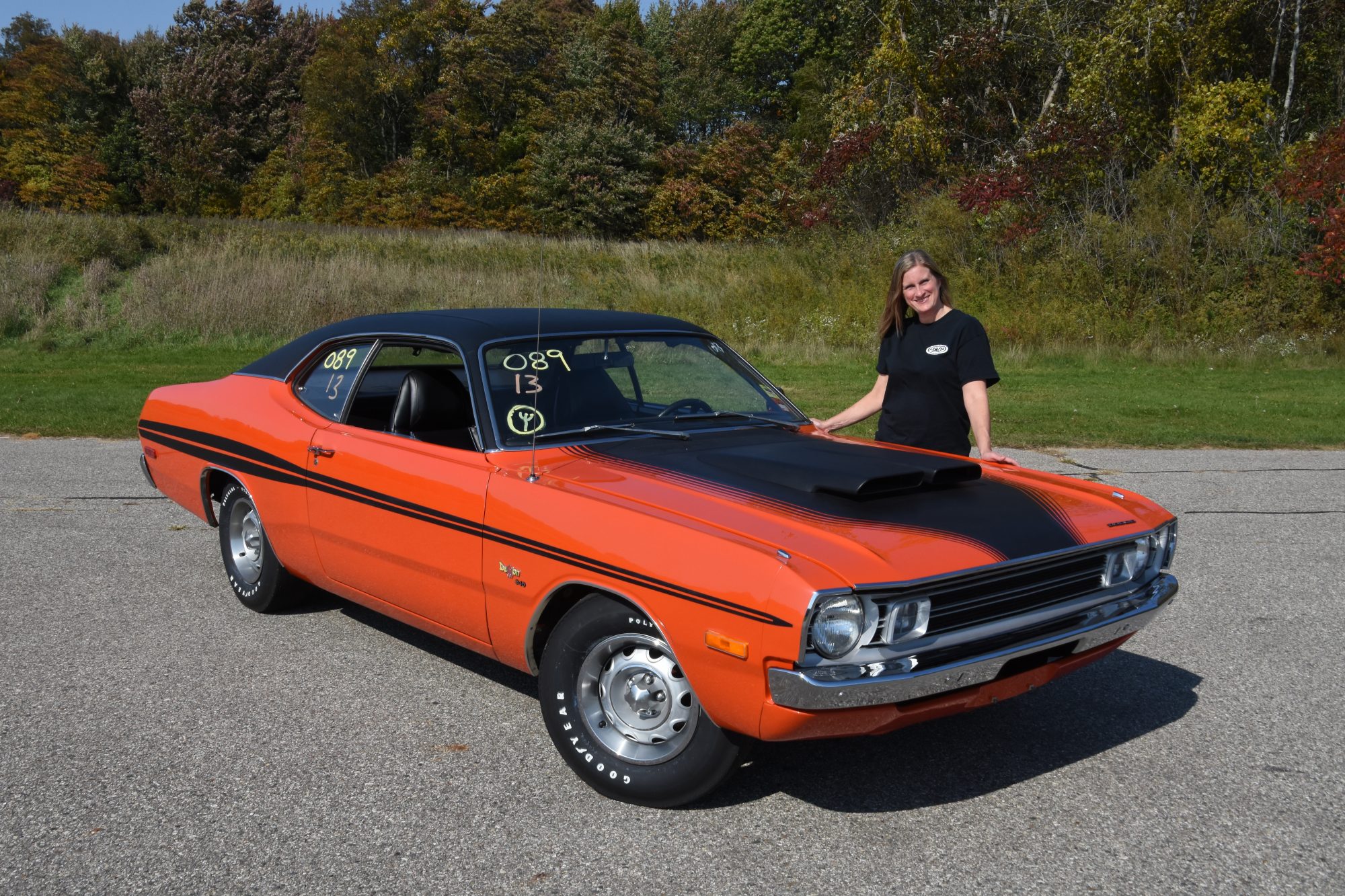 While Adrianna was influenced by her parents to race, it was a two-way street when Carolyn decided to get behind the wheel of a muscle car. "My daughter Adrianna inspired me to do something that many females are intimidated to do in a male-driven sport. Hanging out and watching my husband and brother-in-law for many years, then my daughter, helped with confidence and desire to be a participant," noted Carolyn. It's also about spending time with family and with two younger children not too far off from getting their driver's license, Carolyn and her husband Rich will have more future drag racers on their hands.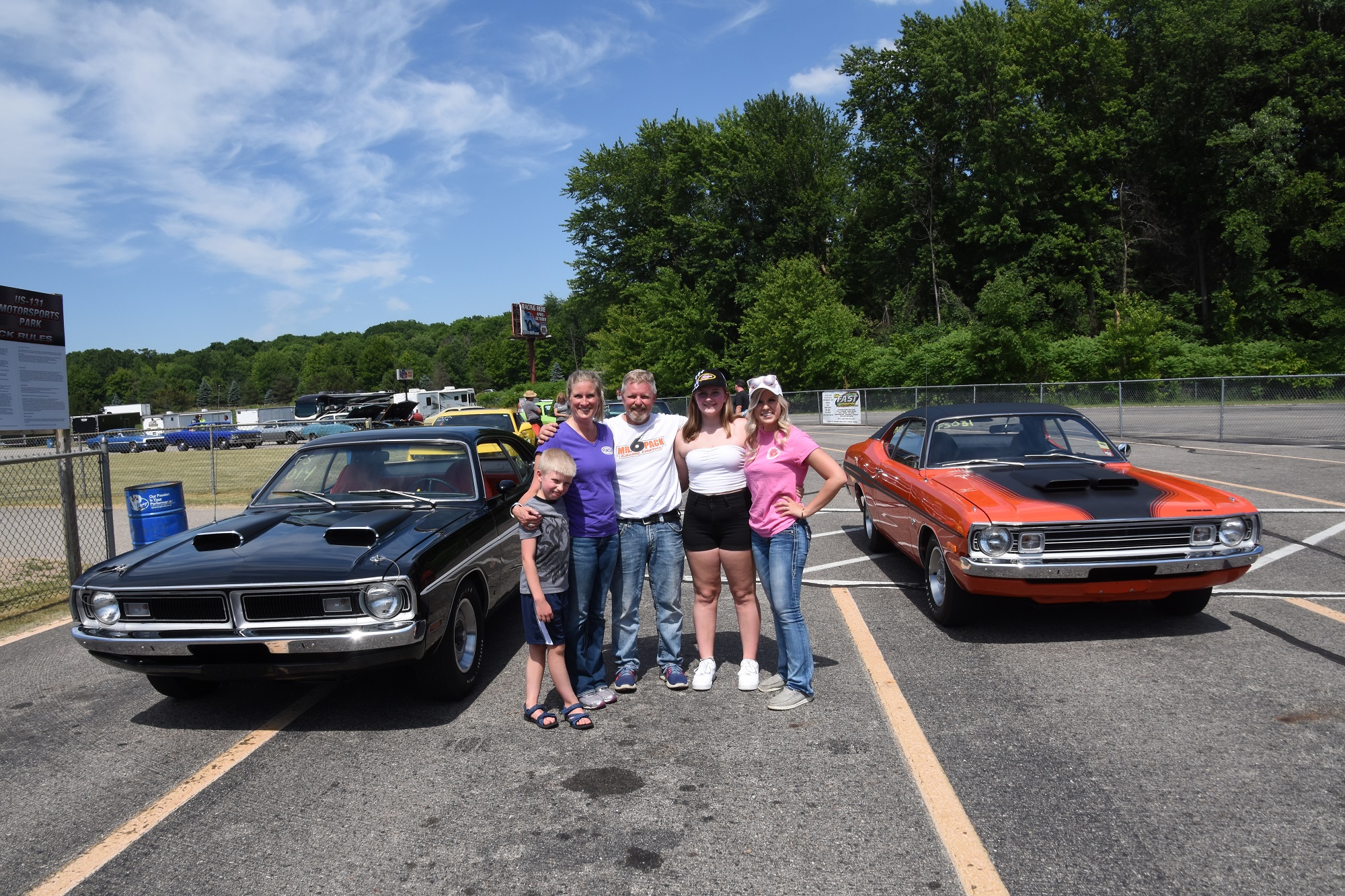 While not blasting down the quarter-mile, Adrianna is also an ambassador for the Muscle Car and Corvette Nationals (MCACN) show that's held every year in Chicago. Her love and passion for and devotion to vintage muscle cars overwhelms the staff and attendees of this fabulous event that brings together the rare and unique performance cars that made Detroit a hub of horsepower and influenced generations of gearheads all over the world. "I also need to give a shout-out to muscle car photojournalist Tim Costello," said Adrianna. "I first met Tim at the Pure Stock Muscle Car Drags. It was my first time ever racing at that event. Tim came to me after the races and asked if I was interested in being part of MCACN show. I accepted the offer and we have become good friends since. Tim has always been supportive and kind to me. He has helped me in so many ways. I wouldn't be where I am today without him. Tim has helped me achieve goals and make my dreams come true. My family and I are thankful we met Tim and we appreciate everything he has done for us."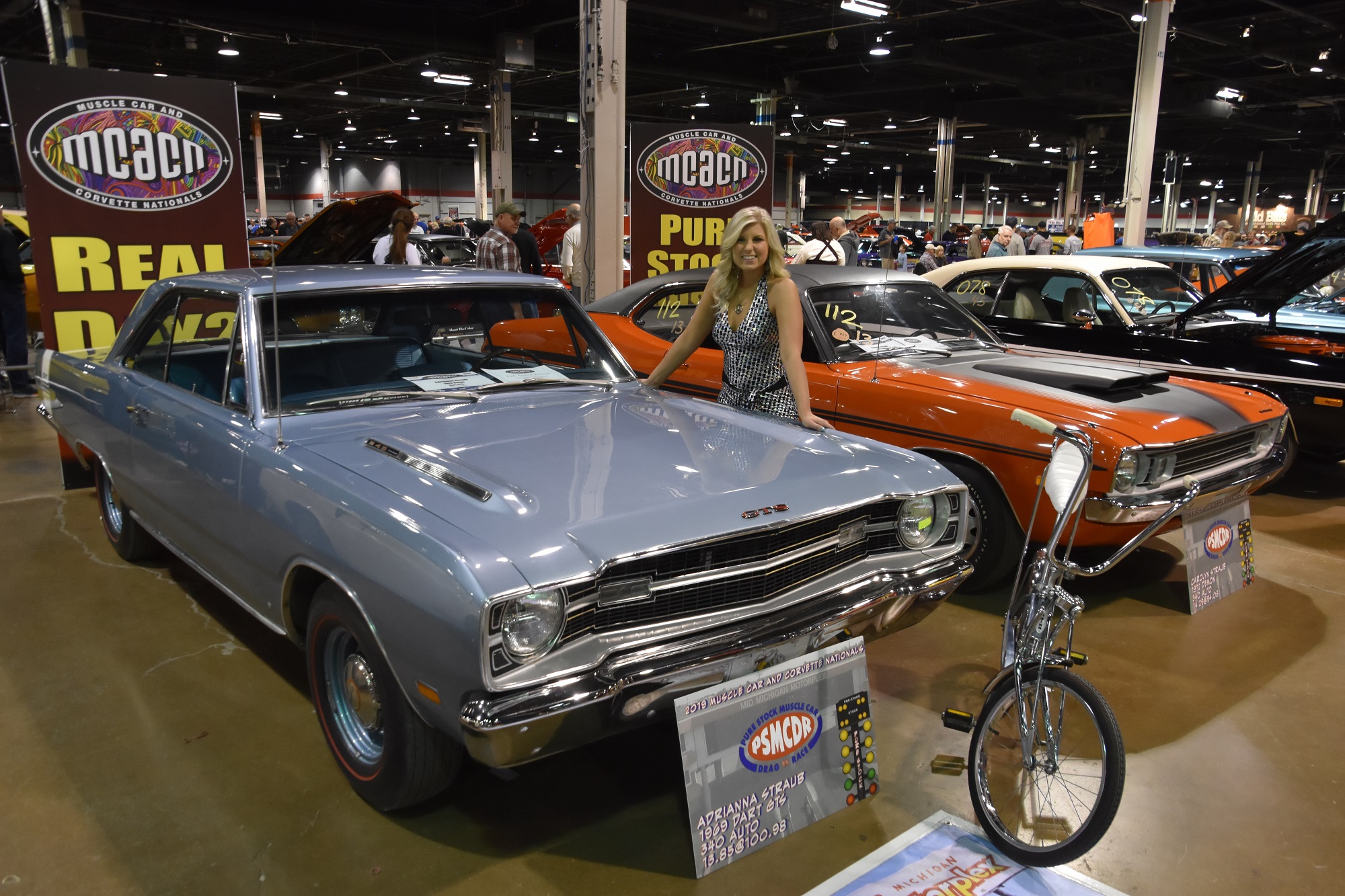 For Adrianna, being a young female drag racer makes her feel proud and honored to be racing with older male competitors. "There are more and more female racers every year, but more importantly, there are more younger participants," declared Adrianna. "I believe it is important for the younger generation to pursue classic cars and drag racing because it keeps the hobby and sport alive, while building a strong bond with the history of the performance car market. I also believe females have the capability to participate and be competitive in these types of events."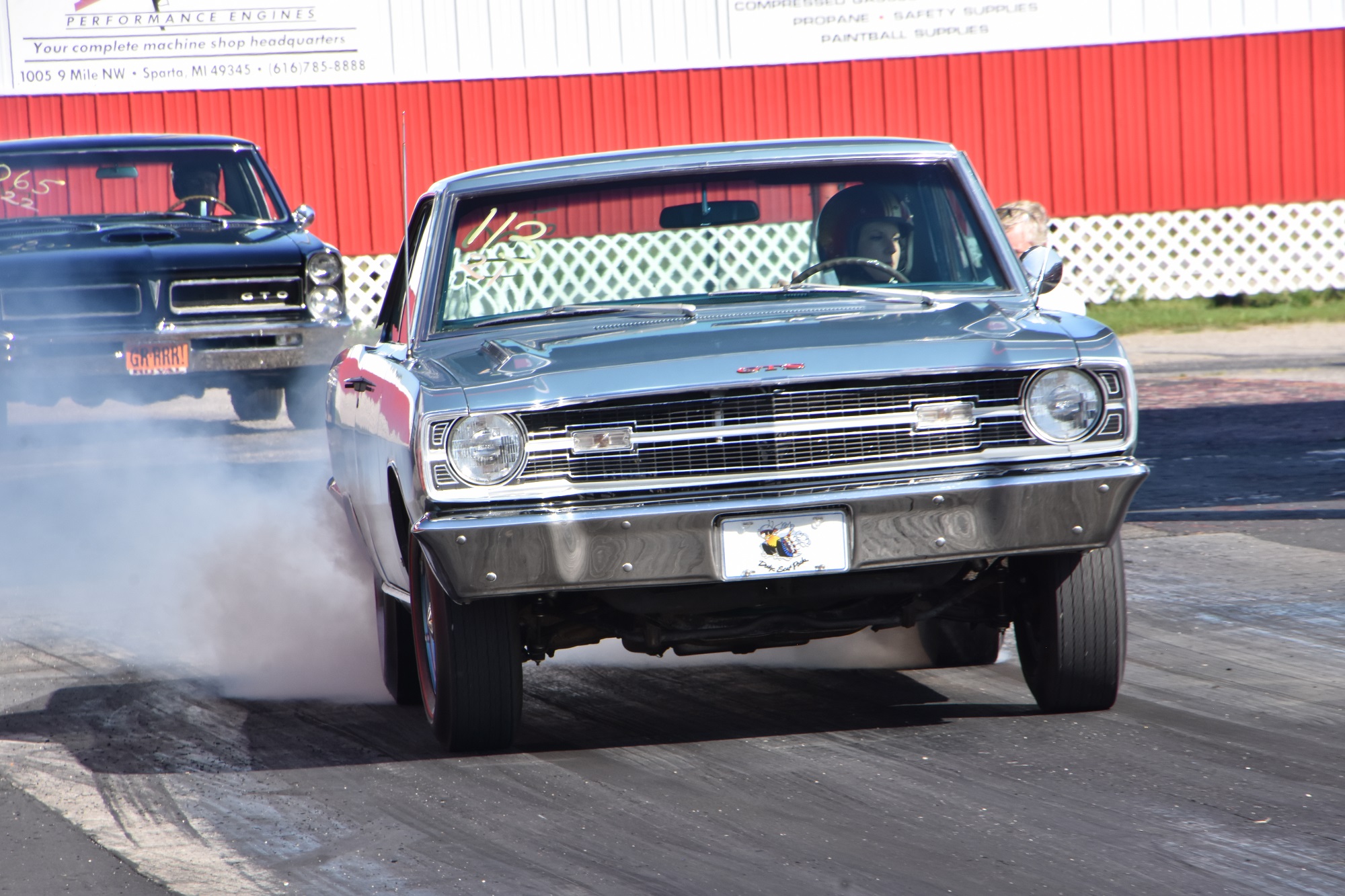 So for all you older gearheads that worry about the fate of the vintage muscle car hobby, rest easy. There's another generation ready to roll into the burnout box and go wide-open for 1,320 feet!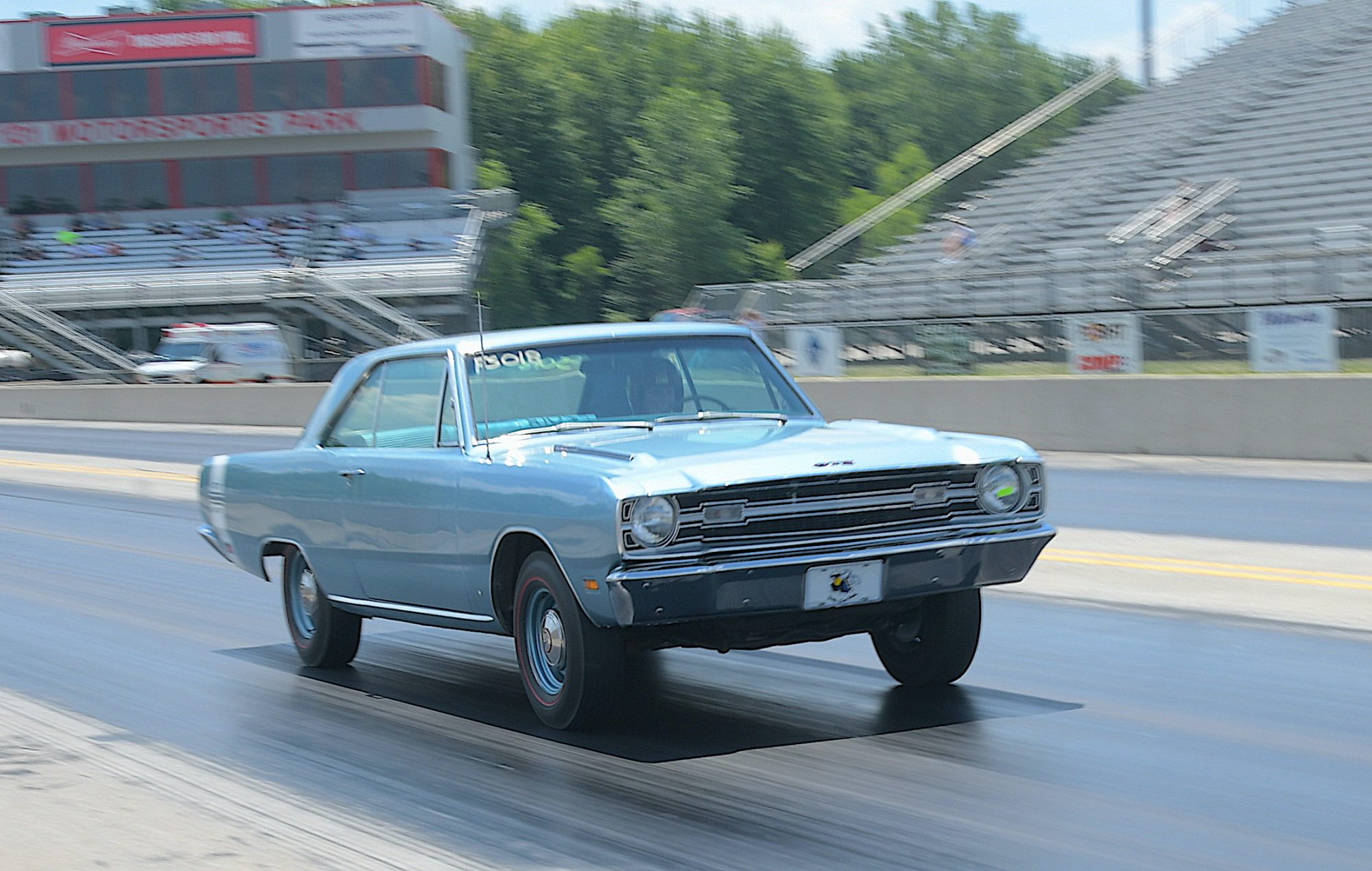 Check out more images of the Straub family at the drags!
Check out these female drag racers in history:
Mary Ann Foss-Jackson
Neichaun Tatum
Shirley Shahan
Judy Lilly
Della Woods
Leah Pruett
Comments
Comments