Women Drag Racers in History: Judy Lilly
2 years ago Gallery Racing
As we get into high-gear celebrating Women's History Month, it's hard to believe there was a time that female drag racers weren't taken seriously. Treated as a novelty act or scoffed at both to their face and behind their back, these pioneering woman of the quarter-mile had to endear more grief just because of their gender. For Judy Lilly, her "bring it on" feisty attitude quickly established her as a serious competitor as she raced her 1961 Corvette at numerous tracks during the early and mid-1960s. After winning the D/Sports class at the 1965 NHRA Winternationals at Pomona, she started getting noticed.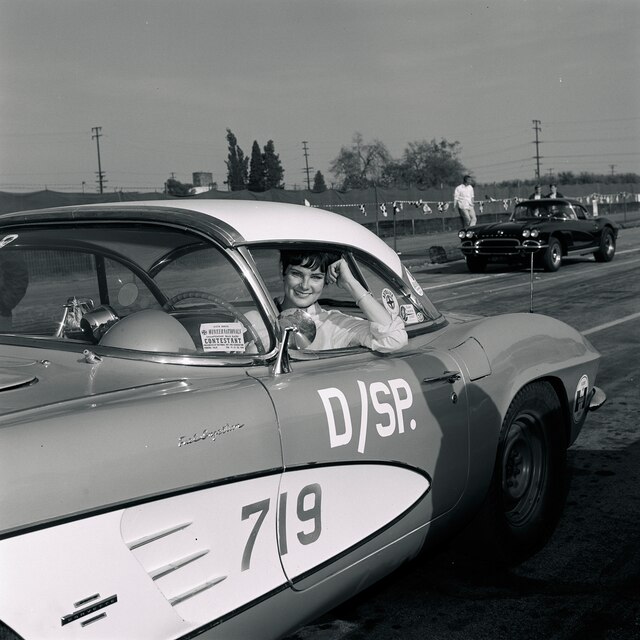 During the 1966 NHRA World Finals in Tulsa, Judy was going rounds in the eliminations driving her Corvette when Bob Cahill and Dick Maxwell spotted her in the staging lanes. If these two names sound familiar, they should. Cahill and Maxwell managed the Chrysler Drag Racing program during this era and were instrumental in sponsoring other female Super Stock competitors such as Mary Ann Foss and Shirley Shahan to run current production cars. Later that day, Cahill and Maxwell spotted Judy in the pits changing the Corvette's rear differential all by herself. Needless to say both Cahill and Maxwell were impressed and knew right away they needed to get Judy over into the Mopar® camp.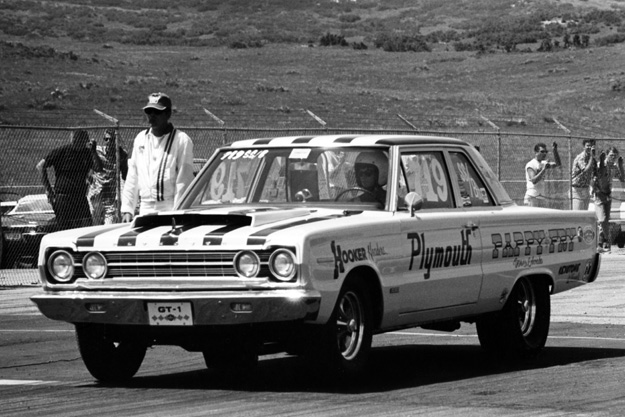 With the introduction of the 426 Street HEMI® in both the Dodge Coronet and Plymouth Belvedere and also the Satellite line for 1966, Chrysler felt Judy Lilly would be a natural in promoting Chrysler's latest entry into the intermediate-sized muscle car class. Competition was ramping up with the Pontiac GTO and Chevelle SS396 earning more market share over Dodge and Plymouth that year. To highlight the performance potential of the new 426 Street HEMI, Chrysler knew NHRA drag racing was the place to showcase the hardware. After Judy had discussions with the factory guys in late 1966, she was set to get a sponsorship and technical support to race a brand-new 1967 Plymouth Belvedere I powered by a 426 Street HEMI engine in Super Stock. However, there was a catch. Judy had to get a secondary sponsorship from a local dealership before Chrysler would approve the deal. "I went and visited many Chrysler/Plymouth dealers in the Denver area and they just laughed me out of the showroom floor," smiled Judy.
Luckily, Judy never gave up and kept walking into dealerships asking to see the general manager or owner until she found one that was willing to take a chance on a female drag racer. Running in the SS/B class, Judy would terrorize the competition in NHRA Division 5 competing at drag strips throughout Colorado, North Dakota, South Dakota, Kansas, Nebraska and other states in the west central region of the country. Ironically, Judy was also offered a Dodge sponsorship after she agreed to the Plymouth deal. Maybe it was a gut feeling, but Judy said thanks but no thanks to running a Dodge. Especially since Dodge was also sponsoring other lady racers such as Shirley Shahan and Mary Ann Foss.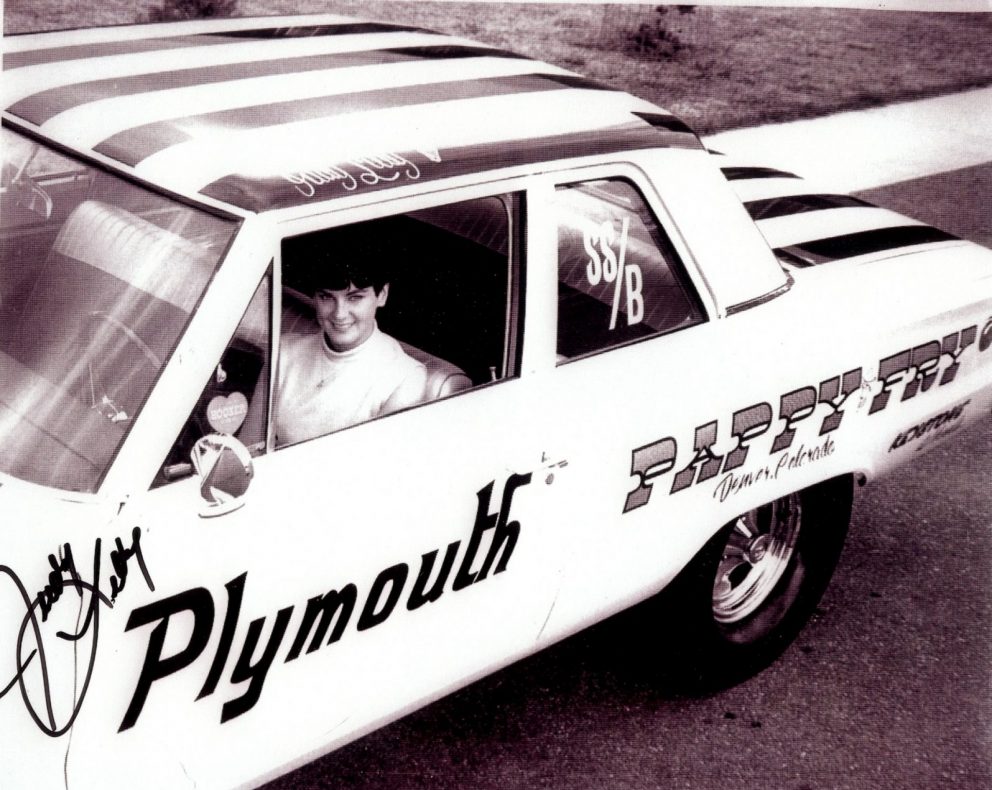 By the end of the 1967 NHRA season, Judy had amassed quite a winning streak with the Plymouth Belvedere I. When the new Super Stock HEMI Barracuda and HEMI Dart came on the scene in April of 1968, she was ready to transition into her new ride. Right away, Judy and her husband at the time, Dennis Maurer, began prepping the racecar to be as competitive as her HEMI Barracuda. It was delivered in a disheveled state as many parts were missing. Once the car was ready for competition, they were constantly on the road racing both national and divisional drag races. To compete at the major races as Judy's Chrysler contract dictated, she had to amass points to be eligible for entry at the US Nationals and World Finals. "I remember we were always on the go during this era. Many times, I would drive the ramp truck with the racecar strapped down all by myself and my husband would fly into the races," reflected Judy.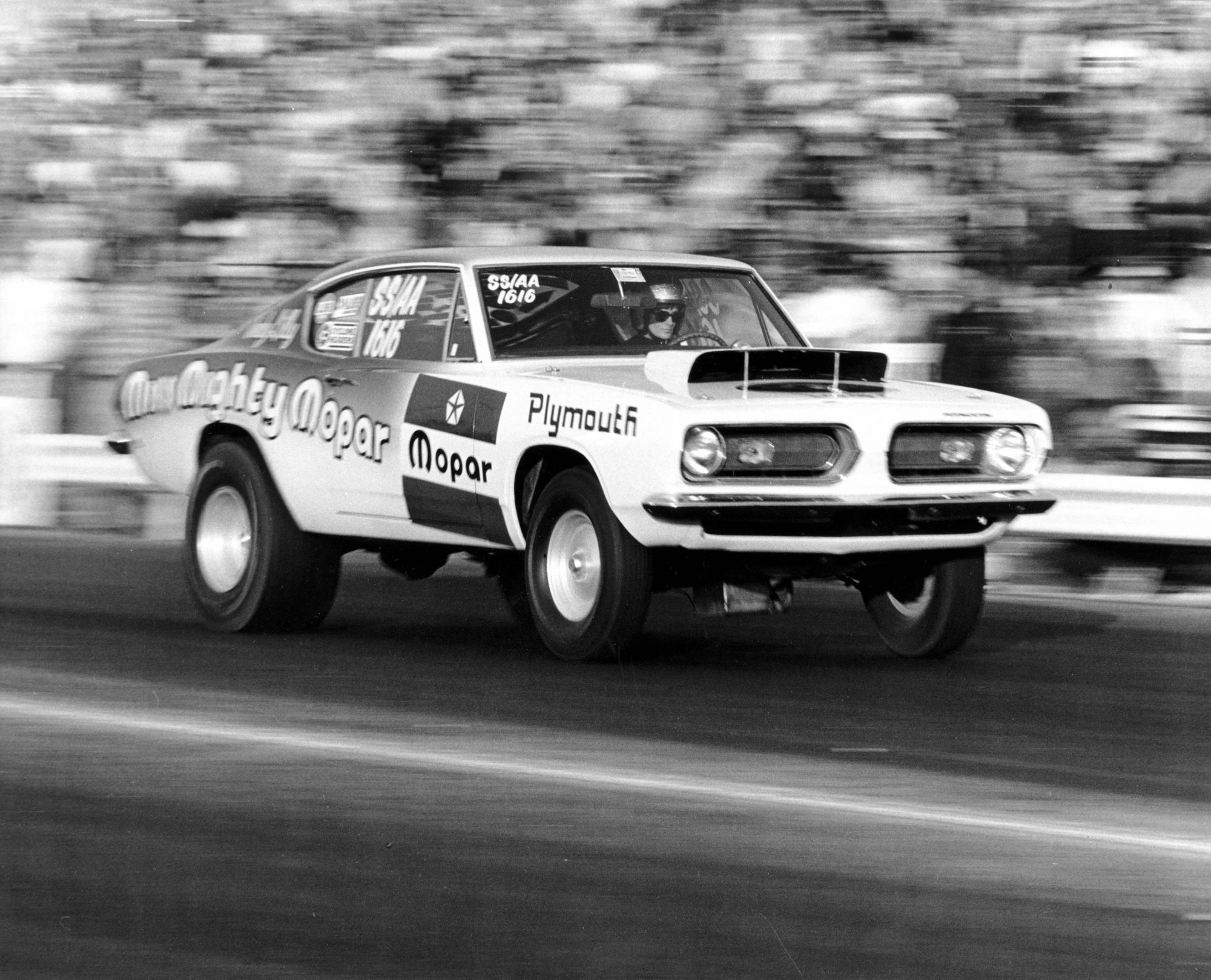 Judy's first major win in her career would come at the 1972 NHRA Winternationals as she drove her HEMI Barracuda to Super Stock victory. By this time, the only other female to win this prestigious event in Super Stock was Shirley Shahan six years earlier (ironically, in another HEMI engine-powered Plymouth). While female drag racers were slowly being accepted, it was still an oddity to see a petit lady like Judy wheel a 600-horsepower machine and drop her male competitors like a bad habit. Judy recalled an interesting comment NHRA founder Wally Parks said to her in the winner's circle at the 1972 Winternationals, "You're my favorite racer and the only one I want to kiss!"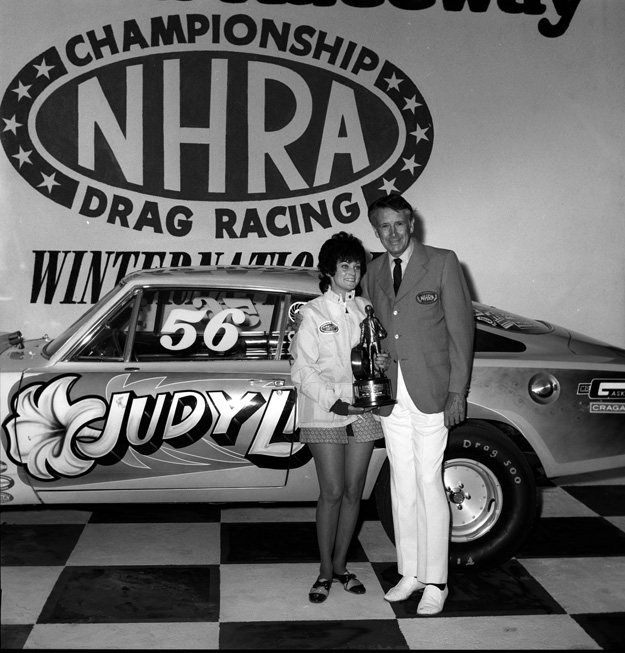 During the rest of the 1972 season, Judy Lilly and her fast HEMI Barracuda would go on to defeat many would-be competitors. Finally, the folks at Mopar realized the marketing potential of this very fast lady and created the "MISS MIGHTY MOPAR" moniker that would forever be associated with Judy. As she pointed out – "Chrysler was very generous and provided us parts and tech support, we provided the human bodies."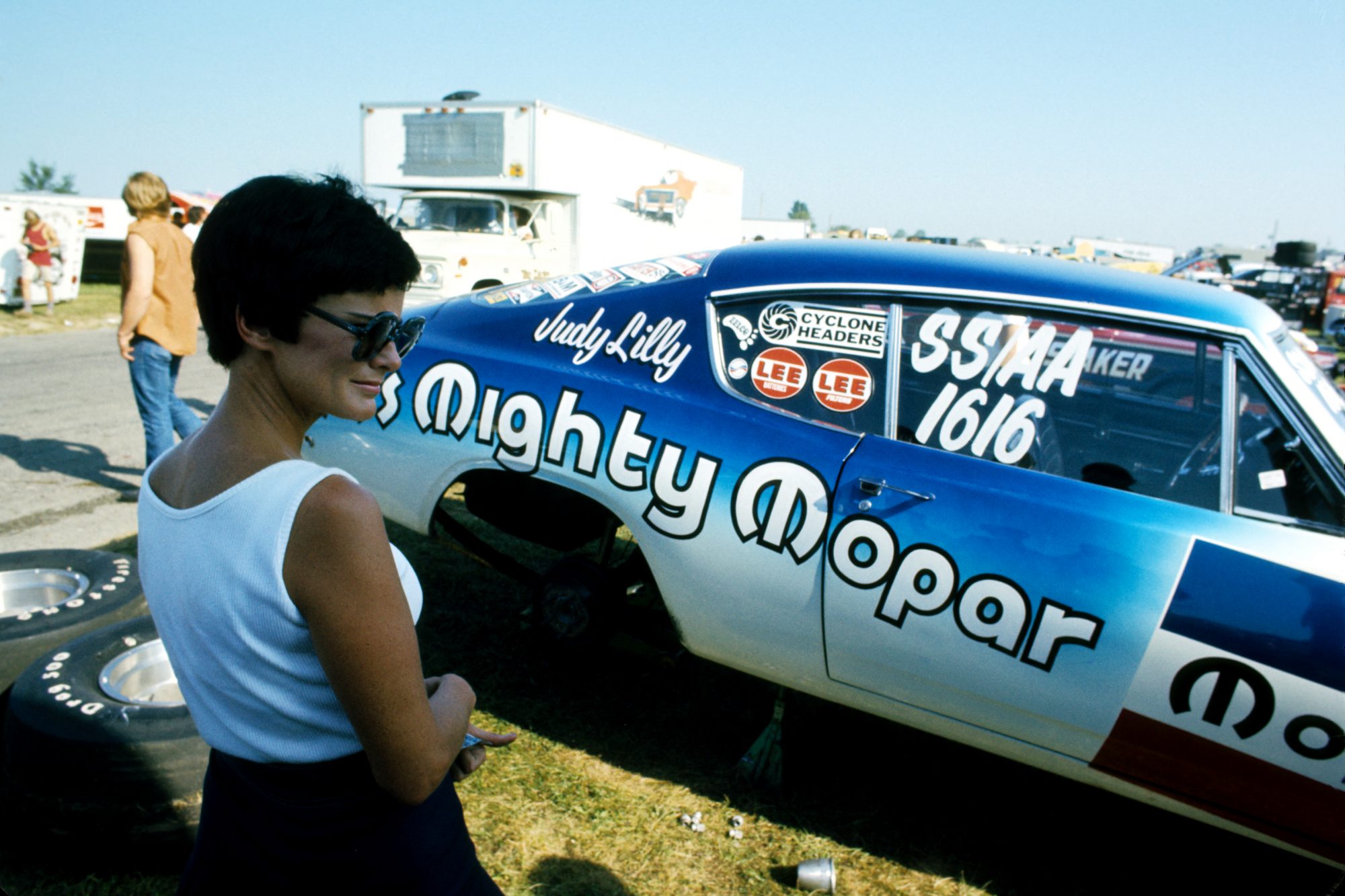 As the 1970s progressed, Chrysler was re-evaluating their drag racing sponsorships. It was the beginning of the recession, runaway inflation, the Arab oil embargo and the slow death of the muscle car – all these impacting sales and profits for the domestic automakers. While some Chrysler-backed Pro Racers were dropped (due to cost and lopsided NHRA rules putting the HEMI engine at a huge disadvantage), Judy Lilly's sponsorship remained intact. However, she had to get rid of her trusty 1968 HEMI Barracuda Super Stocker and build a new Duster 360. The corporation needed to promote their current models and for Judy, that meant jumping into a slower car. "We had to stop going fast and start going slow. There was no margin of error with a low compression motor and I felt it was degrading," noted Judy. Regardless, she was the winningest woman in drag racing by the mid-1970s. Judy won and was runner-up at many NHRA events during this period in her racing career. When she wasn't competing, her input was a valuable asset when her Duster 360 attended many Direct Connection Test Sessions at Milan Dragway.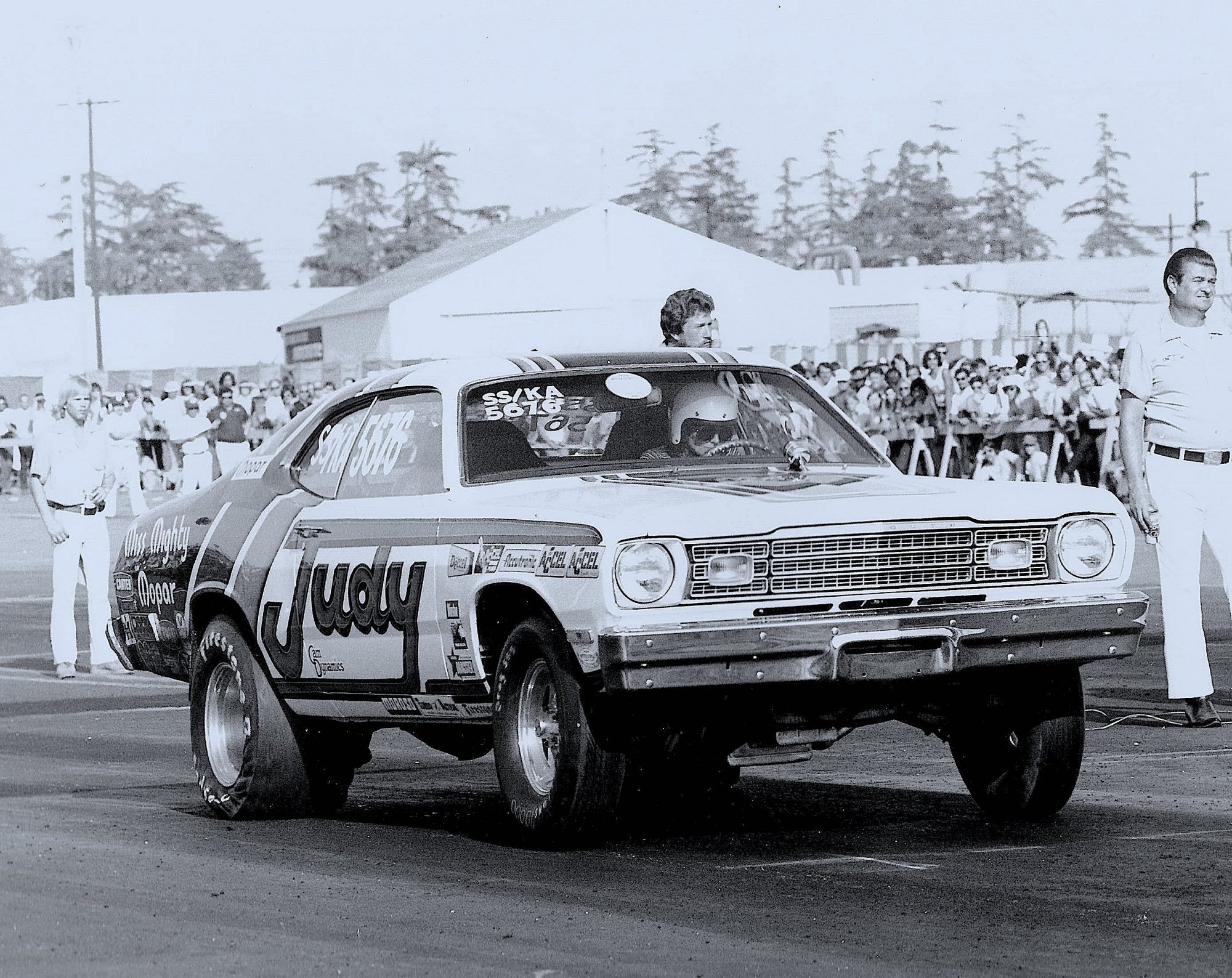 Soon, the Duster 360 gave way to a new Plymouth Volare in Super Stock and once again Judy felt her racing was going in the wrong direction. Every driver wants to go fast, it's in their DNA and Judy was no exception. She left the Super Stock class due to constant squabbling with the NHRA Tech Officials over horsepower factors on the Mopar 318 and 360 engine combinations and indices. Judy dabbled in Pro Stock in the early 1980s with a team owner that procured an ex-Dick Landy Omni 024, but the overall operation was not up to her standard of safety and competitiveness. Judy would retire to a nice horse farm in Lochbuie, Colorado. She was inducted into the International Drag Racing Hall of Fame in 1998 and in 2005, she was instated into the Colorado Motorsports Hall of Fame.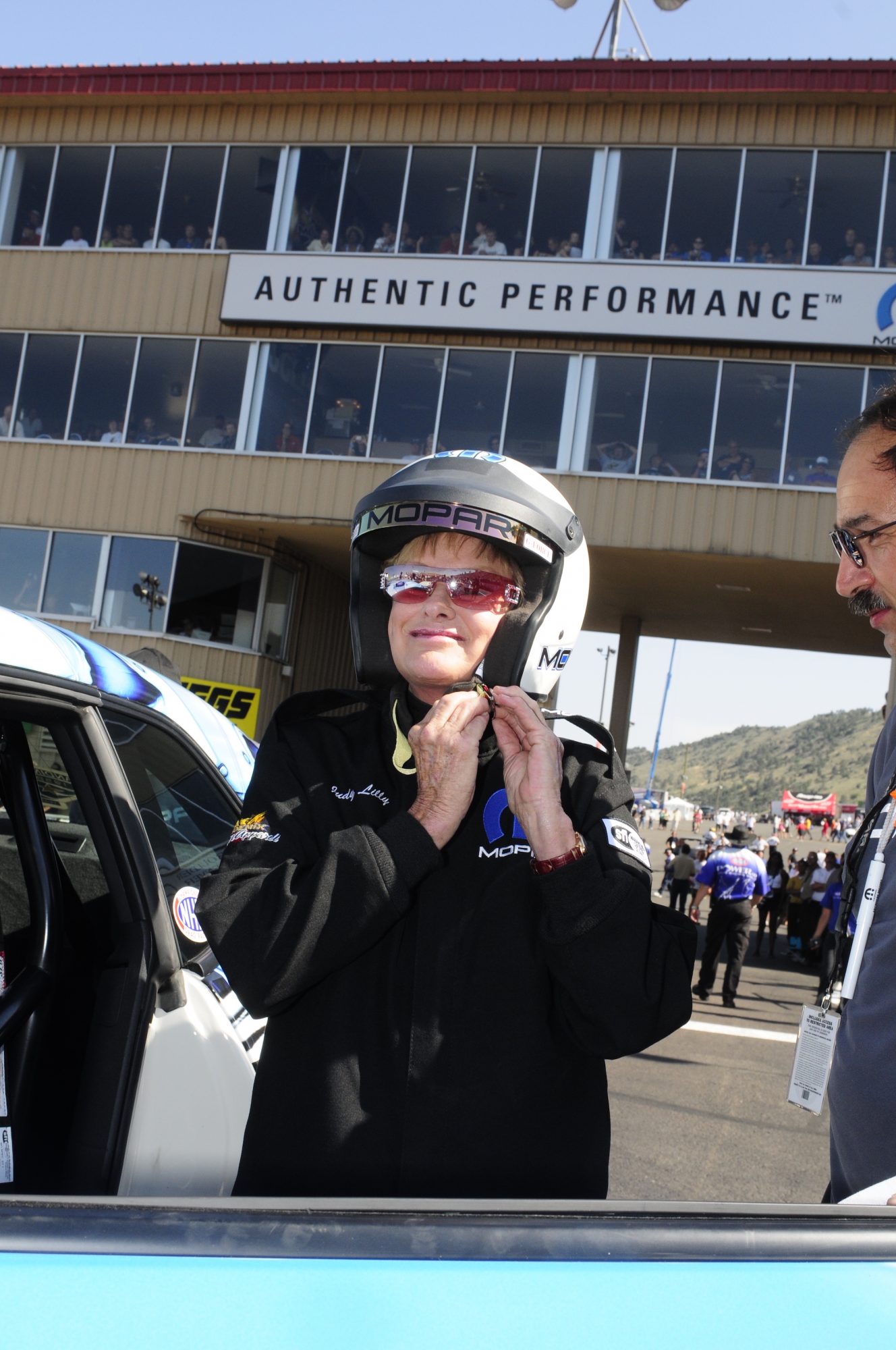 Judy would get behind the wheel of a racecar one more time before hanging up her helmet. Her and the legendary Don Garlits performed an exhibition race in two identical HEMI engine-powered Mopar Dodge Challenger Drag Paks at the 2008 NHRA Mopar Mile-High National at Bandimere Speedway. Despite being away from the sport for over two decades, Judy's stellar reaction times never faded as she took down "Big Daddy" on a holeshot.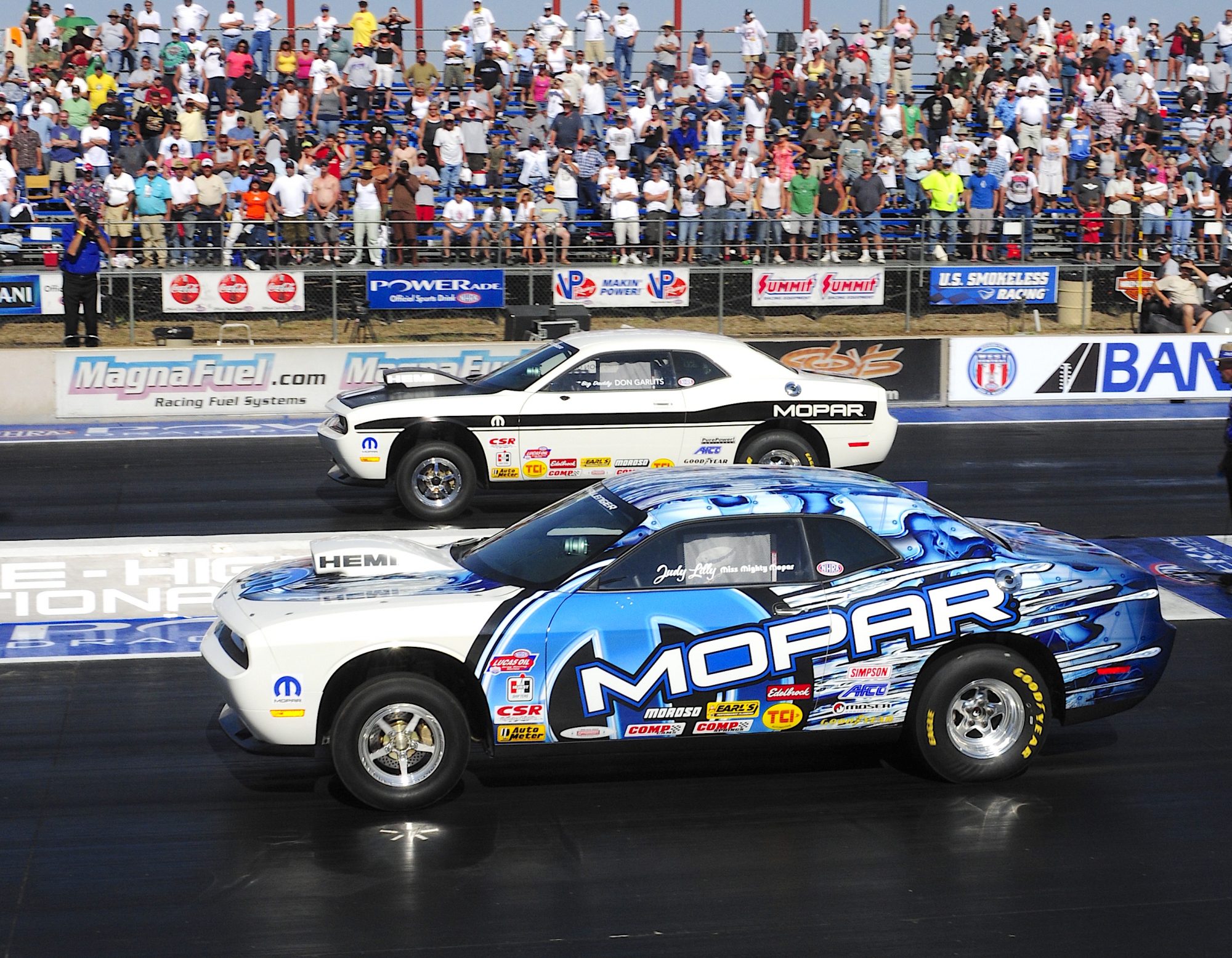 Judy Lilly – or should we say "Miss Mighty Mopar" – will always be a force to be reckoned with!
Check out the cool Mopar vehicles Judy raced down the drag strip!
Check out these female drag racers!
Mary Ann Foss-Jackson
Neichaun Tatum
Shirley Shahan
Della Woods
Adrianna Straub
Leah Pruett
Comments
Comments