Hagan Drives Mopar® Dodge Charger SRT® Hellcat to Semifinals at NHRA Southern Nationals
2 years ago Gallery Racing
Coming off a runner-up finish at the previous National Hot Rod Association (NHRA) Camping World Drag Racing Series event, Don Schumacher Racing (DSR) pilot Matt Hagan was once again the top finishing Dodge Charger SRT® Hellcat Funny Car with a semifinal appearance at the 40th annual Southern Nationals at Atlanta Dragway.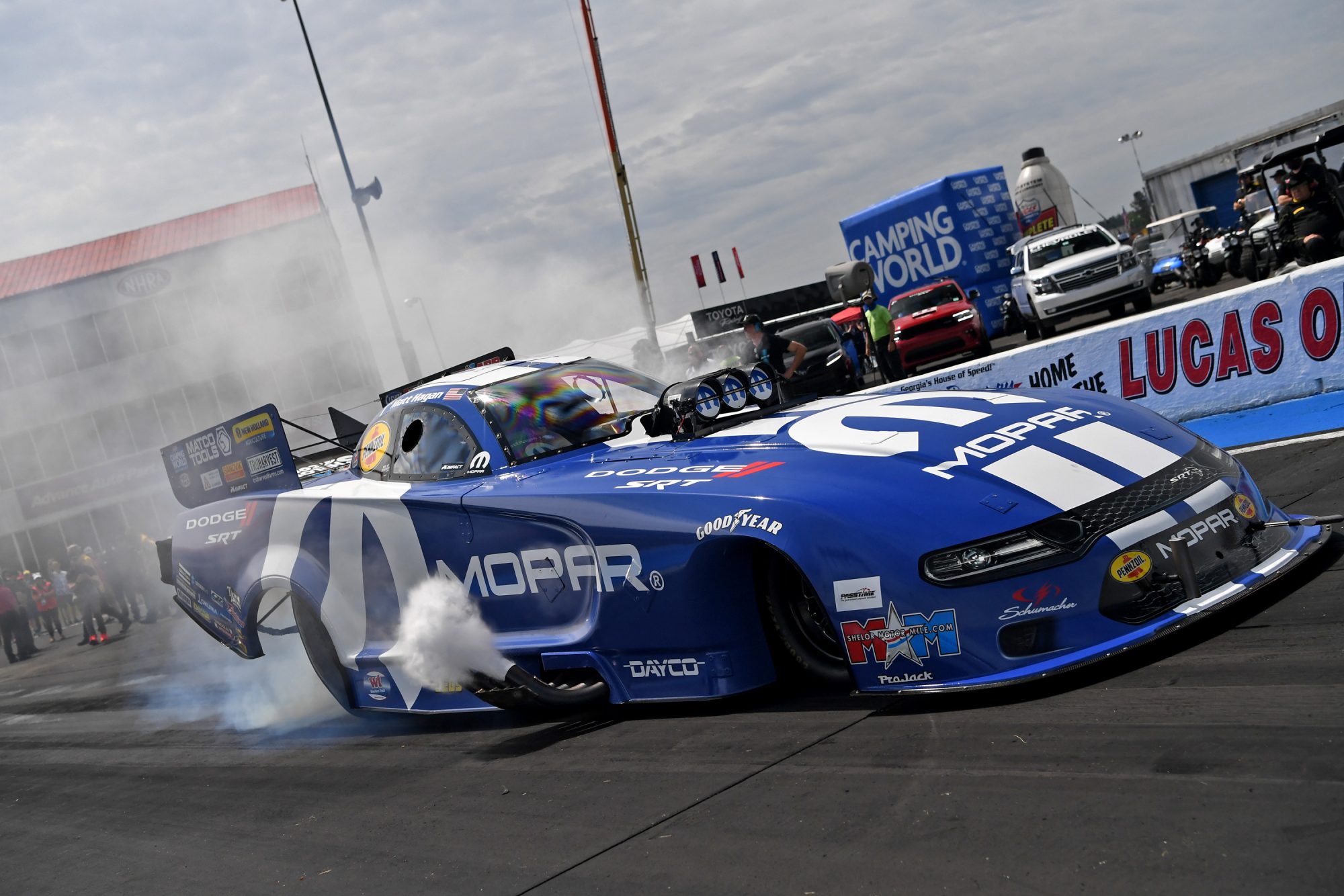 Hagan, the reigning NHRA Funny Car world champion, was back to the familiar Mopar® blue and white livery on his Dodge Charger SRT Hellcat Funny Car this weekend and looking to chase down his first victory of the 2021 season for the final NHRA event at the historic track (due to local area development.)
After trouble negotiating tricky track conditions on his first qualifying pass, Hagan came back with a stout 4.001-second run at 314.02 mph, the second-quickest run in the final session to earn a third place starting position and two bonus points.
For his first round battle, Hagan's faced-off against No. 12 seed Robert Hight, driving his HEMI®-powered Mopar machine to a 3.991 sec./ 307.65 mph pass to defeat his opponent (5.341/135.18), and move on to the quarterfinals to face No. 6 seed Tim Wilkerson.
A quicker reaction time by Hagan (0.055-seconds to 0.078-seconds) helped propel the Mopar driver to a 3.947 sec./ 324.75 mph low elapsed time run and win over Wilkerson's 3.985 sec./ 319.22 mph pass, providing him with a berth to the semifinal round to battle No. 2 qualifier Bob Tasca III for a rematch of their final round at Las Vegas.
While Hagan powered his Dodge Charger to another stout (0.084-second reaction time) 3.974 sec./ 326.40 mph drive, he incurred a rare holeshot loss to the eventual event winner's (0.057-second reaction time) slower 3.981 sec./ 327.82 mph pass. With the result, Matt Hagan is the top Dodge SRT Charger in the Funny Car category and moves into third place and after three of 22 events in the NHRA Camping World Drag Racing Series.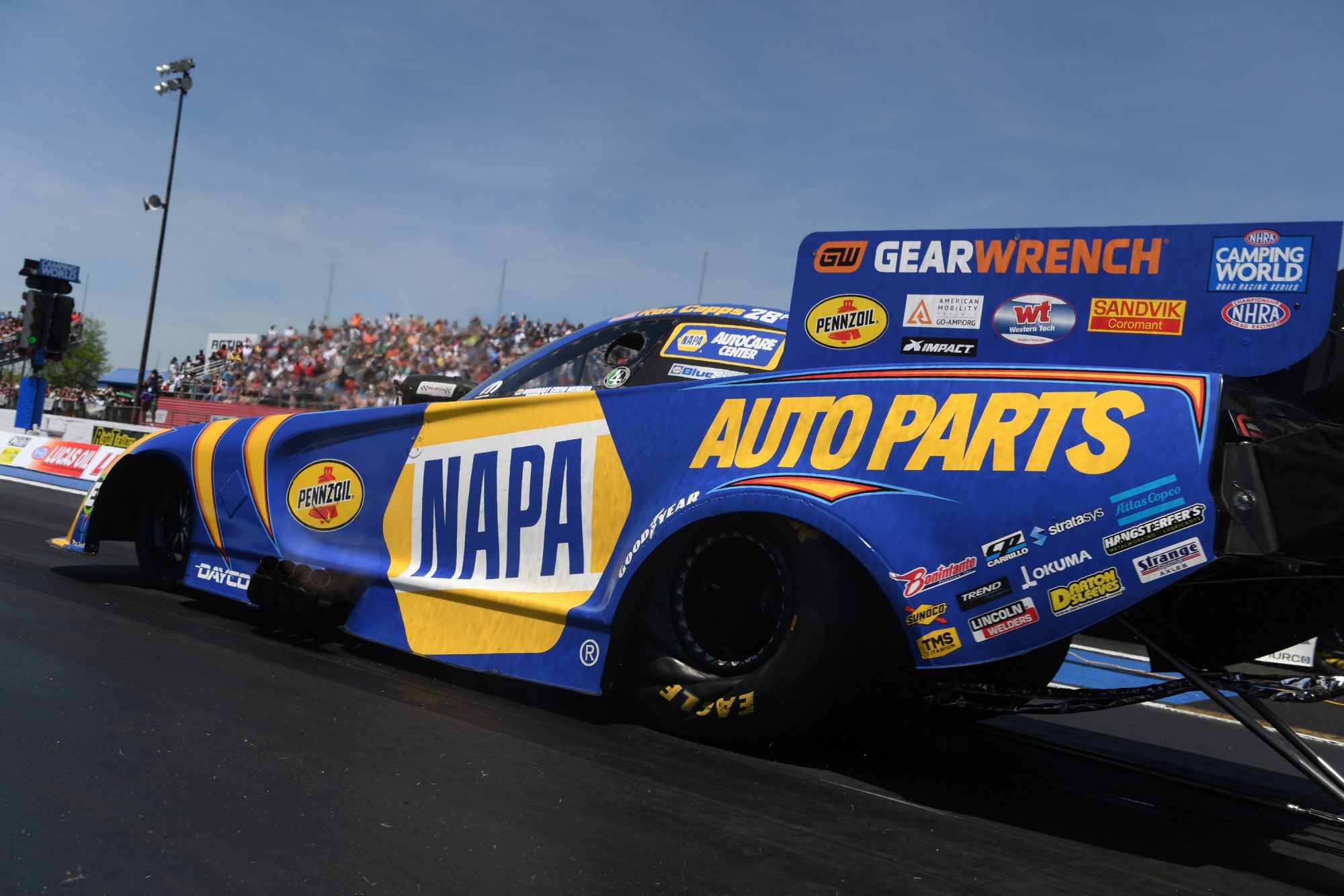 Hagan's DSR teammate Ron Capps returned to Atlanta Dragway as the defending 2019 Funny Car winner (as there was no event at the venue in 2020) and was also looking to build on strong performances he's had to start the season; A No. 1 qualifier in the season-opener at the Gatornationals and a final round (quad) appearance in four-wide racing at Las Vegas. 
Capps took his Dodge Charger SRT Hellcat for a solid 4.006 second qualifying run at 313.73 mph, to earn two bonus points for the second-quickest run of the first session. That time slip provided him with a sixth-seed starting position and lane choice over No. 10 qualifier Jim Campbell for Sunday's opening round. Capps started strong and despite a loss of traction towards the end of his run, his 4.316 second/ 214.86 mph pass put him far enough ahead of Campbell whose ride lost power early and coasted across the finish with a 6.027 sec./113.14 mph elapsed time.
That set up Capps' quarterfinal battle against No. 11 seed, John Force. After near identical reaction times, (0.062 vs. 0.061-seconds) the rivals fought just as closely the whole length of the track with the Dodge Charger SRT Hellcat crossing the finish line with a 4.042 sec. at 313.44 mph elapsed time run that was just fifteen-thousandths of a second behind Force's 4.028 sec./ 315.19 mph winning pass. Capps' quarterfinal result puts him fifth in the Funny Car point standings.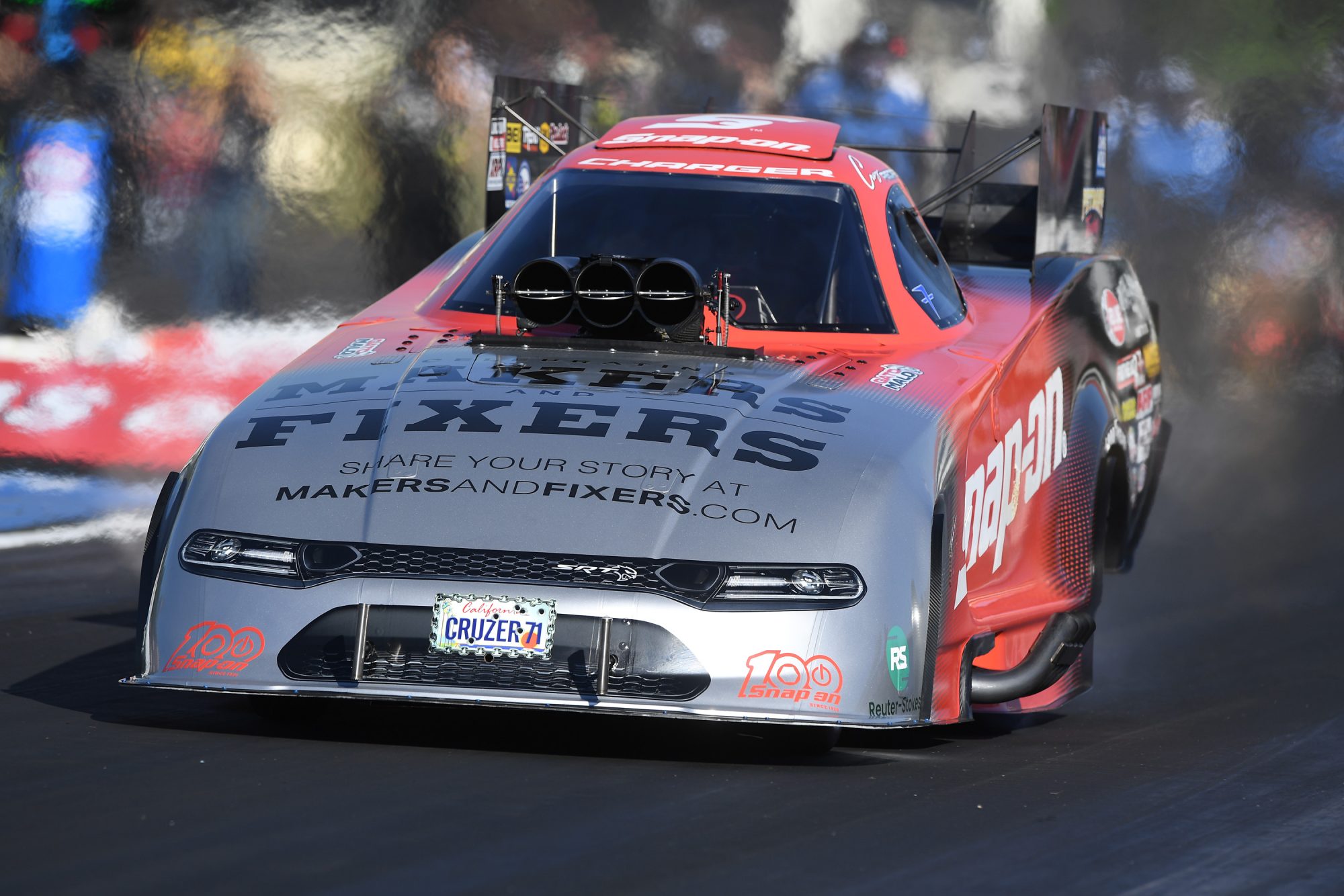 A third Mopar/Dodge SRT-supported Funny Car driven by Cruz Pedregon, qualified fourth between Hagan and Capps. The Snap-on Tools Dodge Charger SRT Hellcat ran a solid 4.005-second pass at 319.60 mph for Cruz Pedregon Racing's best starting position of the year thus far. While Pedregon looked promising on the start against his first round opponent John Force, a dropped cylinder hampered his progress and his 4.126 second run at 306.53 mph wasn't enough to overcome a 4.049/319.14 and advance further. He sits ninth in the Funny Car points standings.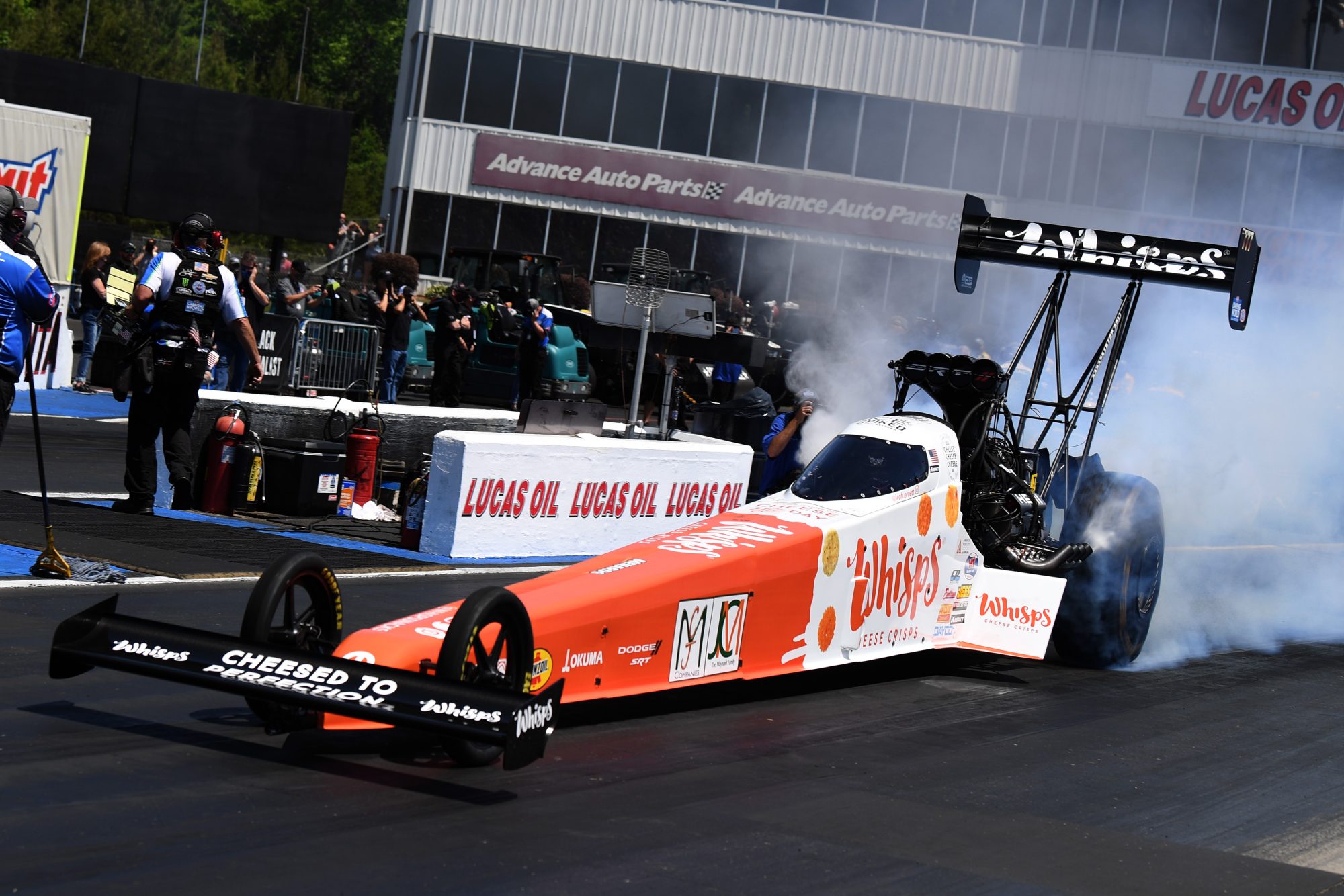 In Top Fuel action this weekend, Mopar Dodge//SRT pilot Leah Pruett was working on trying to repeat her 2018 winning performance at Atlanta Dragway. In her final qualifying run, she powered her DSR Whisps Cheese Crisps dragster to a 3.957-second pass at 304.94 mph, putting her sixth on the qualifying sheets to pair her up with No. 11 seed Shawn Langdon for the first round of eliminations. This is Pruett's sixth consecutive event starting from the top half of the eliminations ladder.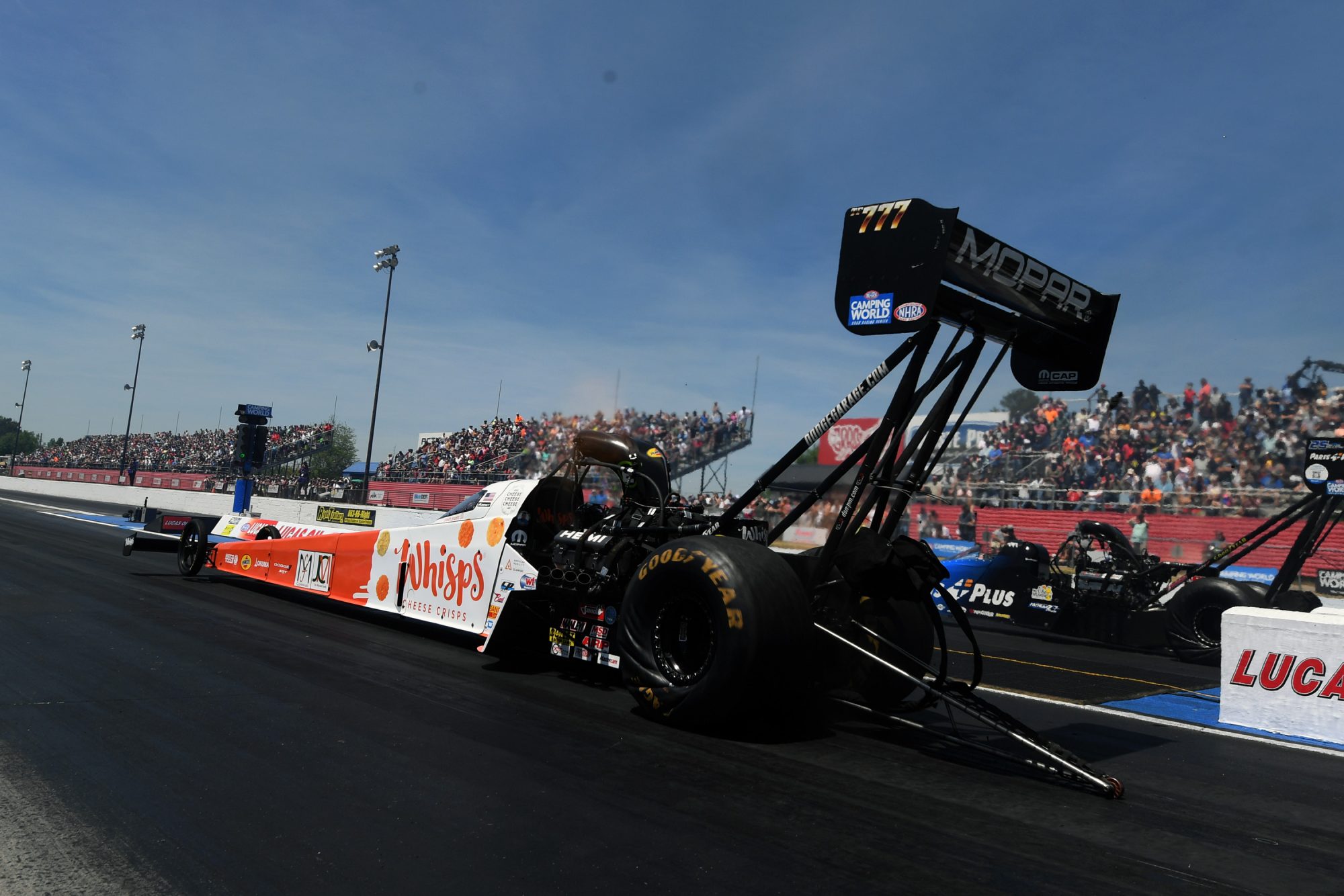 Unfortunately, Pruett had an unusual opening round launch against Langdon and was hampered immediately by dropped cylinders, shortening her race day and bring to an end her consecutive streak of first round wins that had begun at the Mopar Express Lane Nationals presented by Pennzoil at Reading, Pennsylvania, in 2019. The Mopar Dodge//SRT contingent will be back in action on May 14-16 near Charlotte, North Carolina, for the NGK NTK NHRA Four-Wide Nationals at zMAX Dragway, the fourth of 22 events on the 2021 NHRA Camping World Drag Racing Series schedule.
Comments
Comments