Postponed Season Opener Finally Happening: Lucas Oil NHRA Winternationals Preview
1 year ago Racing
The re-scheduled Lucas Oil NHRA Winternationals will be taking place this weekend at the Auto Club Raceway at Pomona to wrap up the three-race Western Swing. Looking forward, there are only four national events remaining before points reset for the NHRA's Countdown to the Championship (the seven-race playoff series) that begins September 9 at the Mopar® Express Lane NHRA Nationals Presented By Pennzoil in Reading, Pennsylvania, and concludes with the NHRA finals in November in Pomona, California.
Here's what the drivers had to say after the NHRA Sonoma Nationals in Sonoma, California, in preparation for the next race:
FUNNY CAR:
Matt Hagan, DSR Pennzoil Dodge Charger SRT® Hellcat Redeye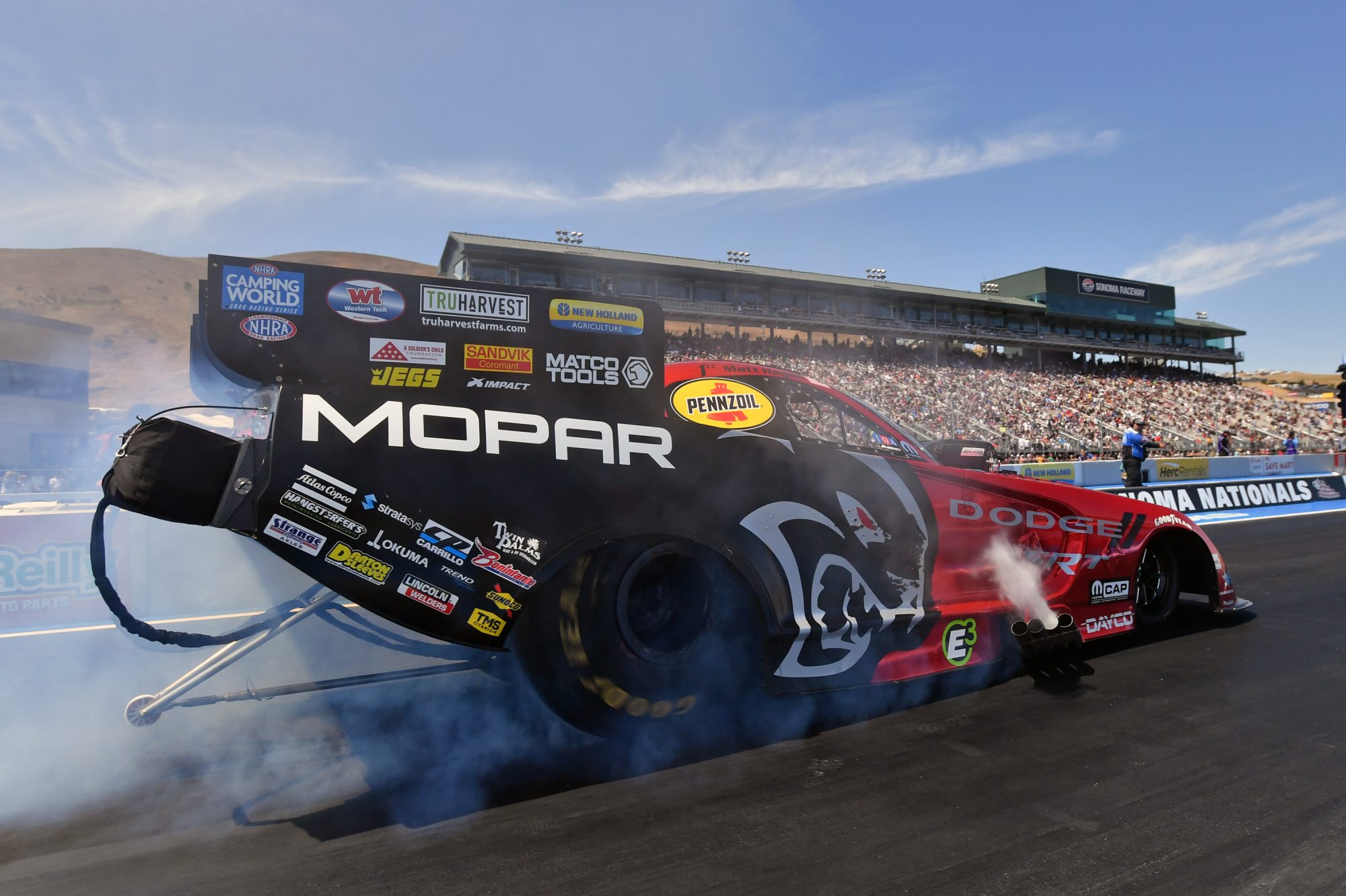 "Our guys are doing just a phenomenal job. This is really the most confident I've felt with a group of guys in a long time. They're killing it. They're making super quick turns in between rounds. We've got some really good juju going on. The group is clicking so well, (Crew Chief) Dickie (Venables) is making great calls out there. I see us clicking off a few more wins real soon. This Hellcat is running great. We're qualifying well and going to the finals. It's there. The confidence is there. The team is there. My lights are good. Everything we need to win races and a championship are right there with this package. I'm very excited and pumped up.
"I think that Pomona is going to be super hot and it could end up being a drivers race with pedaling the car. We have a great car and team and I'm driving well and it should be fun under the lights for qualifying. Pomona has been great to us. We've had some great memories at that track winning races and a championship. It has a special place in my heart and we're going to go out and finish the Swing strong."
Ron Capps, DSR NAPA Auto Parts Dodge Charger SRT Hellcat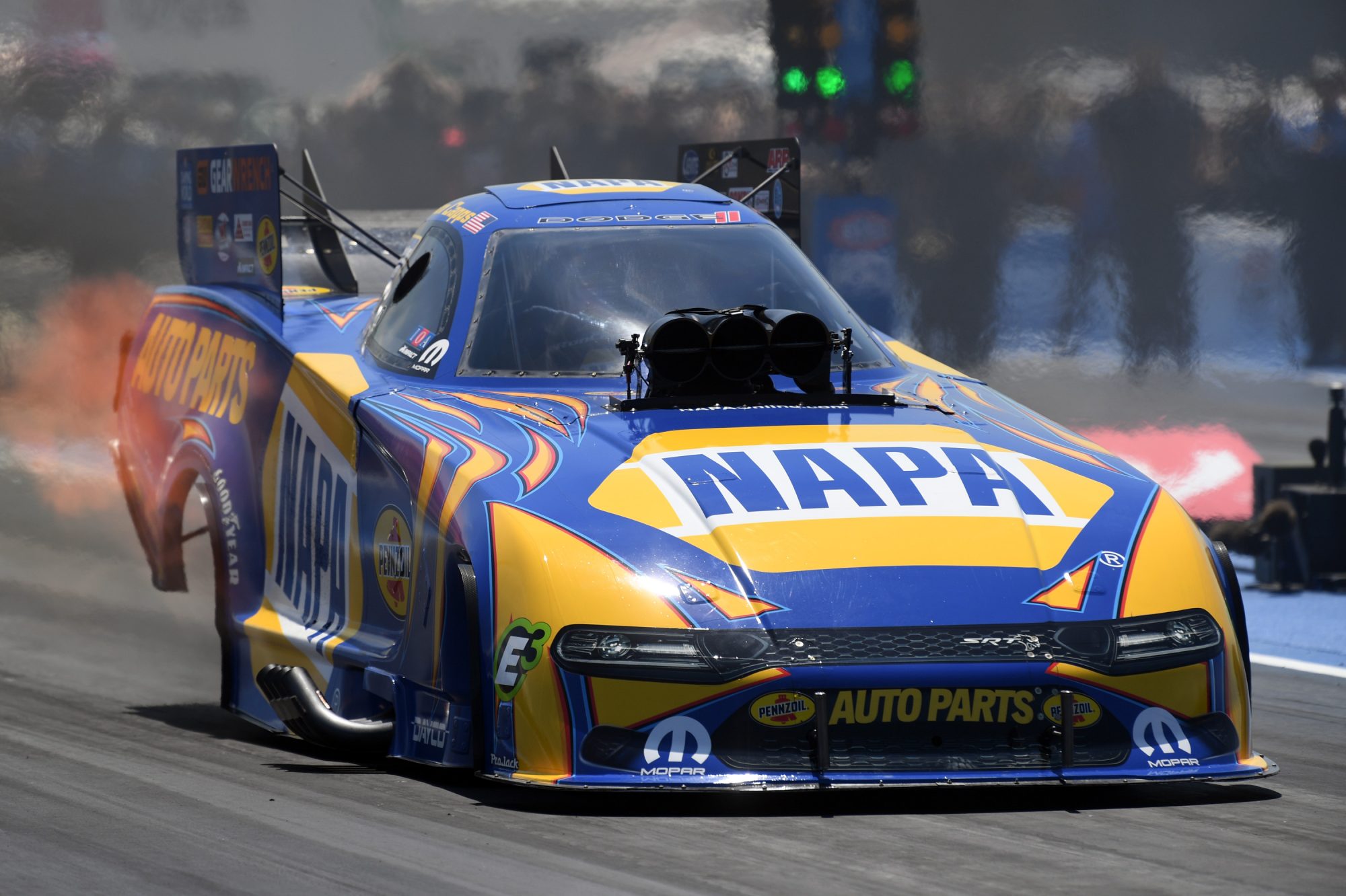 "Man, what a great weekend. Obviously, we wanted to leave with a Wally (trophy), but we qualified No. 1 again and had a quick and competitive racecar every single round, and you really can't ask for more. In the semifinals there, we were on a good run but it just wore a little more clutch than it should have against (Robert) Hight and that was that, it was a close race.
"I've said this before, but I'll say it again, we're a win waiting to happen and the Wallys are coming; I'm not worried about that. Close races all day. (Crew Chiefs) 'Guido' (Dean Antonelli) and John Medlen made fantastic calls. It was great to have all of our NAPA fans, and have our big annual NAPA wine dinner Saturday night, it was just really an overall great weekend. I can't wait to get to Pomona after this fantastic weekend, We're headed southbound and down to Pomona, and it should be fun."
Cruz Pedregon, Pedregon Racing Snap-on® Tools Dodge Charger SRT Hellcat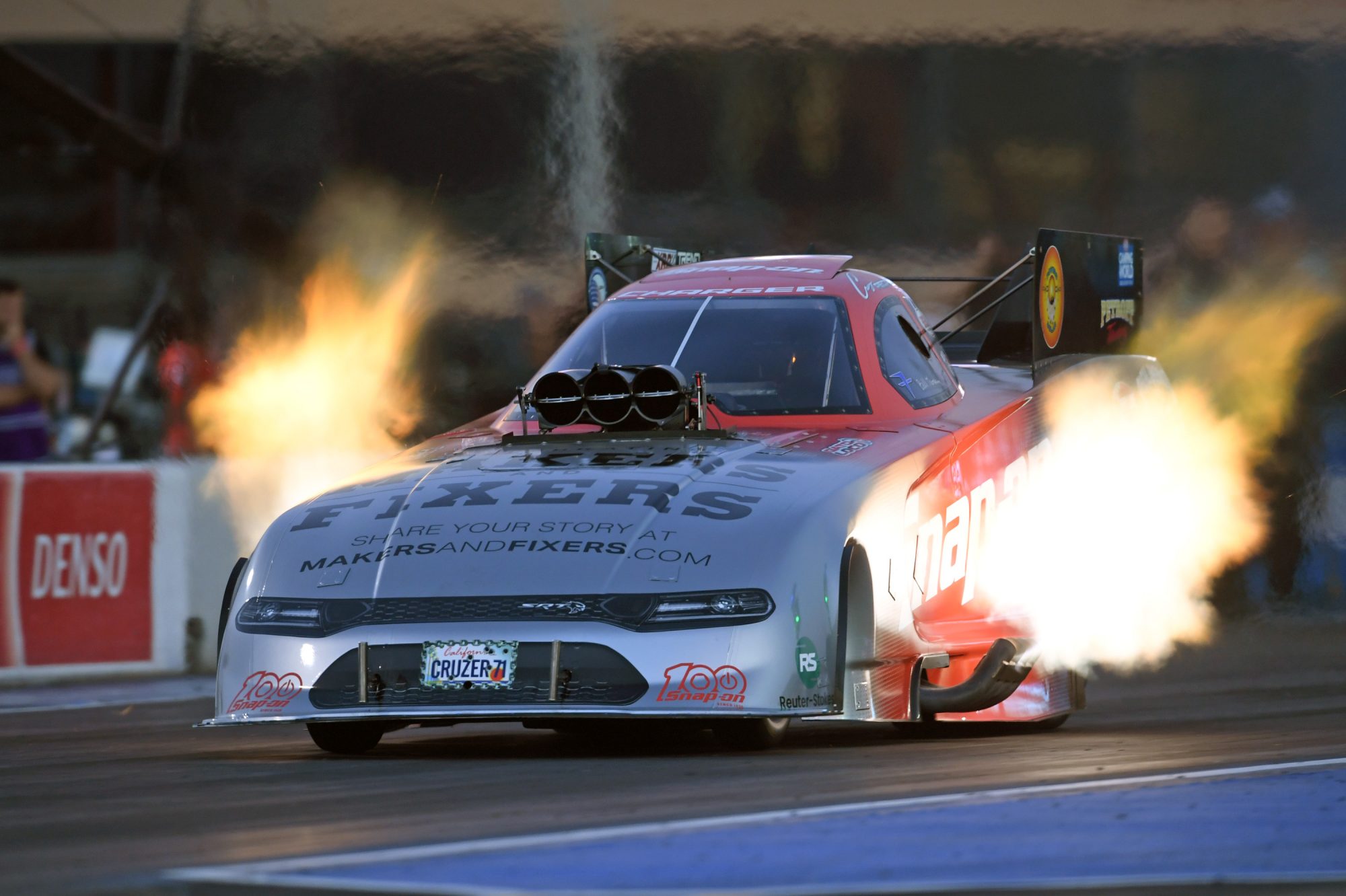 "The race weekend was challenging. We had what was the beginning of two really spectacular runs in Q1 and Q2 with the Snap-on® Tools Dodge Charger SRT Hellcat, but unfortunately the track didn't cooperate and we spun the tires down the track in those two (qualifying) passes. We dropped a cylinder in the first round, which was out of the blue. We had no warning that it was going to do that. We'll regroup. It's not the weekend we wanted, but overall we're encouraged by the runs I was starting to make. Those runs were actually better than some of the runs that my team made last year, which would have put us in the mid-3.80s (second passes), so the potential is there.
"We're going to go to Pomona now and it's going to be a home game for us. I love Pomona and always have but it's going to be unusual to race there in late July (as a result of rescheduling due to pandemic restrictions) with the heat, but we'll be ready for it. Our setup, our guys, our team loves the hotter conditions so we're looking forward to that event. Once we get on a roll, we'll feel like we'll be a lot better and more consistent. We're still tweaking it a little bit and looking forward to it."
TOP FUEL:
Leah Pruett, DSR Pennzoil Okuma Dodge//SRT Dragster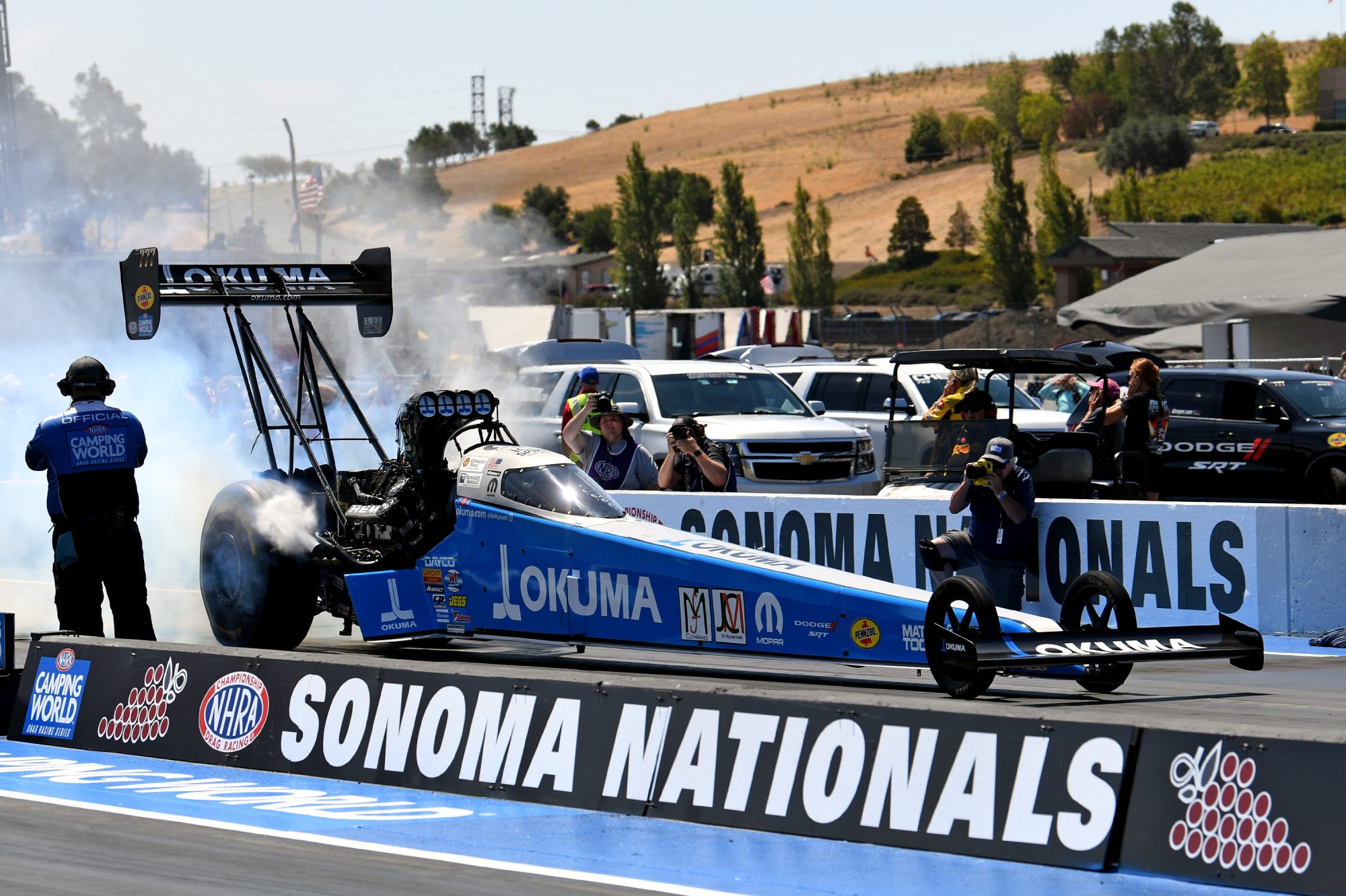 "I think the most impressive thing about this weekend is our progression from last weekend at Denver. These Top Fuel cars don't necessarily have a full reset button, but that's what we did as a team this weekend. We dug deep and found some issues and, ultimately, we had great progress this weekend. To have such a consistent car from qualifying into eliminations and to put down what we needed to in the semifinals to get lane choice was great to see. We have a very conversational car that listens to us right now. The team is thriving. We didn't have the start to the season we wanted, but this is a marathon of a year and this is the momentum we've been searching for. For Don (Schumacher) to give us the patience and resources to do what we needed to get here has allowed us to open possibilities and that's what Okuma does. It's great to win rounds and get to the finals. It was a very close race.
"Pomona is going to be very challenging for all of us running the (rescheduled) Winternationals in July. I take it back to when I'd run the nostalgia series there and it was in the triple digits out and it will be similar to that this year. For us to have momentum rolling into Southern California is exactly what we need to finish up the Western Swing. We have new life with this team and to have another fun, new livery is perfect, and to see friends and family and former racers will be great."
NHRA Championship Points Standings:
FUNNY CAR (season wins in parentheses)
1. Bob Tasca III – 676 (2)
2. Matt Hagan (Dodge Charger SRT Hellcat) – 558 (1)
3. Robert Hight – 636 (2)
4. John Force – 624 (2)
5. Ron Capps (Dodge Charger SRT Hellcat) – 613
6. J.R. Todd – 584 (1)
7. Alexis DeJoria – 577
8. Tim Wilkerson – 521
9. Cruz Pedregon (Dodge Charger SRT Hellcat) – 481 (1)
10. Terry Haddock – 306
TOP FUEL (season wins in parentheses)
1. Steve Torrence – 978 (6)
2. Antron Brown – 629 (1)
3. Brittany Force – 564
4. Shawn Langdon – 460
5. Leah Pruett (Mopar Dodge//SRT) – 457
6. Billy Torrence – 448 (1)
7. Mike Salinas – 432
8. Doug Kalitta – 420
9. Justin Ashley – 370
10. Clay Millican – 351
Comments
Comments