Mopar® and Dodge//SRT® Double-Up with HEMI®-powered Victories by Pruett and Capps at Rescheduled NHRA Winternationals
2 years ago Gallery Racing
After all four Mopar® and Dodge//SRT®-supported NHRA nitro entries qualified in the top-five heading into race day, the performance brands and Don Schumacher Racing doubled-up on Wally trophies this weekend with wins by HEMI®-powered pilots Leah Pruett (Top Fuel) and Ron Capps (Funny Car) at the rescheduled 61st annual Lucas Oil National Hot Rod Association (NHRA) Winternationals Presented by ProtectTheHarvest.com at Auto Club Raceway in Pomona, California.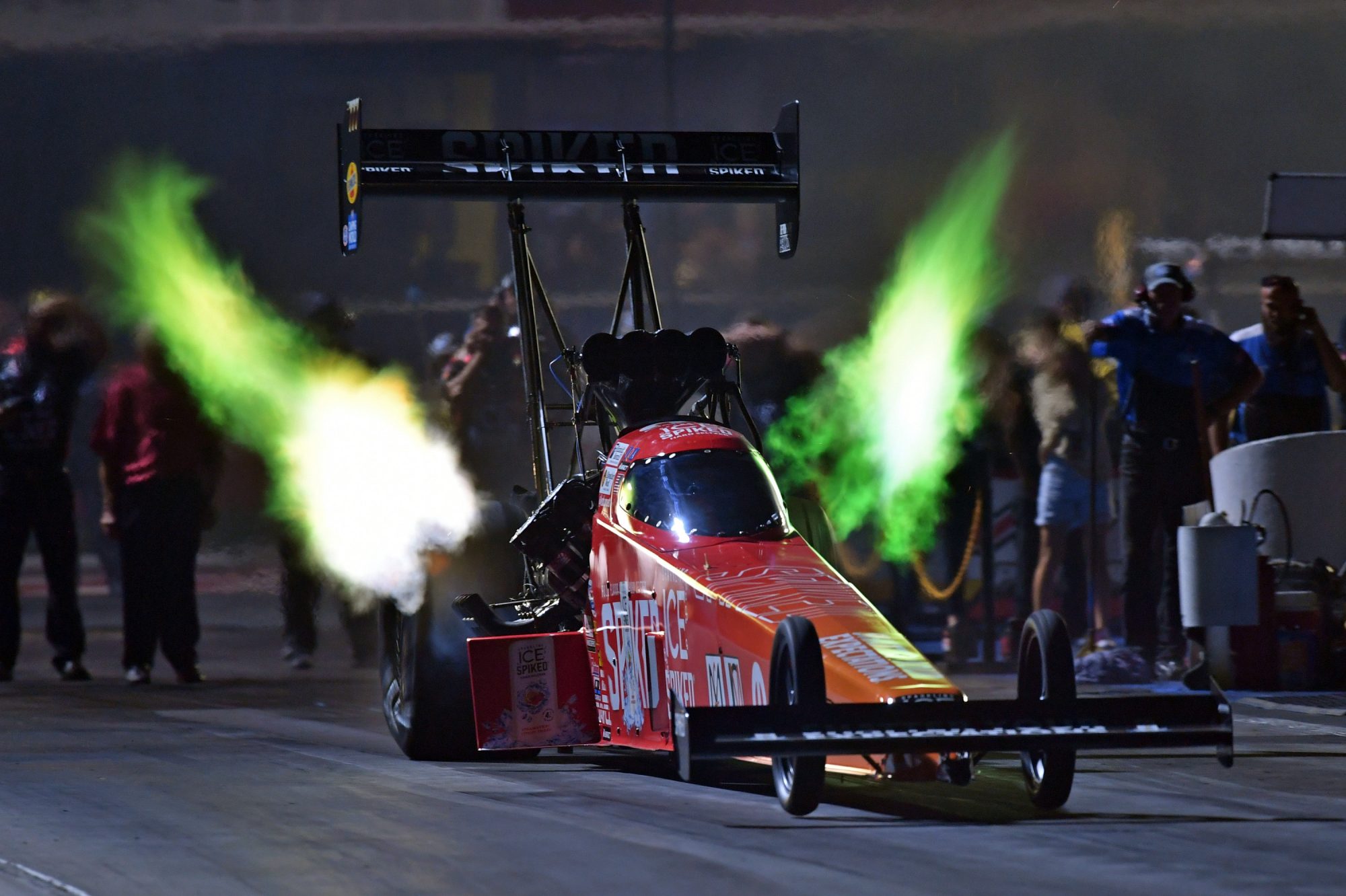 Pruett followed up a stout No. 2 qualifier performance aboard her DSR Sparkling Ice Spiked Dodge//SRT Top Fuel Dragster with her second trip to a final round showdown in consecutive weeks. She earned the second place position on the eliminations ladder, along with five important bonus points, by speeding to the provisional pole position on Friday and then posting the second quickest run of Q2 to put her on the starting line for the opening round against No. 13 seed Steve Chrisman. A 3.906-second elapsed time run by her HEMI®-powered machine at 268.01 mph gave her the round win and a quarterfinal bye run.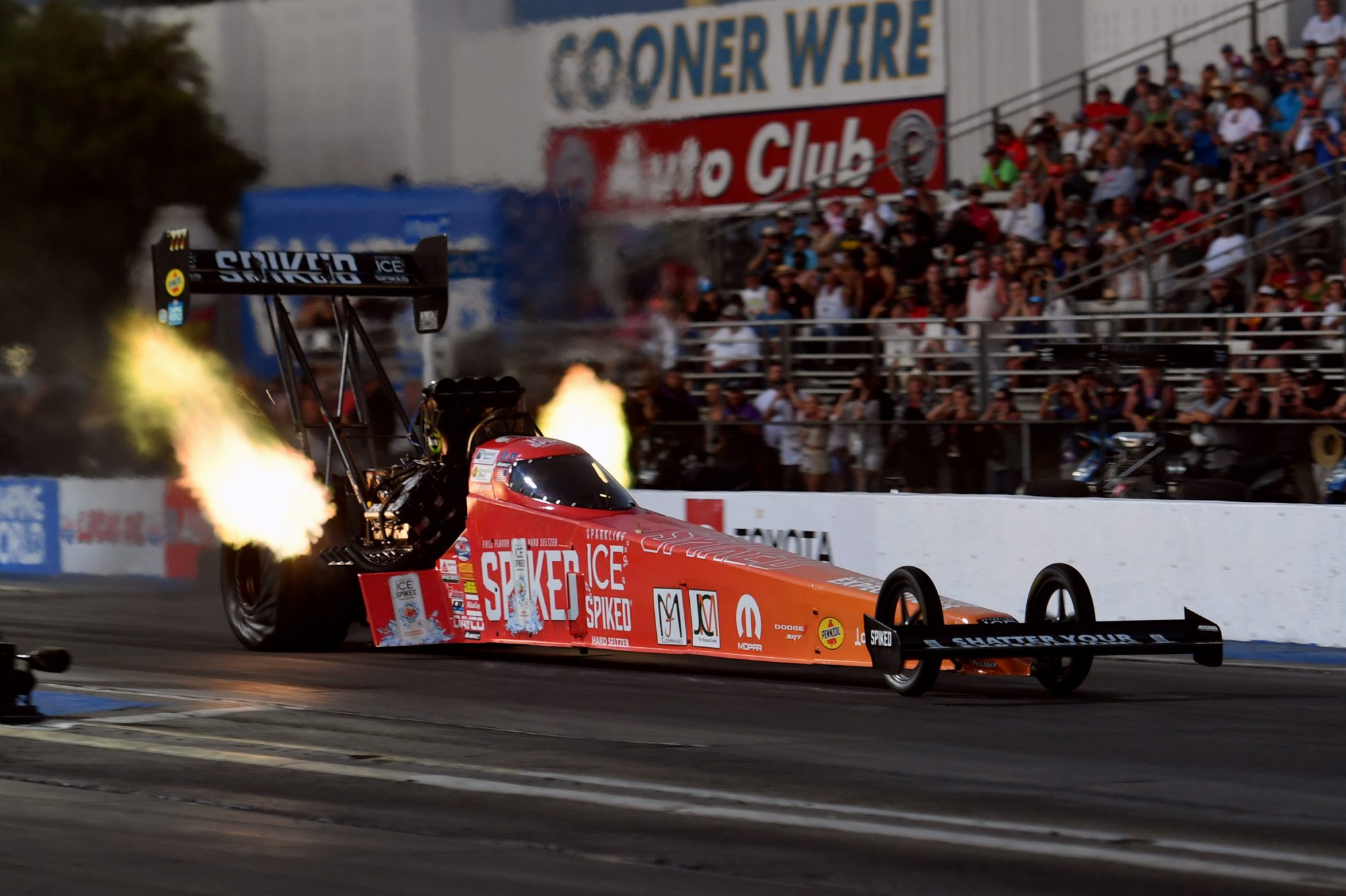 Following another solid 3.931sec./272.12 mph pass on her single run, Pruett staged next to her semifinal opponent, No. 3 seed Mike Salinas, and ran him down at half-track to turn on win lights with a 3.927 sec./273.16 mph pass to advance to her second final round appearance of the season after her runner-up performance last weekend at Sonoma Raceway.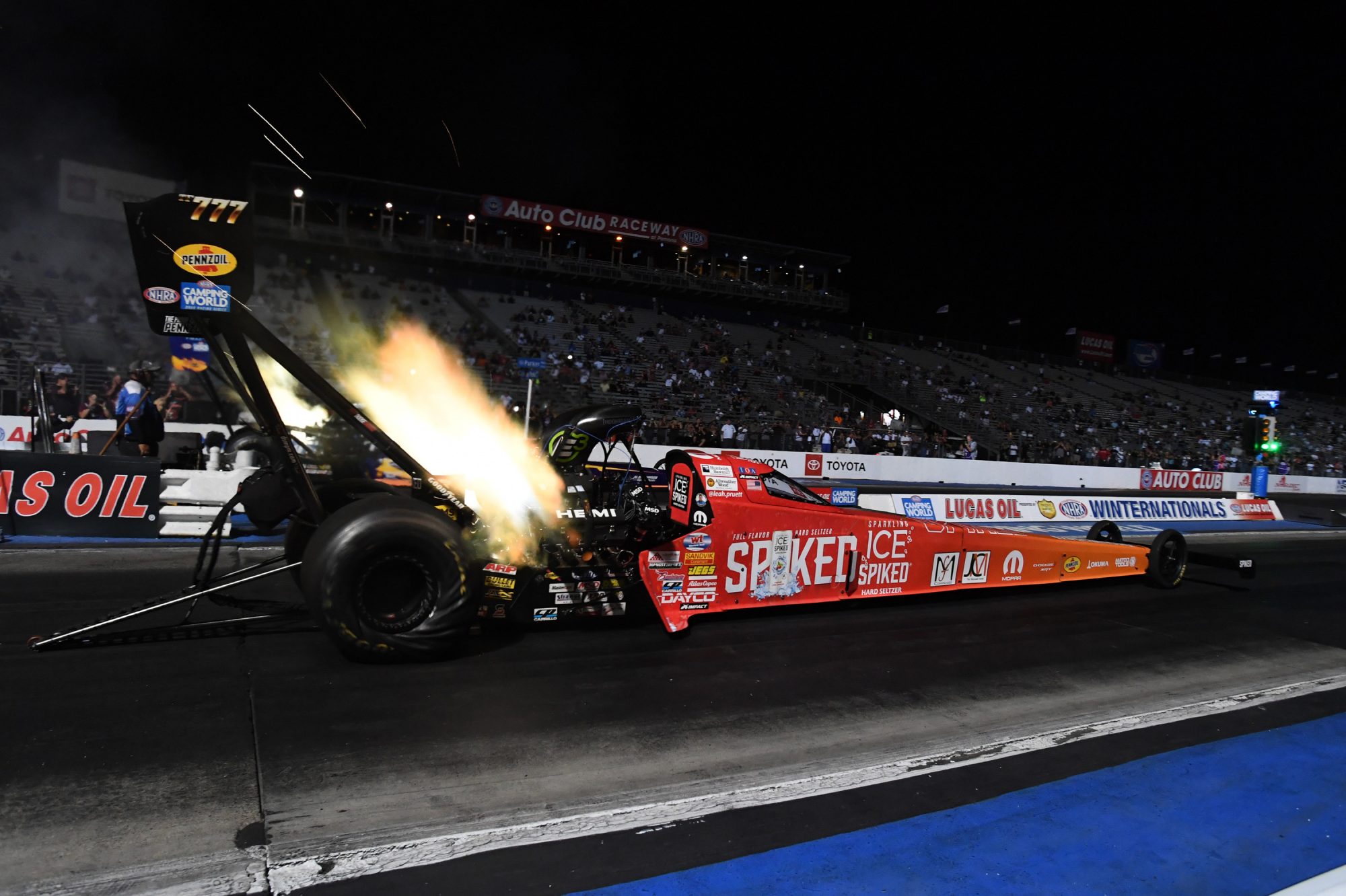 Pruett was lined up and ready for battle against No. 7 qualifier Justin Ashley in the final Top Fuel showdown in the sweltering heat at the Pomona dragstrip when her opponent opted to err on the side of caution after experiencing symptoms of extreme heat exhaustion and not take the run. That provided Pruett with her second solo run opportunity of the day, a 4.021 sec./271.52 mph pass, and an uncontested win to officially earn a Wally trophy for the ninth time in her Top Fuel career, the second time at Auto Club Raceway at Pomona (2017), and her first victory of the 2021 NHRA season.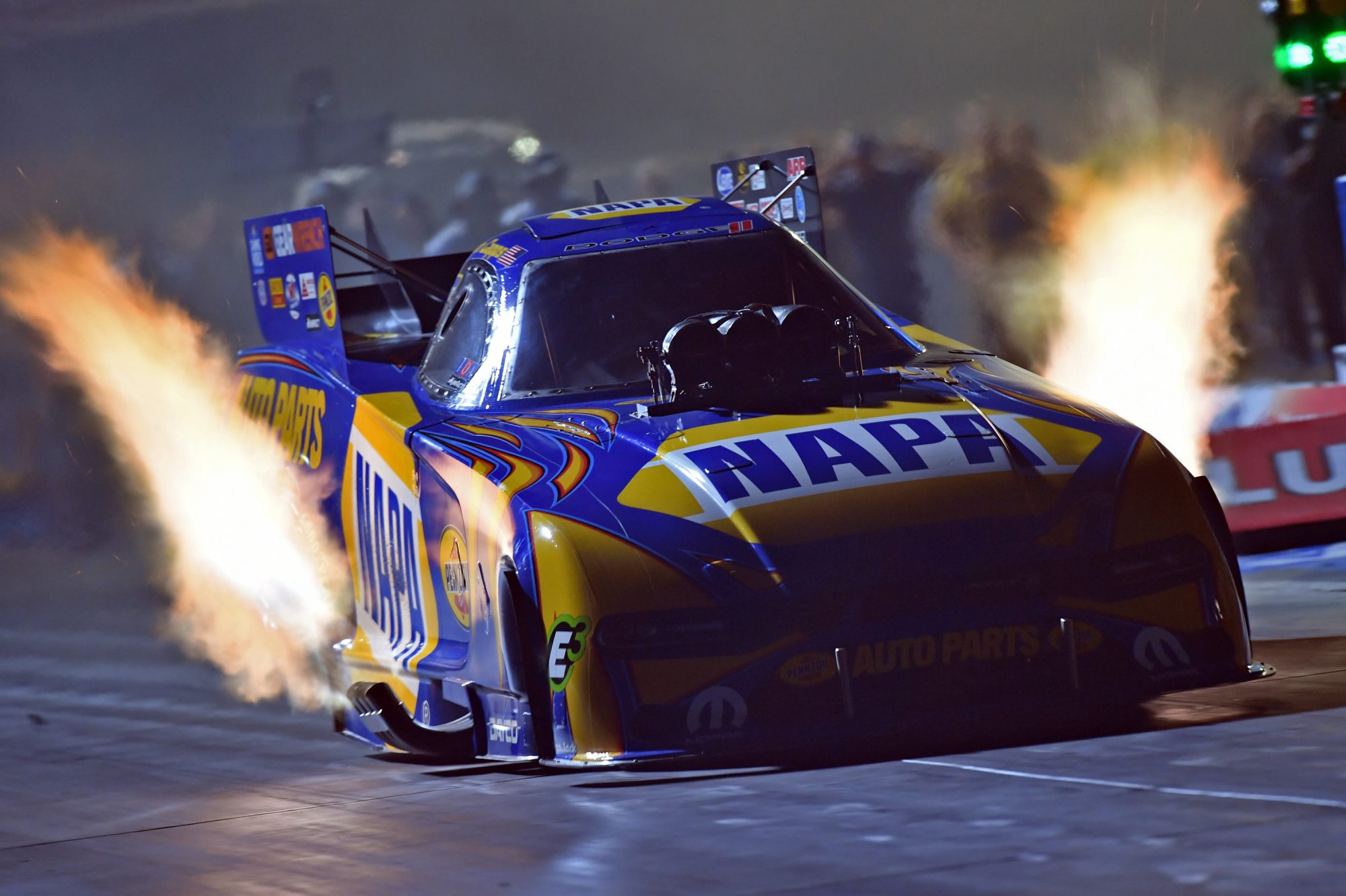 In Funny Car action, after earning his fourth No.1 qualifier position of the first ten NHRA Camping World Series season events this season, Capps powered his DSR Dodge Charger SRT Hellcat through the elimination rounds with consistent 4.1-second runs and wins over Bob Bode, Bob Tasca and longtime rival John Force to advance to his second final round appearance of the season after his runner-up finish at the Mopar Express Lane SpringNationals Presented by Pennzoil in Houston.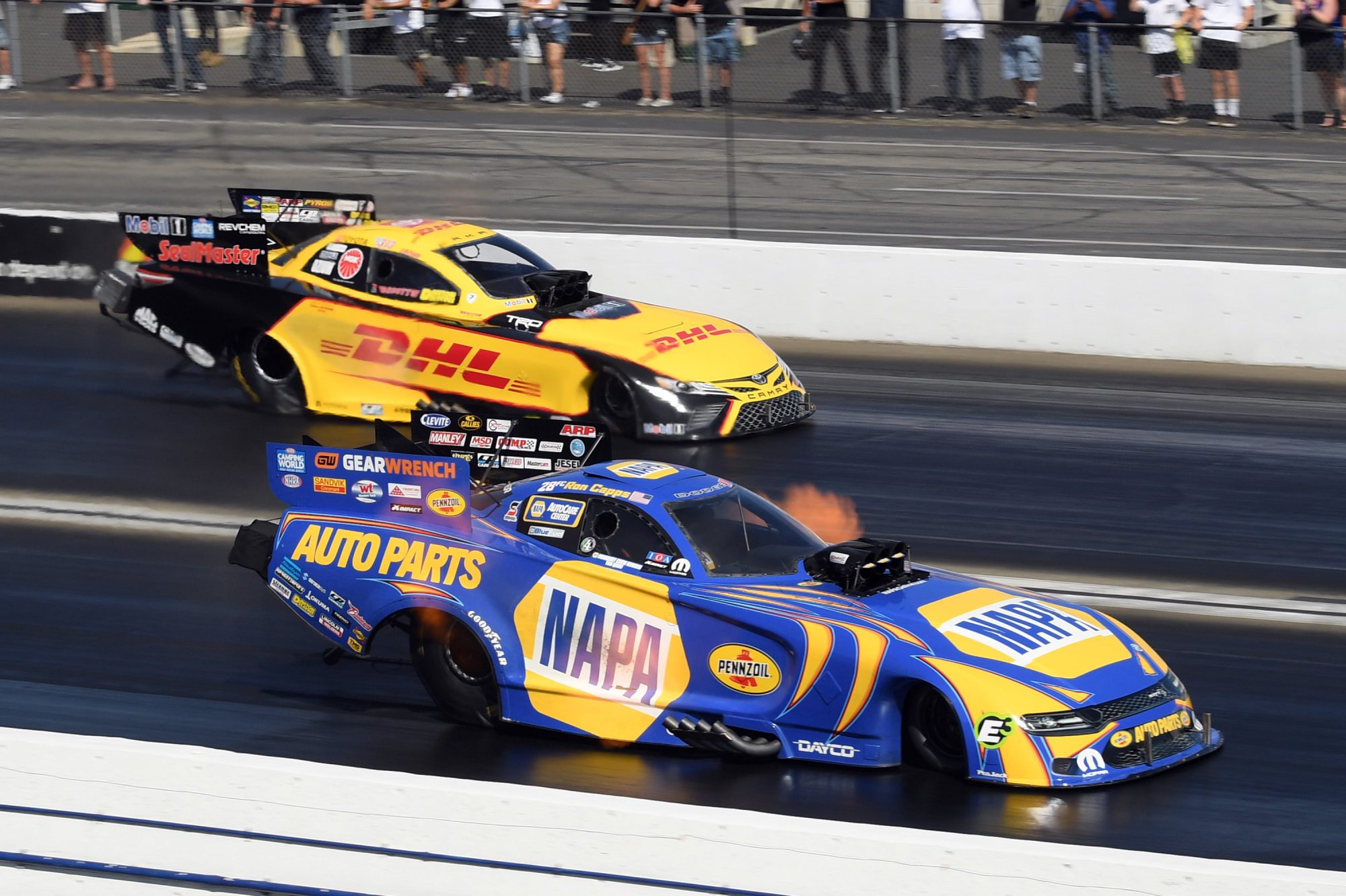 A three-time winner at Pomona (1998, 2009, 2016), Capps earned his 66th career Funny Car win against No. 7 seed J.R. Todd by running him with a 4.151 sec./253.09 mph effort to beat his opponent's 4.289/249.16 pass. The victory, the 2019 NHRA Funny Car world champion's first of the 2021 season, puts him into the points lead.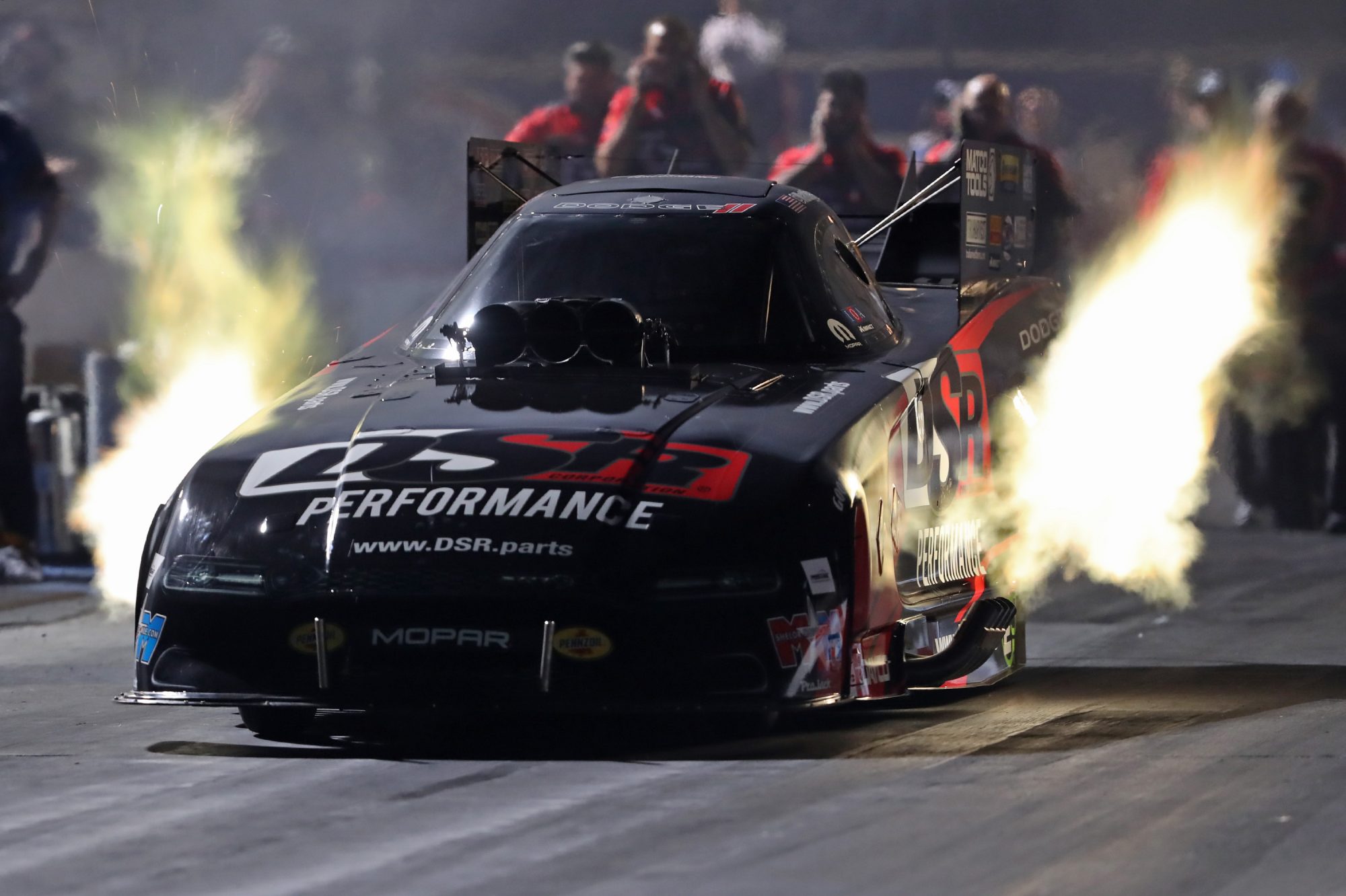 The third and final event of the NHRA's "Western Swing" didn't quite end the way No. 5 qualifier Matt Hagan had hoped after earning a coveted win at the Dodge//SRT Mile-High Nationals in Denver, Colorado, and his runner-up performance at the Sonoma Nationals in Sonoma, California.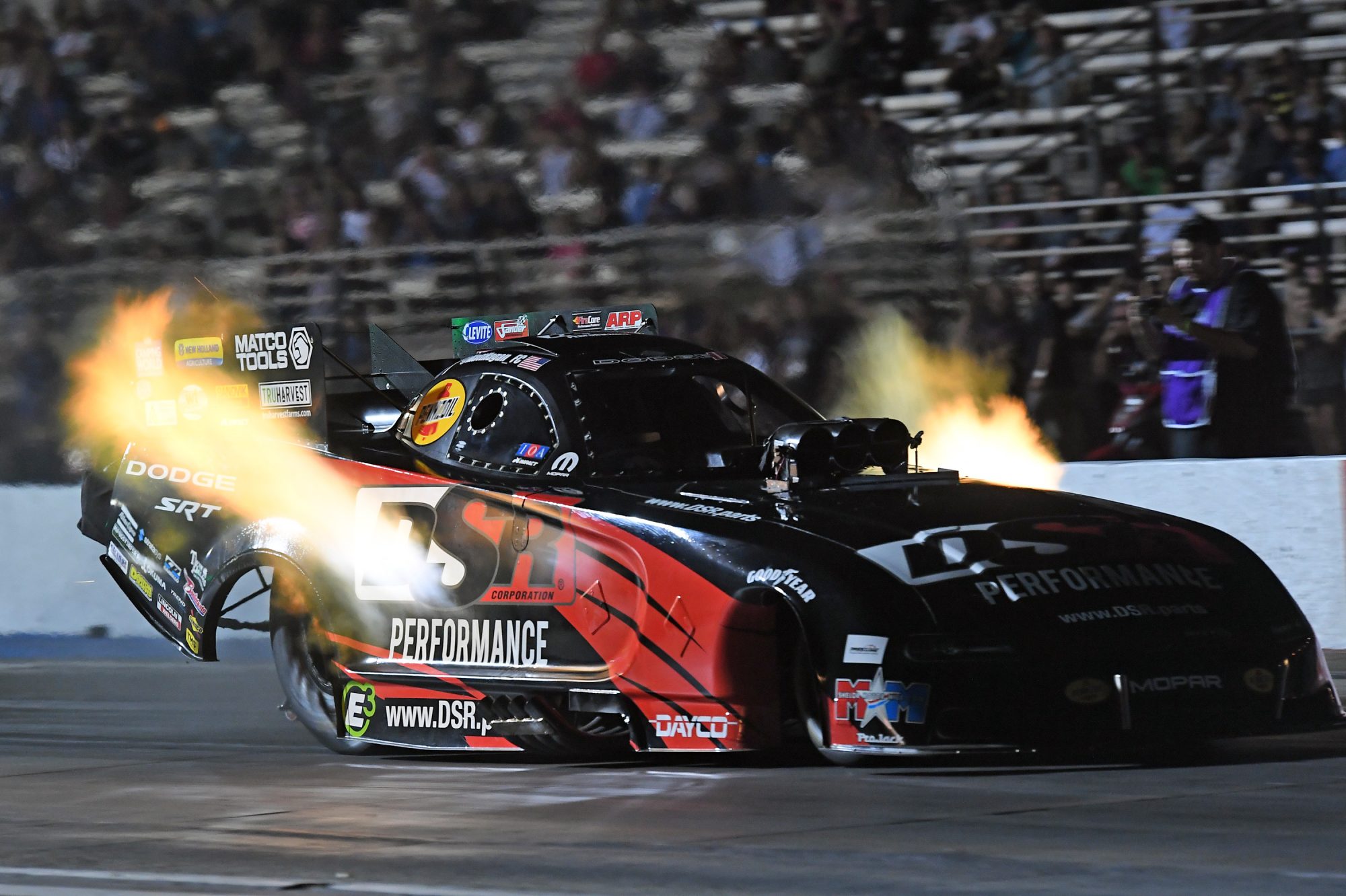 The reigning Funny Car world champion began the day by staging his DSR Performance Dodge Charger SRT Hellcat Redeye next to Force in the opening round. After Force double-bulbed, Hagan hit the throttle first to take the early lead but soon saw his opponent close the gap and edge past him right before the finish to shorten his day and close out three consecutive weeks of racing.
The Cruz Pedregon Racing team had another promising weekend as team owner and Funny Car driver Cruz Pedregon qualified his Snap-on Tools Dodge Charger SRT Hellcat fourth on the Funny Car eliminations ladder. He faced off against Tim Wilkerson in the opening round and took the win with a 4.103 seconds E.T. at 263.46 mph to advance. The three-time Pomona winner saw Force next in the quarterfinals and had a good run going until tire haze at mid-track saw Pedregon hesitate just enough to make it a close finish posting a 4.361 sec losing effort to his opponents 4.353 second round win.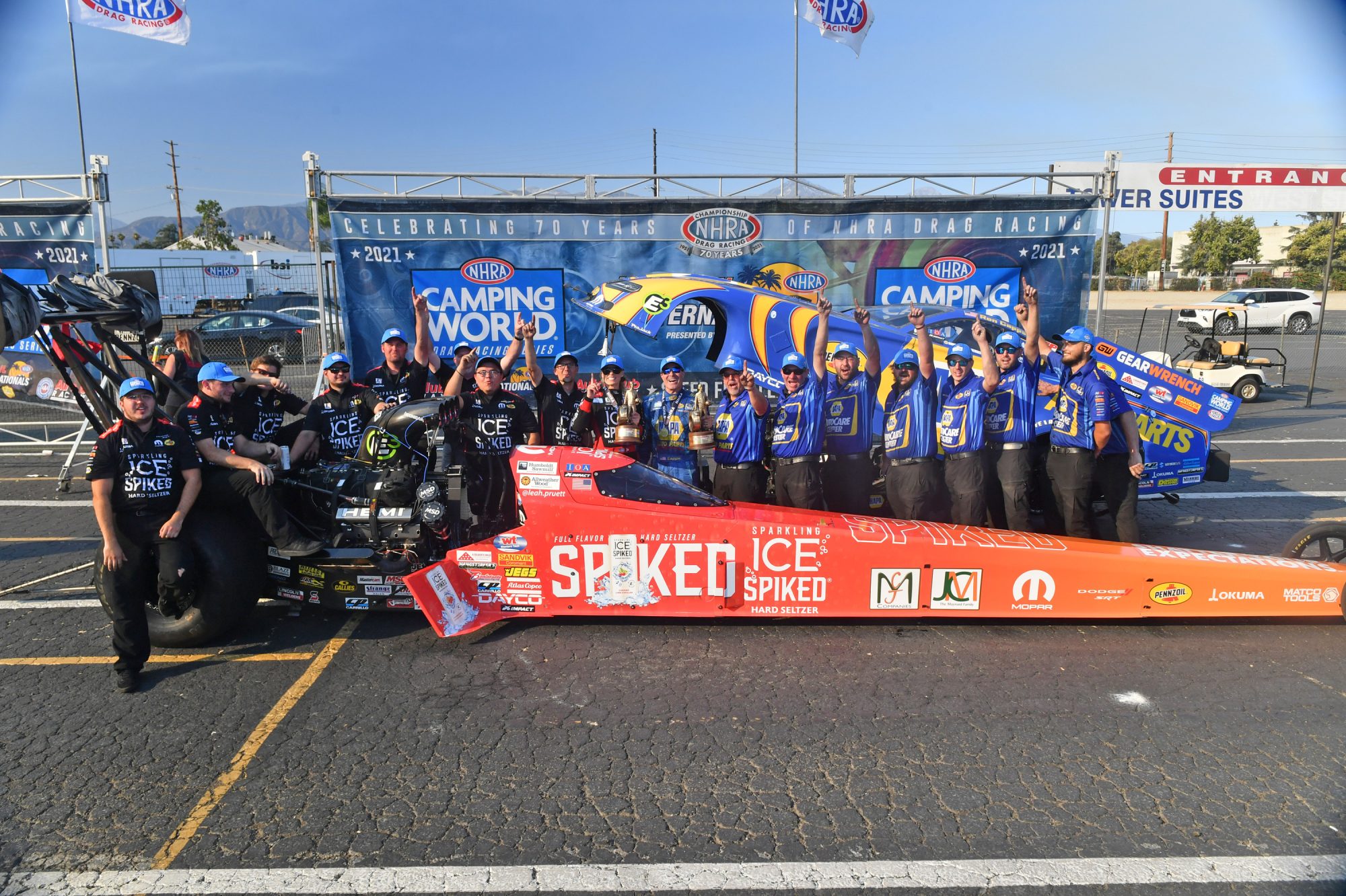 Competition will resume in two weeks with the Menards NHRA Nationals Presented By PetArmor at Heartland Motorsports Park near Topeka, Kansas, for the first of just three remaining national events before the NHRA's seven-race "Countdown to the Championship" playoff series begins September 9 at the Mopar Express Lane NHRA Nationals Presented By Pennzoil in Reading, Pennsylvania, and concludes with the NHRA finals in November in Pomona, California.
Comments
Comments