Seismic Shift – 20 Years of the Dodge HEMI® Challenge!
1 year ago Racing
Where has the time gone? It seems like just yesterday that Mopar® and the NHRA got together to showcase the baddest factory-built racecars on the planet with the conception of the Mopar® HEMI® Challenge (the reigns got turned over to Dodge in 2018). This specialty race has been held every year continuously since 2001 at the Dodge//SRT® NHRA US Nationals. It was created to showcase the iconic and purpose-built HEMI engine-powered Darts and Barracudas that unleashed mass destruction in the NHRA Super Stock ranks beginning in 1968. In the golden era of drag racing, Chrysler sponsored drivers like Ronnie Sox, Dick Landy, Arlen Vanke, Herb McCandless, Don Grotheer, Judy Lilly, Ron Mancini, Shirley Shahan and many others. These racers claimed numerous victories piloting these very fast, high-horsepower, lightweight, HEMI engine-powered machines. And while time is constantly in motion, and drag racing continues to march down the quarter-mile year-after-year, decade-after-decade, the HEMI engine-powered Darts and Barracudas never got parked and stuffed in garages or shops never to turn their tires in anger again. The opposite occurred, as a new generation of racers came to appreciate these cars and the rules loosened up, engines were updated, along with transmissions, suspensions, rear differentials, tires and other items, all within the strict guidelines of the NHRA rule book. But it's the same basic package the Chrysler engineers created over 50 years ago. Think of the 1968 HEMI engine-powered Darts and Barracudas like the legendary B-52 bomber; it's been a part of the Air Force's arsenal for a very long time, but the constant technological updates make it more efficient and lethal every year. That's how the current crop of Super Stock HEMI engine-powered Darts and Barracudas have evolved. Because of their wheel-standing launches off the starting line and the heads-up, side-by-side racing, these vehicles have become a fan favorite, which made them a natural choice to create the Dodge HEMI Challenge, contested during the SS/AH Class Runoffs.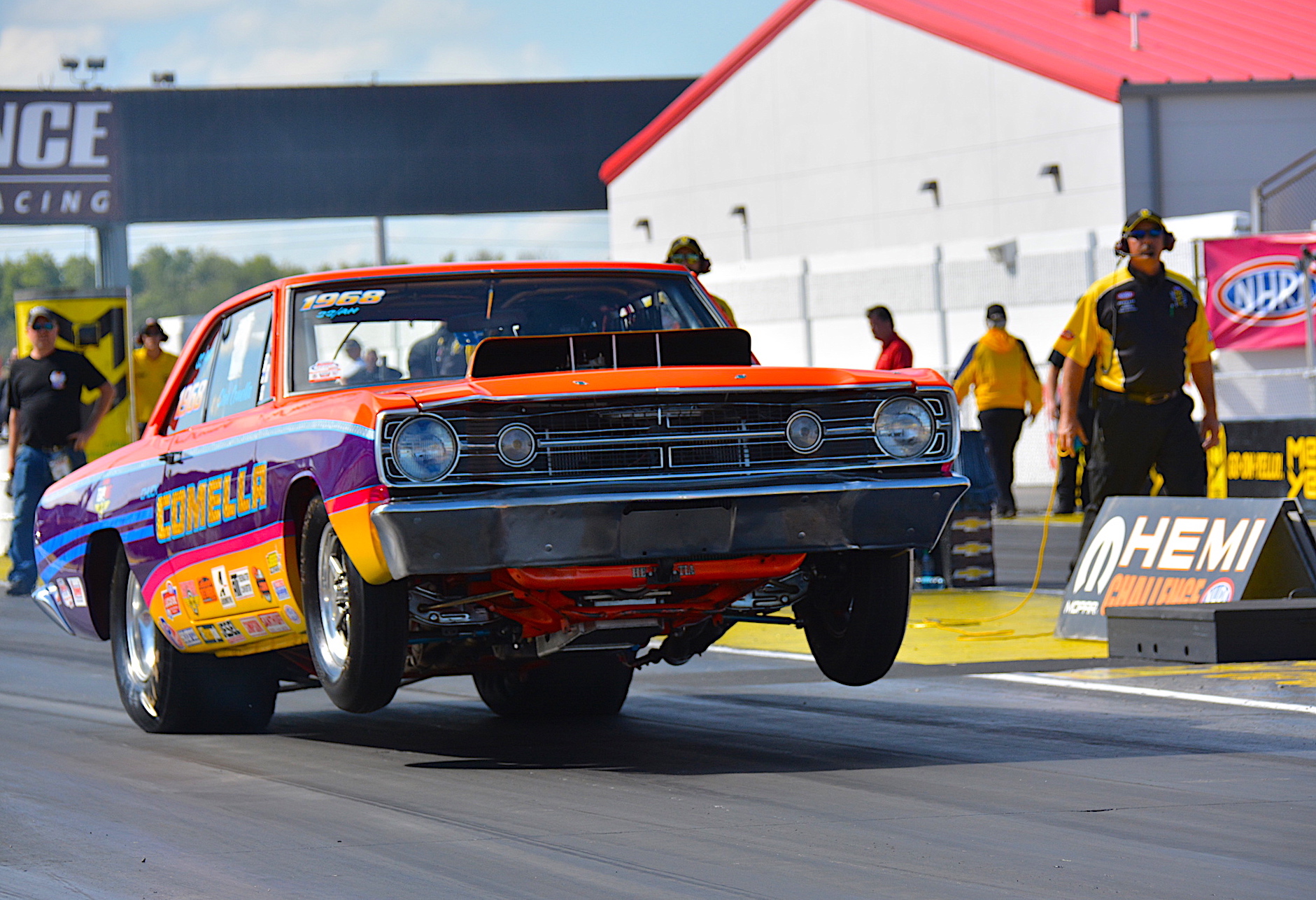 With the deal being done amongst all the stakeholders, the inaugural HEMI Challenge saw nearly 20 highly modified Darts and Barracudas come up to the staging lanes for the first round to duke it out. It took five rounds of hard-fought eliminations, but when the finals rolled around, it was a pair of Plymouth Barracudas fighting for the $10,000 cash prize. History was made on that hot, muggy night as Bucky Hess from West Virginia drove his machine to a win over Michigan's Jim Keyes under the lights at Indianapolis Raceway Park.
"It was the best HEMI Challenge ever. To be able to share that with my wife and son made it so special. When we came up the return road at Indy, the stands were full, and the whole crowd stood and gave us a standing ovation as we drove by in a HEMI Barracuda. It looked like the wave at a football game. They (NHRA) were running a Pro Stock qualifying session and they stopped them to let us drive through in front of the tower at Indianapolis Raceway Park. Linda Vaughn and Bob Frey were announcing the race, and both were jumping up and down in the tower for our win. A sight to see for sure. Like they say, the first is the one you'll always remember, and I'll never forget that evening at the 2001 NHRA US Nationals," said Bucky Hess. "The class has changed over the last 20 years. Technology, hard work and money fueled by a lot of teams. It's been great to still see over 20 cars at every Dodge HEMI Challenge." When asked about his chances on winning this year's event, Bucky had this prediction. "It can be anyone's race. It could be Jimmy Daniels, Stephen Yantus, Stephen Comella, Gary Wolkwitz, but hopefully me. I know there are other teams that can easily win. Any HEMI Super Stocker on that day can win with a little luck. I would like to think if air is good, there could be a couple in the 8.30 (second) runs. The Top five qualifiers could all be within seven hundreds of a second of each other so the competition will be tough, and the fans will be in for a treat."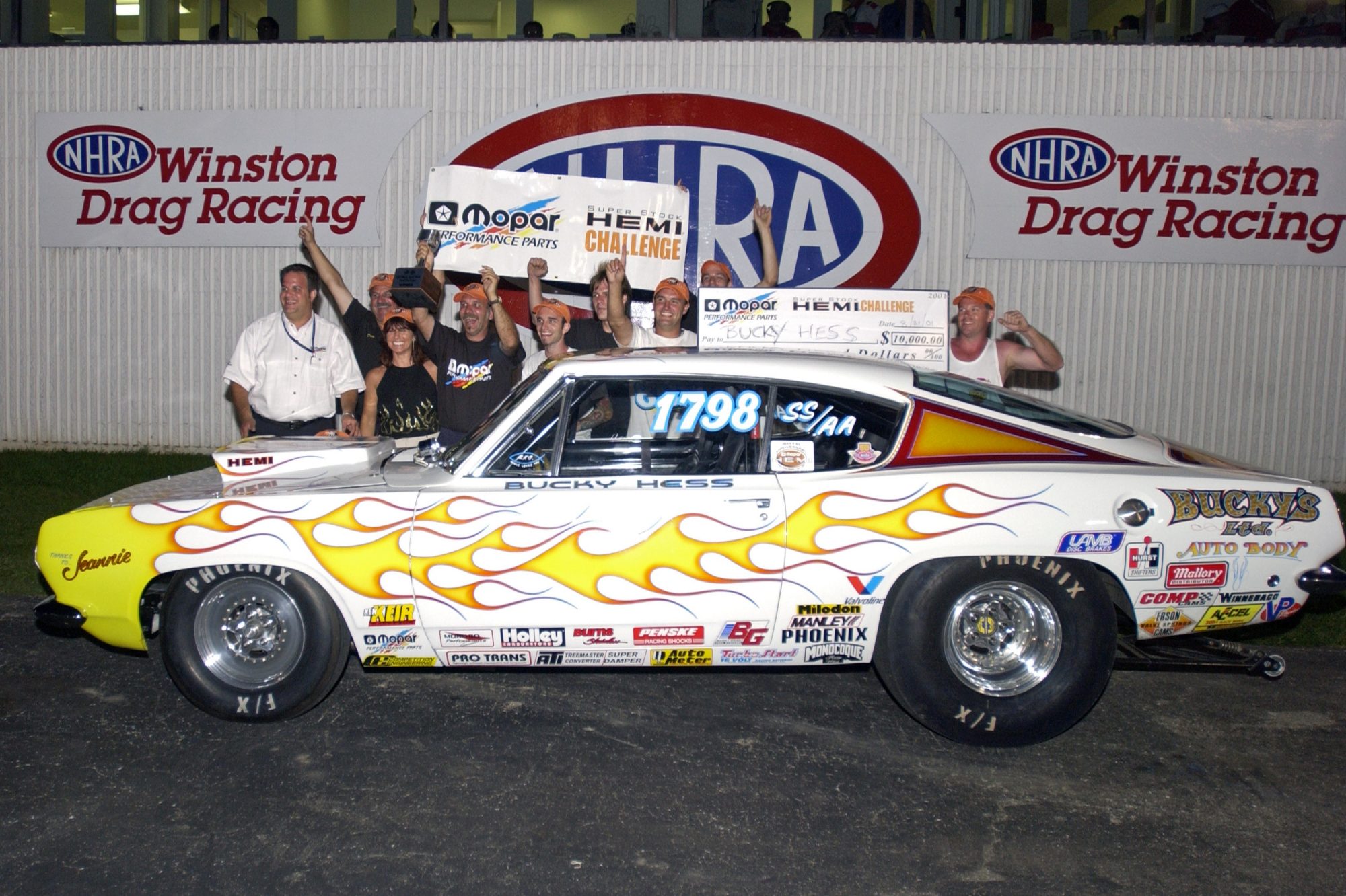 One racer that also made Dodge HEMI Challenge history is a young man whose boyish face looks like he just got his driver's license and probably gets carded when he buys beer. But 25-year-old Jimmy Daniels is a seasoned veteran of the Dodge HEMI Challenge and had claimed four consecutive wins (2016, 2017, 2018, 2019) and was going for his fifth victory in 2020. However, touchy starting line conditions caused the Dart's massive rear slicks to spin, and Daniels bowed out in the opening round, but he still keeps things in perspective. "The success that we have had in the Dodge HEMI Challenge feels like you're on cloud 9. Having the opportunity to win one HEMI Challenge is an absolute dream come true, but being able to win four consecutive HEMI Challenge races was out of this world," said Jimmy Daniels. "This is a race we prepare for all year, so when you are victorious at the end of the day, it's all a big dream come true. In 2020, there was certainly a huge target on my back after winning four HEMI Challenges in a row. However, after losing in the first round last year, the target on my back was not as big as it had been previously. When you are that successful at that race, the competitors just want to knock you out of competition. This race has so much prestige that I think the target moves around quite a bit and normally is on the person who either won the previous year or has a pretty fast car. The pressure was big for me in 2020, as I wanted to keep my streak alive, but once I lost, the pressure to keep that streak disappeared."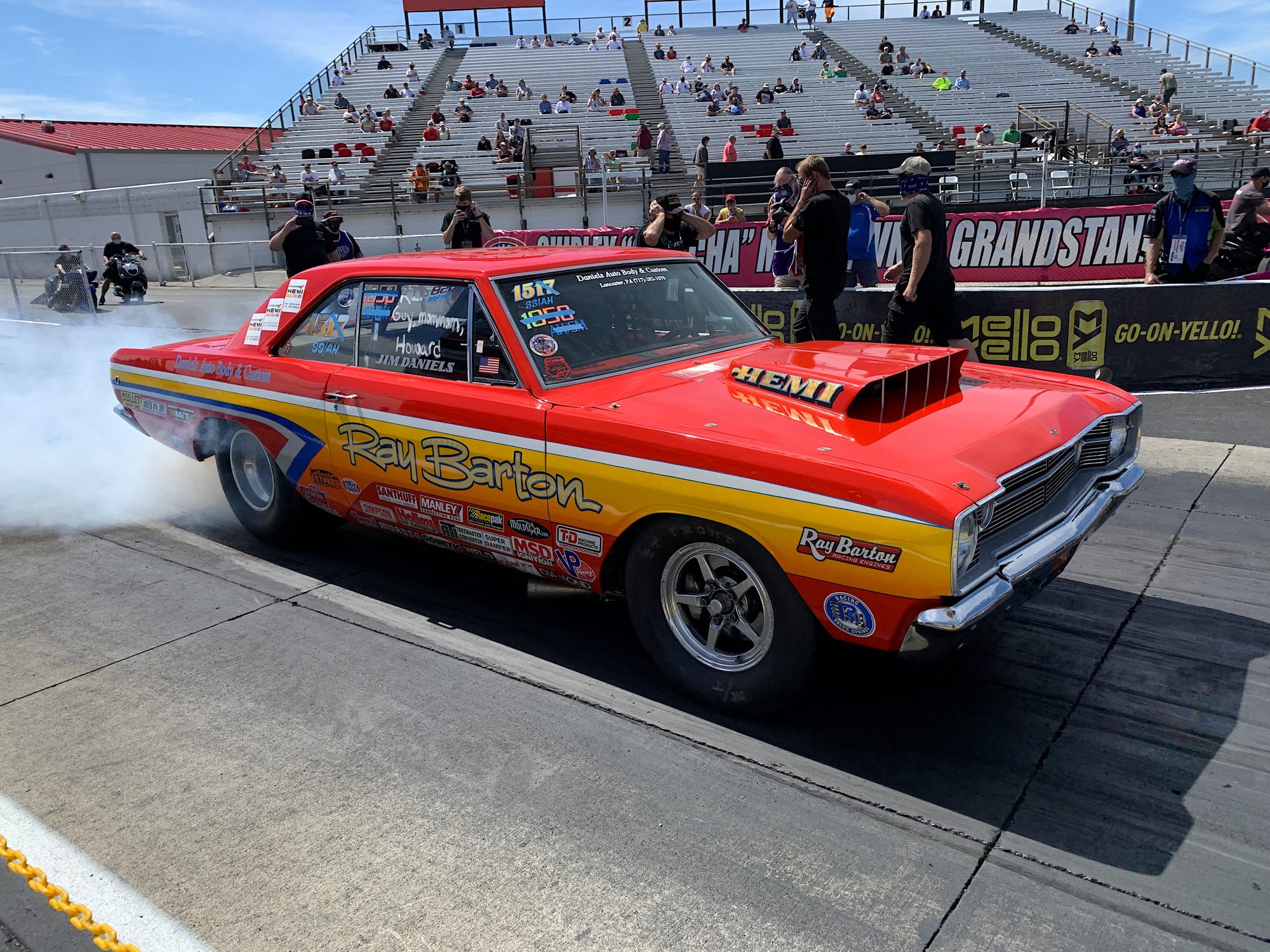 Like most racers, Daniels licked his wounds and has been working all year to avenge his first-round loss at the 2020 event. But he knows there's no gimmies and his competitors get stronger. "The competition is definitely going to be tough at this year's event. You are going to have a handful of cars that are more than capable of winning the event. You can't take any of these guys lightly as they are all gunning for that awesome HEMI Cylinder Head Trophy and the $15,000 check. The competition will be tough so you must be prepared. The Dodge HEMI Challenge is extremely important to me. This is the one race we put a ton of time and resources into each and every year. The Dodge HEMI Challenge is by far one of my greatest achievements in my racing career. The HEMI Challenge is extremely important to me, and I've been very fortunate to have had the success in our HEMI Dart. I've learned never to predict an outcome in racing because anything can happen. The one thing I can predict for this event is that there'll be several fast cars and some fierce competition. I just hope to run decent and put on a good show for the Mopar fans."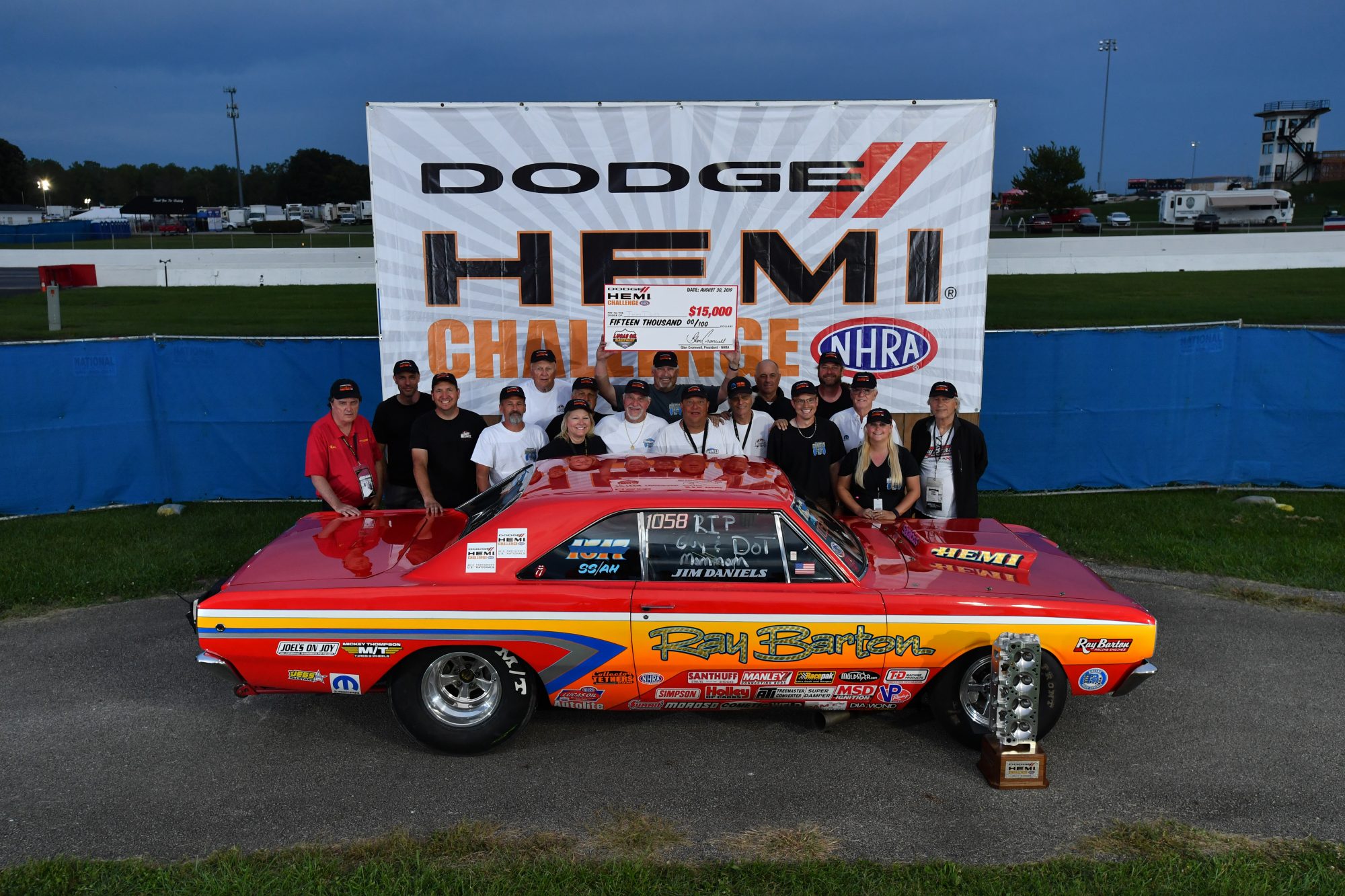 When, Daniels went out early during the 2020 Dodge HEMI Challenge, it was now anyone's race. Among the entries was 35-year-old Stephen Yantus from Charleston, South Carolina. He had driven his Barracuda like a man on a mission round after round and was taking out some of the heavy hitters in the SS/AH class. "This was the fourth time we ran at the Dodge HEMI Challenge. The first three times didn't treat us very well. We started off very green and had to learn a bunch as quick as we could learn it," said Stephen Yantus. "These Elephants (nickname for the 426 HEMI engine) are very difficult to understand and master how to get them down the track. Not too many people were stepping up to the plate to help us. This class is very competitive, and secrets stay secrets. You have to earn your stripes and take your licks in the SS/AH class. But there isn't another class out there like it. Racing these iconic Race HEMI Package Cars, in my opinion, has always been my dream and they're amazing to watch."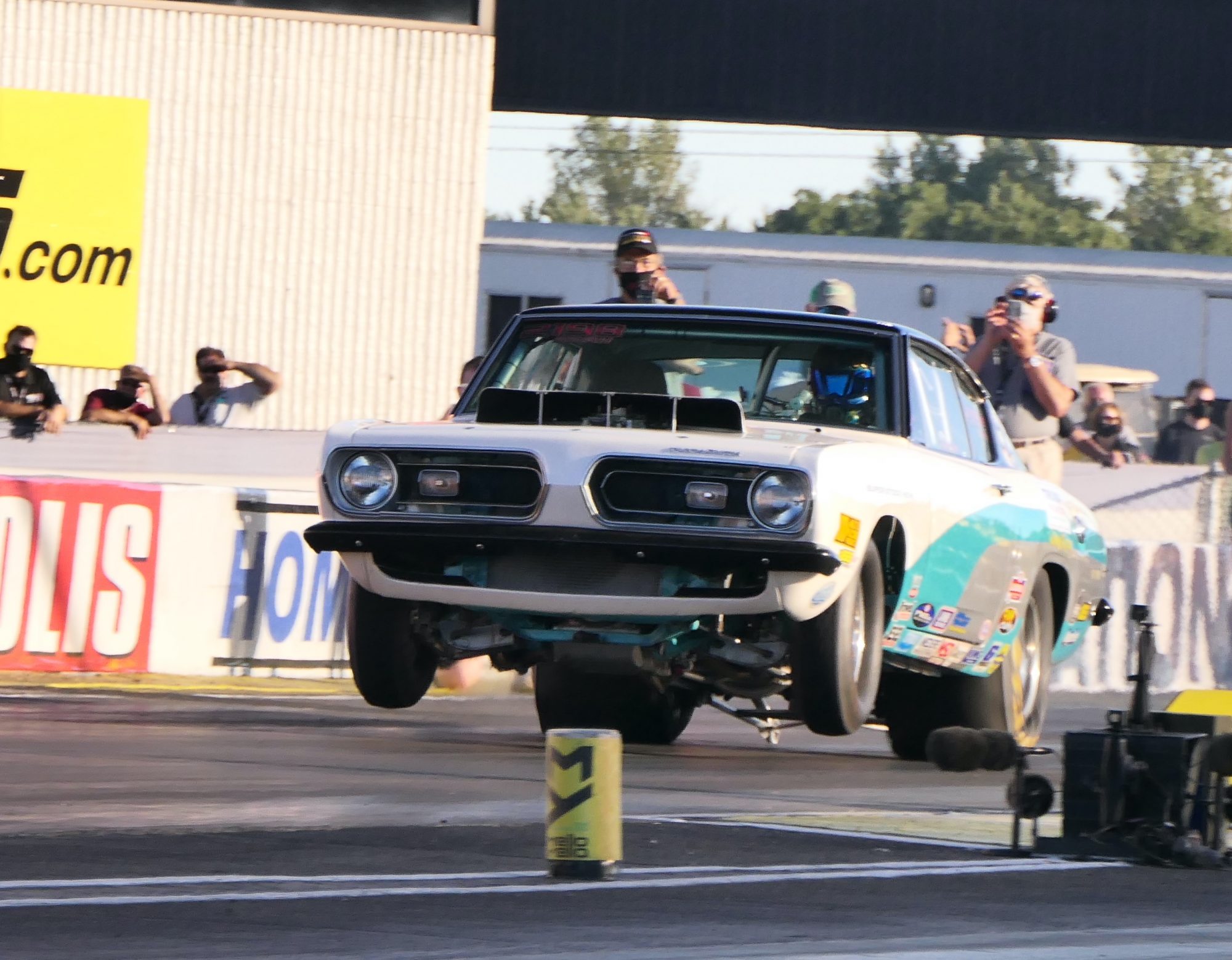 When we asked Stephen what it's like going into this year's Dodge HEMI Challenge as the reigning champ, he gave us some thoughts. "I'd have to say people are out gunning for me. We don't talk much about the advancements we are making throughout the year, but you occasionally hear things. I heard a few drivers were getting engine upgrades and some getting whole new bullets put together just for this race. I don't think I ever had a target on my back till after this race. Before last year's HEMI Challenge, we tested a few days and knew we had a pretty fast hot rod. When we made the first qualifying hit, I was the first one down the track and I seriously didn't know if an 8.47 was going to be enough to be at the top of the ladder. But it all worked out in our favor, and we did. From that point on, the car was pretty much on auto pilot. We did our routine round maintenance on the car and just kept it happy. As far as breaking Jimmy's streak, it was bittersweet. I was happy that we walked away that weekend with the win, but he was the four-time champ, and I would have liked to have run him to see what would have happened. Jimmy's a great guy and a hell of a racer. So, to say we beat the four-time champ, that's a pretty cool deal knowing how fast and good Jimmy and the Ray Barton crew is. To show we have the people and the knowledge to go up against these guys is a huge congrats to everyone that helps with the car."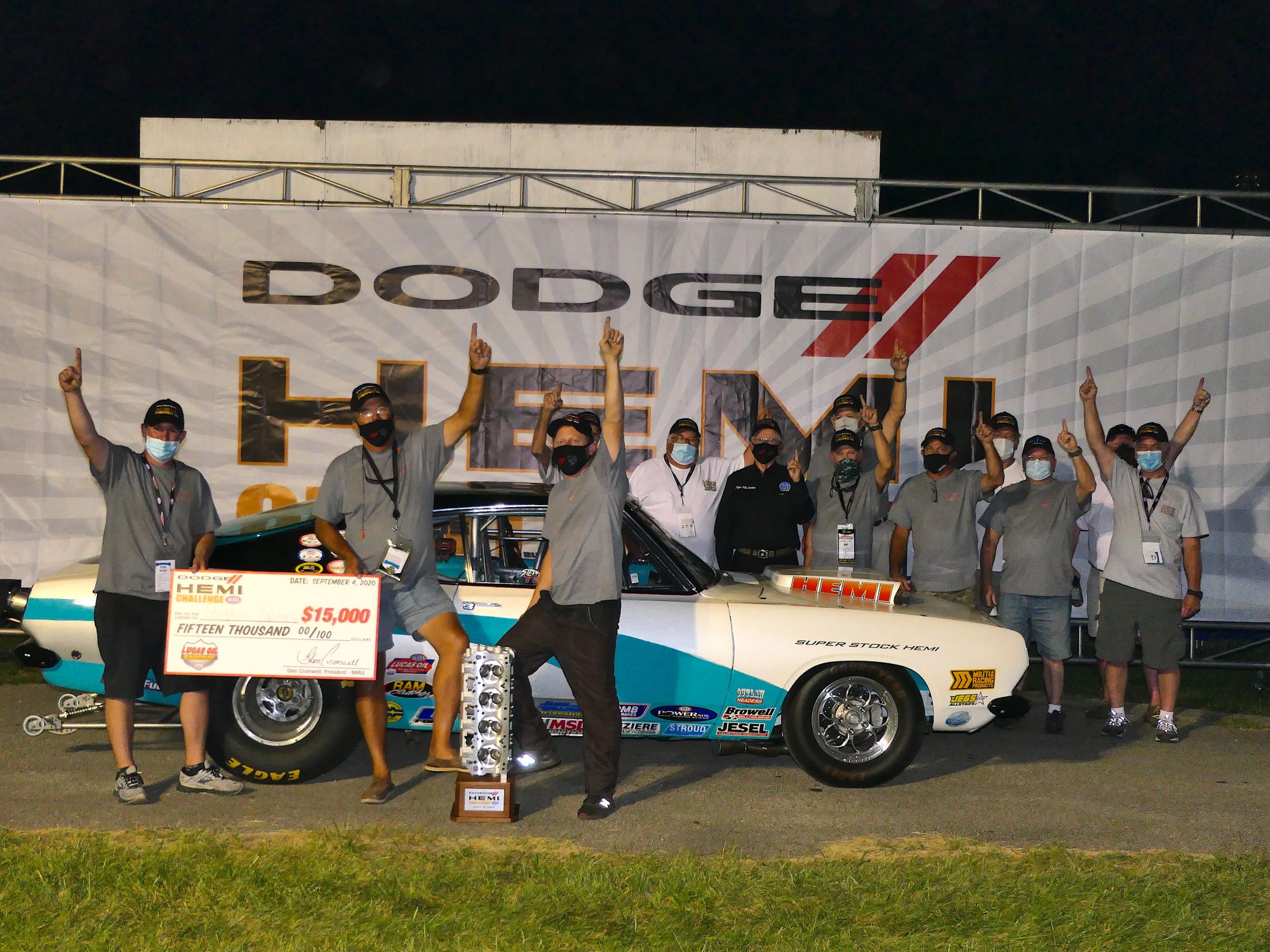 For the SS/AH competitors, the Dodge HEMI Challenge is by far the most important race of the year. Some of these drivers may only hit the drag strip with their highly sophisticated and temperamental HEMI engine-powered machines five to eight times a year, but they all agree the Dodge HEMI Challenge is a major highlight in their racing career!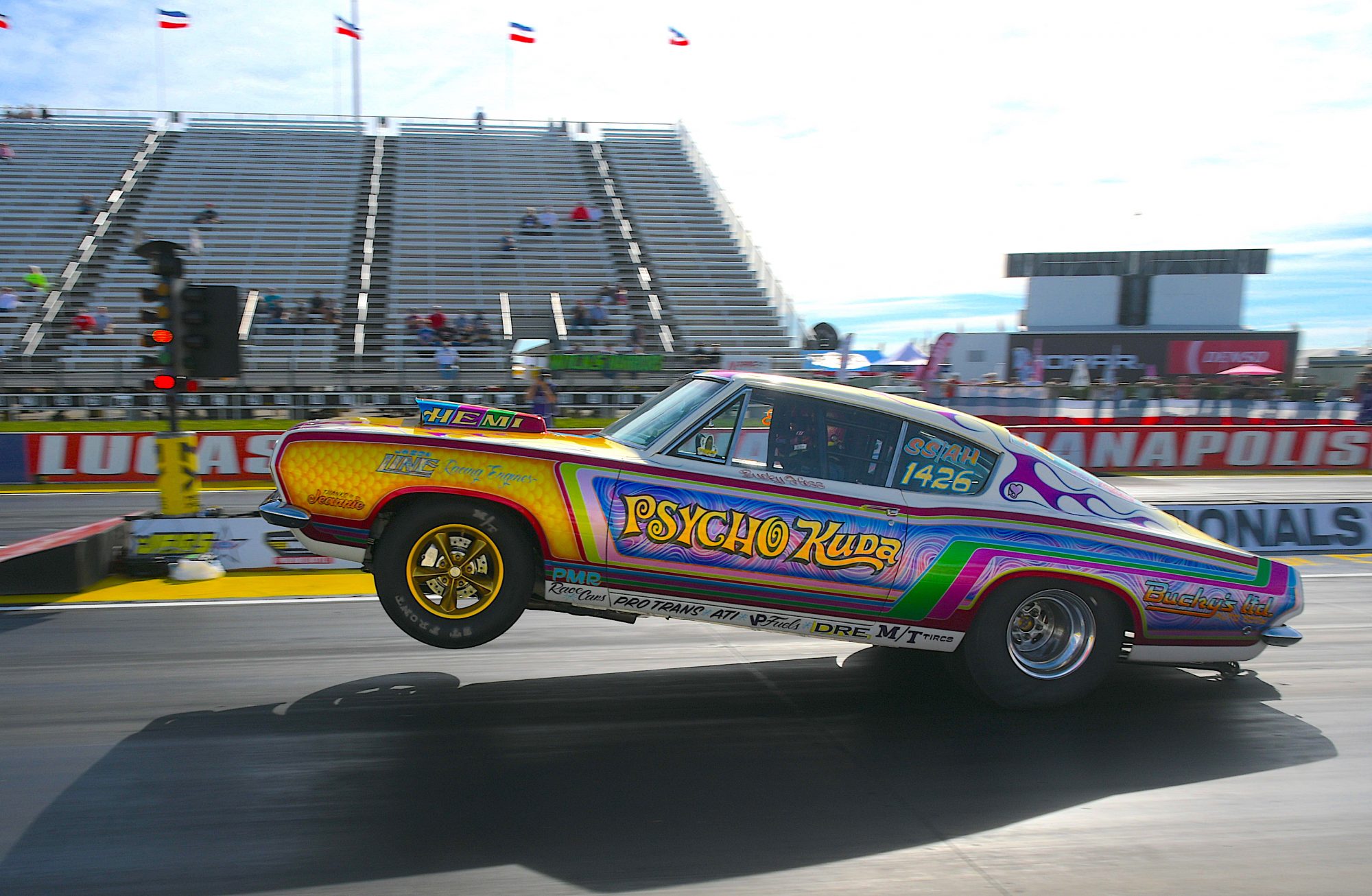 You can hear the ground rumble and shake when over 20 magnificent 1968 Super Stock HEMI Dodge Darts and Plymouth Barracudas roll into Indianapolis Raceway Park for the 20th running of the Dodge HEMI Challenge during the historic Dodge//SRT NHRA US National. In the meantime, here are some images from past HEMI Challenge events.
Comments
Comments