Burning Rubber at the NMCA Dodge//Mopar® HEMI® Shootout
2 years ago Gallery Racing
A good friend of mine once told me that drag racers make horrible spectators. They'd much rather be strapped into a fast street machine or an all-out racecar, ready to roll into the water box, heat up the slicks, creep up to the staging beams and whack the throttle with their right foot. It's much more fun being the one making the noise than listening to it from the grandstands. Drag racing is a hobby, a sport, a lifestyle and even a religion to some. If you're not the one behind the wheel blasting down the quarter-mile, you feel empty inside. It can be a long day at the drag strip if you're just there bench racing with friends. At least that's how I feel when I'm at an NMCA event watching all the awesome Scat Packs, 1320s, SRT® Hellcats, SRT Hellcat Redeyes, and SRT Demons flexing their muscle during the Dodge//Mopar® HEMI® Shootout. With owners of these very fast machines grinning ear-to-ear experiencing all that horsepower goodness, I get envious and somewhat jealous. I want to be in their place. That's why I hit the NMCA drags as often as I can in my Sublime 2015 Challenger R/T Scat Pack Shaker. This car was built to be driven hard and fast. Its 392 HEMI V8 engine churns out 485 horsepower and an earth-moving 475 lb.-ft. of torque. When you hit the throttle, the Challenger reacts like a scalded cat and leaps off the line.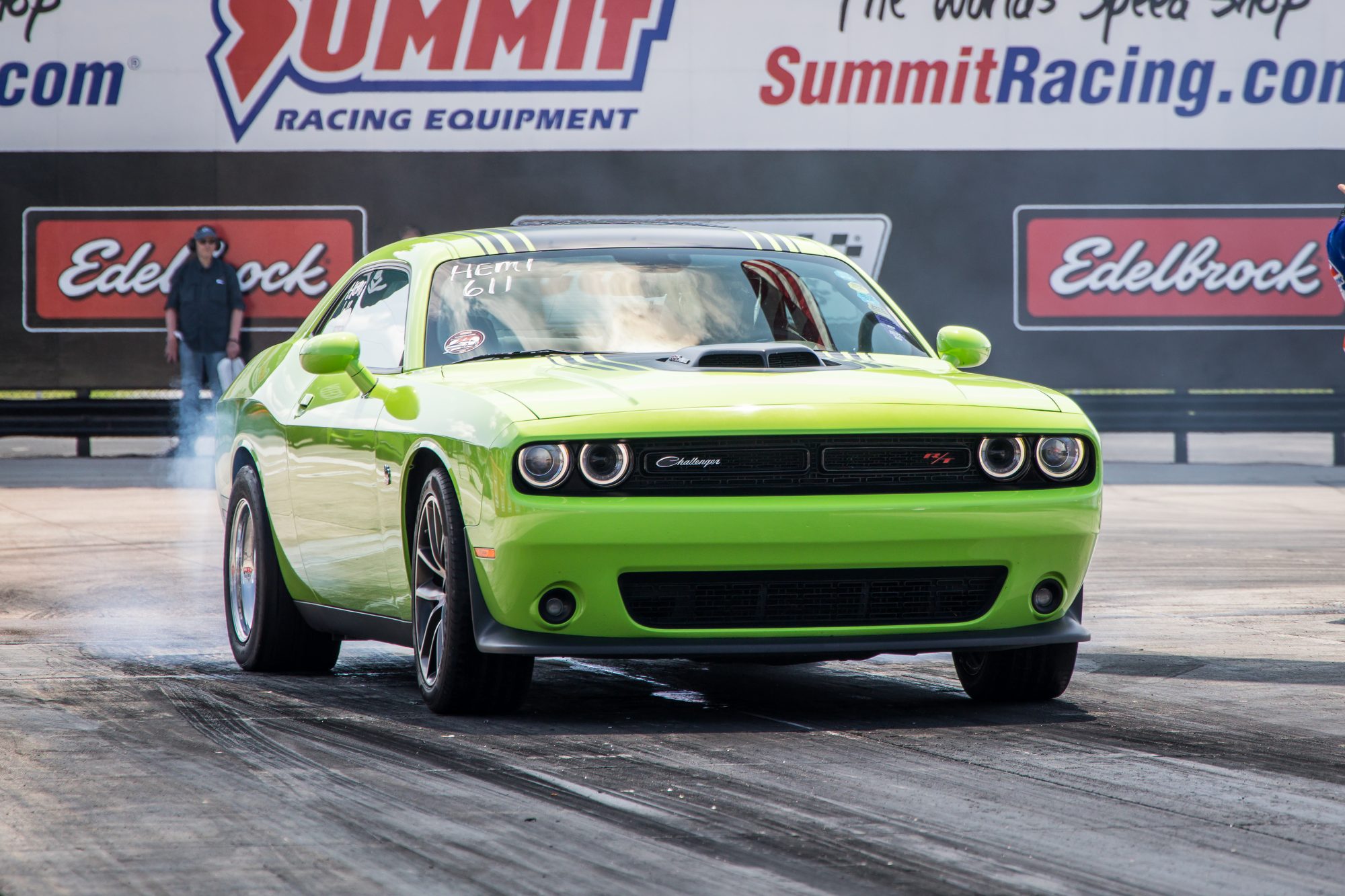 I've raced with NMCA for the past four years, and I never get bored or tired of mixing it up with other competitors racing in the Dodge//Mopar HEMI Shootout. Whether you're a novice or a seasoned veteran, racing with the NMCA is truly a great experience and here's what you can expect when you roll through the gates – they treat the racers right. Since this particular class was created for stock, mildly modified and even heavily modified high-performance street vehicles using 2005 or later Gen III HEMI engines for power, I was in great company.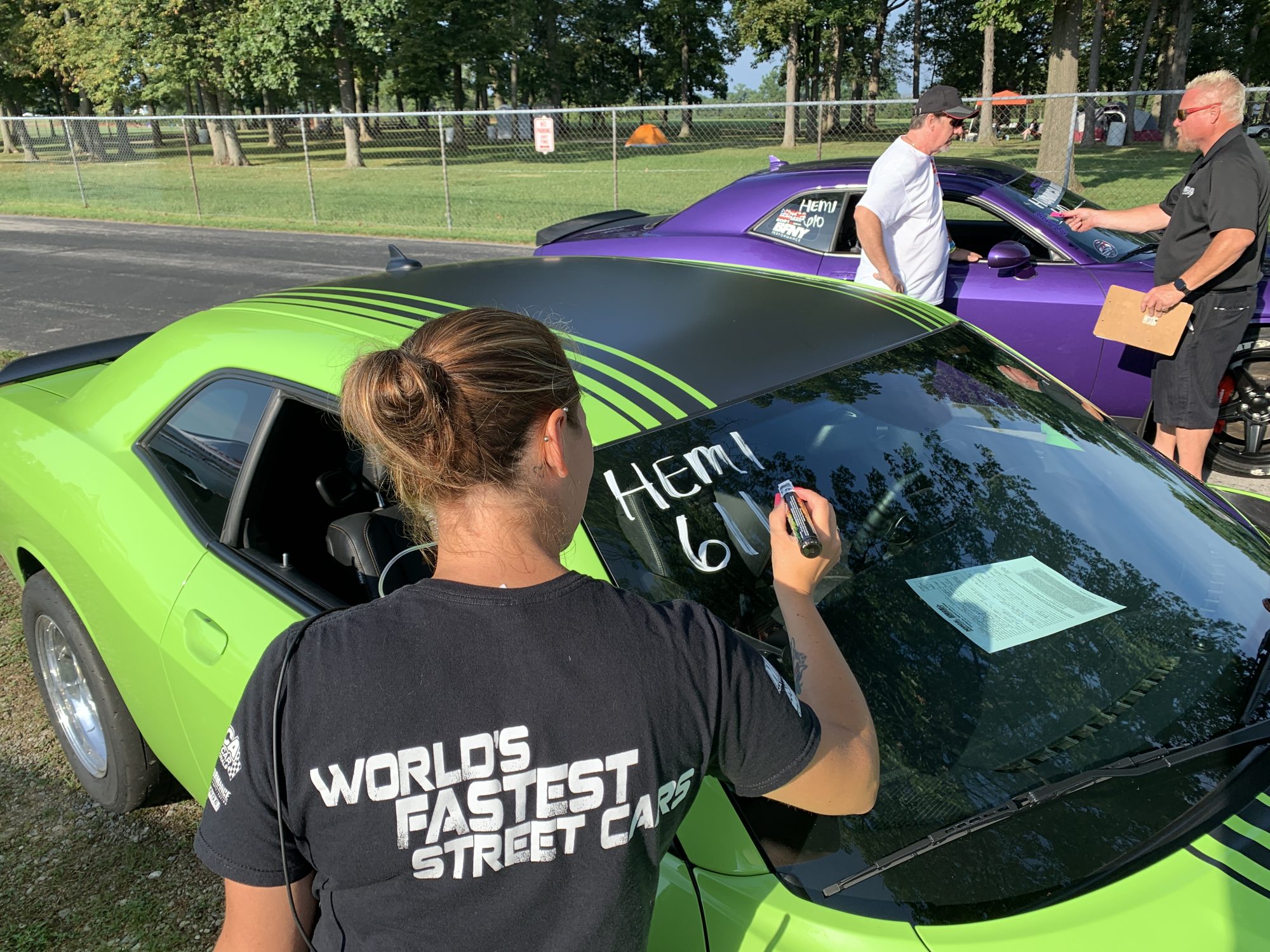 REGISTRATION AND TECH INSPECTION
Before any car goes down the track, you need to fill out the tech card and have an NMCA Tech Inspector check for mandatory safety equipment. Since my Scat Pack will travel the quarter-mile in well under 13.99 seconds, a helmet is required to protect my noggin, but since my stock Scat Pack is not capable of breaking into the nines in its current state, the production seat belts are acceptable. The last order of business before getting my car number scrawled on the windows in shoe polish and getting my tech card was a quick check of the Mickey Thompson drag radials I bolted on back in the pits. NMCA requires DOT slicks or DOT-legal radial tires. This is a class for street cars; racing slicks are prohibited unless you're doing battle with a Challenger Mopar Drag Pak in the Holley EFI Super Cars class.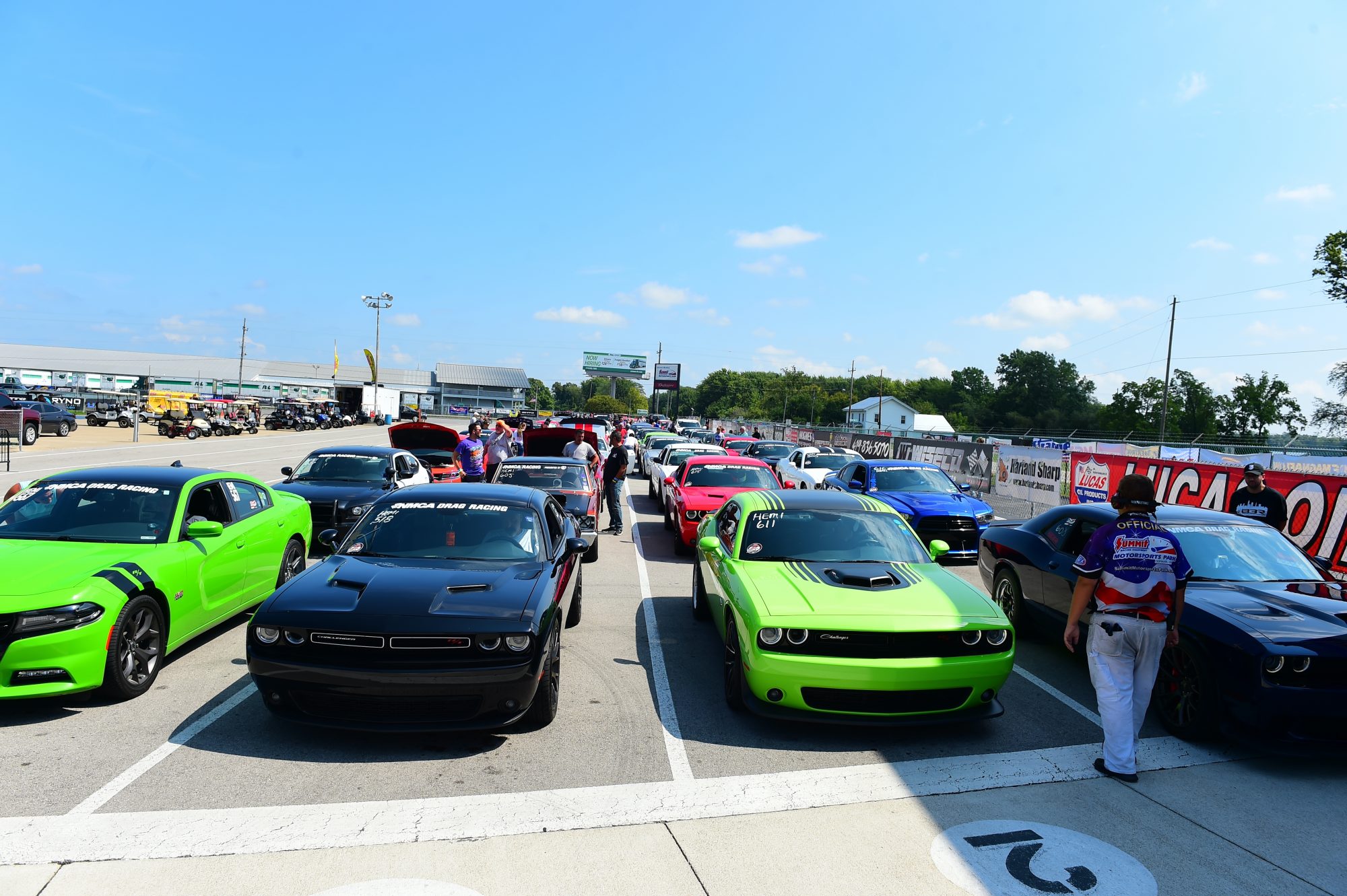 OFF TO THE STAGING LANES
Once my Challenger Scat Pack cleared tech, it was back to my pit spot to remove any unwanted weight. Since any extra pounds are the enemy of a fast ET, I proceeded to empty out the trunk of all "stuff" and claimed a small spot of grass next to some fellow Mopar racers. I don't own a trailer so it was "Hey pal, can I dump my stuff by your rig?" Racers help each other and they're like a second family. I had already bolted on my 17×11-inch WELD Racing RTS wheels and Mickey Thompson P305/45R "STREET R" Drag Radials that have claws and so much grip, it felt like chunks of the starting line pavement were being ripped out, I had just a few more things to do in getting the car ready. Due to timing, I didn't have time to replace the factory front 20×9-inch Scat Pack wheels, so after a quick retorque of all four wheels, I headed to the staging lanes when the announcer called the Dodge//Mopar HEMI Shootout class.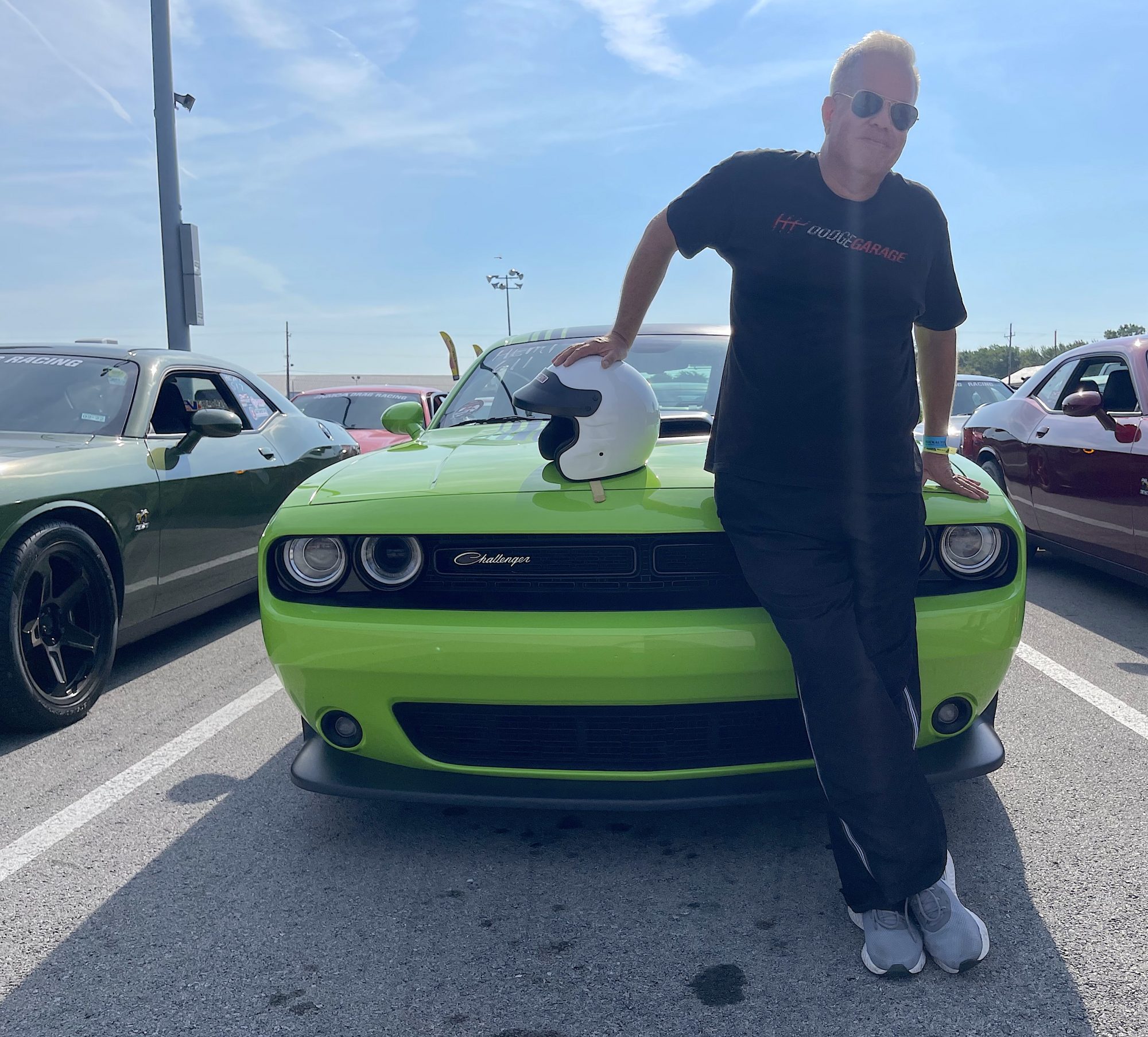 I did a final tire pressure check in the lanes. In race mode, the fronts are pumped up to 40 psi while the drag radials are at 19-20 psi. I could spend a whole day experimenting with rear tire pressure, but with only three runs on the line, you average the numbers and take a shot hoping the starting line and tires become one cohesive unit and hurtle the Scat Pack down the drag strip.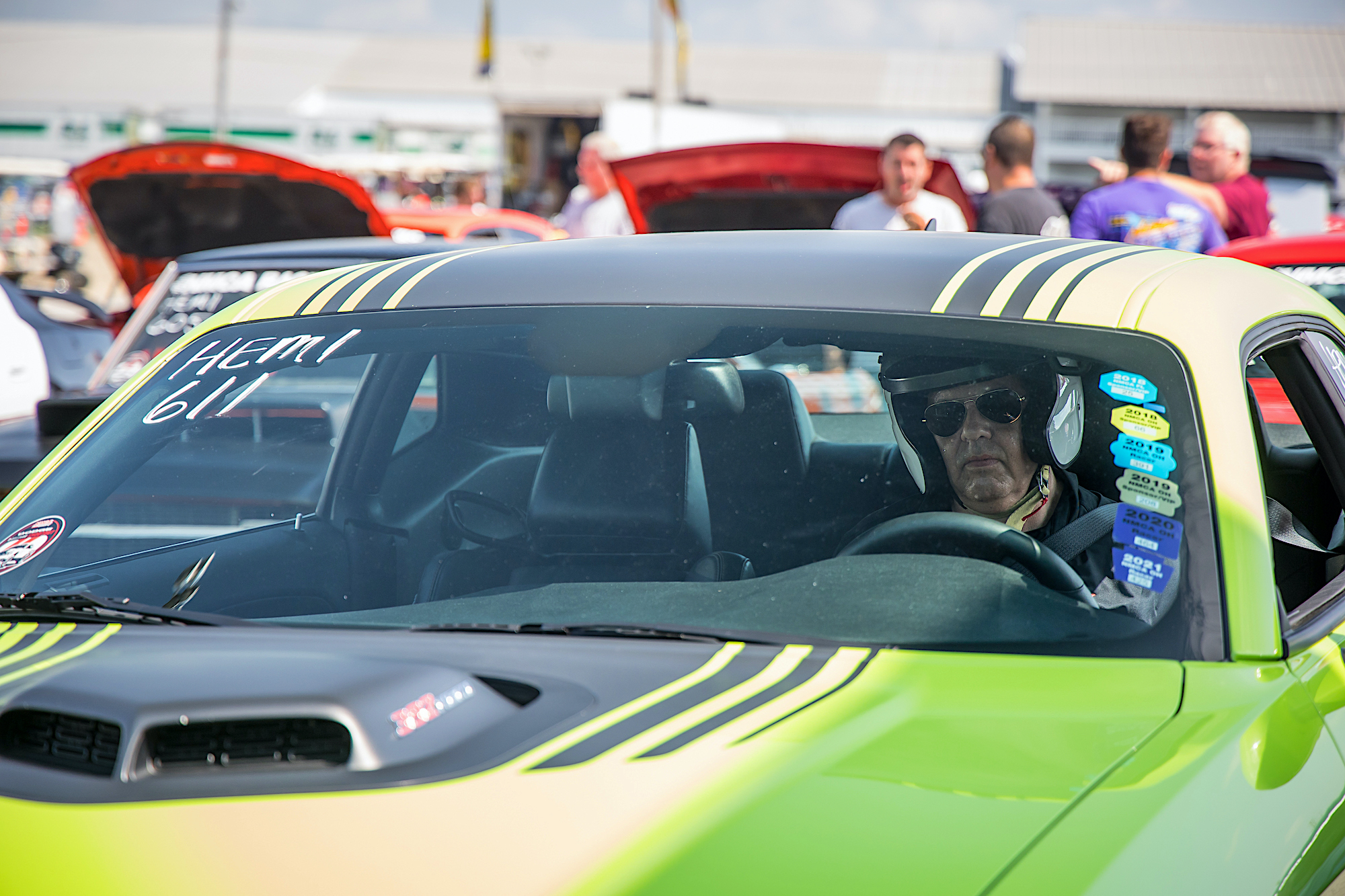 As the staging lanes began to empty out from the other classes, I began inching up with the rest of the HEMI Shootout competitors. In my head, I was going through my burnout procedure, how deep I wanted to stage, and what RPM to leave at, all while buckets of sweat poured down from my head as it was encased in my Simpson helmet. After a short pause for the starting line crew to clean and groom the track, the track official working the staging lanes motioned me and a fellow competitor in the next lane to "fire 'em up" and roll into the burnout box. There's tons of debate among racers on proper burnout techniques. Some say a light burnout with just a whiff of smoke builds enough heat, while others claim that a tire-frying Funny Car-style burnout with billowing smoke is what you need. Although I'm guilty of the latter, I try to take it easy in the burnout box as it can be hard on parts and significantly impacts the lifespan on the drag radials. Each car and rear tire will react differently, so experimenting is usually the best way to determine what works best. Ironically, my best 60-foot times come from doing a moderate burnout.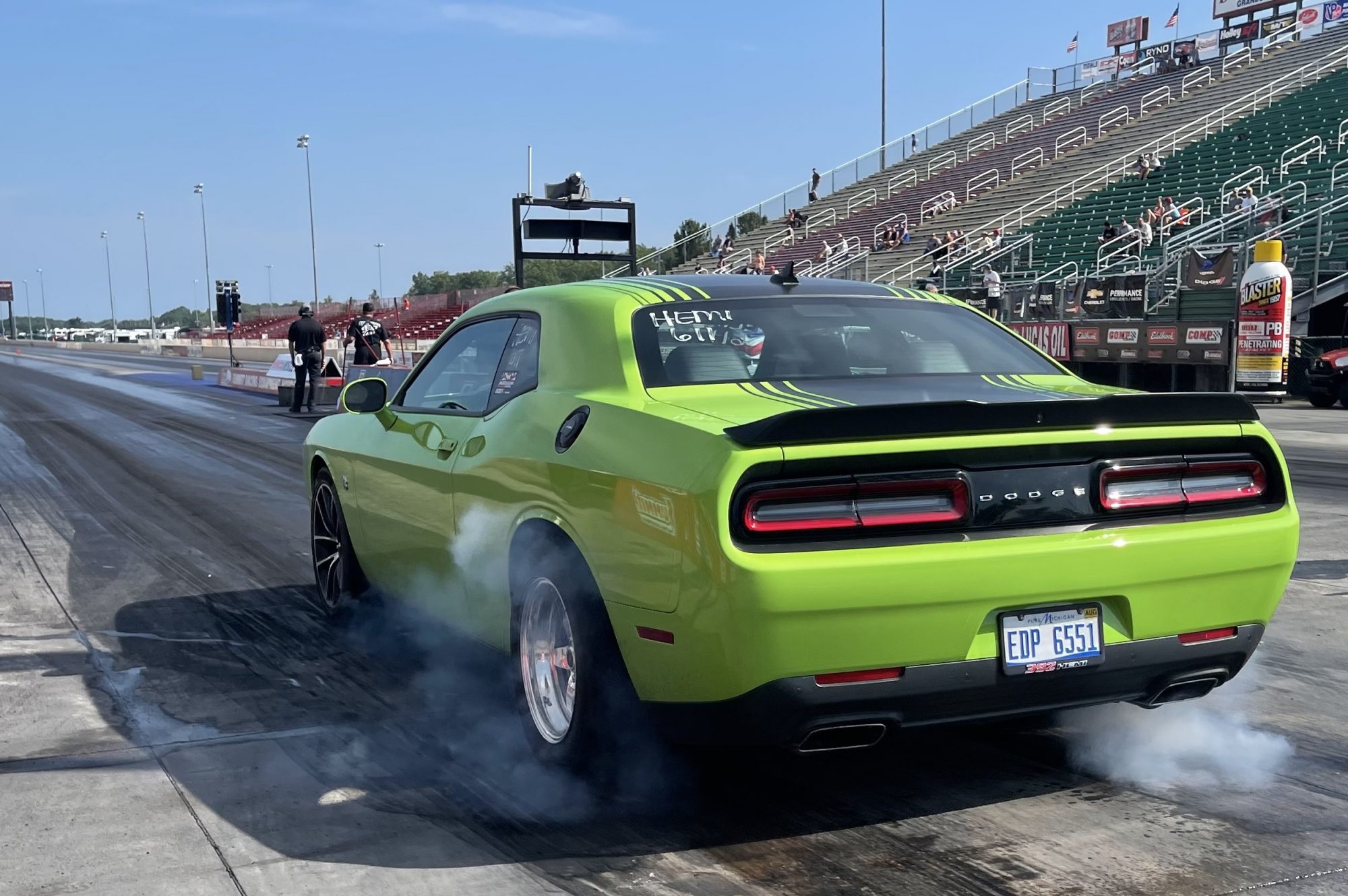 With temps hovering around 96 degrees Fahrenheit and humidity so thick one could cut it with a chainsaw, I knew the 392 HEMI V8 engine in my Scat Pack would be gasping for air. A famous engine builder said you can't burn water, and with a naturally aspirated powerplant like the 392 HEMI V8, that's very true. High humidity is a buzzkill and despite running 11.95 at 116.92 mph earlier in the season, my best pass from the three runs I made during the weekend was 12.20 at 115.64. Not bad for basically a stock Challenger Scat Pack, and considering the air temp was hotter than an Easy Bake Oven, I'll take it.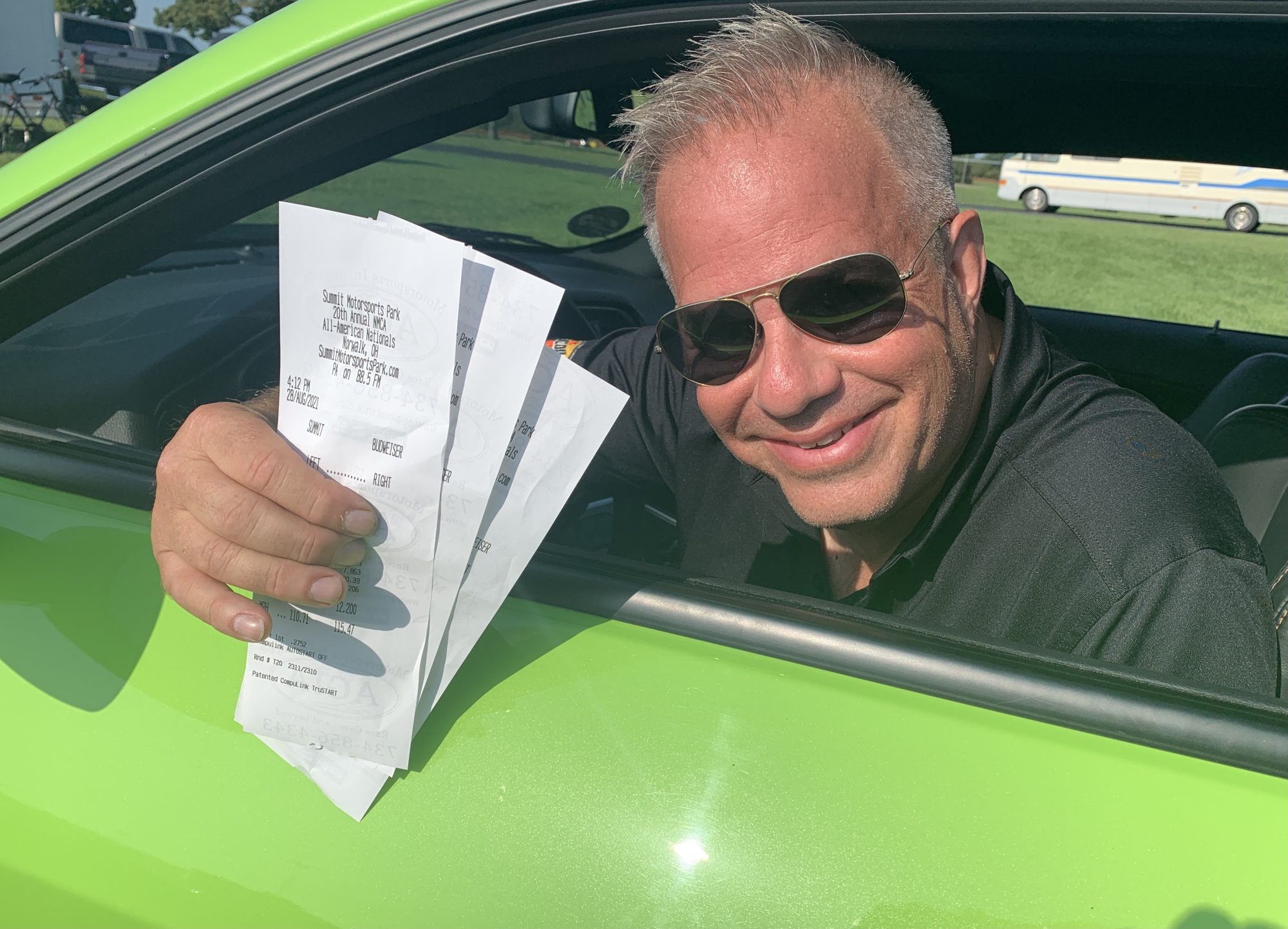 It was a great feeling to be racing again and hanging out with fellow HEMI Shootout competitors in the pits and staging lanes. Let's face it, I live the Dodge Brotherhood of Muscle every day, but this past weekend I renewed my membership as my Challenger Scat Pack wore the scars of burnt rubber on the rear quarter-panel, shoe polish on the glass and a glove box full of time slips!
Comments
Comments