Dominant Performance by Mopar® Dodge Charger SRT® Hellcat as Hagan Wins NHRA Midwest Nationals and Powers to Funny Car Championship Lead
2 years ago Racing
Defending National Hot Rod Association (NHRA) Funny Car world champion Matt Hagan powered his Don Schumacher Racing (DSR) New Holland Mopar® Dodge Charger SRT® Hellcat from the No. 1 qualifier position to the winner's circle at the Midwest Nationals near St. Louis in dominant fashion to take over the lead in the "Countdown to the Championship".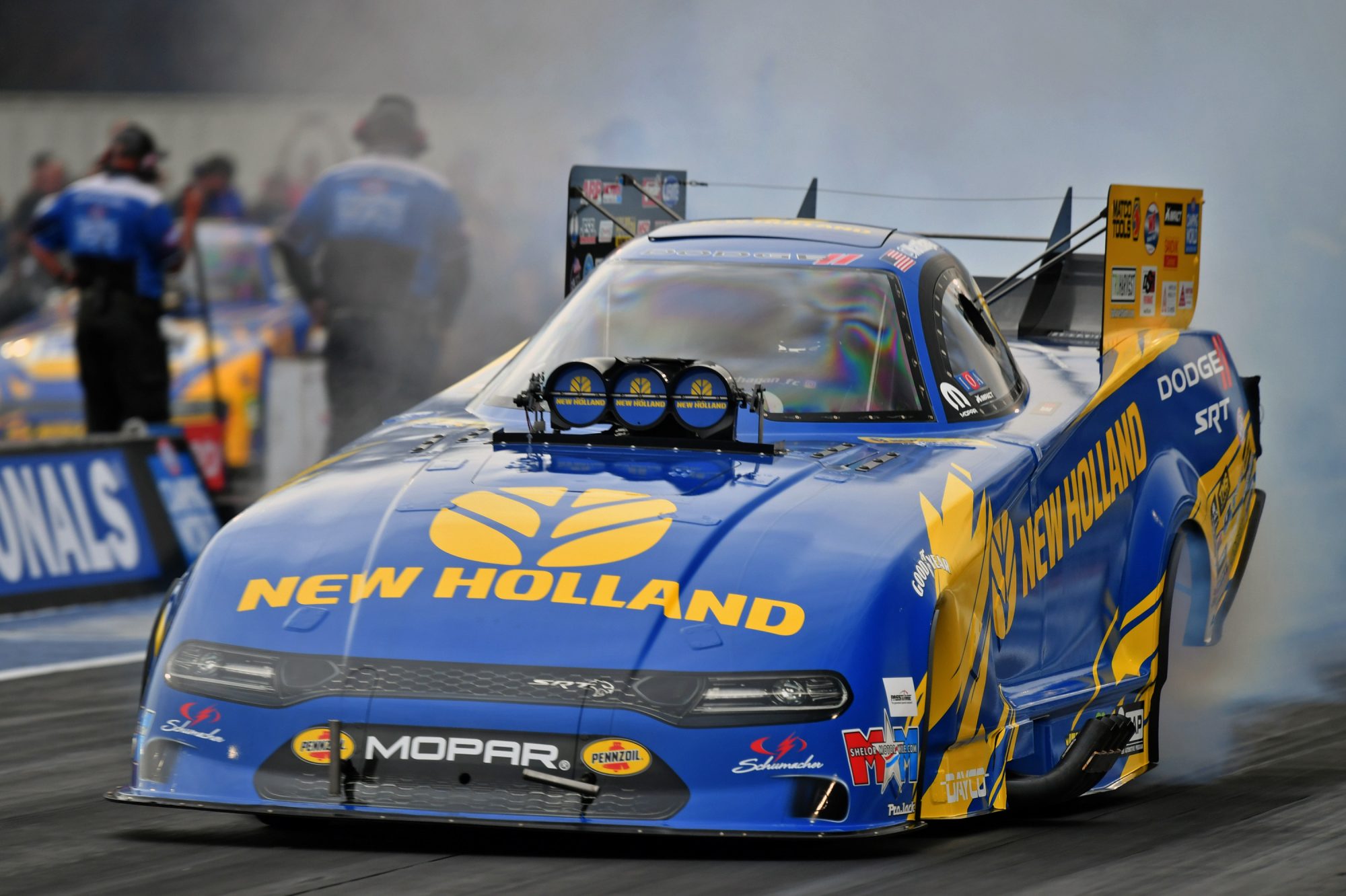 Hagan kicked off the third of seven NHRA playoff series events by driving his HEMI®-powered machine to the provisional No. 2 spot at World Wide Technology Raceway in Friday evening qualifying to find himself closing in on DSR teammate and points leader Ron Capps on the provisional timing sheets as well as the Funny Car championship standings. From there Hagan never looked back and laid down the quickest laps in both Saturday qualifying sessions with a final pass of 3.868 seconds at 333.25 mph to secure his third No. 1 qualifier position of the year, a 43rd overall, and collect eight of nine possible bonus points to put him just one marker behind Capps heading into Sunday's elimination rounds.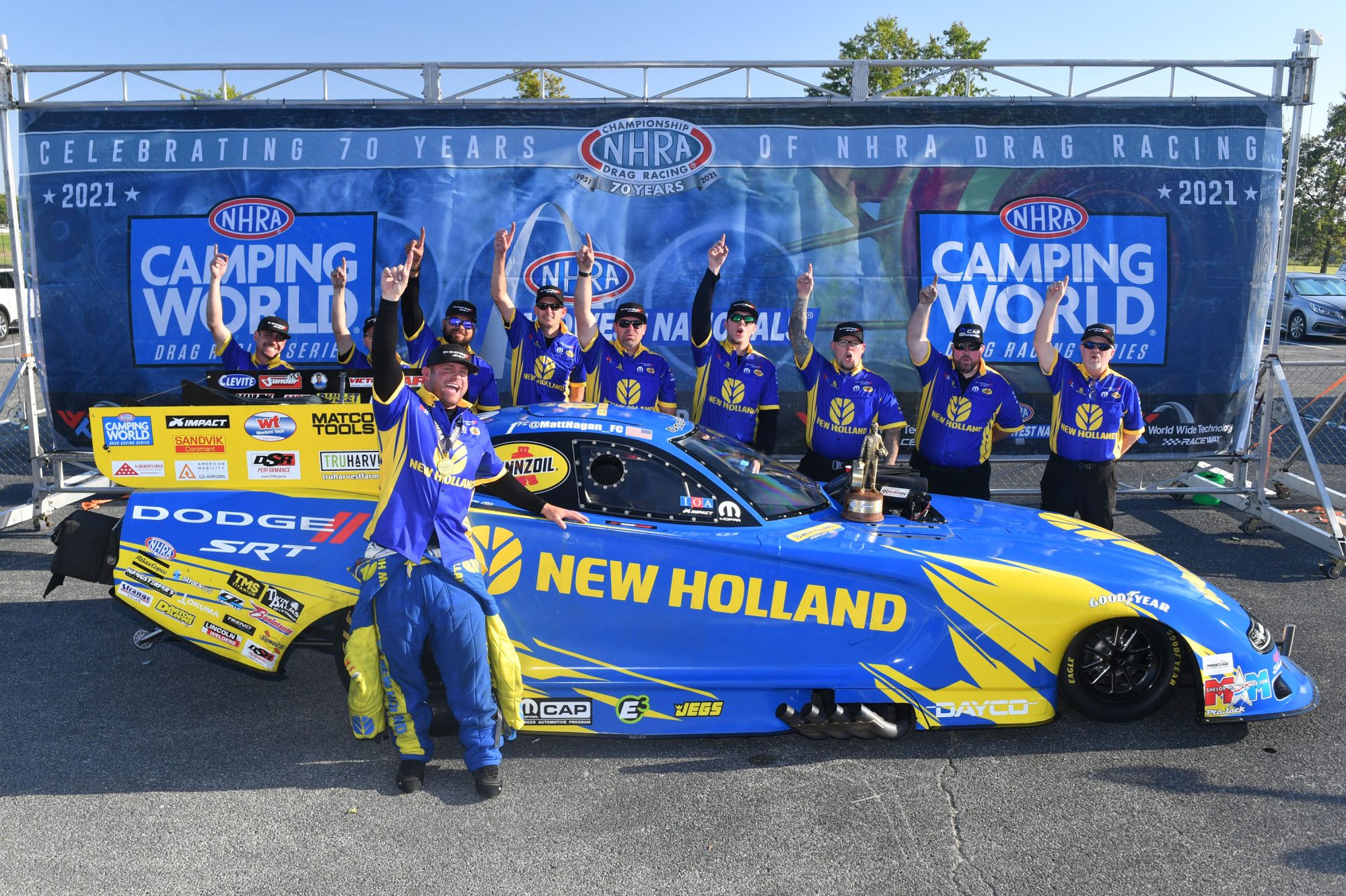 Hagan had an opening round bye run and a quarterfinal win against J.R. Todd to move on to an all-Dodge Charger SRT Hellcat semifinal against No. 5 seed Cruz Pedregon. Both launched and battled side-by side the entire length of the track with Hagan (0.086/3.922/328.30) turning on the win lights over Pedregon (0.083/3.954/323.58) to advance to his fifth final round showdown of the season. Facing off against No. 6 seed Bob Tasca, Hagan got out of the gate first and made another solid sub four-second run (3.933) at 333.49 mph to earn his first Wally trophy from the St. Louis venue.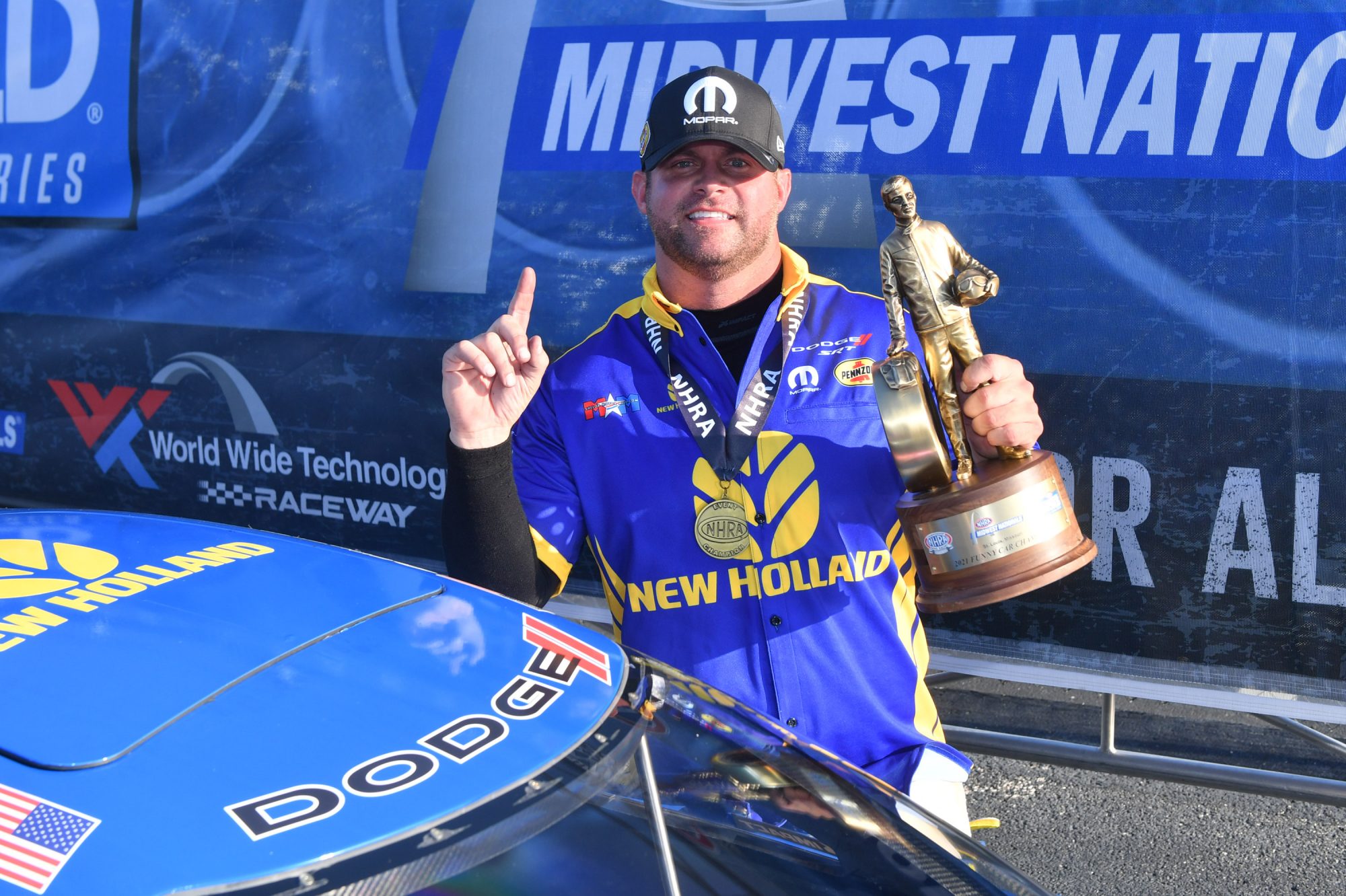 The win was Hagan's third of the season, the 39th of his career, and a fourth for his crew thanks to the victory earned in the playoff opener in Reading, Pennsylvania with substitute driver Tommy Johnson Jr., who slipped into the Mopar Dodge Charger SRT Hellcat seat as its regular driver recovered from COVID-19. With two playoff wins in three events, Hagan moved into the top spot in the Funny Car championship battle with a 59-point lead over his fellow DSR stablemate Capps.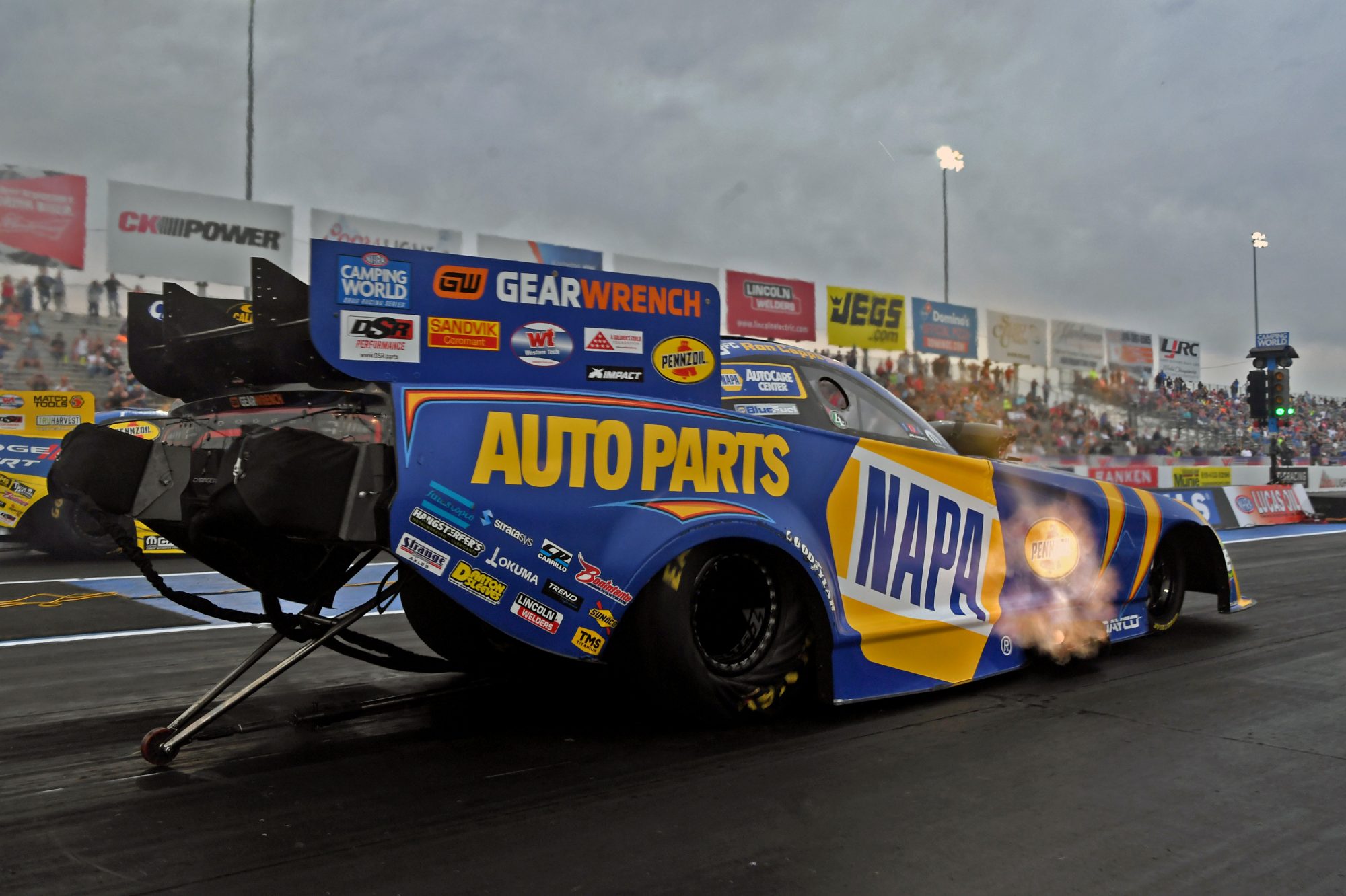 Capps' weekend began by driving his NAPA AUTO PARTS Dodge Charger SRT Hellcat to the provisional No. 1 spot on Friday and the second best run in final qualifying on Saturday to add five bonus points to his points tally and earn the No. 2 spot on the elimination ladder, the 13th time this season he has qualified in a top-five position. He powered his hard-charging HEMI-powered machine to an impressive 3.854-second elapsed time run at 333-mph in the opening round to defeat No. 15 seed Chris King whose racecar faltered right off the start.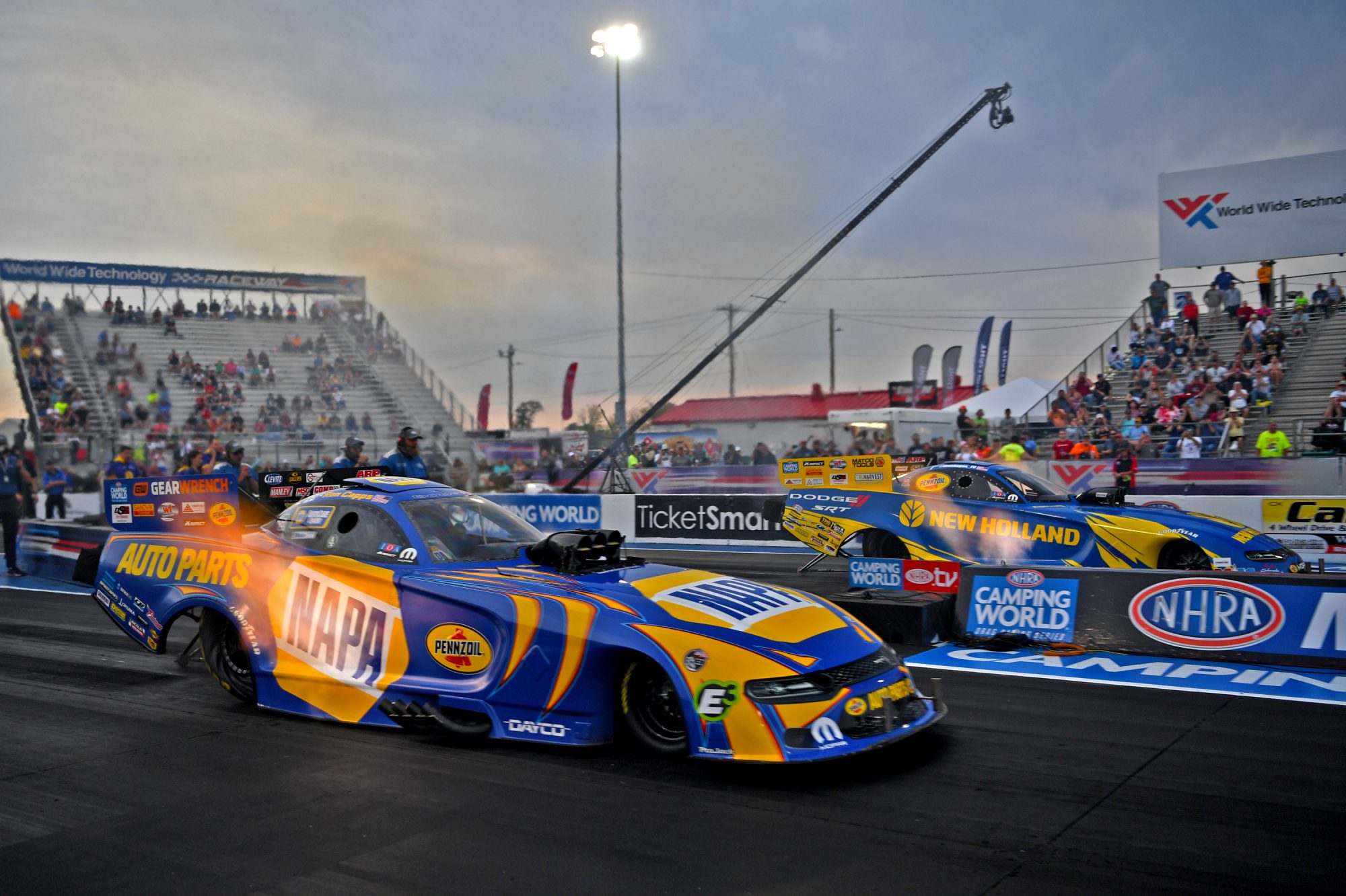 Capps advanced to a quarterfinal match-up against fellow championship contender John Force, who has been regularly staging his racecar deep into the starting line beams to distract his opponents. While aware and prepared for Force's tactics, the veteran DSR driver had an uncharacteristic start that allowed his opponent to take the early lead. Capps gave chase with a 3.929-second pass but unfortunately wasn't able to beat Force's slower 3.970-second lap. Despite the premature exit, Capps remains second in the Funny Car championship battle.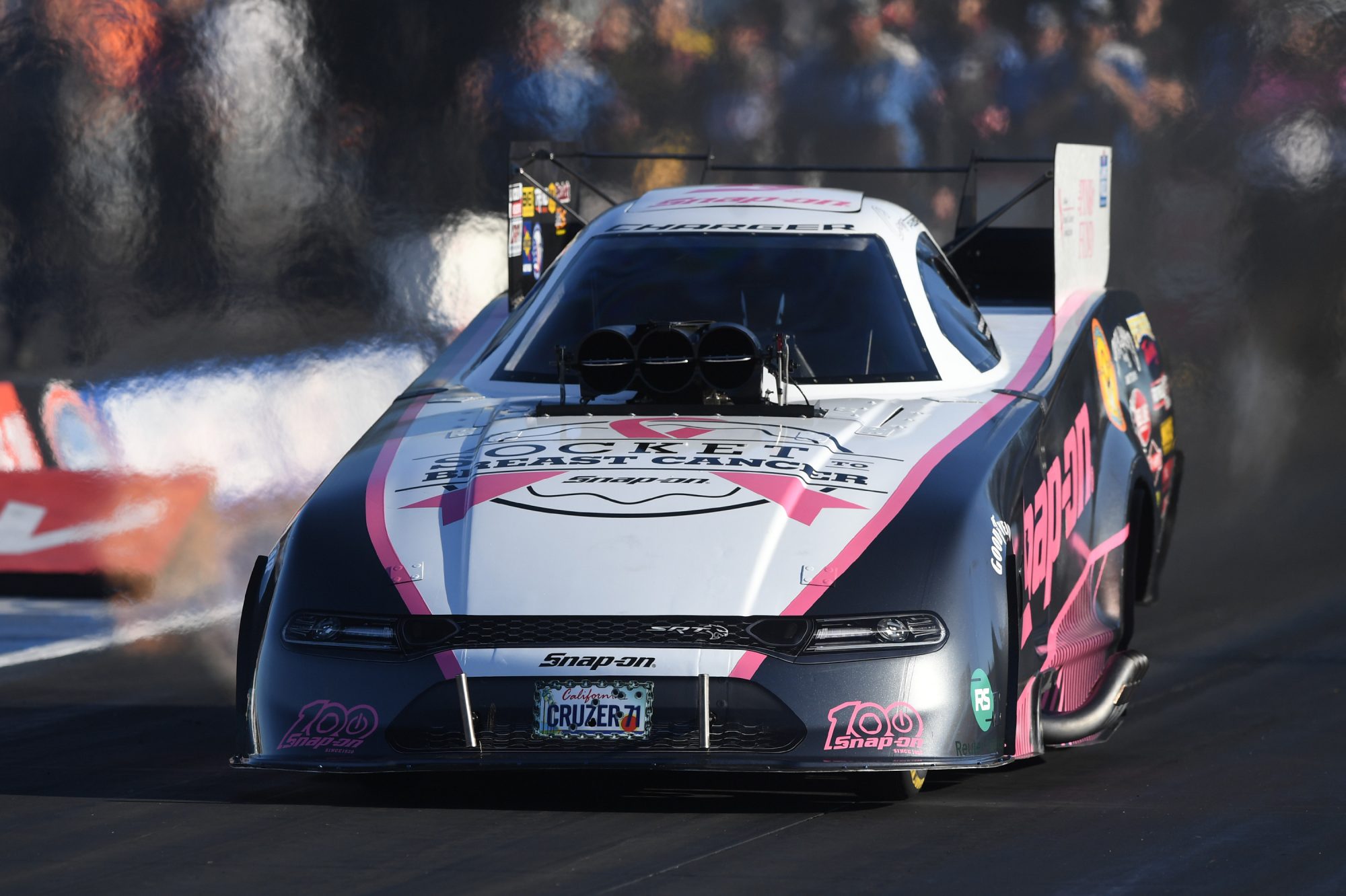 Fellow Dodge Charger SRT Hellcat Funny Car driver Cruz Pedregon followed up last weekend's runner-up performance at the NHRA Carolina Nationals with a fifth place start for the Midwest Nationals by recording a 3.896 sec./ 328.62 mph pass, the fourth quickest in the final session, to mark the fifth consecutive event he has qualified in the top-five. Pedregon defeated No. 12 seed Jim Campbell and No. 4 qualifier Blake Alexander in the first two round elimination rounds to advance to the semifinals and line up his Snap-on Tools "Socket to Breast Cancer" machine next eventual round and event winner Hagan.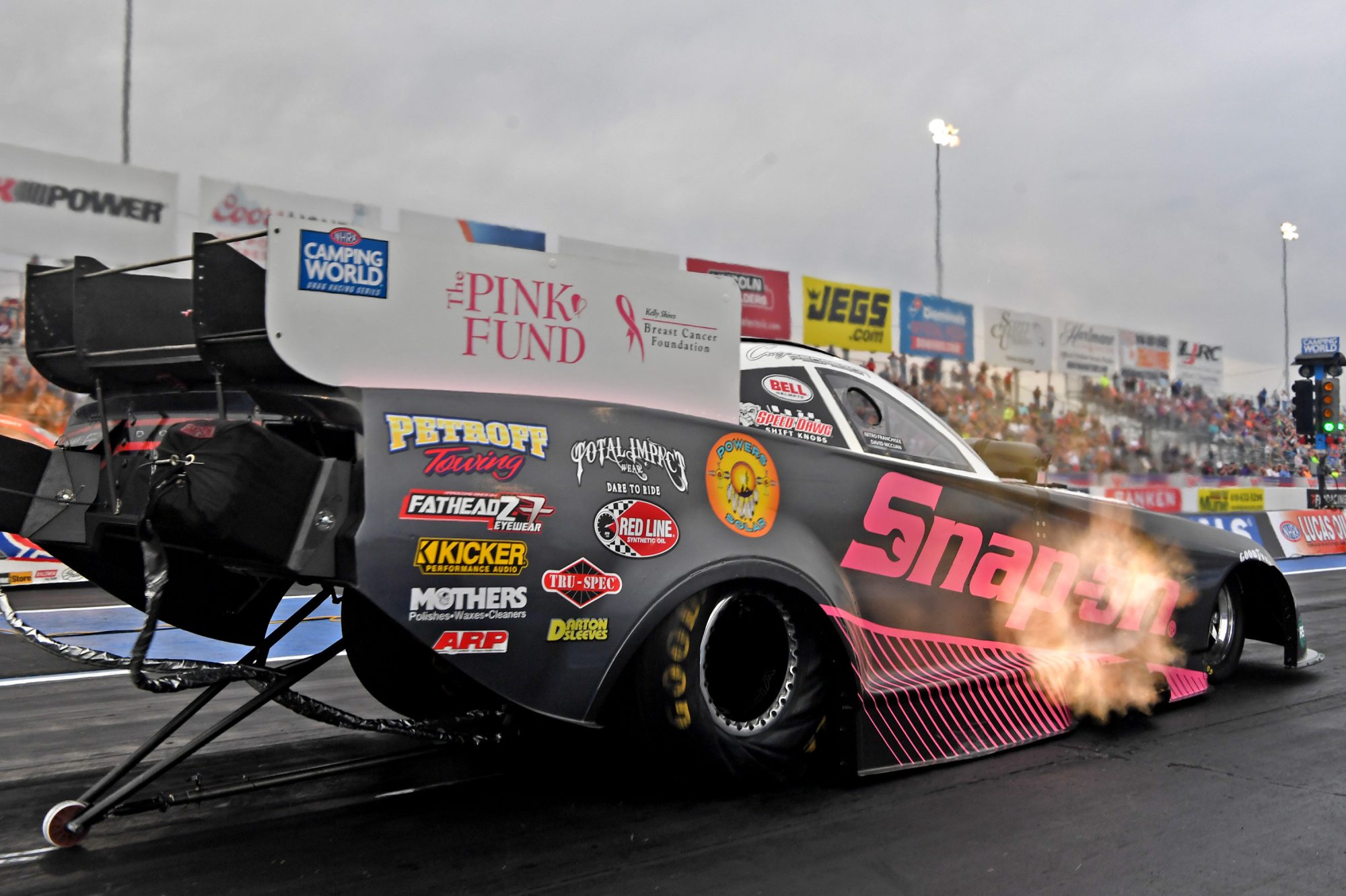 After closing out the regular season eighth in the Funny Car standings, the Cruz Pedregon Racing team's steady improvement through three consecutive playoff events moves the team up into fourth place with five races remaining.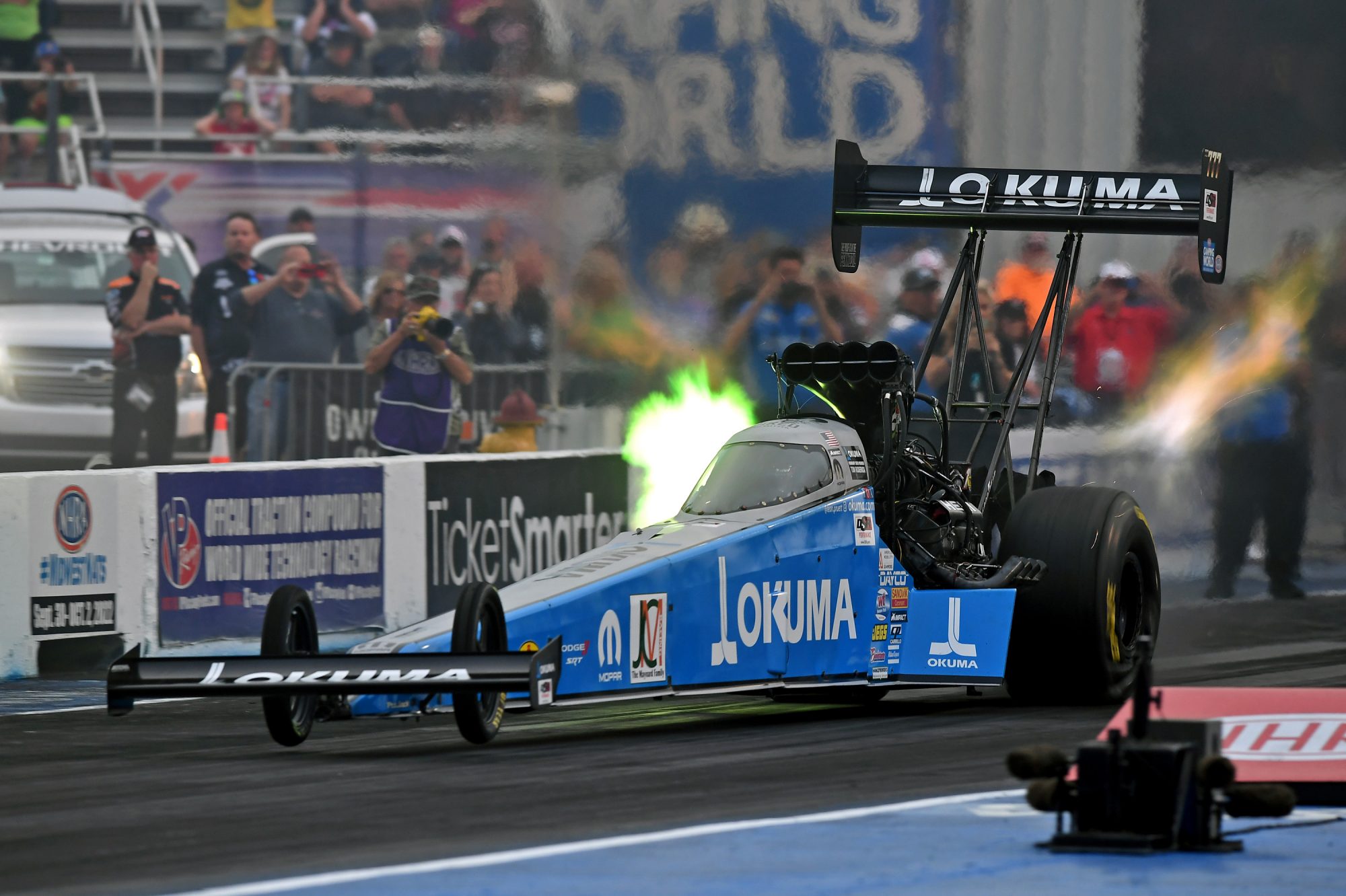 In Top Fuel action, DSR pilot Leah Pruett earned the No. 4 seeded position by wheeling her Okuma Mopar Dodge//SRT dragster to the third-quickest pass in the final qualifying session to pit her against No. 13 seed Clay Millican in the opening round. Pruett was first off the line with a 3.701-second pass at 326.16 mph to earn the opening round win over Millican's 3.883 sec./253.80 mph pass, and followed that up with a quarterfinal win over Billy Torrence who faltered early in the run. She then advanced to the semifinals to face No. 1 qualifier Mike Salinas, against whom Pruett's hopes of continuing on to the finals went up in tire smoke right at the hit. Pruett and her Mopar Dodge//SRT dragster come away from this weekend's event sitting sixth in the battle for the Top Fuel crown.
After four consecutive weekends of racing the NHRA will take a weekend off before returning to action Oct. 7-10 for the Texas NHRA FallNationals, the fourth of seven "Countdown to the Championship" playoff events, at Texas Motorplex near Dallas, Texas.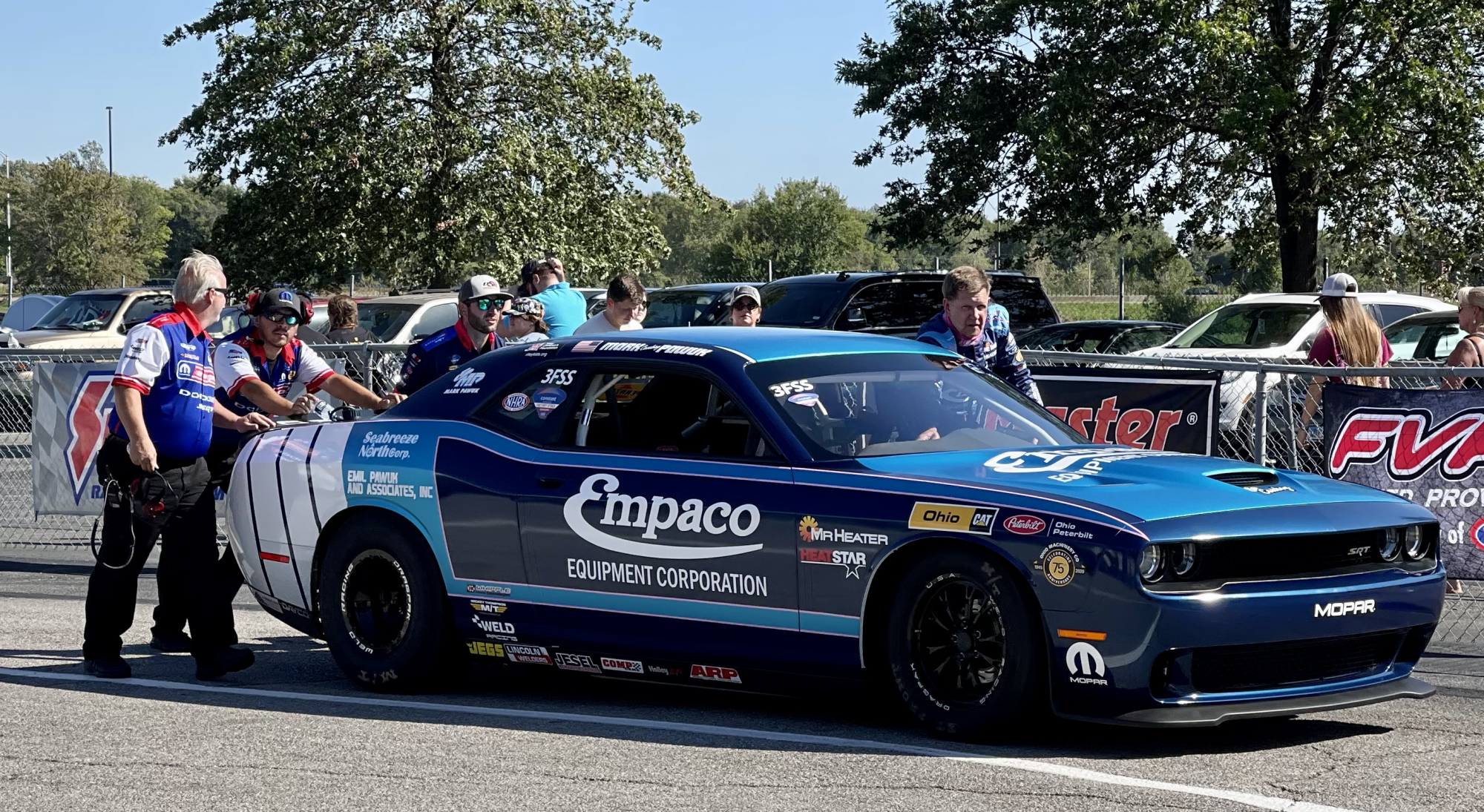 The Constant Aviation Factory Stock Showdown (FSS) returned to competition this weekend for the penultimate event of the eight-race series and saw Mark Pawuk lead the way for the trio of DSR-prepared 2021 Dodge Challenger Mopar Drag Paks by qualifying No. 2 on the eliminations ladder with a career-best run at 7.772-second at 179.14 mph ahead of teammates Pruett (No. 5) and David Davies II (No. 7).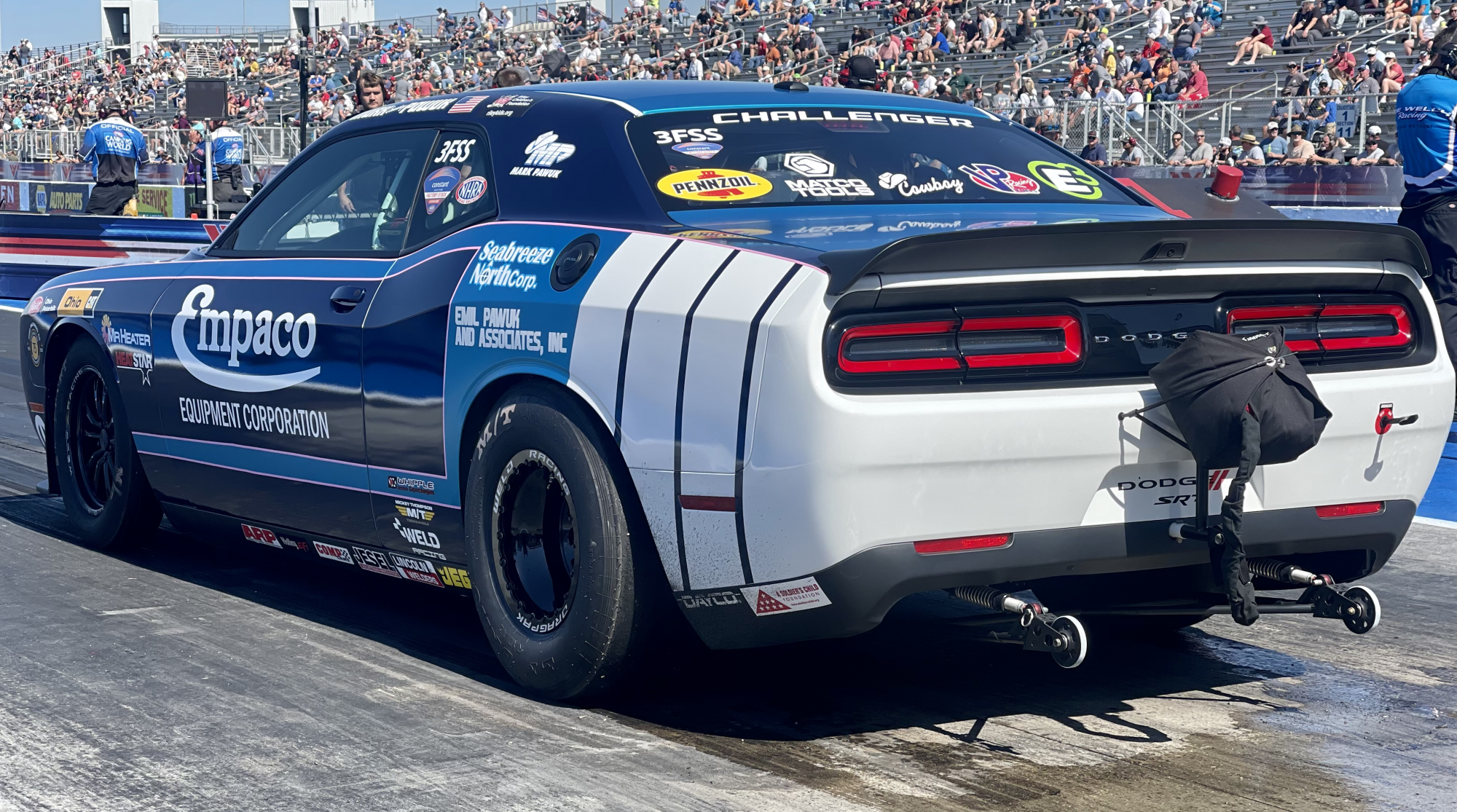 Pawuk improved his newest generation Mopar Drag Pak's performance further as he ran down No. 15 seed Lee Hartman with another career-best speed during his 7.816 second pass at 182.50 mph for the opening round win. He then used a 0.008-second reaction time against David Davies II in the quarterfinals on his way to a 7.829 sec./178.80 mph pass to reach the stripe ahead of his teammate's solid 7.839 sec./178.02 mph run. In the semifinals Pawuk recorded a perfect 0.000-second launch against No. 3 qualifier Leonard Lottig, and even with a solid 7.871 sec./177.88 mph pass, he wasn't able to fend off his opponent's 7.809 sec./176.01 mph winning run.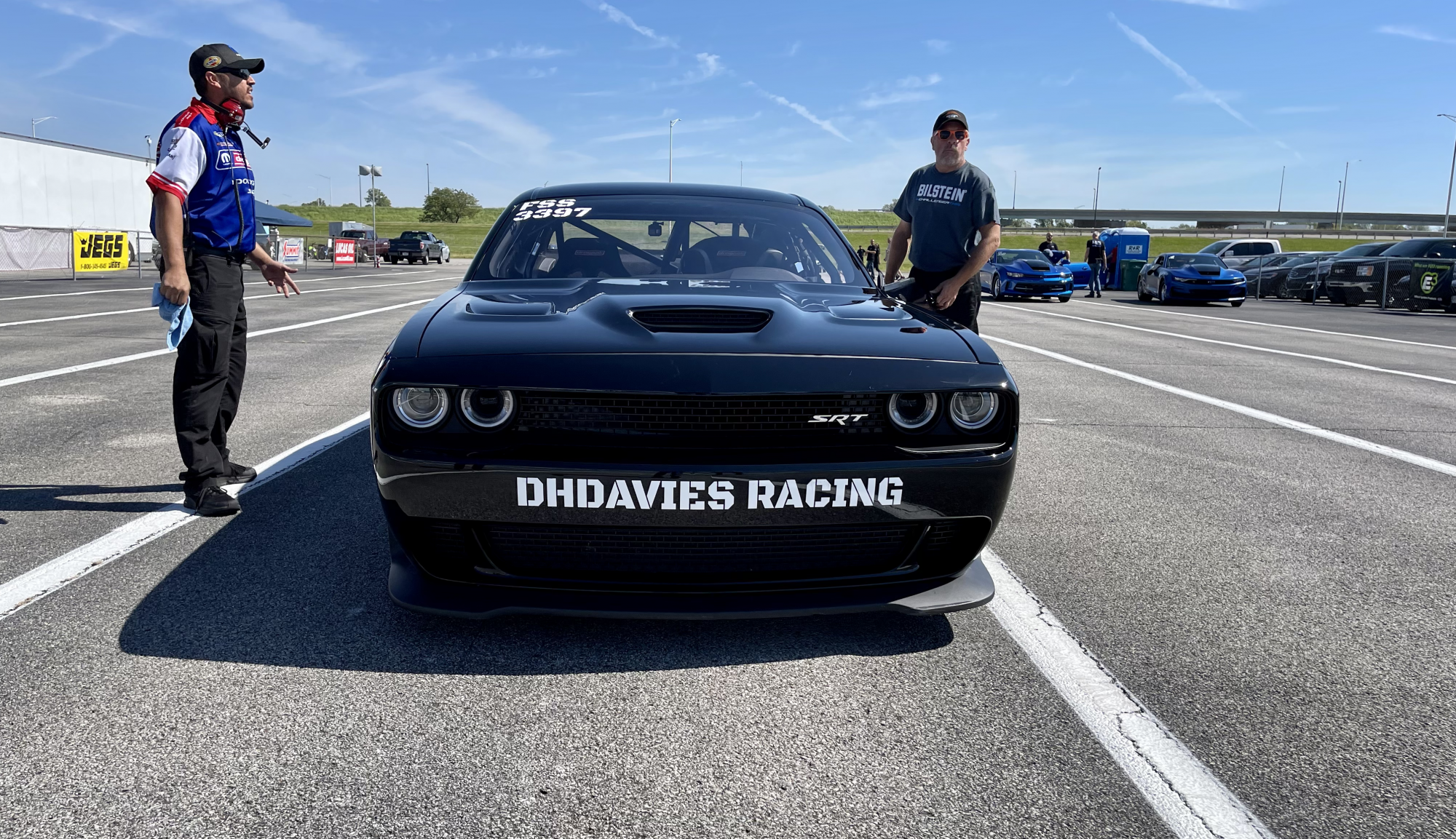 Davies had his best qualifying effort this season aboard the D H Davies Racing Dodge Challenger Mopar Drag Pak to start eliminations from the seventh place on the ladder with his 7.829 seconds at 177.79 mph effort. He rode that momentum into Sunday's competition where he used a holeshot to earn his first round win of the year over Joseph Welch by six thousandths-of-a second with a career-best 7.825-second run at 175.73 mph.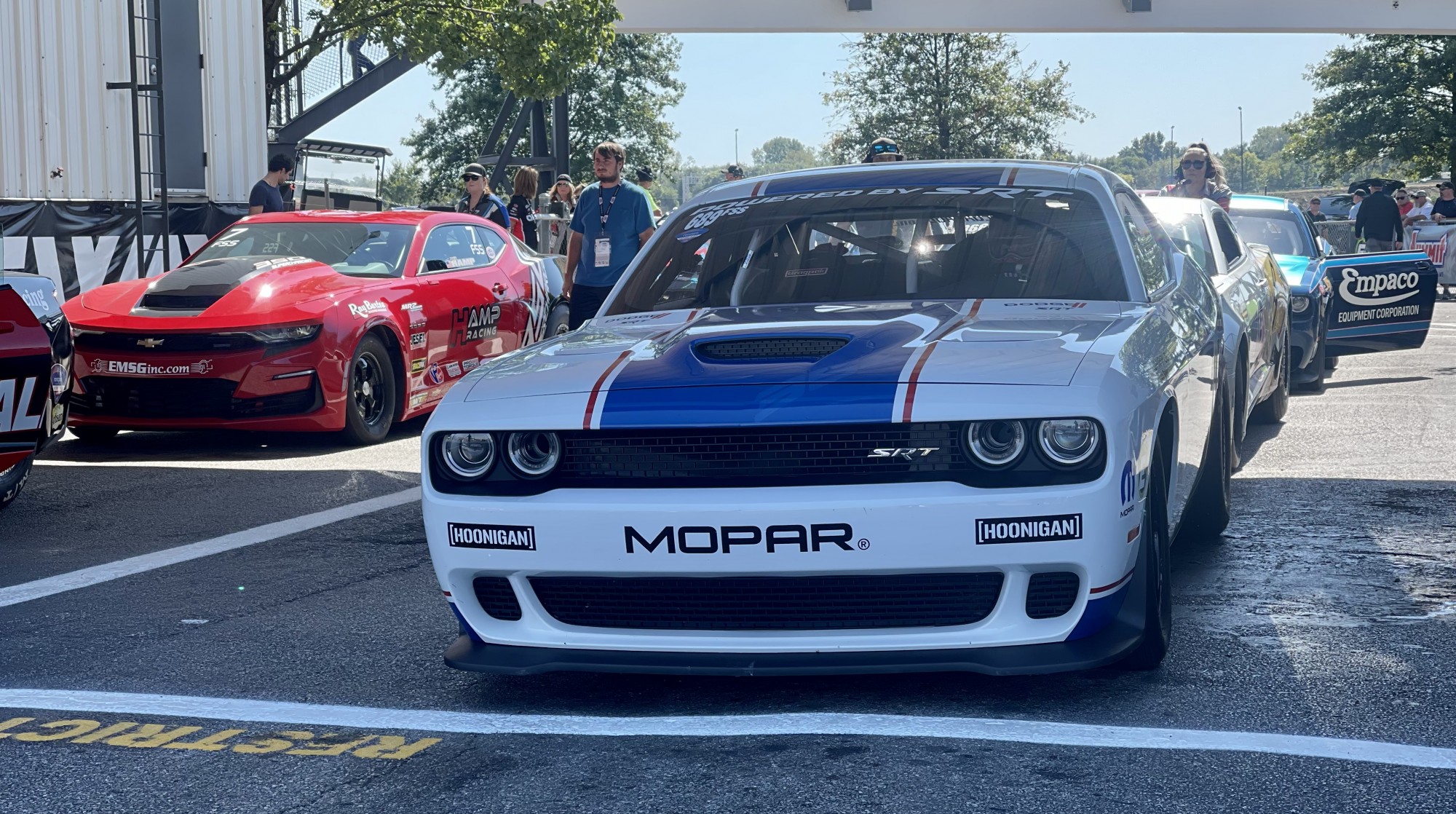 That set up the all-Dodge quarterfinal match up with teammate and eventual round winner Pawuk. Pruett qualified her DSR Mopar Drag Pak fifth for eliminations with a solid 7.821 second qualifying run at 177.51 mph which set up a first round showdown against John Cerbone. She posted a 0.091-second start and a 7.982 sec./ 169.04 mph run against Cerbone, but it wasn't quite enough to beat her opponent's 0.046-second launch and 7.883 sec/177.72 mph winning effort. The final Factory Stock Showdown of the season will take place at the Dodge//SRT NHRA Las Vegas Nationals Presented by Pennzoil at the end of October.
Comments
Comments