NHRA Is Back in Action After a Week Off: NHRA FallNationals Preview
2 years ago Racing
After a week-long hiatus, NHRA is back in action and that means our DSR drivers are primed and ready to conquer the competition. This weekend, the team is battling it out at the NHRA FallNationals in sunny Texas. NHRA race fans look forward to this race all year because it's the middle of the playoffs and anything could happen … and usually does.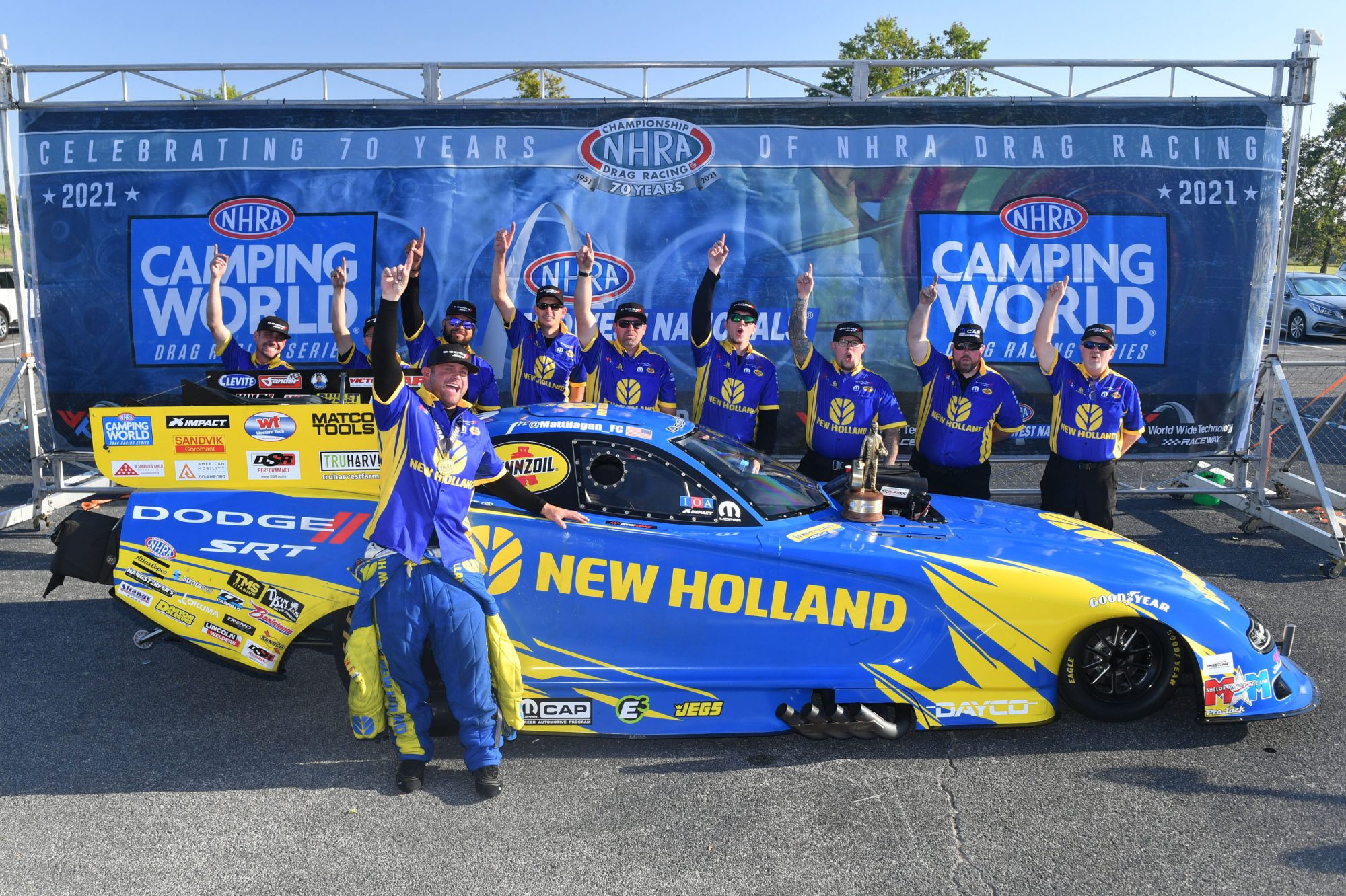 Our very own Matt Hagan clawed his way to the top of the Funny Car division last week during the Midwest Nationals. With only four races left of the season, Hagan knows how quickly the tables could turn and gave the lowdown on his team and the competition after winning the last race.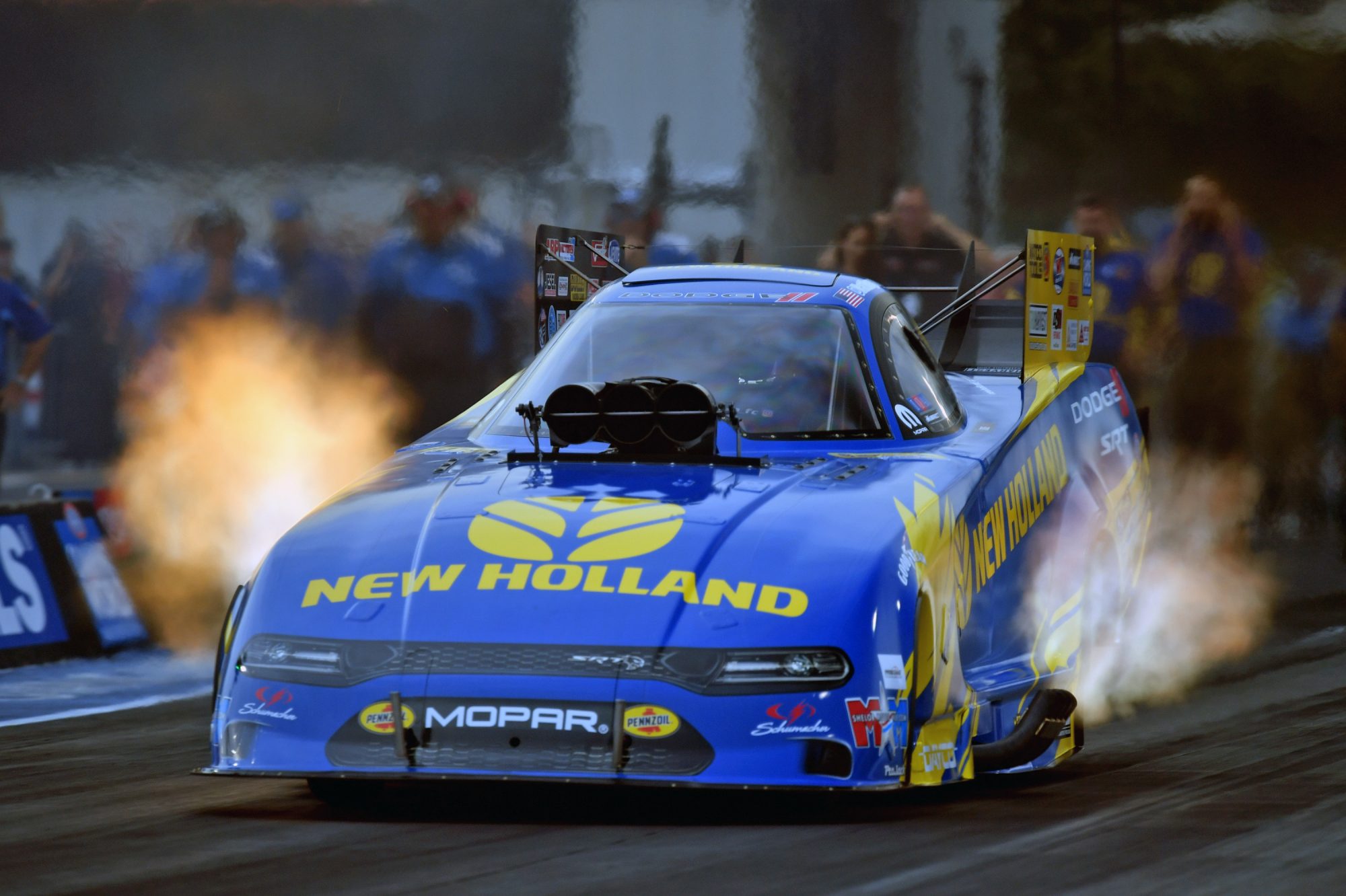 "When you've got a combination and a package like we do, it's hard to beat. The way (Crew Chief) Dickie (Venables) has got this car running, as long as I do my job, it's going to turn the win light on. You try not to focus too much on the points because it changes so fast from day to day, and race to race out here. You can be on top of the points one day and then you go out first round the next day, so we take it in stride. Over the years, the championships that I won, I've really just tried to focus on what I can control, and everyone else has to do their job, and I'm fortunate in that I'm in a situation where I truly can depend on my team. We only have four more races left after this, so the pressure is there, but I've been there before, I understand the hunt, and I know that our car is going to be a really serious contender. I honestly really think we can win this championship with the way Dickie's got this thing running. (Ron) Capps is going to be tough, (John) Force is going to be tough, all of them, really. These crew chiefs are throwing down; it's like a slugfest out there."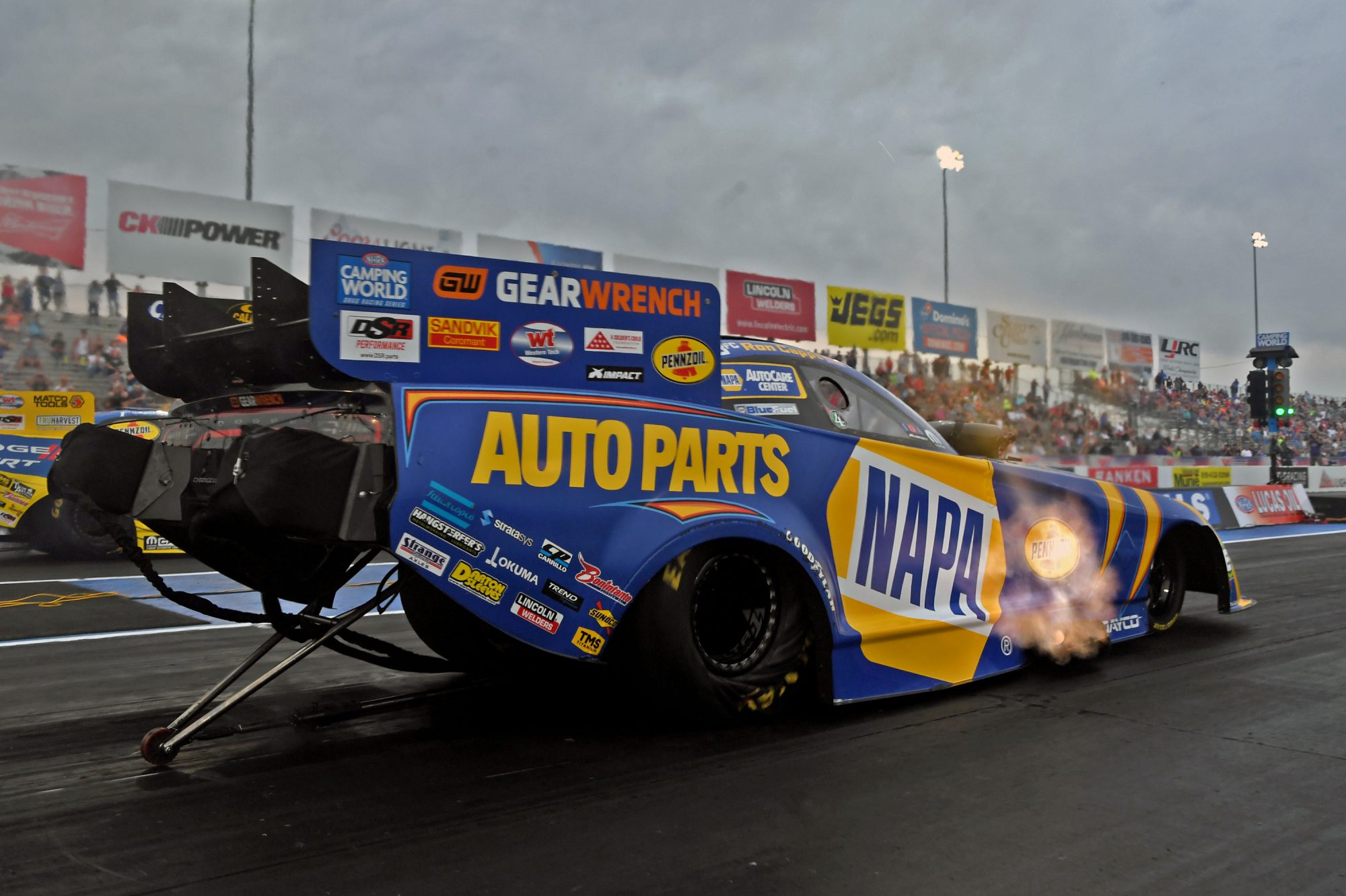 Even though Hagan is currently sitting on top, reality is that Ron Capps is not far behind in points. After the last race, Hagan has earned 2,354 points, but Capps has earned 2,295 points, making him a serious threat to Hagan winning the championship. Capps didn't exactly have a stellar performance during the last race when going head-to-head with John Force, but he's not dwelling on it and is only looking forward.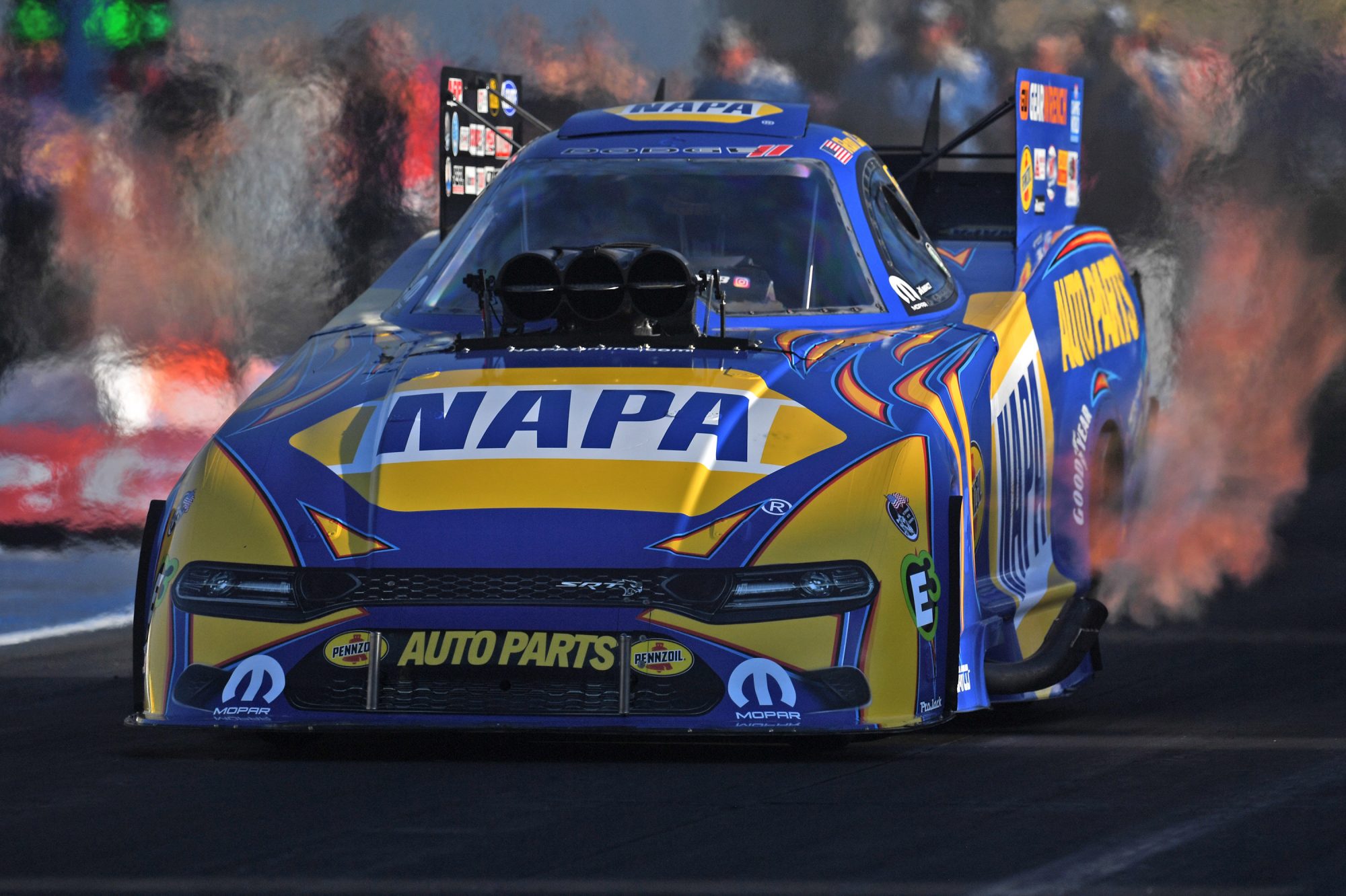 "[Force's deep stage] definitely threw me off. Add me to the list. We saw it happen with Robert Hight earlier and he's as good as it gets out here as a driver. You know (John) Force is going to do it, it's a possibility. When the light went off on the last second, you're so focused on your ambers, you do see it out of the corner of your eye, and most of the time I run him I'm laughing in the car because he tries to do that to me. I've been driving for 27 years, I don't think I've ever had a light (start) that bad in eliminations, especially with the pressure like we have right now. I let my guys down, and it hurts bad right now, but we have a great hot rod, that's the good thing. I'm better than that. We don't have the luxury of making another lap and trying to make up for it like NASCAR or IndyCar guys when they have something go wrong. This is it; it happens, and you have to live with it and I've got two weeks to think about it."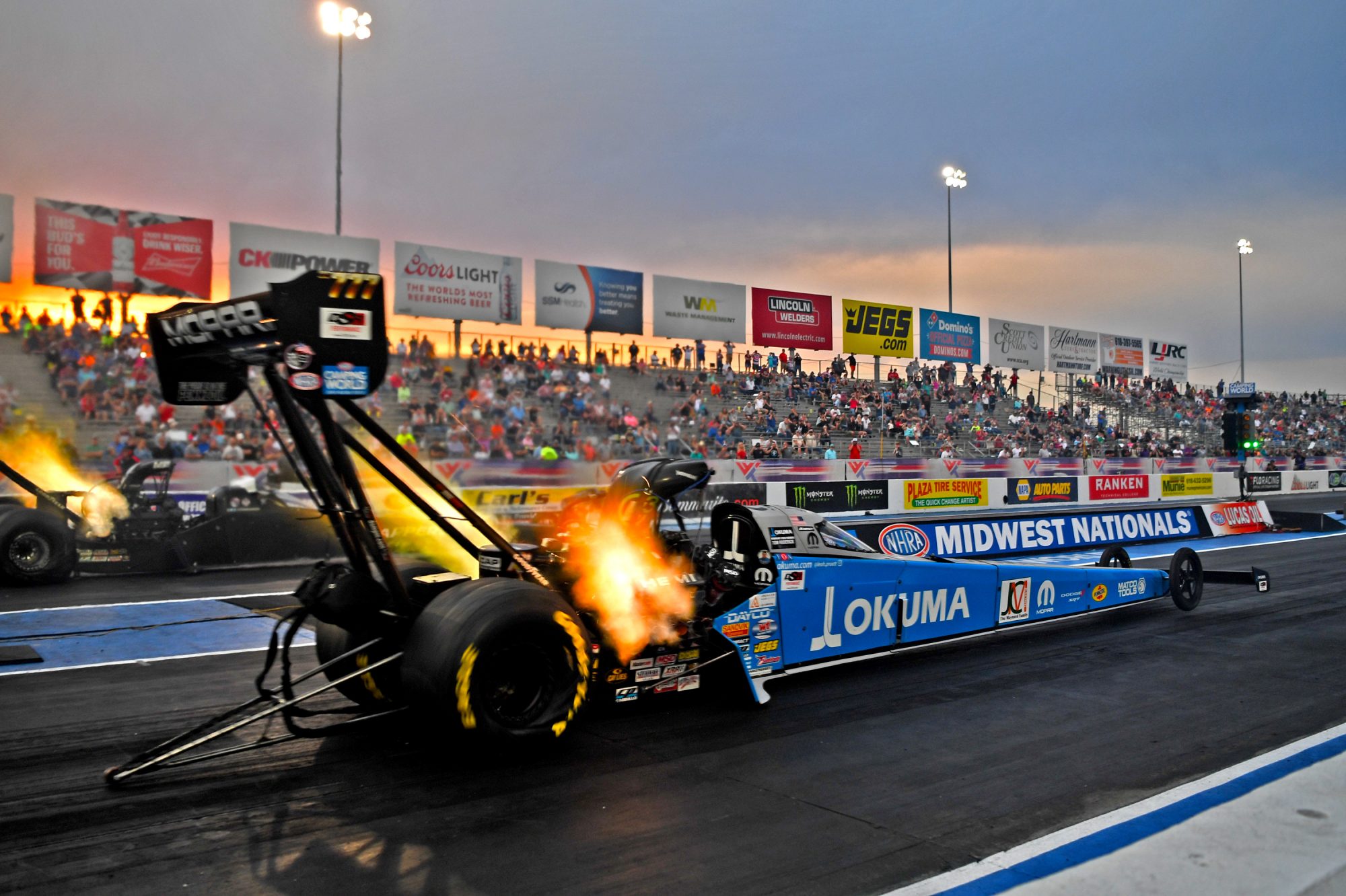 Moving over to Top Fuel, Leah Pruett is sitting in 6th place in the points standings. Smoking the tires at the hit has her and her team scratching their heads. "Reaching the semifinals is always a plus, and some of those ahead of us went out early so that helps bunch up the points a bit. We had some big matchups today. The first round against Clay (Millican), you never know what they're going to throw out there, that's a fast car. Our Okuma (Mopar® Dodge//SRT®) machine laid down a solid 3.70 pass. That second round was big and that was a fun race against Billy (Torrence) and he's right ahead of us in the points and that's an opportunity to be the giant killer and pass them. Getting that win from burnout to turnout was great. We had to swap blowers before the semis and that changed the tune-up a little bit. I wish I could put my thumb on what happened and why it smoked the tires at the hit, but we don't have any data from that run. It shows the clutch was charged during staging and then nothing. Disappointed, slightly. Heartbroken, absolutely not. Something about this weekend and this team just resonates, and it's really hard to beat a team who never gives up. That's exactly who we are. We'll keep going with this momentum in Dallas."
Will Hagan win again this week, or will Capps win and take over the points lead in Funny Car? Will Pruett and her team dial in and bring home the win for Top Fuel? We will all be watching and hoping to see one of our DSR teammates shining in the winners circle!
Comments
Comments
Next