Single Point Separates Capps and Hagan Dodge Charger SRT® Hellcat Funny Cars in NHRA World Championship Battle Following Thunder Valley Nationals Performances
1 year ago Racing
A single point separates two Don Schumacher Racing Dodge Charger SRT® Hellcat Funny Cars in the National Hot Rod Association (NHRA) "Countdown to the Championship" playoff battle after Ron Capps took the lead from stablemate Matt Hagan by qualifying No. 2 at Bristol Dragway, scoring his 800th career round win and then driving to a semifinal appearance at the Thunder Valley Nationals.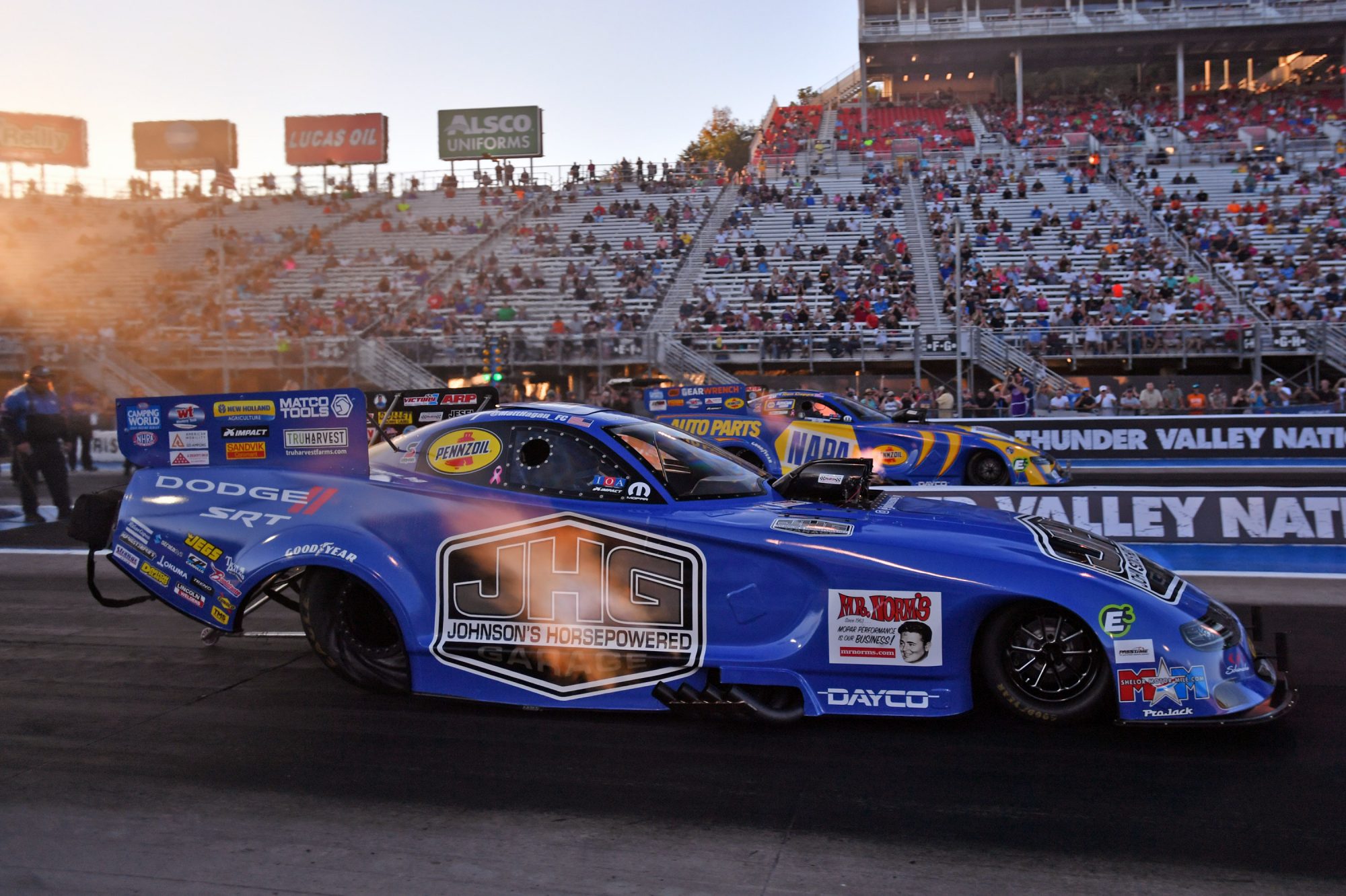 Fresh off a winning performance last weekend at Texas Motorplex, Capps arrived at Bristol Dragway second in the championship battle with a 33-point deficit and as the winningest Funny Car driver at the venue with five career wins (2001, 2006, 2012, 2017, 2018). He proceeded to qualify his HEMI®-powered machine second on the timing sheets with a 3.945-second run at 325.61 mph and earn two valuable bonus points.
The opening round of eliminations saw the 2016 Funny Car champ dispose of No. 13 seed Blake Alexander while No. 3 qualifier and points leader Hagan was upset by No. 12 seed J.R. Todd, signaling the start of a shift atop the championship standings.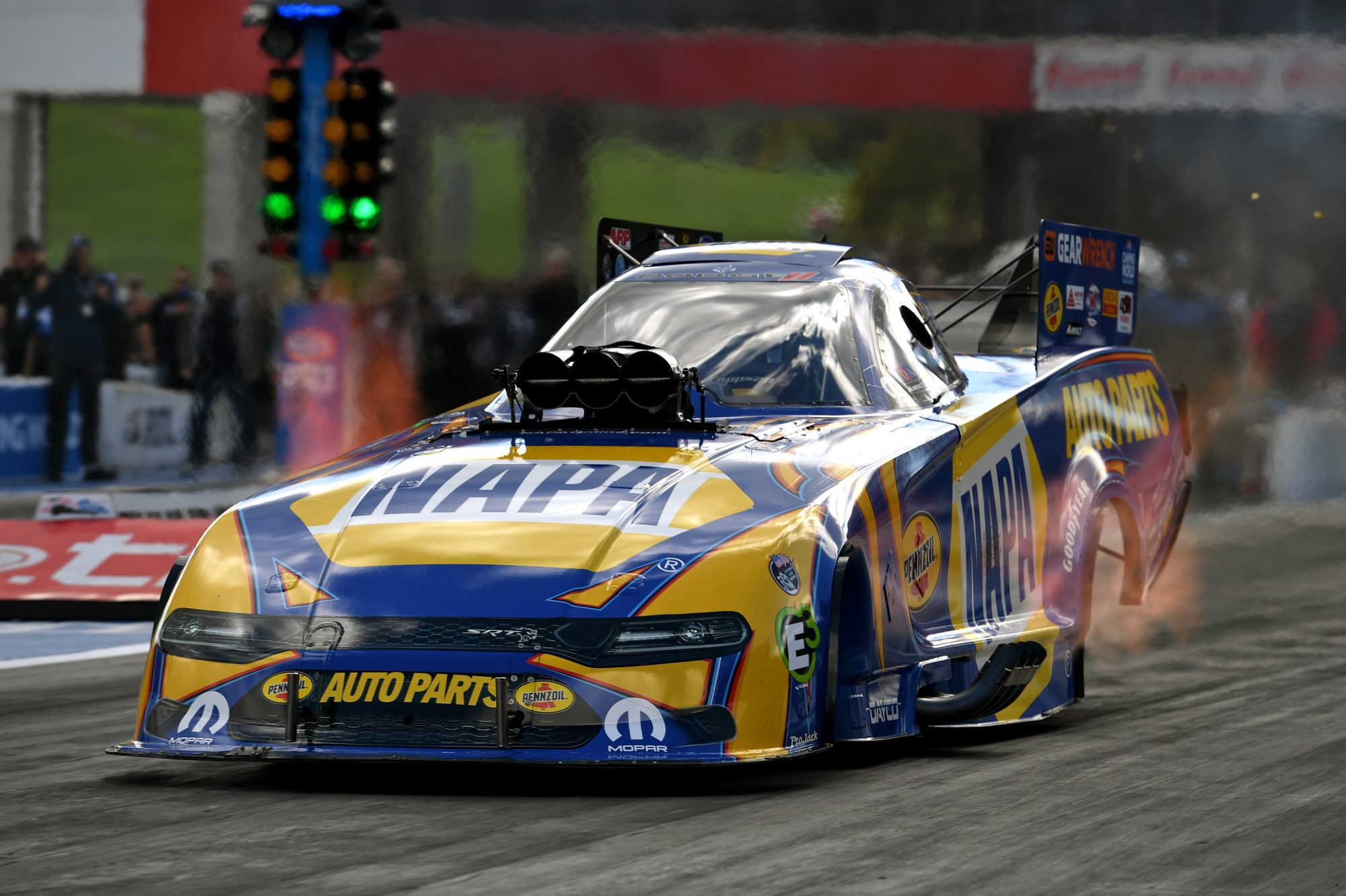 Capps' quarterfinal match-up was with fellow HEMI-powered driver and third place championship contender, Cruz Pedregon. The two competitors battled closely the entire length of the track with a solid 3.919-second run at 329.83 mph by Capps to beat Pedregon's 3.920 sec./326.63 mph pass, collect his 800th career elimination round victory and, for a tenth time this season, advance to the semifinals.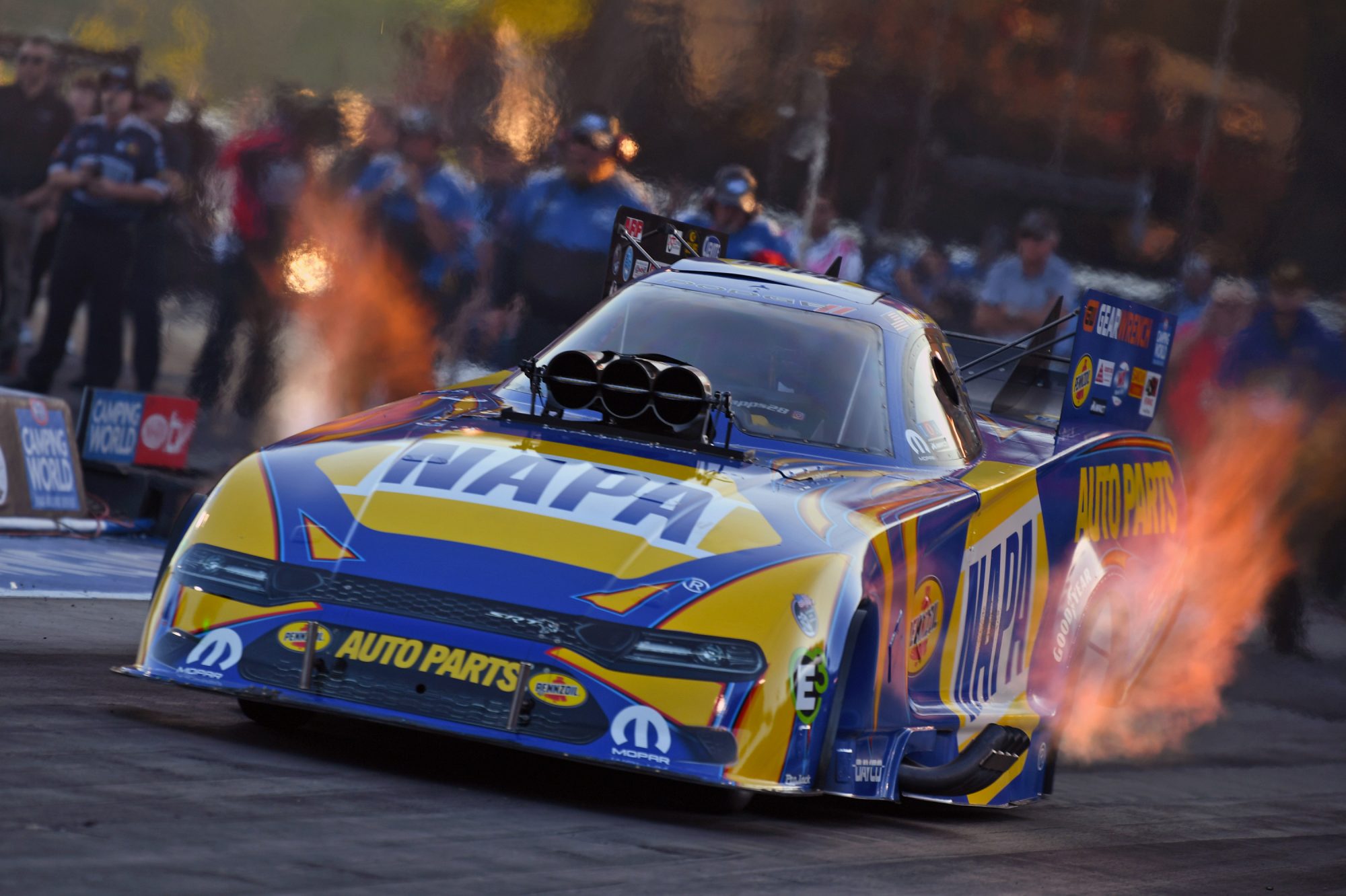 With championship implications in play among the top-five contenders, Capps lined up his Dodge Charger SRT Hellcat against Todd, who was looking to improve on his fifth place standing and tighten up the points race. As he did against his previous two adversaries, Capps was quicker off the starting line but found himself fighting to keep his racecar in the lane. By mid-track it drifted to the centerline where it made contact with a timing block and nullified his run. An automatic five-point penalty was deducted from the DSR driver's total and the win awarded to his opponent, but despite the setback Capps moved past Hagan to take the lead in the Funny Car championship by a single point with just two playoff series events remaining.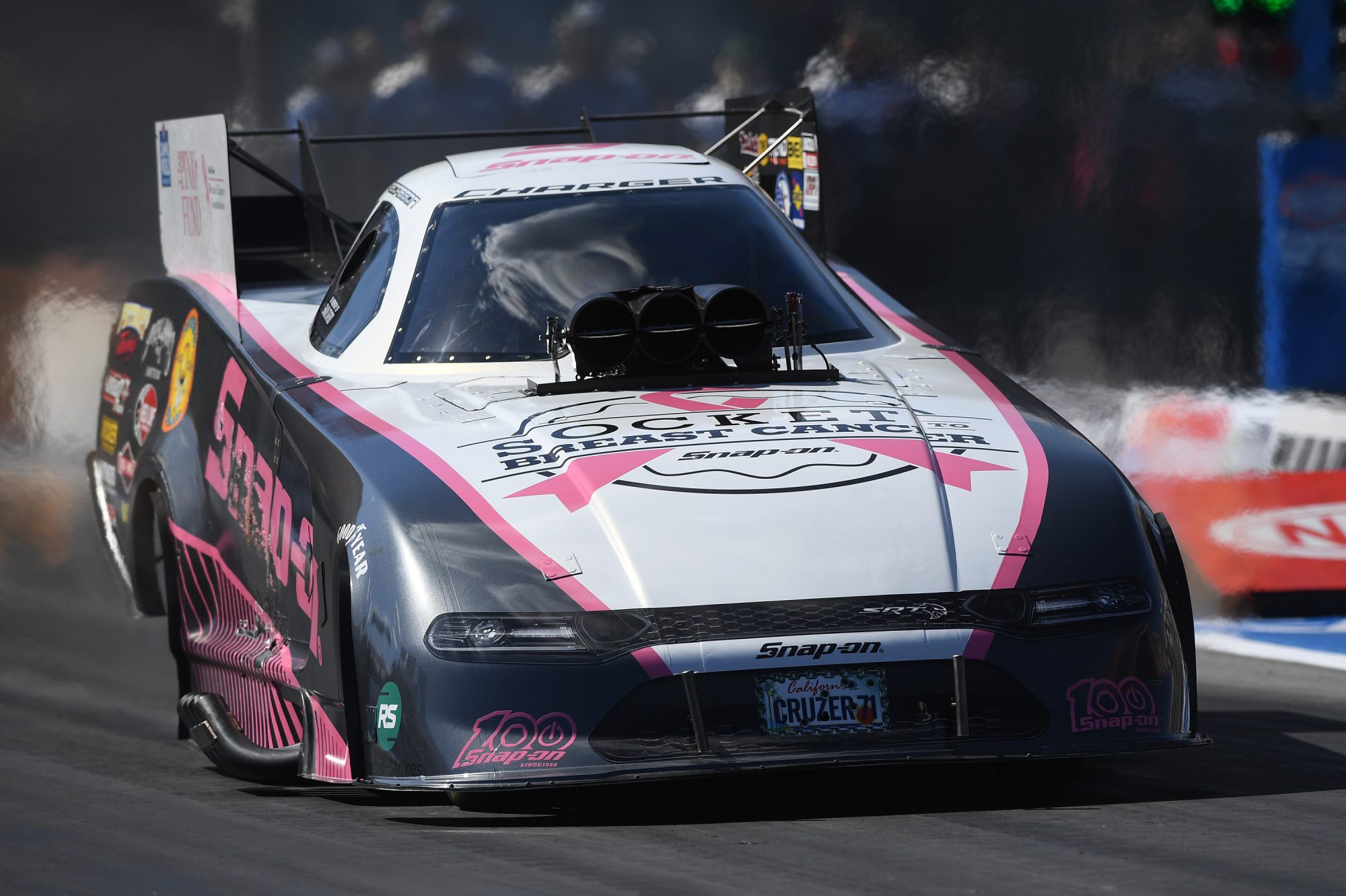 The Cruz Pedregon Racing Snap-on Tools Dodge Charger SRT Hellcat began its race day from the No. 7 spot after a 3.975 sec./ 320.13 mph qualifying effort to pair up with No. 8 seed Dave Richards for the opening round. Pedregon lead early, never trailed and recorded his quickest pass of the weekend, 3.964 seconds at 294.11 mph, en route to his 12th first round win of the year, the most for him since 2015 (15). Following the solid side-by-side battle against Capps that resulted in a quarterfinal loss, Pedregon, who is chasing his third Funny Car championship title, drop a spot and into a tie for fourth place in the standings with John Force.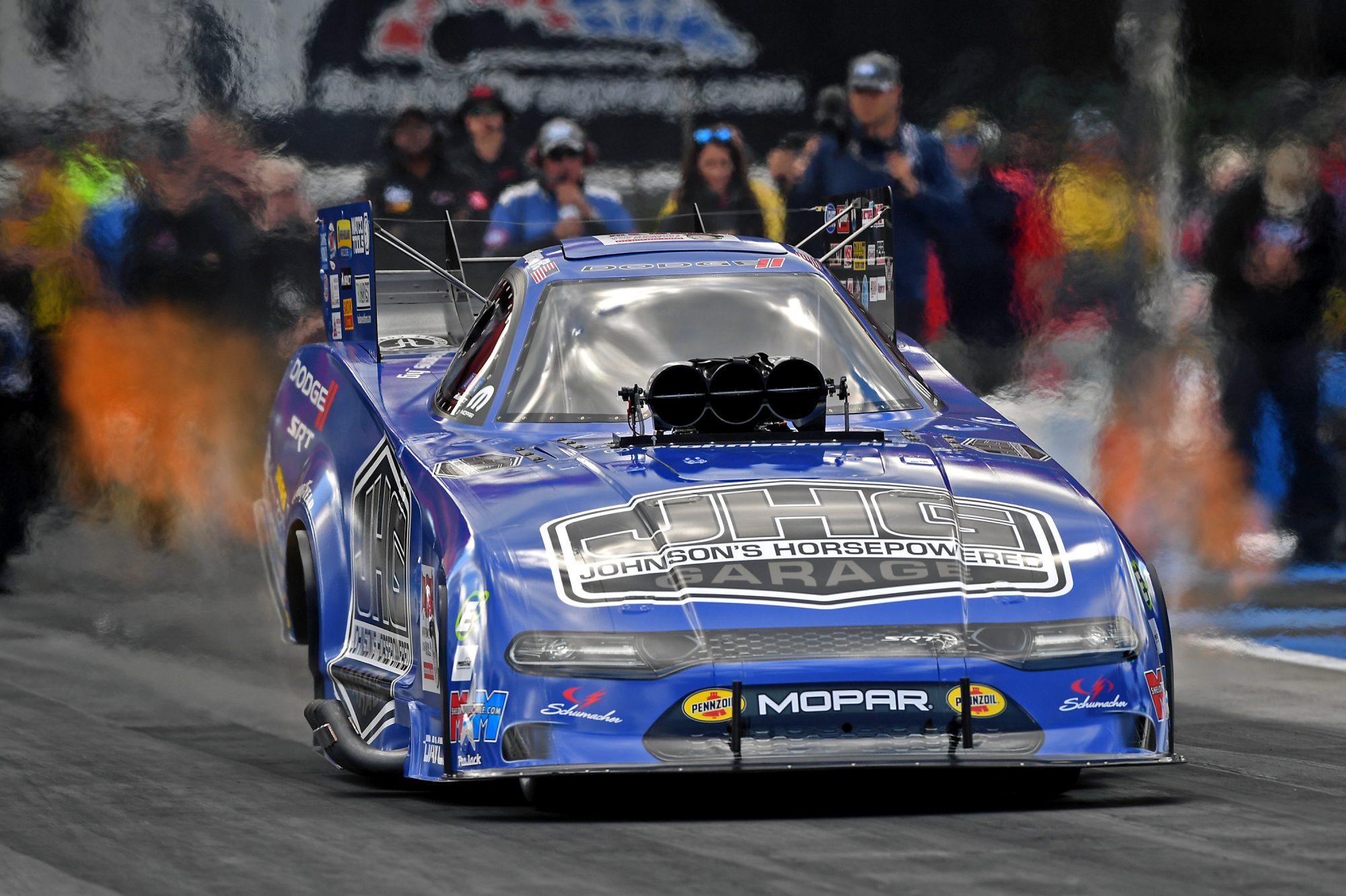 Defending NHRA world champ Matt Hagan began his drive at the Thunder Valley Nationals with the Funny Car points lead and qualified his DSR Johnson's Horsepowered Garage Mopar® Dodge Charger SRT Hellcat No. 3 for eliminations with a best run of 3.958 seconds at 330.31 mph to reset Bristol Dragway's speed record with its first 330 mph Funny Car pass. Hagan collected a total of four important bonus points for setting the quickest run of the second qualifying session and putting himself third on the timing sheets in the final session.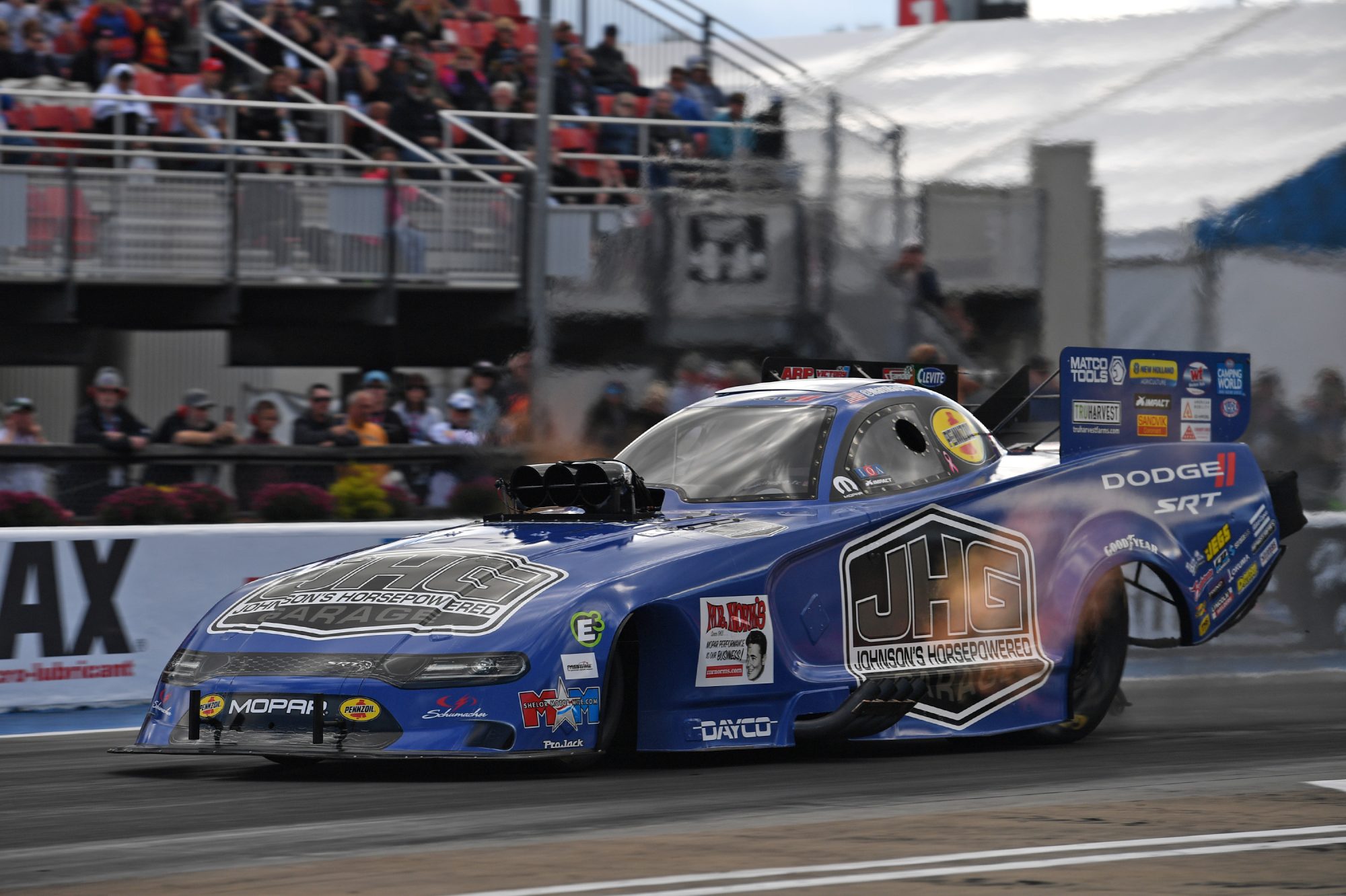 With two playoff wins and a runner-up finish last weekend at Texas Motorplex, Hagan's DSR HEMI-powered machine was lined up for the opening round with lane choice over Todd and its driver looking to turn on win lights and maintain the lead in the points battle. The three-time Funny Car champ drove it straight down the lane for a quick 3.958-second elapsed time run, the exact same as his best qualifying effort, but unfortunately his opponent's winning 3.924-second pass ended any hopes of advancing further on this race day. Hagan sits in second place behind Capps in the "Countdown to the Championship" and all top-five contenders (Todd, Pedregon and Force) within 100 points of each other heading to the Dodge//SRT Nationals presented by Pennzoil at The Strip at Las Vegas Motor Speedway for the penultimate race of the 2021 NHRA season.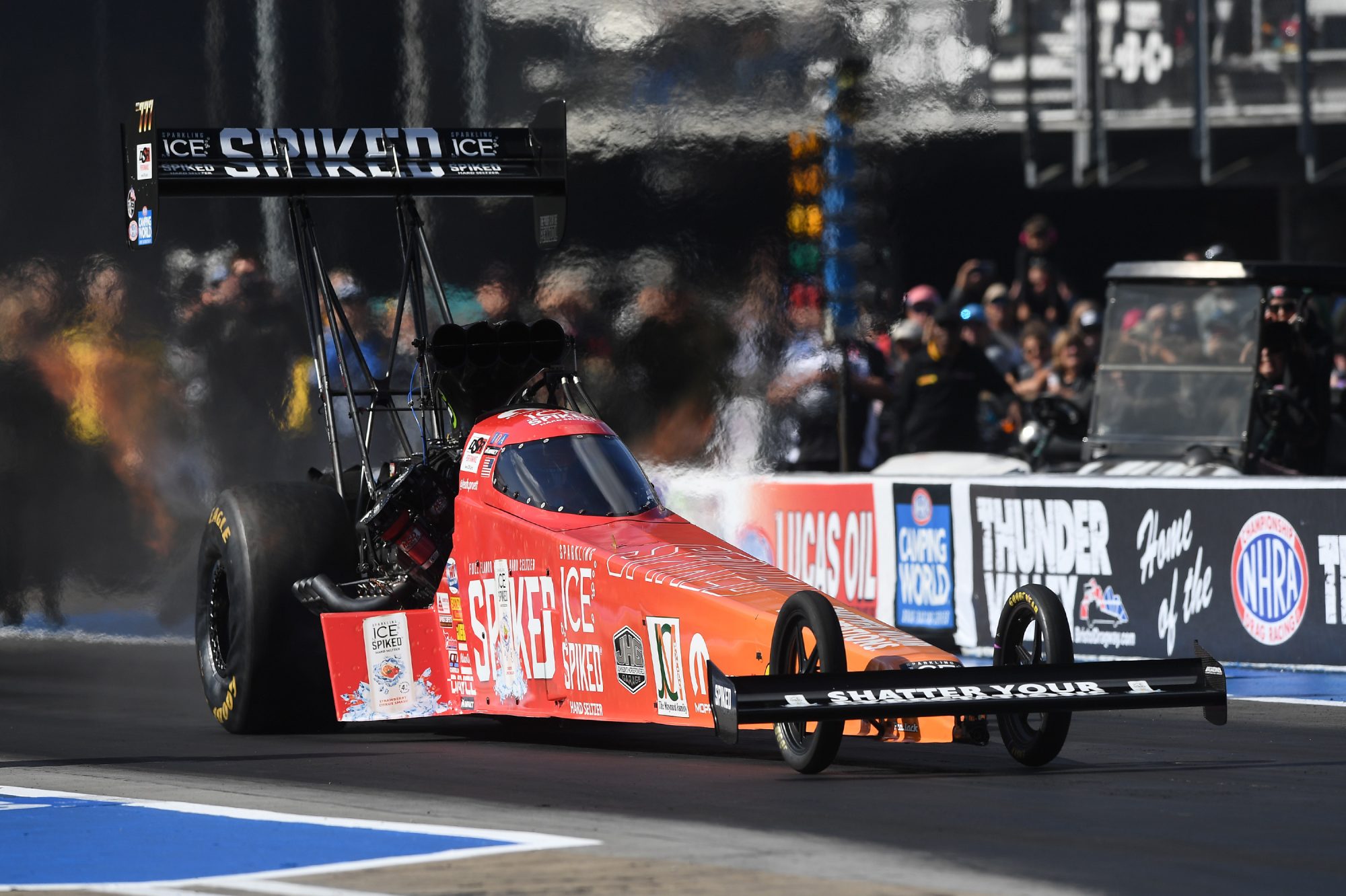 DSR Top Fuel pilot Leah Pruett powered her Sparkling Ice Spiked Mopar Dodge//SRT dragster to the second-quickest run of the second qualifying session to collect two bonus points and secured a spot in the top half of the eliminations ladder. Her No. 6 seeded position paired her up for an opening round contest against No. 9 seed Spencer Massey. With the move to holding the Thunder Valley Nationals in autumn came cooler track conditions that made race day setups more of a challenge than usual for all competitors.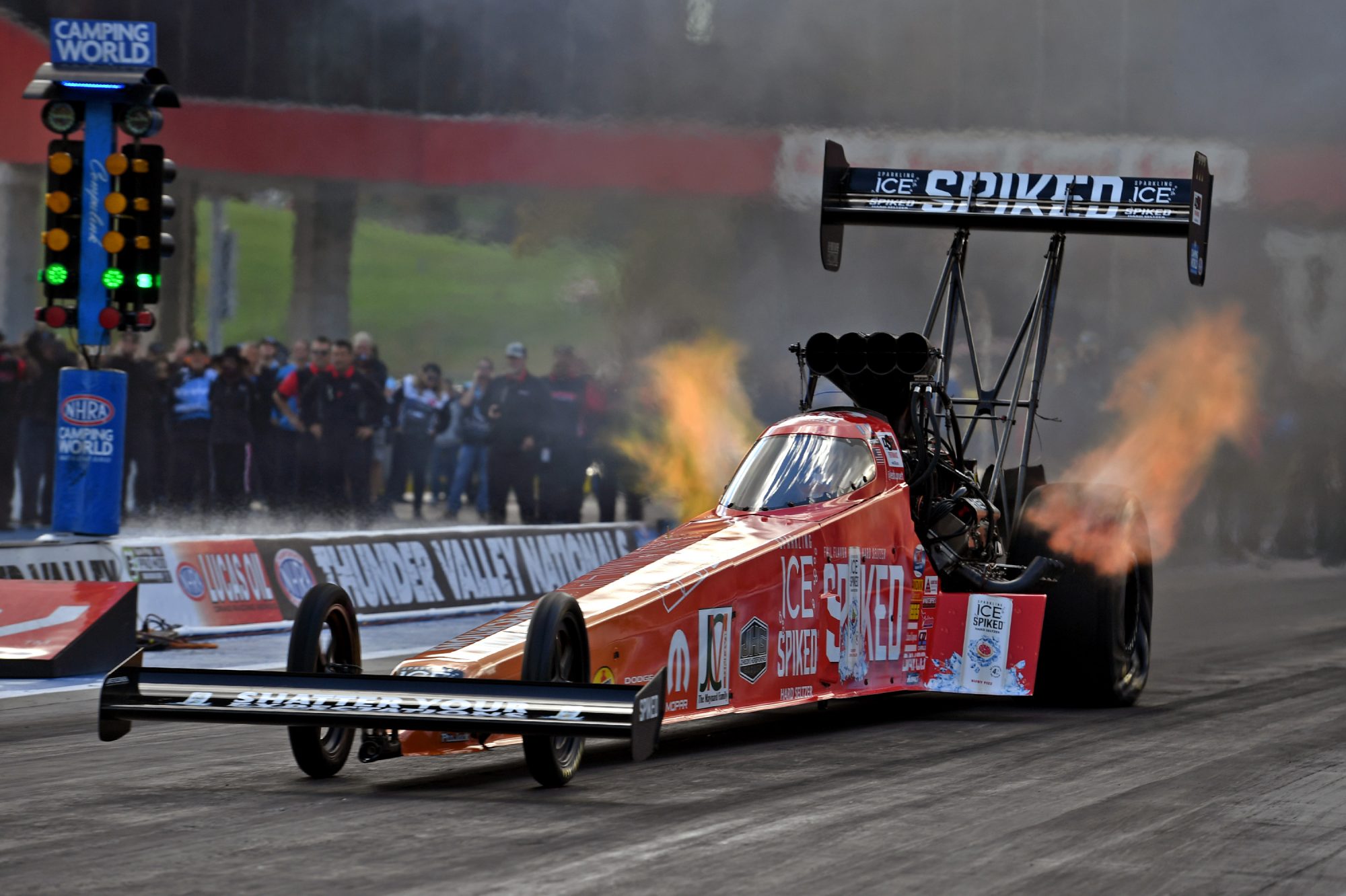 As the DSR 11-thousand HEMI horsepower dragster launched, Pruett immediately worked to find traction and keep her ride off the wall while her opponent headed for the finish and, despite a fiery explosion in the closing feet, turned on the win light. While the first round loss effectively eliminated the team's Top Fuel championship hopes, Pruett remains sixth in the rankings and expects to close out the season with strong results in the final two playoff events beginning with the Dodge//SRT NHRA Nationals Presented by Pennzoil October 29-31 in Las Vegas.
Comments
Comments